I'm sure you'll probably think I've got the month wrong and that this article was supposed to be posted in December. But I decided to celebrate Christmas 2018 on the 27th of January so that everyone who contributed to the project during the year could be there!
It's a peculiar choice, right? But not an original one, because it's when diplomats usually celebrate the Christmas holidays with their work team. It's a convenient choice first of all because the restaurants are not packed, second because they have more time to serve you, and last but not least, all your guests will be much more relaxed and ready to eat and drink (the Christmas feast is now a far away memory…).
For the occasion I chose a location I really love, Kruh in Vino in Vila Vipolže, in Brda, the Slovenian Collio. I've been there many times, but I knew that my guests (except Silvia, who writes my recipe articles)  had never seen it. It sounded like a great opportunity to get to know a lovely new place and enjoy some excellent food!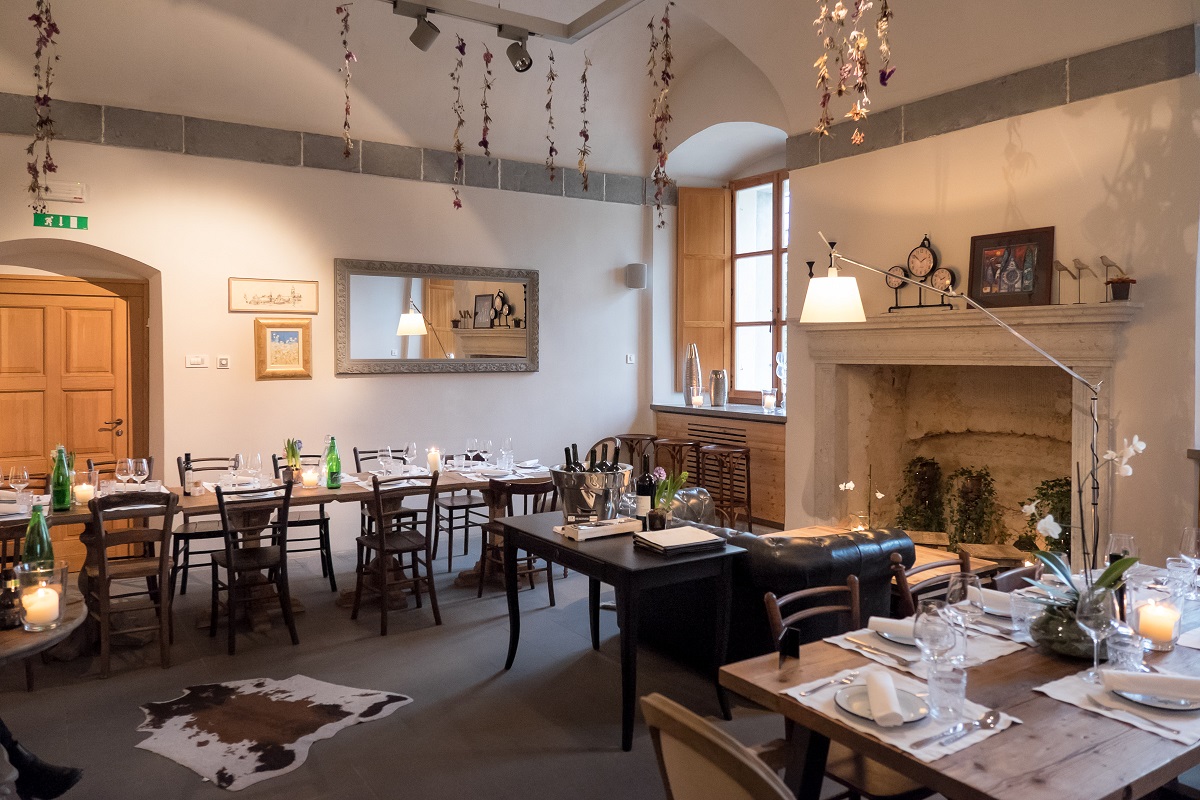 As I was organizing the event I didn't really realize how large the group was, so when we arrived, as I saw all the cars pulling up and the group getting larger…well I got a little emotional. Everyone here has contributed to the project. IT WAS LOVELY!
I welcomed my guests and introduced everyone too, and I have to admit that if you had seen as there in a circle in the square in front of Vila Vipolže, we might have seemed like an AA meeting. The tension was lifted with a glass of rosè and a lovely starter of sweet bread with lard!
The dining room of Kruh in Vino was waiting for us with a lovely rustic table setting, with linen place mats, hyacinth bulbs and candles; Flavia Furios's style is always excellent (she takes care of decorating and setting the dining room) while Tomaž Kavčič  trains the staff to ensure an impeccable service (it was really excellent).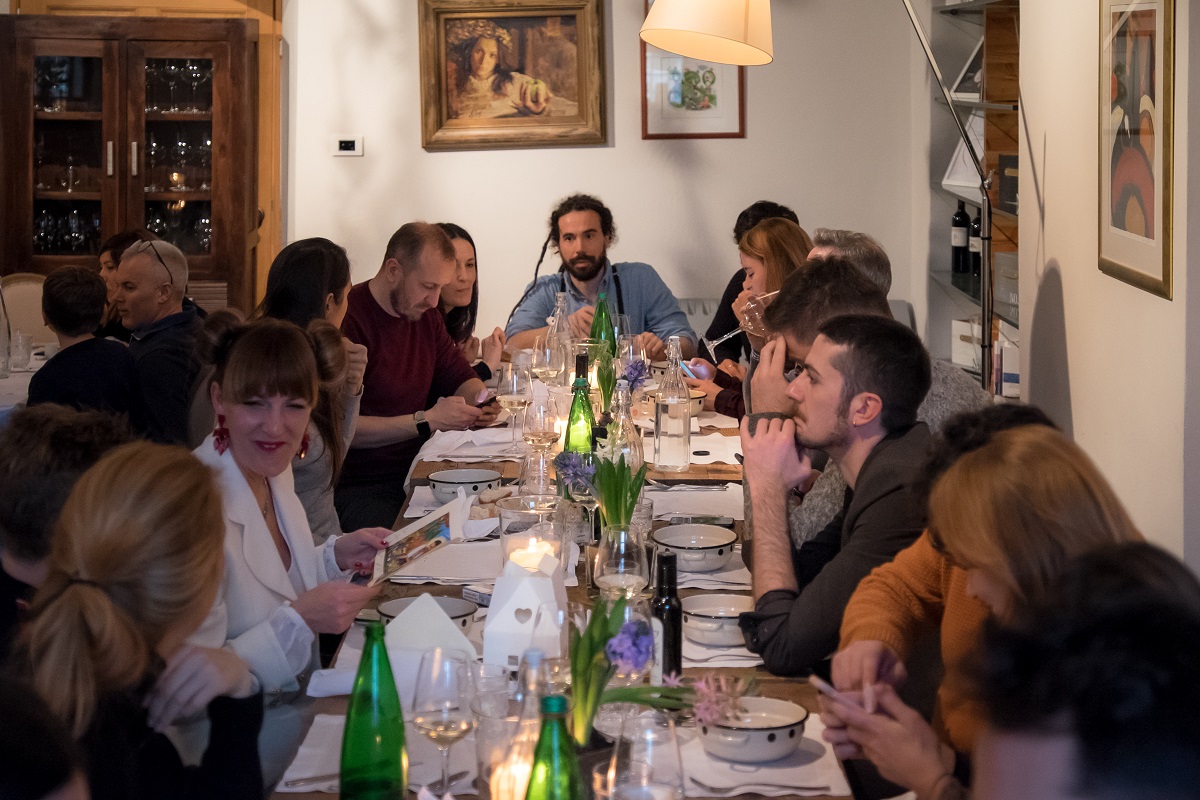 I really love this restaurant and I initially wanted to celebrate my 40th birthday here (but everything was cancelled for reasons I won't waste time explaining). It's really special.
But let's get back on track. This lunch game me a very cosy family feeling. I entertained my guests while Flavia e Tomaž took care of the menu: I trusted their professional skills completely.
After the welcome starter from the kitchen they served three different types of bread with a dip with horseradish, yogurt and apple, and a beef tartare which we could season ourselves with onion, cucumber and hot pepper.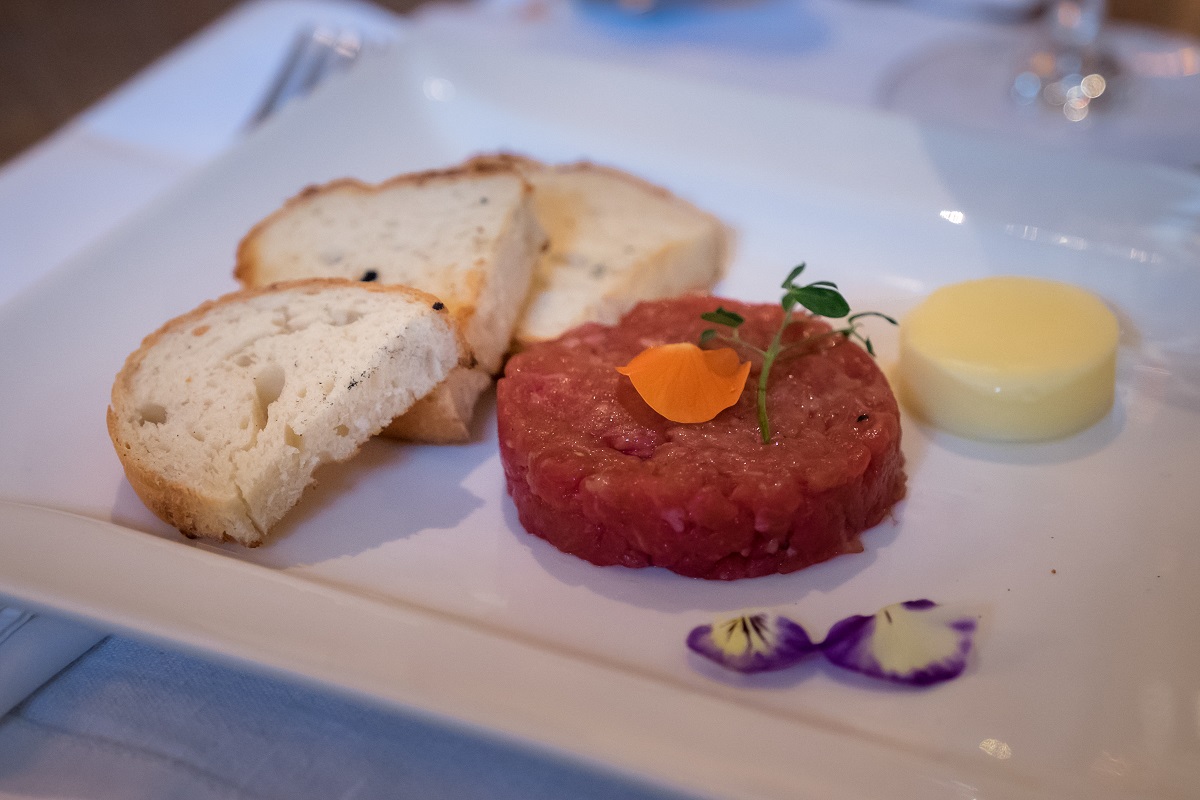 They also served a selection of cheese from a small farm of the area with an incredible pear preserve.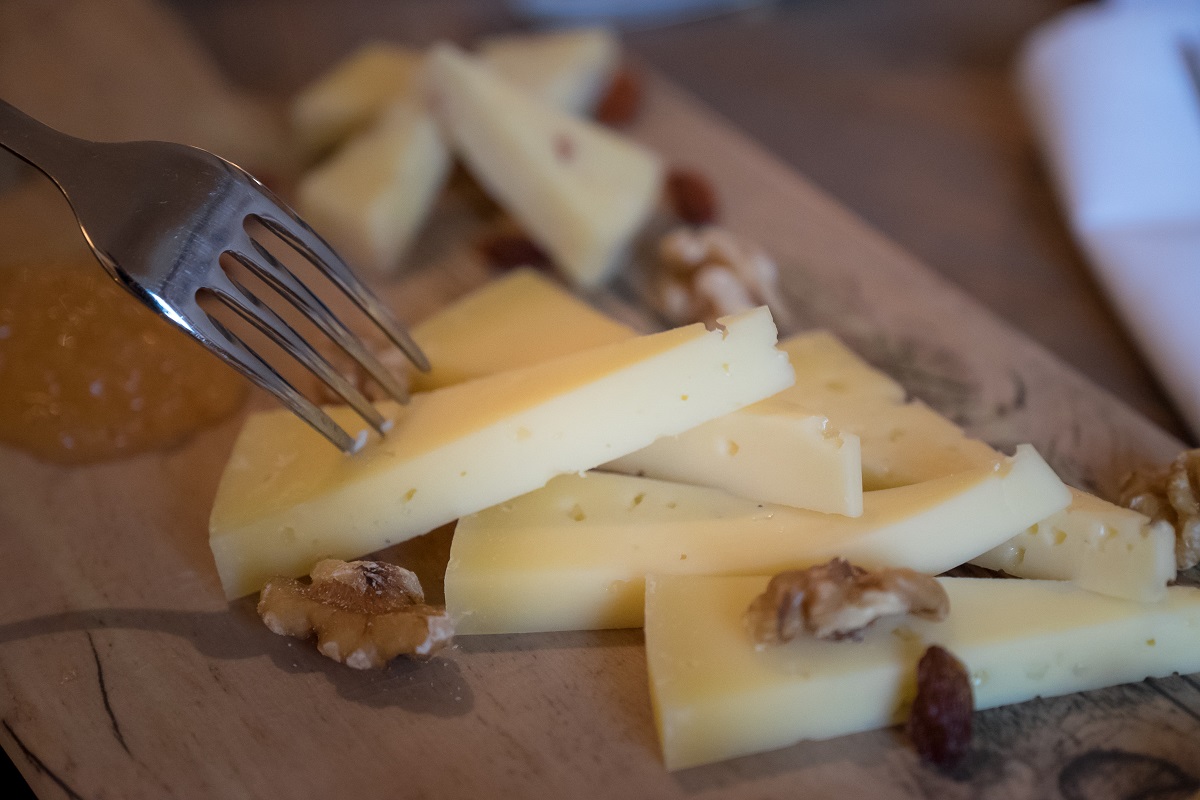 The first course? Delicious. Home-made gnocchi with radicchio, porcini mushrooms and a light cheese from the Isonzo area.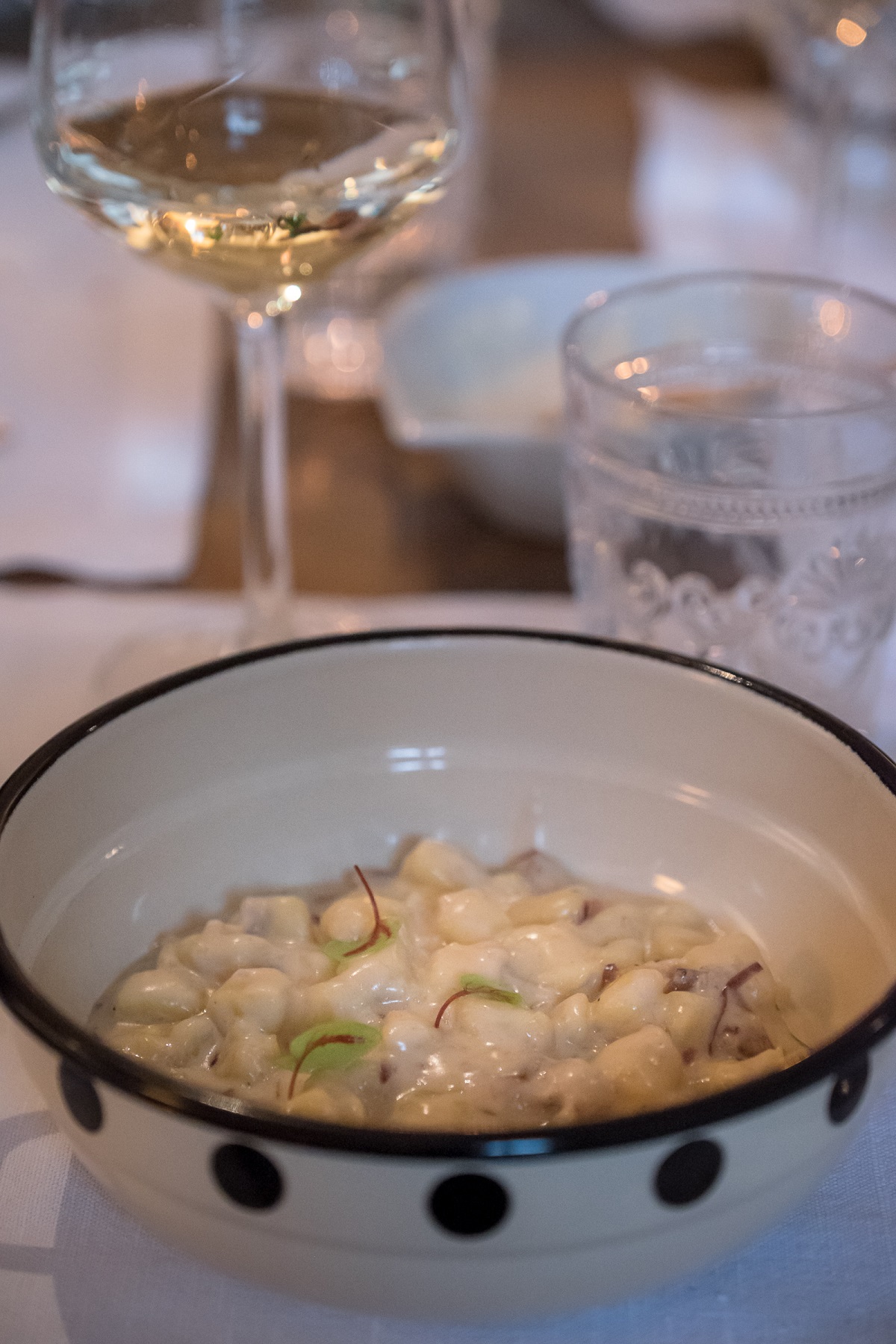 The plates they use at Kruh in Vino are completely made in Slovenia, and they're special because of their material (they are made in painted tin) and they are part of the tradition of this country. They tell a story!
After other delicacies it's finally time to try the POGAČA (I'd already told you about it in another article). It's a focaccia bread typical of Slovenia which Tomaž has reviewed; the recipe is halfway between a traditional POGAČA and a classic Naples pizza. The secret? Sourdough with a little pomegranate which is left to rest for 30 hours (the dough is worked three times); once it's ready, it's immediately cooked about 70%. Only once the client orders it, it's put back in the oven, so the product is excellent, crunchy on the outside and soft inside.
We tried three different types, served on a wooden board:
– Sosedova or the neighbour's POGAČA, very similar to our margherita, with tomato, buffalo mozzarella, fresh little tomatoes, home-made pesto and a little basil;
– one with tomato, sausage from the Collio, fresh cheese and black olive pâté;
– One with duck ragù, salad, burrata and caramelized red onion
Incredible flavours.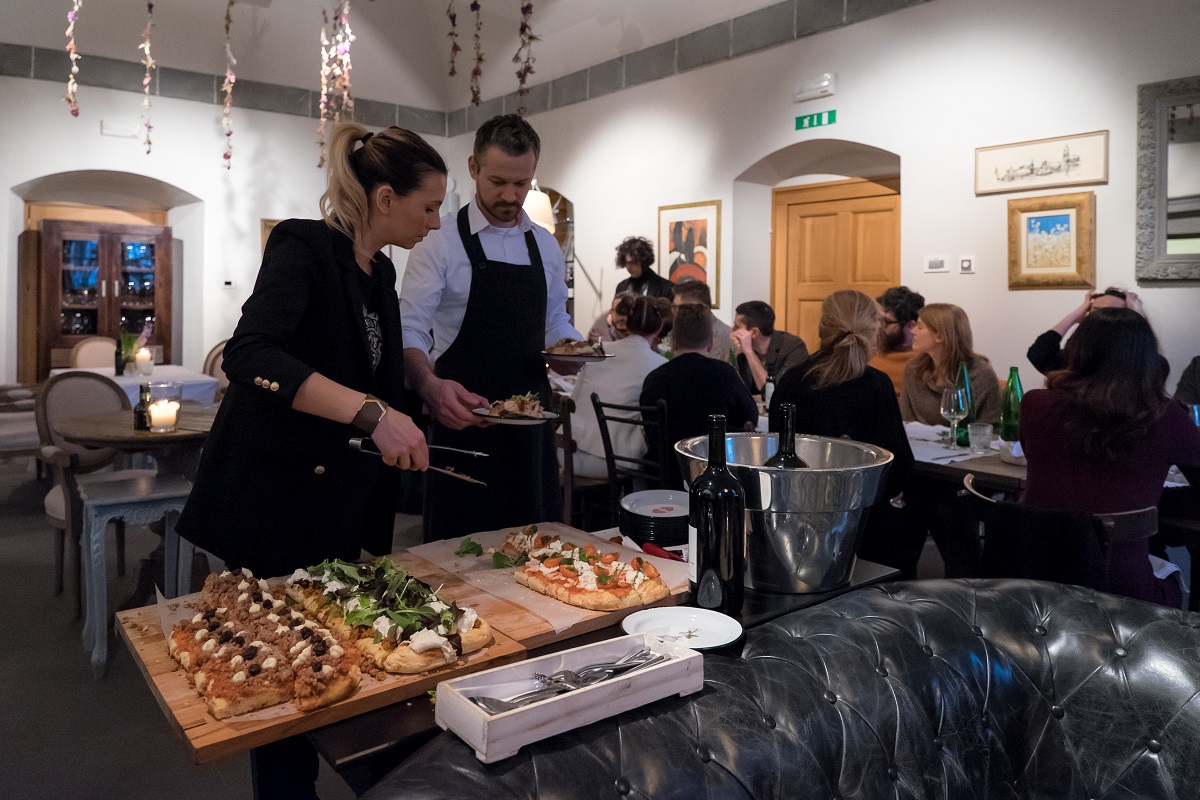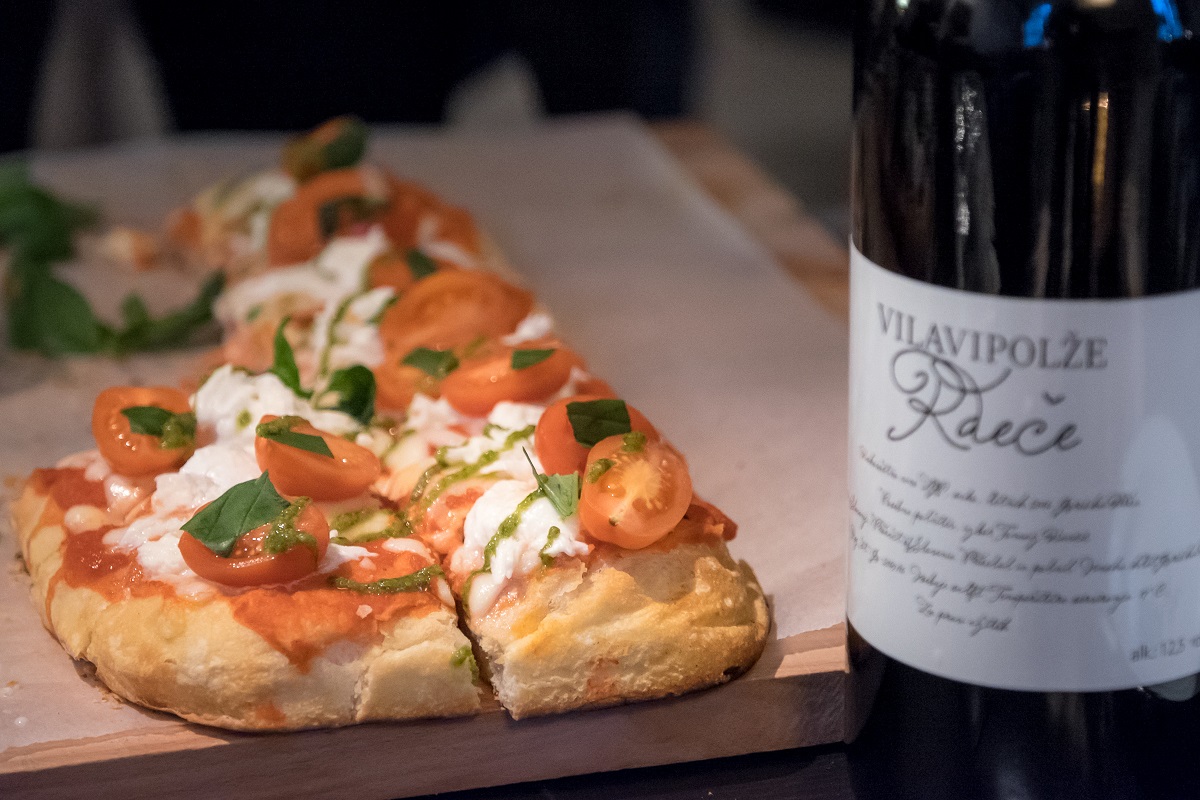 The last course of this delicious lunch was a classic apple strudel in a hot-cold version; warm strudel pie with a scoop of strudel… ice-cream! Incredible 🙂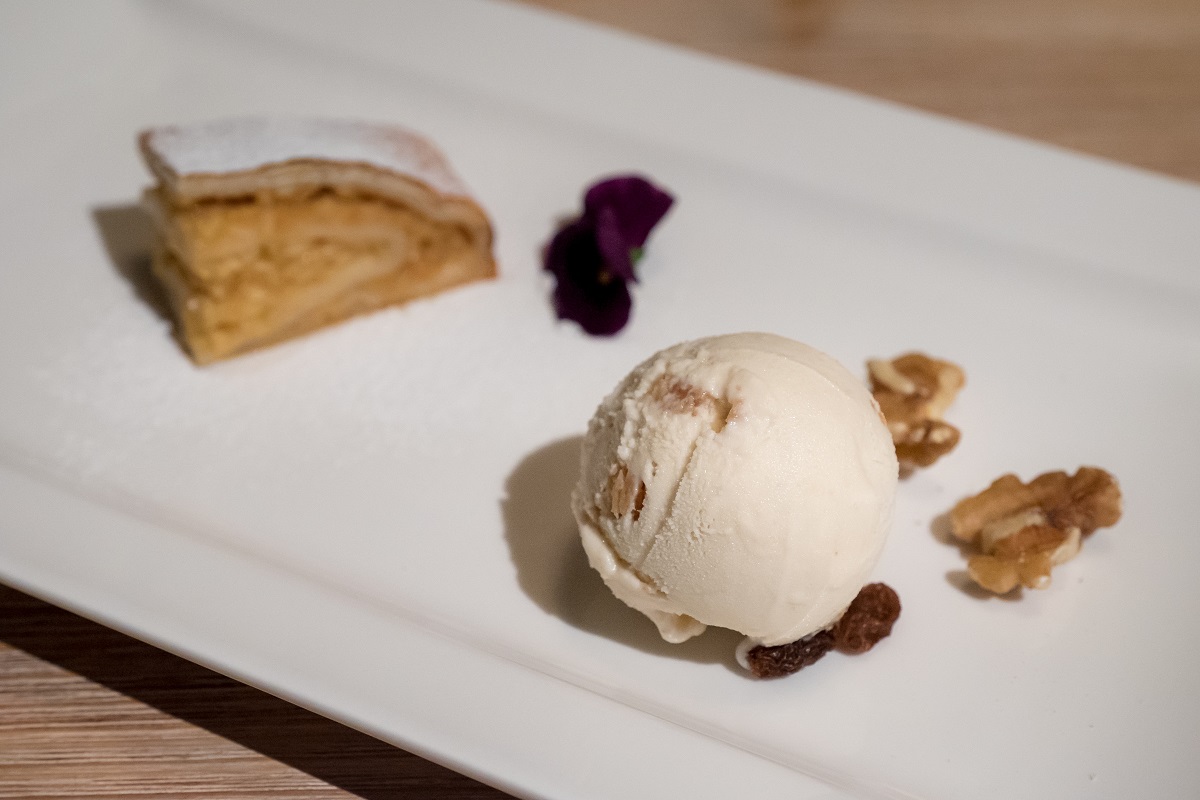 The wine they served with the lunch was a white wine of the nearby Brda hills.
But it wouldn't be Christmas without presents! My guests surprised me with a gift; a necklace from a jeweller in Monfalcone with the writing Miss Claire! Beautiful!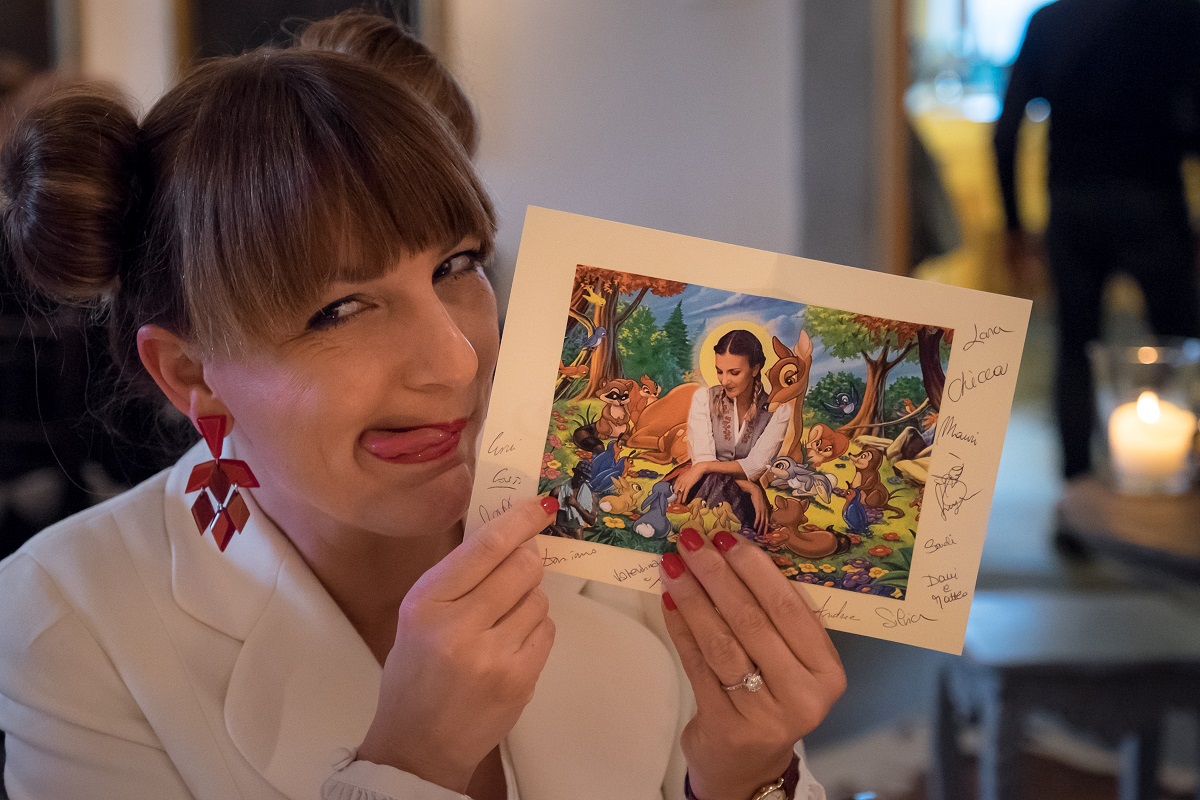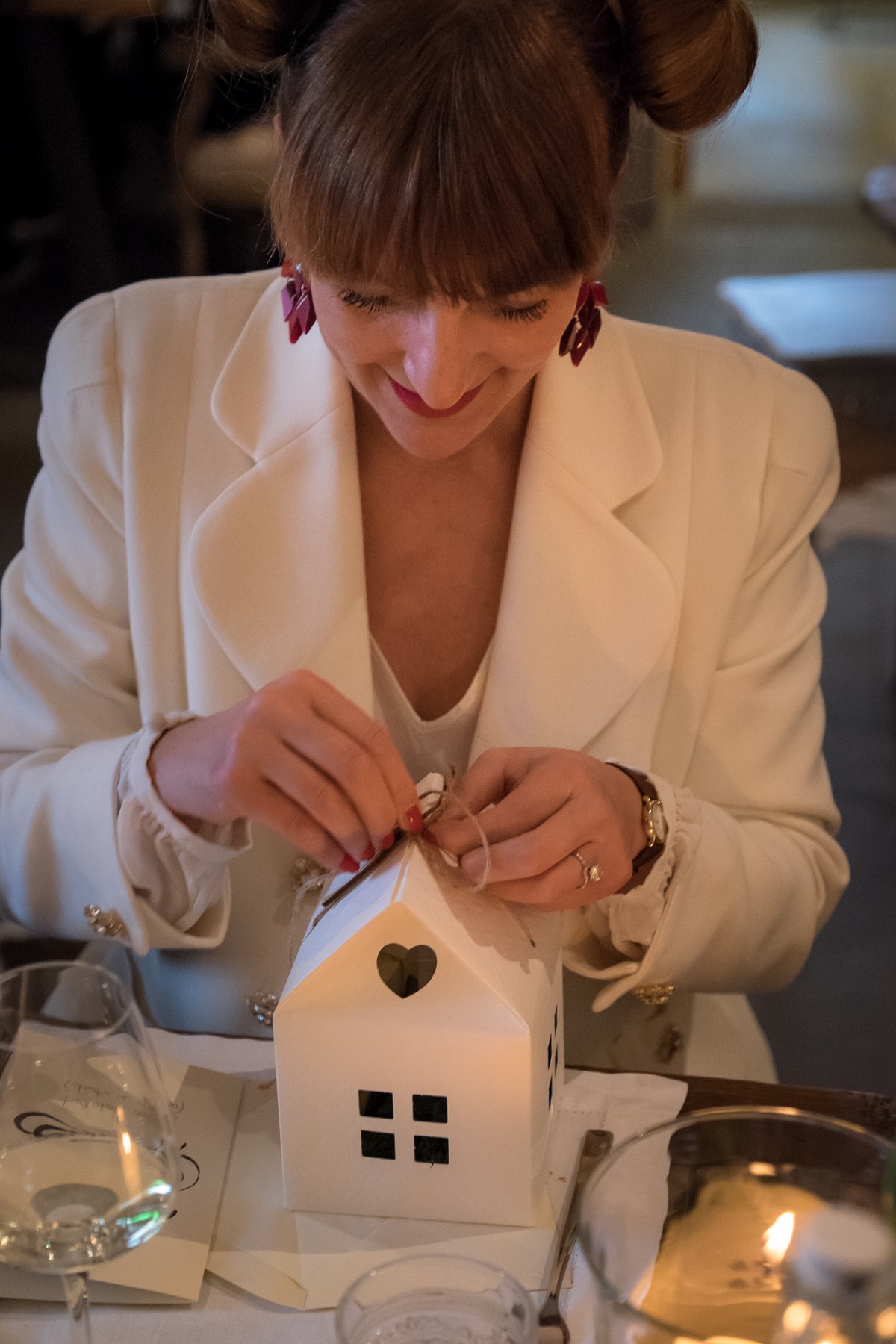 I decided to get something personal for each of my guests, I thought of something for each of them!
Here they are:
A lunch for two at 040 Social Food, an aperitivo for two at Pier and one at Draw, a bag full of pastries from Maritani, a Magnum bottle of Terraroza ( Bajta's sparkling Terrano wine), a day at the SPA in PortoPiccolo, a weekend at the thermal baths of Rogaska at the Atlantida Boutique Hotel, a cooking class at Eataly to learn to make gnocchi, a dinner for two at Caffè Vatta, a dinner for two at Joia, a lunch at Odio il Brdo, a dinner for two at Caffè San Marco, a bottle of Monologue Gin, a dinner for two at 1883 Restaurant and Rooms and a treatment at th legendary Goran hair-styilist!
I gave them all a chance to try the place I love.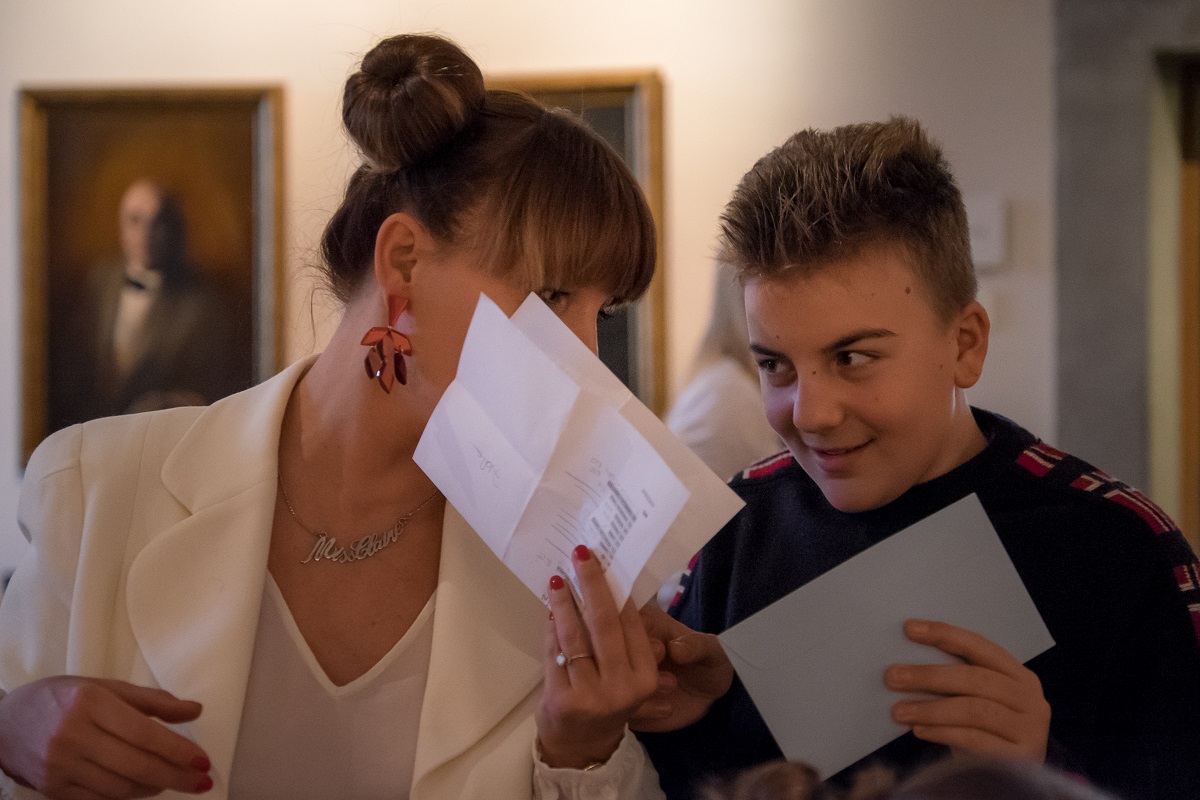 But there's one last thing. Because among the guests there was also my son, Giovanni, the "financer", I couldn't forget him. As I was preparing the gifts for everyone he asked "Mum, will I also get a gift from you? I'm one of you collaborators too!"
I had already planned everything. I asked the staff at Kruh in Vino to take their time with each dish, so that it started getting dark by the time we had eaten everything. Gio's present was ready. Everyone was waiting outside with their nose in the air to admire the FIREWORKS!
Well, maybe I exaggerated a little. It was Christmas after all, not New Year's Eve. But I knew this would have made him really happy…he really deserved the firework show, he's been very patient with me over the last year, following me around even when he wanted to stay home, waiting for me to take pictures before tasting each dish, helping me himself with photographs…
The lunch with my team ended with lots of great projects for 2019.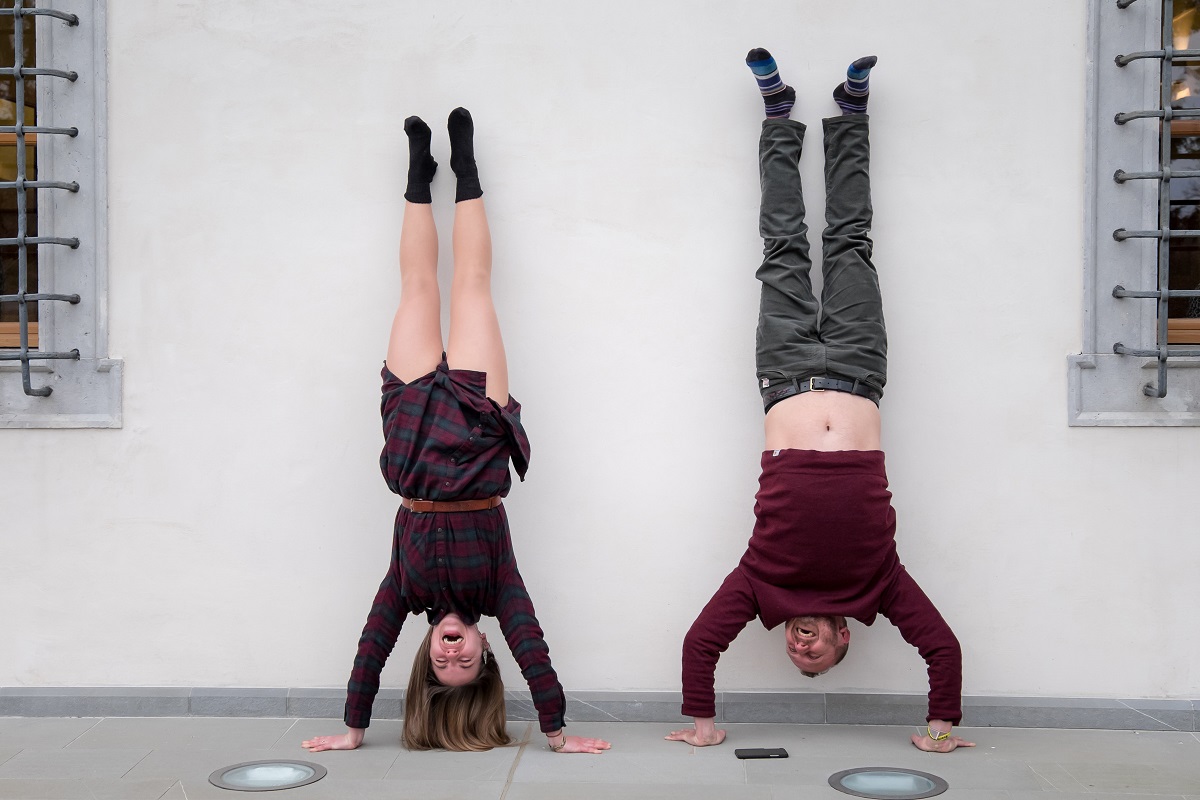 And a special thanks to all my followers. Every one of you. Thanks to everyone who has helped me in this journey and who will help in the journey yet to come.
Merry Christmas!
All my love 🙂
Video Damiano Tommasi
Photo Andrea Zangrando