We are only two hours away from Trieste. After not even five minutes into the highway, leaving behind the Natisone Valleys (which I had already introduced you to last summer, more precisely here), and passing through Kobarid and the wonderful Bovec, we arrive in Soča, the place where I'll pitch my tents for a few days, as a guest of Residence Soča.
This facility opened its doors in July 2021 and has 19 apartments, which are either thought for couples or for families, and hence have either two or three rooms; the newest addition from just a few weeks ago are the outdoor sauna and whirlpool, which you can enjoy while being surrounded by mountain greenery. A treat after a full day spent toddling or sliding in the snow.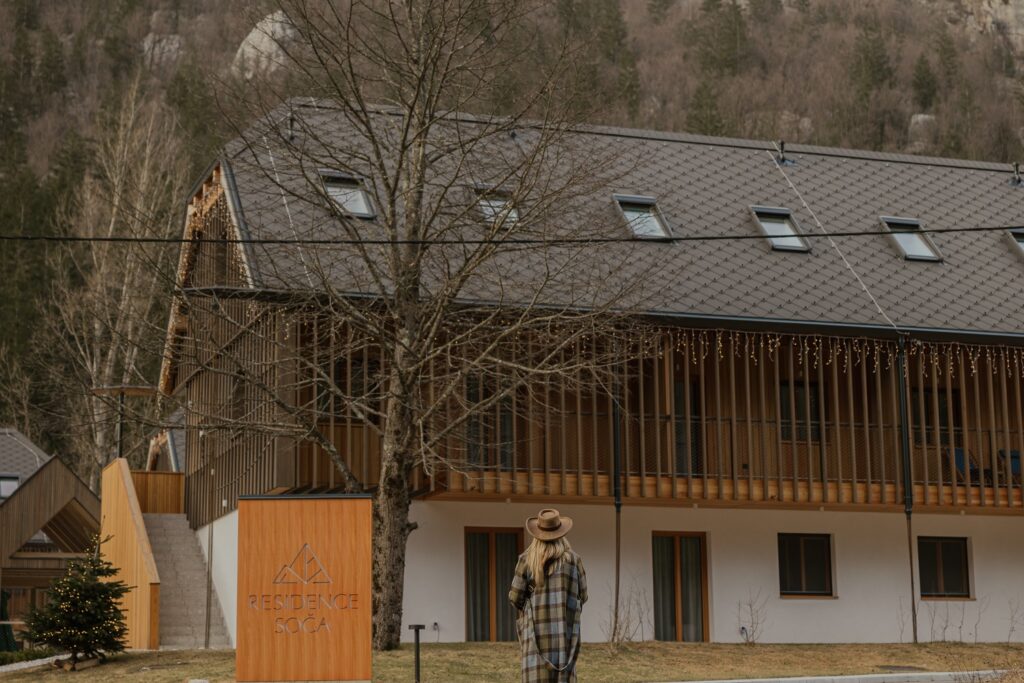 Also, to take care of you, you'll find Marjan and Andrea! In fact, the Residence offers the opportunity to book a truly immersive 4-handed couple's massage… 75 minutes of pure relaxation! You can request it directly at the reception desk.
Be careful, though, because the pampering is far from over. You will find a welcome basket waiting for you in your apartment, which is furnished in a full mountain-like, yet modern style. And what a basket this is! Inside is the recipe and ingredients for a snack/dinner with genuine and traditional flavors: "La Frika" a potato and cheese pie that RECALLS Friulian Frico! Yummy.
Even breakfast (which is offered on the first day) will be served to you this way: in fact, all you need to do is indicate the time of delivery the night before, and the next morning you will be delivered a basket full of local products, sweet or savory depending on your taste. Bread, salami, ham, cheese, yogurt, jam and honey! You won't forget such an awakening, believe me… and for coffee and herbal teas? You'll find a capsule machine and wild-herbal infusions. I'm giving it an A+!
I can assure you that you'll not be missing anything, and the first day's basket will be enough for the next day as well!
A walk through the small and large gorges of the Soča River
Residence Soča is located right between the two gorges of the Soča River (only thirty minutes from both the small and the large ones), so you only need to cross the road to walk along the river and admire the erosion of the rocks, the colors of its waters, the green moss and the forest that gives the first flowers of the season. A pleasant and relaxing walk.
Snowshoeing in the Trenta Nature Park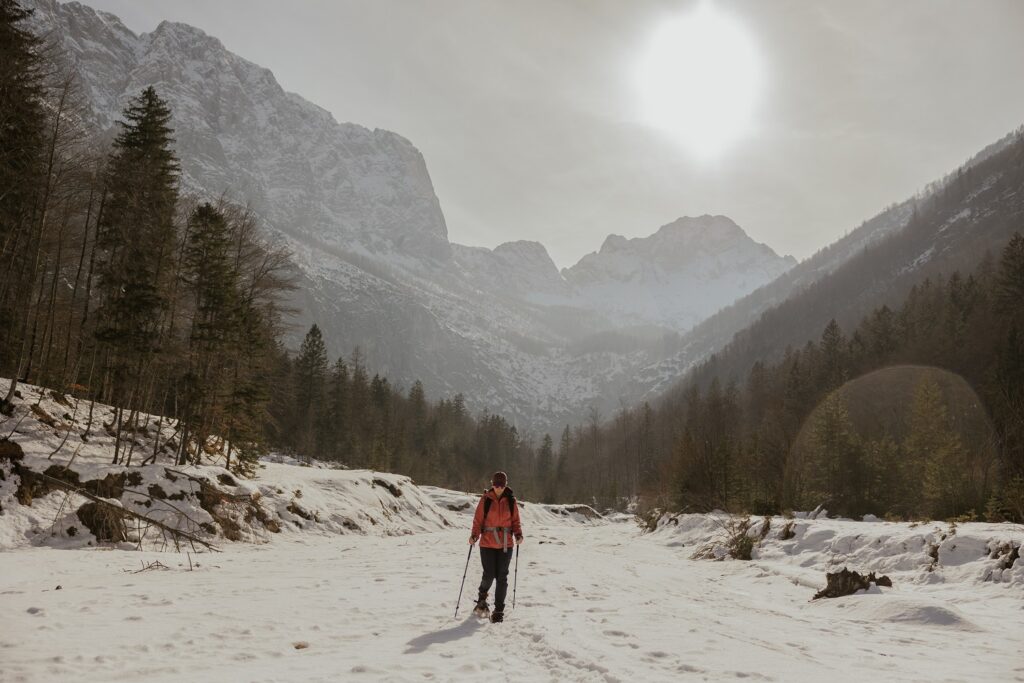 You can easily go around on your own, ask the front desk for some advice on the most beaten tracks, ask Mama Google, or I don't see why you can't feel free to be "unorganized" and contact Johannes Bergfors, a Swedish guy who, after falling in love with the nature of these mountains, decided to move to Bovec (which is only a 4-minute drive away from here). His passion has become a job with Meeting Mountains, a beautiful project that has him committed to taking you by the hand and accompany you in the most harmonious of experiences, depending on your ability and willingness to hike.
Right now, at Trenta Nature Park, the snow is still shining in the sunlight, as white as ever: around you, you'll only hear the chirping of birds and the sound of snowshoes. It's enchanting.
Johannes will provide you with the equipment, but you can also decide to set off independently and rely on him just for some advice on shelters, hikes, bivouacs, and whatnot. In short, this gentle Viking (who weighs, however, only 68 kilos 🙂 ) is at your complete service. Not bad, I dare say…
Skiing on the Kanin Mountains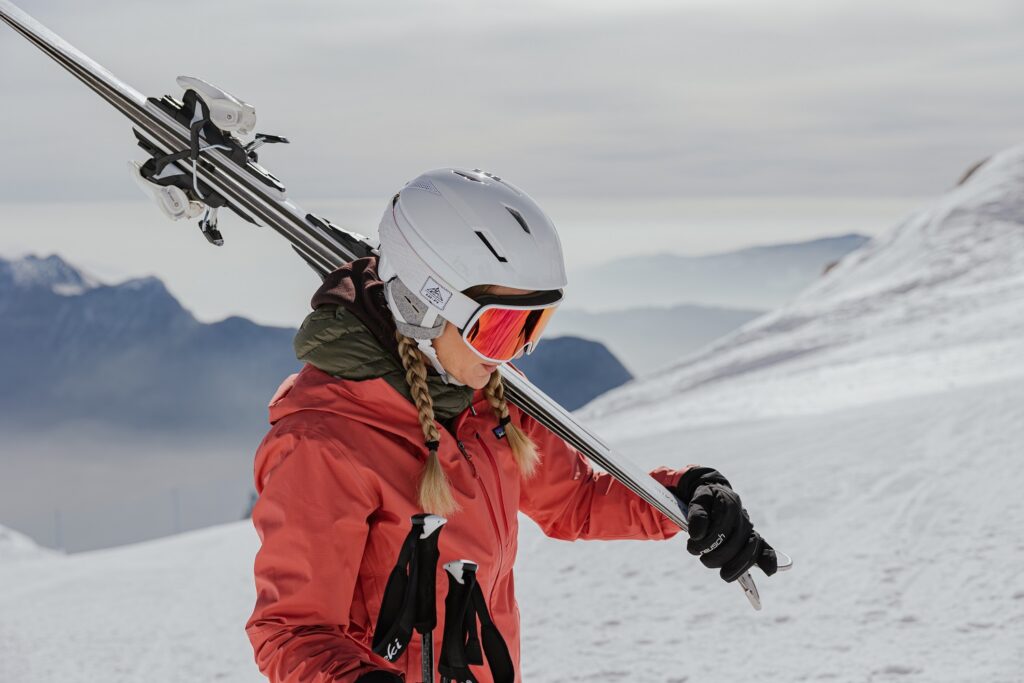 There we go on another ride! Just a 10-minute drive away from the Residence, you'll find the start of the Bovec cable car, which will take you at 2,300 meters, to the snow-capped peaks of the Kanin Mountains, in half an hour. At a lower altitude there's some mist, but the fog clears up gradually, and the sky turns out to be bluer than ever. The view that opens to my eyes looks like a painting… I'll let you be the judge of that. On the clearest days you can even make out the sea!
A small ski lift and a chairlift connect us to the Italian side of Sella Nevea: only 5 more euros will get you a daily ski pass (it'll go from 33 to 38 euros), and you'll be able to ski in both areas, with wide slopes suitable for less experienced skiers, too. Which slope did I prefer? The black one that goes down to Sella Nevea (despite finding the last section completely frozen).
Thus, zigzagging, I drew the seam of experiences that unite the area to which I feel I belong, with the footprint of my skis.
A nice little place to eat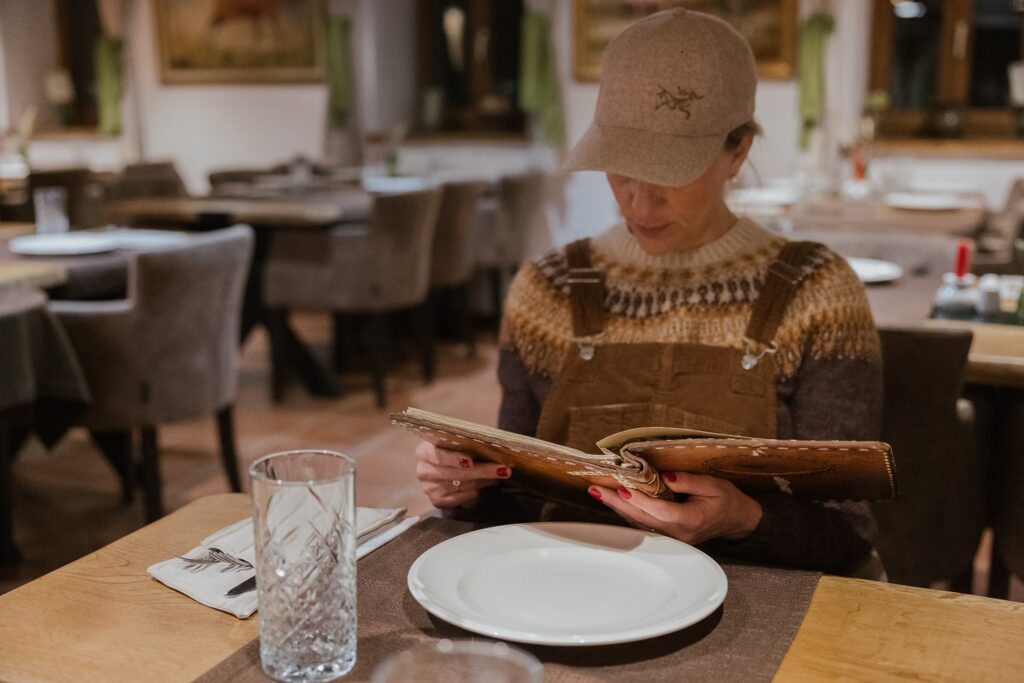 There are many little places, but almost all of them open with the high season here, which goes from spring to fall and then dozes off in winter. Pristava Lepena is a gem in the Trenta Valley, only 4 minutes away from the Residence: a campground with chalets, rooms, and a restaurant with simple, yet neat and very, very good food!
During the warm season, which will be from May onward, you can also take your horse and head into the woods, use their Spa and stay with family, friends or as a couple for a peaceful vacation.
Ah, sorry. We were talking about food, weren't we. Well, I enjoyed their soups and fantastic grilled meat. The final apple strudel had great puff pastry and really was outstanding! You will find this little place open 365 days a year… and there's a plus, too: if you go there with your four-legged friends you'll have a dedicated menu and a blanket to eat with them. What more could you want?
In conclusion, as the clock is ticking, the Soča Valley literally left me speechless. If you are a lover of nature, peace, and a no-frills kind of life, this is the place for you: a slow vacation away from the hubbub of the city, noisy aperitifs, and glitzy restaurants.
If you want more information, this is the right place to find it: click here.
Was I convincing?
Photo Silvia Policardi