Yes, you read that right. Only an hour and fifteen minutes from Trieste, although the word "valleys" brings the mind to much more distant destinations. And yet…
In an Instagram direct, I asked you what different content you'd like to find on my blog: the answer was a resounding "short 2 days itineraries close to home told by you!" Guys, let's be clear: you only need to ask and your Chiara will satisfy you in no time!
Today I'll take you to this little-known place off the usual super-beaten tourist routes. Welcome to the discovery of the Natisone Valleys.
Leaving Cividale del Friuli behind, heading to the mountains and Slovenia, the landscape suddenly and incredibly changes: the woods are lush (so much so that no one here complains about drought…it seems to be raining every three days here in this super torrid time) and they glow with bright emerald tones. In short, I have no trouble believing that water is not in short supply.
Traffic is lost along the roads and cars drop in number as you proceed; the fields on the plains alternate with villages and charming little churches (there are no less than 44 of them, and you can see them while taking a splendid walk), the mountains frame the view and slowly, as you climb higher and higher, their embrace begins to envelop you completely. Don't worry, you don't feel like suffocating, because the valley is open and very bright.
Maybe it's because the colors were so soothing, maybe it's because of the unspoiled nature or the peace I found along the way, but I felt the need to slow down, take my foot off the accelerator, roll down the windows and put my hand out to play with the air, just like I did as a child. Do you know?
WHERE TO SLEEP
Here some would say, "UNFORTUNATELY," I say, "THAT'S GREAT". Oh yes, because tourism hasn't arrived here just yet, and hasn't brought its hotel barracks. None of that, just simple but genuine facilities.
In my case Ms. Ave was my guide in the small and enchanting restored village in Sorzento, where she runs the B&B Corte dei Suanovi (which you can't find nor on social media or websites or Booking or other platforms). You either know them or…
A simple apartment where you sleep heavenly: in mid-July and a 40-degree weather, the blanket on the bed is a must, because the one-meter-thick walls work better than a cold room!
Lots of walkable paths start from here, and in the adjacent courtyard they also open an Osteria on weekends, where I was told they have great food.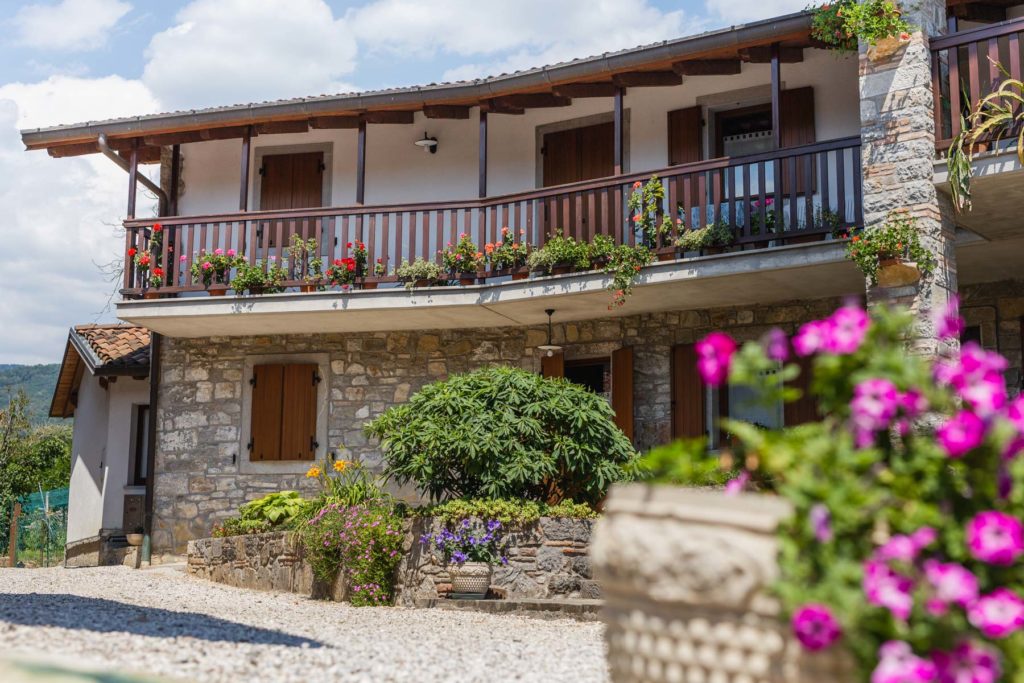 WHAT TO SEE AND WHAT TO DO
In addition to the walks and the multitude of excellently indicated CAI trails, you can visit some villages around here, and you can reach the Eden of the Natisone River in just 15 minutes from the B&B: many bodies of water where you can refresh yourself, an old mill, trees that provide shade, rocks from which to dive, white pebbles contrasting with the emerald green water, and respectable little beaches with white yet coarse sand (which won't stick to you breadcrumbs style).
You'll primarily hear three noises: the rustling of the leaves moved by the wind, the flowing of the river, and the chirping of the birds.
Believe me when I tell you that this is HEAVEN on Earth!
But let's get down to the practical stuff. If you choose to stay in the apartment you will have to do some shopping: so here is a little handbook of zero-kilometer, and explosive flavors. Three businesses within a maximum of ten minutes by car.
Gubana, a kind of dessert born in the Natisone Valleys, is something you'll find just about everywhere with ease. I went to Azzida to visit Valeria and her project "Grandma's Gubana": in 1998 she took over the workshop and at that moment she began baking tasty, artisanal Gubanas, following an arduous search for the perfect recipe.
In fact, Valeria told me that over the years she has always dedicated her day off, Monday, to reconstructing the recipe for this dessert, handed down orally in families: this path allowed her to create her own. The same one that today, she's introduced mother yeast instead of beer yeast, with the help of Flavio (her son-in-law; her daughter Elisa has joined her mom in this adventure in 2005!).
Yet, one thing leads to another, and they have recently added a small but very nice "Gubana Café" to the workshop, in which you can find as many as 30 kinds of different cookies, lots of fresh, daily baked cakes with seasonal fruits and other delicacies. A super yummy break.
The village of Pulfero is just 10 minutes away, but more precisely, we need to get to 7 hectares, renovated into young apple orchards, by the two siblings Massimiliano and Marianna Specogna: six years ago, they took over their uncle's business (who had started in the 1980s), specializing in apples and their derivatives.
The company defines itself as "mixed", because it produces apples from integrated pest-management, yet classic apples to little-known, organically grown varieties such as Brina, Golden Orange, Caia, Renoir, Esmeralda, Crimson Crisp and Fusion.
Yes, they do direct sales. I'll tell you right now. With the smaller apples they make a mind-blowing juice and dried apples, vinegar (3 euros in the commissary) and jams.
They don't only have apples, though. You'll find great peaches, blackberries, raspberries, and in-oils, too.
In September, the farm visits and harvesting will restart, the Educational Farm will reopen along with sales at the commissary, which also offers home deliveries. Mark your calendars.
THE CHEESE, YOGURT AND MILK BY ELISA MANIG
It only takes me five minutes to get to Frazione Tiglio, where I find Elisa, born in 1993, who started this adventure in 2019. She started with three pezzata rossa dairy cows and today she has 29! The animals live in loose housing inside the barn and access the pasture behind the barn in the morning.
Once it's milked, the milk is processed entirely in the small dairy next door; almost all products are sold in the farm store, which is also in Frazione Tiglio. What do they offer? Hand-cut mozzarella, typical Friulian "San Canziano" dairy, ½ kg caciottas always processed with raw milk, both classic and spiced, and lots of cheeses and fresh products. You can't miss out on the "Yomaci" yogurts – which name is a mix between yogurt and domači (for those who don't know, domačo in Slovenian means homemade): they are to drink but super creamy, both natural or with a honey and strawberry base. They also make many cottage cheeses and spreads…it's amazingly good.
A women's paradise, because other than the beautiful Elisa and her inseparable big dog Virginia, the absolute star is Pamela, a little piglet who is literally blowing up on Manig's social media 😉 You guys go take a look too…
A STARRED MEAL TO EAT WITH YOUR HANDS? HIŠA FRANKO
On the road to Slovenia, in just 20 minutes you'll reach Kobarid. I'm sure you've heard of Ana Roš, born in 1972 and self-taught chef, proclaimed best female chef in the world in 2017 for the prestigious World's 50 Best Restaurants ranking, two Michelin stars, JRE…and who knows how much more…
She is very sociable, sunny, has an unmistakable short curly blond bob and a real hostess' availability; she stops to talk to the customers in the room. She is just genial and a workaholic, she has a Bachelor's in International Diplomatic Sciences; she is a real WAR MACHINE. Well, needless for me to write her resume here.
She accommodates a maximum of 50 guests in her restaurant and has as many as 45 employees between the dining room and kitchen brigade. Shall we crunch some more numbers? Oh yes, because there are also 10 rooms ready to accommodate guests who wish to stay after dinner and a small terrace where they can enjoy an aperitif before sitting down at the table. It's all just perfect.
The delicious dishes on the menu (you can find all of them below) give special space to seasonal and international flavors, but start with excellent raw materials, both local and imported.
The special feature that stands out on the table, other than the simple, classic white tablecloth embellished with a centerpiece of flowers, is the lack of bread and cutlery: in fact, everything they serve is bite-sized and has to be eaten with your hands.
You can choose a wine accompaniment, alternate wine with a cocktail or have completely non-alcoholic beverages. At the time of booking, you will be asked if you suffer from allergies or intolerances, so that they can adapt the menu to your every need. Otherwise, you will taste the dishes in their traditional version, as born from Ana's hands.
But here are the little flavor bombshells:
– Fermented tomato water, elderberries, wild strawberries and tarragon;
– Beef tongue pastrami, crystal seaweed, jalapeños, wild herbs;
– Celeriac, truffle, creamy egg, milk skin, buttermilk powder;
– Carrot kebab, wild magnolia flowers, Panch Phoron spices;
– Corn beignet, fermented cottage cheese, smoked trout roe, wild chives;
– Potato cooked in August hay, lovage sour butter and horseradish;
– Sour milk, red fruits from the garden, and pine oil;
– Lake trout, green apple and kohlrabi salad, inoculated barley water, sauerkaut, and toasted yeast/toasted trout torro praline in yeast powder;
– Salted watermelon, almond extract, and fig leaves;
– Apricot orzotto (barley risotto), apricot almond, meadowsweet;
– Nixtamalized mountain corn tortilla, Drežnica lamb, forest mushroom molé;
– Where's the meat? / Toasted barley flour and barley malt injera, onion, no-waste sauce of mixed meat scraps, celeriac sheets stuffed with cherries;
– Cheese water mochi stuffed with gooseberry and black currant, puffed wheat;
– Milk;
– Summer fruit.
How much does it cost? 325 euros. Of course, it's not for every budget. But if you love food and wine, it's worth it all.
And with this waltz of delicious morsels my short – yet intense – journey through the Natisone Valleys and Slovenia comes to an end. I hope I have pleased you properly…it only remains for me to take my leave and I'll see you in my next adventure.
Bye!
Ph. Michele Grimaz