The luck of working just a few steps from Piazza Ponterosso is that in my lunch break I can go and eat something really nice in one of the many places in the centre of Trieste.
I always like to go looking for new places to try out, but often there's little time and too much to do! So when I'm in a hurry or I have to meet a client for lunch, I have a few established spots where I'm sure I'll find something good for the right price and where I'm sure the ingredients are top quality.
I'm sure many of my readers already know these places because I talk about them often on all my social networks.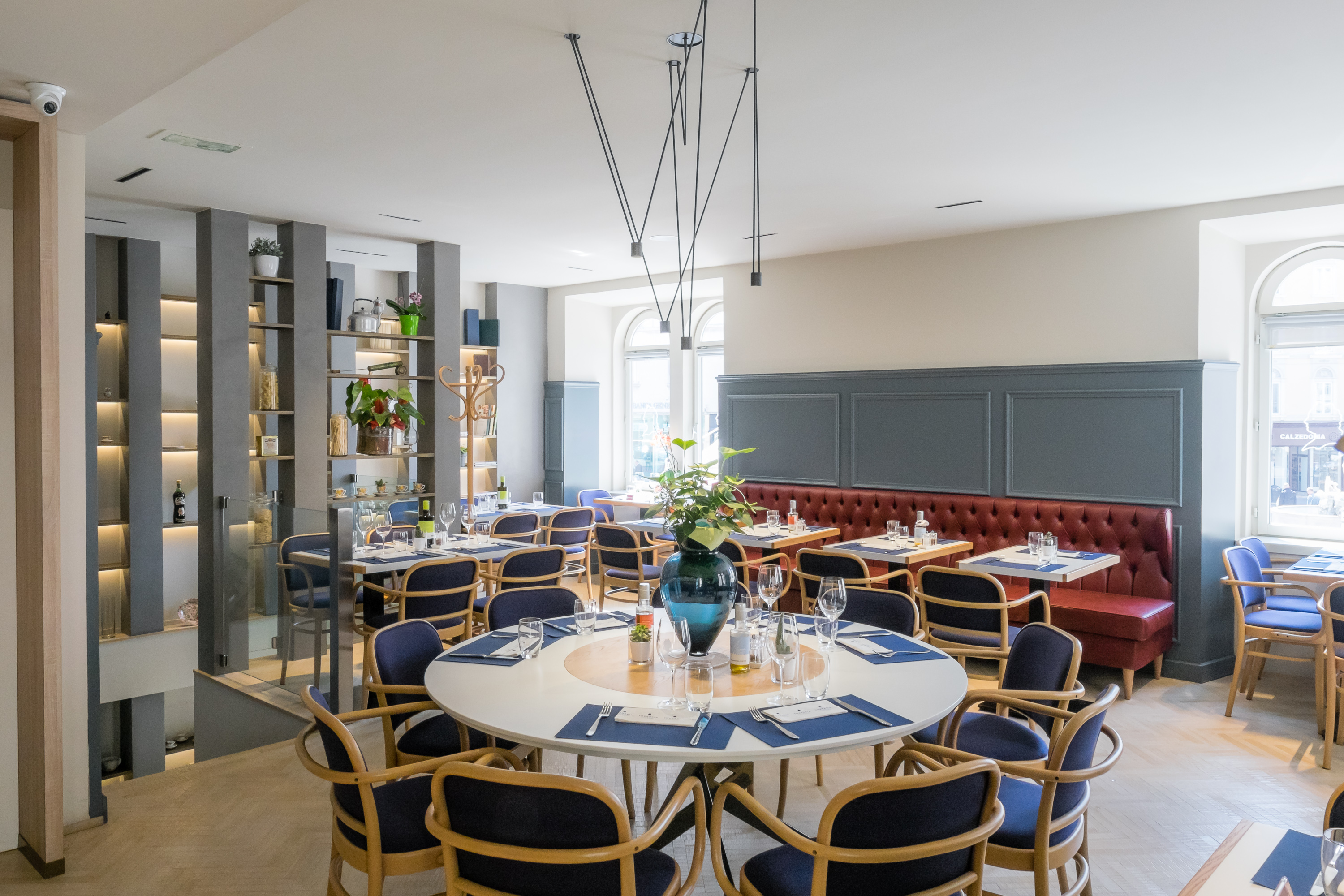 Facing Piazza della Borsa and via Cassa di Risparmio, the Theresia Mittel Bistrò is where I stop for lunch at least once a week.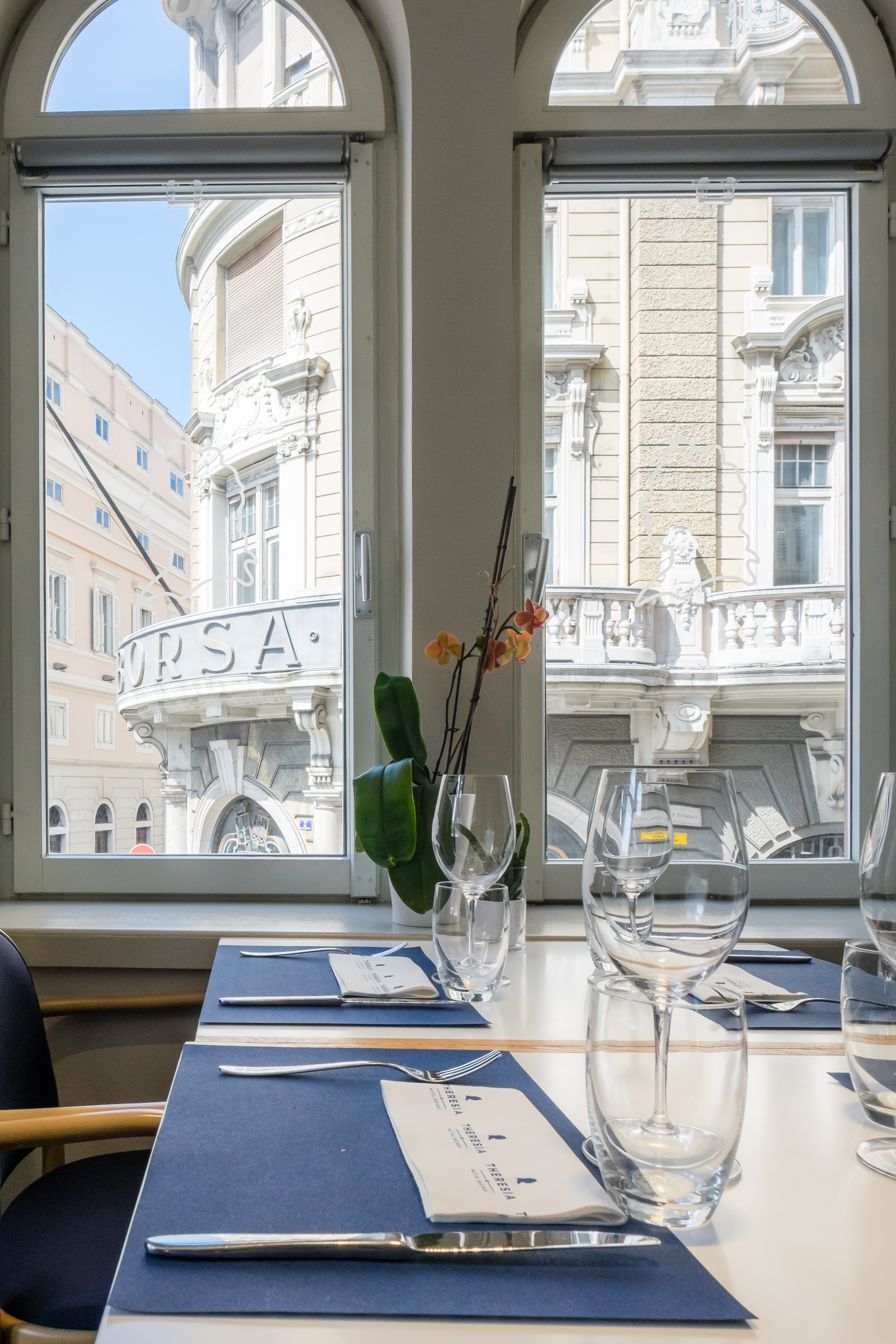 On the ground floor they have a café, where you can sip a coffee comfortably sitting inside or outside.
For lunch I always go upstairs, but as the weather gets better you can also sit at a table outside.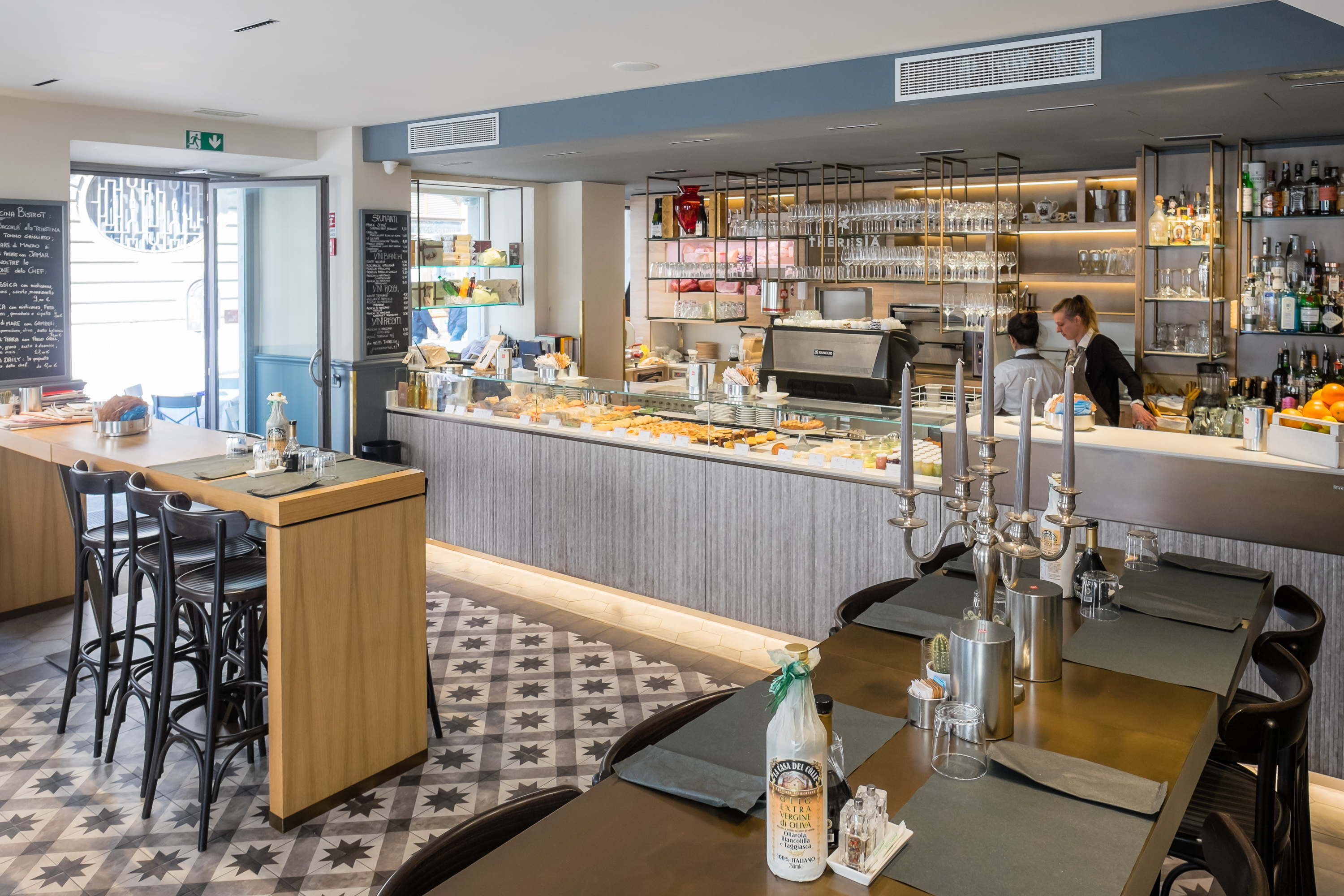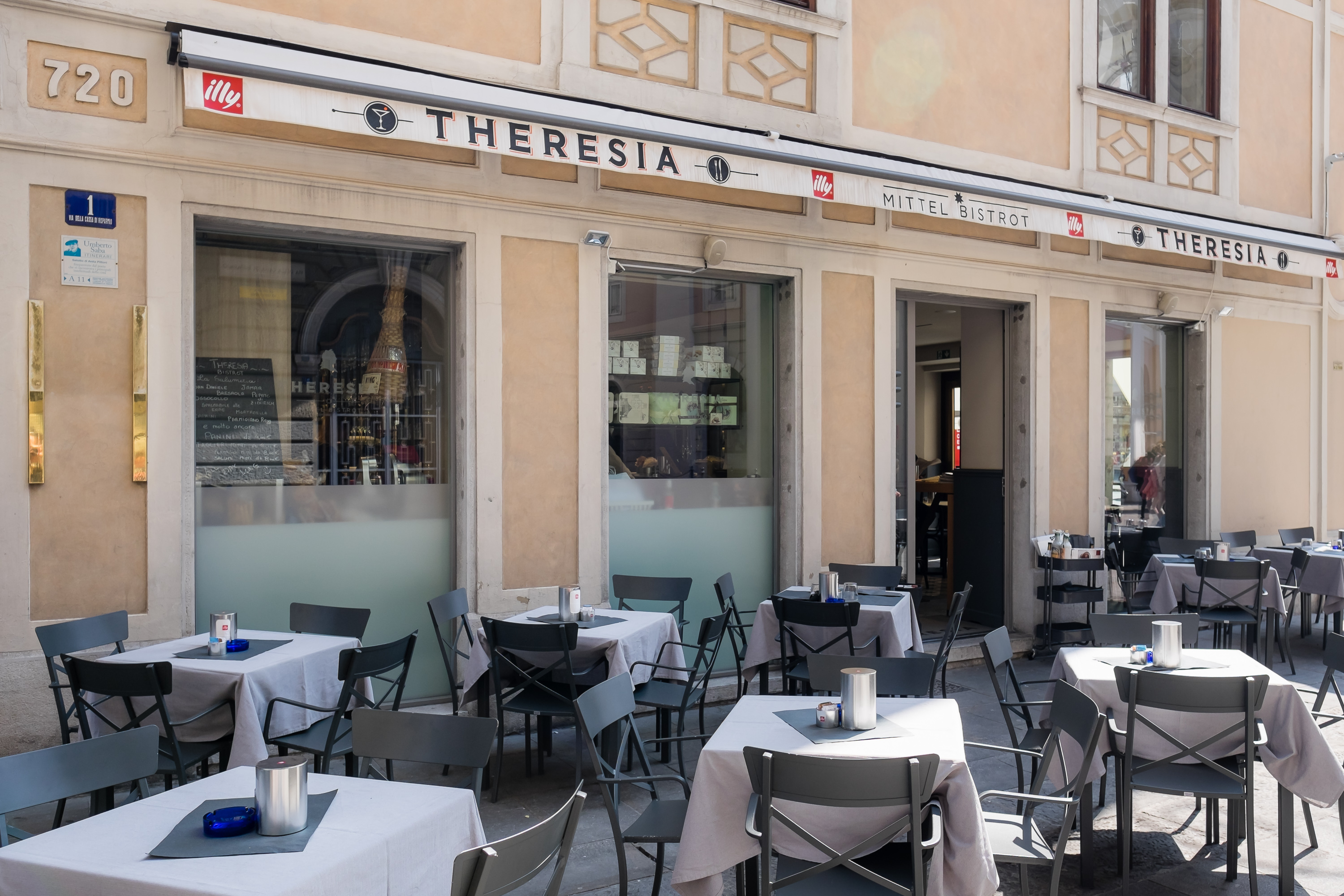 As well as quick lunch suggestions, like sandwiches or a cheese toast, which they prepare daily and wrap individually, they also have an exclusive Business Lunch menu which is really good and changes daily.
What never changes are the excellent ingredients that the chef carefully selects every day!
The lunch you see in the photographs was for three people so I tasted different dishes: octopus carpaccio with salad and concasse tomato, cauliflower and potato soup with seared tuna and taggiasca olives, salmon pave with topinambour cream, fried broccoli rabe and burrata.
The plates are the right size and the flavours are unique!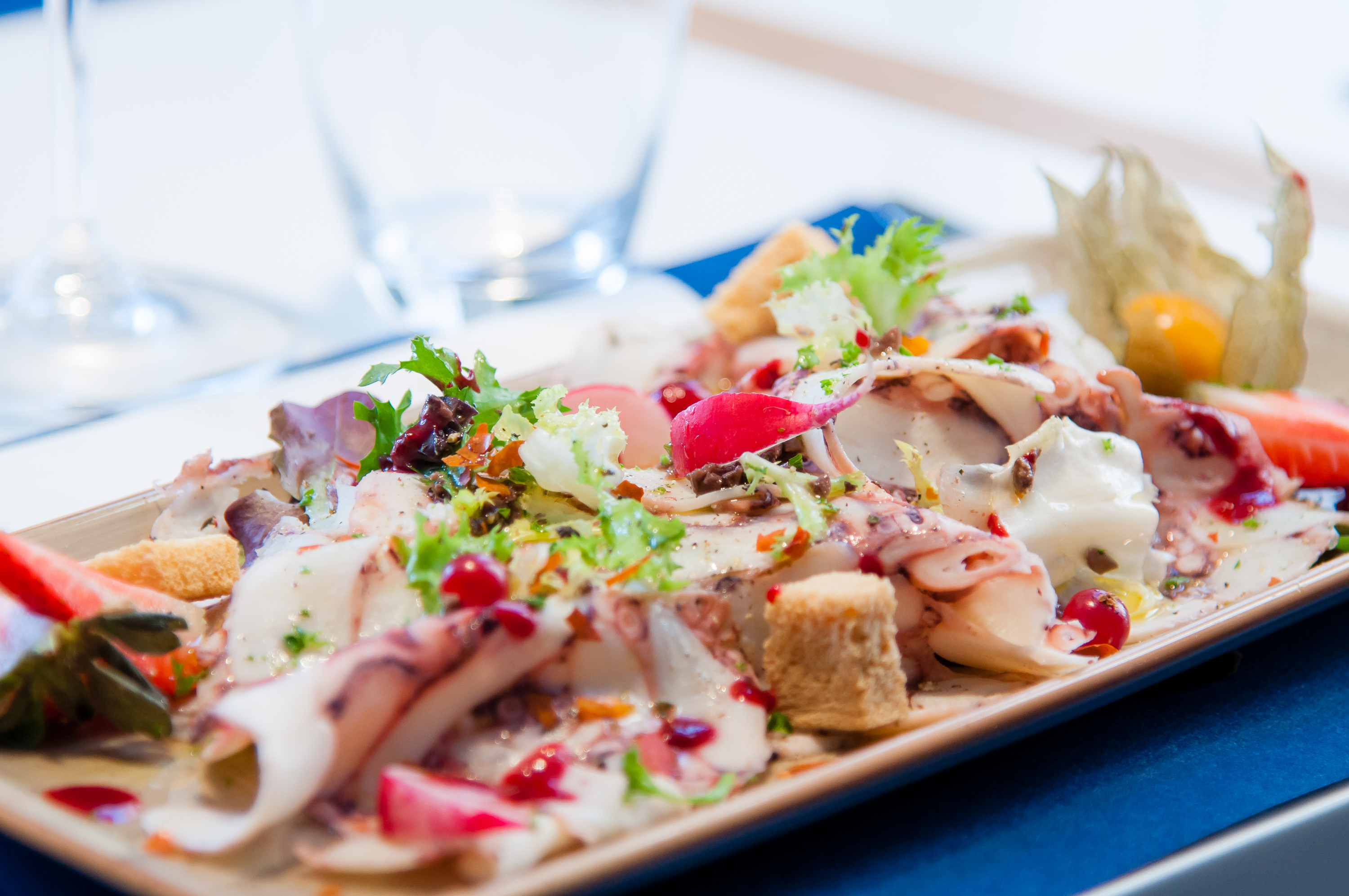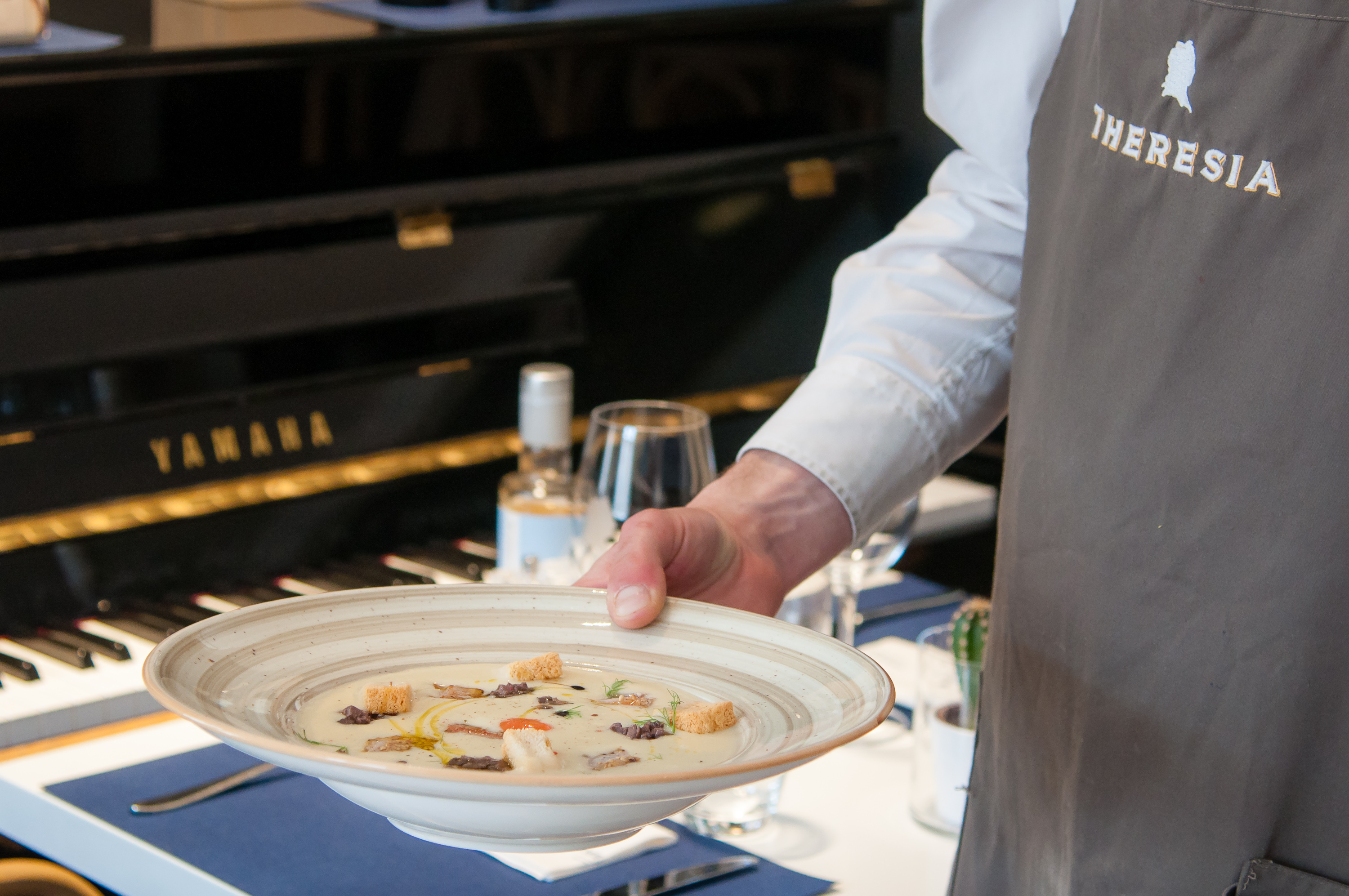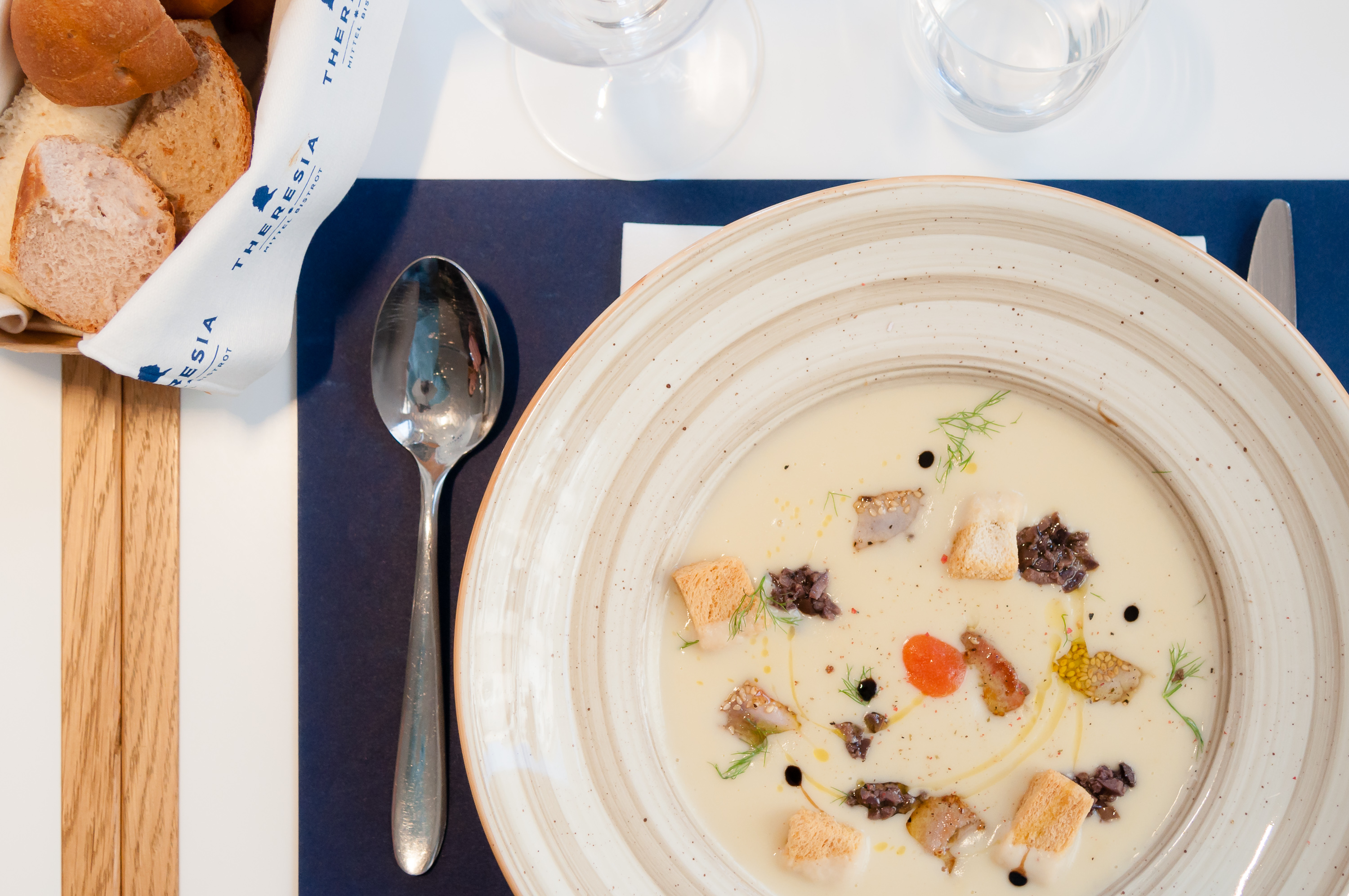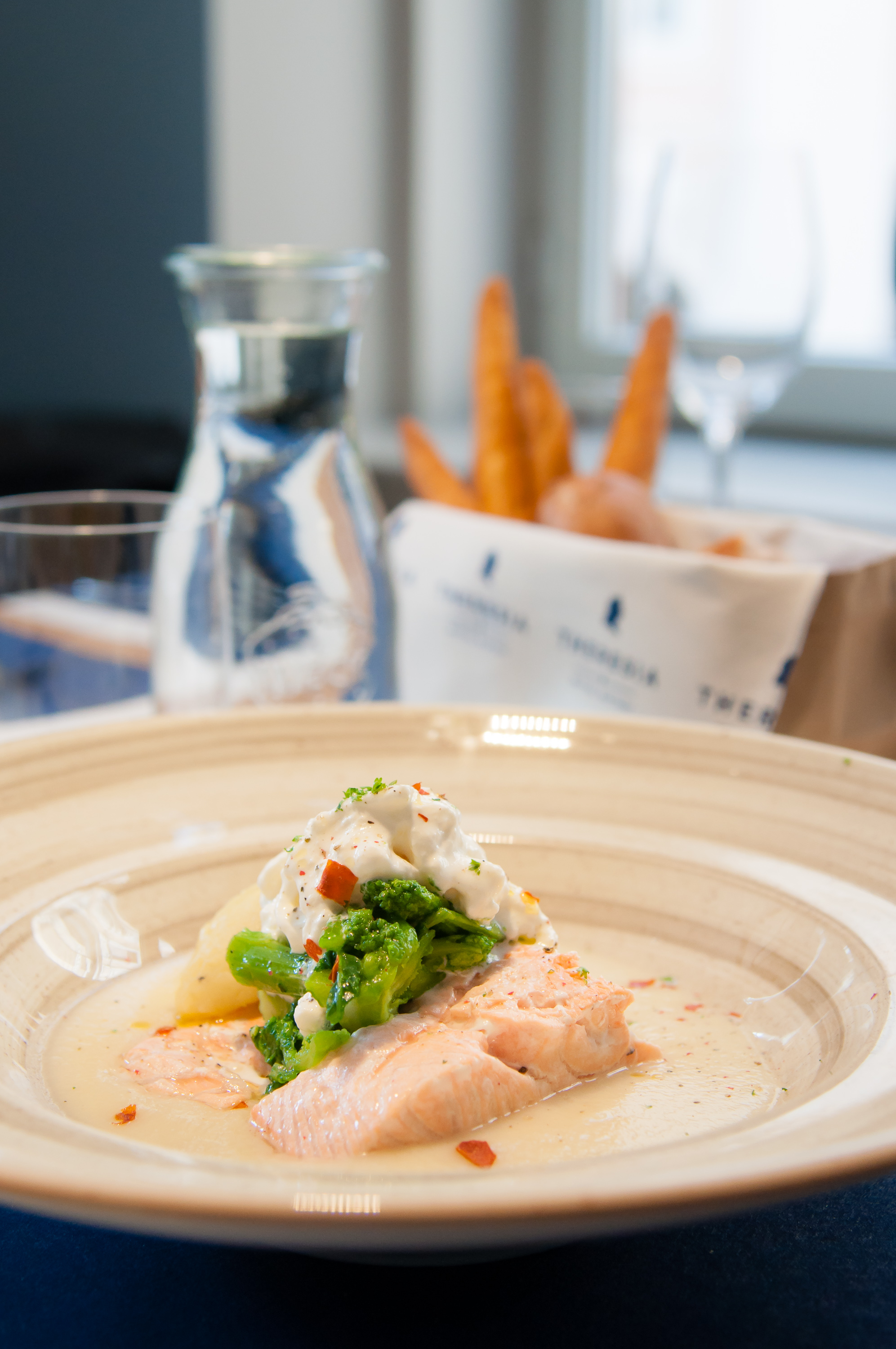 Their desserts are excellent too, especially their tiramisu. But there are not photographs of it because I finished it before Andrea managed to take a picture 😉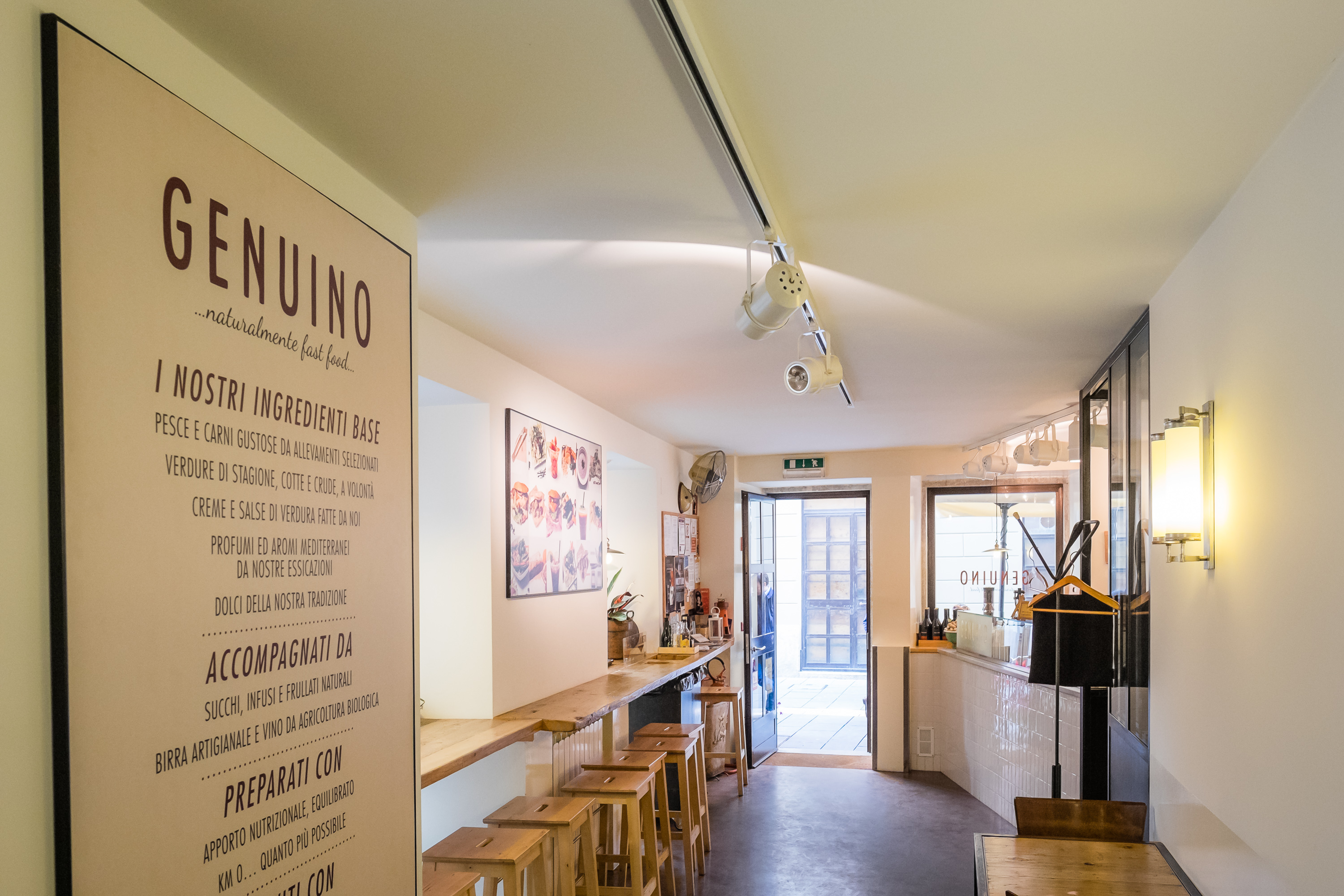 A few steps from Piazza della Borsa, passing through a small portico, we reach Genuino, a small little place but genuine in its beauty! Lovely vintage armchairs, windows onto the little side street and a wooden counter with stools to have lunch like in a "fast food".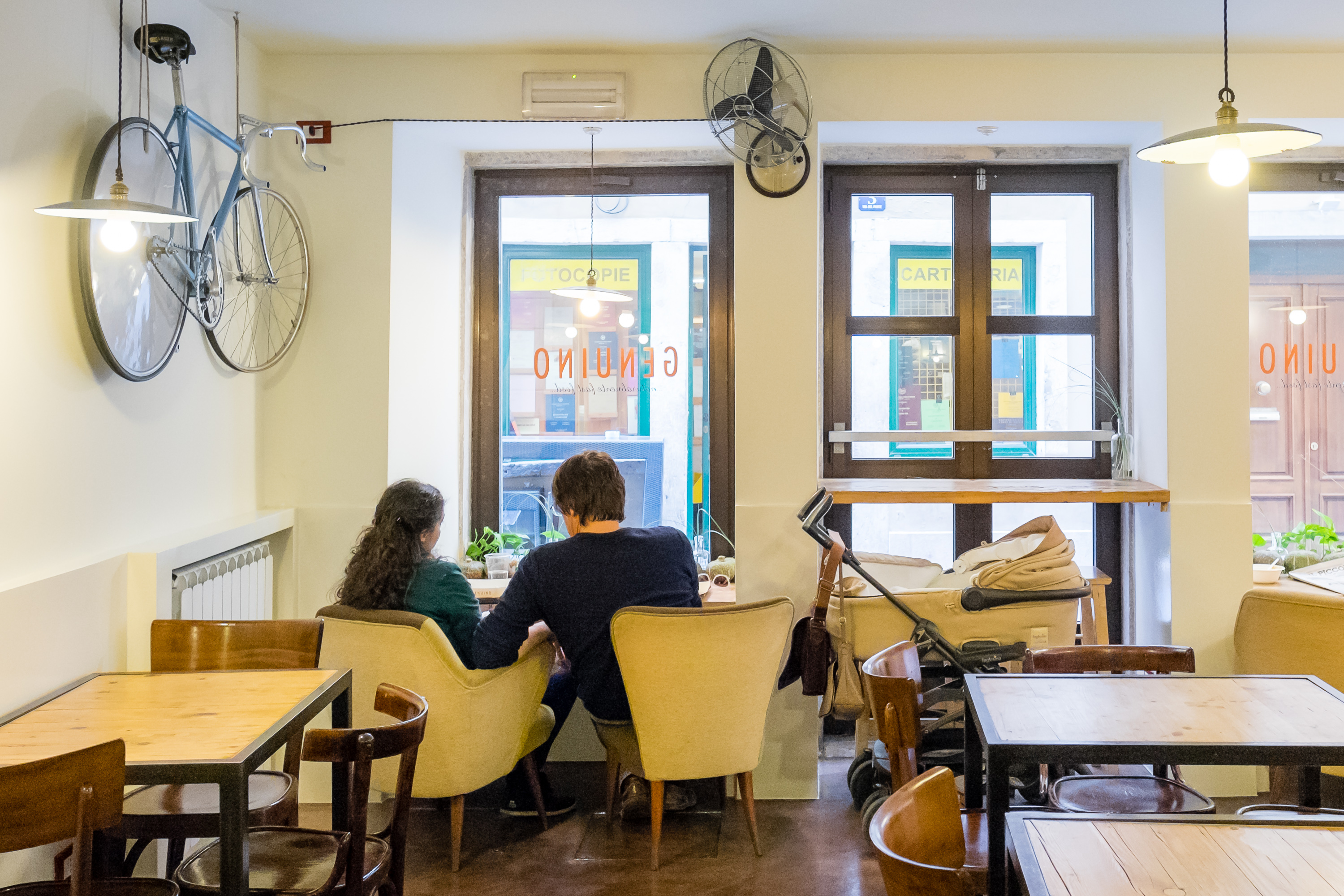 I walk in and read through the menu hanging above the cash till, but I immediately meet Stefano, the owner along with his wife Giovanna, and he makes a few suggestions on what to order; the cook, Giacomo always has new and excellent dishes.
He suggests I try the vegan sandwich, with olive bread, seasonal vegetables and vegan hamburger. As I taste it he tells me that he put a lot of time into the recipe until he finally found the right combination of ingredients (all local and organic) that could give the hamburger the right feel and taste to tickle your palate.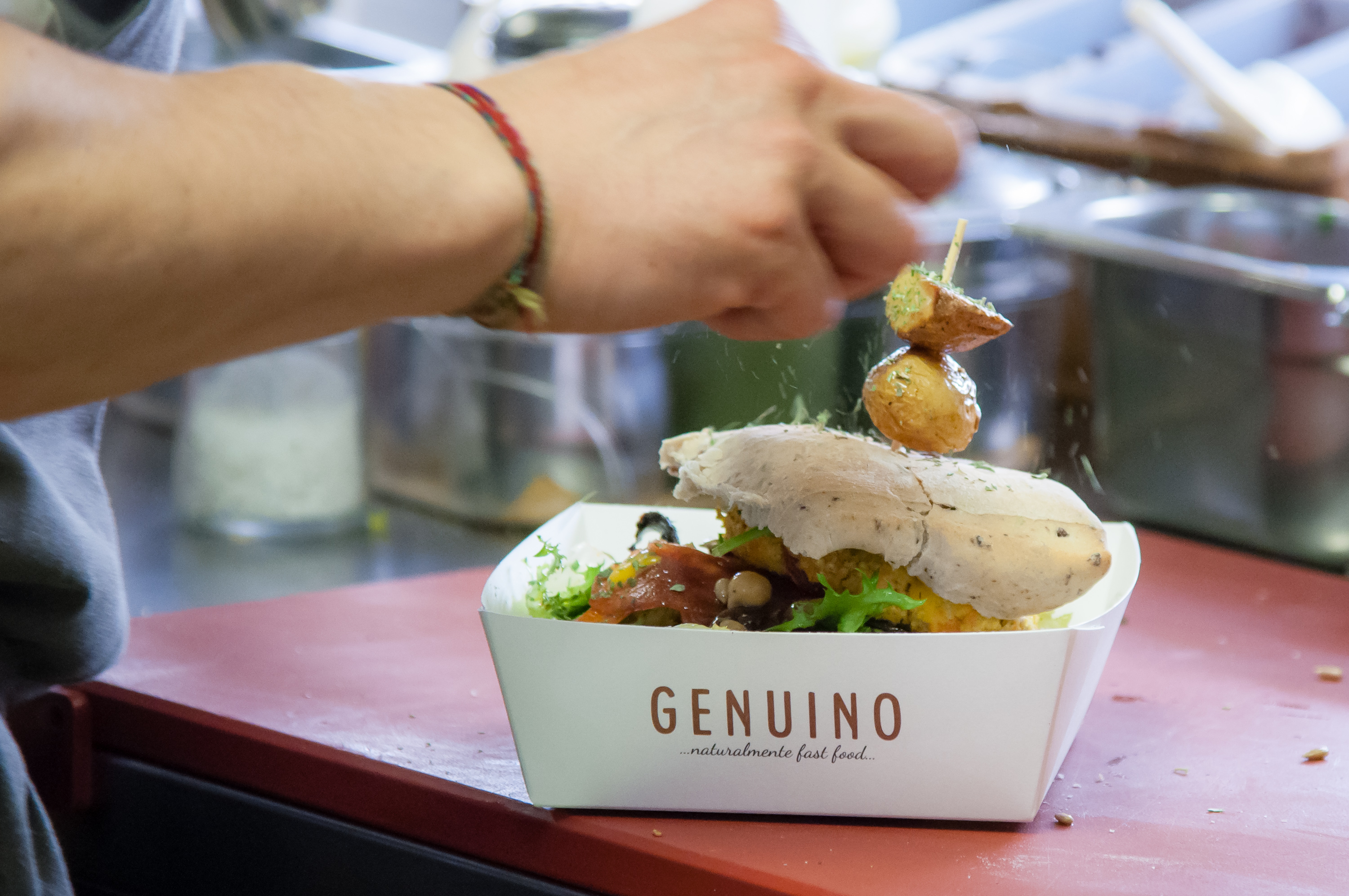 As well as sandwiches (meat, fish or vegetarian) the menu also has dishes and seasonal salads. I tried the rice with salmon: whole grain rice, seasonal vegetables (asparagus, zucchini, cauliflower, fennel and carrots), homemade sauce and grilled salmon.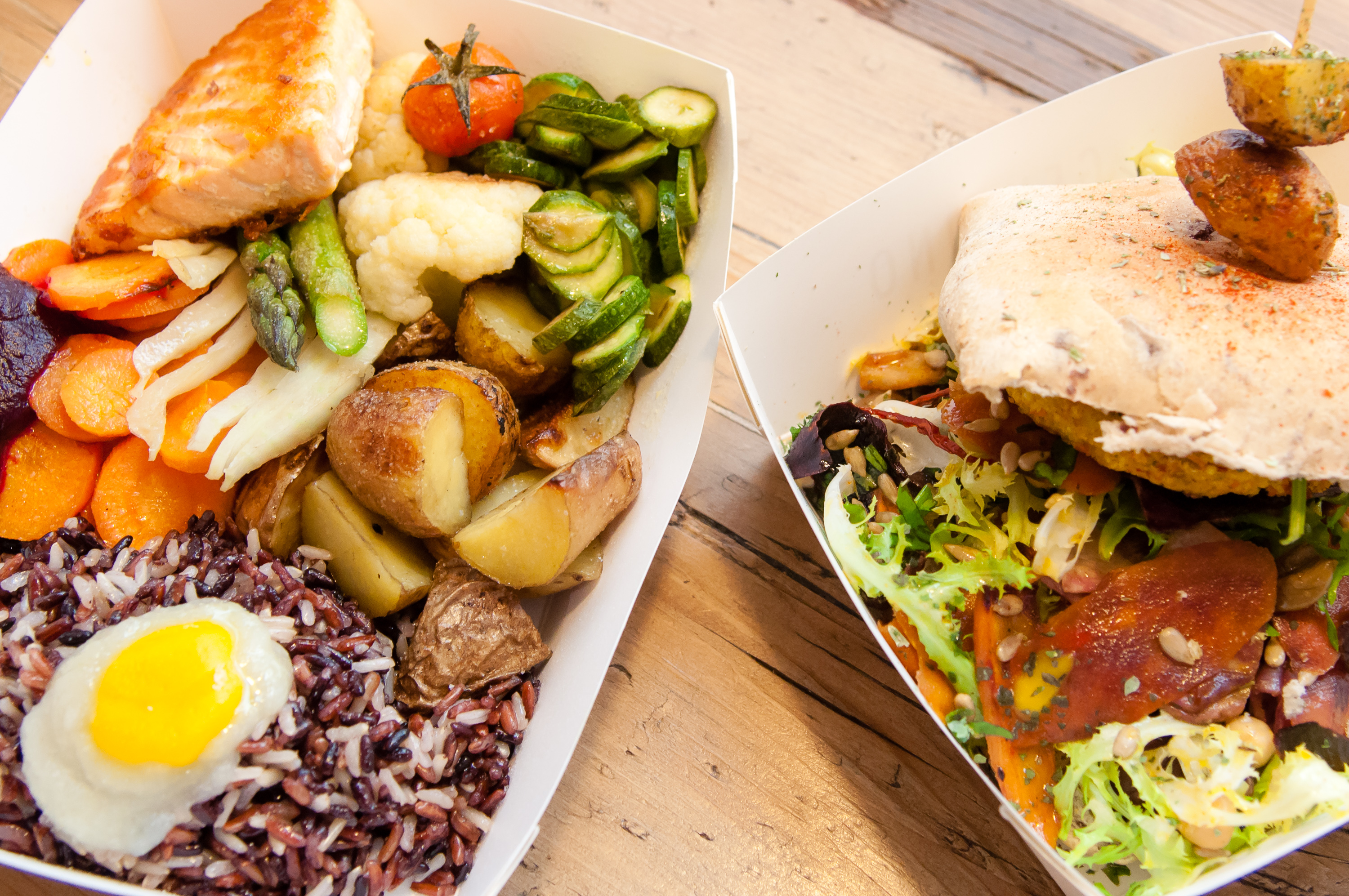 I often need a "fast" lunch, and here you can even pick up a take-away lunch, with a handy and eco-friendly packaging.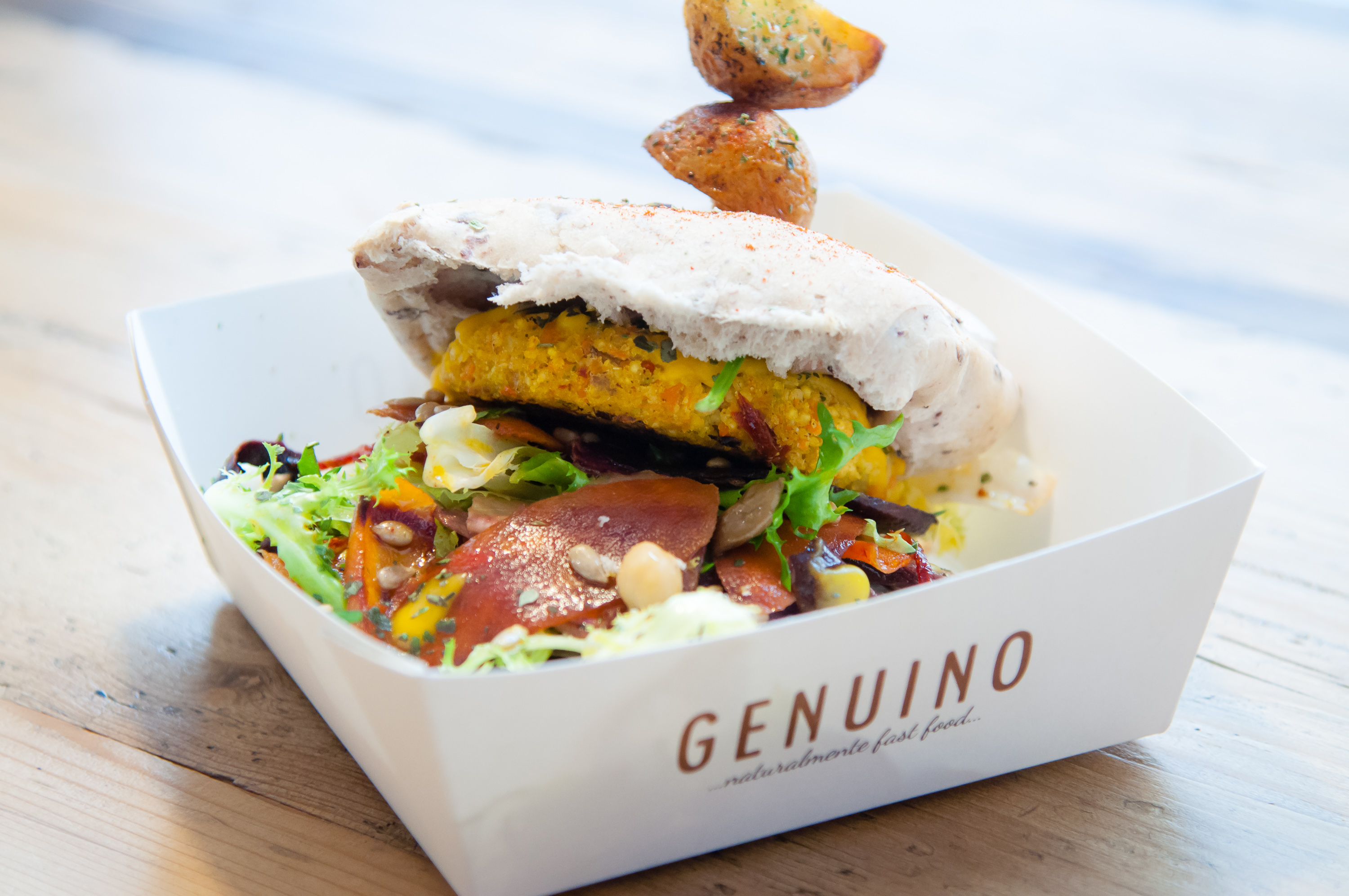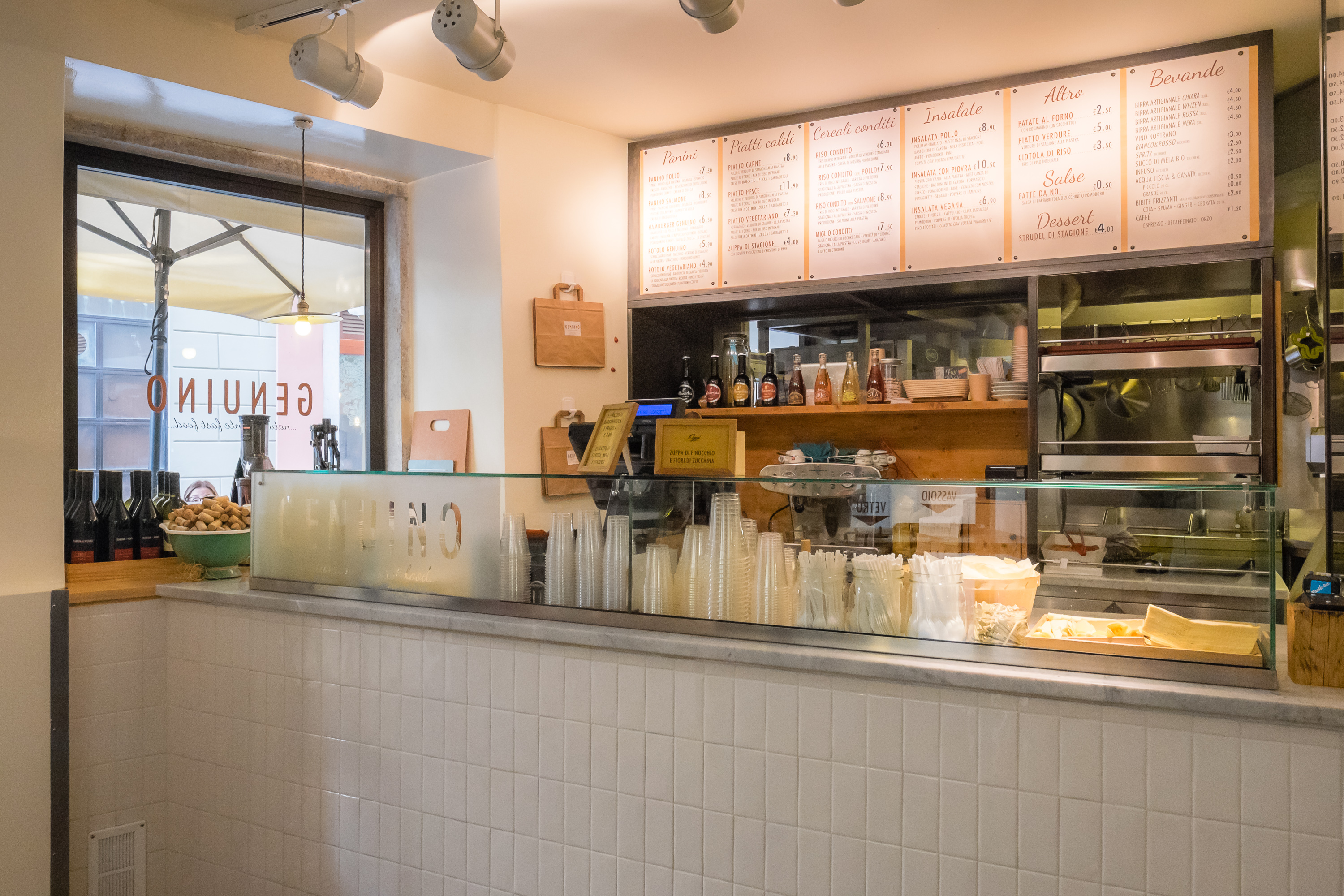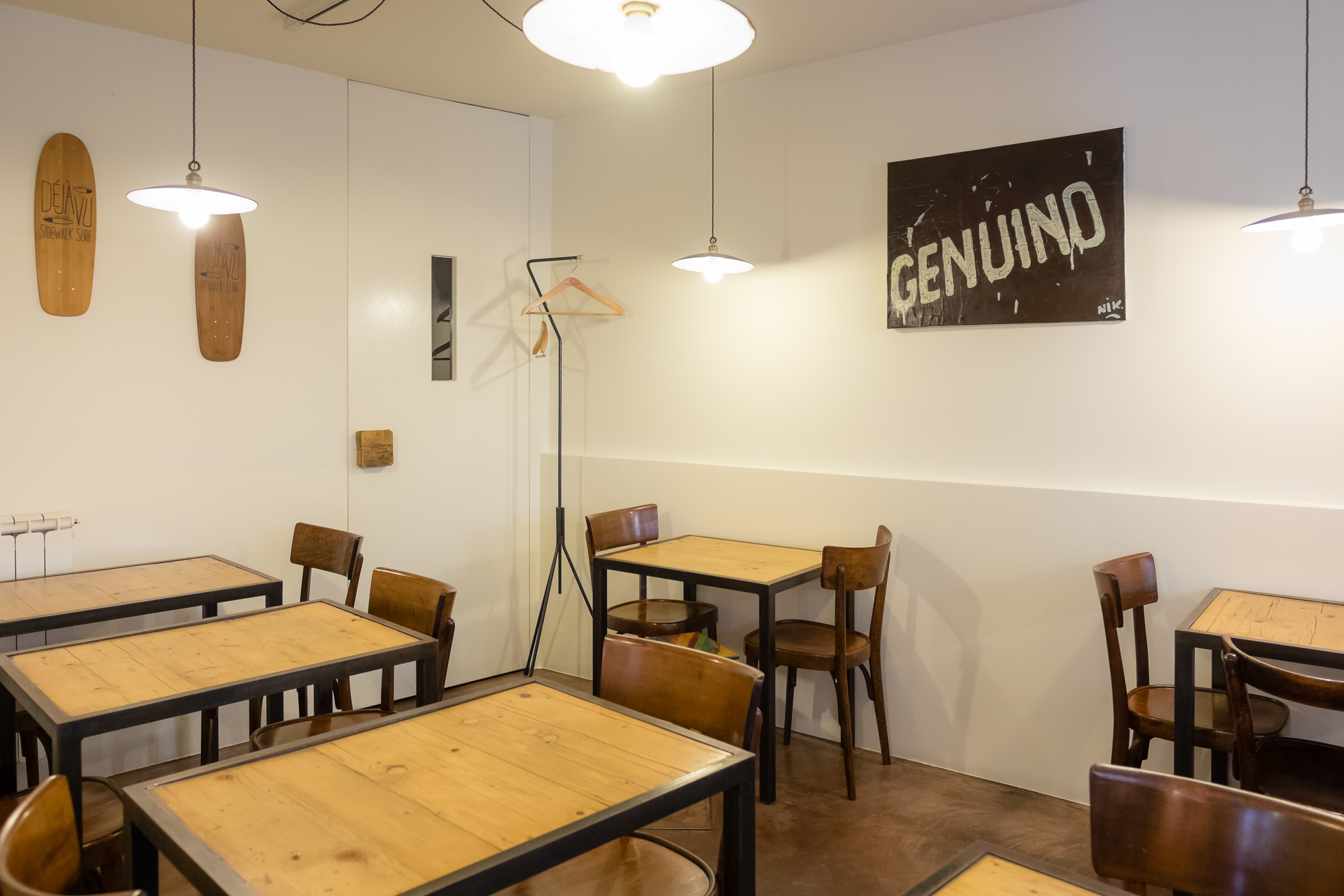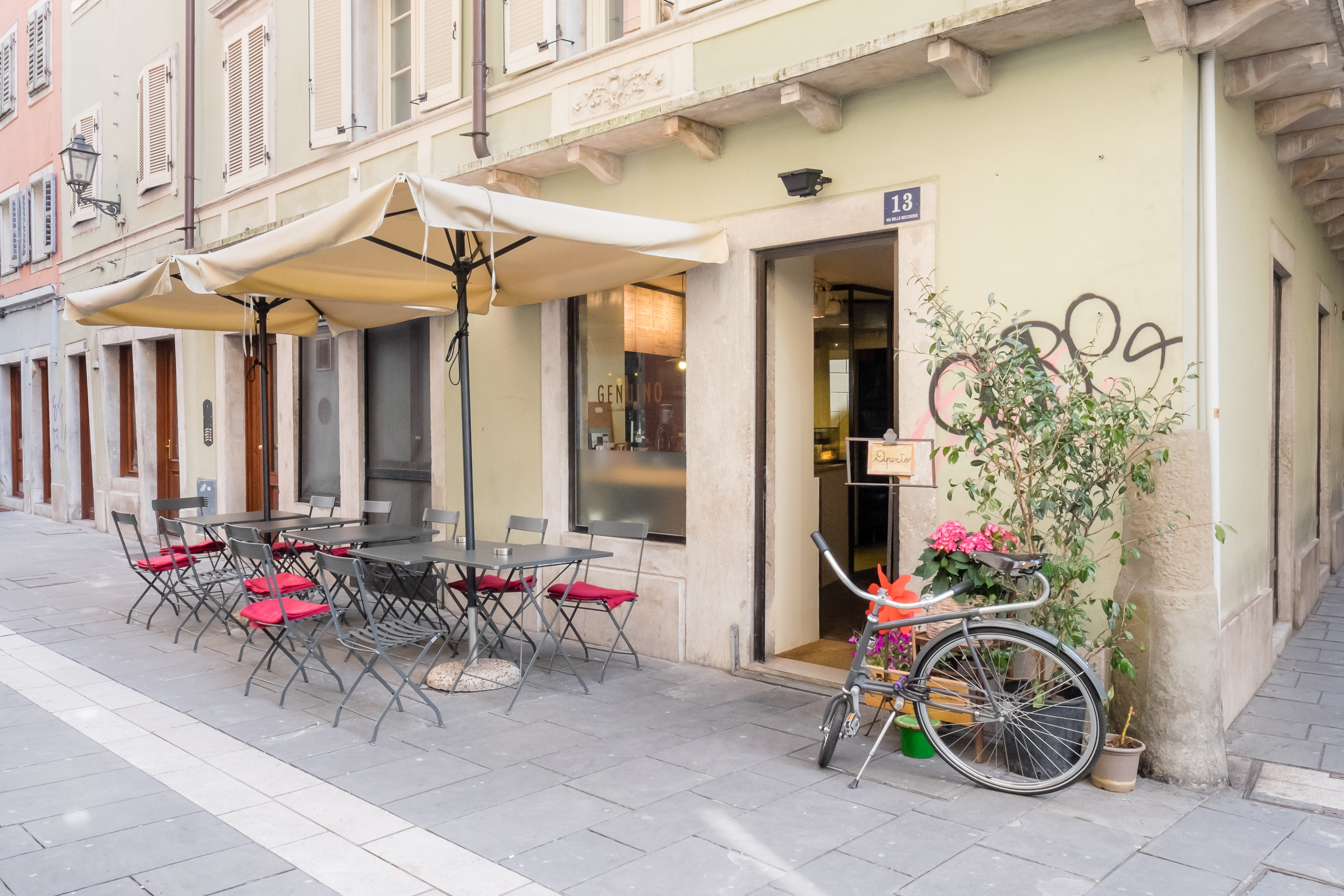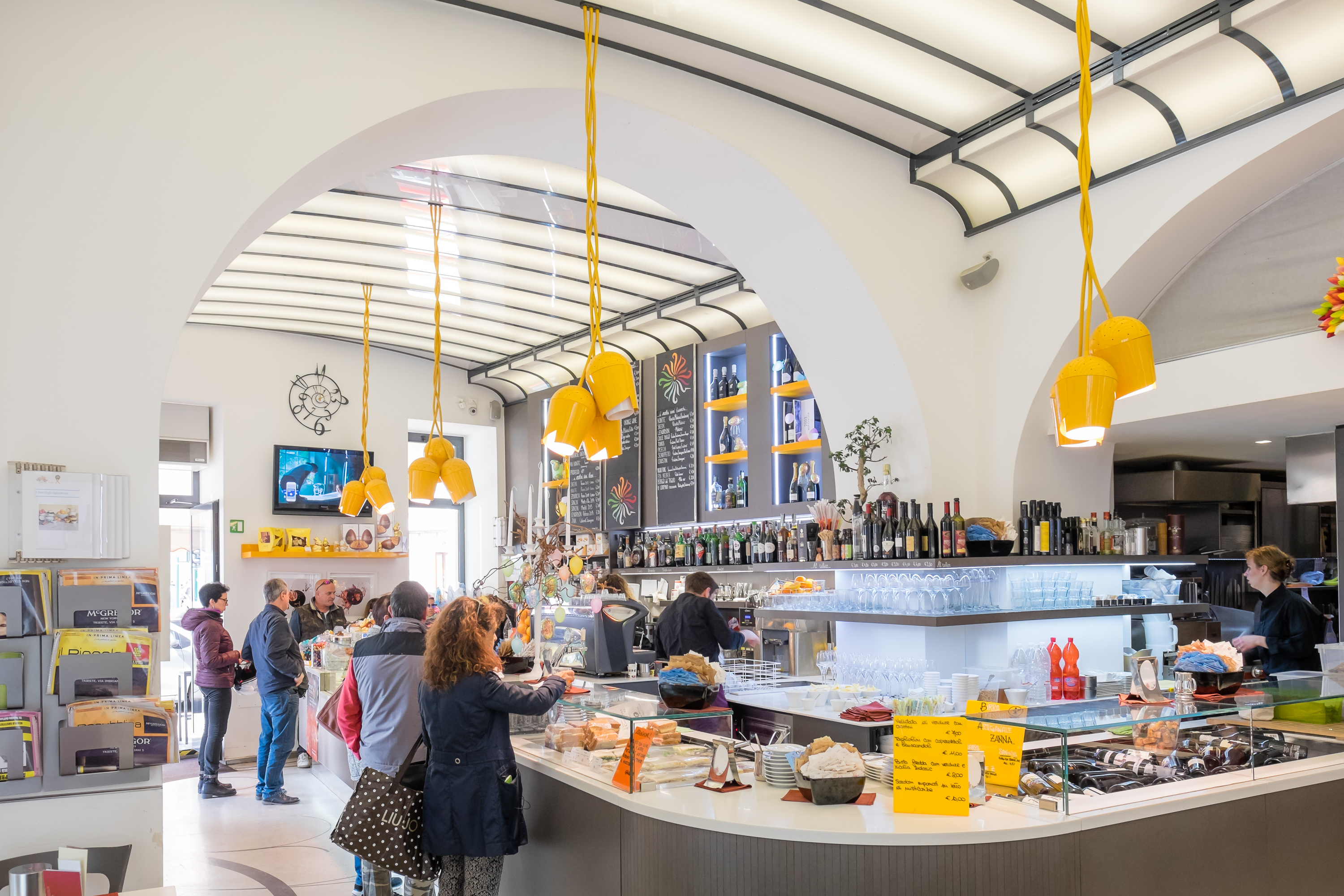 On my socials, I also told you about my quick lunches prepared by Vlada!
I often stop here to eat.
Originally it was a bar, right next to the Courthouse, where breakfast or happy hour is never a disappointment, always with the right balance of quick but friendly service.
This bar has a lovely small open view kitchen, where Vlada prepares 4 different dishes every day. A great experience I suggest you try, every dish is prepared with great ingredients, mostly local, all put together in an impeccable result!
This is what you see in the photographs: cold aubergine cream with small radishes, grilled peppers and toast bites or a cold pasta with aubergines, zucchini, peppers, pine nuts and ricotta cheese from Zidarich, or fried sardoni (small fish) or home-made tagliolini pasta with clams and wild asparagus.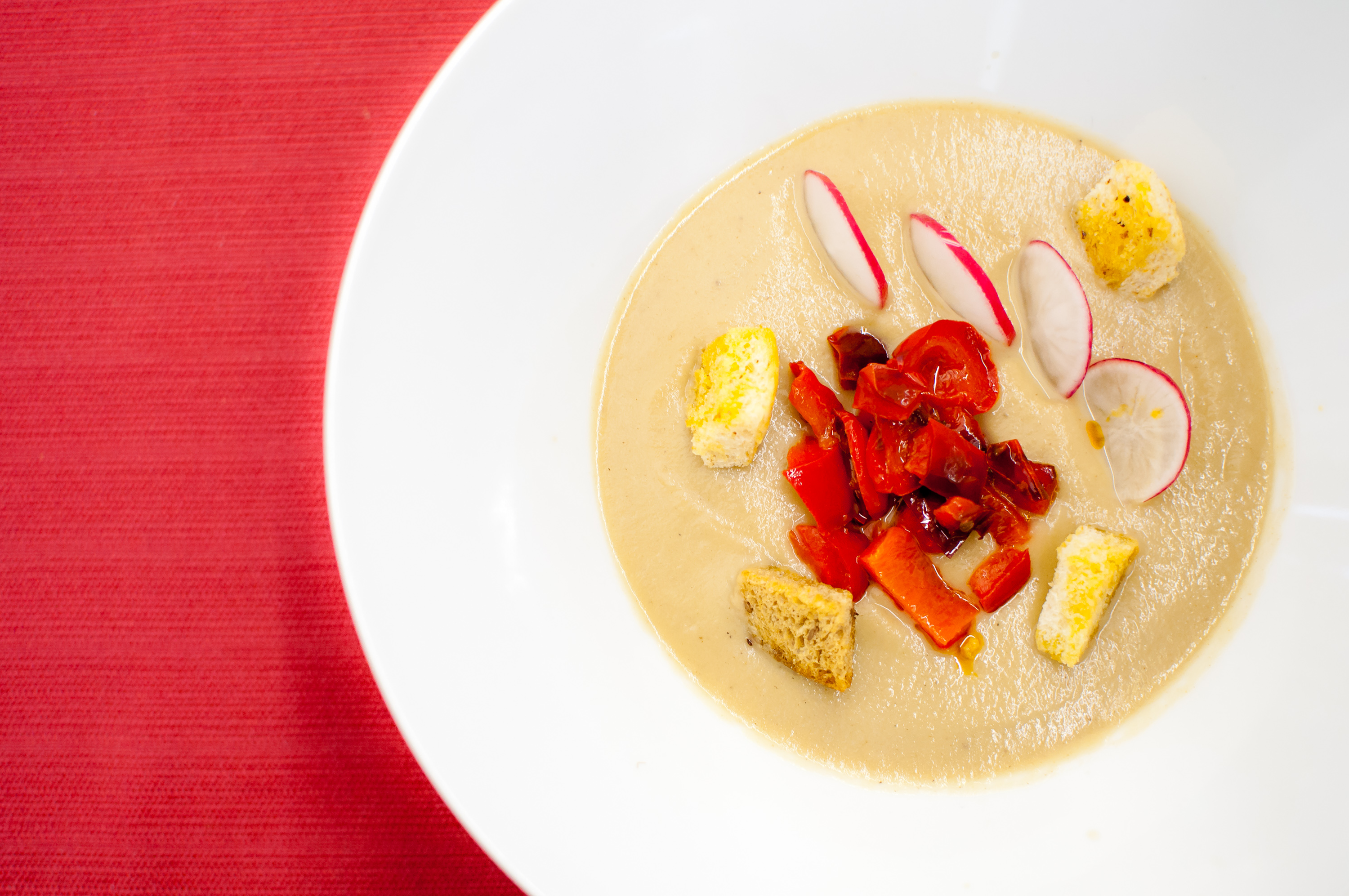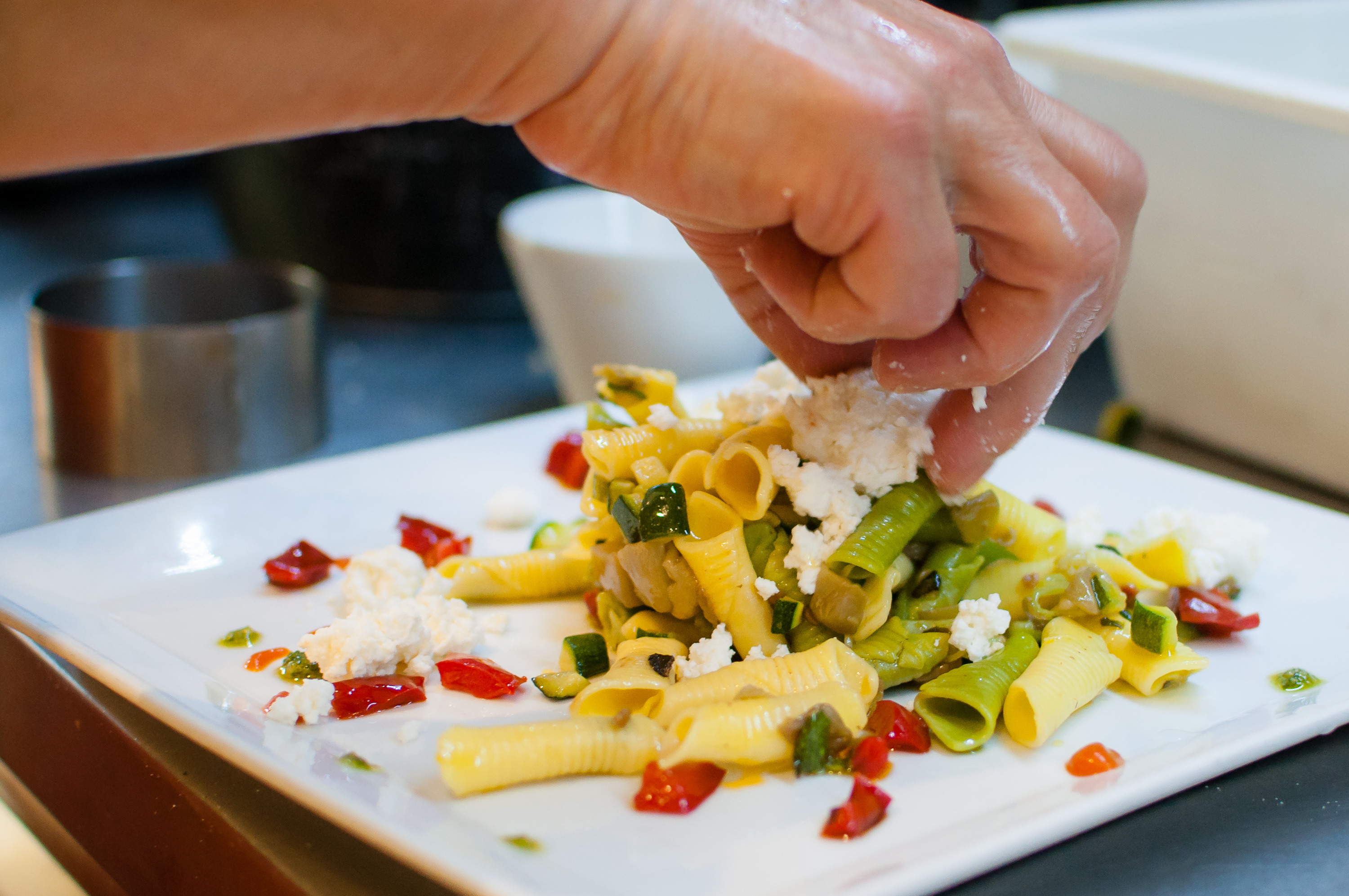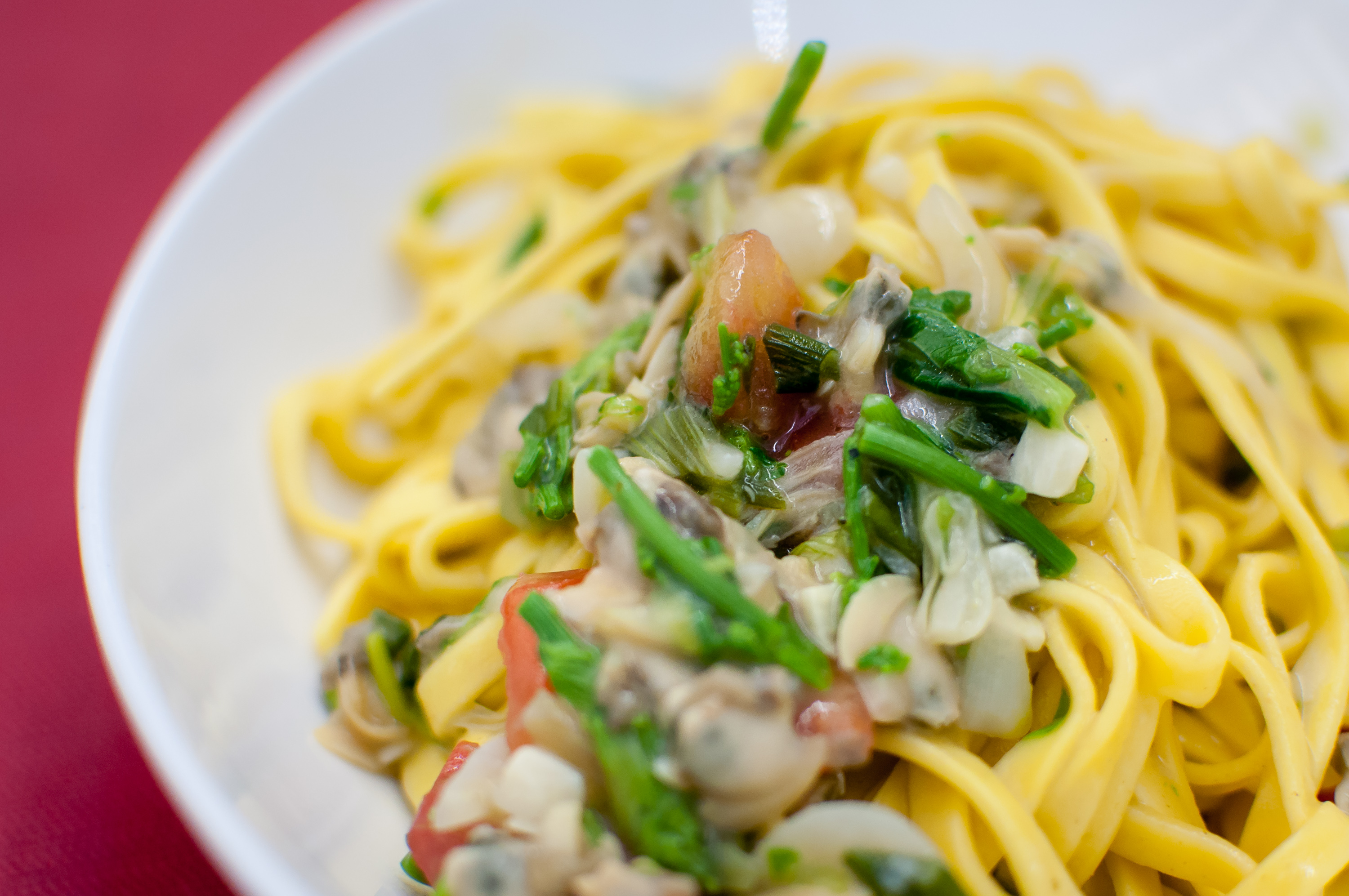 We obviously had to try everything! What else to say? The dishes are generous as so good that at the end of the meal I had to leave a couple of fried fish… but I couldn't send them back to the kitchen! They were so good I actually asked for a "Doggy Bag"
Ph. Andrea Zangrando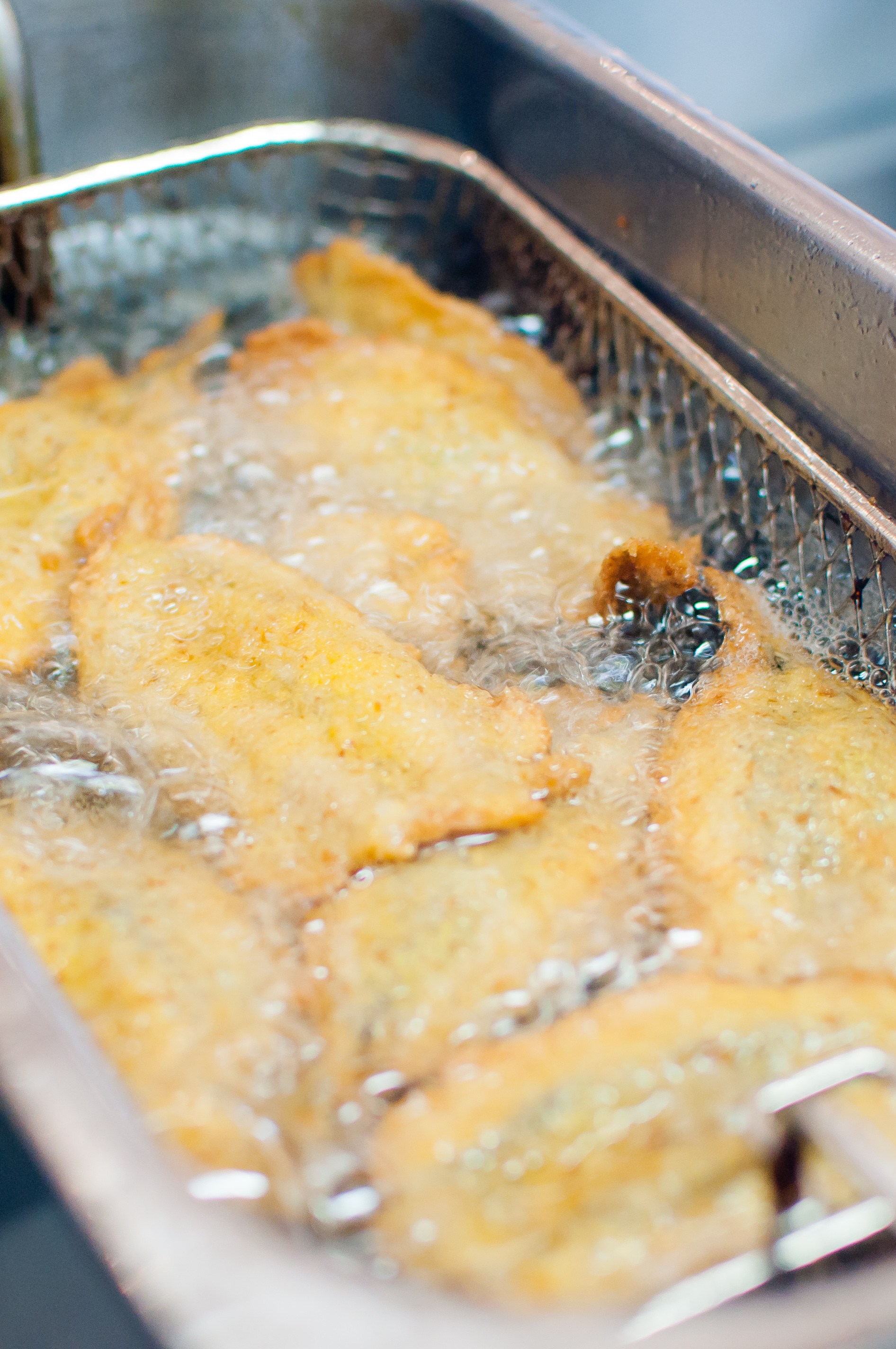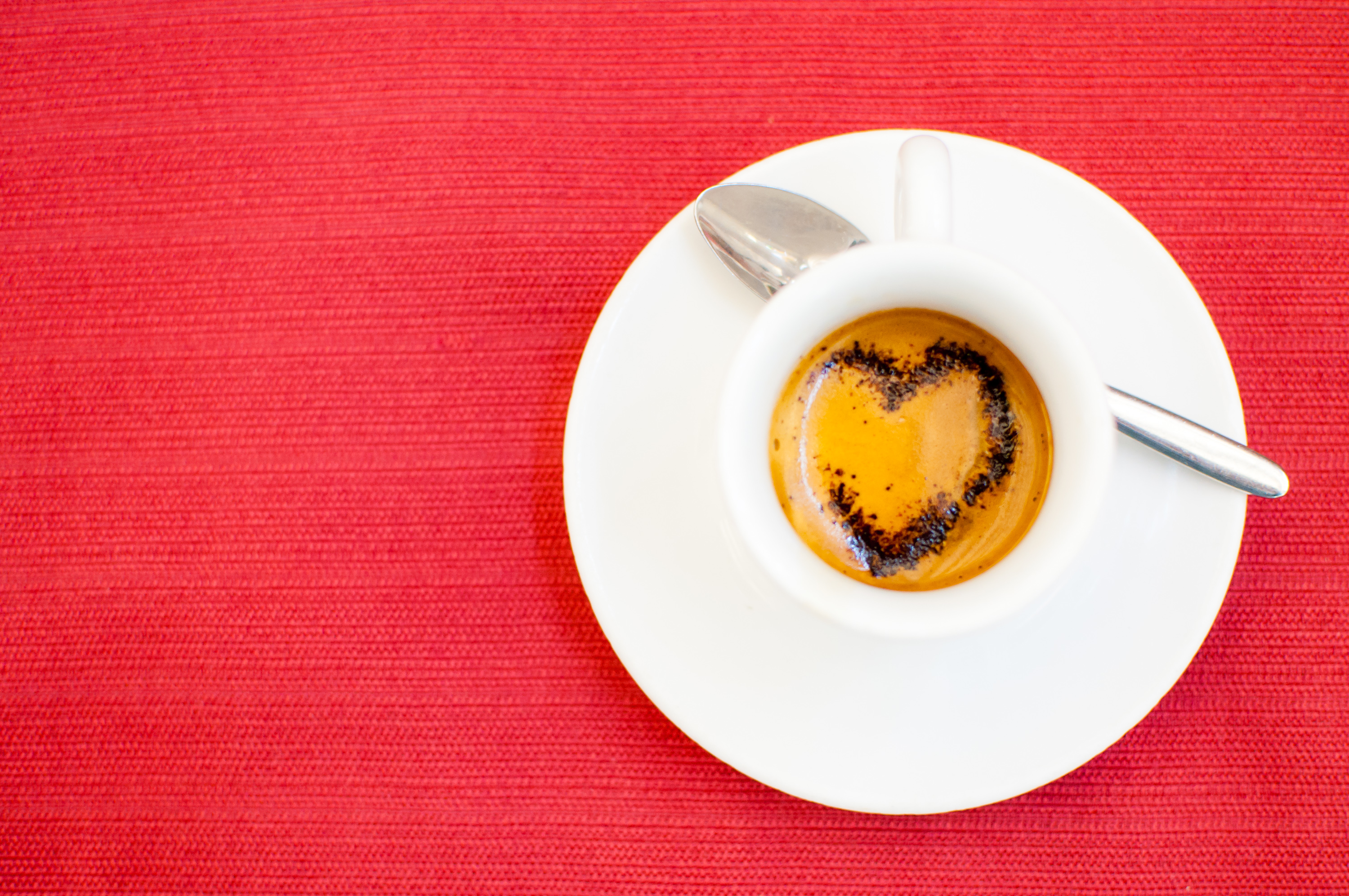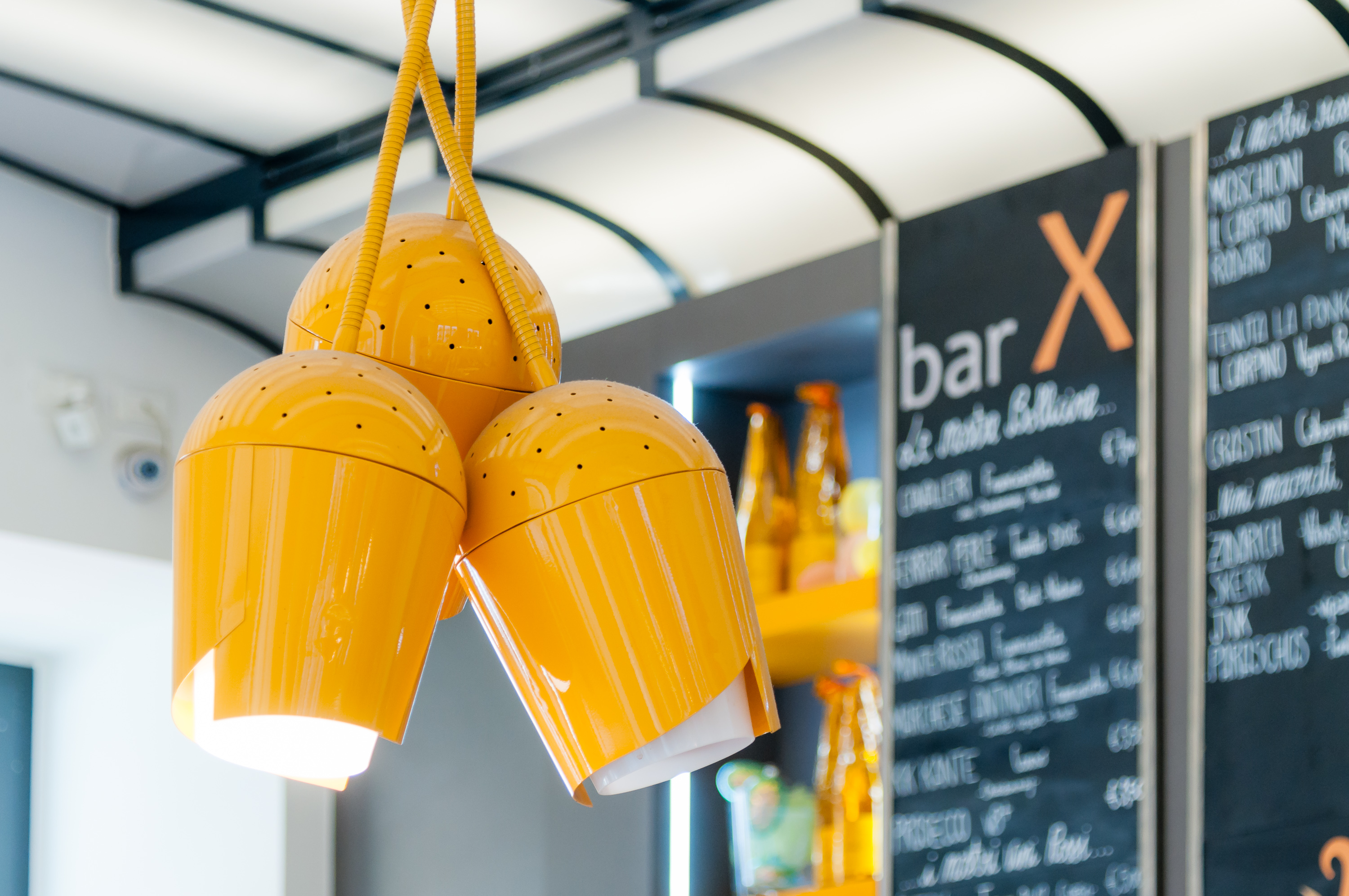 –