We have few certainties in life. One of mine is Austria! I truly love this country and as soon as possible I try to escape to the nearby region of Styria, just two hours and a half from Trieste.
This time I went to discover Bad Radkersburg, the third city of this district in terms of tourism. The first documents that talk about it date back to 1182, when the centre was on the border with Hungary, on the river Mur and in the centre of a good communication network. Bad Radkersburg soon became an important route for traders. It truly is an incredible location! After the First World War the city was divided in two (a little like what happened to Gorizia and Nova Gorica, but here it was the river Mur which divided Austria from Yugoslavia).
Its architectural style is really formidable, so perfect I feel like I've walked into the American Universal Studios. In every corner there are magnificent details, from Liberty to Romantic, with beautiful rooftops similar to those of Graz. Maybe because they were created by the same architect, the Italian Domenico dell'Aglio?
The city is small (it has just over 3.000 residents) but it's a jewel, so, like every beautiful thing, I went to discover it for you. You know what made me really proud? I was THE FIRST ITALIAN BLOGGER to be a guest in Bad Radkersburg!
There are lots of things to admire in the little centre, like the main square (there's a beautiful market place during the Christmas season) right in the centre, a road where you can find all the main shops (and on Friday evenings during the summer they are open until 10 pm with a traffic stop). Then there's the Regional Museum "Museum im alten Zeughaus", the late baroque church of Frauentor and much, much more.
I've written down seven things that you must do when you're in this lovely location!
WHERE TO SLEEP
The answer is Hotel Garni Toscanina. I still remember that in the 90's I stayed in a Garni and it wasn't one of the nicest experiences in my life! It was dark, sad and a little too vintage and not well kept, without any open spaces but only small rooms. But this time rather than a Garni I felt like I was staying in a 5 star Hotel; large rooms with private bathrooms, comfortable common areas, a sauna, a gym, an outside warm swimming pool surrounded by a perfect park with sun beds, umbrellas and waitresses who brings you your order as you relax in the shade. Really relaxing! The breakfasts are mostly savoury (with a wide selection of fresh sliced fruit) and are the loveliest way to start your day. A family owned hotel where everyone is always lovely and service is impeccable!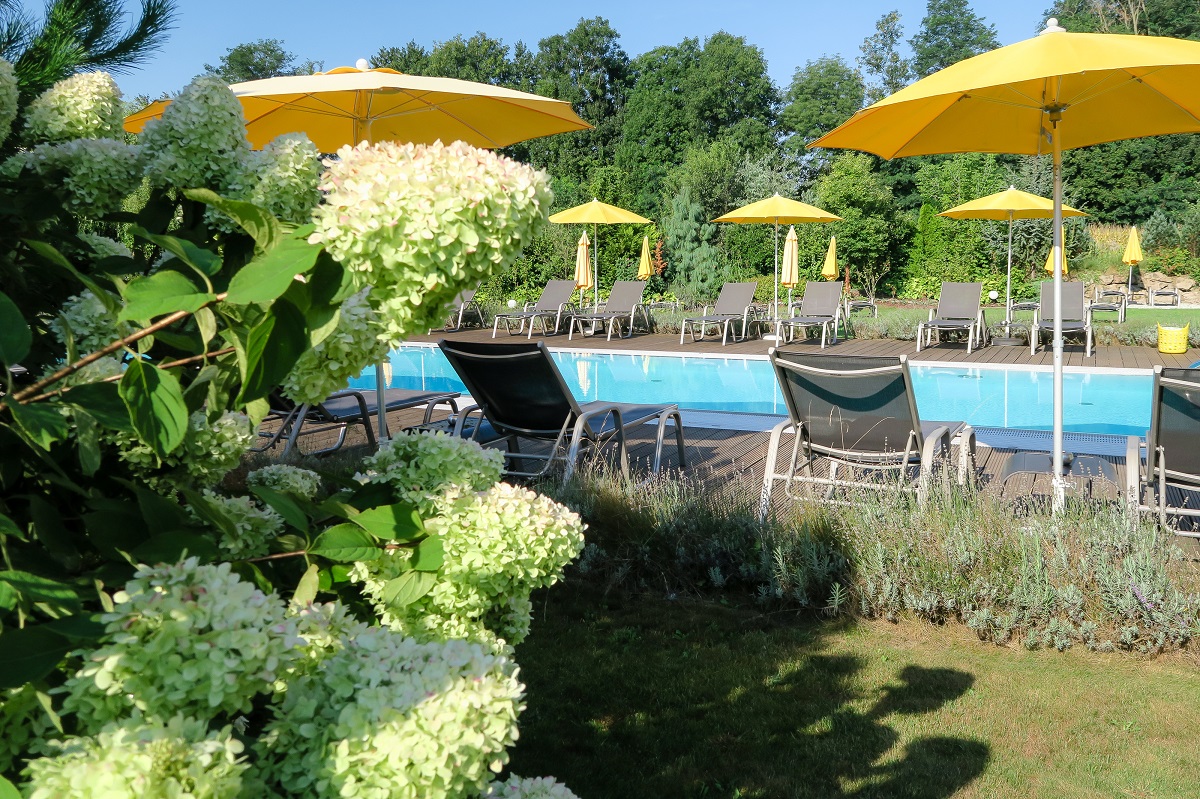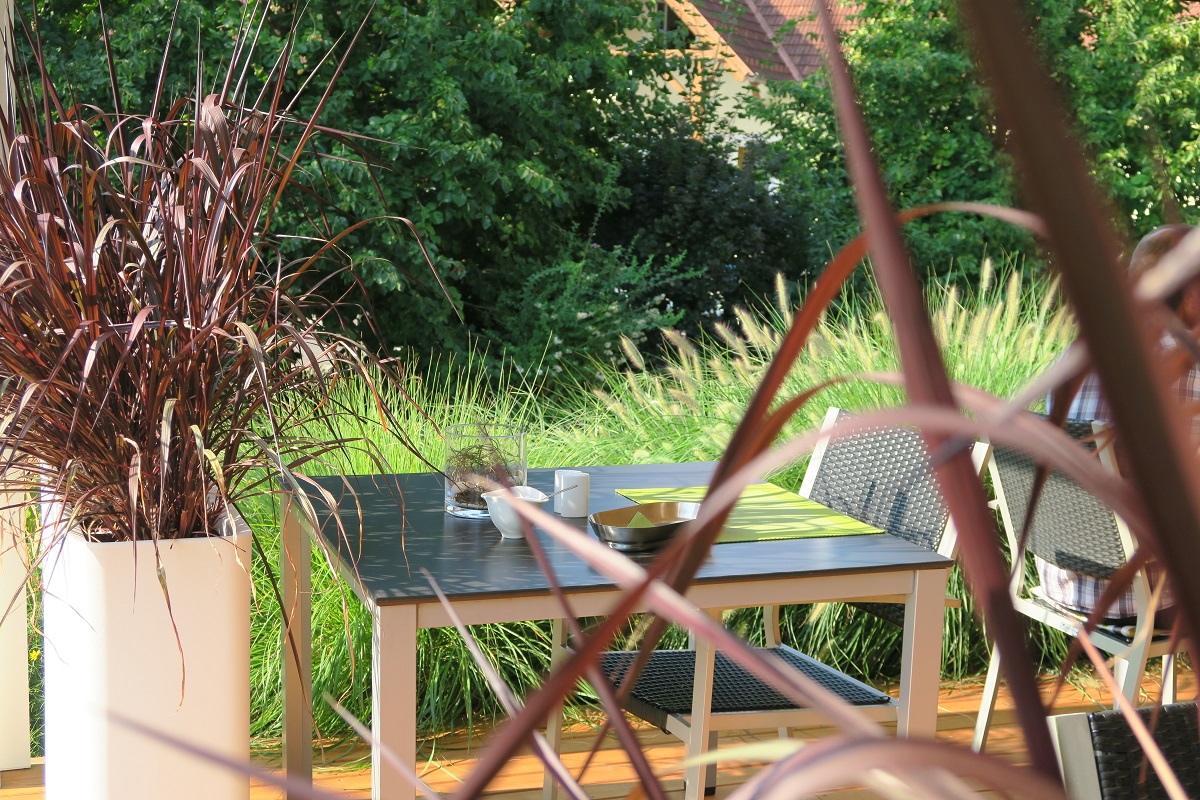 2. HOW TO MOVE ABOUT
Let's start by saying that you are in the Austrian city that has most bicycles per residents. Want to know why? Because here they have endless kilometres of bicycle lanes which start in Saltsburg, run all along the side of the river Mur and reach Croatia. You'll be able to rent a bicycle (I suggest the electric one for anyone not so athletic) from the Camping site of the city and choose the route that you find most interesting (have a look here www.badradkersburg.at). I suggest you have a look at the website because from April to September they are planning 5 really special events, from the tourist itineraries with a guide to the Tour of the Mur, an itinerary of the vineyards with a picnic…and even a Marathon!
    3. RELAX
Everyone at Parktherme! Can you guess where they have the thermal water with most magnesium in all of Austria? Right here! In 1927, they drilled into the ground in search of oil, but instead of finding the black gold, at 2.000 metres of depth they found…the clear treasure of thermal water! In 1978 they built the first thermal water pool and then they kept expanding (the last time was 5 years ago) until the centre for wellness and health care came to life. Two thousand seven hundred square metres divided into three thermal areas with pools of 34° and 36° degrees temperature and one reserved for children; an Olympic swimming pool with a 50 metre trampoline for anyone who loves swimming, a "Sauna Area", 10 Turkish baths, saunas, bio-saunas, a wine-cellar sauna, panoramic-sauna, infrared treatments and…let's not forget the relax areas! Everything surrounded by a wonderful park where you can easily find a little peaceful corner and comfortably lie down on a sun-bed near the river. They also have a play-ground area for children, activities for them, a beach volley court and loads of bars, restaurant, self-service bars. The quality is exceptional 🙂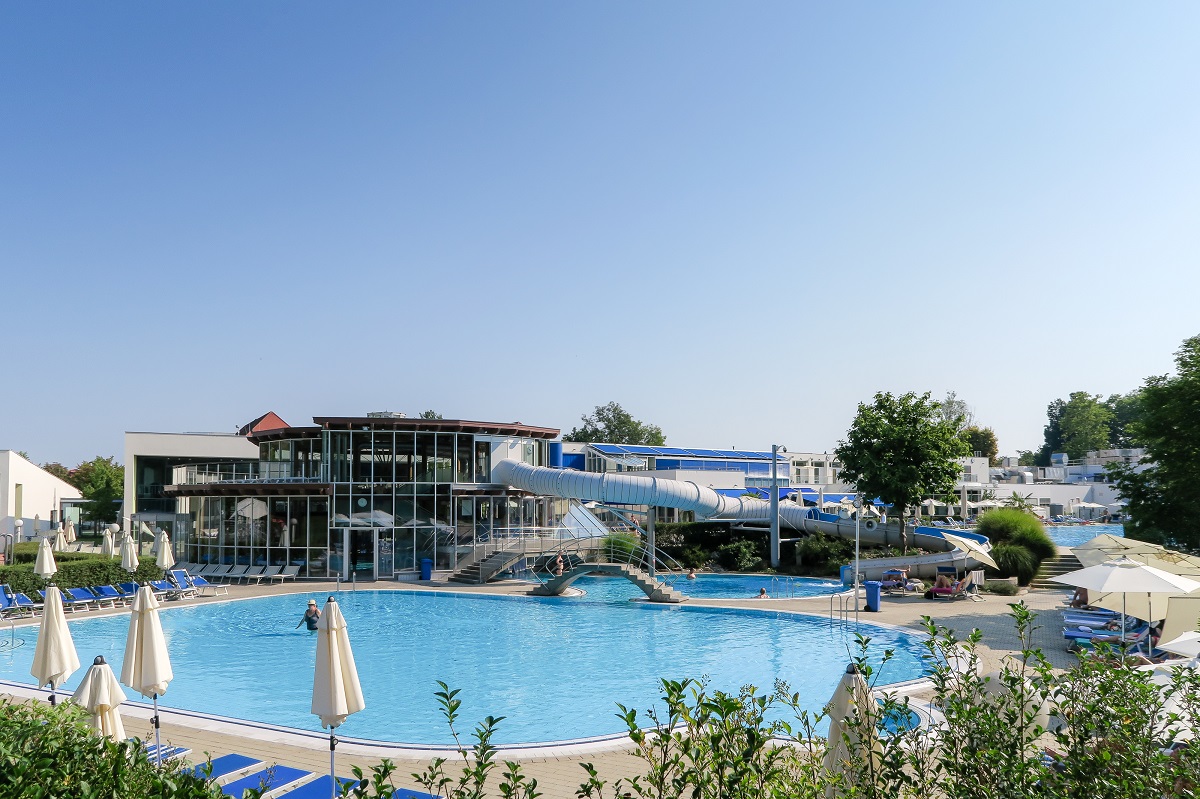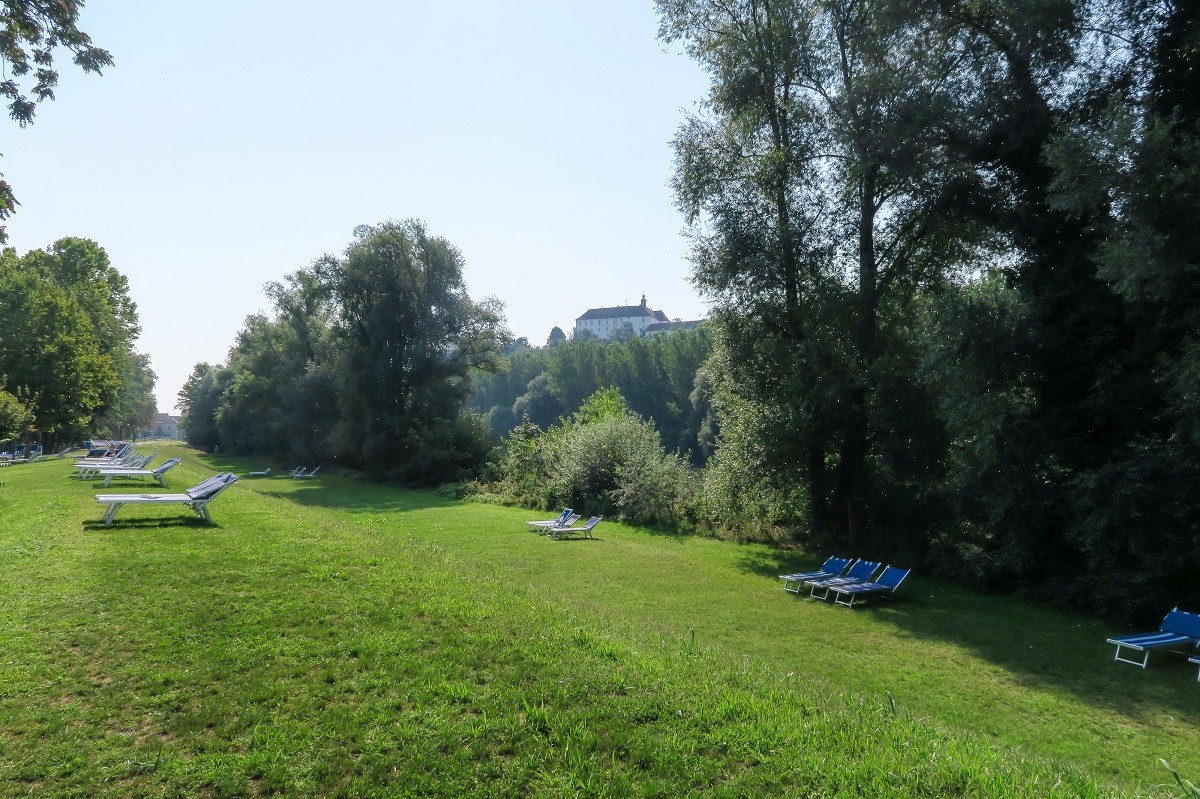 4. WINE ITINERARIES
This area is a cradle of wine culture! I had already told you about it in an article some time ago (here is the link https://www.missclaire.it/blog/stiria-la-toscana-dellaustria/ ); here, in the twelve hills of Austria's Tuscany, from the Vulcanic earth to the Mediterranean climate, there are lots of tiny jewels like the Traminer of the Klöch area, a wine with a rose scent that I strongly recommend. Here in Klöch you will find a wine shop which has 106 labels from 20 different producers (only from the local area).
Everyone is very welcoming, and if you wish to call on a producer for a visit it's not at all impossible. They welcome you with a smile and the wine tasting will be pleasant for your spirit too! I had the opportunity of spending a few hours with the Kobatl family, who own a small winery of just 16 hectares, and from apple producers they are slowly starting to make excellent white wines, all organic and with fresh and genuine flavors!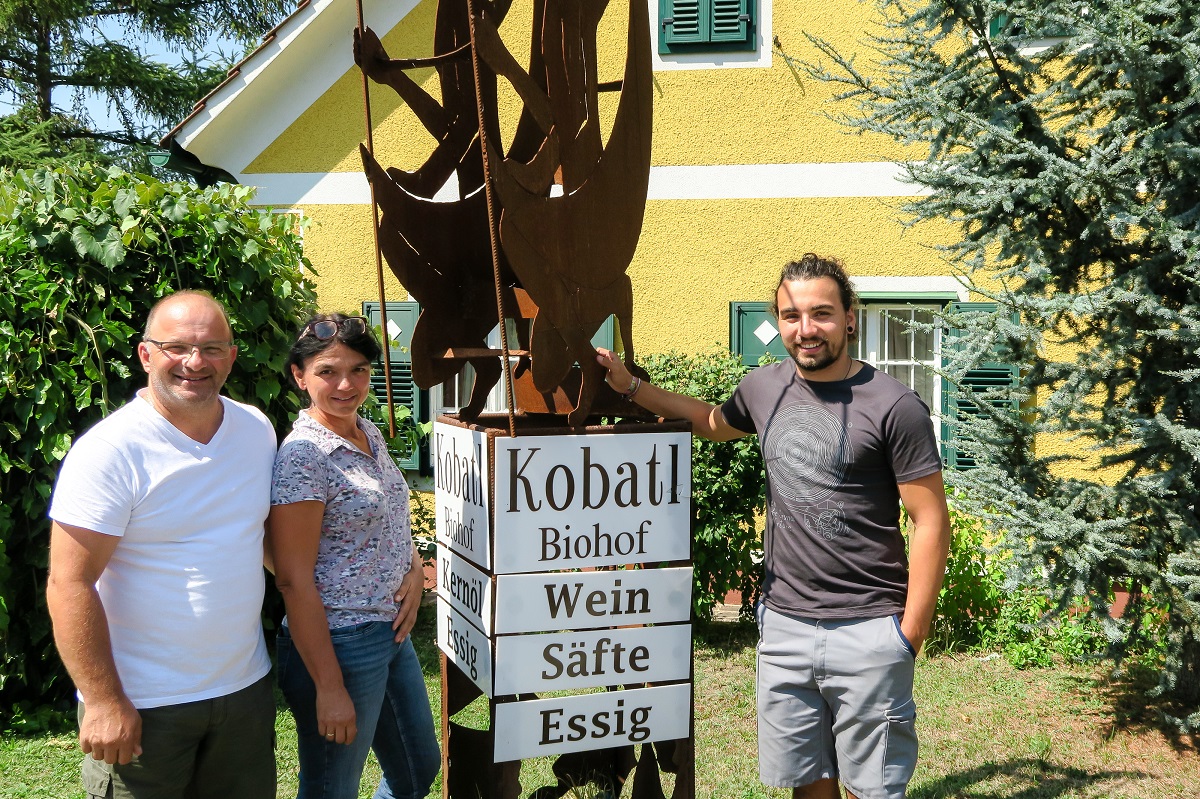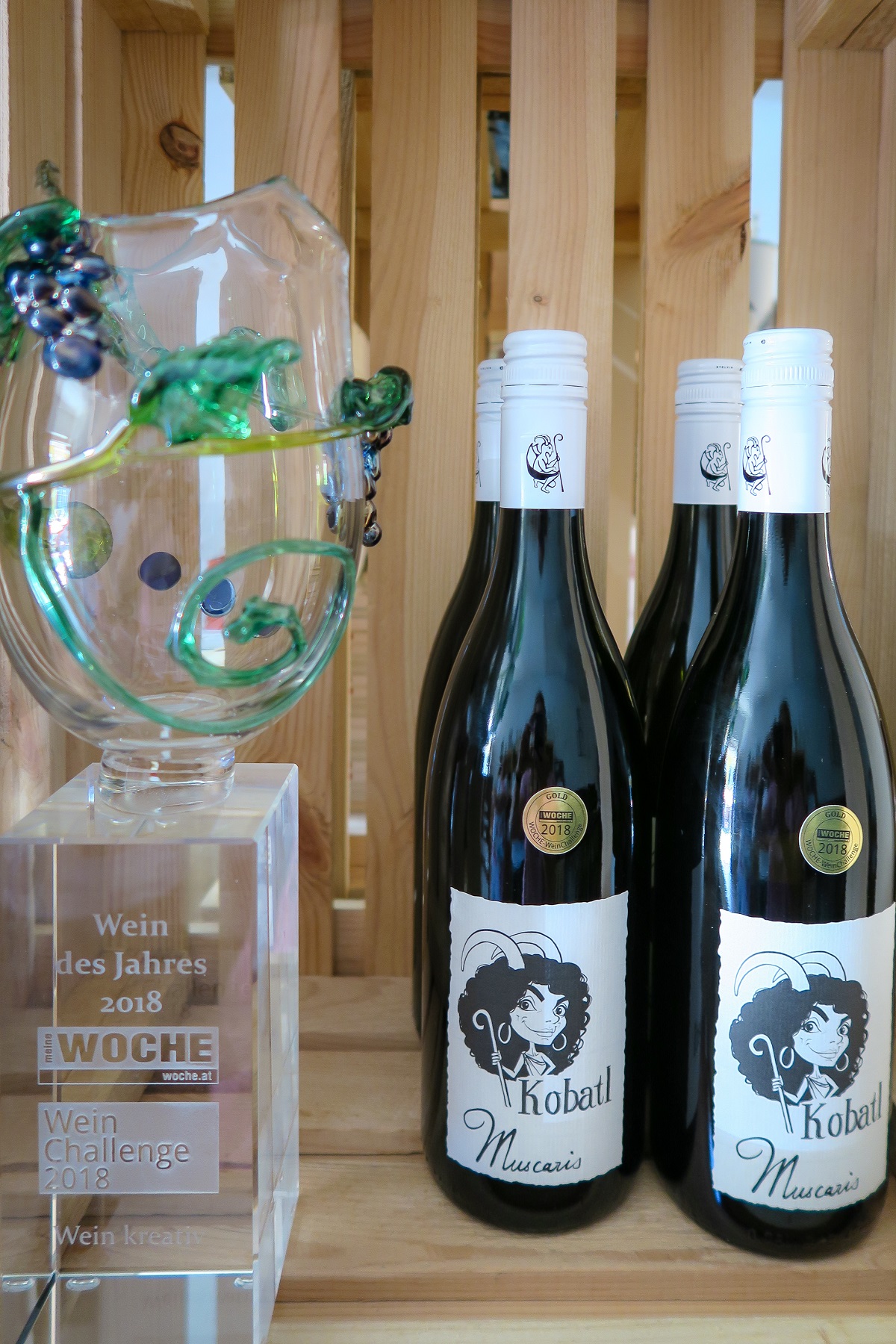 ITINERARIES TO EXCEPTIONAL RAW MATERIALS
With your electric bicycle you can head off to discover small farms that love to work their land like Bäcksteffl ( that completely enchanted me with its black Styrian beans). A small farm run only by an exceptional 35 year old woman. There she is, with a baby on the way and two more running around the room reserved for groups or students. The technique she uses is incredible, the fields are farmed with double crop, beans and corn which grow simultaneously. They are grown together and the corn plant uses the bean plant to grow on, creating a thick forest you can't walk through, you can access only with the right machinery in November, when it's harvest time. Mikahela does many things with these beans, like a jelly with melon, chocolate and grapes to accompany cheeses, or like exceptional chocolate bars. And believe me, these beans have a flavor so similar to chestnuts that they are excellent to be used in desserts.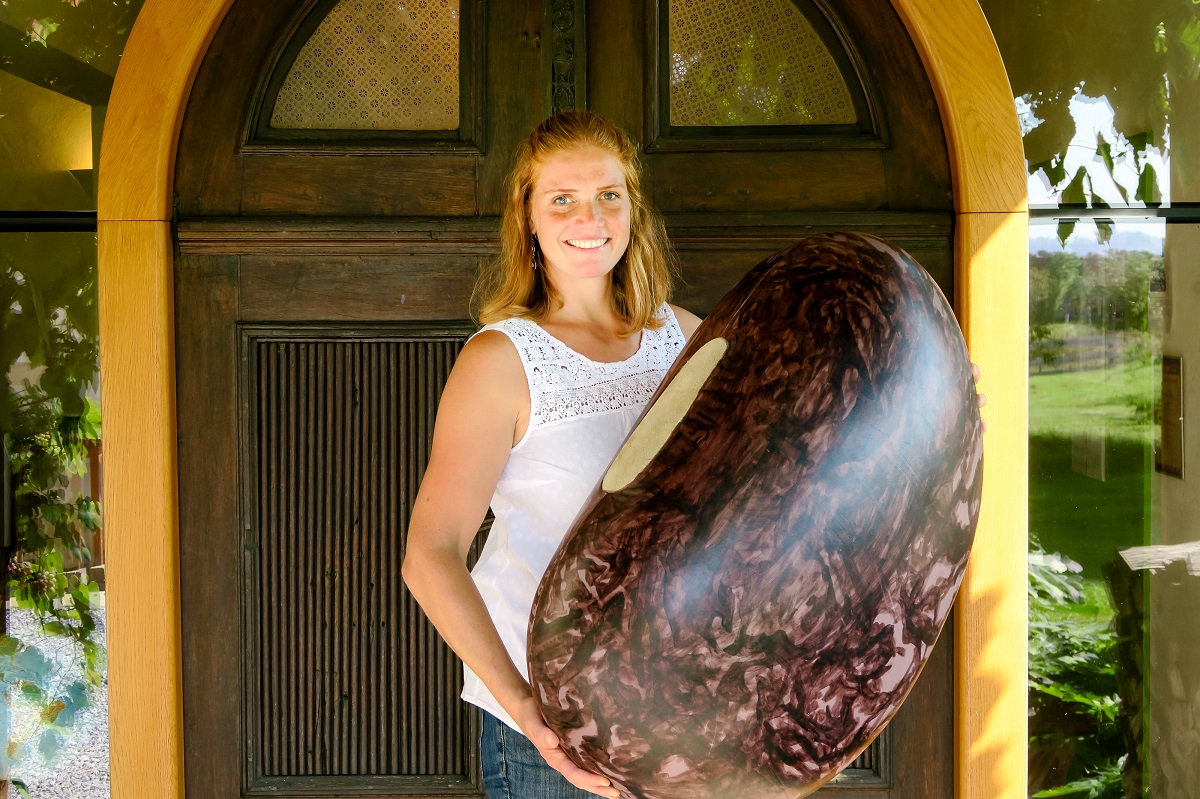 We then have to talk about pumpkins! Endless fields of pumpkins, you'll see them everywhere, but with your electric bicycle you'll easily reach Majczan who, if you simply call up in advance, will be happy to open the doors of his small farm and explain how he produces the magnificent pumpkin oil! It won the gold medal (like the one produced by Bäcksteffl) because if there's isn't a price or a quality stamp for everything, we wouldn't be in Styria!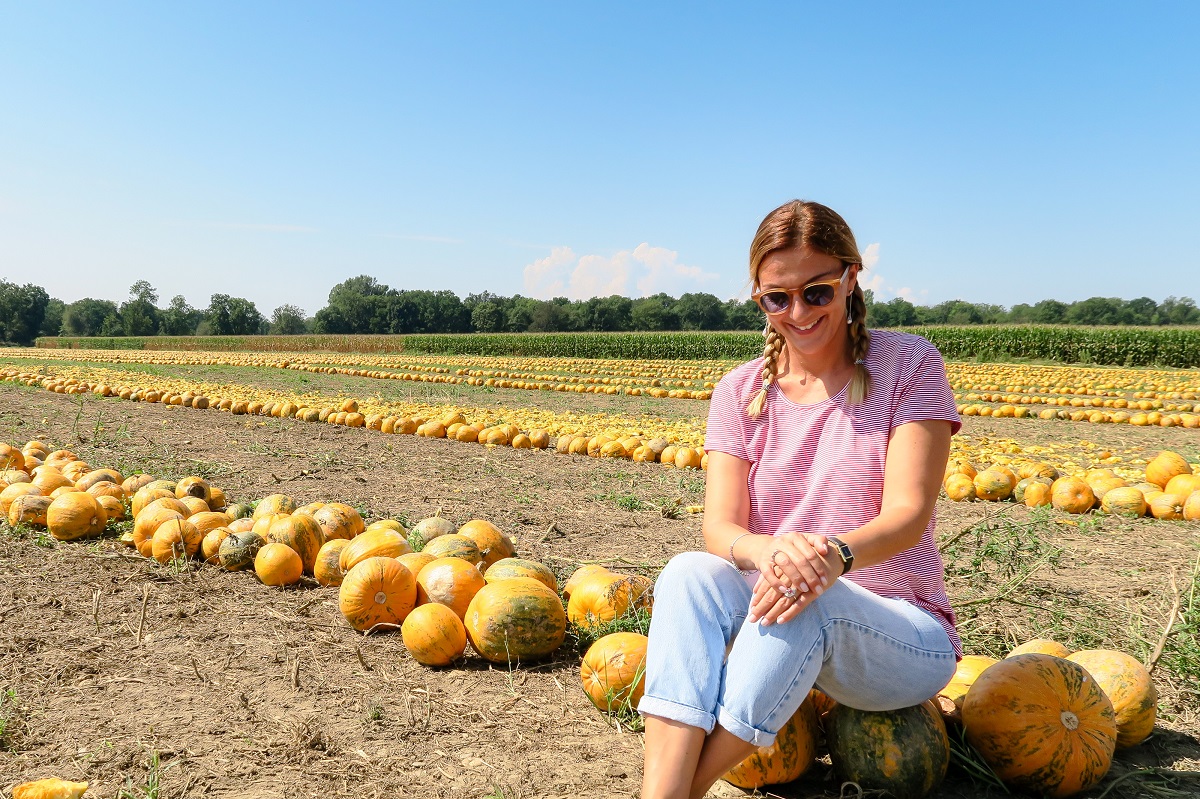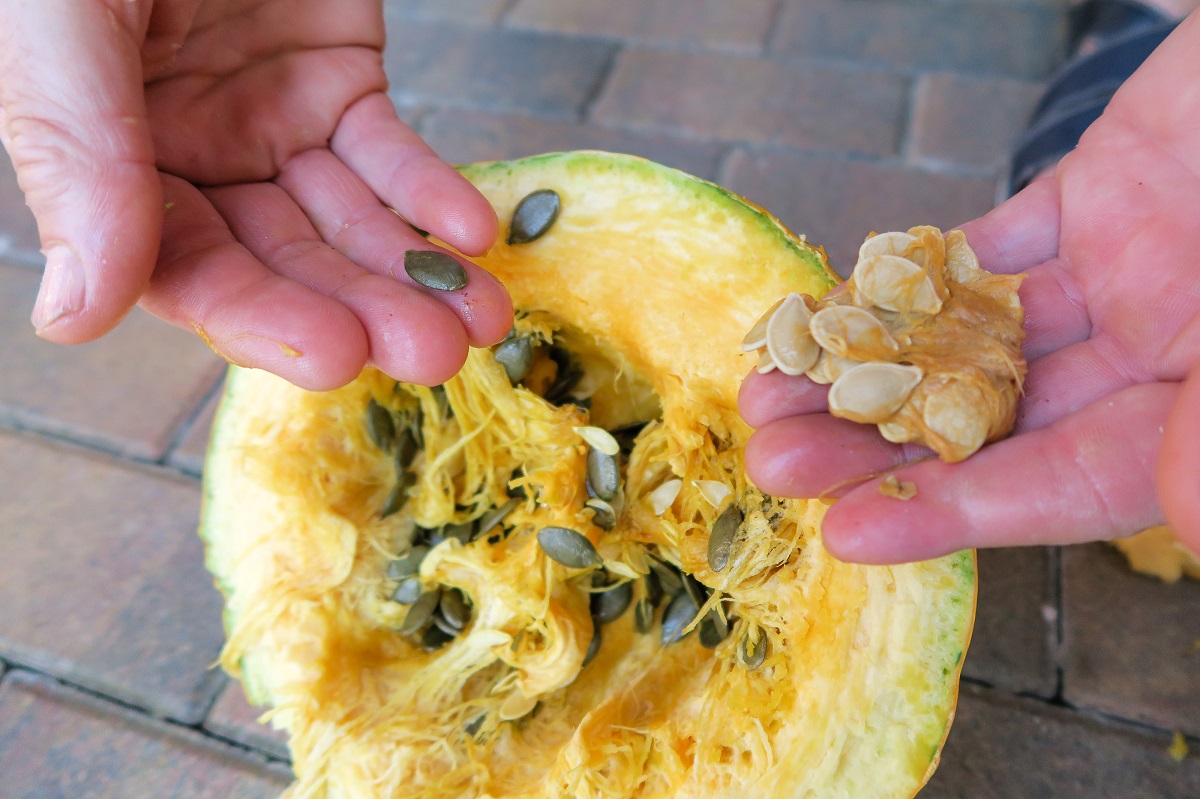 6. WHERE TO EAT
Honestly, without comparing locations, I believe that even if you stop in a motorway service station in Styria you can eat something excellent. But let's get back to Bad Radkersburg, I'll take you to a few locations that I believe are exceptional. Two are in the center, one of which has a more classic restaurant style, while I would define the other a Gourmet Buschenschank (a farmer's inn). The third… well we'll get there.

Gasthof zum Türkenloch, in a clean environment with a slightly rustic but elegant feeling, they serve a really tasty cuisine. As usual I was tempted by their specials so I tried the pumpkin ravioli with mushrooms which were excellent! Made of fried pastry, they were just perfection! I also tried the risotto with mushrooms and cheese which was unique!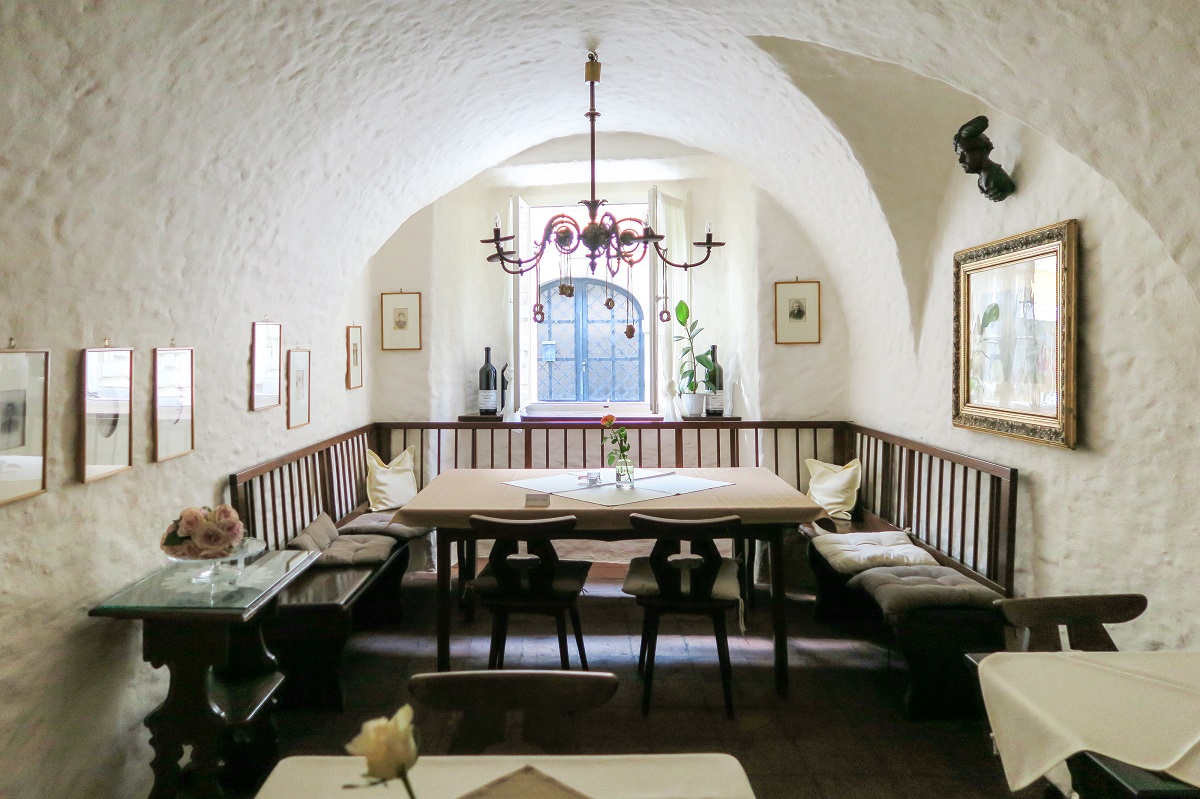 You should also stop at Die Spezerei, which I maybe inappropriately defined a Gourmet Buschenschank. Just a few excellent warm dishes and lots of regional cold-cuts accompanied by incredible sauces. The beauty of this place is not only in its owner, a cheerful woman with lovely manners, but also in its wines and delicatessen products (which you can buy to take home too!). They are all selected by Sabine. Salami of Mangalica, Vulcano ham and goat cheese can guarantee a meal that will end with a smile!
The last place is a little more characteristic, the good old Buschenschank! We're at Markowitsch (a surname which is a perfect fusion of Slovenian and Austrian). I hope I'm not too repetitive, but these places which are similar to osmize, were simply delightful, perfect for every kind of public, every kind of age: the perfect place. They have their own wines, apple juices and cold-cuts, but I have to warn you about something. WATCH OUT FOR THE HORSERADISH! I overdid it J I wanted to show off how used to it I was but I almost chocked when I tasted it… it was so strong! Definitely fresh. After all this is what is grown here in Styria! You should also try the salad with Styrian beans (the ones I mentioned before) served with a little fresh onion, tomato and some pumpkin oil!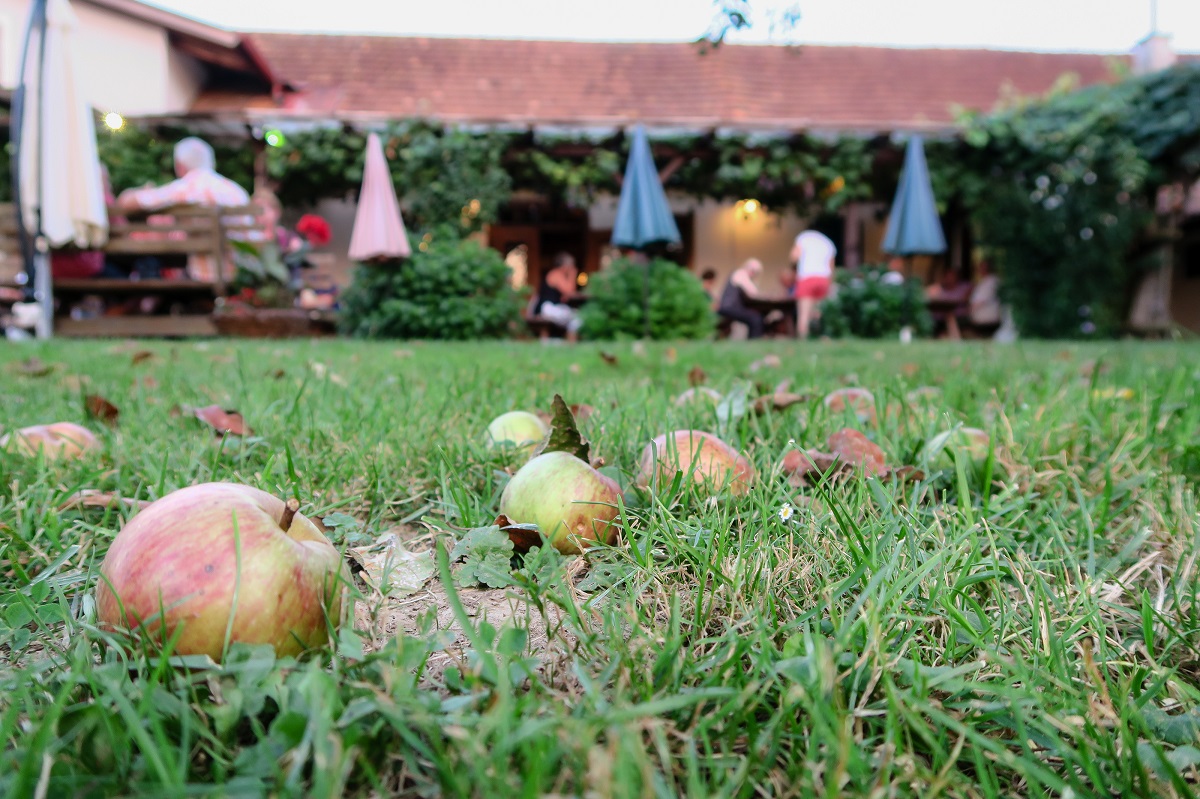 7. MORE INTERESTED IN BEER? NO PROBLEM
To not miss out on anything I'll take you to BEVOG! A small local independent beer company and its owner, of Slovenian origin, decided to start this production when he was just 35, to bring to the Austrian and international market his well selected hops beers. You'll find different types, from light IPA to dark ones, lighter beers and even raspberry flavor beer. What amazed me of the place (maybe because I'm not an expert in hops) was the packaging of the tins and coasters (I'm sorry if I can't offer more details here but the owner was busy with other clients when I visited, and I didn't feel like disturbing him!). I tried a light IPA, which I really liked, I had a look at the machinery used to produce beer (from a glass window) and then I headed off to my next locations. But if you love beer I suggest you stop here for a visit!
We're already at the end! Another Styrian tour is over! As usual I'm a little tearful when I leave this place which I love so much… I love everything about it, like how it's so close to Trieste, its genuine flavors and soft hills. But what I love most is its people. Welcoming, cheerful and available. The best of all of Austria!
Styria is sun, Styria is nature and love, Styria is friendship and pure energy. How is it that Italians know so little about this place? If you're from my Region, you really must visit! Everyone I met here have been to Trieste at least once…why don't we pay a visit there?
Try coming here my friends, trust me, even for just a weekend. YOU WON'T REGRET IT 🙂