For those of you who follow me on Instagram and Facebook, you'll already know what I have discovered lately in Sežana; this little town just over the Fernetti border (just ten minutes away from my house!) hides lots of special places. One of these is Vinakras, a cooperative that has been working for seventy years on the Slovenian Karst.
So today I want to tell you all about it… I think I've passed in front of it a thousand times without knowing what was it hides inside!
First of all, I'll tell you where to find the place. It is based in Sežana head for the city centre, pass the Post Office, and after the traffic light (the one which signals right for Lipica). After apx. 100m you`ll notice a road-turning left.  You cannot missed it; you`ll notice also a church with a bell tower.
On the right side of the church there's Villa Mirasasso (here are the articles I wrote about this great place http://bit.ly/2MqXvmI, http://bit.ly/2N9WtAM e http://bit.ly/2p4Ranw) while on its left there's an arch way; pass through it and you've reached Vinakras.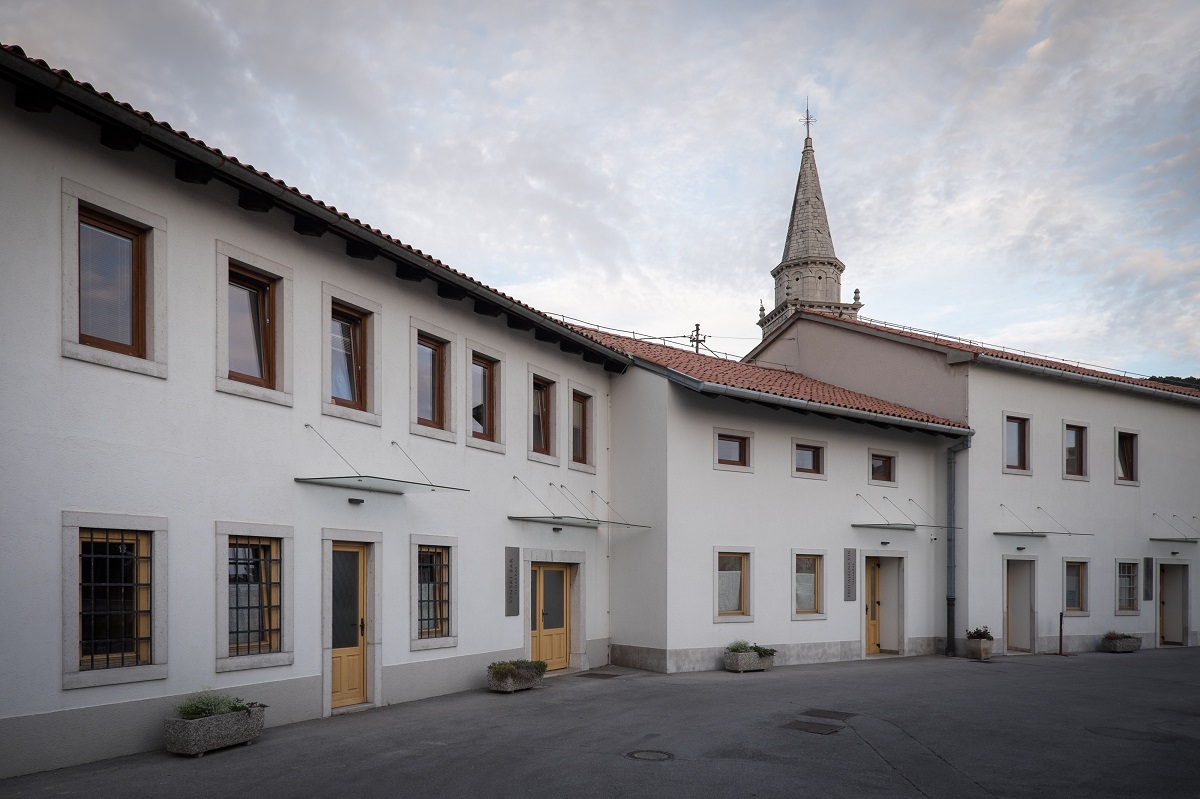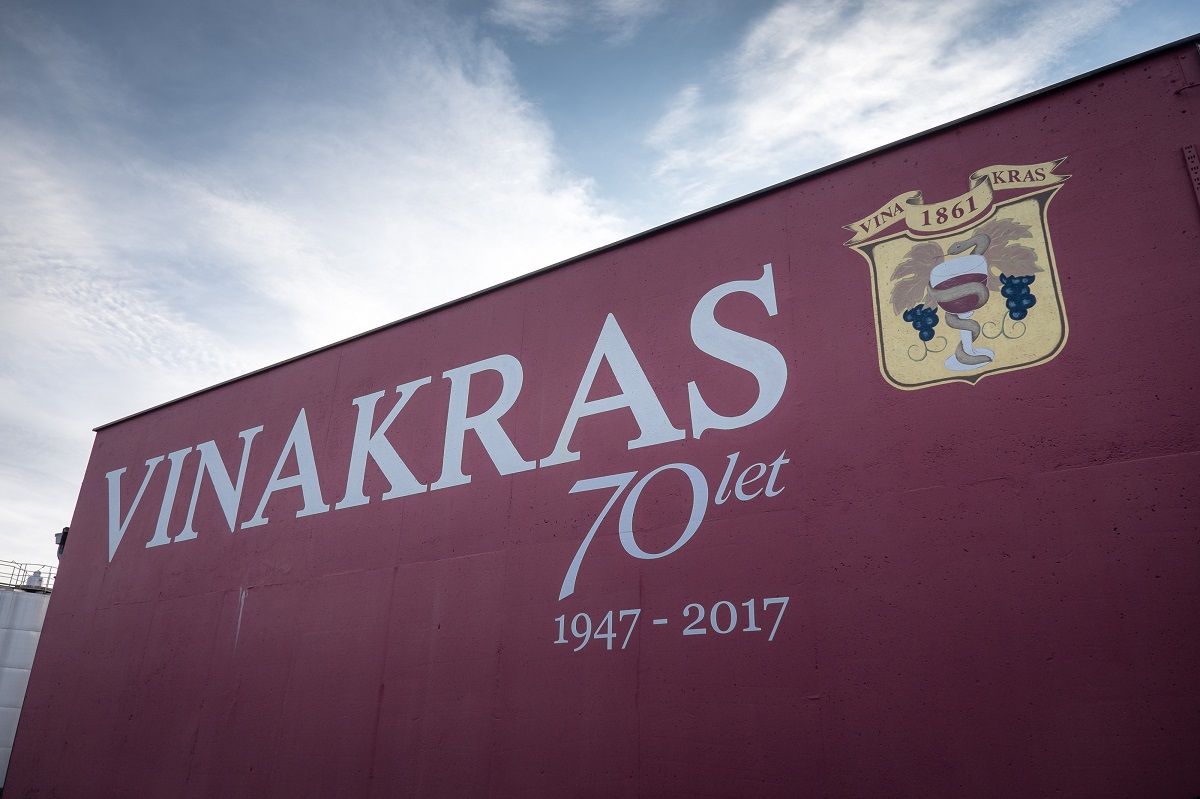 This social cooperative is very large. It has 230 members spread across the Karst (Kras) and the Brkini area. The cooperative owns 50 hectares of their own vineyards. In addition to that, members of the cooperative contribute grapes from another 100 hectares of land. All is done through a viticulture in perfect agreement with the natural characteristics of the Karst environment. Vinakras owns also 4 Agro Markets (agricultural shops) in the area between the Karst, Brkini and the Vipava region.
But let's get to the best part, what we're really all interested in: the wine!
The cooperative produces 1 million liters of wine a year, for a total of 500 thousand bottles. The varieties are Refosco, Cabernet Sauvignon and Merlot for the red wines and Vitovska, Malvasia, Chardonnay, Pinot Gris and Sauvignon for the white wines.
After a nice chat with Peter Boršič (Sommelier and wine trader) we head down to see the secret wine cellars; the darkness is broken only by the written sign Teranton… and here I lose myself, surrounded by enormous barrels! From here on you can go in two directions; towards the rooms where we find the stainless steel tanks or towards the cellar where excellent wines are maturing in oak barrels.
But the heart of this fascinating place is actually the archive! Beginning with a cell that keeps bottles of my own age, all the way to the last cell called the "Wine Bank". It's a caveau where, in small locked cells with a tag on them, people and companies have an option to store bottles and let the wines mature in ideal conditions. A solution for all those who don't have space (or conditions) to store the best vintages as well an idea to impress your loved ones or your business partners.
But I already know what intrigues you the most. How was the wine tasting?
I´ll tell you, it was the best part of my visit. Peter guided us into a second cellar built in 1861; a special place carved entirely in rock which was recently refurbished to welcome 50 seats. Here you can organize company meetings (they have a projector), private parties, dinners or simply group wine tastings.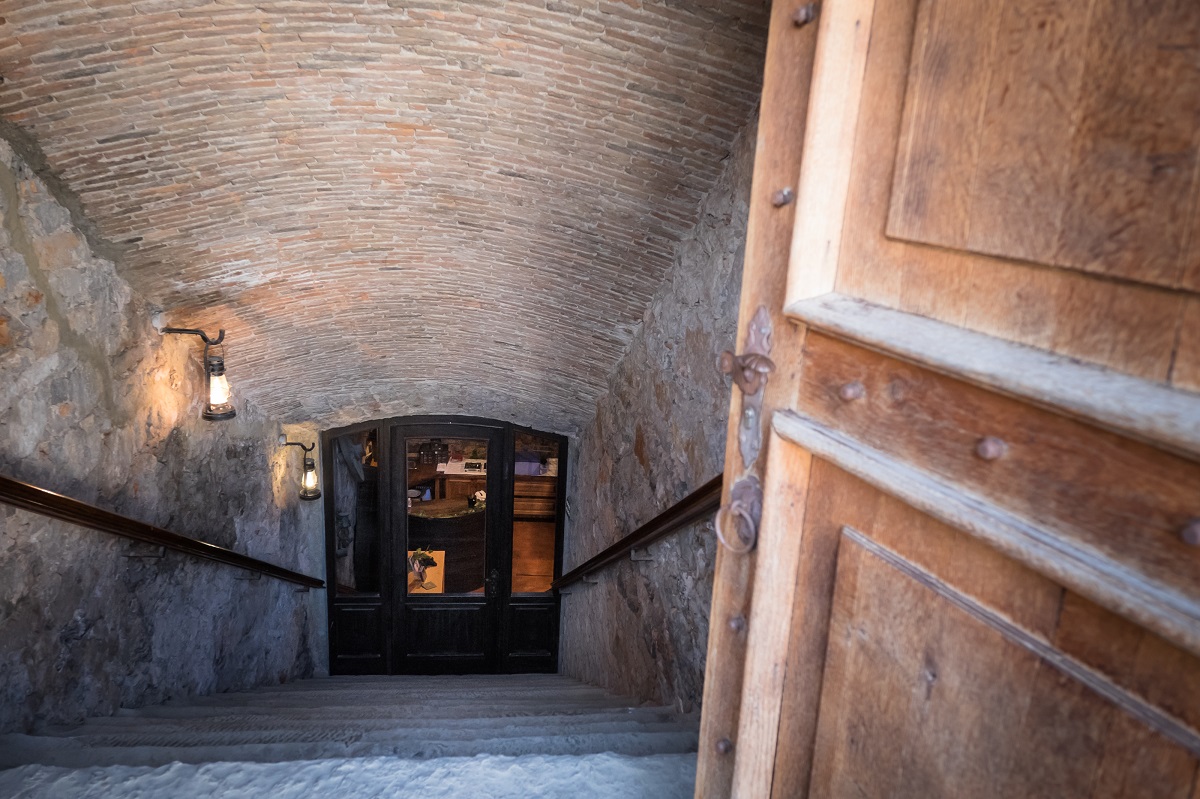 It's here that I meet Matjaž Lindič (owner of a restaurant and catering service in Sežana, the "Apetit"); he welcomes us with smoked ham, cheese and a well set up banquet with a lovely bunch of Refosco grapes, which was so perfect I thought it was made of plastic.  🙂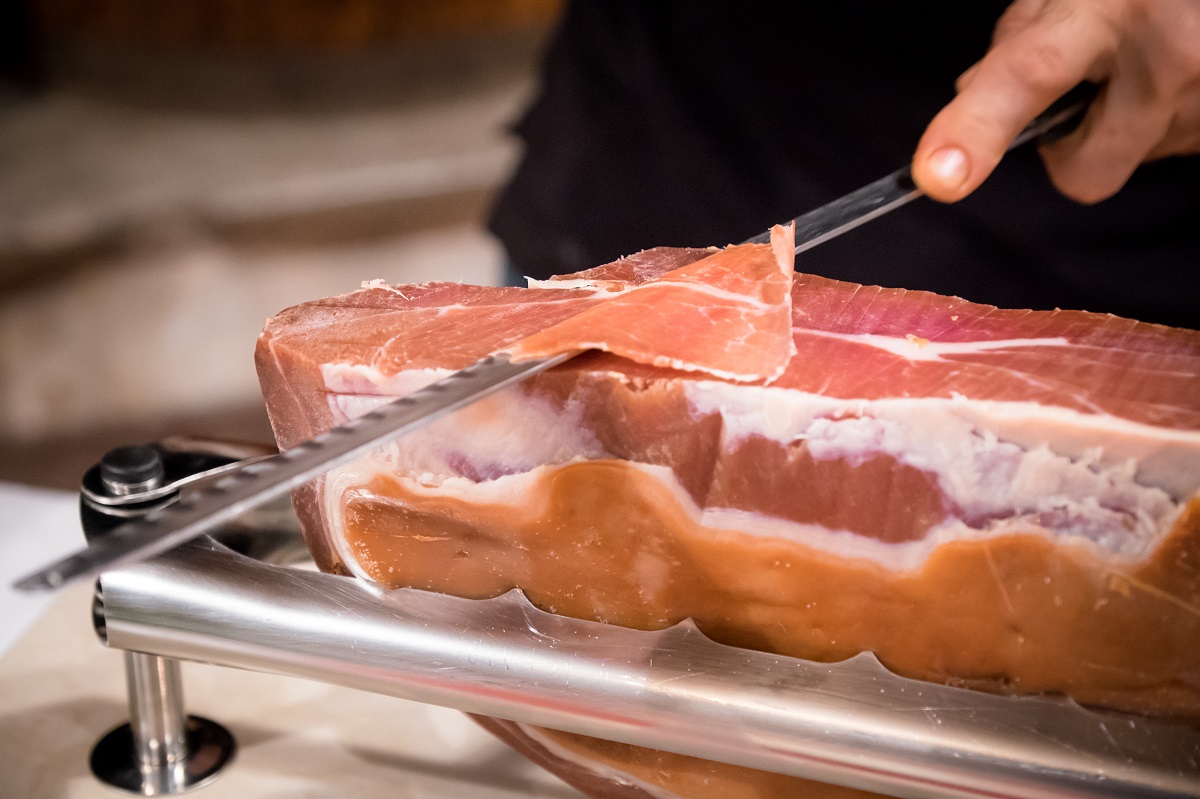 I'm sure you're aware I'm not a wine expert, I'm not a sommelier and I'm fully aware that this world requires a lot of study. However, I do have (like everyone) my own personal taste; I'm definitely not a critic, but like with food, I simply express my opinion which is absolutely debatable. Now that I've made that clear, I can say that I tasted the wines that I know best and which I feel very strongly about: Teran and Vitovska!
We started with a semi-dry, sparkly KRAŠKA PENINA (Teran sparkling wine) produced by the Charmat method. I loved it because it wasn't too dry. It was pleasant in the mouth and the the classic sour note of this wine was almost almost imperceptible. I imagine it could suit the Italian market as well as the foreign ones: bubbles just never go out of style!
Next, we tasted two more Teran wines:
1.Teran Prestige vintage year of 2015, 13% of alcohol content. Grapes were handpicked in selected vineyards from late September to the first days of October. The wine did undergo a 14 days of maceration, after that they let it mature for 18 months in barrique barrels. After bottling they left it to rest for another 6 months. I simply loved it. It was soft and rich with hints of cherry, red berries and wood (I almost sound like an expert, don`t I?). The bottle is sold for 12 euros.
2.Izbrani Teran Elite, vintage year of 2016, 11% of alcohol content. Grapes were handpicked from late September to the first days of October. The wine was macerated for 7-10 days and later matured in stainless steel tanks (for about a year). After that, a short, two-month passage in barrique barrels. Since the grapes grow on the red soil the wine is rich in iron. Full-bodied, fruity with a velvety touch of tannins. In comparison with other red wines, it has a higher a high content of lactic acid that helps with digestion. The price? 6 euros per bottle.
These two wines were accompanied by a traditional Karst dish, something I had never tasted and that I can't wait to try again: Teranov toč with polenta, which consists of the Karst dried ham cooked in Teran wine.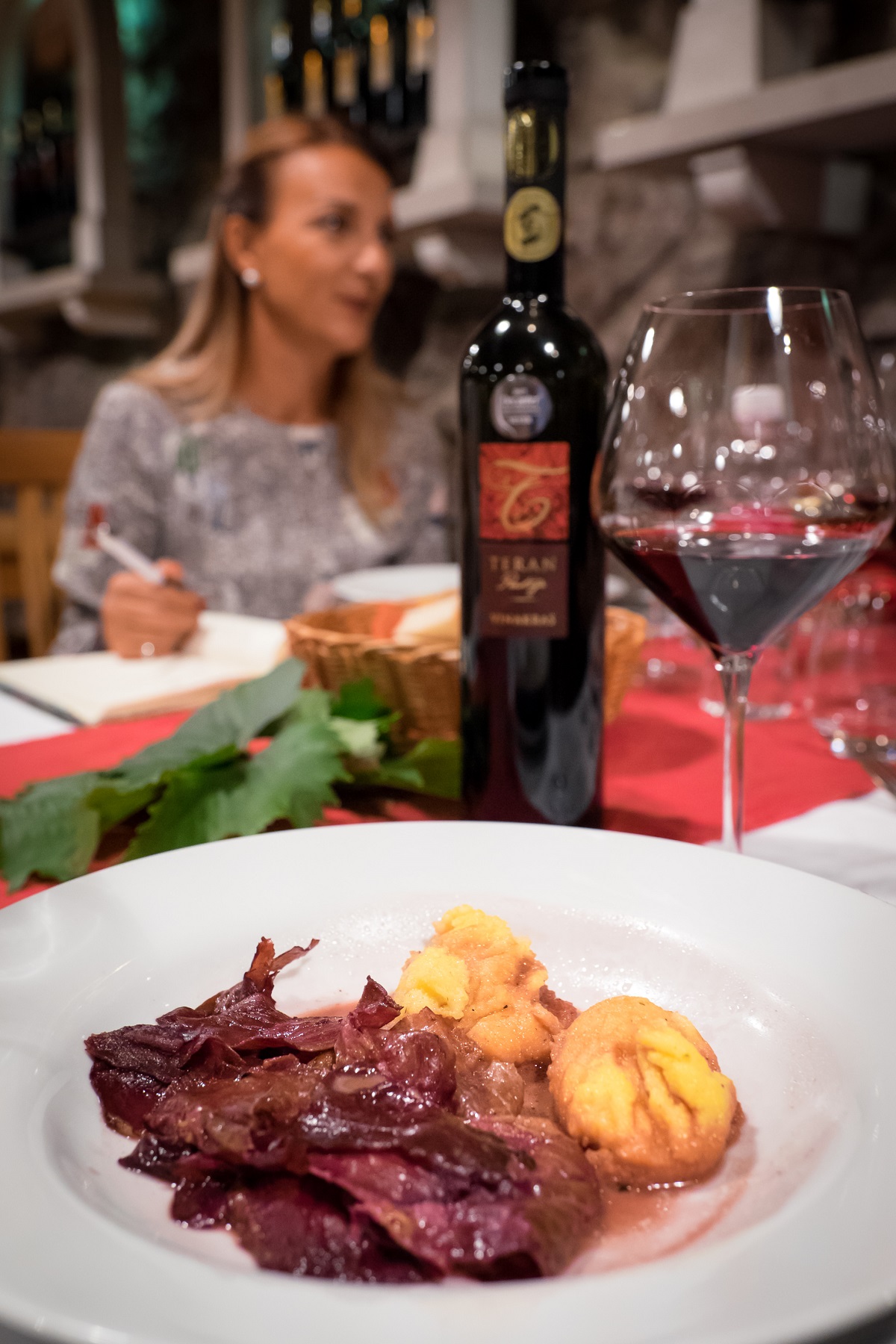 Next to come, were two wines from my favourite grape variety, her majesty the Vitovska Grganja, the queen of the Karst! I tasted two types of Vitovska, each produced in its own way (and in two distinct vintage years):
1.Vitovska Prestige, vintage year of 2015, 13,5% of alcohol content. Grapes were handpicked in selected vineyards in late September. The wine did undergo a short maceration, after that it matured for 18 months in barrique barrels. After bottling they left the wine to rest for another 6 months. Notes of vanilla and wood were very distinct and the color was a strong straw yellow. The price? 12 euros!
2.Vitovska Elite, vintage year of 2017, 13% of alcohol content. After a short maceration it matures in stainless steel tanks. Fresh, simple, with hints of pineapple and exotic fruit. Easy to drink and pleasant. It was excellent for my taste, because it was simple and very easy to go for a second glass… I appreciated the price as well! Six euros for the bottle.
To end this great wine tasting there was a dish of gnocchi with delicious plums that was served with a glass of Teranov Liker, produced according to the traditional Karst recipe. We also tried the PINOT GRIS MUST!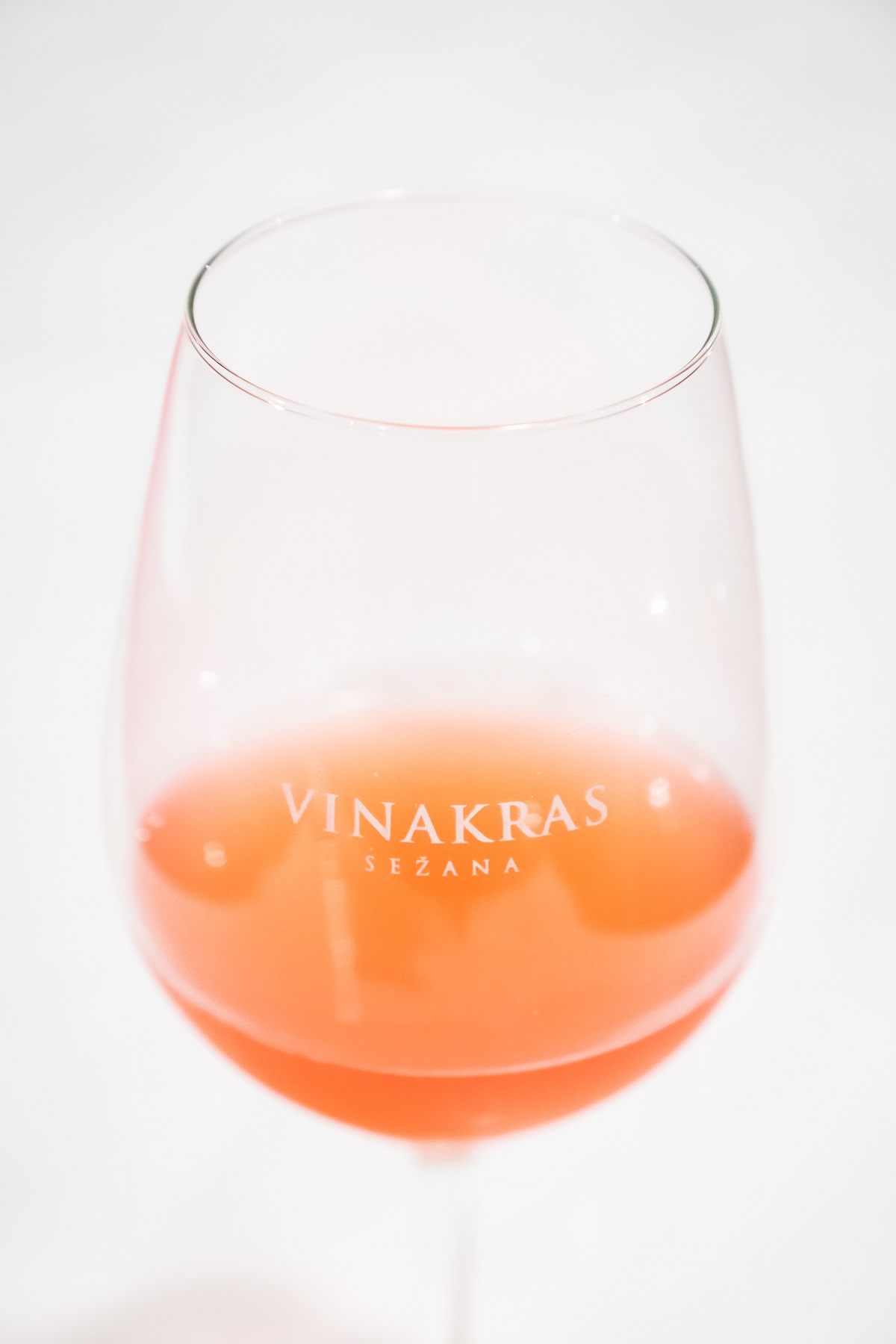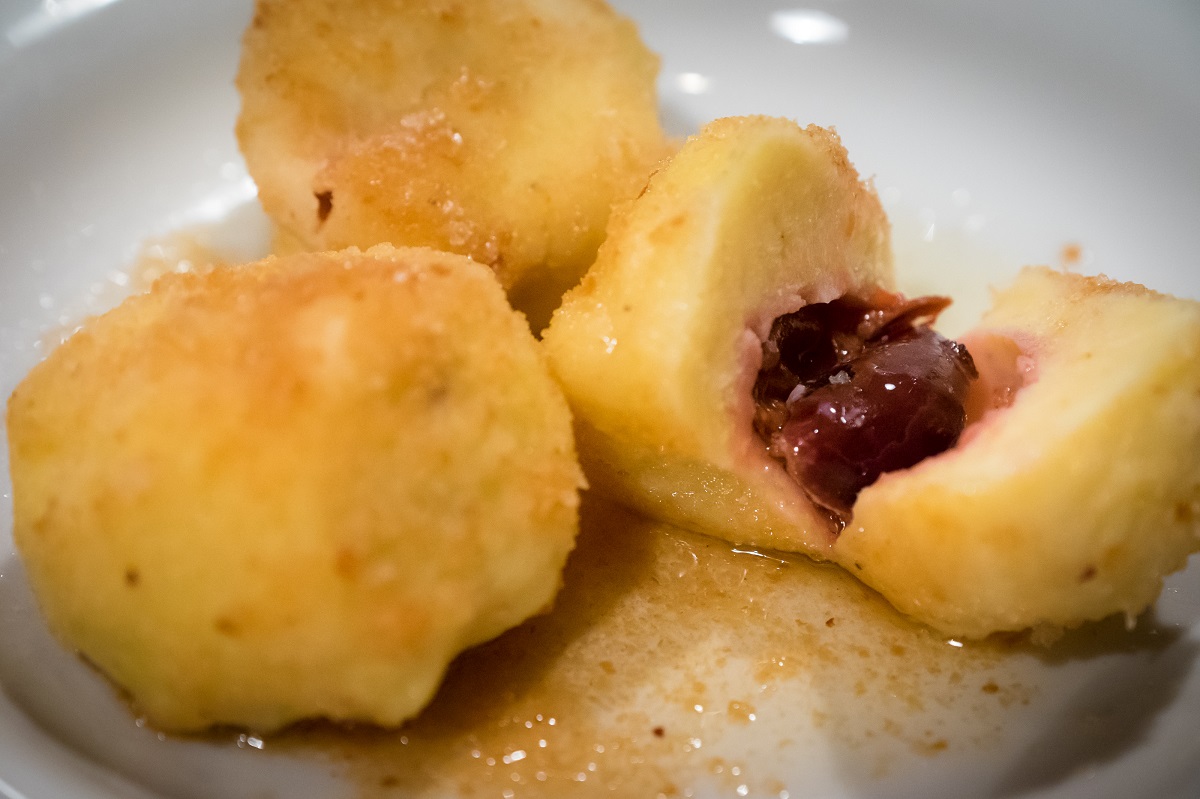 The latter, I have to admit, is superb! Just 1% of alcohol and sold for 2.50€ a liter. It's obviously available just in this period until the end of October, precisely till St. Martin 's day, when must becomes wine!
A MUST TRY.
Wait, I already know what you're about to ask next. You can buy all the wines in Sežana, at their Wine Bar or their Shop (open from Mondays to Fridays – 9am to 5pm and on Saturdays from 9am to 1 pm).
The shop is always there: pass through the arch I told you about and see your eyes sparkle. The place was refurbished last year and it looks amazing.
You can stop for some wine tasting too, but it's  better to book ahead.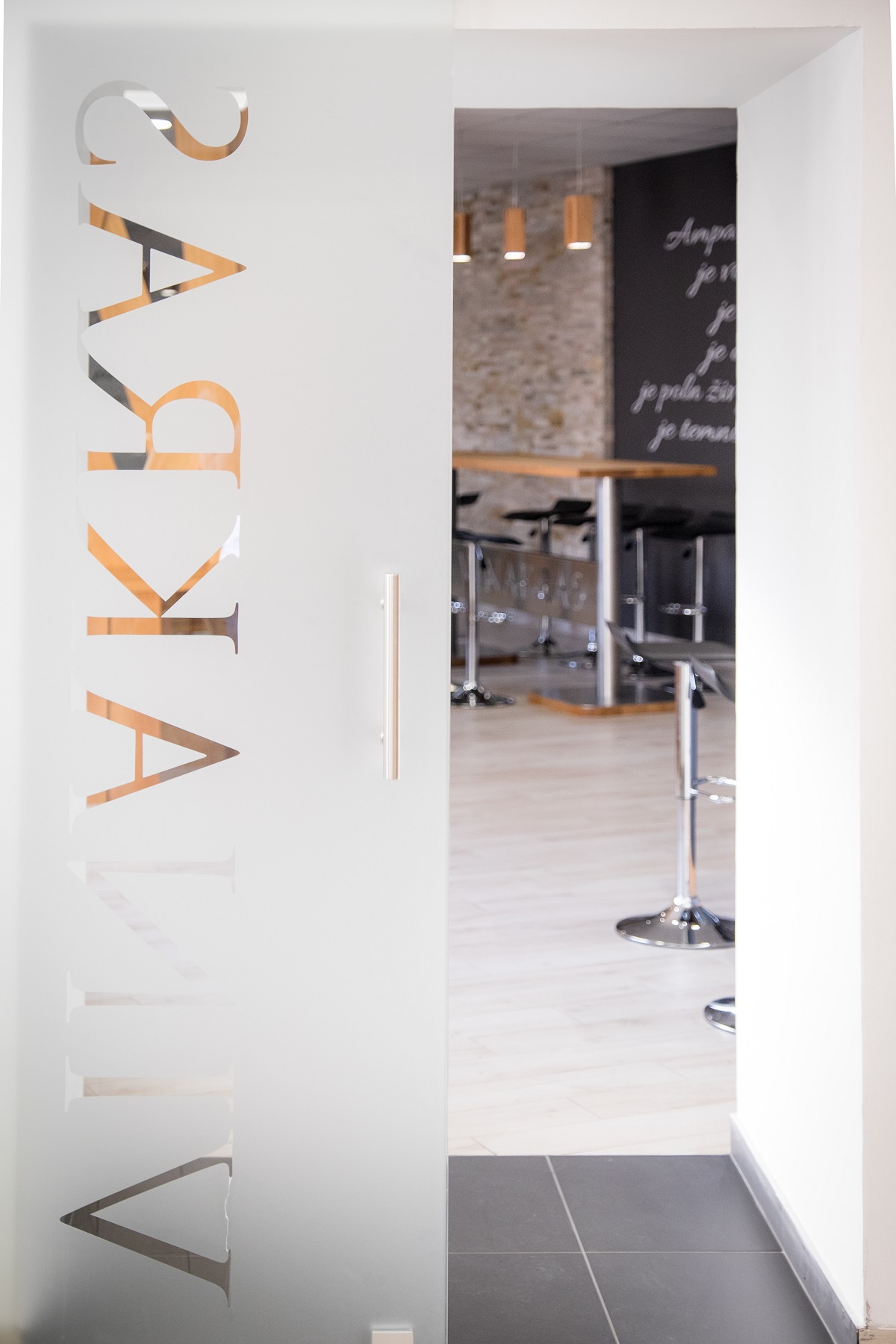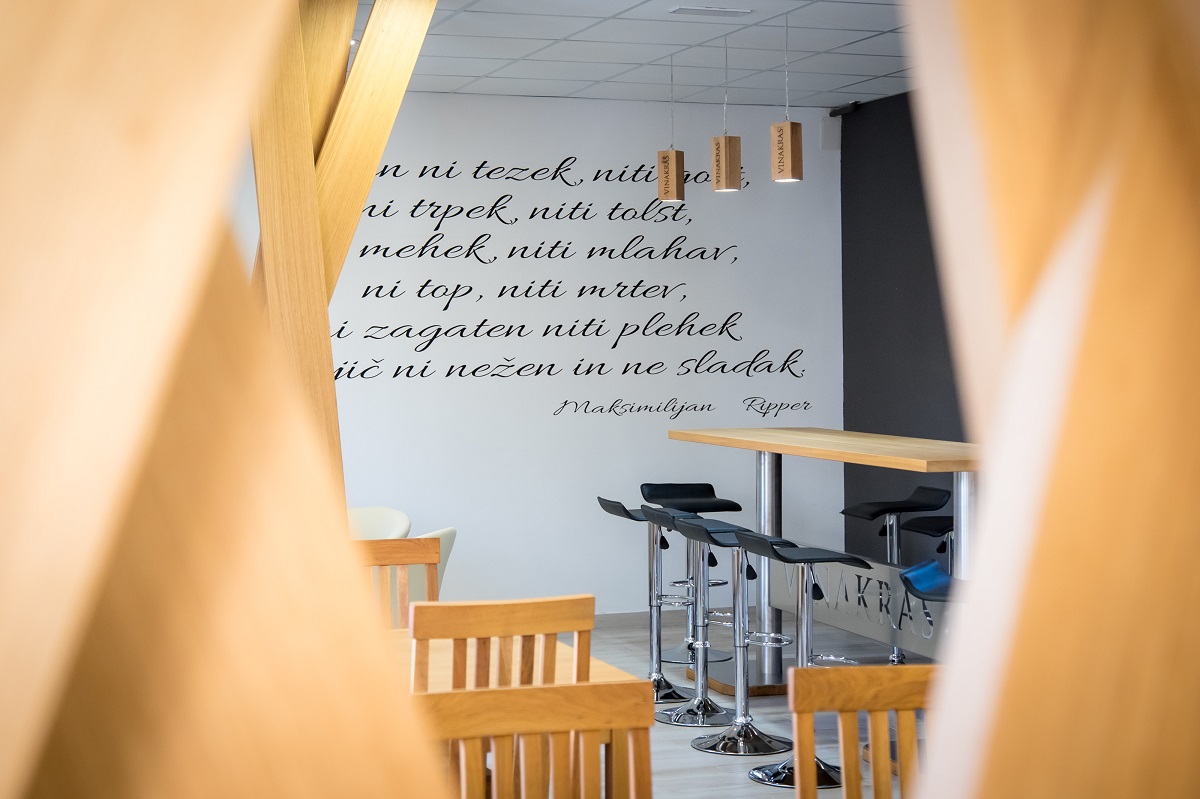 Our territory has so many lovely surprises, every day I learn something new and it's lovely to be able to share it with you…a common joy. I want to thank each and every one of you, thank you for your messages and kind words, when I meet you I'm always encouraged to look for something new and special.
The beauty and specialty of what surrounds us and that we often miss.
I'm off now, to explore new places.
Ph. Andrea Zangrando
Outfit Être Concept Store