After exactly one year, I came back to Alta Badia, ready to live many new experiences! Here is the article I wrote about these places some time ago 🙂
This time I chose to stay in one of the apartments of Ciasa de Lenz in San Cassiano, more precisely in the Calendula, a place on the last floor that has two bedrooms, two bathrooms, an open space with a kitchen and a beautiful balcony with an open view on La Villa and on the beautiful Dolomites!
It's the perfect position because with a brief, 4-minute walk, you can reach San Cassiano's center… and can I tell you a little secret? I went there to have breakfast every single morning (I know, I'm lazy, but I didn't want to prepare it by myself: I'm spoiled!).
Keep in mind that once you leave the car, from here you can take many paths at heights, that'll bring you in direct contact with nature; I've had so much fun walking on the Lagazuoi, at the Rifugio Punta Trieste, or going up and down, from San Cassiano, to La Villa and to the wonderful Corvara.
I also took the chance and went to a local sagra, the festival held for the end of summer, at Rifugio Gardeccia!
The place is easily reachable from La Villa, but you can also take a very convenient chair lift that'll take you at a point that is thirty minutes away by foot from your destination. After I reached it, I went for a stroll and arrived 200 meters higher at Col Plö Alt, where I enjoyed a panoramic view of the valleys in which rise Badia, La Villa and San Cassiano…I also admired the Sassongher from a new perspective.
As I was saying, this is one of the best seasons to visit these places! You won't find the typical august crowd (with which Val Badia has been invaded, this year more than ever), but you'll be able to relax in complete quietness. Just amazing.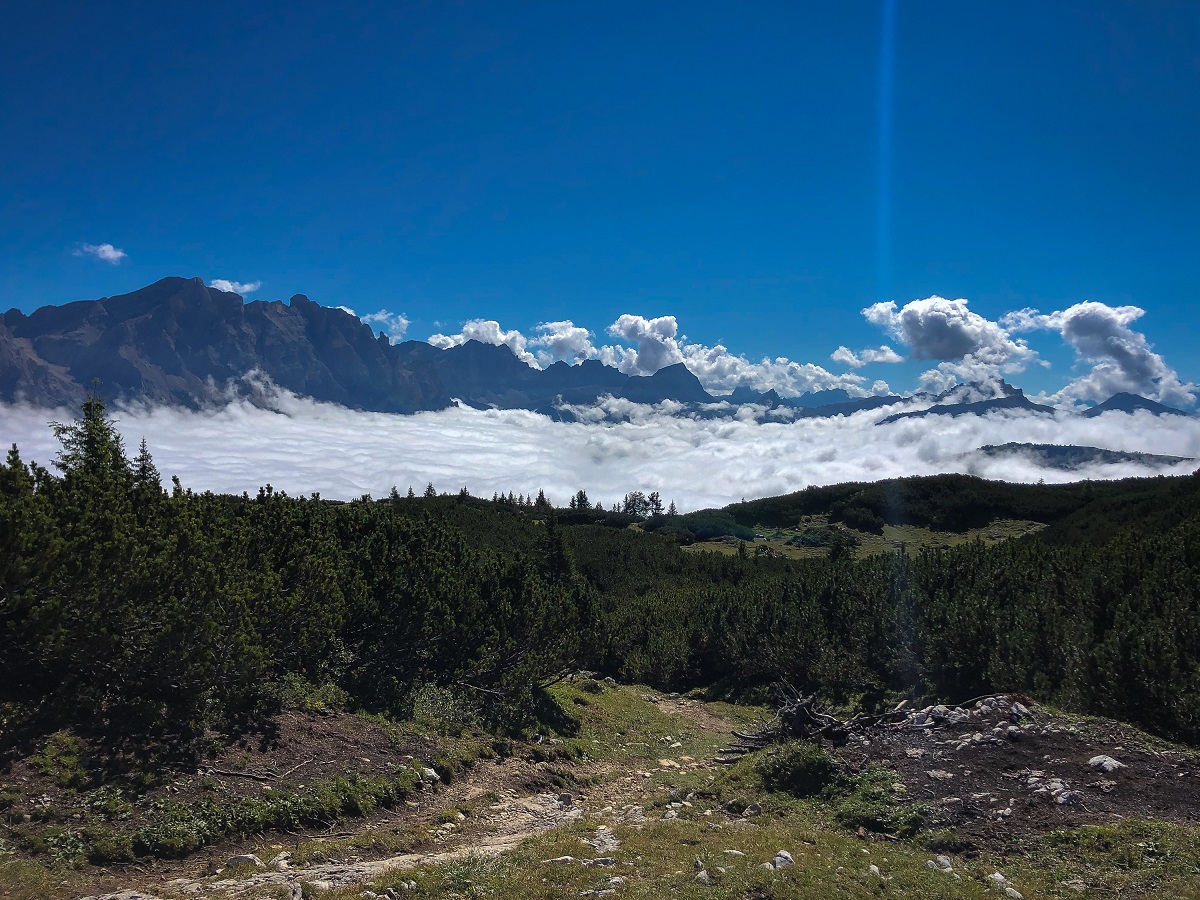 For the TRUE lovers of the mountains, this is the perfect time…the ski facilities aren't open, and some shops are closed until the beginning of winter, but that's the best thing! No roaring engines, no motorcycles and almost non-existing traffic. I know some of you may be skeptical at the idea of not finding open bars and shops for your happy hour and shopping. What's my answer?
I'm inviting you to a different experience, here: I'm "offering" you the mountains in their purest form, without any bells and whistles.
Oh…I almost forgot! Do you want to live another incredibly exciting experience? Go paragliding! My most attentive readers will remember that last year I tried this for the first time, and I liked it! So, I decided to slide back into the suit and harness to go up on the Boè and fly on the Dolomites!
If you want to try it too, you have to talk to TandemFlights Alta Badia: they will make you live one of the best experiences of your life. ATTENTION: it's suitable also for those who have a fear of heights! I'm telling you because last year I forced my friend to come along (and she suffers from vertigo)…and all was fine. No fear, no air gaps… it's a very gentle flight, without loads of adrenaline involved. Beautiful.
With a little bit of fortune, I flew 3250 meters over the Sassongher, admiring the whole mountain chain all the way to the Austrian side. I was moved. Well, if I wanted to go up there a second time…I had my good reasons!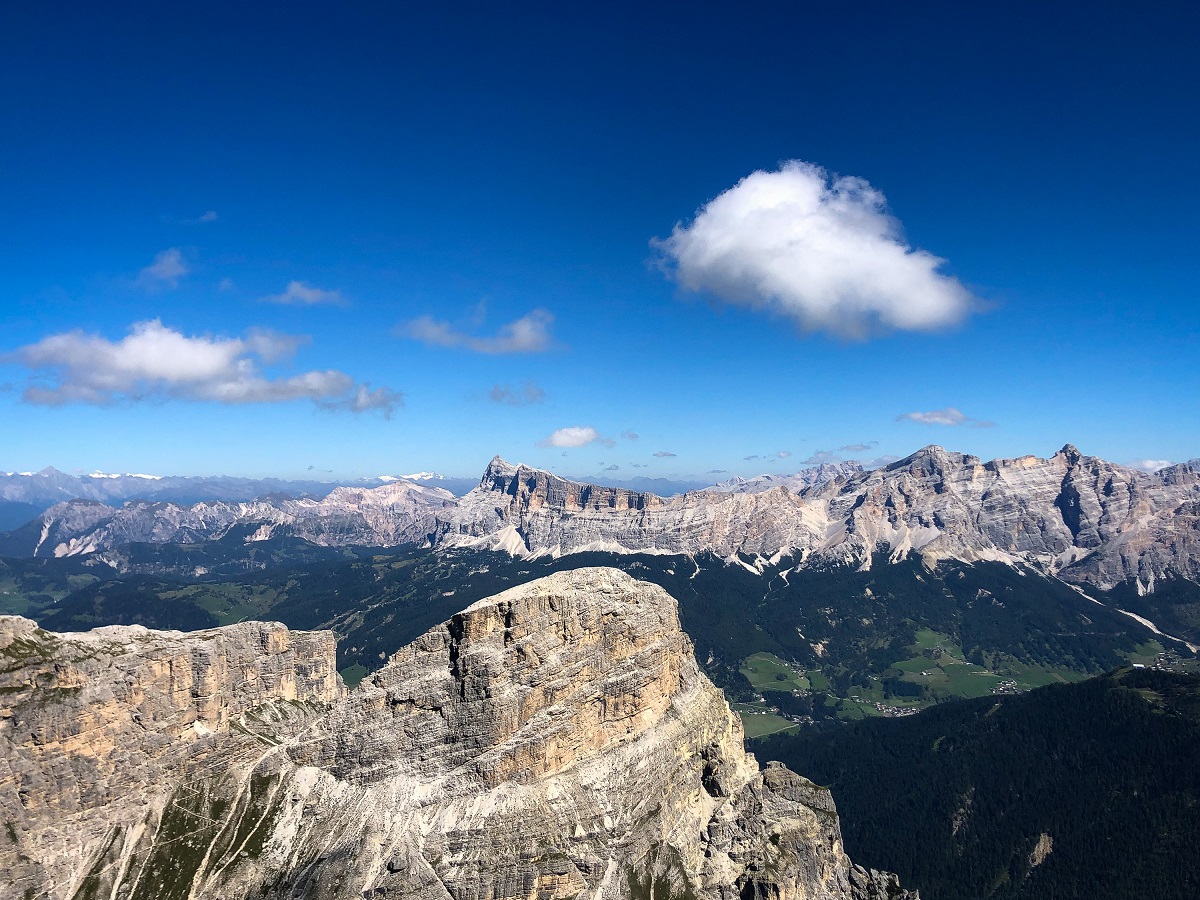 And now a small gem. Advertisement jingle and let's go with the local craftmanship. If you're in San Cassiano, you have to go to L'angolo di Anita, a laboratory where the typical Ladinian costumes are produced. Anita has been tailoring these Dolomitic creations for 5 years now, and they're perfect to wear in the city, too.
I couldn't say "no" to a maxi mustard-colored linen skirt, to wear with a demi-Dirndl apron or with a pair of sneakers and a white t-shirt. It's so beautiful!
What more to tell you, my friends? I hope I made you see the mountains from a new perspective 🙂 Now, as I always say at the end of my articles, it's your turn to try (and to let me know)…
Greetings from Alta Badia!