It was 2017 when I first told you about this restaurant in the Valley of Vipava. The article I wrote about it earned the highest number of views I've ever received!
Today I went back to meet Tomaž and Flavia because… you can't delay a dinner invitation for too long, right? Over the past years I had the chance to get to know them quite well. They're full of energy, positivity and ambition, soul mates that are taking the same road and complete each other; she takes care of every detail of the dining room, organizes perfect catering and manages the personnel. He is the chef who takes care of the kitchen but also of welcoming clients and making then feel comfortable. I can assure you that the combination is perfect! Then there is all the personnel that works there, who take care of you during your stay here. The only new face I notice is Sara's, Tomaž's daughter, who is a little shy compared to her father but with kind and delicate manners. After all a restaurant is made of the people who work there!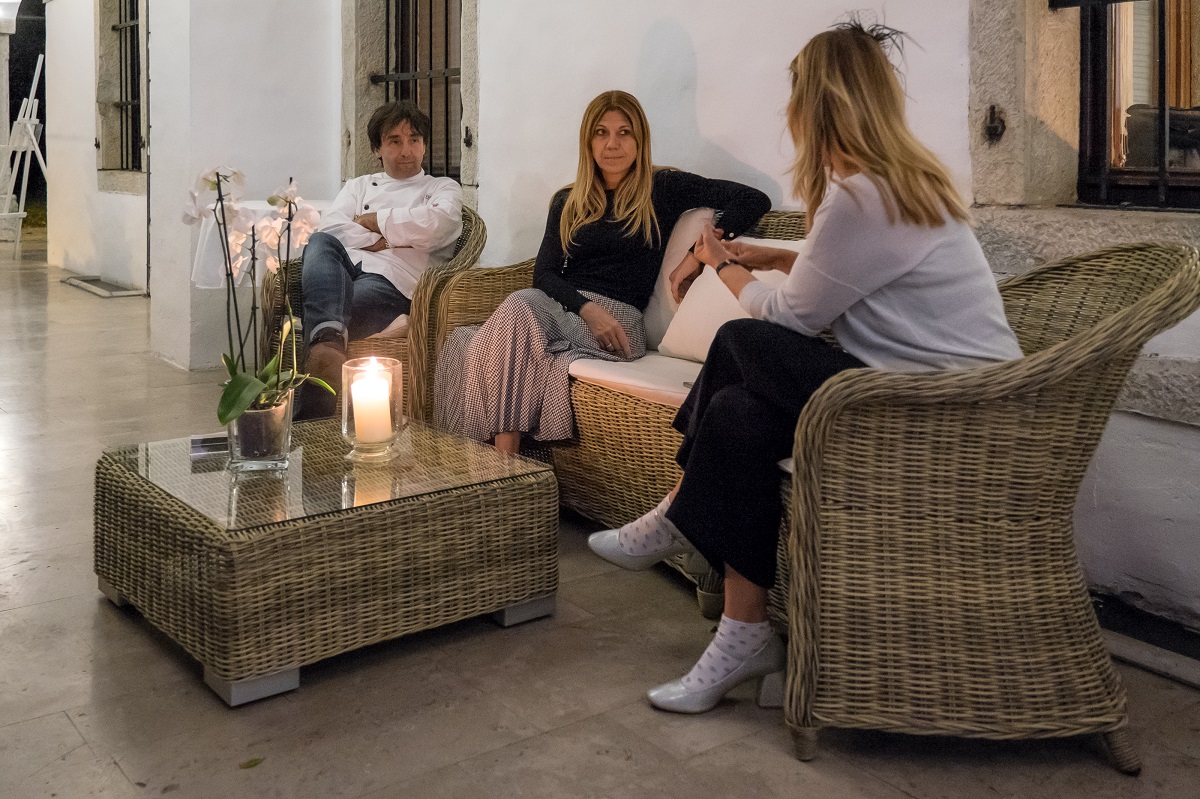 It's impossible to find anything disagreeable here, I considered everything impeccable! Speaking about the location… I was lucky enough to visit during the ten days a year when you can dine in the hall, which usually can be reserved only for private events and dinners. It's high ceilings are decorated with baroque frescos and heraldic crests, making the room even more impressive. The building of Zemono was constructed in 1638, on a hill surrounded by vineyards. It's really worth visiting! Can I give you an additional suggestion? Consider coming here for lunch. In the daylight you'll be able to enjoy incredible views that you would miss at dinner time. Think about it 🙂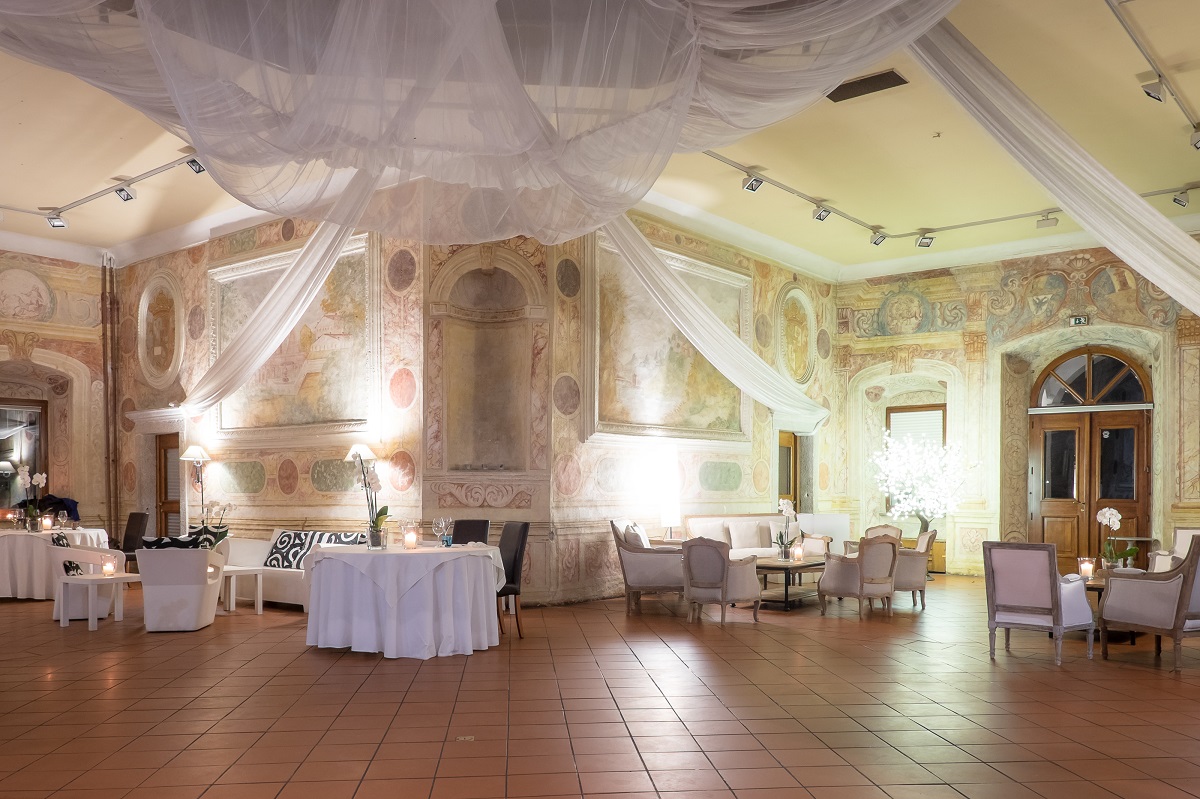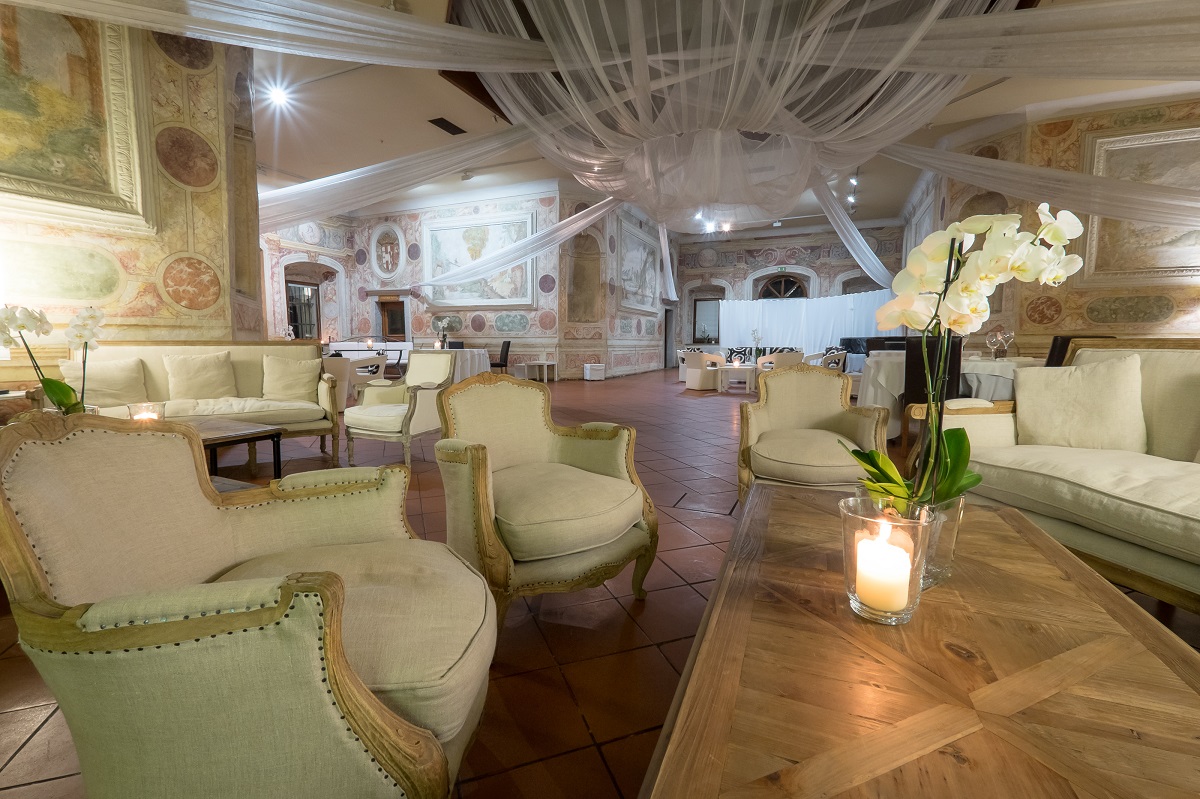 But let's get back to my dinner. You should know that Tomaž was recently prized as the 99th best chef in the world, but he also earned 3 hats on the guide Espresso 2019; if they had a Michelin Guide in Slovenia I'm sure Zemono would earn a few stars!
If you don't know him, I'll tell you a little about him: he's extremely connected to his land, and prefers recipes that recall tradition and flavours connected to the seasons; he also has a vivid imagination, his dishes are always surprising. He loves to deconstruct recipes, presenting the ingredients in different forms and processed in some surprising new way, without ruining the flavour of the ingredients.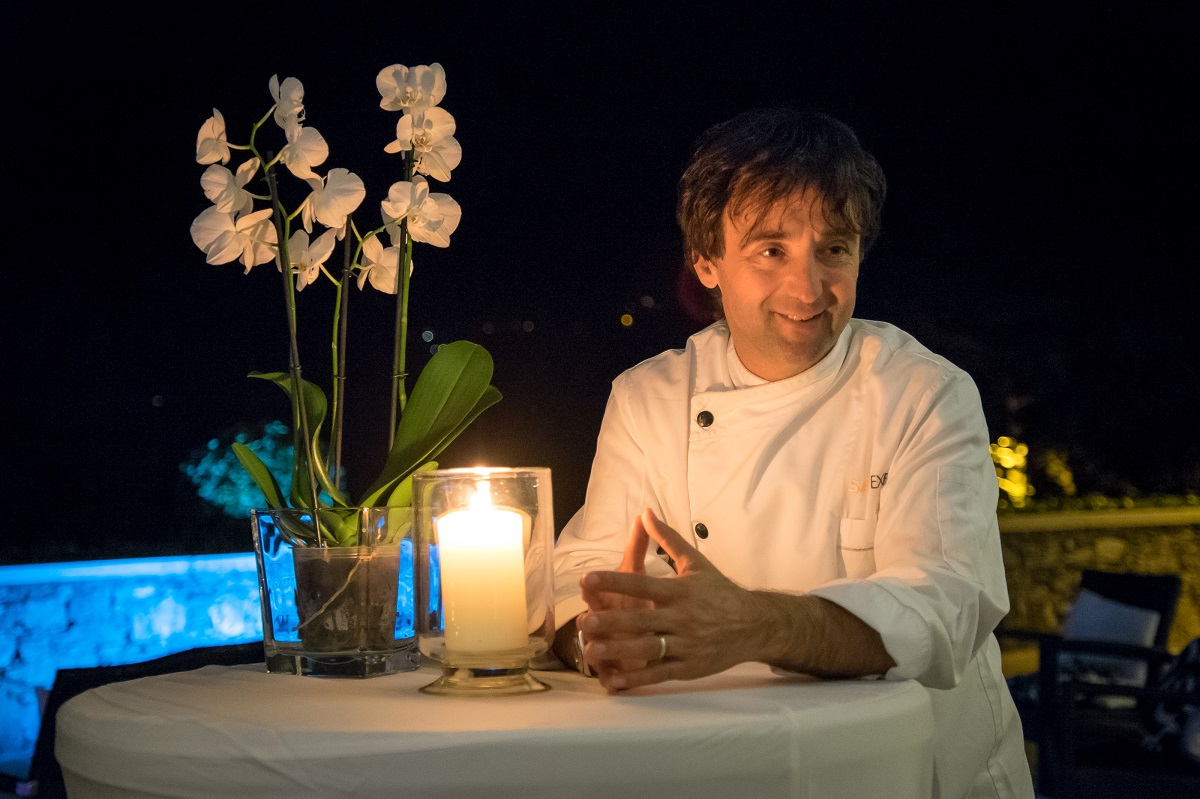 After this introduction I sit down with a nice glass of Pinot Nero Rosé and the welcome dish from the kitchen: a pumpkin cream with seasonal vegetables, fresh ricotta cheese from the Vipava valley and pumpkin bread…everything accompanied by a bottle of delicious Barbera juice!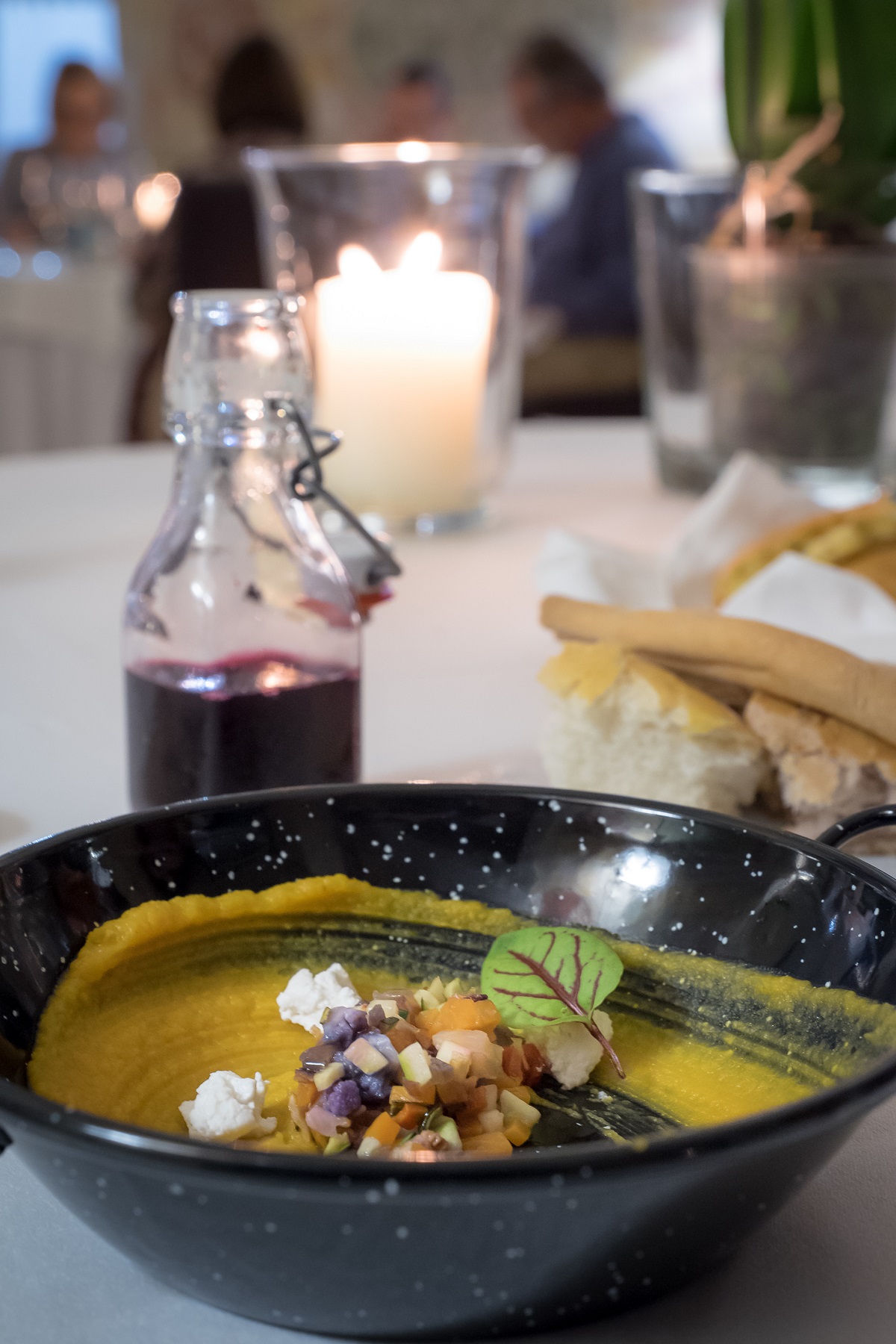 Next they served a jar which is considered one of their specials: the horseradish sauce with apple and yogurt, boiled wine and lemon, with a loaf of bread which you should break apart with your hands, like we used to do once. A tradition that has been handed down for generations and that Tomaž has slightly changed (once this dip used to be made with lard and garlic).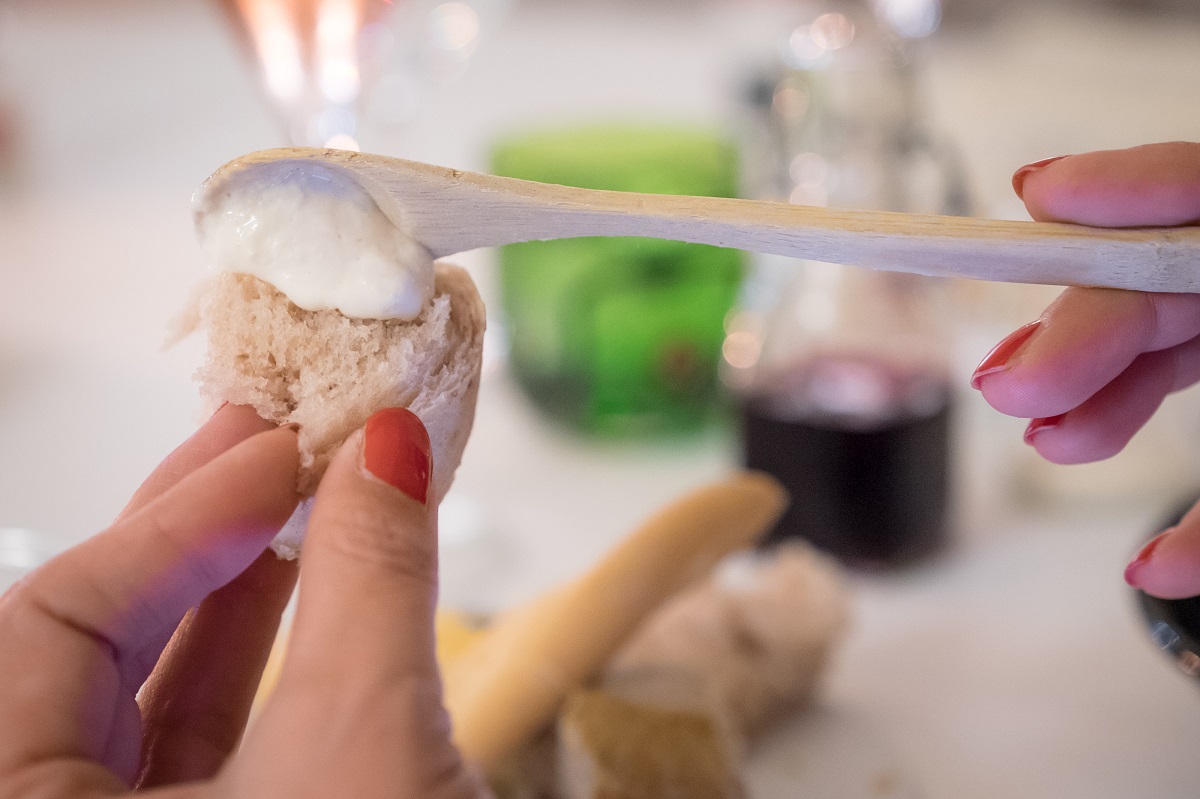 The next dish (no meat!) is served with a 2015 Pinot Nero from Sanctum, of the area of the Slovenian Styria. A perfect match with a black ravioli made with vegetable carbon and with a trout filling, with a side of vegetable cream and trout over baccalà mantecato (without garlic, very delicate) with petals from mallow and dandelion flowers.
The perfume of this dish was indescribable…poetry!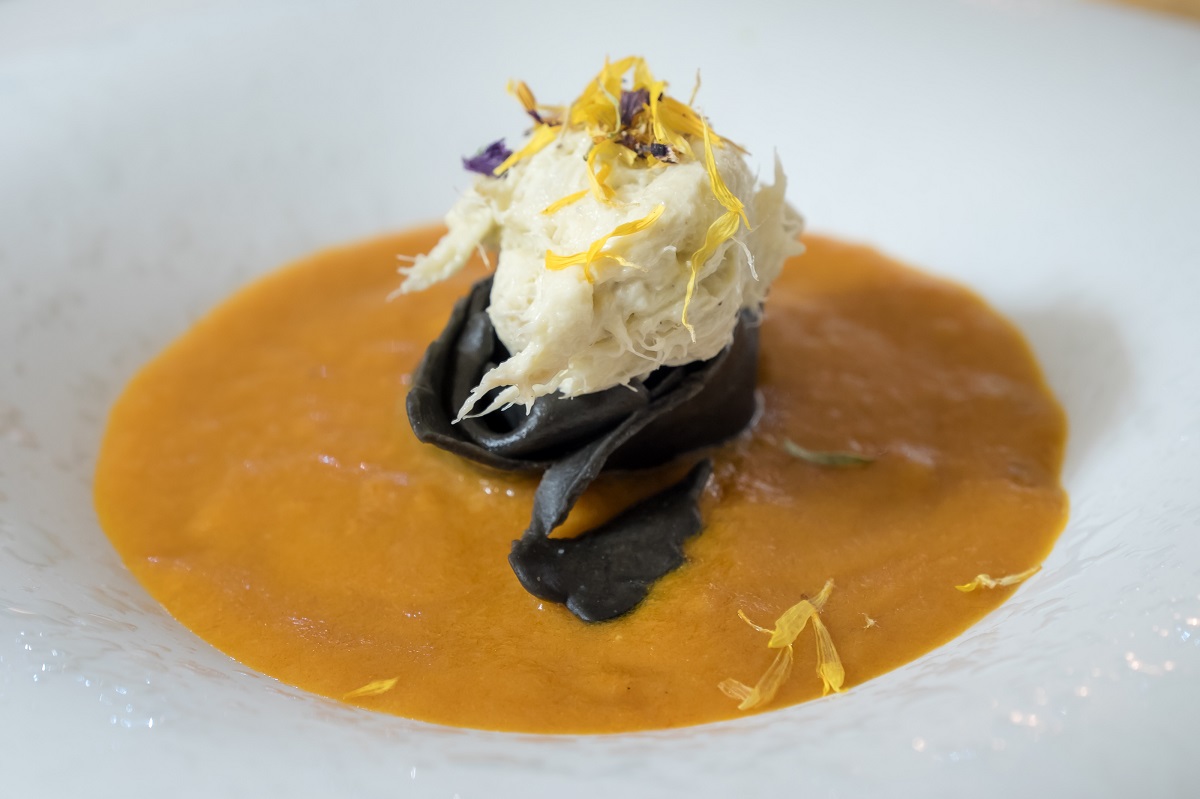 Perfectly on time I'm served a glass of Chardonnay from Brda social winery, a 2012 Bagueri. Can you guess what dish I'm about to eat with this excellent wine from the Slovenian Collio? Scallops J A mountain of lemon caviar on the plate, a scallop soup served with a green plankton sauce! All the grace of the sea enclosed in a strong flavoured dish.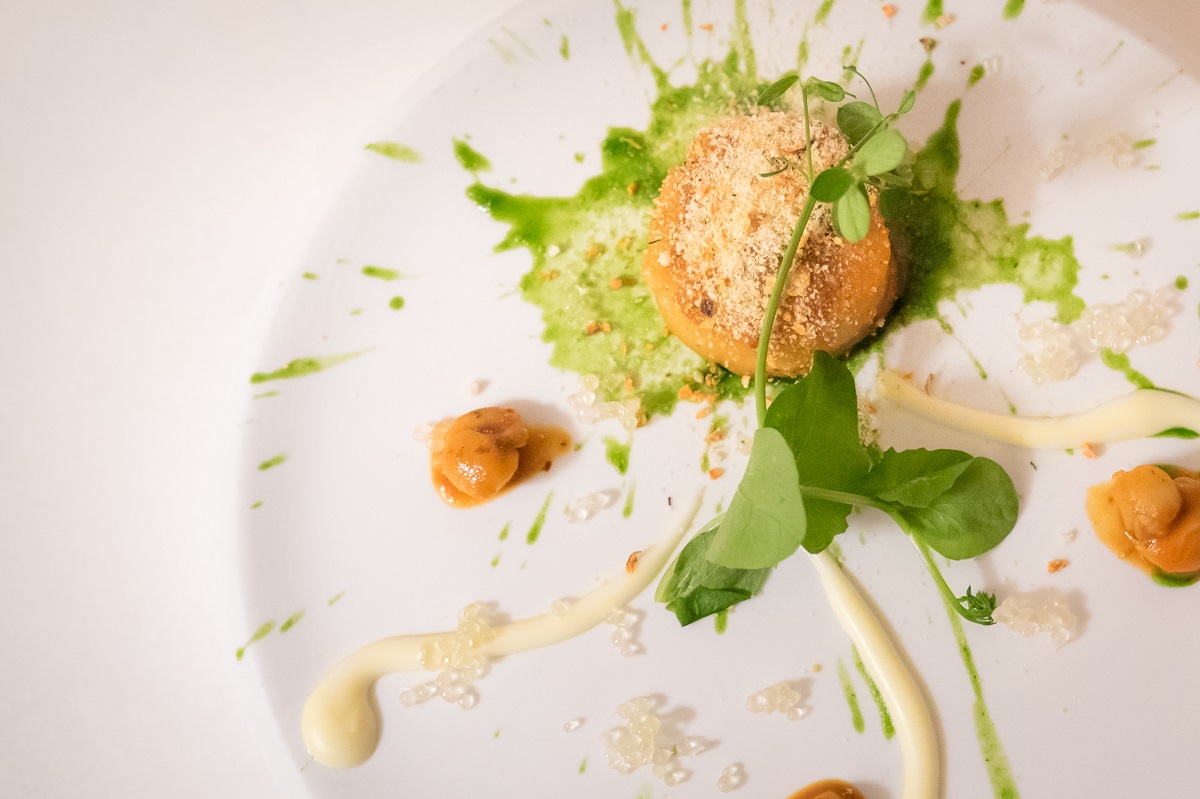 The wine to accompany the Mangalica will be a 2015 Pinot Grigio by Žorž (from the valley of Vipava)! The Mangalica is a local pig bred from two species of pig (one from Serbia and one from Hungary) and a boar. It used to be served at the banquets of the Austro-Hungarian Emperor and since then it slowly started to disappear from any menu. Its meat is very distinctive because of the colour of the pork fat;  the flavour and the high content on omega  3 unsaturated fats make it very similar to the fat of Kobe,  Japanese beef. It actually has 30% more fat compared to other species, but the quality is much better because of the stearic acid it contains which reduces bad cholesterol.
Tomaž served it "sandwich style" (without bread): two slices of salami with ricotta, a grass with a taste of wheat and pumpkin oil. DE-LI-CIOUS!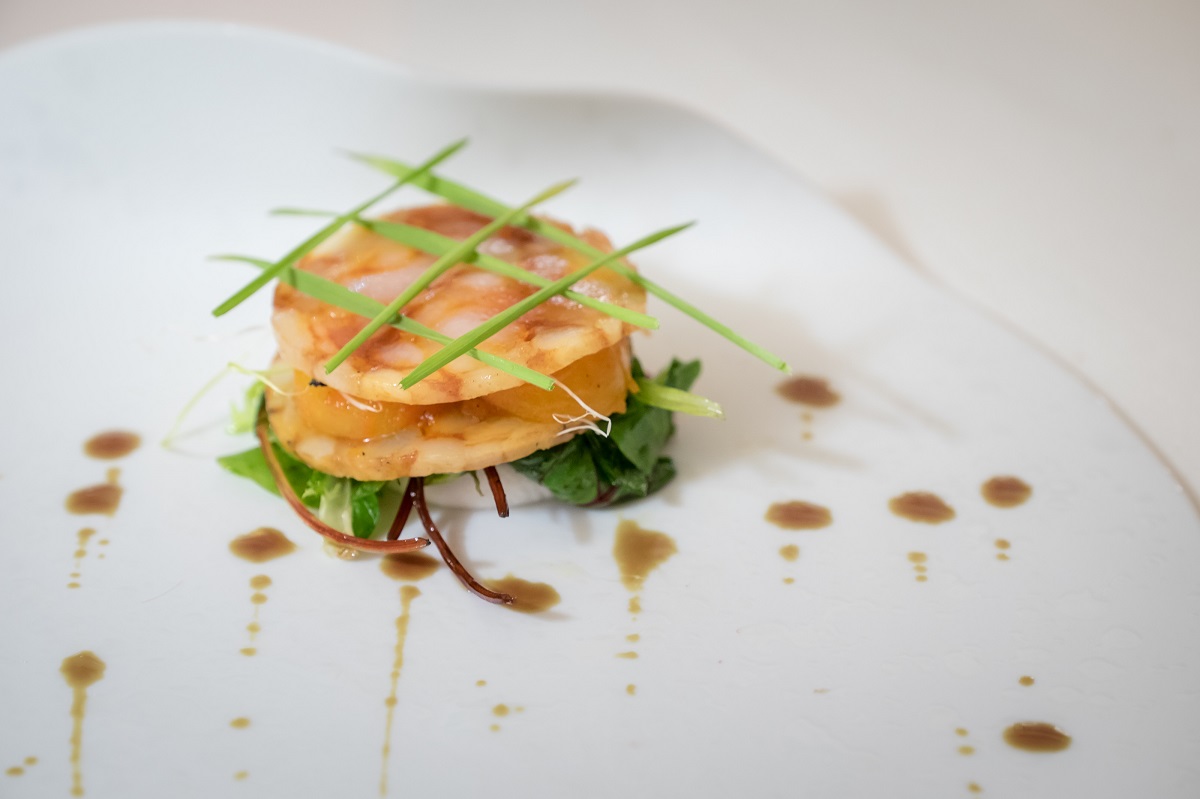 The next dish comes from the heart of tradition…everyone will fall in love with it, adults and children. Beef broth. Still remaining connected to tradition, this dish is filled with creativity. It is served in a coffee cup with a pointed base; on the plate we'll find all its ingredients. Green celery, parsley, carrot, radish and some pasta with the meat, served on a meat patè.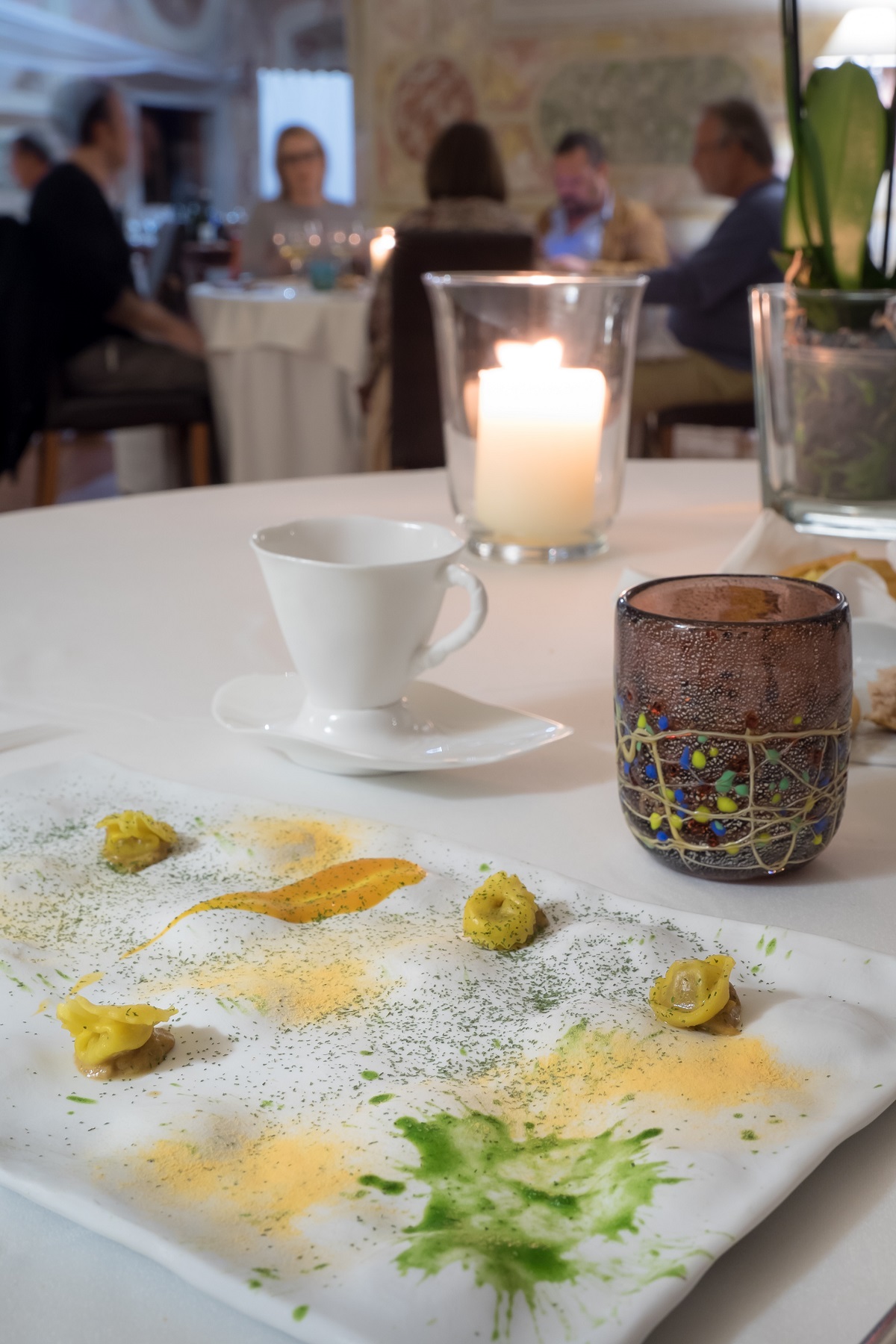 It's a dish that brings back all sorts of memories. It's also a perfect match for the glass red wine (a blend of 80% Merlot and 20% Cabernet) from Costantini, year 2006, which brings us back to Brda. This wonderful wine will be perfect also with the next meat and truffle dish! It is steeped for 50 days, and then pulled before being served and enclosed in flakes of white truffle with egg and potato. Everything is served on a potato and truffle pure accompanied by a radish sauce.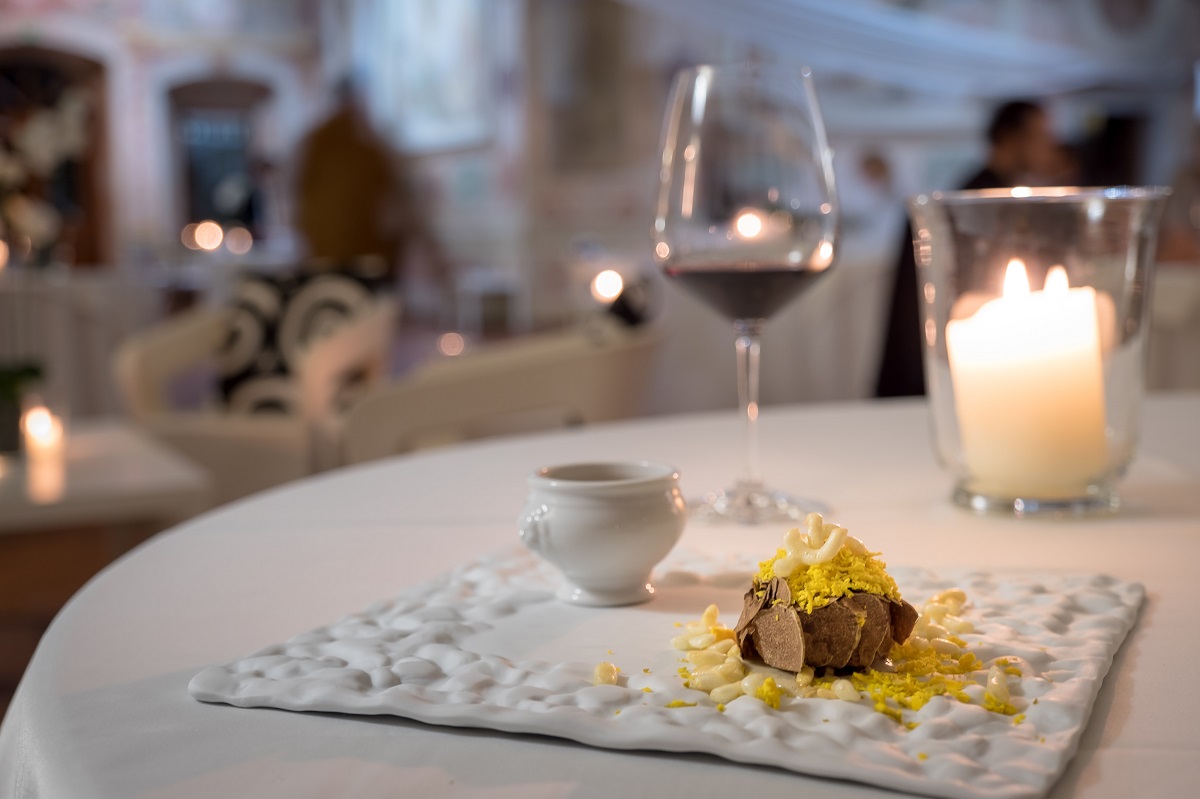 The last dish? The summer pork. Porchetta with steamed bread, caramelized red onion, fennel, fried pork crackling, mayonnaise with olive oil and crunchy purple lettuce. What a meal!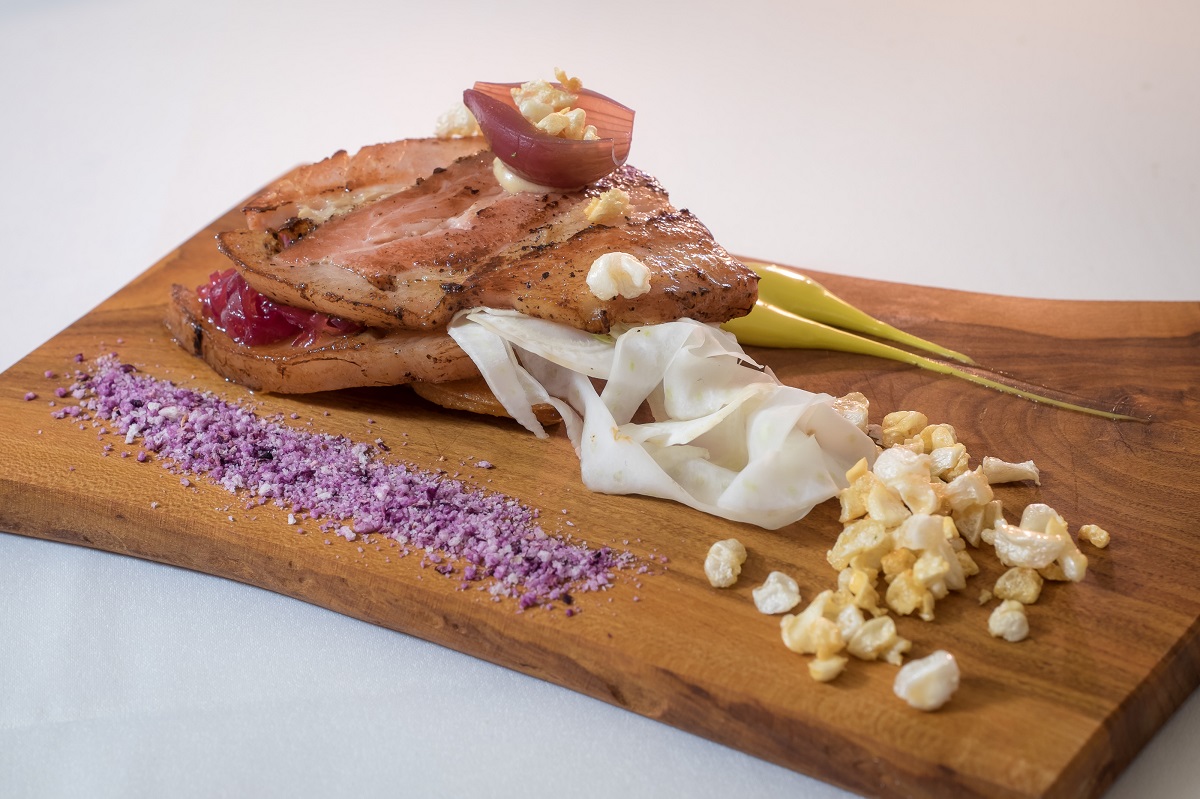 There's still one last surprise. Here at Pri Lojzetu you always start with horse radish cream and end with "the smoke"! A Martini glass with lemon ice-cream and a gin and tonic jelly, served in the middle of the table on a wooden tray with dry ice and fresh juniper branches.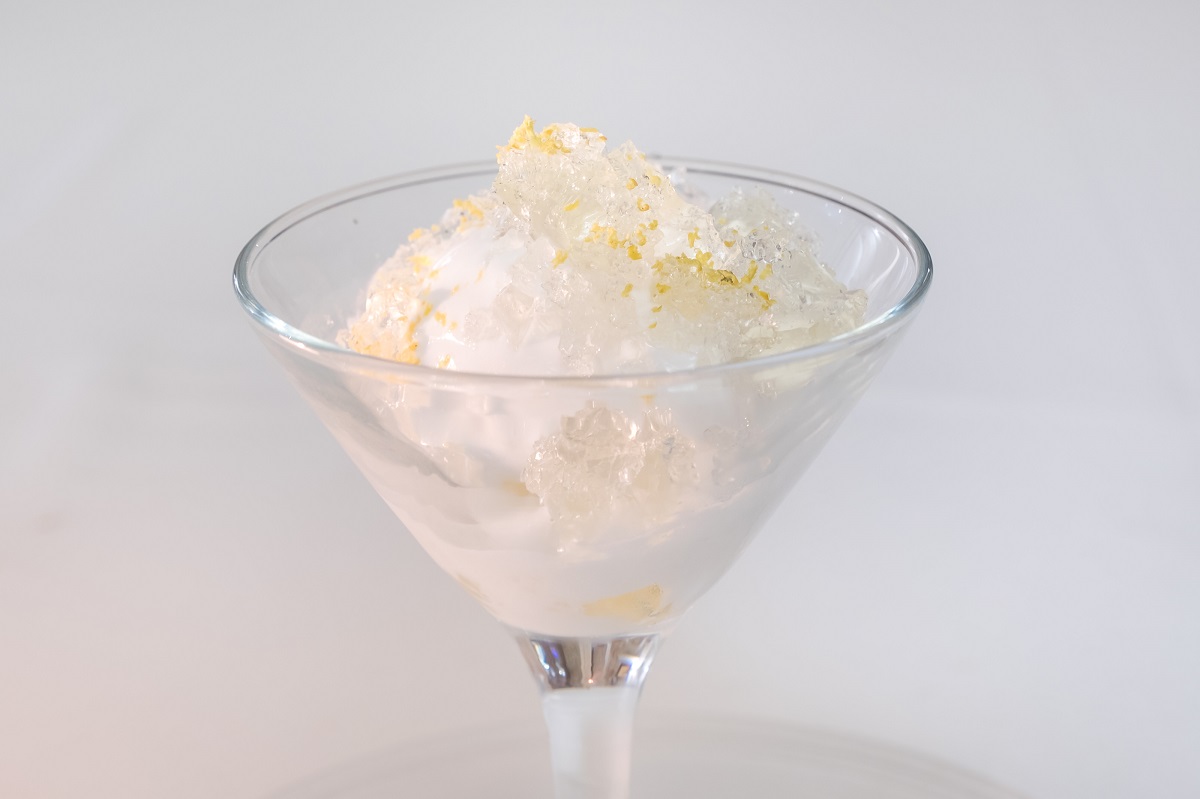 Don't worry when you see Flavia arrive with a metal watering can, but grab your phones to record the scene. As they pour water on the dry ice a fountain of smoke will enclose the table, flowing down to the floor. The scent of juniper will surround you in a unique experience!
But that's not all. This is just a pre-dessert because the dinner ends with one last delicious treat. Autumn on a plate! Chestnuts, persimmon and gold! Yes, you did read that correctly: gold! That's because in Slovenia persimmons are called golden apples… that's why in your dessert you'll find little golden nuggets!
A delicacy served with a glass of 2011 Traminer, a late harvest of Puklavec.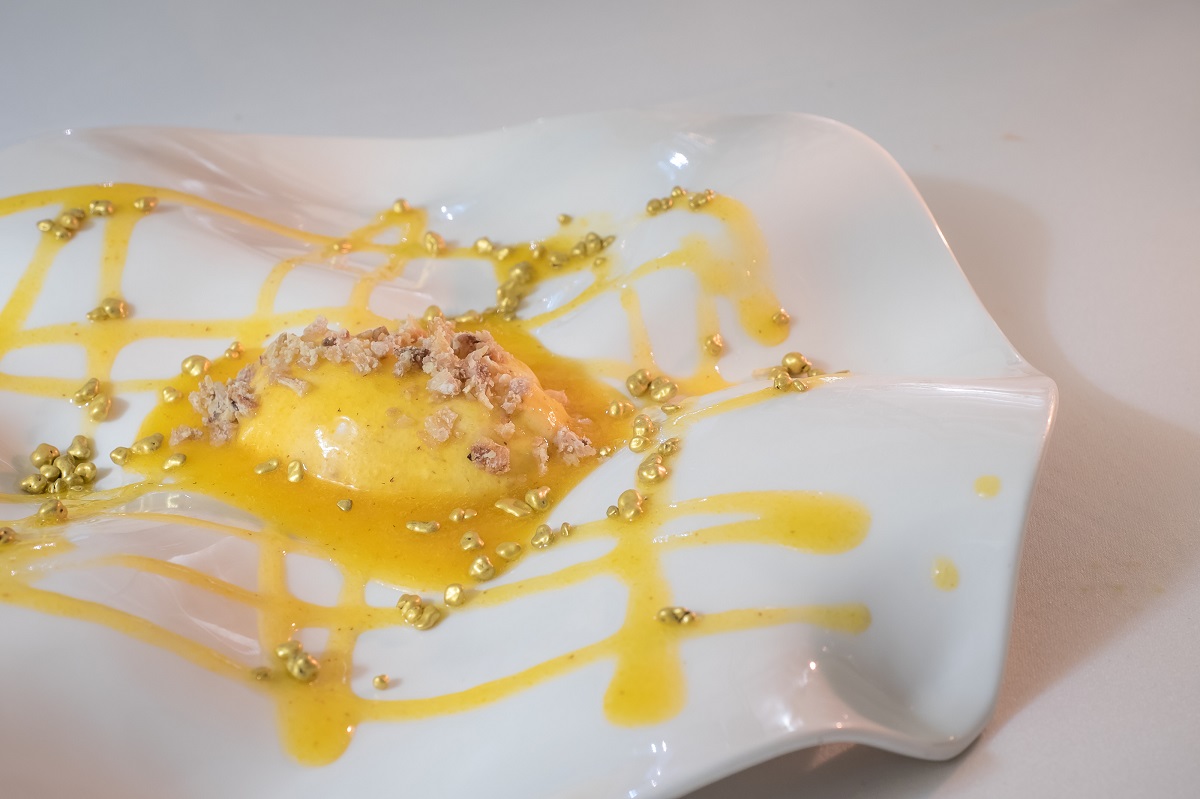 As soon as I saw the bottle my heart skipped a beat. I was catapulted back to the past, in a corner of my memories, one of the first trips I took to Slovenia. I wrote about it back in 2016 https://www.missclaire.it/travel-eng/a-tour-of-the-northeast-off-to-discover-healthy-living-in-slovenia/
I check the time because I'm the only person left in this lovely decorated hall.  It's midnight, the waiters have already finished preparing the other tables so it's time for me to say goodbye to everyone and head back home.
I'm pretty sure I'll be back soon.
Ph. Andrea Zangrando