Ah, the first time! What about the second one? I don't know what you thought, but to me this is just one of the many times I've come in these mountains. And when I'm talking about Sauris the only people that I can be talking about are Michele Grimaz (pictures) and Marco, who we call "coccolo", a dialectal way to say he's very funny, for a reason.
Do you remember my first time around here? I'll refresh your memory, don't worry… here's my 2019 tale. I came back to Sauris a couple of years later to try Europe's longest zipline on a lake (I didn't write about it, though; I just made a few Instagram stories).
Today I'm back here in a whole out-of-season mood, which is the one I prefer for each and every place I visit. When out of season, you can deeply enjoy the soul and spirit of the place you're at, far away from chaos and completely surrounded by nature, silence and peace. Let me tell you that it feels a bit mystical.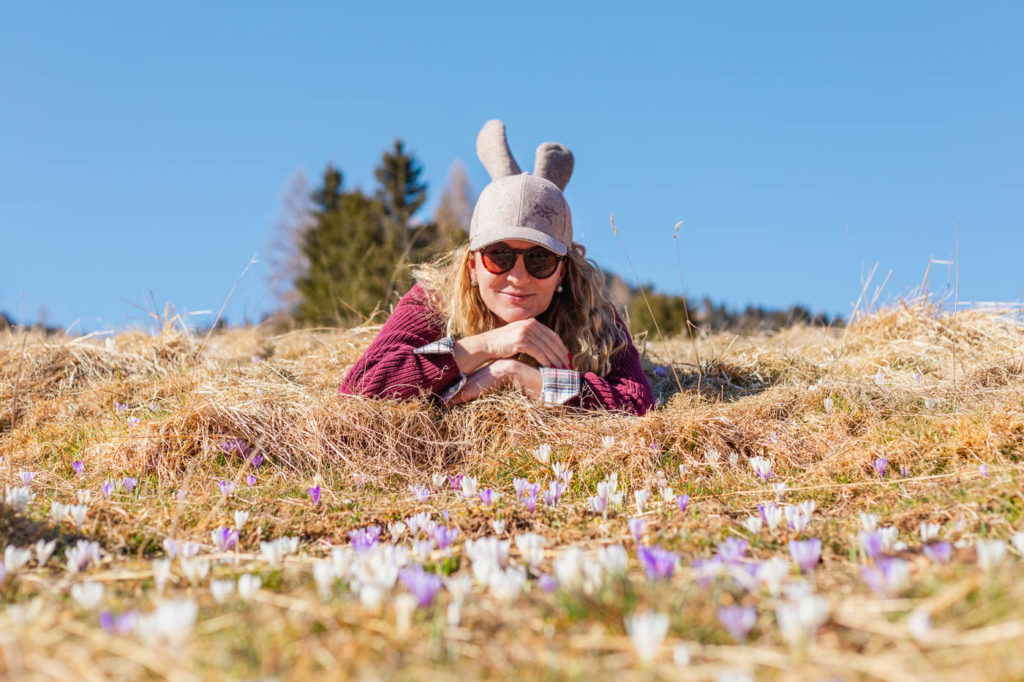 I decided to stay at Albergo Diffuso, an old-styled village made of different apartments of many sizes: this time I fell asleep in plaid sheets while enjoying the heat of the fireplace, surrounded by the wood in the room…
and when I woke up…it was great! I had a wonderful breakfast served in a picnic basket, I had it while being kissed by the end-of-March sun and admiring the mesmerizing view on the mountains. It was Marvellous, with a capital M.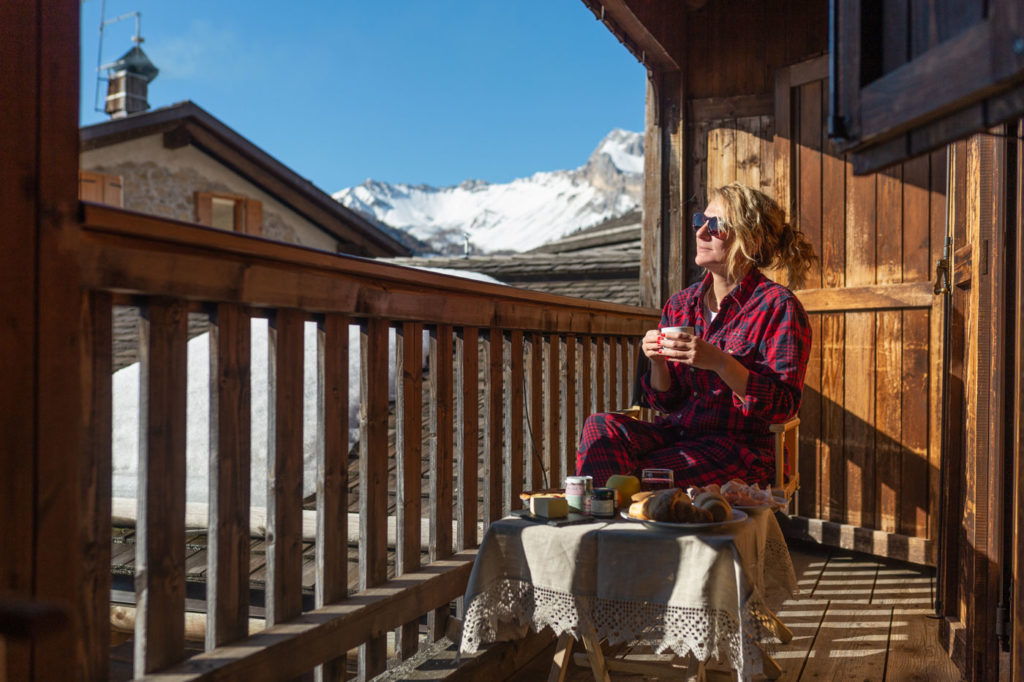 Be careful, though. The beauty of being here out of season means you can do countless things. You can choose the room you sleep in, and which would be best suited for you, and you'll most definitely find a spot in the Ghesunthaus SPA, a private SPA which can only welcome 4 people at a time, where you can live a magical experience.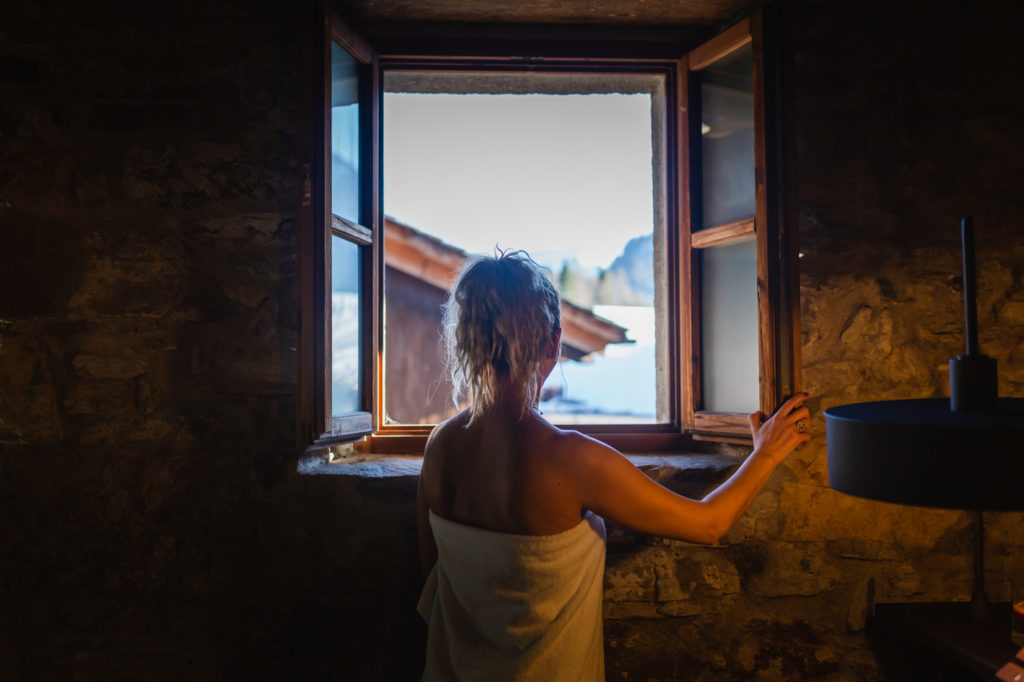 Finnish sauna, steam bath, shower with a view on the fireplace, a relax zone with cozy wooden beds, and – upon previous request and by adding 30 euros per person – you'll have the chance to have an alpine snack, together with a bottle of wine.
This doesn't come at a crazy price: 120 euros every 3 hours (let it be clear, if you take a half hour more, nobody will say a thing). Do you want to know the best thing about it? This place is very well-equipped; you'll find towels, bathrobes, slippers and a hospitality kit for a very charming experience. Oh, yeah, don't forget you can also have a kettle with herbal teas made in Sauris. 🙂
Do you have any children or belong to the "I love water, pools and jacuzzis" category? Don't you worry because Sauris has you guys covered as well. I'm talking about the Grien SPA. They have a pool, a waterpark, a waterfall and relax areas inside and outside, with a view on the woods for the families.
For those who love saunas and wellness programs, on the other hand, you'll only need to enter their area forbidden to people under 16. On the weekends you'll also have the lucky chance to spend your time here with the Aufgass masters: you'll be caressed by warm air while smelling different essential oils. I don't know about you, but I'm relaxing only by telling you this…
What else do you need to be convinced to come and try this? Maybe a 20% discount on a stay at Albergo Diffuso or at the camping site? Well, let's be honest, the word "discount" is kind of a magic word…everybody likes to hear it.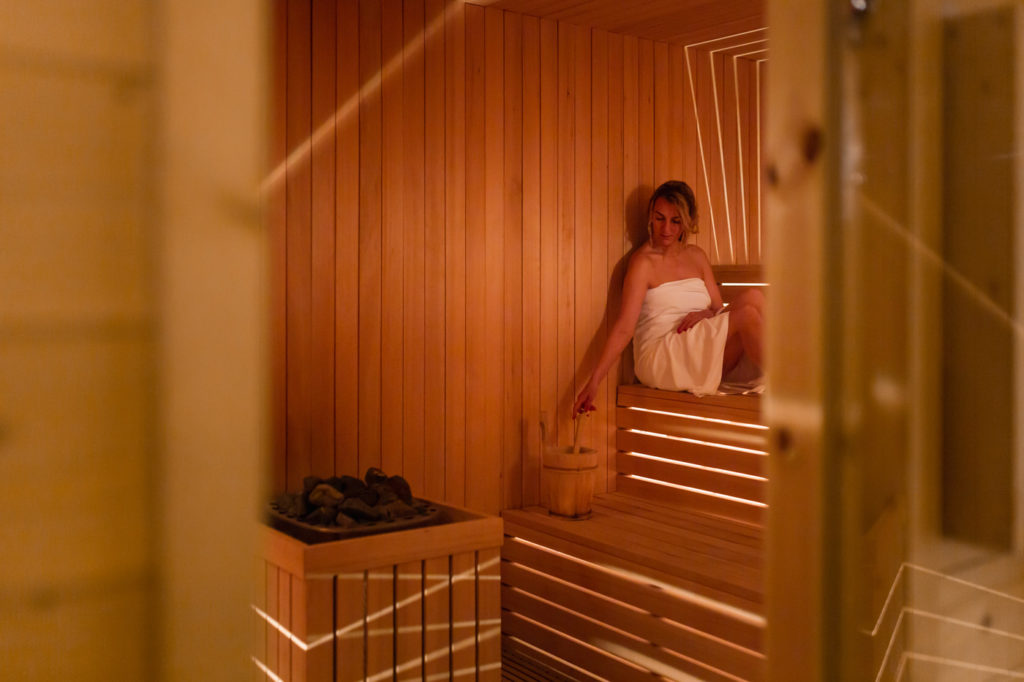 Do the tips from yours truly stop here? No sir! Do you have any idea of how many hikes you can go on, based on your athleticism level? You can directly ask Paola at the hotel's reception or decide to have a nice walk to the zipline in order to gaze at the view of the lake from above and…yeah, why not have a good snack at the agriturismo Monte Rucke where the sprightly 82-year-old Anastasia, together with her pet buffalo, will offer you something typical? You have to try it.
The magic of being out-of-season continues between Sauris di Sotto and Sauris di Sopra. Here, perched between tablelands and woods, you can find one of the most exclusive and popular destinations amongst Milanese VIPs: Borgo Eibn Mountain Lodges.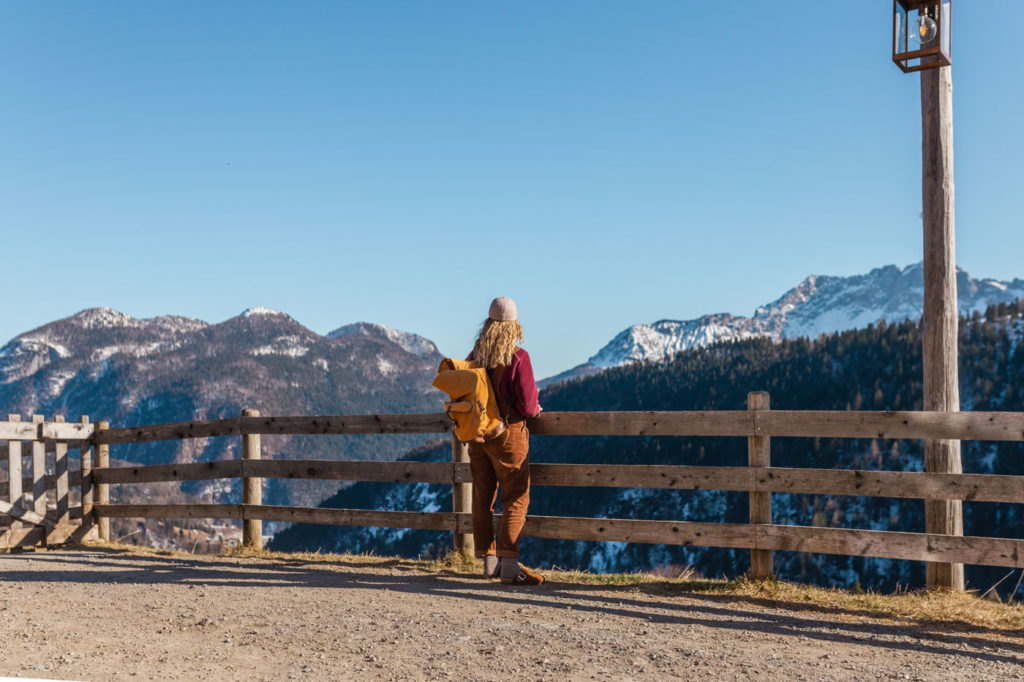 In this case, fortune will have to be on your side because the small restaurant can host only twenty people and they usually only serve those who stay at the lodges…but going at a different time of the year, when it isn't sold out, maybe you'll find a place. And they will open their doors to you, like it happened to me: you'll have a great experience that will make you have a (positive) mental breakdown. The Hamlet dilemma right now is "Am I in Sauris or in Curma?".
Rocco is in command: he's from Trieste and was born in 1989, but he made himself at home in the Carnic mountains together with his wife Viola and their two girls; he has a symbiotic life with this place. One of the first things that stand out is the attention they pay to the details: everything is perfectly harmonic; they balanced the hot and cozy spirit of the mountains with a dash modernity. A perfect fusion.
In every dish I found authenticity and pure love. Here, they breed livestock and produce excellent meat and charcuterie. Everything tastes amazing, from the cheese to the chutneys! Someone told me: "Chiara, if you go to Borgo YOU HAVE TO TRY THE MEAT!" So, how can I not order a roast beef with vegetables cooked by Rocco in the fogoler, while he also does a show cooking?
I really don't know what else to add except I wish you my same luck!
Now it's time to celebrate the most awaited moment: it's "MissClaire Sends Me" time! Yes, I was able to get a discount for you guys thanks to the collaboration with Albergo Diffuso! However, this time I'll ask you to participate in the creation of a new project, supported by the FVG Region, which will help all the future tourists of Sauris. What is it? Well, a 3D virtual assistant will be created in order to answer everyone's questions…to help make this come true, you'll only need to fill this questionnaire (it really just takes 4 minutes).
After answering all the questions, once you've sent the questionnaire out, you'll receive a 10% discount to book at Albergo Diffuso (until June 2022).
I hope you appreciated the fact that I didn't create fixed packages but left you with an open offer instead, so that you guys can decide what to do. A breakfast in a picnic basket? A private SPA booking? Wanna include the snack? Make your choice. You'll only need to book with the code you'll receive once you've completed the questionnaire: you can do it either on the website of the hotel, on the phone by calling +39 043386221 or +39 3803441703, or by email at info@albergodiffusosauris.com.
Have a good stay in Sauris, the home of relax.
Ph. Michele Grimaz