We're in the small town of Sutrio, which counts 1200 inhabitants right in the heart of Carnia, Friuli-Venezia Giulia. This village is part of the Borghi autentici d'Italia association, and it's highly probable that it is also one of the oldest human settlements in all of Carnia. As popular tradition wants it (and remembers it), a medieval castle stood on Ognissanti Hill, where the church of the same name stands today: it was built in the early 19th century by architect Francesco Schiavi di Tolmezzo, all around the old 17th-century bell tower of an earlier building.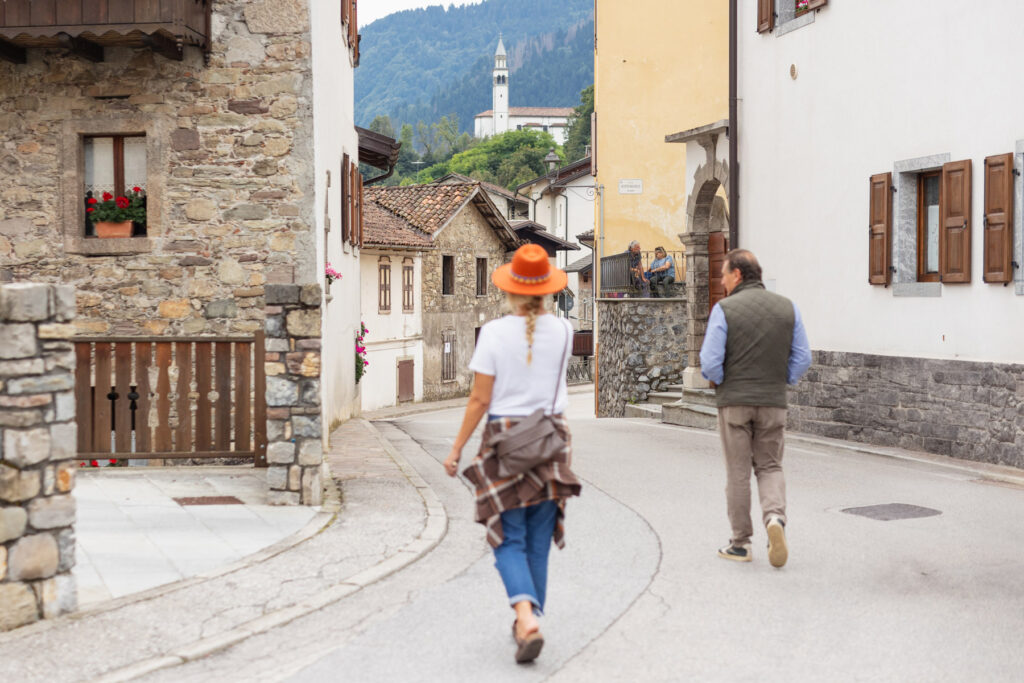 As you walk through the cobblestone streets, you can admire several picturesque views: you'll be all surrounded by mountains! Although you can't see them from the center of Sutrio, they're just a ten-minute drive away: departing from the But Valley, at 570 meters above sea level, where the village is located, you get to Mount Zoncolan, a place known worldwide for being Europe's toughest climb for cycling, as well as a popular ski area.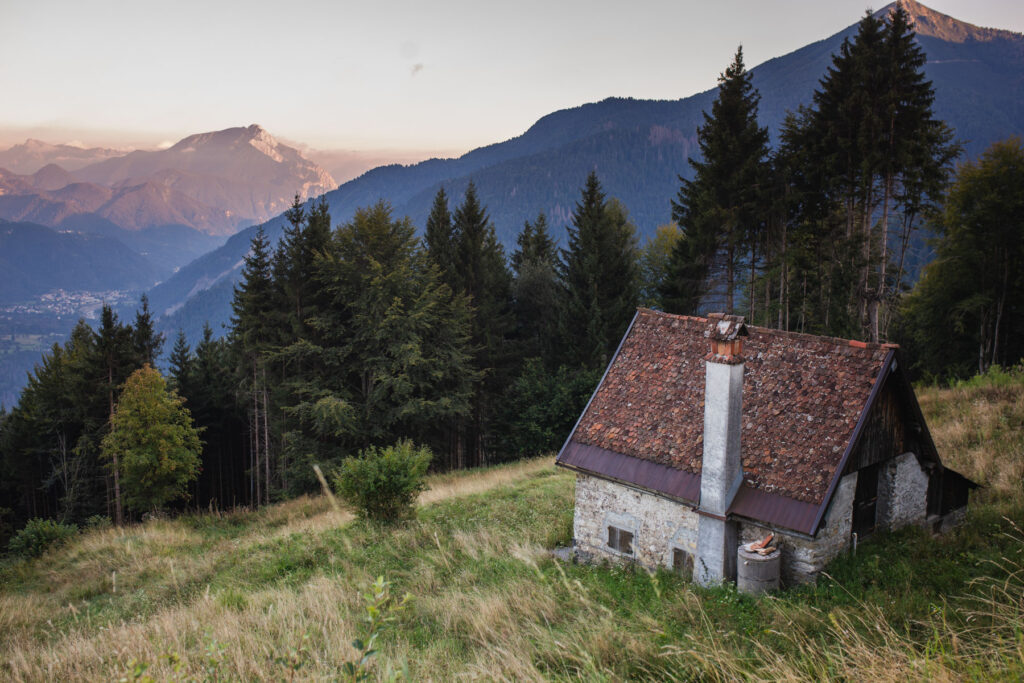 So, here's the first tip for fans of two-wheelers, both on pedals and motors (but also for those like me who like to ski).
I'd like to take you back to the village though, as I want to tell you about my experience, of which I keep wonderful memories.
First of all, if the question is "is the party here?", the answer then is "absolutely yes", in fact there are no less than five regular events that enliven the downtown streets:
– First Sunday in March the FUMS, PROFUMS and SALUMS;
– First Sunday in June FESTIVAL of the CJARSONS;
– First Sunday in September THE MAGIC OF WOOD;
– First Sunday in October FARINE di FLOR;
– Christmas to Epiphany VILLAGES and NATIVITY SCENES.
Given the time of year I took the chance to experience the Magic of Wood. It's a truly heartfelt festival, because Sutrio has always had a history of tradition related to wood and carpenters. As the years went by, carpenters evolved and expanded into large furniture factories, of which today we can only see the abandoned 1960s mega facilities, which, nowadays, are slowly being renovated for changes of use.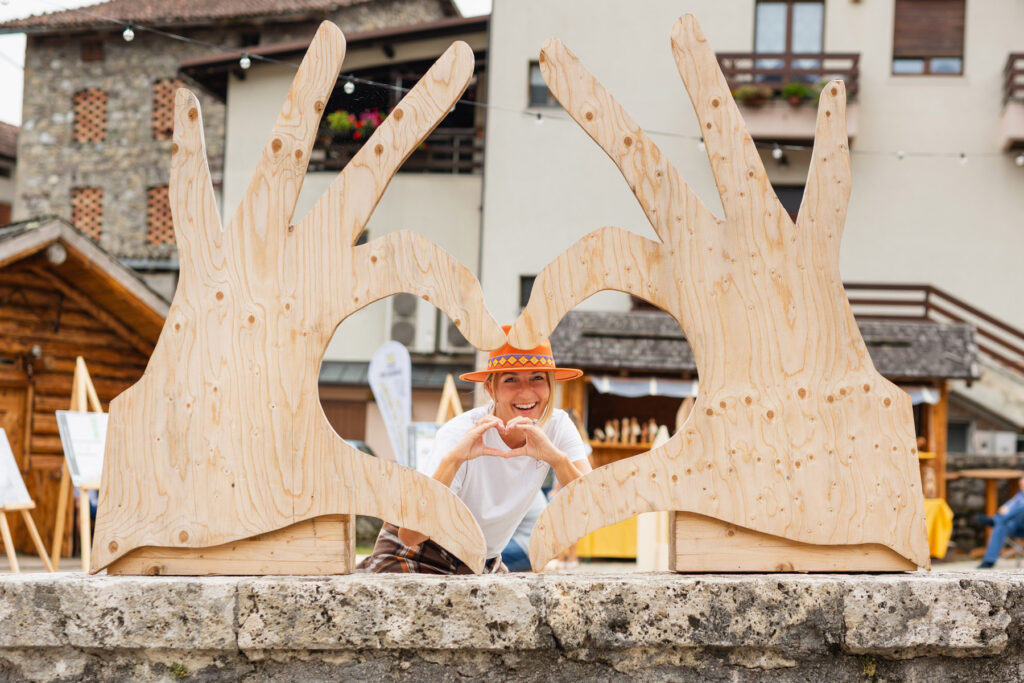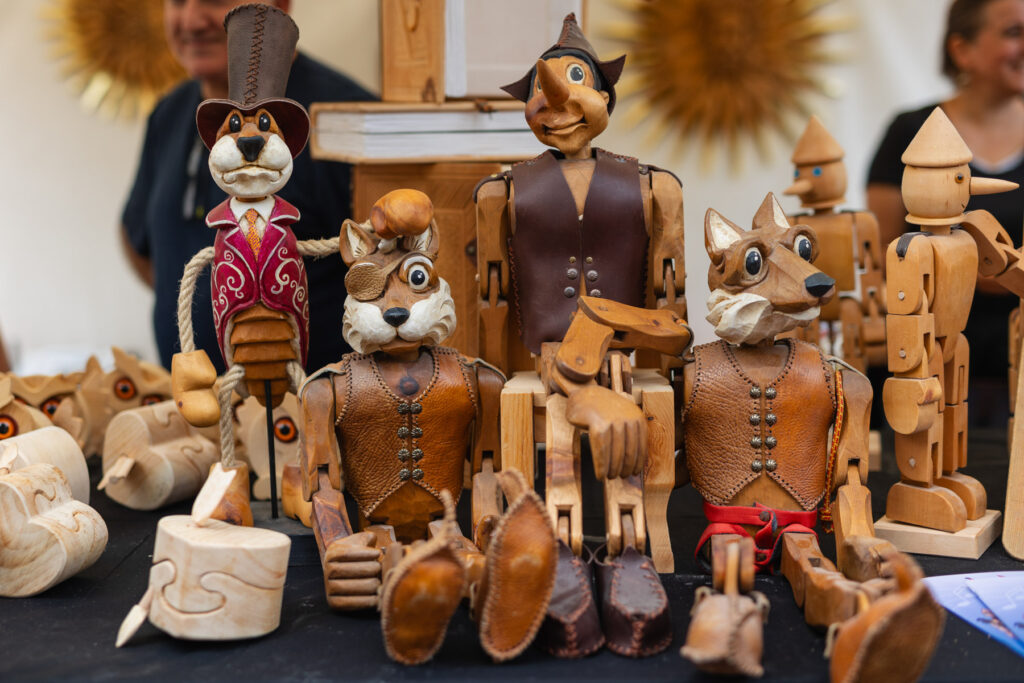 This is the case of the brand-new Steiner School that stands on the traffic circle at the entrance to the town, opposite to the Bondai Craft Brewery (which of course I invite you to try. It's a real treat).
Let's get back to the parties, shall we? Don't forget the best-known one dedicated to Nativity Scenes. You should know that even if you don't arrive at the right time, you can still admire two of them; a wooden one that came home in 2022 after being in St. Peter's Cathedral (yes, I'm really talking about the Vatican's Nativity Scene!), and one that belongs to a private person who, year after year, created it in great detail inside the kitchen of their home. When the kitchen was no longer enough, they decided to put it on display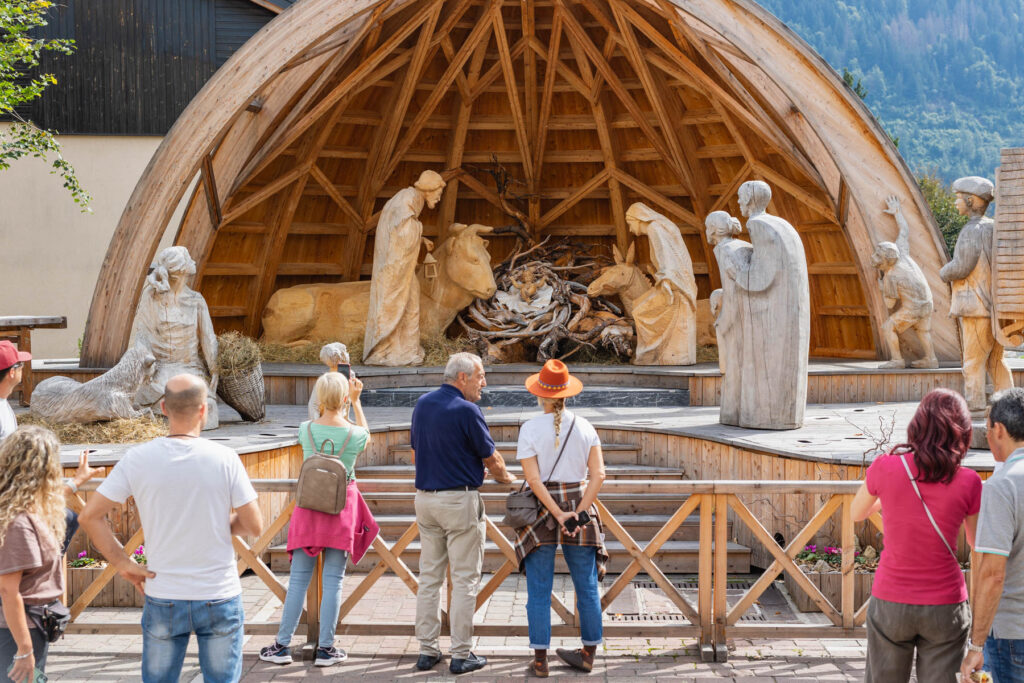 To know all about the festivals I recommend you check out the Pro Loco di Sutrio web page so that you are always on the ball.
On the other hand, if you're interested in discovering all the experiences you can have in the area, I invite you to follow the pages of the Visit Zoncolan Consortium that include ideas about trekking, hiking, skiing, biking, e-biking, and horseback riding.
I wanted to try the horseback hike on Mount Zoncolan, with the horses of the Randis Farm, who decided to bring some of their 30 animals on the trip for the occasion.
You can also organize rides outside the farm, which are designed for novices (50 euros for two hours) or ask to take them high up the mountain as I did (80 euros for two hours, transportation included).
Randis also opens its doors to children both for horseback riding summer schools and for multi-day horseback treks (available also for experienced adults), with overnight stays in the alpine pastures. Take a look here, personally I find it an amazing idea.
Wondering where to stay overnight? Osteria da Alvise has definitely been a wonderful experience for me. Here you can choose between two facilities: the Osteria with rooms furnished in a traditional, rustic style or the "Cjase," a brand-new building furnished in modern Alpine style (which is the one I stayed at). My room was bright, spacious, and had a double balcony: it fully won me over. The icing on the cake? The private SPA for sure!
It's outstanding, a real gem complete with Jacuzzi, sauna, steam room, double shower, relaxation area, and double balcony. Stone and wood reclaimed from a barn make the environment comfortable and wrap you in a warm embrace. You may also order a sweet (or savory) snack and pair it with a good bottle of sparkling wine… it is really a very, very romantic pampering 😉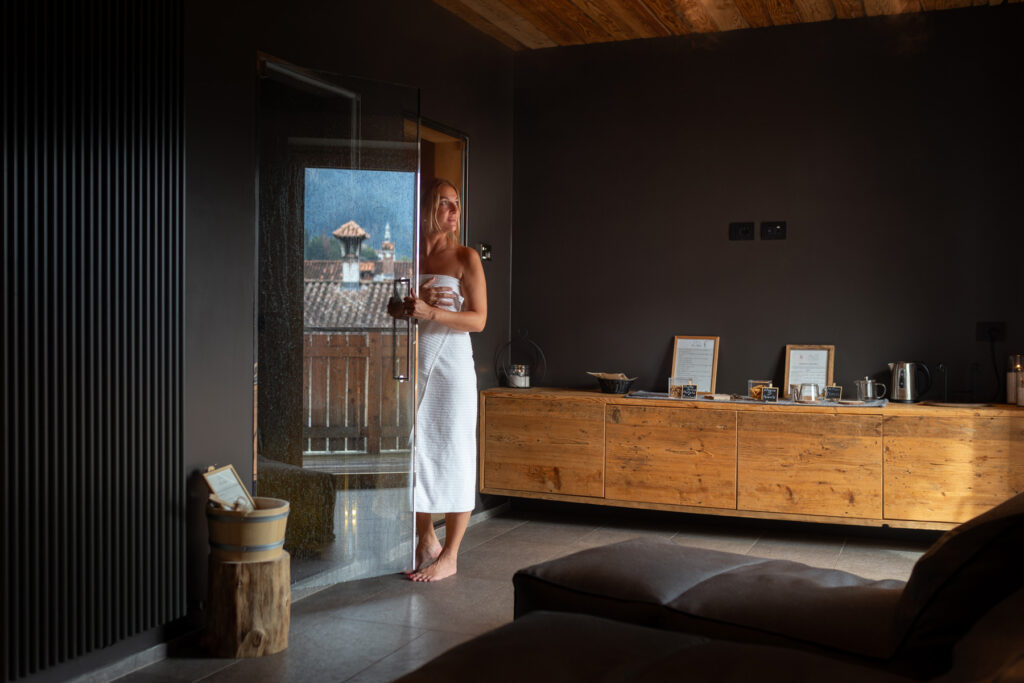 Oh yes, let's keep in mind that we're still in Sutrio! From the pictures it looks like a five-star superior resort set in some fashionable destination: instead, you'll be in a small village, suspended between peace and tranquility, yet without sacrificing comfort. And the surprises haven't ended just yet…
Oh yes, because after the SPA, here IT comes: hunger. Slip into a pair of shoes and just two minutes away (and it really is two minutes, I swear) you will arrive at Osteria da Alvise. Here you can have a traditional meal in what once was a classic village osteria, which today still retains the tables and chairs along with cuts of wine from sought-after labels and classic dishes: cjarsons, frico and toc' in braide stand out, but you can also get a battuta di Fassona and venison ravioli with porcini mushrooms and parsley gel. An explosion of flavor.
The Osteria will also welcome you for breakfast with products from the Sutrio creamery, Sauris ham, homemade cakes, freshly squeezed orange juice and delicious jams. And that's just to start the day with a smile. I'll tell you the truth, I had one drawn on my face because for the first time (and you know I've been in many places) at breakfast I had the chance to independently warm up an exquisite toast, stuffed with cheese from the Sutrio creamery and ham from Sauris! I won't deny that I would have eaten at least five of those!
To make a variation on the menu, either for lunch or dinner, I also invite you to try the Enoteca Il Marangon, which is a four-minute walk from Alvise's "Cjase"; here you can enjoy an aperitif, or munch on a sandwich stuffed at your wish. If, on the other hand, you decide to have something more "elaborate," here is the second menu, a bruschetta with (A VERY GOOD) caponata and smoked trout from Sutrio, some Formadi frant croquettes or some amazing burgers, made with refined raw material.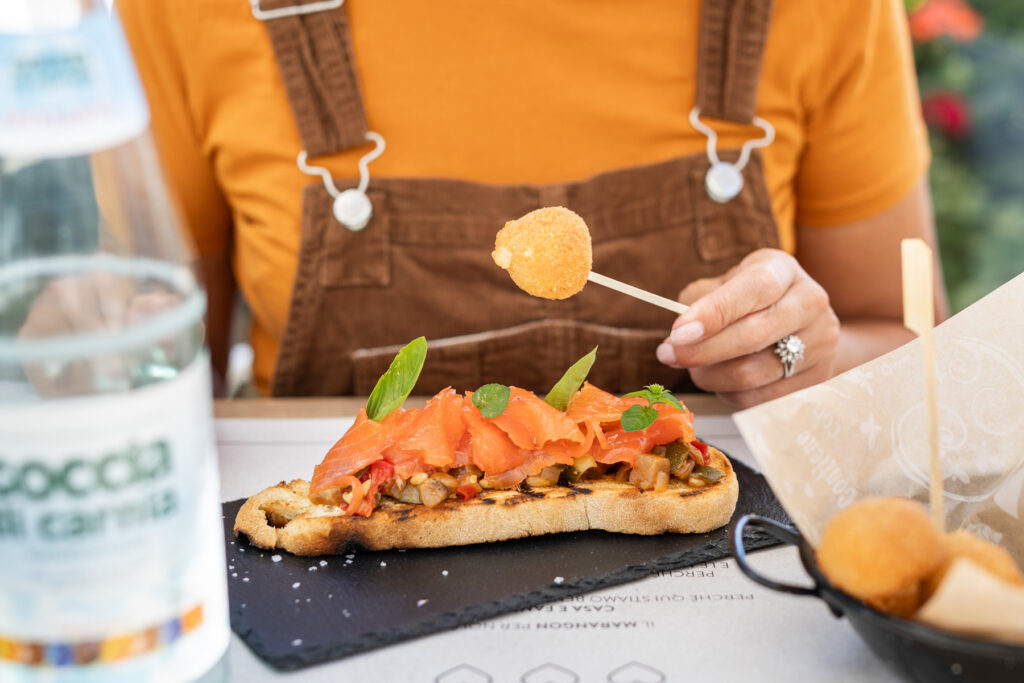 I was absolutely amazed by all the grace I found in Sutrio, and so I asked my good man Giacomo (who runs the Osteria together with his parents) to create a nice "MissClaire Sends Me" package for me, so that you can live the same experience as me (of course, it also includes Il Marangon because everything is kept in the family, here – in fact, it's run by his wife Silvia together with Filippo, Giacomo's younger brother).
Well, are you ready? Here is their proposal:
"Da ALVISE PACKAGE"
2 nights in a junior suite with breakfast in Cjase da Alvise
1 access to the private spa for two hours with a bottle of sparkling wine
1 3-course dinner with wine pairing at Osteria da Alvise
1 lunch at Enoteca il Marangon
560.00 Euro for two people 365.00 Euro for one person
"MissClaire Sends Me" DISCOUNT -10% (not during the Christmas period) -15% for midweek reservations Monday through Thursday
Optional:
Horseback ride at Randis Farm in Arta Terme for 100.00 Euro or horseback hike on Mount Zoncolan for 160.00 Euro -> prices for two people.
Horseback riding at Randis Farm in Arta Terme 50.00 Euro -> prices for one person
DEADLINE: DECEMBER 20th, 2023
However, if you don't find an available room, or if this simply weren't your style, you could always choose to test the overnight stay at Albergo Diffuso: thirty-five lodgings which can host the grand total of 120 people, ready to welcome you with several apartments distributed throughout the municipality of Sutrio, in Priola and in Rivo di Paluzza.
The time has come where I'm ready to pull down the curtain, with the certainty that I haven't told you everything… so that I have an excuse to come back around here.
See you soon!
Photo Michele Grimaz