I've just returned from a truly incredible trip to Slovenia: The sixteenth century castle of Otočec  built on a little island in the middle of the river Krka.
I'm just going to tell you about its incredible restaurant 🙂 The building also has a magnificent five star hotel of the Relais & Châteaux chain (there are only two in Slovenia), but I'll tell you about that in the next article.
Feel like following me? Once you step through the large wooden doors you'll be in the castle's courtyard; river pebbles cover the ground, an incredible care for details and a small corner with pumpkins, flowers and lanterns will make you feel like you're in a fairytale.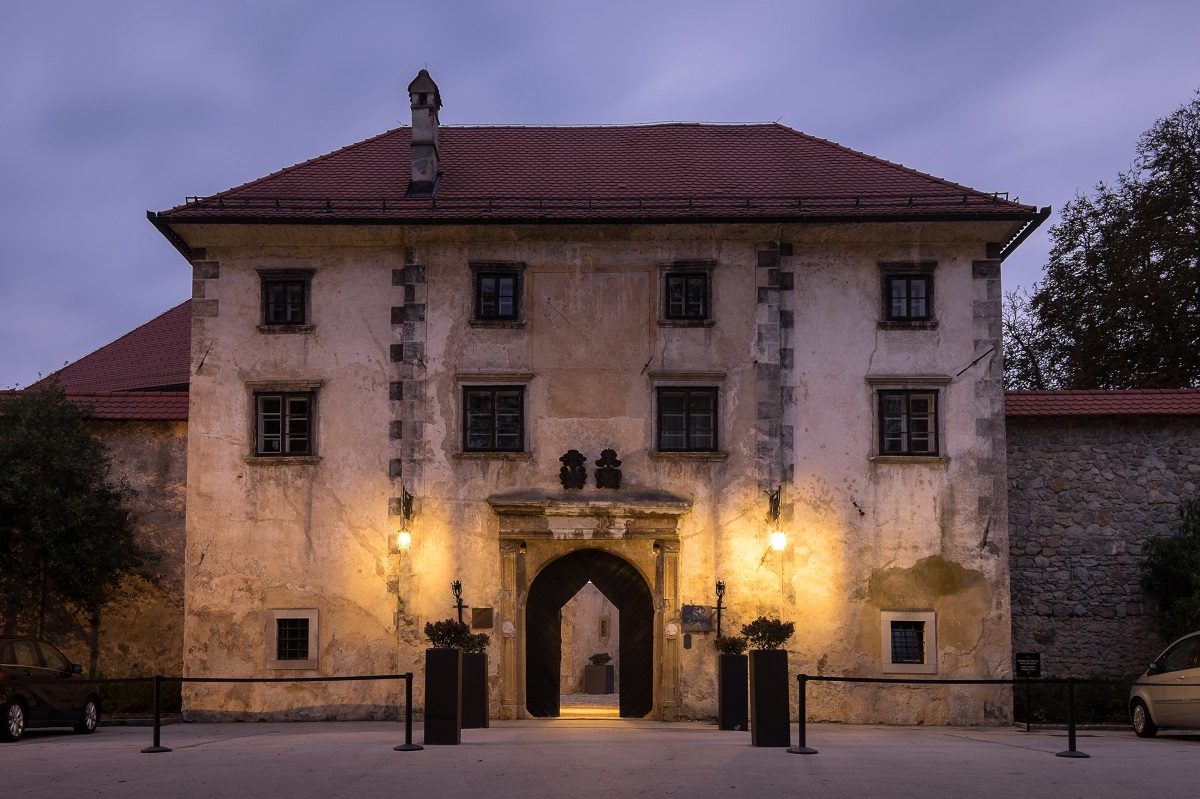 The restaurant hosts 45 to 50 guests in an elegant environment and an almost royal table setting, with white table cloths, silver plates and fresh flowers. Here's is a little preview of my experience: the service was a perfect rhythm from the first to the last course; no long gaps between courses, and I barely needed to touch the bread which I usually devour while waiting for the next course.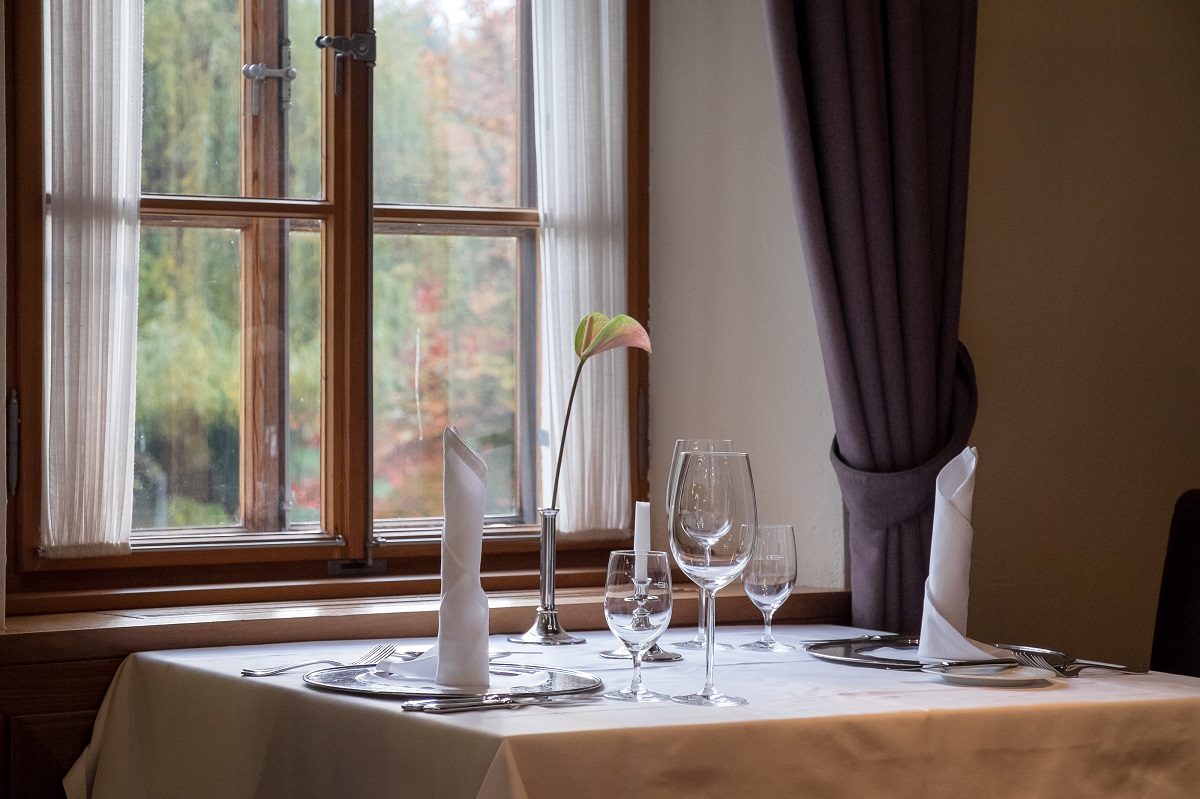 I still managed to finish the bread, they actually had to fill the bread basket three times… the salted butter they served was incredible. I loved it so much I barely left any for the other guests!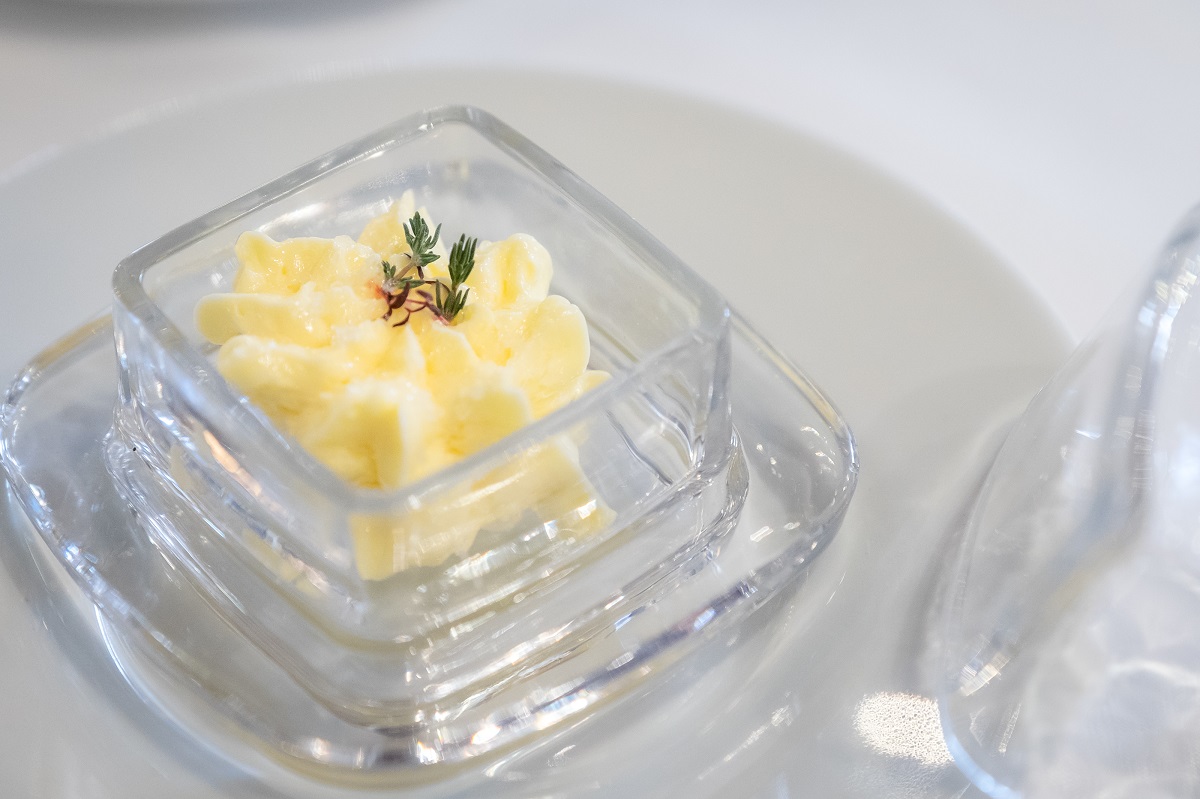 My glass was immediately filled with a Rosè from Vila Istenič (prized as the best bubbly), which was the perfect way to start our dinner; The wine menu mostly has local labels, from the areas of Brda to the valley of Vipava and Styria (the Slovenian part obviously).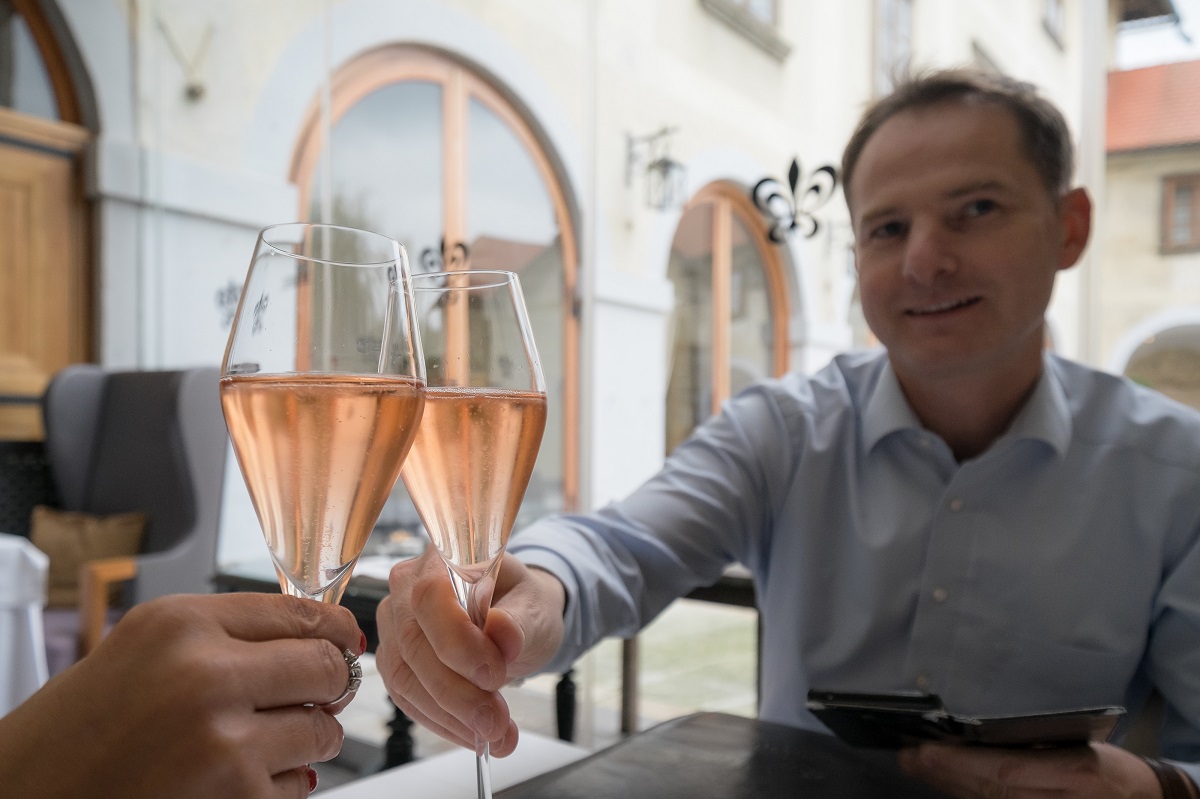 Local is the main word also in the kitchen, it's chef Nejc Ban's philosophy; only use local and seasonal ingredients with flavors that cover both fresh water fish and game meat.
The meal starts with a ricotta cheese with herbs, quail egg and goose. My glass is then filled with a semi- dry Rosè from Batič, from the Vipava area, perfect for the starter: a deer tartare, parmisan, celery purè, red onion marmalade, shallot marinated in apple and beetroot vinegar and olive oil mayonnaise. Can you believe me when I say it was astounding?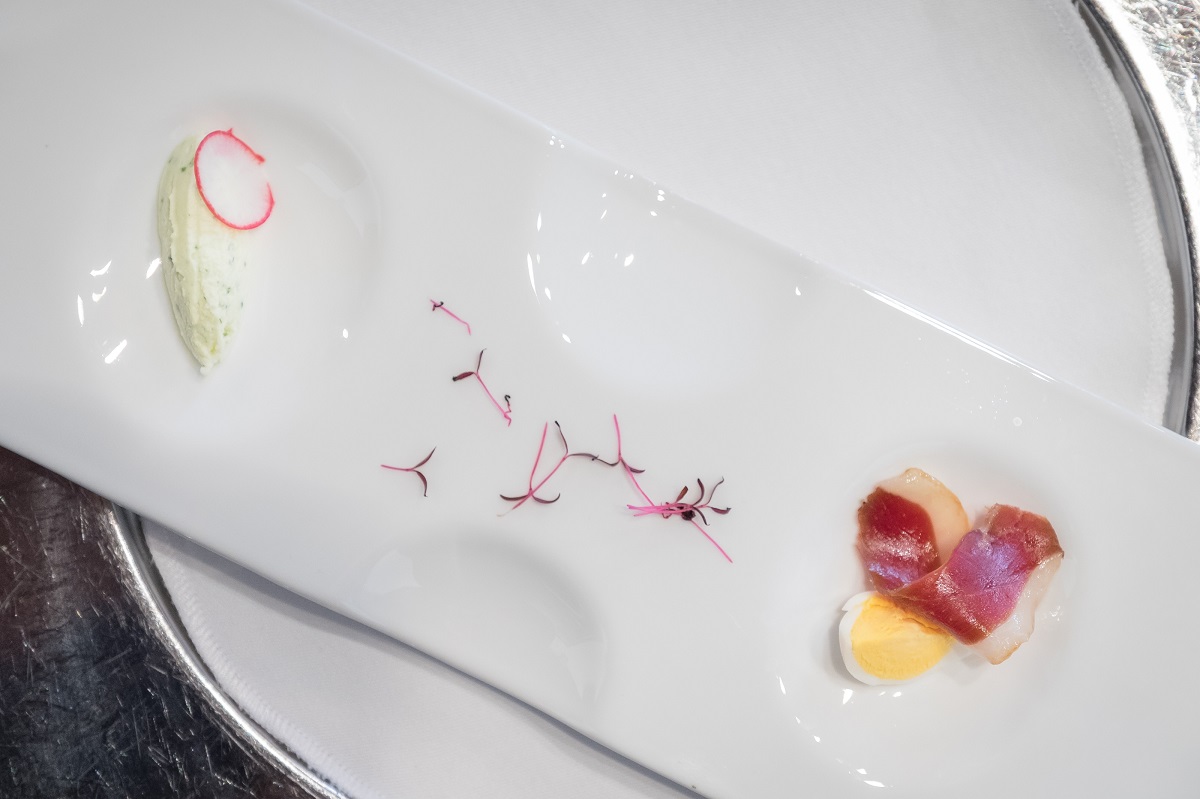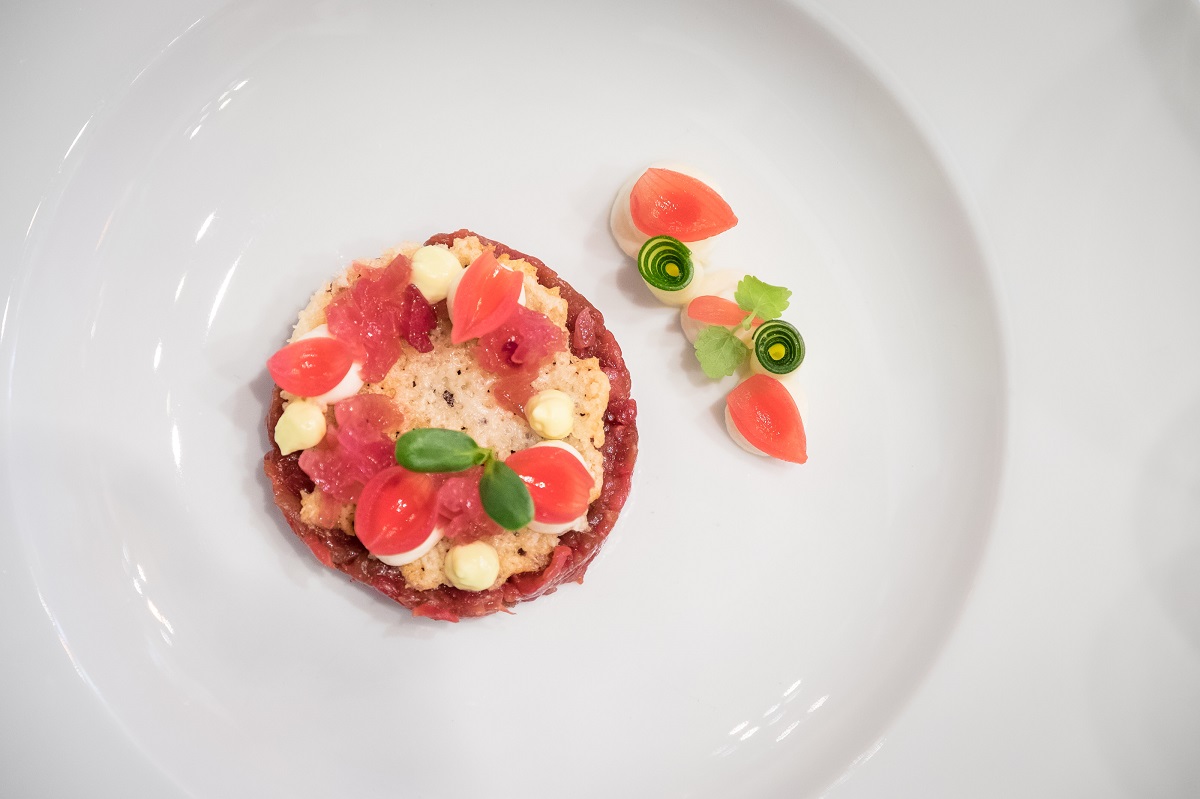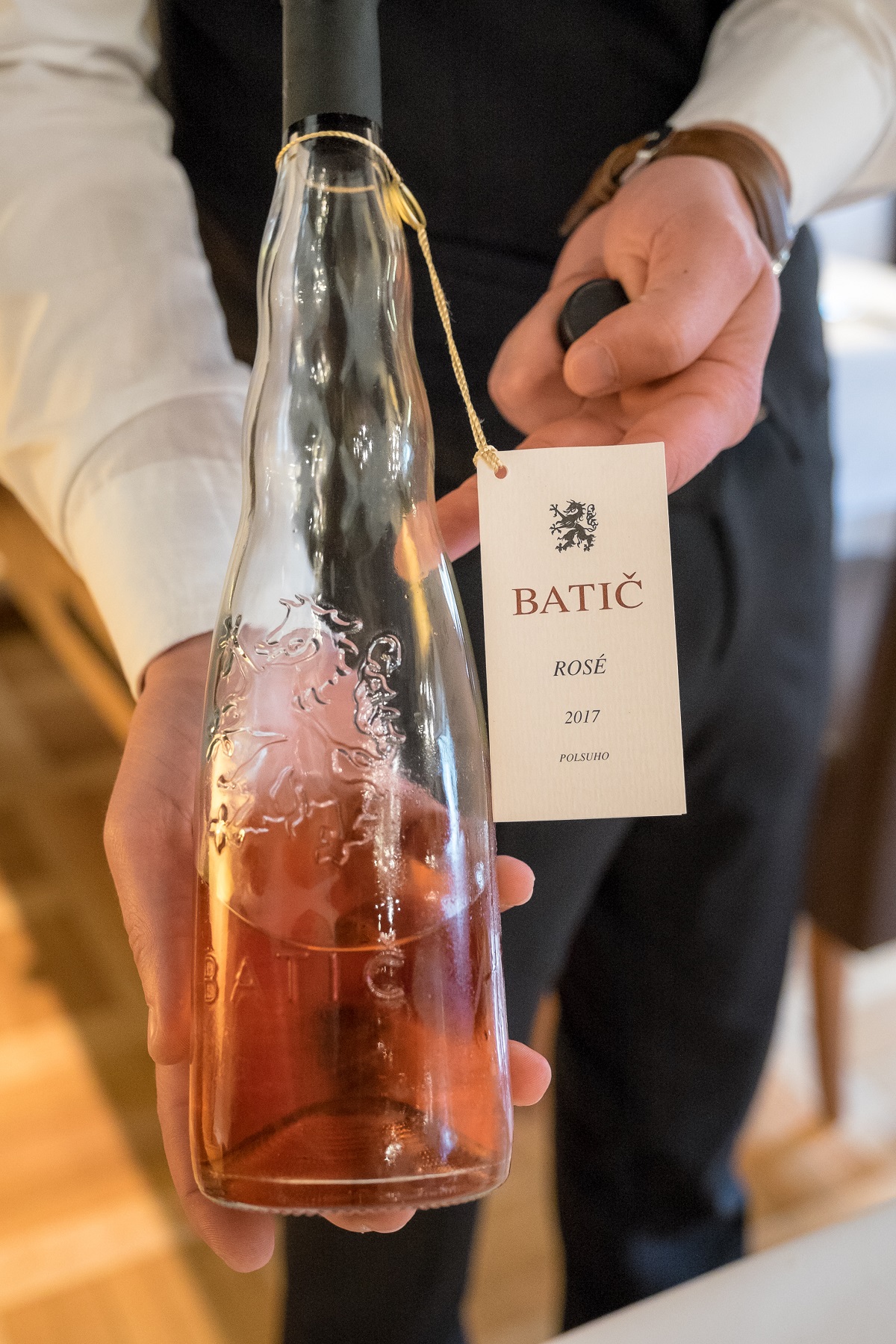 Next I'm served the dish that most represents this territory: the soup. I tried a fennel soup with yogurt and smoked trout fried in pastry, with trout eggs! Delicate but full of flavour.
Sorry but I have to pause for a second. I have to confess a secret… something I'm sure you can keep for yourselves. I'm from Trieste, a sea town… so I have to admit that I was never much interested in fresh water fish. I never considered it much. I have a dreadful memory of when I was little and during a trip to Idrija, my mother and grandmother forced fed me boiled trout with a homemade soup. They practically considered it one of the seven wonders but for me it was just horrible. Once I obtained my food independence, I would never have dreamt of ordering trout at a restaurant: I considered fish to be only from the sea. I speak in the past tense because since I decided to force myself to taste everything, I realized how good trout can actually be (obviously if cooked and presented somewhat differently from what I experienced as a little girl). An incredible discovery! Today, as soon as I see trout on a menu, from Slovenia to Austria, I can't help but ordering it straight away.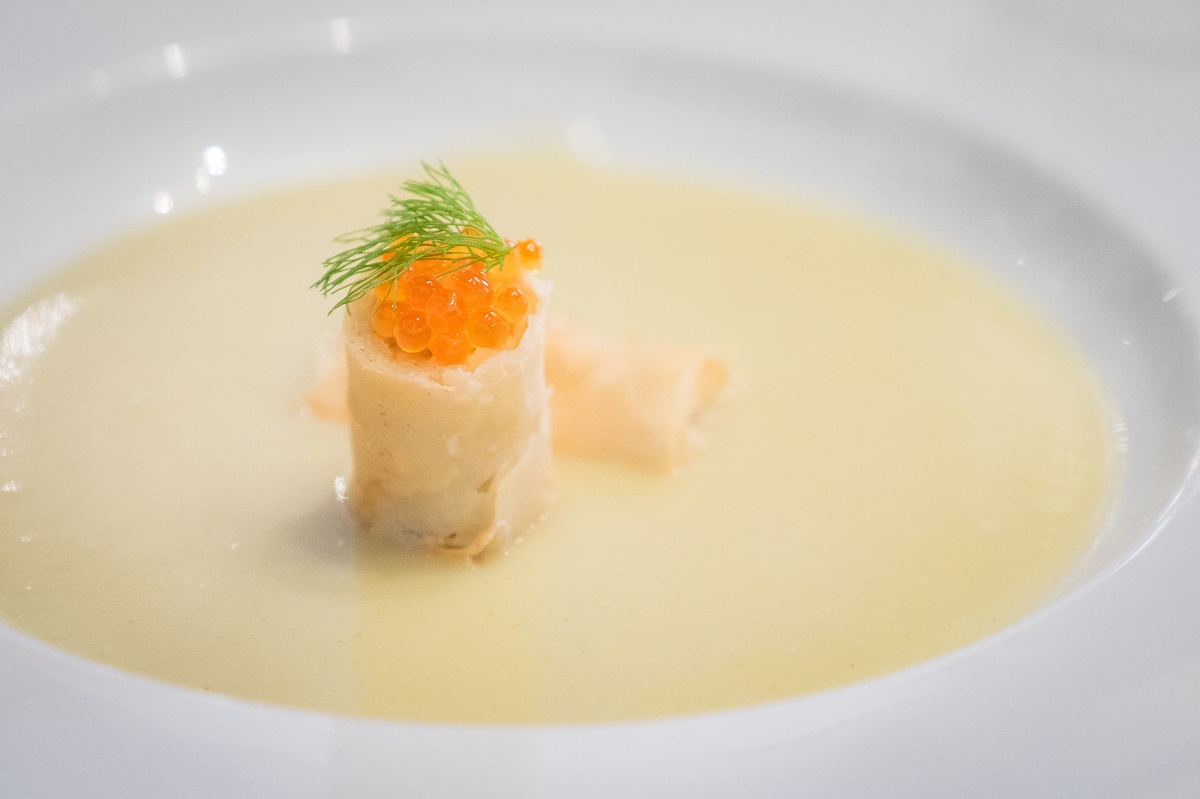 But let's get back to dinner and to next glass of white wine, a 2015 Carolina, a blend of Chardonnay, Rebula and Sauvignon, matured for a year in an oak barrel. It's a wine from the Slovenian Collio, the area of Brda, which is a perfect match for the royal crab with carrot and ginger and a citrus mayonnaise.
Remember that once they used to have a menu for fish and one for meat? Tastes and habits change, as well as trend and fashions! I quite enjoy tasting both fish and meat in the same meal… do you? A gin sorbet (it reminds me of Tomaž's idea from Zemono) with lemon ice-cream with rosemary, is perfect for refreshing my mouth before starting on the meat dish!
A grilled rib-eye stake with wine sauce and three different types of potatoes: purple potatoes with pear, mashed potatoes and potatoes with ricotta cheese and herbs. All served with an excellent glass of red wine. A glass of Marjan Simčič, from the area of Brda, a blend of Cabernet Sauvignon, Cabernet Franc and Merlot 2014 (and two years in wooden barrels).
We're almost at the end of the dinner, and a slice of pecorino cheese with plum jam is perfect to close the meal. A good glass of Port, aged three years, to accompany a lavender pudding with a black berry filling, served with fig ice-cream as well as fresh figs.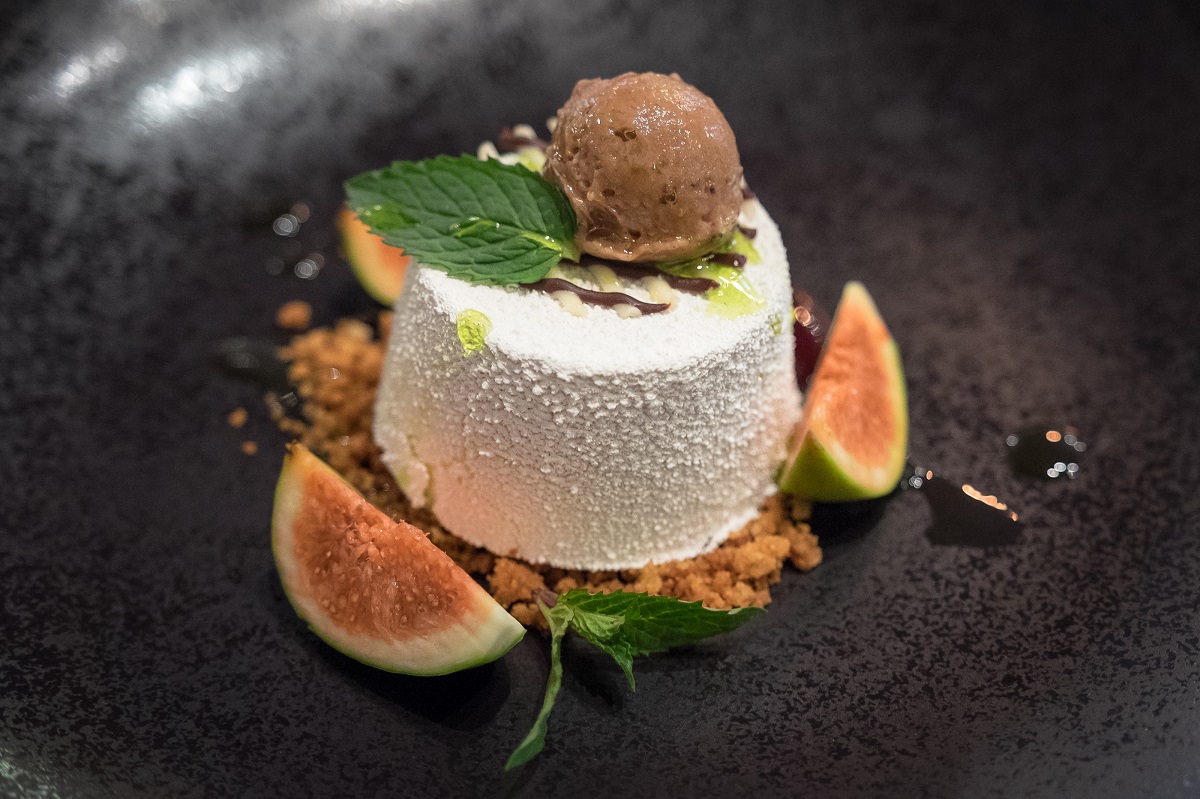 Everything was excellent. I'm sure you're about to ask "how much it all costs". For this menu, without the wine, the price is 72 euros. If it's a little too much you can just order from the menu and decide how much you want to spend.
I started eating at 2pm and finished at 4, with the Slovenian-Balkan idea of lunch/dinner, so at about 8 pm, as I was settling in my room, I started feeling hungry again!!
I went back down to the restaurant and had a good look at the menu: the prices are quite affordable; 6 Euros for the soup of the day with zucchini or mushrooms, 12 for grilled porcini mushrooms, 22 for the excellent tagliatelle with truffle (they were delicious!). The price for the deserts is about 5 euros and the small salad was around 4,5 euros…it didn't have the price on the menù.
I ended my visit with a tour of the private dining halls the castle has to offer.
They have two, one that can host just 10 guests, with a lovely fire place which is perfect even for a romantic dinner, and a second room which can host up to 20 guests on one table, with a small sitting room and a spectacular terrace onto the garden. Perfect for parties, meetings, work dinners and, why not, a wedding under a lovely gazebo…
But, please, do not forget also the tasting room!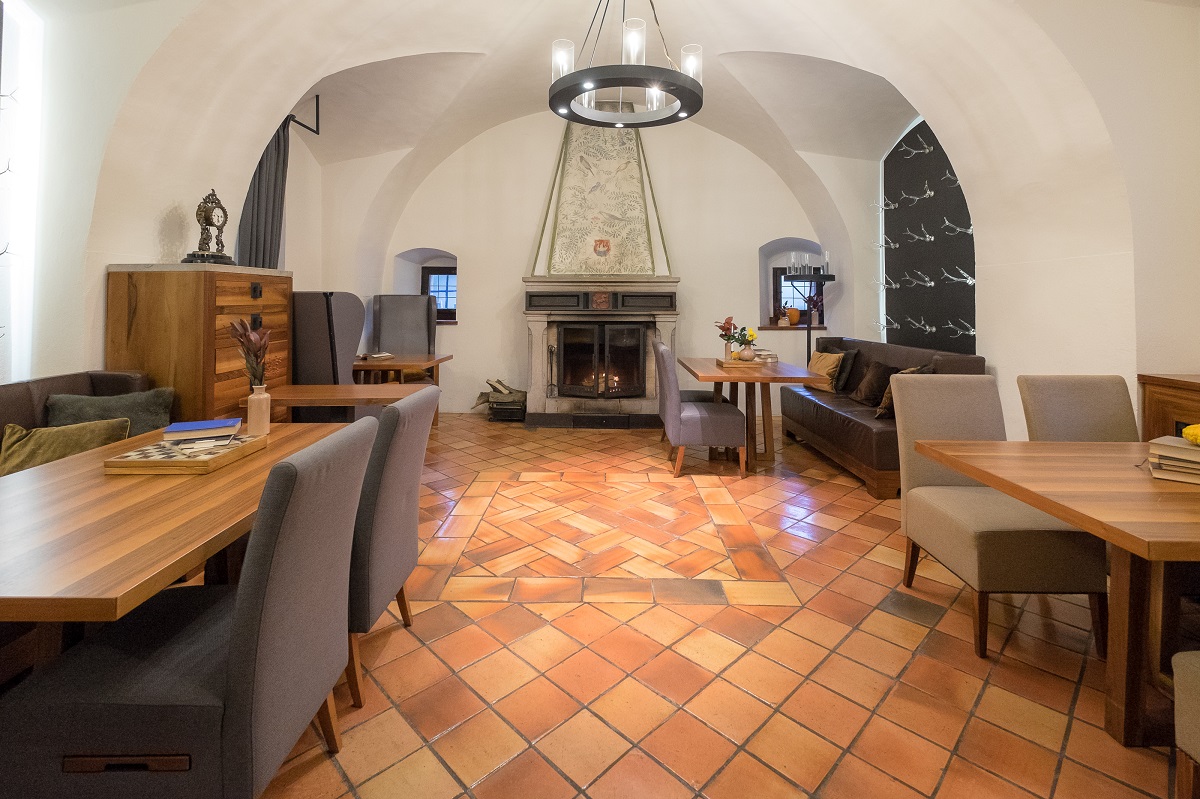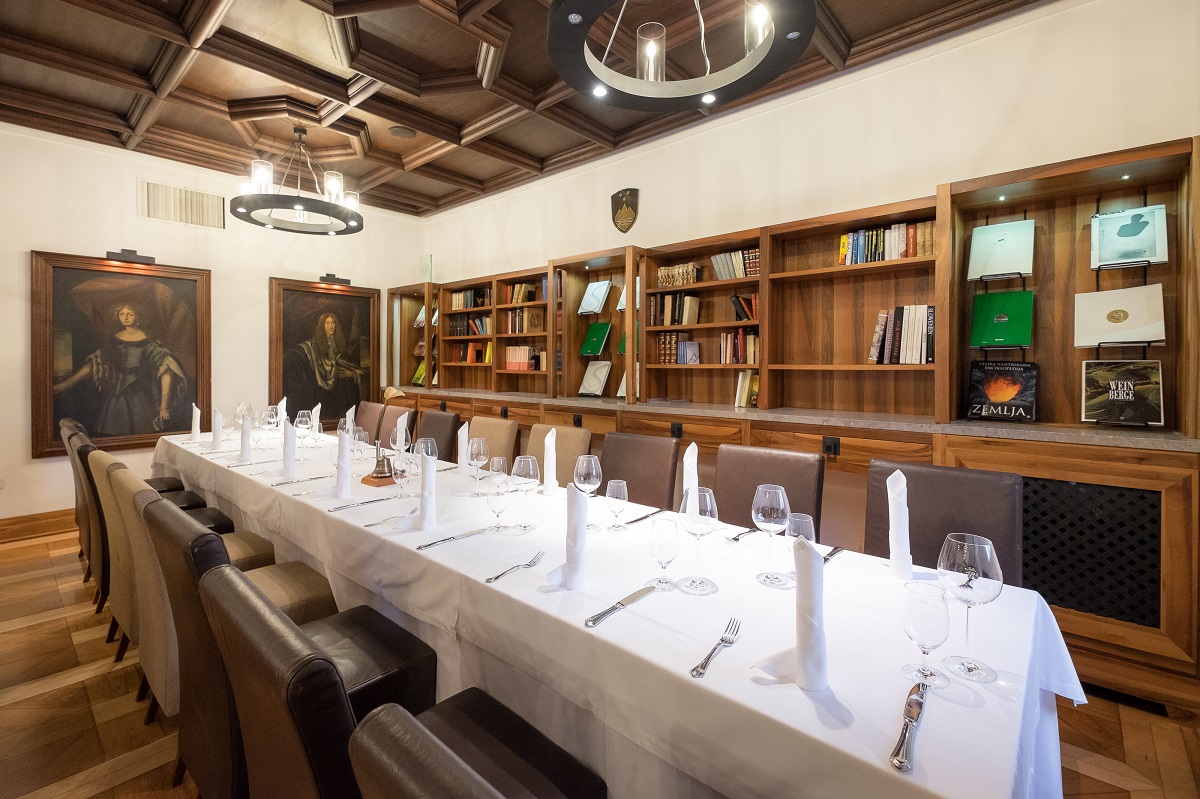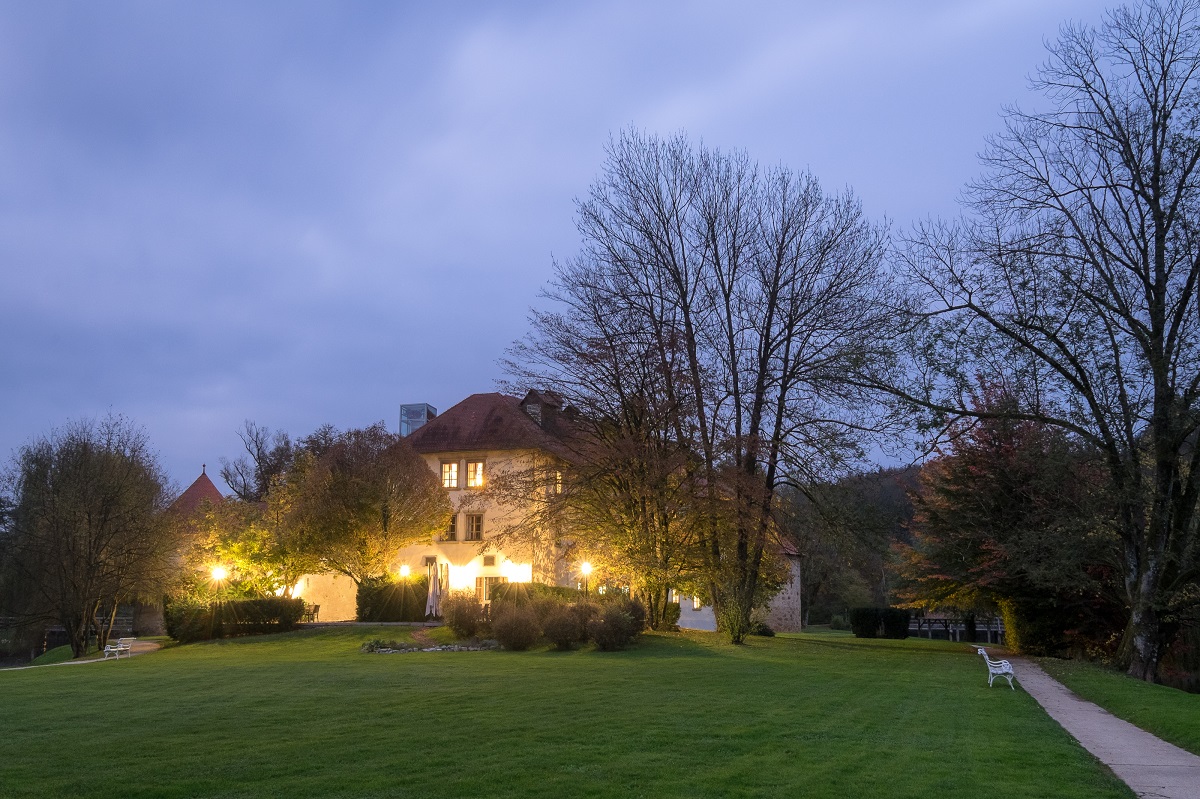 Here I go again, I wrote another long article… sorry, I need a few lessons in summarizing 🙂 And I still have to tell you all about the hotel… you'll have to wait a few days for that!
… and they lived happily ever after, full and happy!
Ph. Andrea Zangrando 
Grajska cesta 2
SI-8222 Otočec ob Krki 
Slovenija