What comes to you mind if I say Aquileia? A very early set alarm, a packed lunch, getting to the meeting point with your eyes still filled with sleep…of course! I'm talking about the typical (and boring) school trip every kid from my city goes to! And yet, here I am to show you how this really isn't the case!
I'm not going to tire you with the history and beauty of this place for two reasons: one, last time I checked I was neither Piero nor Alberto Angela; two, I don't think Aquileia needs any presentations. It was the second most important city in the Roman Empire. Does it explain enough?
Here they keep digging in order to bring back to the surface the ancient beauties that would tell us more about the territory. And seen that we're talking about territory and how to valorize it, we must talk about Cocambo, a wonderful company that works with chocolate. You're probably and quite rightfully wondering if I've gone crazy and what does this have to do with archeology. It actually makes sense: this is valorization, too, guys.
Cocambo is the only chocolate factory in Friuli Venezia Giulia and one of five in Italy, which is a very important record. Here they transform the chocolate starting from cocoa beans (which come from Holland): they toast and process them to turn them into delicacies.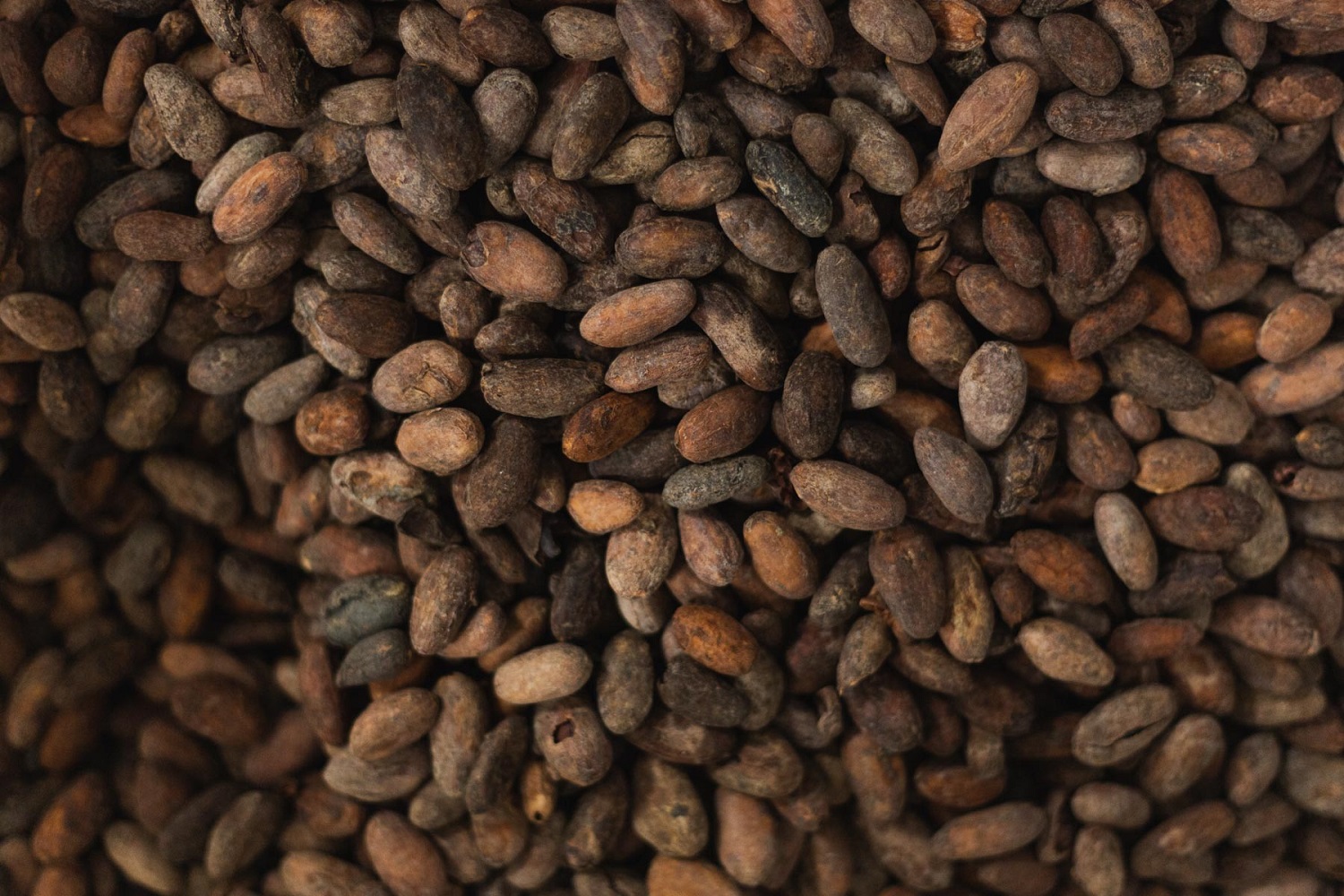 Well, hold your horses: the cocoa beans come from Holland, but they use local products to enrich the chocolate. Piero, who's the boss, has worked very hard to create divine products in collaboration with local companies. Here comes into play a heap of flavors, such as the peanuts grown in Friuli that they use in the chocolate spread, the local hazelnuts, pumpkin seeds, corn and so on. They all have strong flavors that come from little local realities.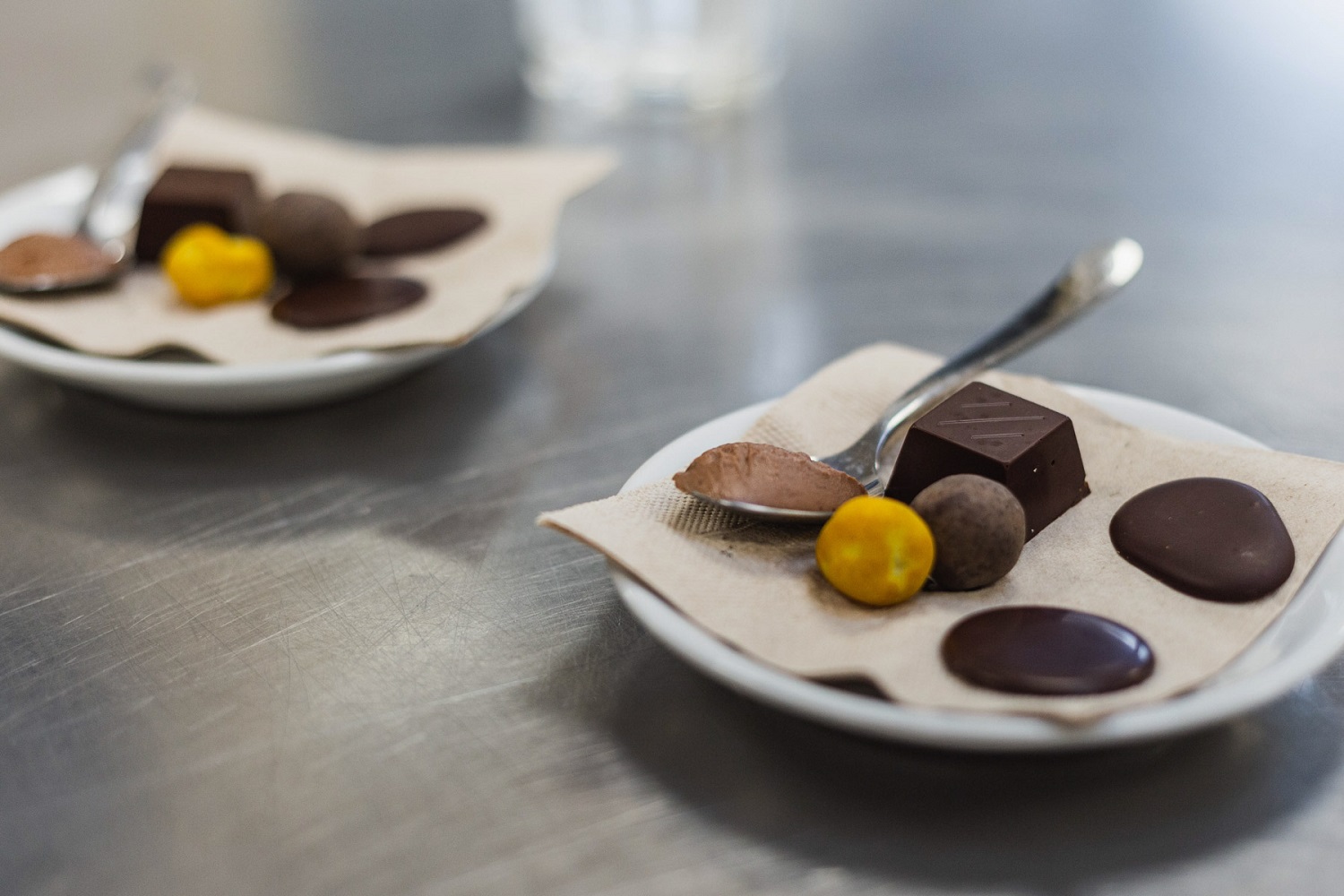 Piero doesn't only care about their raw material, but about sustainability, too. This is how ALC DI BON was born: it's a project that was born in collaboration with other local companies and that focuses mainly on the love for the environment, local artisanal production and lowering the carbon footprint, while offering a shorter and clearer supply chain.
The name "ALC DI BON", if translated from the Friulian language, means "something good". Something not only good to eat but also for the environment, because it has zero impact on it! The money that comes out of ALC DI BON finances the Giant Trees Foundation, a charity that primarily means to know the big trees, identifying, studying and protecting them. It's indeed true that our life depends on our relationship with the trees.
The ALC DI BON bar has been given the Agrifood FVG "Io Sono Friuli Venezia Giulia" mark…do you know what this means? It means that 50% of the ingredients that make up the bar come from our region!
This is only one of the delicious things that are created at Cocambo's and that you could go see on their online shop.
Are you ready for the important part? Very well. In order to celebrate my birthday (which I do for the whole month of November), I have selected 15 of my Instagram followers and I've asked Piero to prepare for us a tour to discover Aquileia in all of its forms.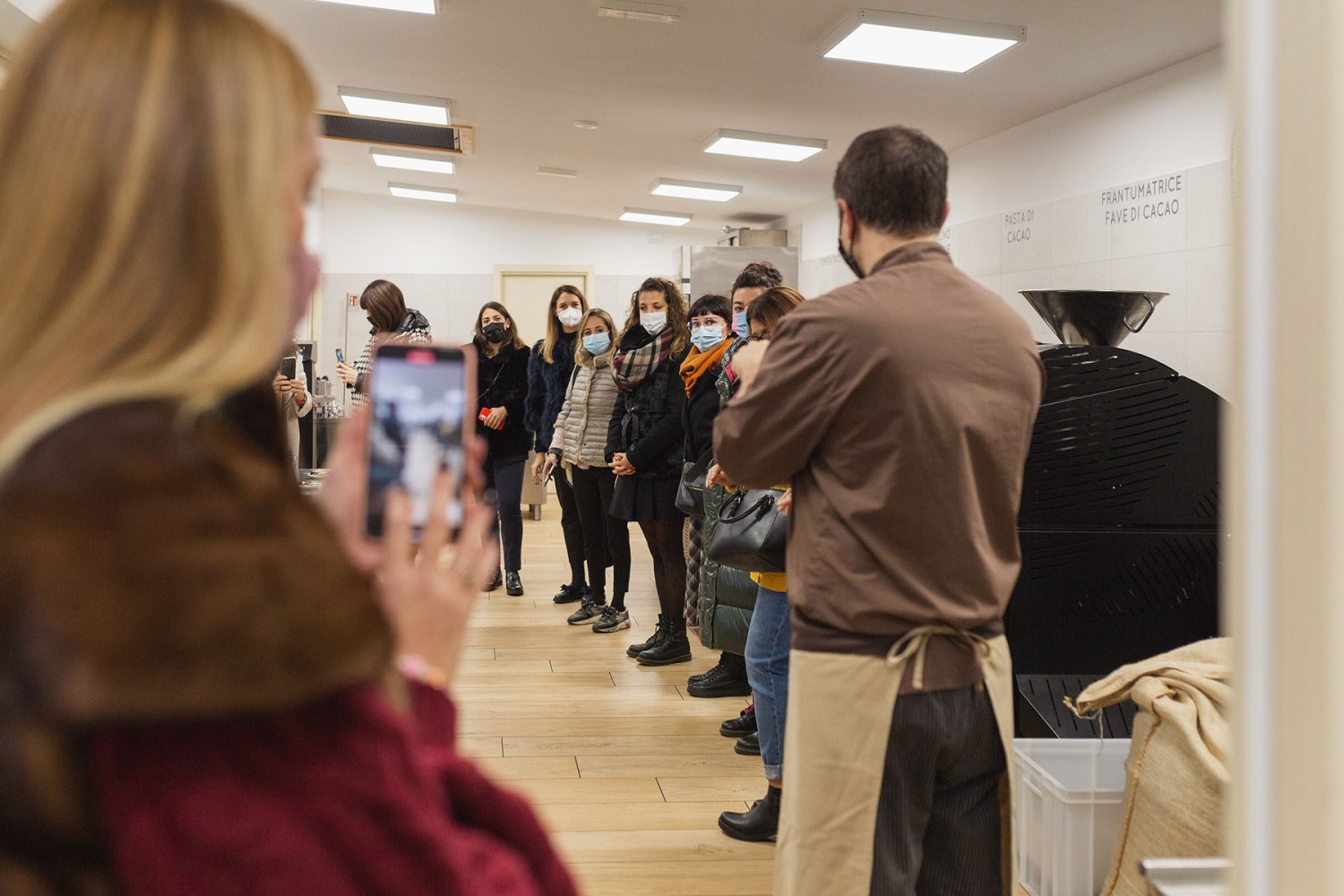 The first stop was at the chocolate factory, it looked like Willy Wonka's 🙂 the scent was sublime! I went back to being a child in the blink of an eye. So, surrounded by chocolate and pralines, we started our tour of Aquileia, guided by Sara: she's a woman full of sprint, very hermetic and not at all boring.
She brought us to the old train station, which was built during the Austro-Hungarian Empire: the Milite Ignoto's journey started from here.
We then went to the Domus of Tito Marco, a tiny house of only 1700 square meters, and then to the Basilica di Santa Maria Assunta. To think that the mosaics in the south side are as big as 750 square meters, making it the biggest mosaic in the western Christian world…from its 70-meter-high bell tower, you may admire a breathtaking view and you can also see the sea! Another gem is the Cimitero degli Eroi (the Hero's Cemetery), a very important historic place because it has kept its original form. Have I made you a little bit curious? In Aquileia they also had amazing thermal baths in the time of Constantine the Great: their 25 thousand square meters make them one of the biggest public thermal baths of the Roman northern Italy! Not bad at all…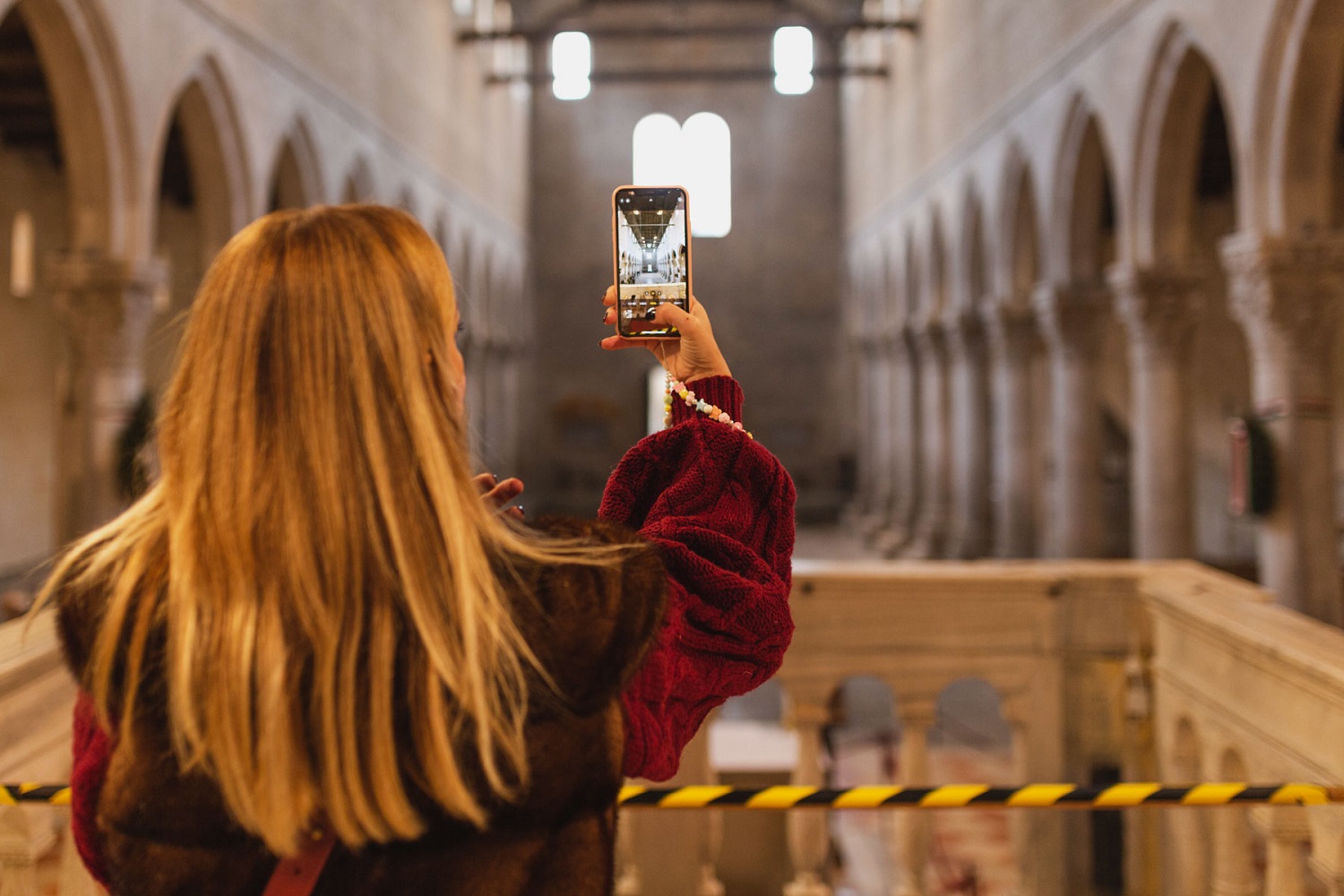 Between and explanation and the other, it's time to go back to our base and put something in our stomachs. Hunger's calling and they're waiting for us at Cocambo's for a brunch with products that, you guessed it, come from the local territory! You may also create the menu with Betta, but I preferred to let her do it on her own, because I knew she wouldn't let me down.
So, we opened with an arancino filled with herbs, marinated puntarella and pumpkin mustard. It was followed by crunchy polenta with baked marinated pork loin and mustard, with a side of chicory and goat cheese. Slurp!
We then tasted a barley risotto with pumpkin, cabbage, and walnuts. There's still room for dessert, combined with a delicious coffee toasted by Cocambo. Add a coffee liqueur and brunch, or better lunch, is served.
Can I be honest? This amazing day, among chocolate, history, and good food, has literally wiped away the memory I had of Aquileia, which was of a destination for boring school trips. The company I had on that day most certainly was very important, as spending a whole Sunday with my followers really was priceless.
And here comes the good part! I've not only thought about the 15 lucky people that I brought with me, but about you guys reading me, too…so I started a collaboration with Cocambo. You'll find a few options on their website, but in my opinion the best thing is to contact them in order to find the option that best suits you. This way, you'll be able to live this experience with a group of friends, colleagues, students, or kids. If you book before December 15th and you will get a 10% discount 🙂 (if you get the package now you may use it as soon as you wish but also after December 15th).
With a full stomach and a heart filled with love, I went home and unwrapped the gifts my followers brought me. What are you still doing here? Come on, off you go googling COCAMBO! You'll enter a very sweet world… (and believe me, it's a very good one!).
See you next time!