Two weeks ago the Restaurant/bar of Marina San Giusto, Trieste's Yacht club, opened up to a new management and with its new name Pier.
In this breath-taking location, right in the centre of town, next to the Salone degli Incanti, on the dock for the boats you'll find this incredible place that I went to discover for you!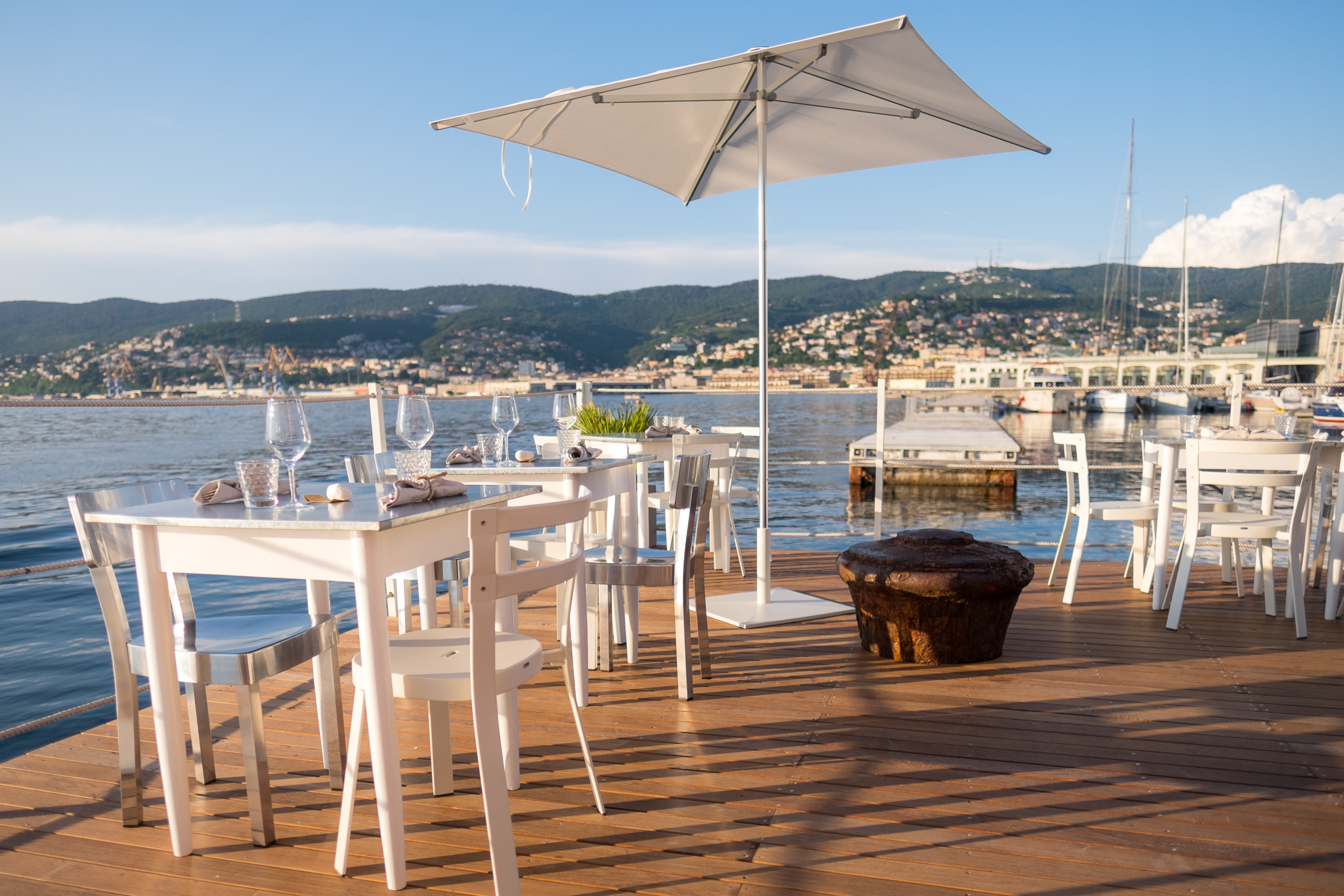 Walter Gustin, owner of other very particular and wonderful places in Trieste (Draw, 040SocialFood, Antico Panada and others I've already told you about), told me about this new adventure a few month ago. I was sure he would create a magical place!
Here we are: behind me the centre of Trieste and in front the sea, a breath-taking view.
Pier opens in the morning, where you can stop for a classic breakfast, a coffee and croissant, and for something a little sweeter you can choose from their lovely cake selection!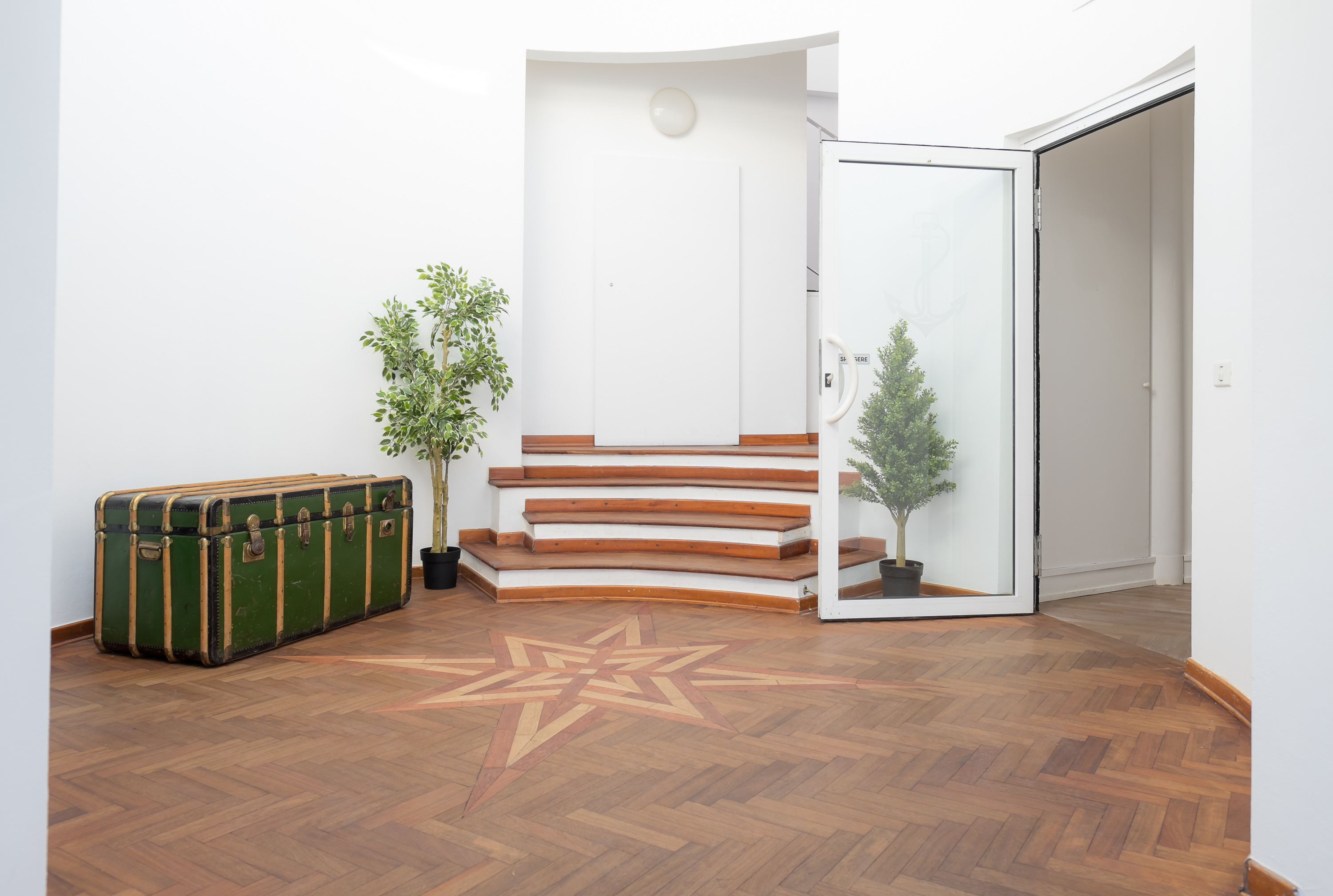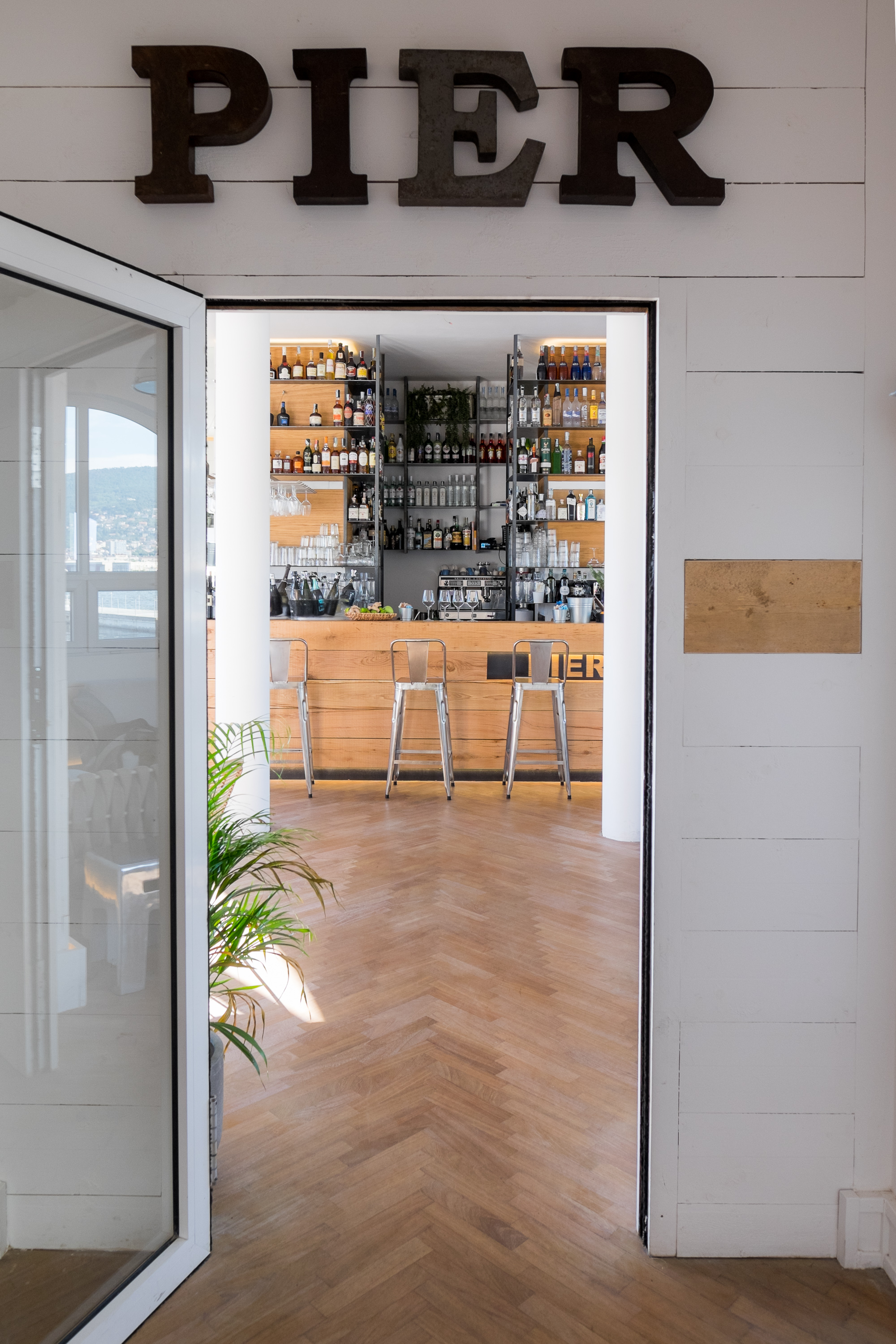 The day continues with their lunches, witha rich fish menu, as well as for dinner: fish is their main dish and the chef's selection is excellent, worthy of praise and attention.
Marco is 31, born in Trento where he also grew up. After high school, he became passionate about cooking and decided to inscribe in a catering institute in Trieste. His cuisine is passion and "instinct" as he defines it, "I always cook when I'm hungry, to ensure the best result in my cuisine". In the open-view kitchen Marco tells me about himself, with a lot of modesty, but I don't want to disturb him too much, I'll let him do his job and his cuisine can be the best way to describe his passion!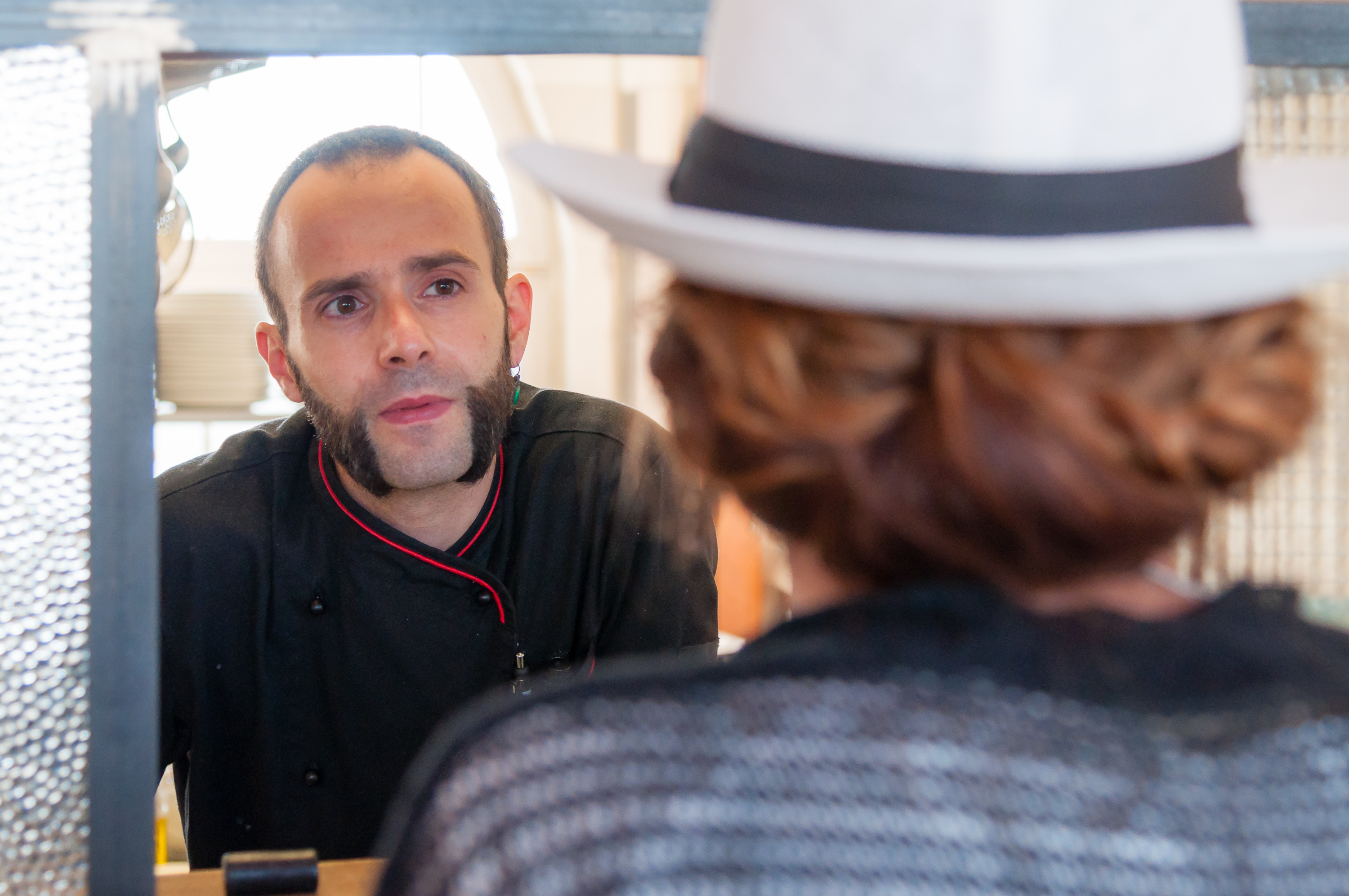 But let's look around a bit…as I walk in I see a large wooden bar counter, in a lounge area furnished with armchairs and coffee tables, all made in rope and with light colours.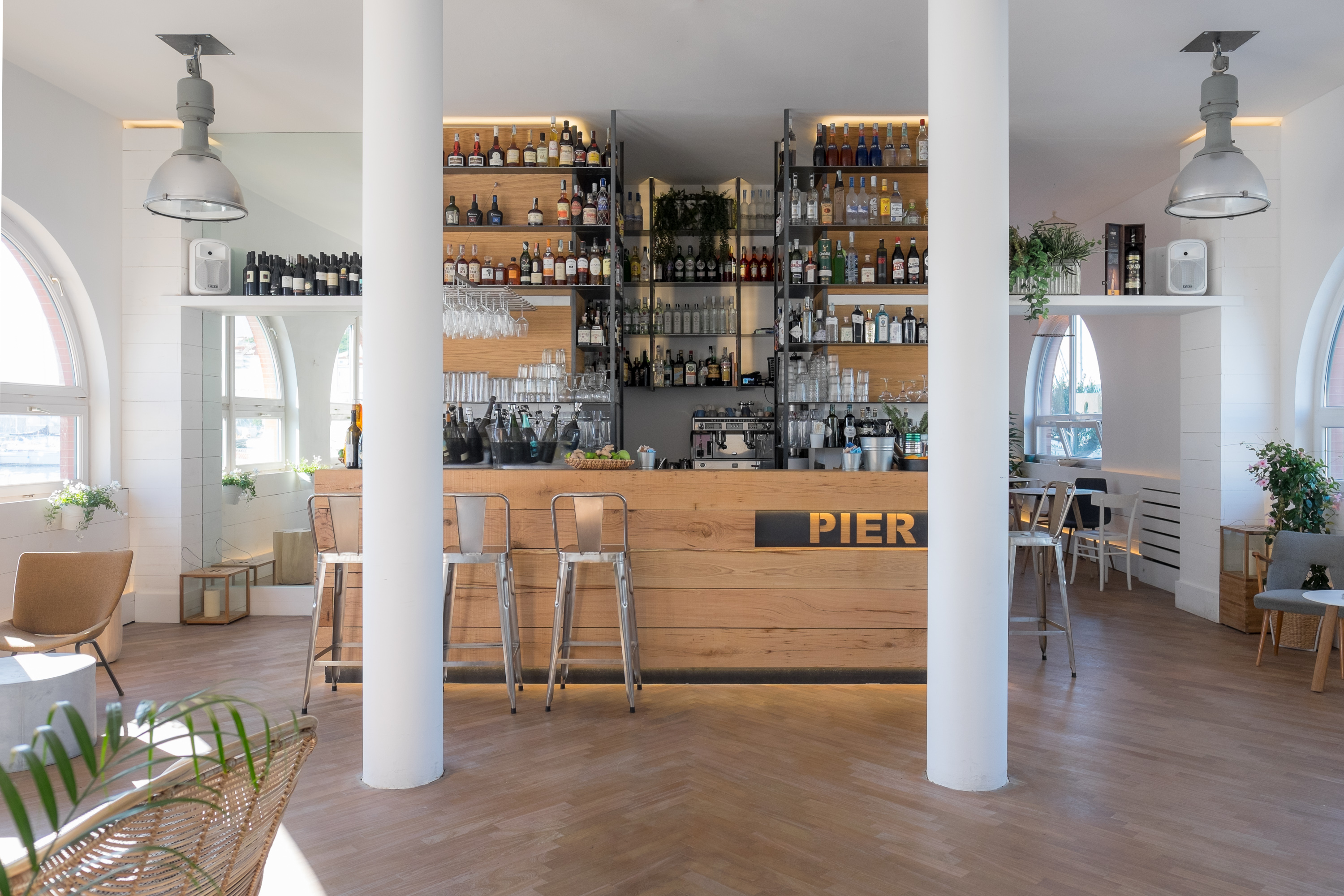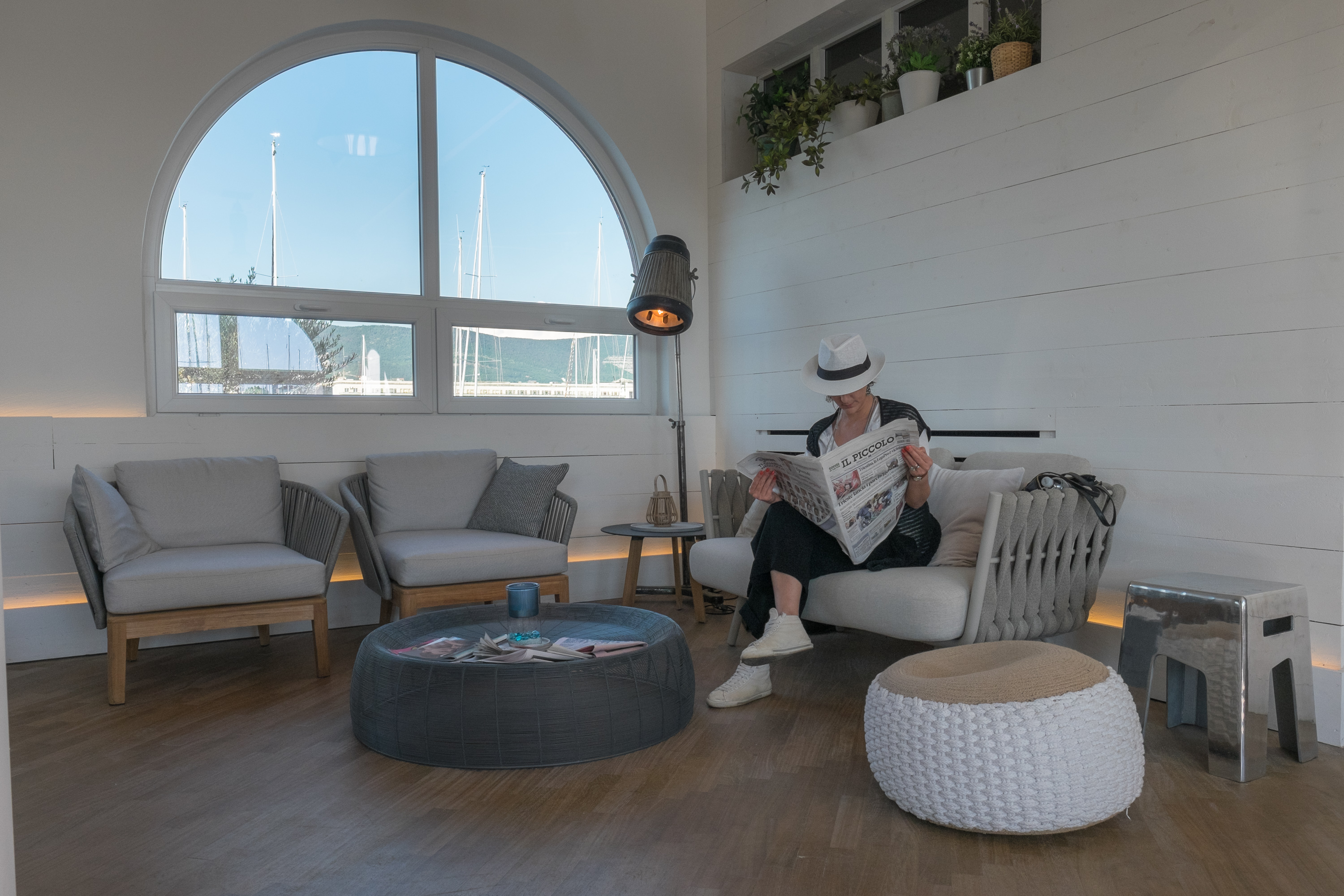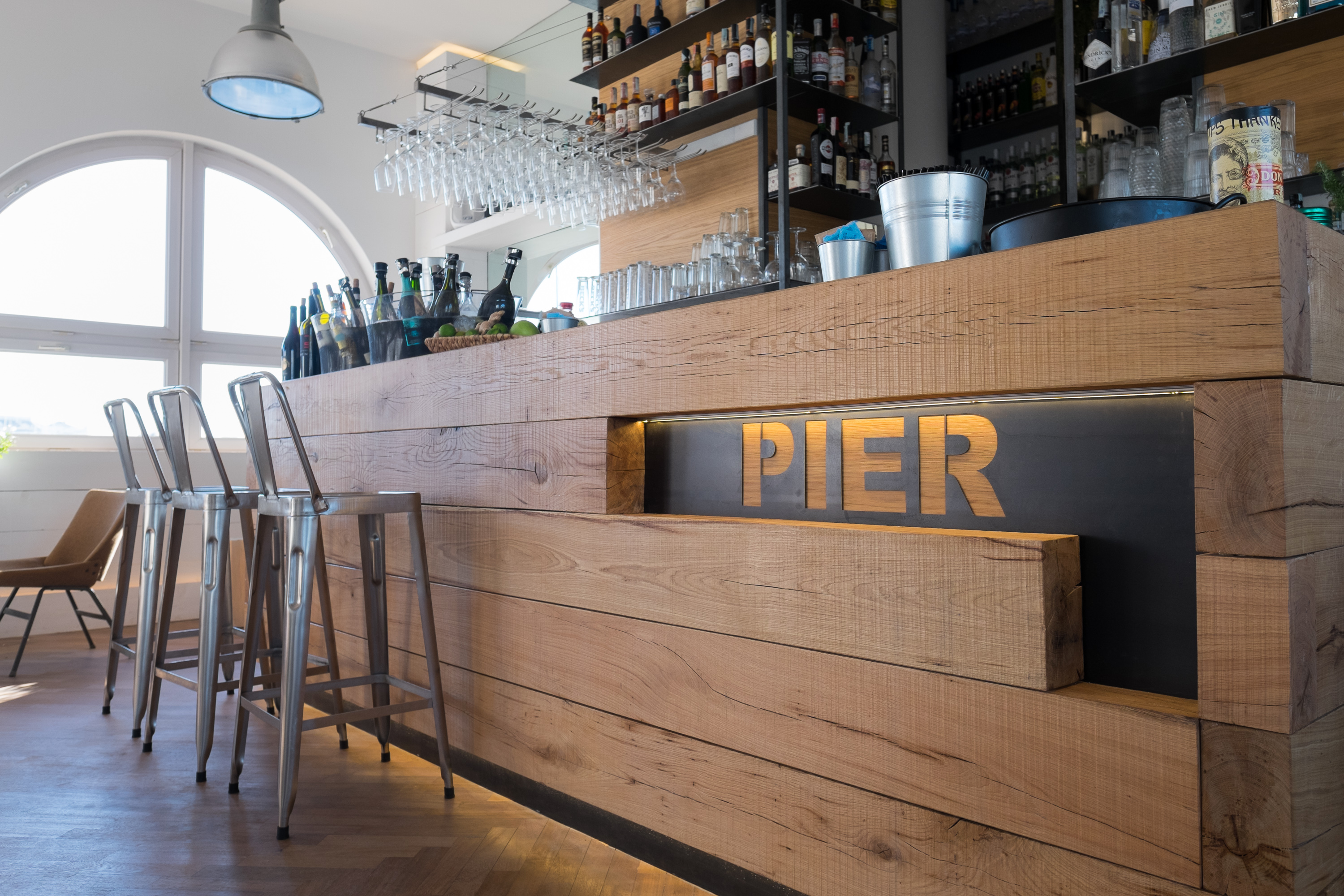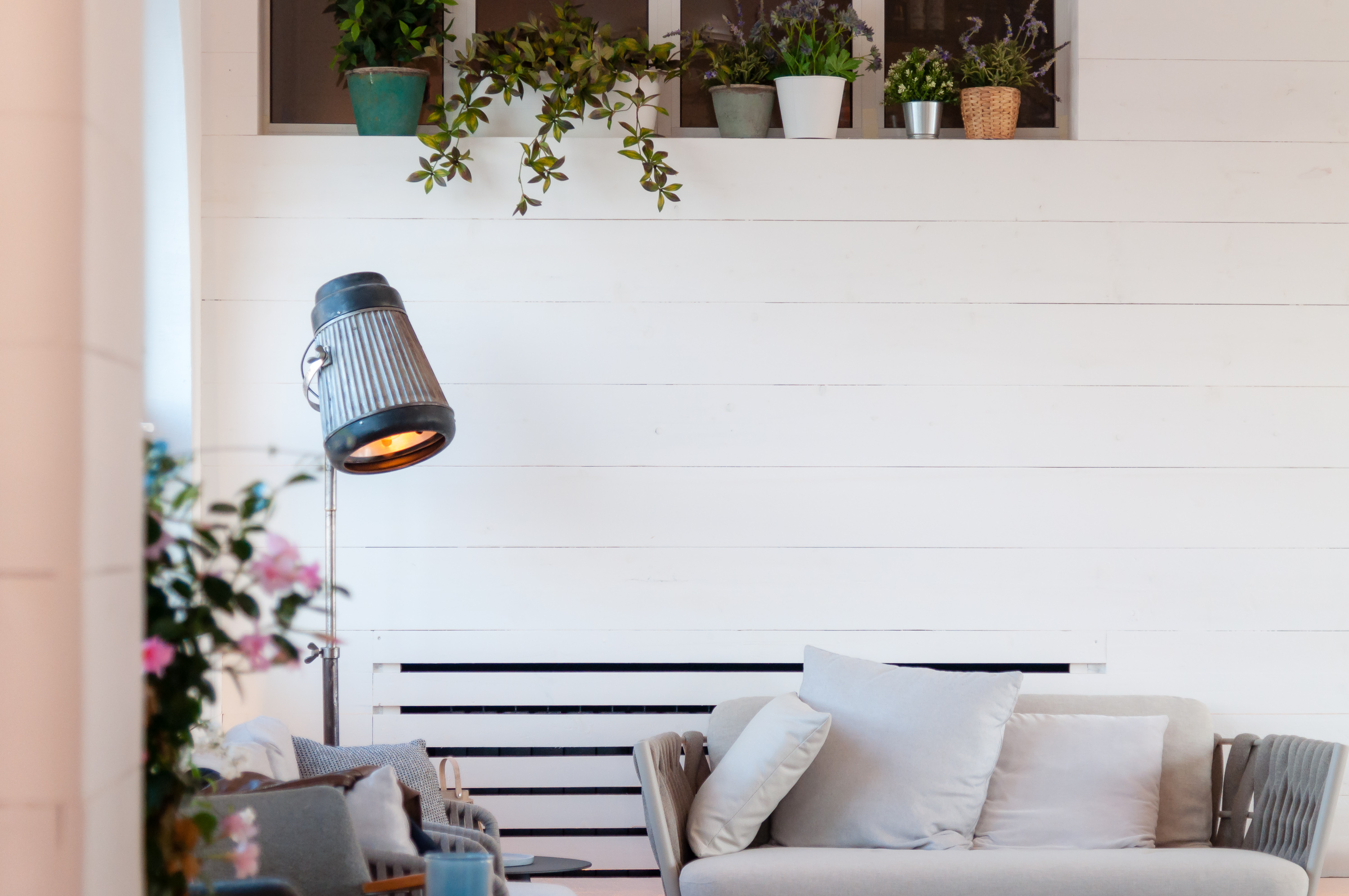 From here you head through to the restaurant area, bright and welcoming, furnished by Walter and his wife. A few nets that are used as light shades, recovered furniture, white wooden wall panels and a fresh and clean environment welcome you to the dining area tables.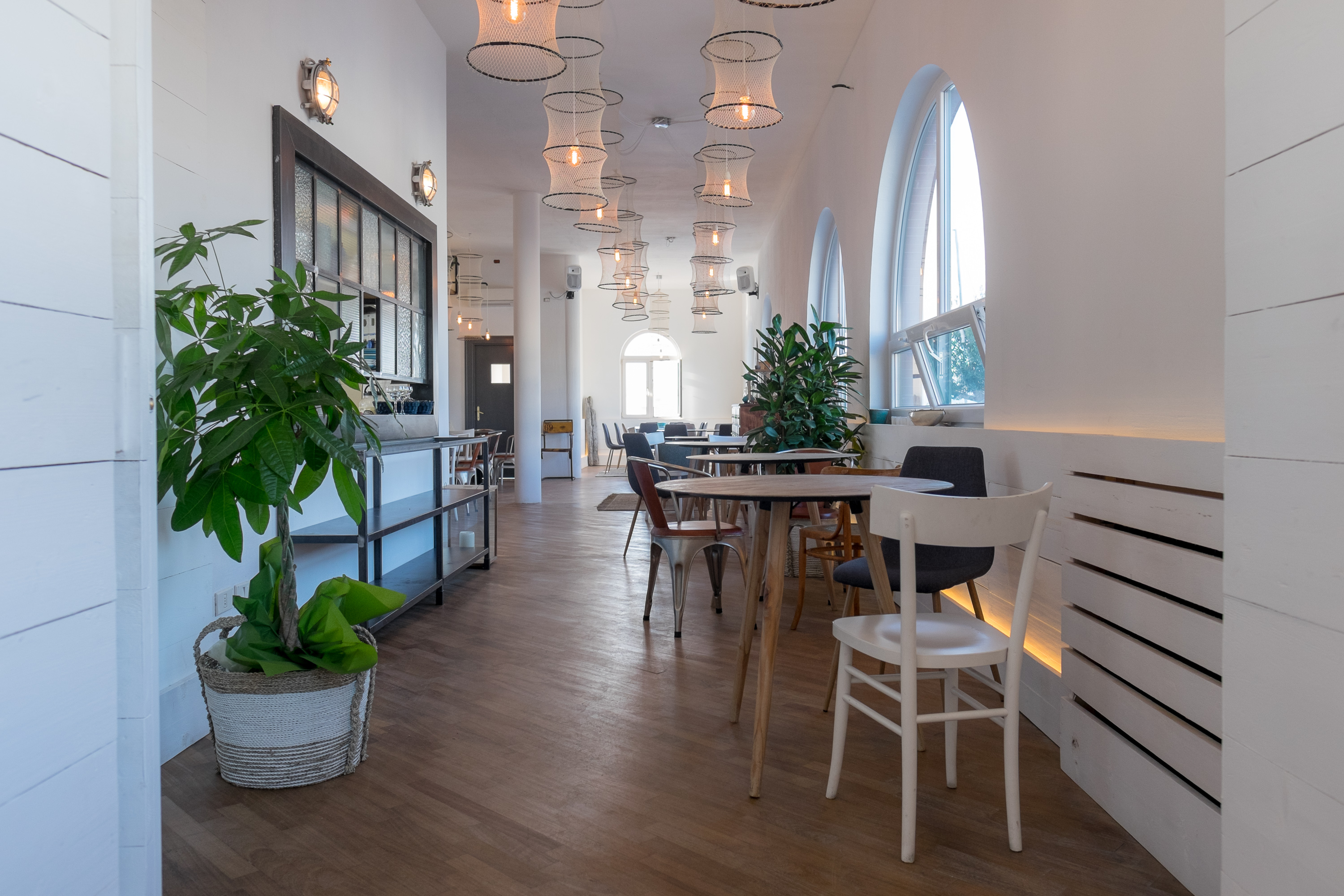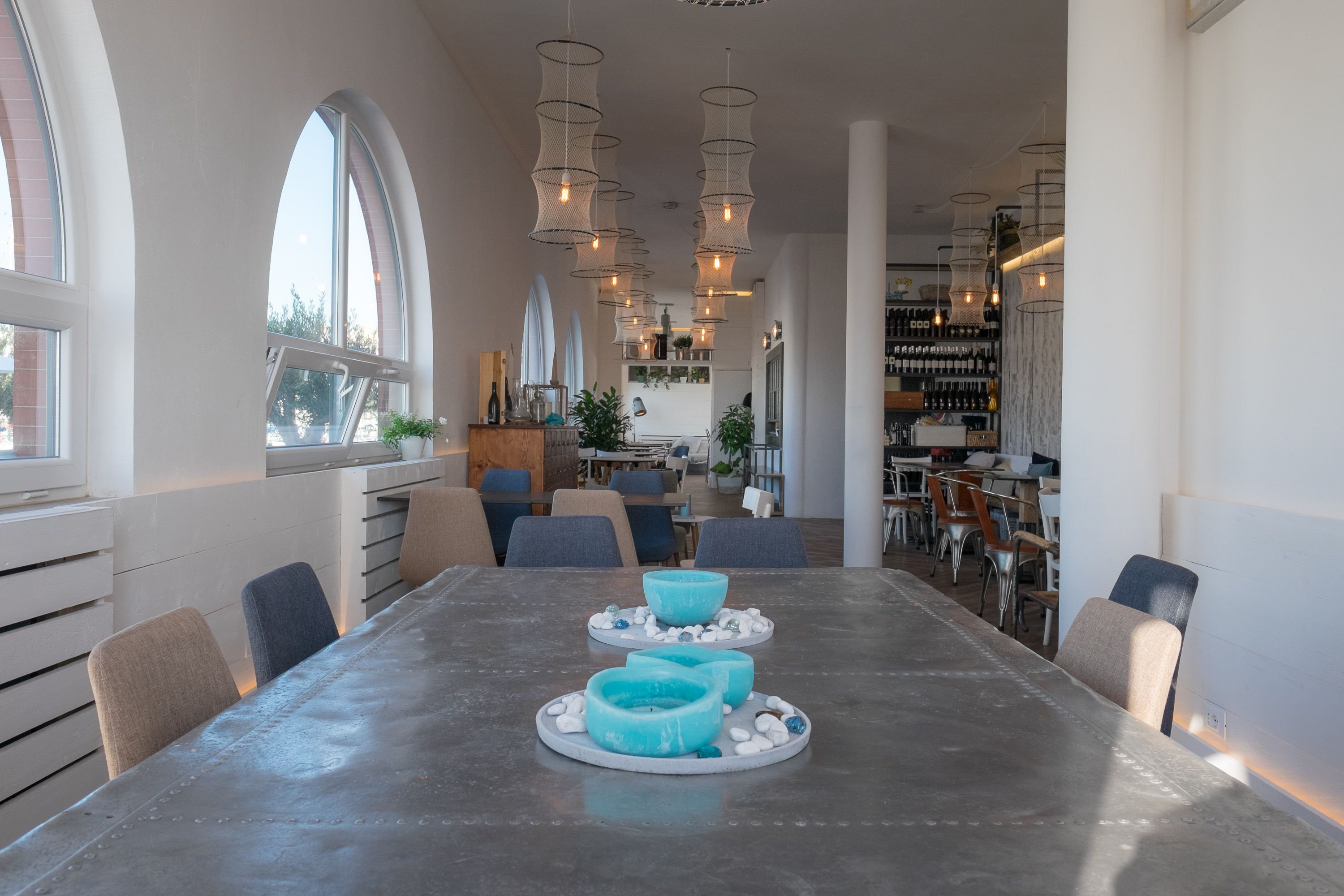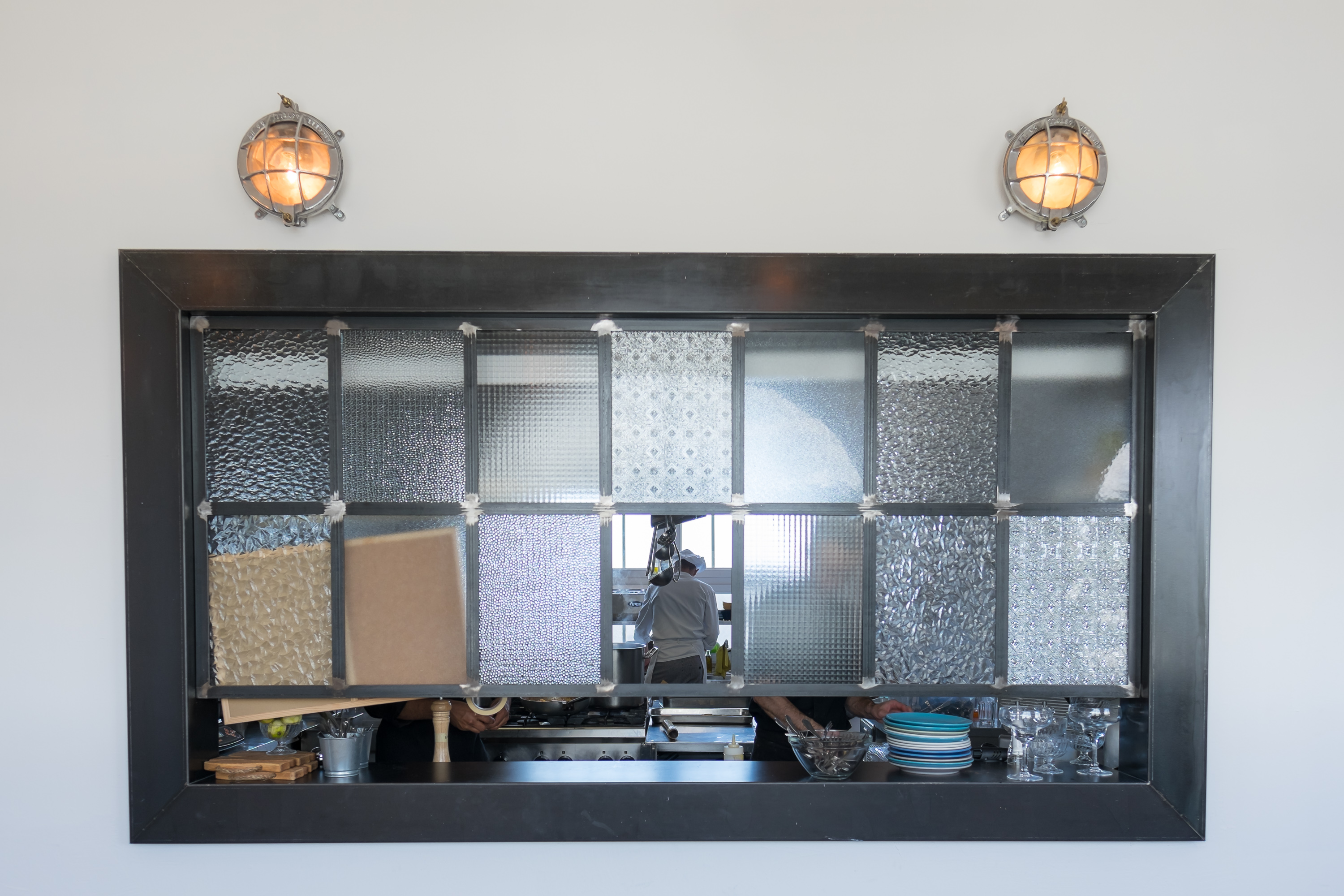 Then there's the outdoors, that I'll easily describe as the best location in the centre of Trieste, where you can eat with a view on the sea!
As you sit out on the pier, among the soft noise of the boats, under the large umbrellas you can enjoy a wonderful view of the city and moments of pure relax.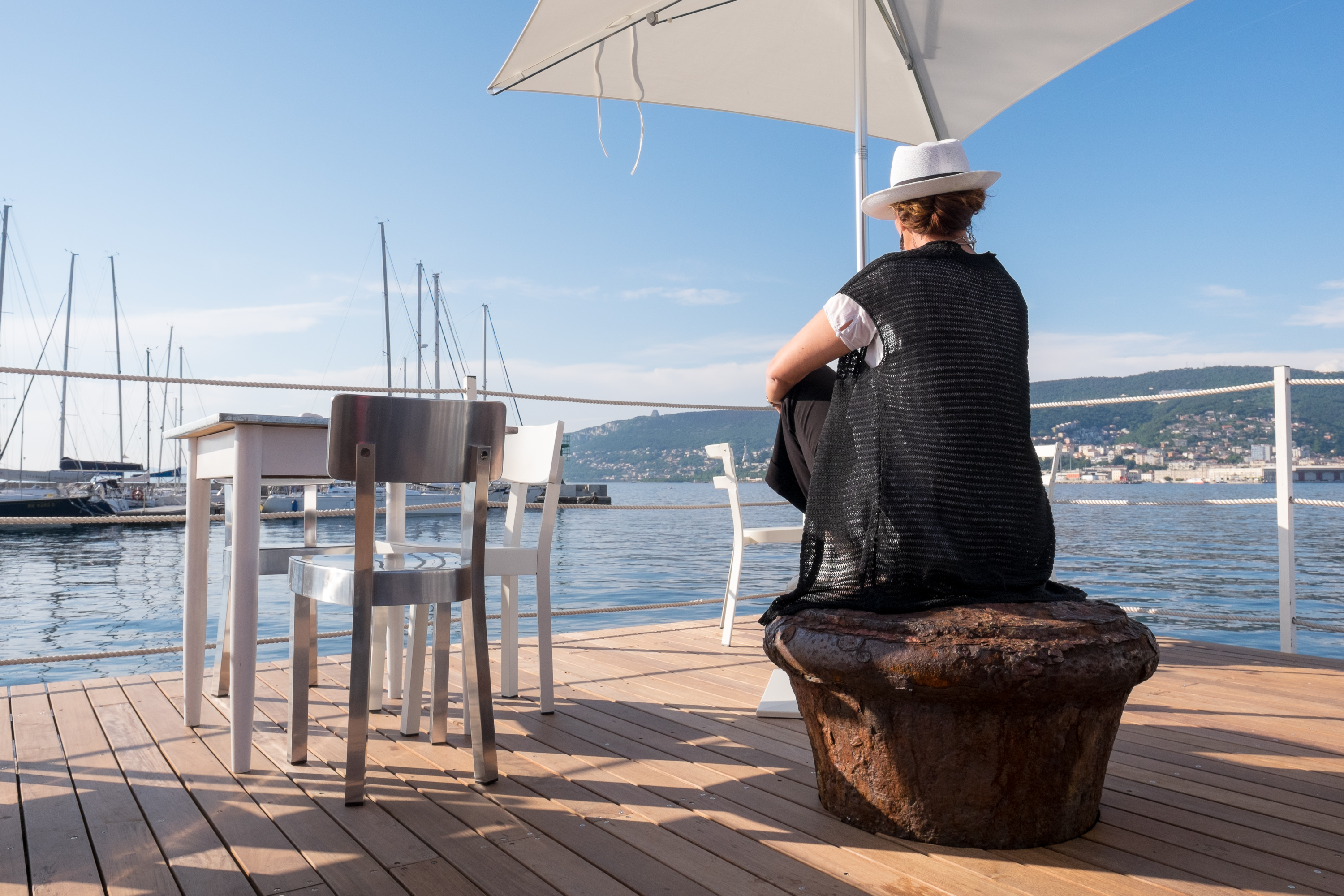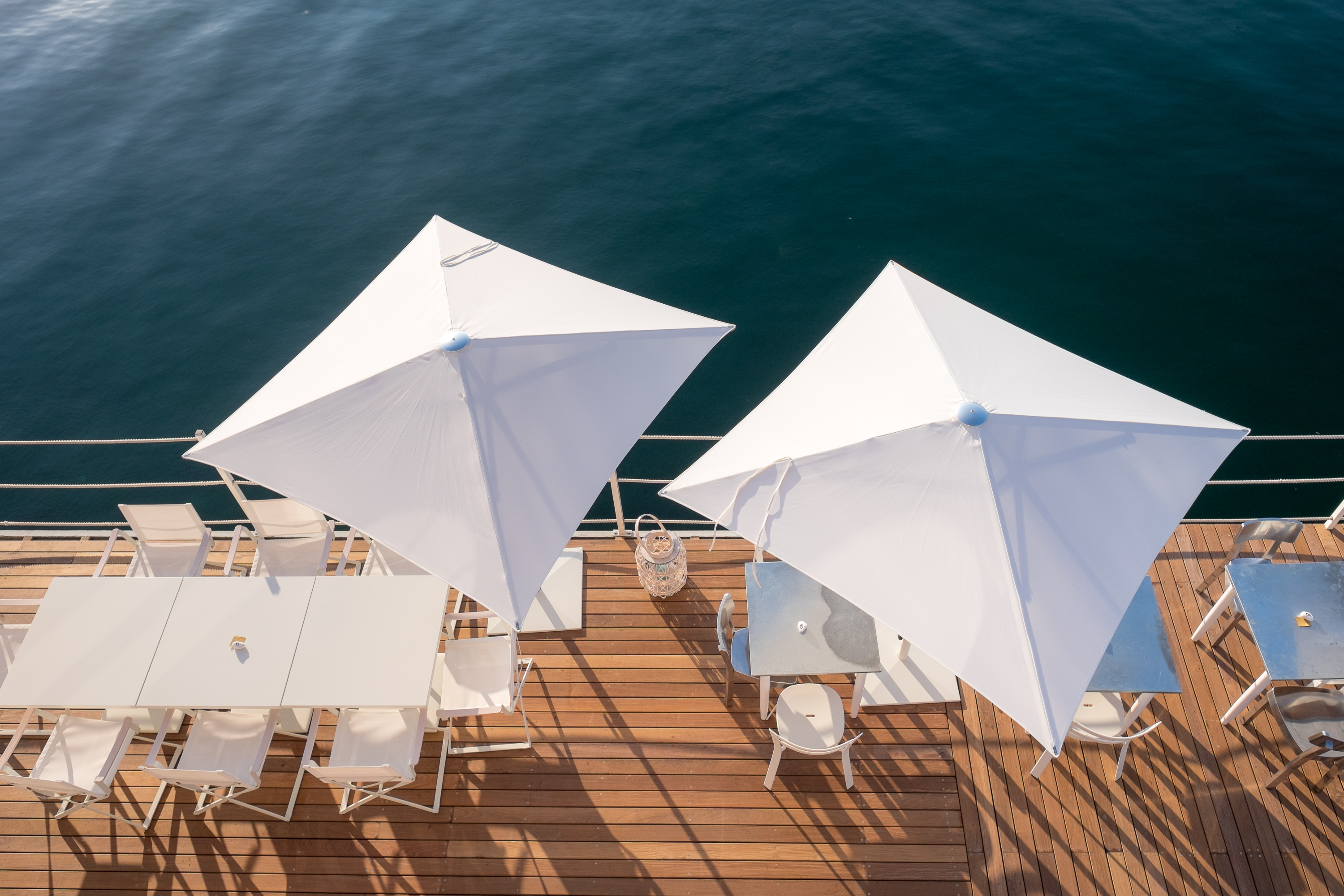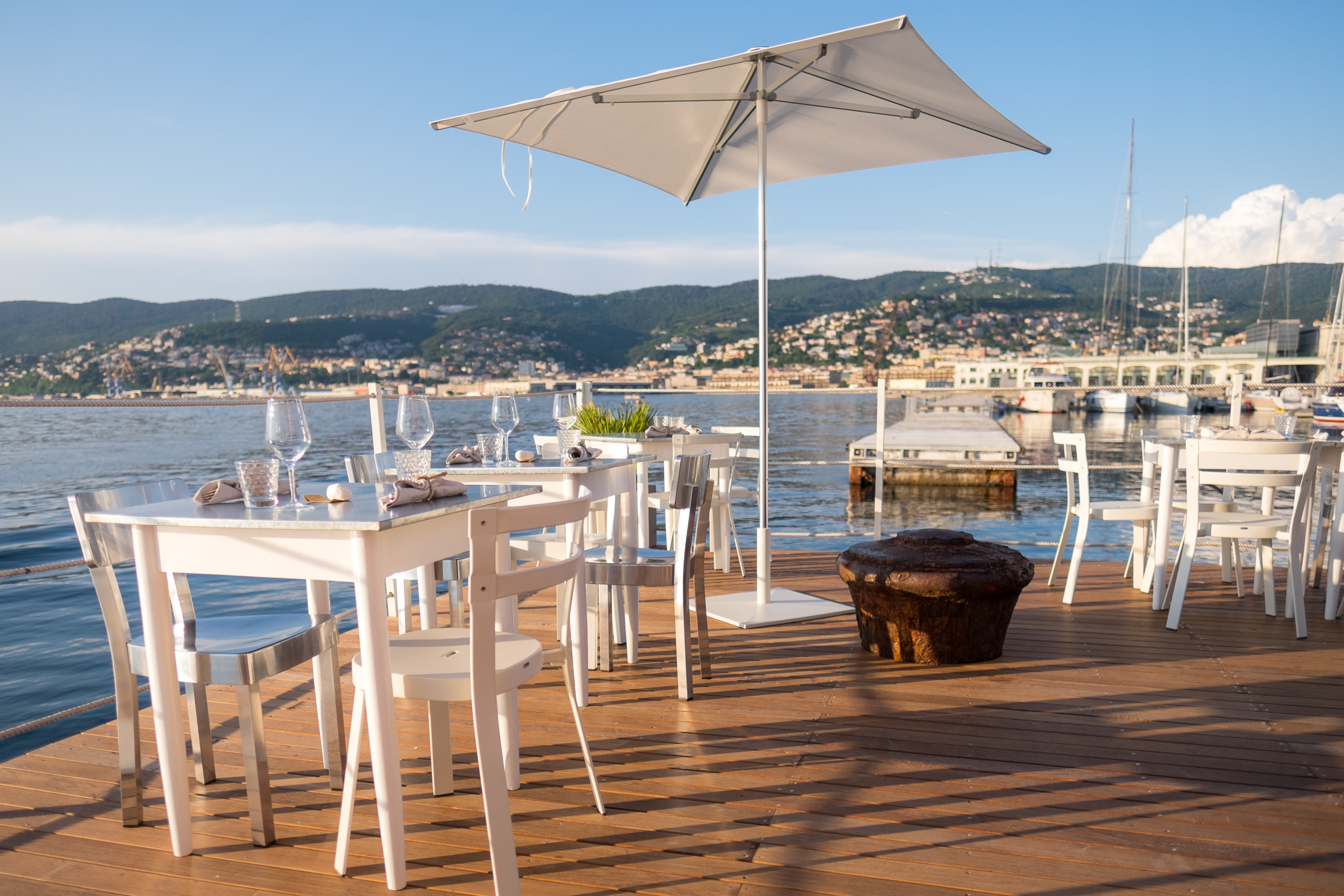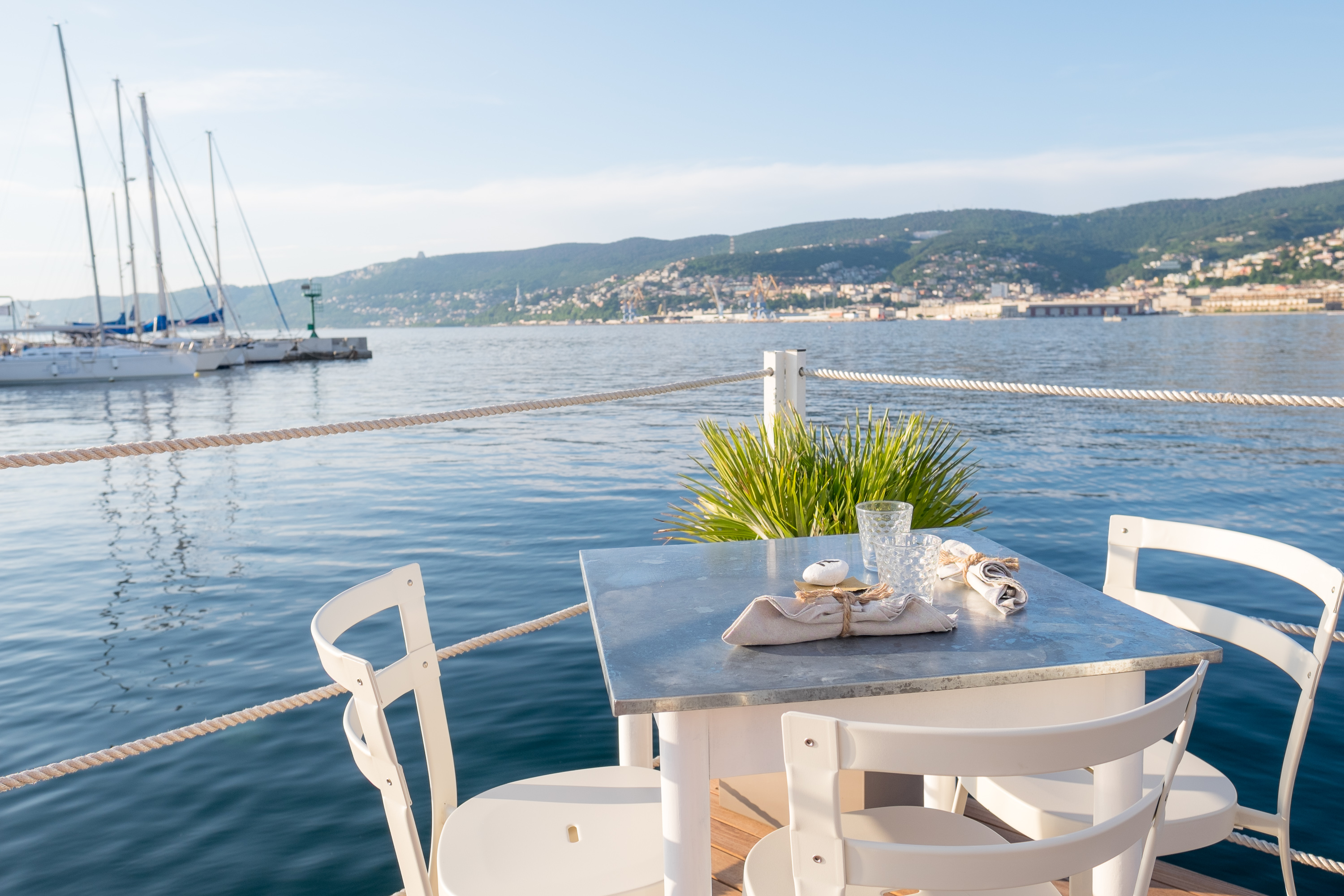 Marco's food is an excellent selection, where tradition meets creativity.
Here's the chef's treat…
Red mullet fillet in a shell of focaccia, broccoli cream with anchovies and a burrata foam.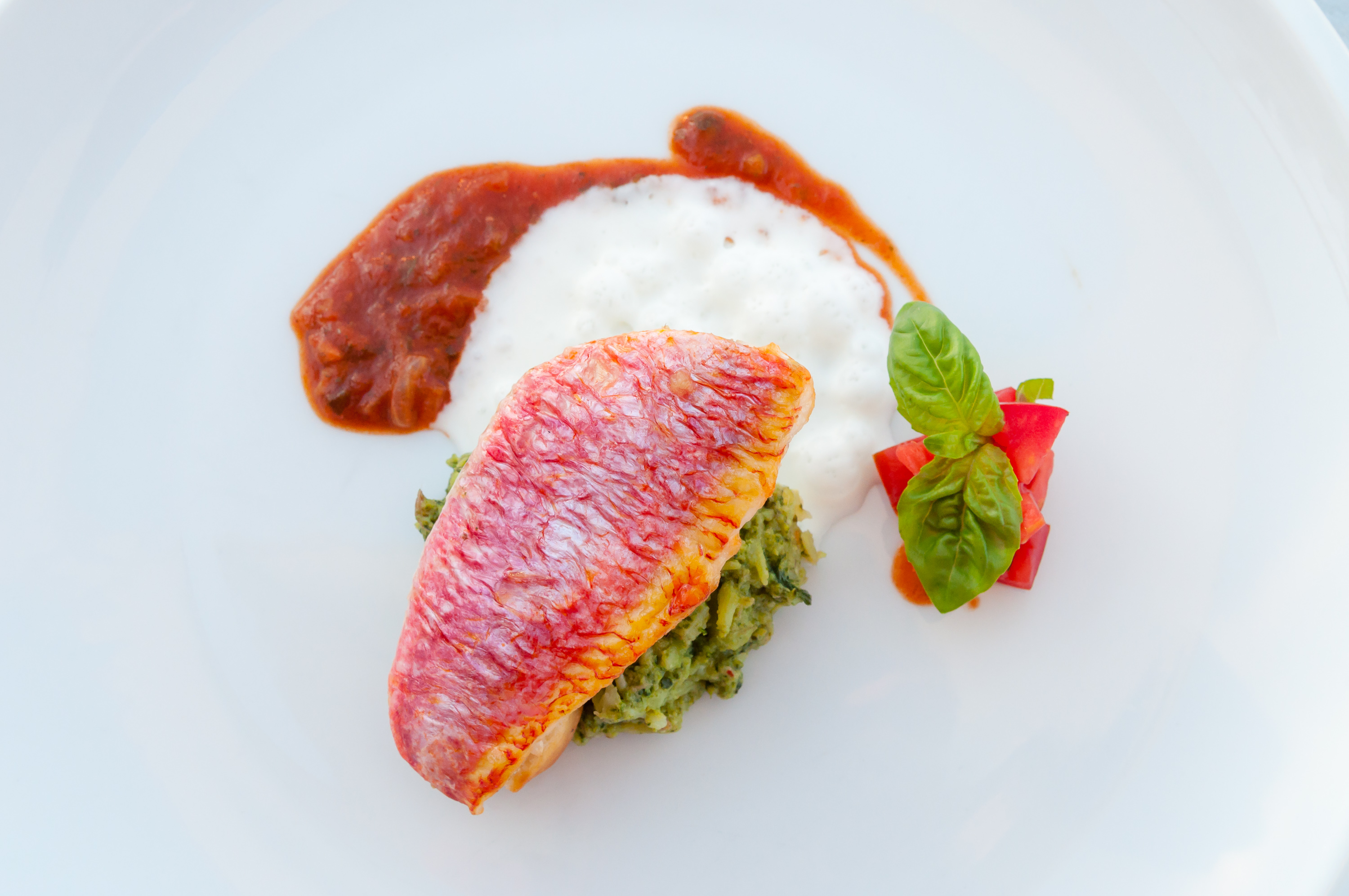 A cut of blue fish with a marinade of white onion, caramelized red onion, a puffed rice wafer and a cream of roasted pine nuts.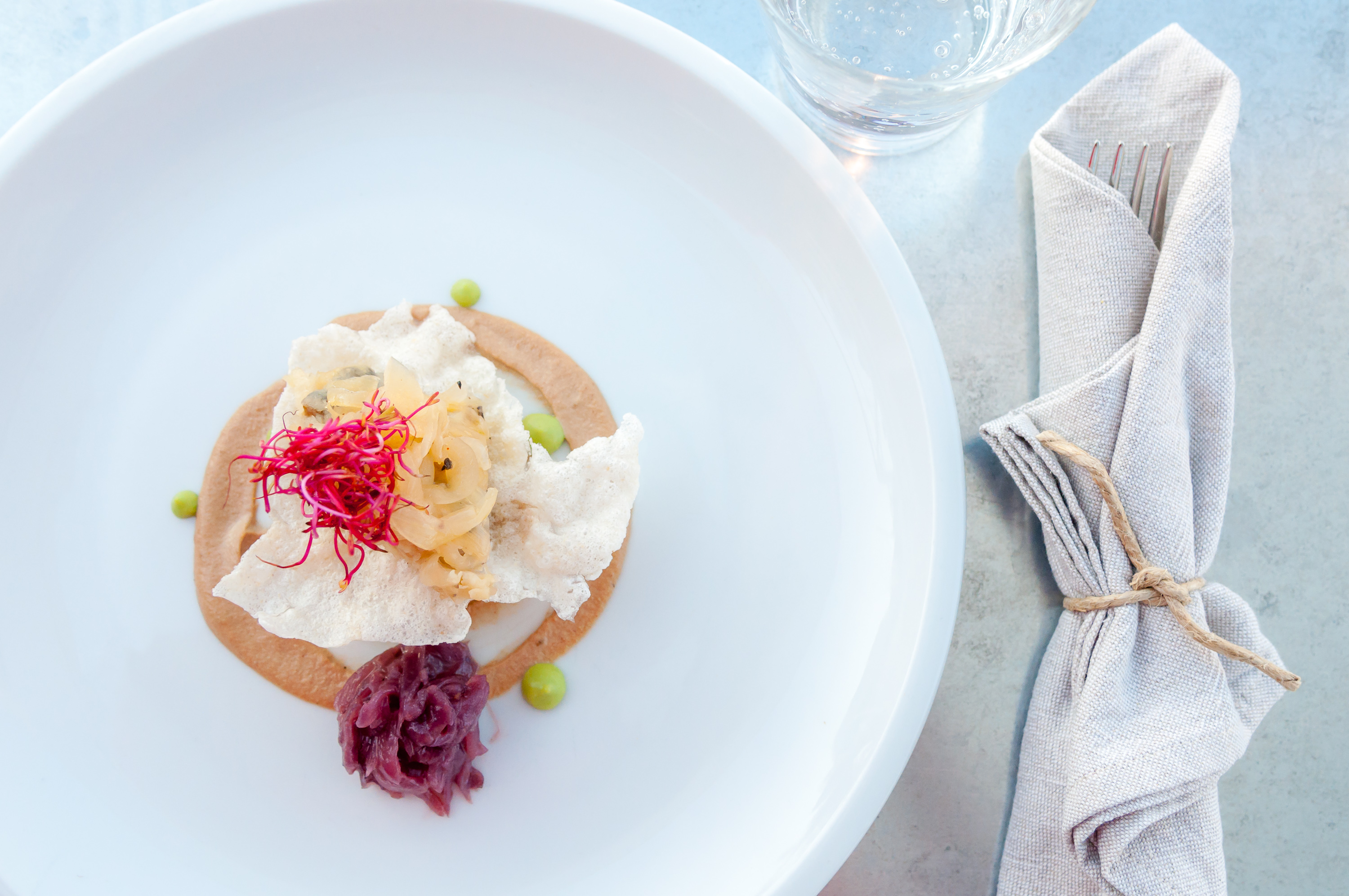 Chitarra spaghetti with basil and dried fruit pesto, beans and mussels.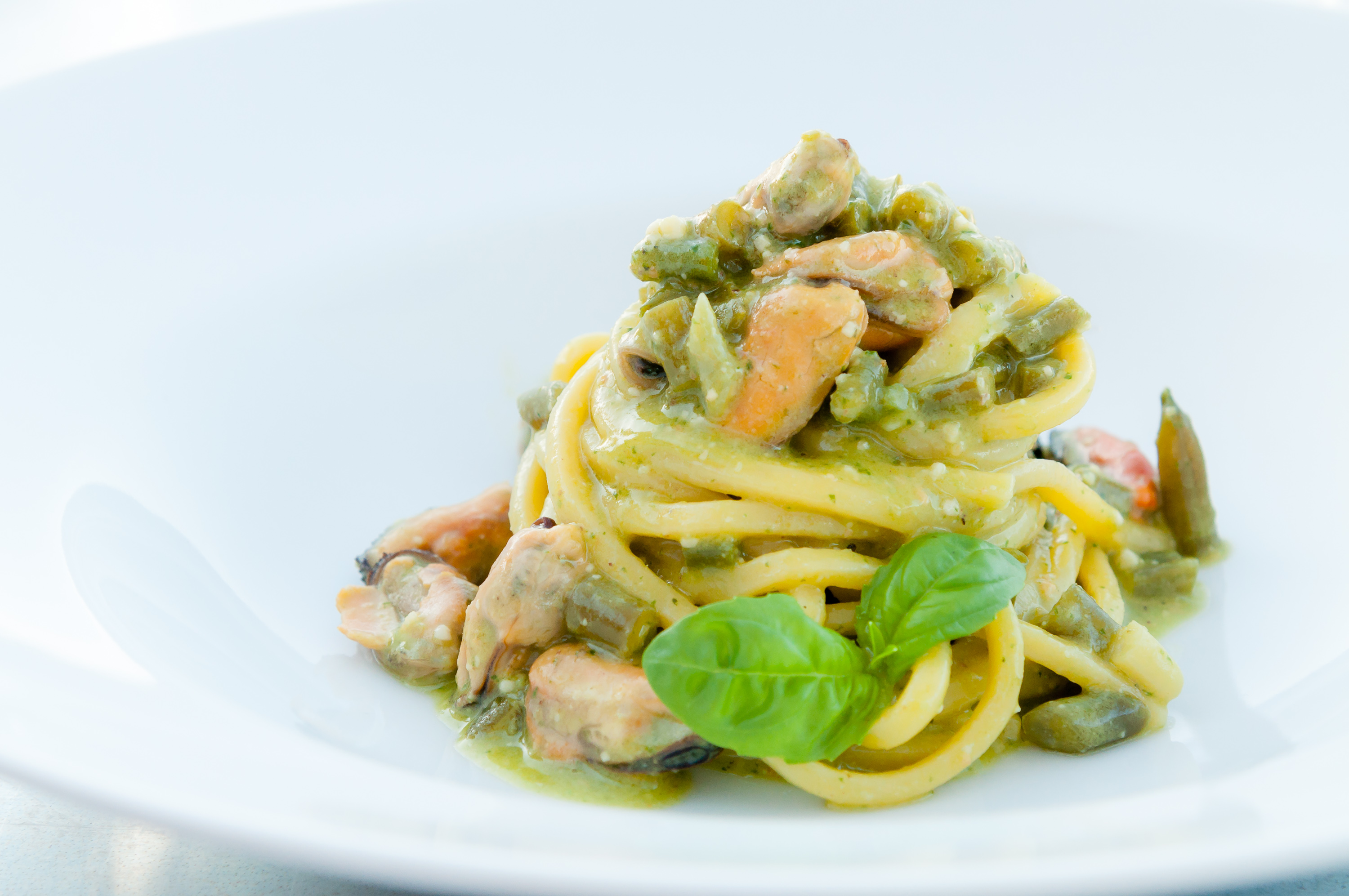 Fish soup with bread dumplings and fried algae.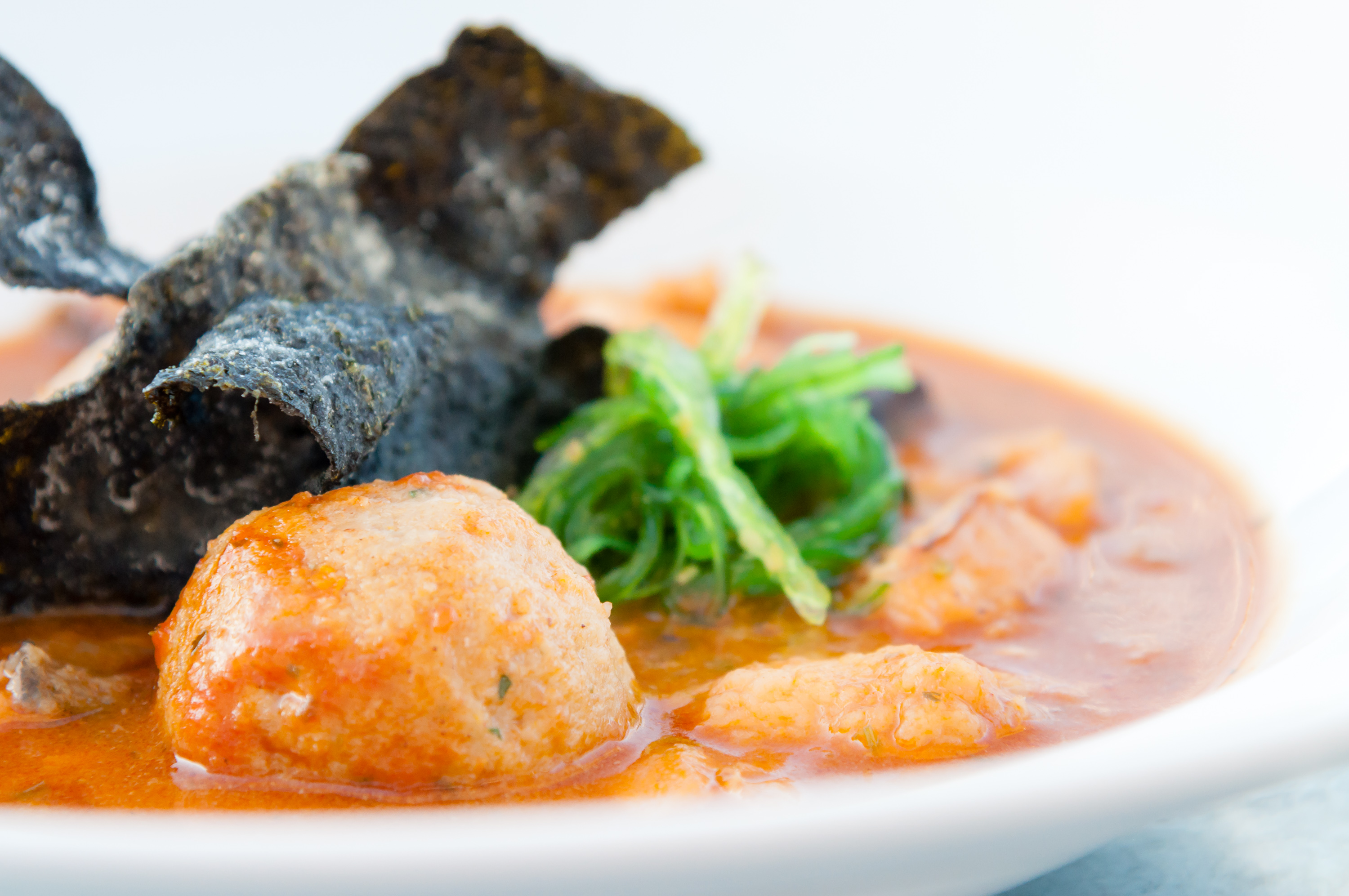 Tuna fillet with tamari and coloured vegetables.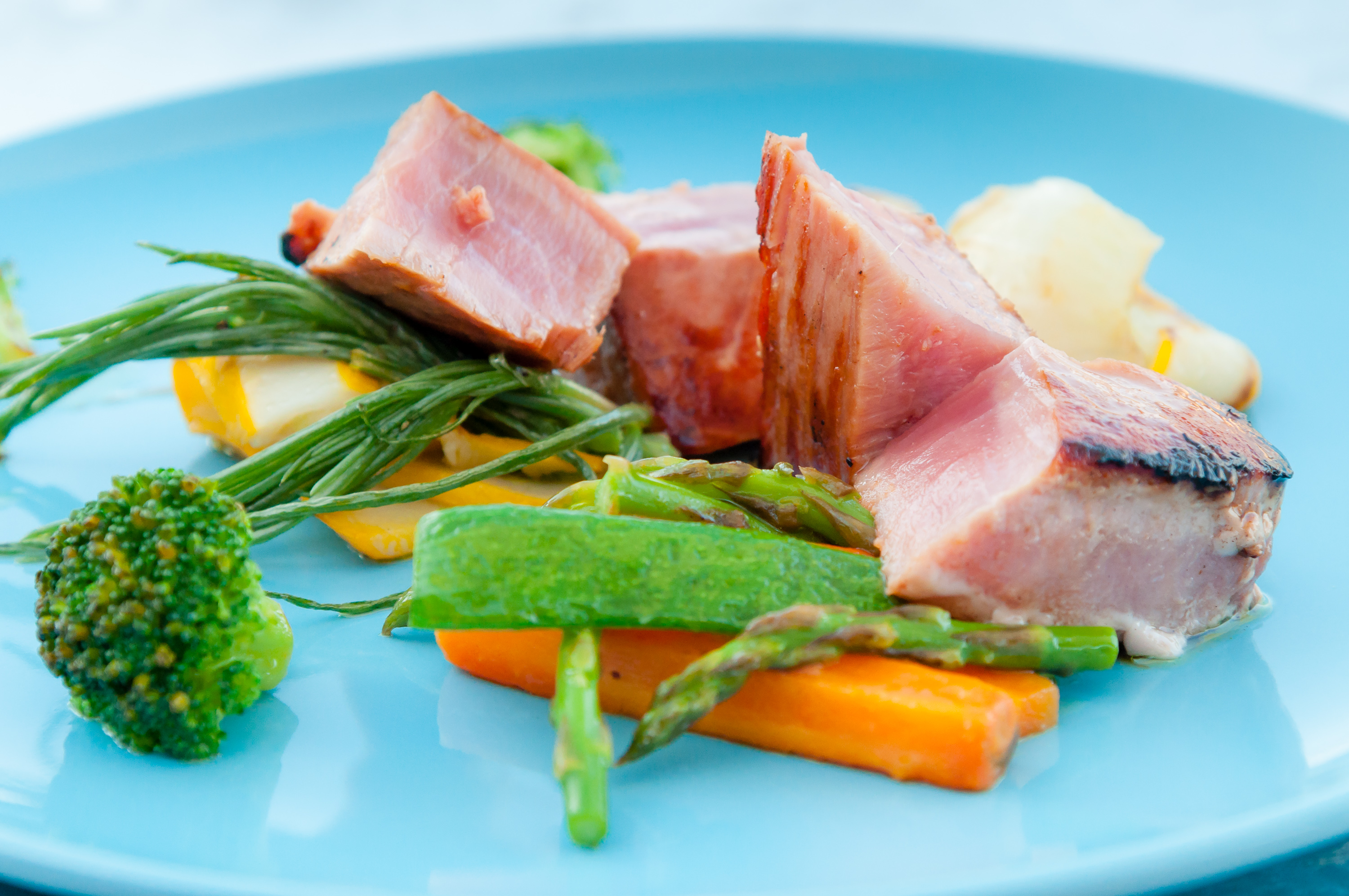 A cold meringue dessert with strawberries and hazelnut sauce.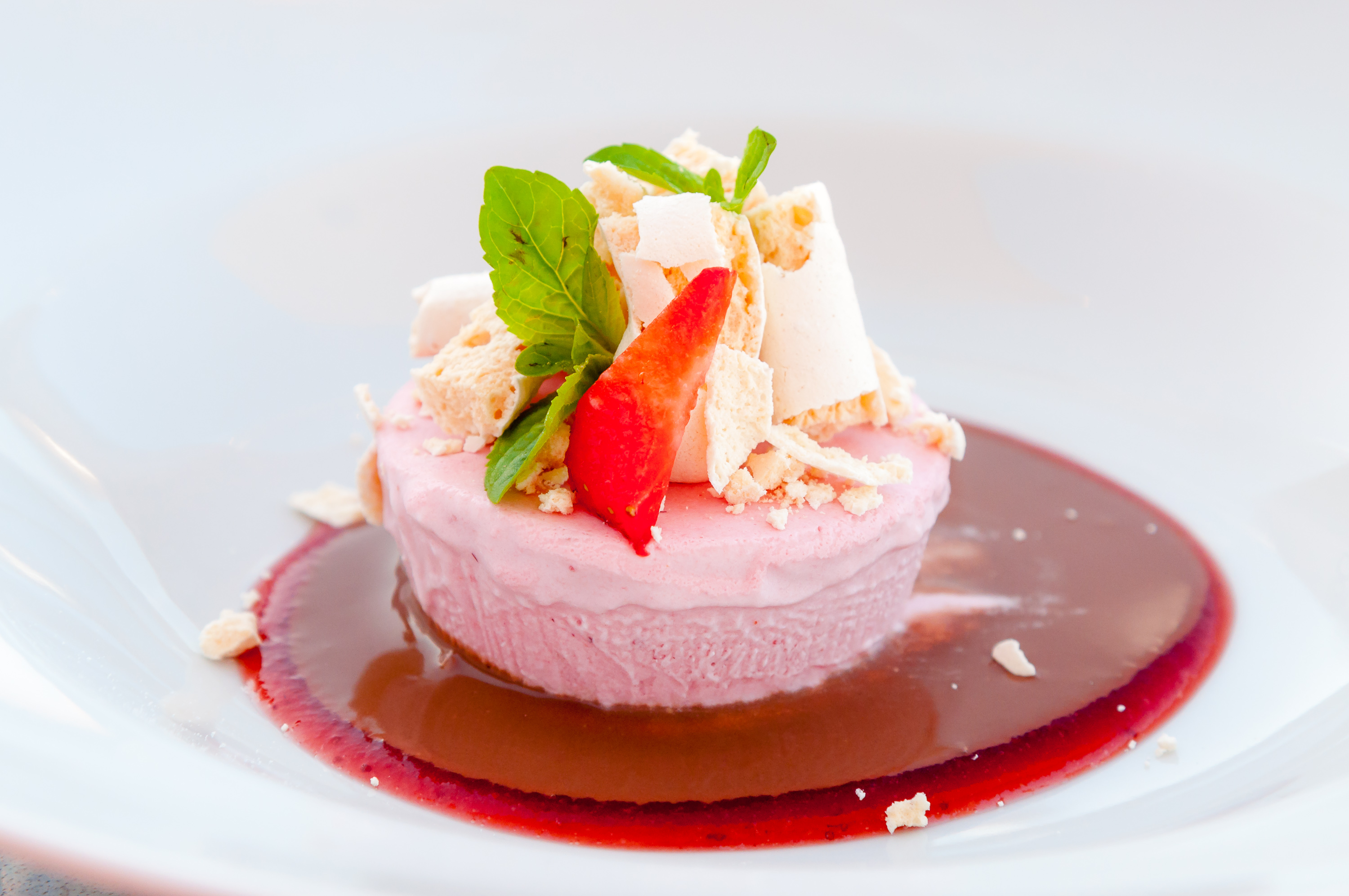 Everything was excellent, from the presentation, the taste and the cooking. Really well done Marco!
But Pier is much more, because this is just the ground floor, you can climb the stairs to the roof garden, (open after 5pm), where there's a whole new scenario: green corners with herbs and lemon plants, lounge chairs, poufs, armchairs and small tables, large common tables, everything that can comfortably welcome you for a wonderful aperitivo or after dinner cocktail.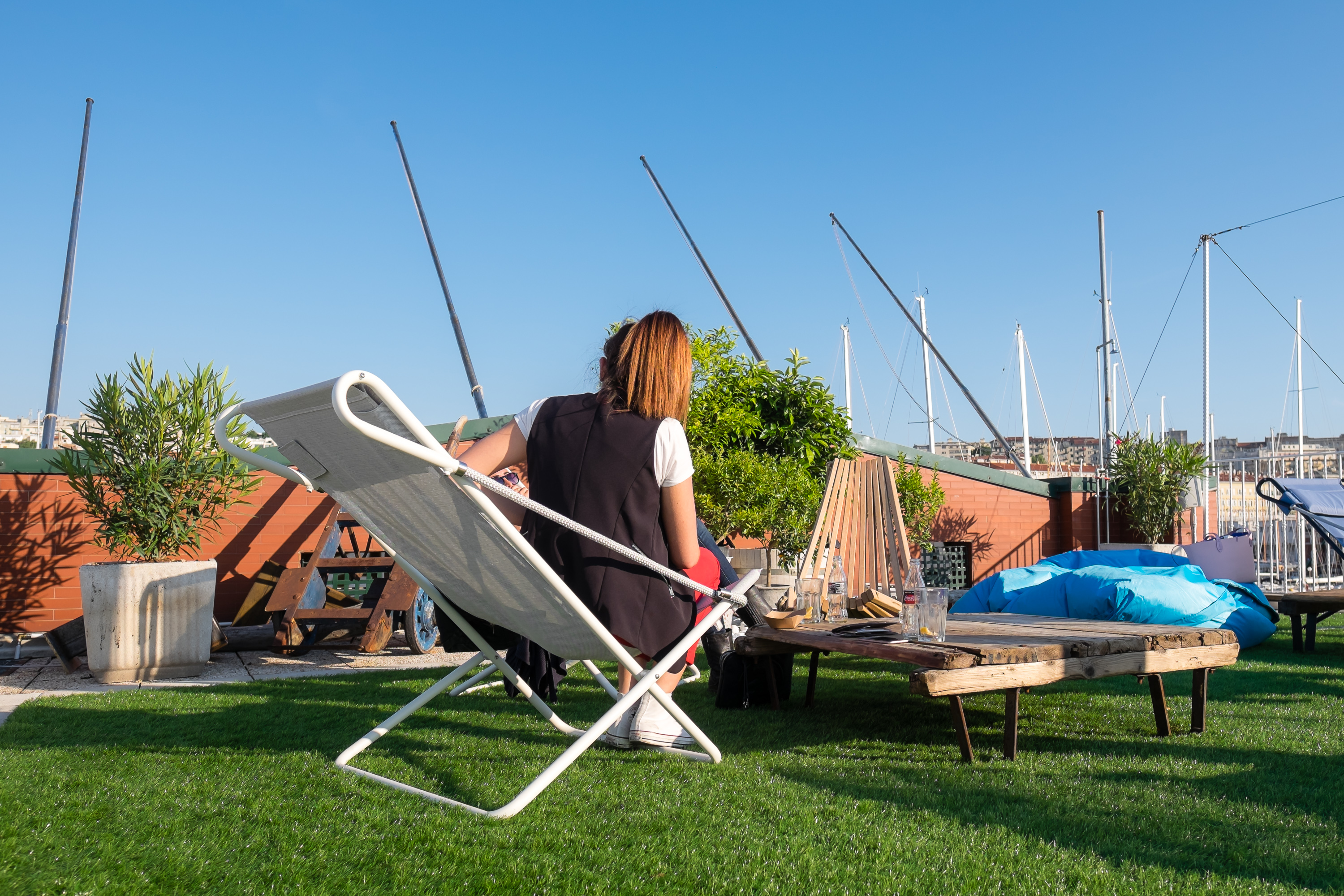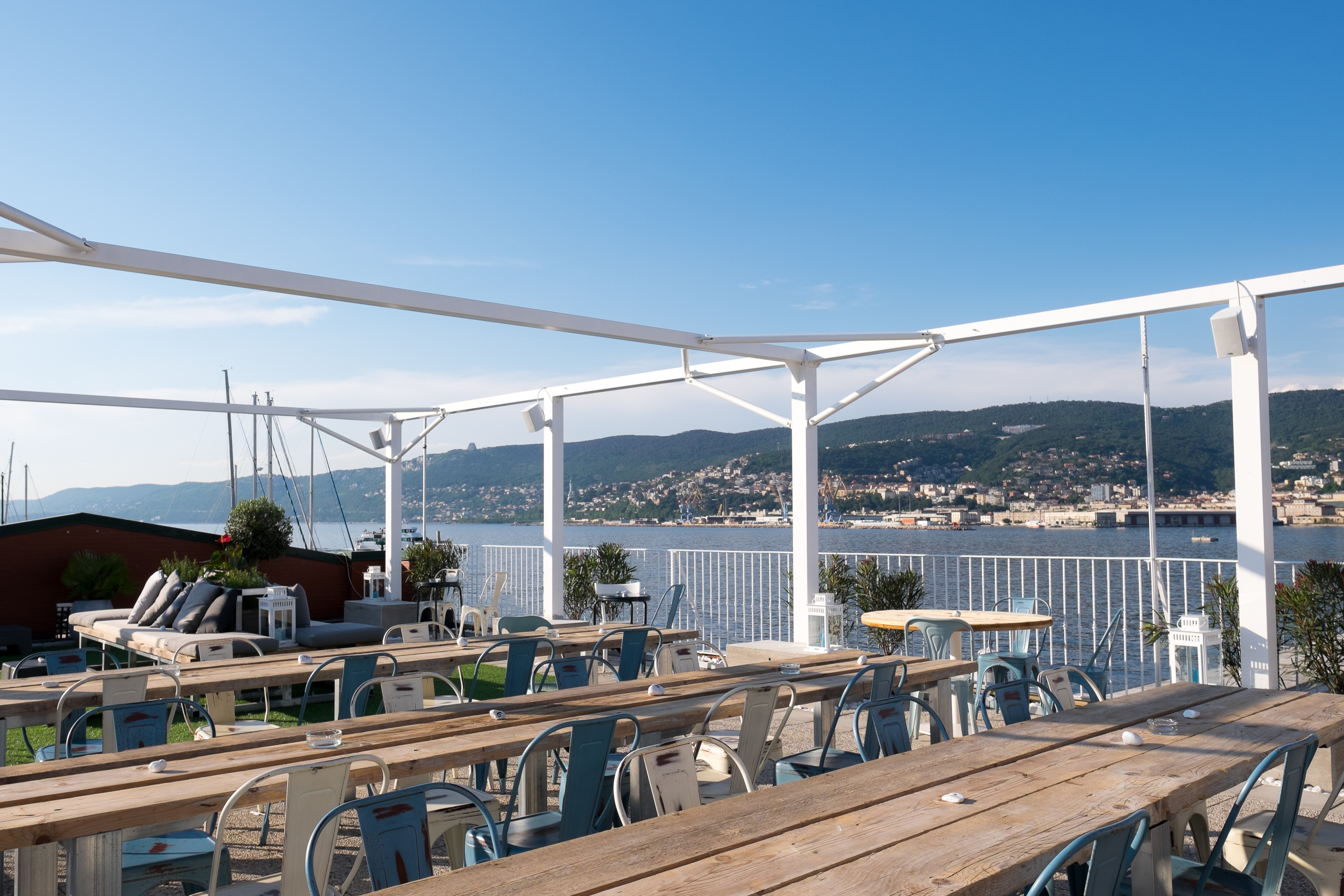 The cocktails are exceptional, I tried a Trader Vic's Mai Tai, but they have any kind imaginable!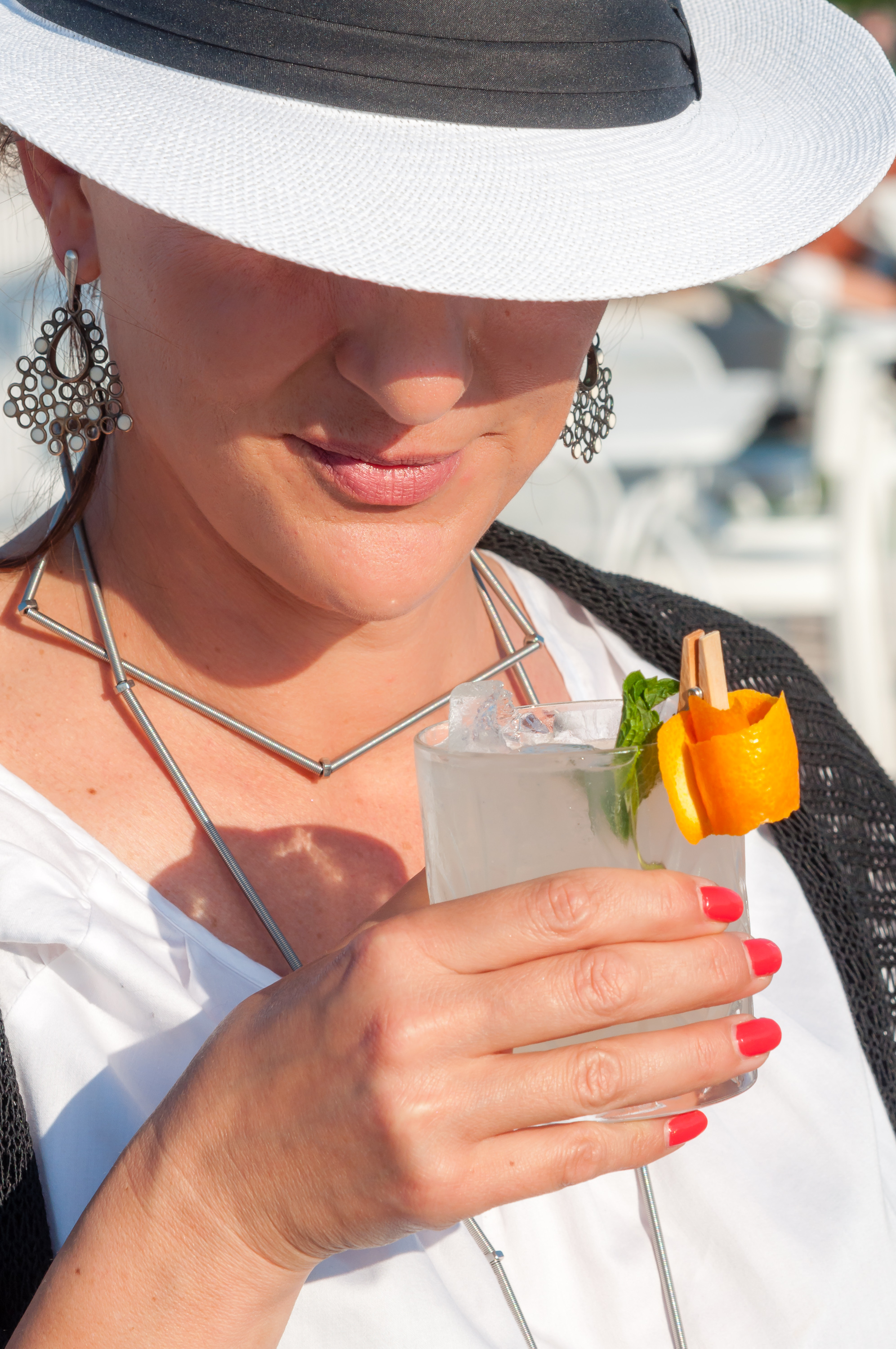 They have two bar counters and in-between a small area where they prepare for the aperitivo with street food: a mixed fry up with fish and vegetables (4 euros the small serving, 8 euros the large), or an octopus salad (5 or 10 euros).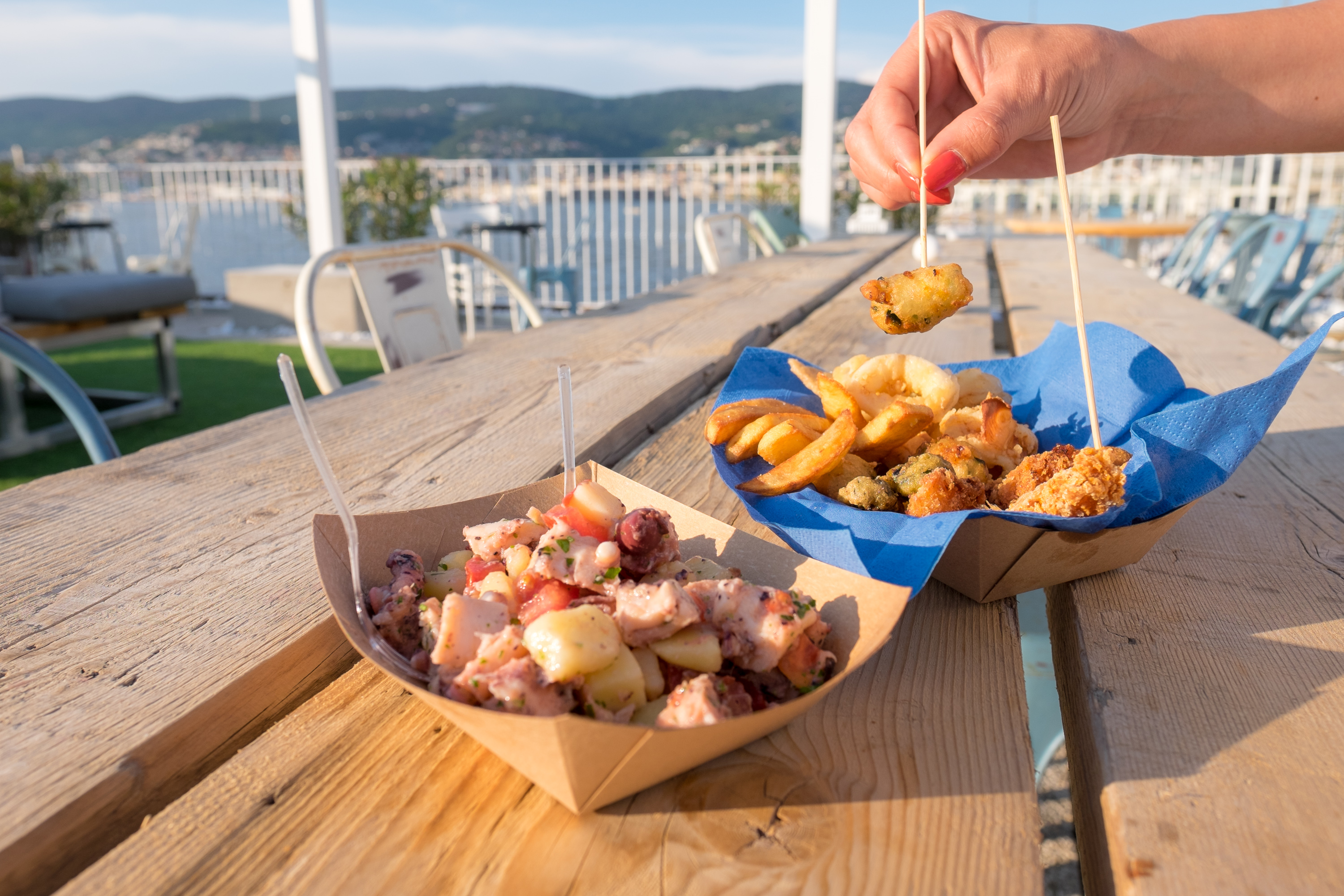 In the evening the terrace fills up, leaving space to anyone who wants to enjoy a nice warm summer evening.
There's just one thing left: come here to have a look for yourself!
Good luck for this new adventure, I'm sure everyone will love it!
INFO:
Tel. +39 040 322 9296
e-mail: pier@pierts.it
Ph. Andrea Zangrando