I don't know which of the things listed above you like to do, and I couldn't pick one to do again, having done them all, as each one made me feel different: joy, laughter, tears of emotion, peace and absolute relaxation.
It's maybe best to start at the beginning, so, shall we? It's early February, one of those -13-degree weeks. And here I am, returning to Carinthia! If you squeeze your brain, you'll remember that I'd been there in December as well, to immerse myself in the fairy wonderland of the Advent Trail in Katschberg.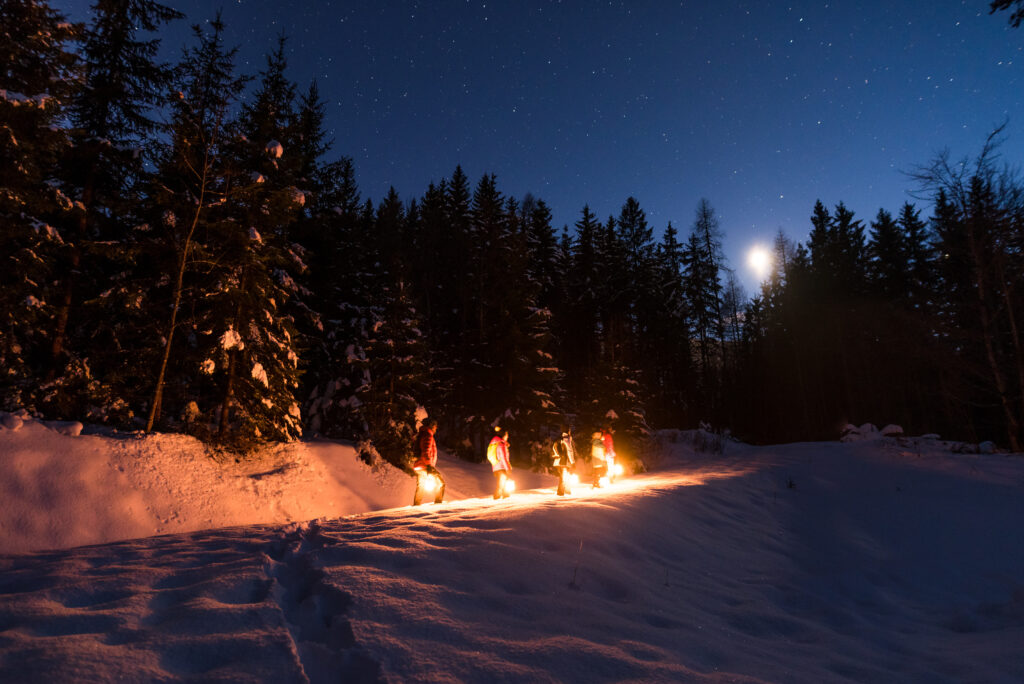 However, today I'm in Bad Kleinkirchheim, which I know very well and have visited several times over the years to tell you about something special each time, from their thermal Spas to the events related to wine and food to my goodbye to 2015. In short, I have largely filled your head with information about this place, and the greatest thing is that in BKK (pardon me for the acronym) the possibilities are almost endless.
This time it was my turn to go night sledding: it was something I'd never tried before. I was loaded onto a taxi-tractor – a real tractor that pulls a little car along snowy roads in the forest for four and a half kilometers to the starting point. Then, they turn the "magic" switch on. You go down the road again in a wooden toboggan that is lit with colored LEDs. The light reflects off the white snow and the wow effect is assured.
Departures are on Mondays at 7 p.m. and on Fridays at 4:15 p.m. The meeting point is in front of the Kärntnerhof hotel, where you'll board the taxi-tractor. The price? It costs 17 euros for adults and 10 for children (which become respectively 15 and 8 euros, using the Bad Kleinkirchheim Sonnenschein Card).
Caution: the descent, is a hoot! I laughed uproariously from start to finish, and I don't remember having such a good time lately! It was such an endorphin rush. For more information and to know how to book your ride click here with your little finger.
Alas, after all the sledding, here it comes: starvation. So, I decided to stop at Adriana's (a must-break when I'm in BKK) because it has the best barbecued meat ever! My favorite? The chateaubriand! Of course, it's not the only thing on the menu, which offers many other tasty options…Adriana's has never disappointed me, and I keep recommending it left and right.
My day ends with very early worn pajamas and then I'm off to sleep. In fact, the alarm clock is set for 5:30 a.m. (is that legal? I don't think so!) to do a little something. You're curious, aren't you? Just to clarify, it's nothing special…I just have to ski with Franz Klammer! Yes, that's right, the skiing legend himself, the one who still holds the record for the greatest number of free skiing victories in the world, as many as 25! Just think that the second on the list has won 17, and our beloved Kristian Ghedina "only" 12!
In Bad you'll have the chance to live this unforgettable and unique experience! You will be skiing at dawn, the lifts will be opening only for the participants to ski on perfectly-groomed, reserved slopes. The meeting time is 6:30 a.m. at the valley station of the Kaiserburg cable car, where you'll gather for coffee and croissants waiting for all your fellow adventurers.
You climb to the top as dawn is breaking and the mountain peaks are tinged with pink, as the chimneys of the village houses begin to puff. When you get to the top, all you can do is take a deep breath of the crisp, pure air at the top of your lungs and enjoy the heart-stopping view. Heart-stopping in a good way, of course!
The group, along with Franz and the ski instructors, will begin to warm up for a few of minutes, preparing for a couple of hours of skiing, at a speed that will never drop below 60 kilometers per hour. Needless to say, this descent is for experienced skiers only….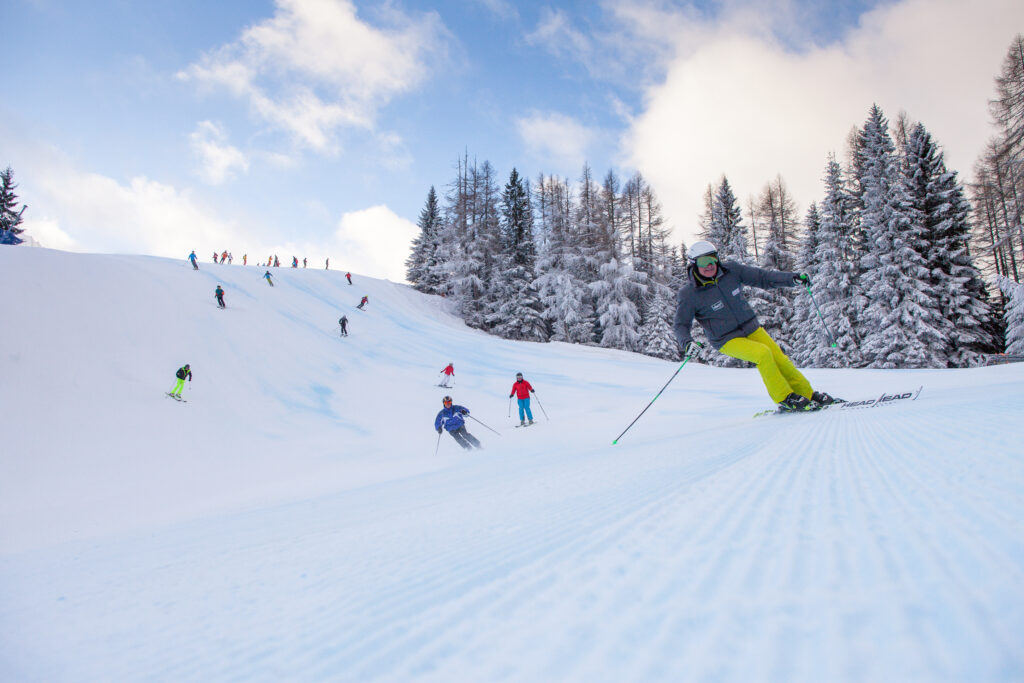 While descending, the sound of skiing on the groomed, icy slope can be heard vividly even from under the helmet; the feet push to create grip and the excitement rises more and more with every meter. Stopping after two hours is almost a must, not only to cool down but also because hunger starts to set in. This means it's time to indulge in an exclusive brunch with the specialties of Alpa Adria's cuisine in the Klammerstubn, which is part of the Kaiserburg restaurant.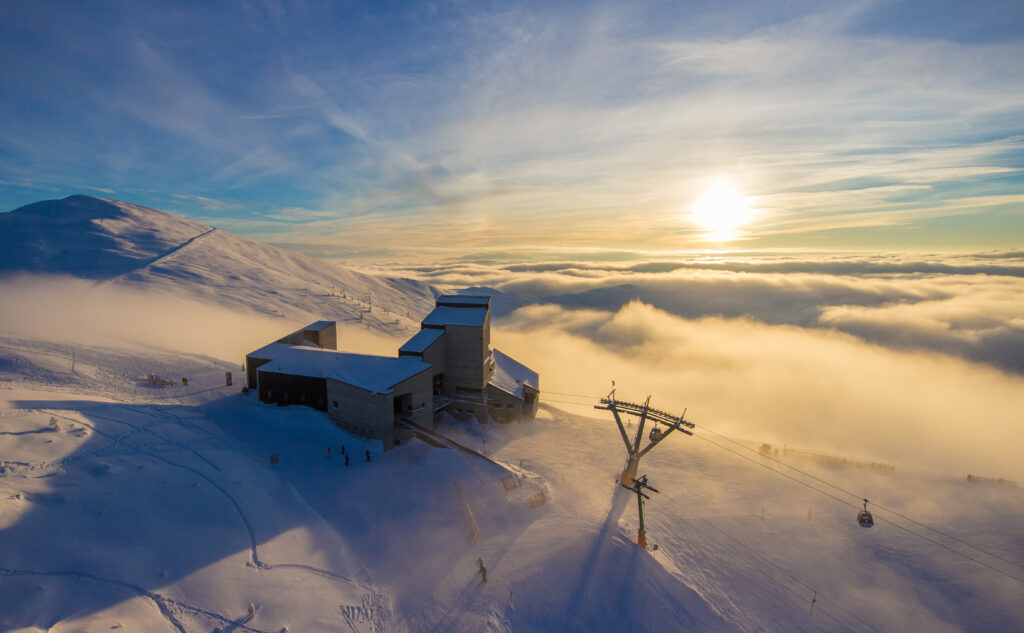 Let's be clear, this isn't an experience specifically made for me! Everyone can embark on this little, yet great adventure. There are still some dates available on the calendar for Feb. 14 and 21, so, hurry! How much does it cost? 170 euros per person including breakfast, brunch, and ski pass for 2 hours (yes, Franz is included)!
However, you better be careful because the number of participants is limited! If you'd like to have more information, you need to contact the BKK tourism office. Here's everything you need to know.
At the end of this beautiful experience I needed to loosen up a bit, so, after leaving my skis in the car, I headed to the foothills of the Kaiserburg, where I found the Römerbad Thermal spa. I'd already told you about it a few years ago, remember? Needless to say, they are among my favorites thermal Spas, both for the family areas and for the one dedicated to saunas, steam baths, etc.
Here's my almanac with all the thermal Spas you will find in BKK.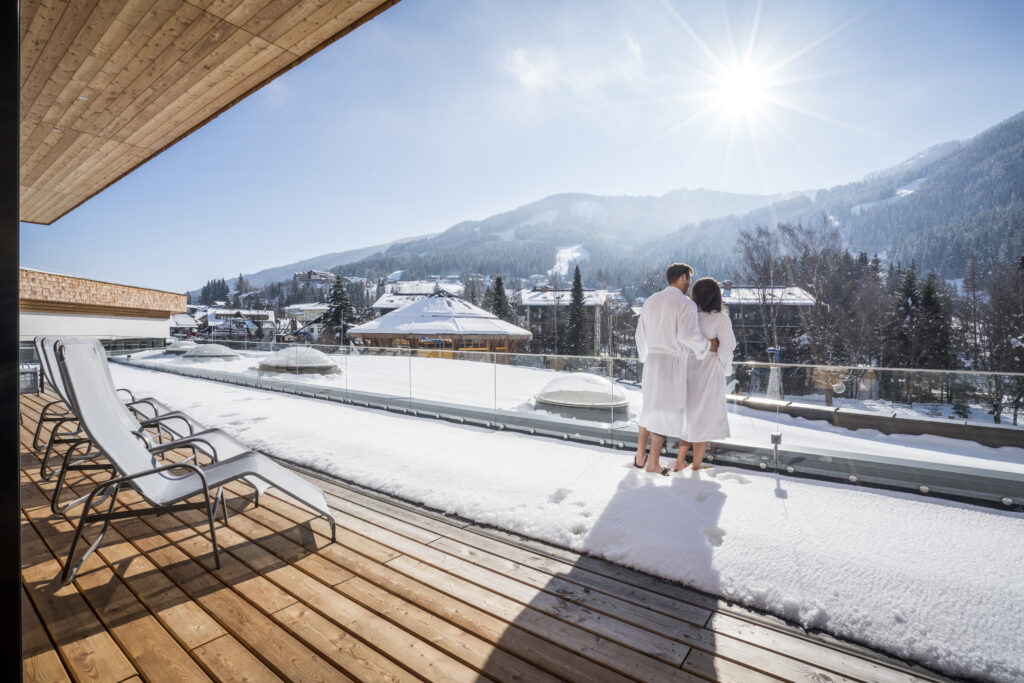 Yet, this isn't Bad's only offer! You can hike, snowshoe around wild nature, and much more…
I followed the advice given to me by the Info point located in the town center, opposite the St. Kathrein Thermal Spa (check it out here), and opted for a snowshoe hike in the Biosphere Park in St. Oswald (totally free for everyone with the Sonnenschein Card!).
Do you know how convenient it is to hike with a nature guide (called a ranger in Austria), without having to worry about studying the route or bringing equipment? They take care of everything, from snowshoes to avalanche beacons. In short, you'll be going on a walk through snowy forests in total safety, completely surrounded by nature. On the way, you will also be given a small crash course on how to approach the mountains safely and on how to handle emergencies.
I think that's more than enough, don't you?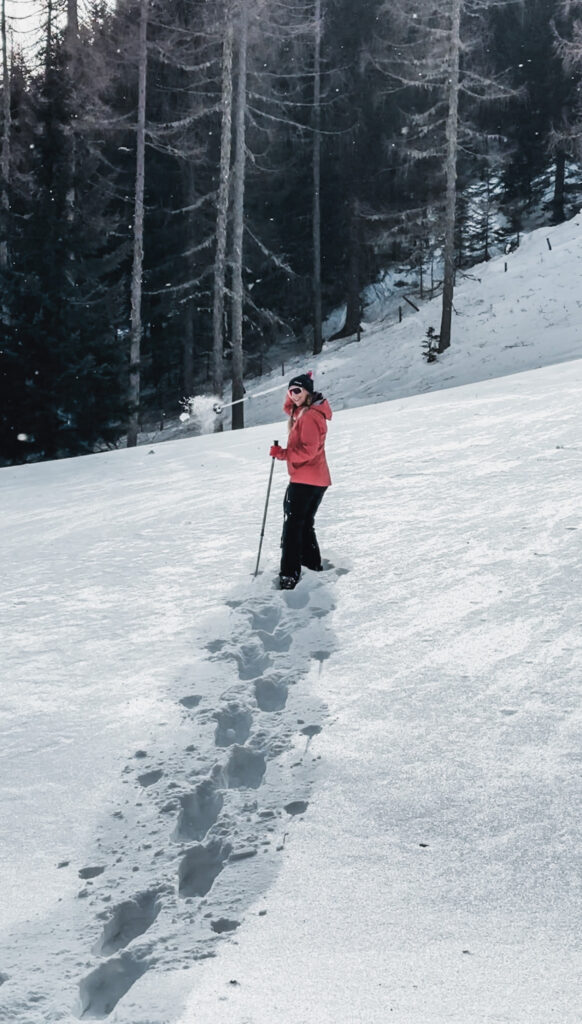 The end of the story approaches once again. Yet, I don't intend to write a full stop before dedicating a little paragraph to the place I stayed at, because it literally left me speechless. Last but not least, here is Biochalet Märkl, a little gem composed by six apartments and one double room where the wooden theme really catches your eye. This style, combined with Mrs. Märkl's exquisite hospitality, is what I'm sure will make you feel intimate and private during your stay, just like at home (which, to me, is the best of all compliments!).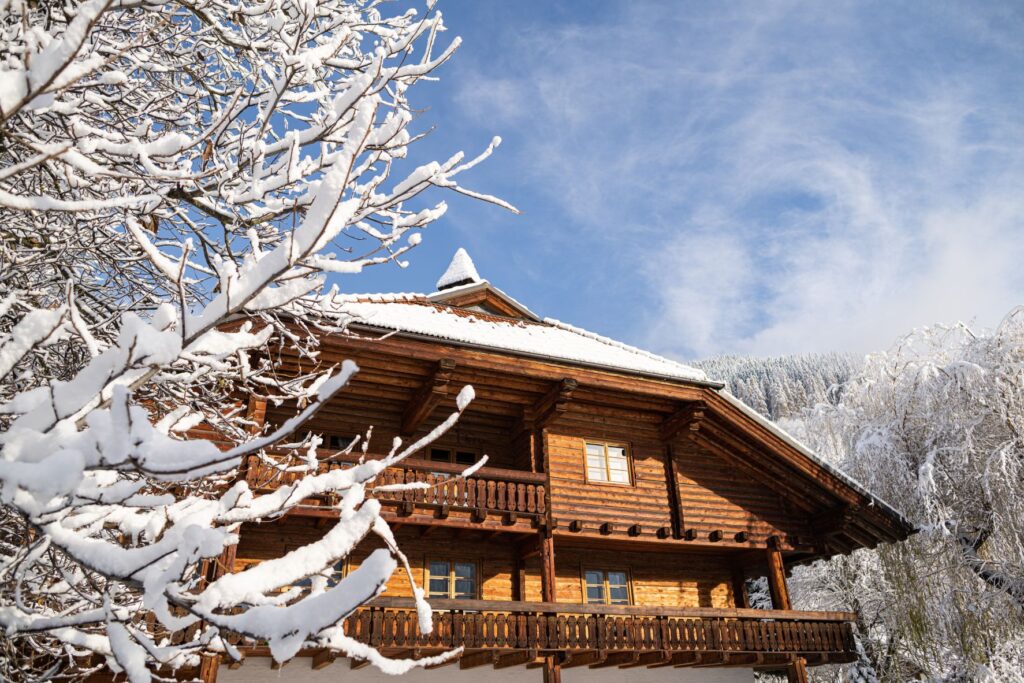 Huge, tiled stoves warm the room, and you can enjoy a wonderful view on the ski slopes from the windows and veranda. Breakfast is an explosion of local flavors; your eye will only catch good and beautiful foods wherever it lands! Although you may think it's unaffordable in terms of prices, well, you are very wrong…take a look for yourself on the website (here).
Well, it is with this wonderful image that your beloved Chiara tells you goodbye, and thanks you for making it to the end. I truly hope I've piqued your curiosity.
'Til next time!