We're just 20 minutes from Trieste and I suggest you reach this restaurant from the Monrupino border; from here we can start our trip to discover Slovenia's flavors. Once you cross into Slovenia you'll be surrounded by green countryside and along the road you'll cross many little towns like Duttogliano.
There're loads of respect for the land, the fields are carefully farmed and cared for and each little brick house has its portion of land which is nice and neat; flowers, green lawns and fruit trees. Everything is cared for with love and passion.
The twenty-minute drive to our destination passes quickly… just admire the scenery J pull down your car window and admire the landscape without filters, stimulate all five senses.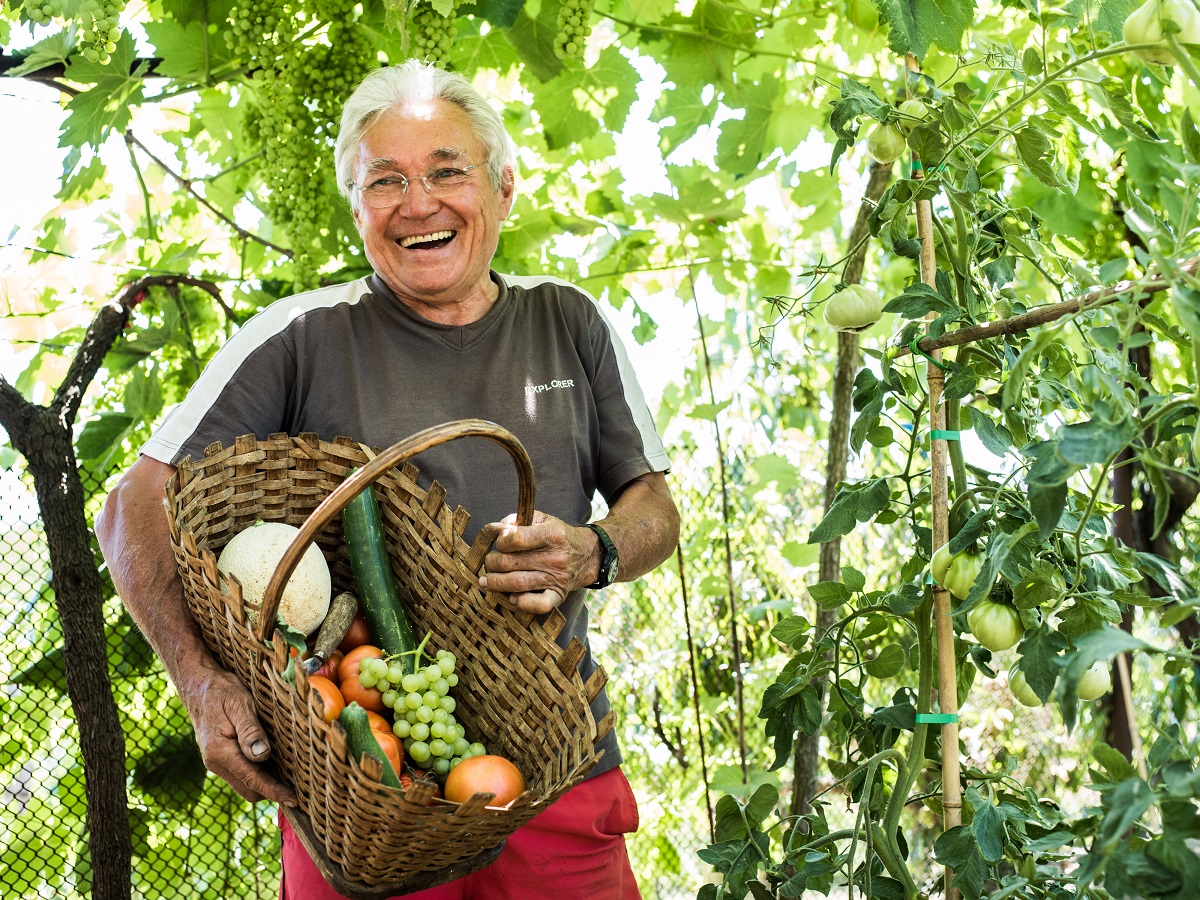 We reach Komen quite soon (Comeno in Italian), a small town of the Karst Region – which has just over 3 thousand residents; this town also has the largest Austro-Hungarian military cemetery of the Gorizia- Isonzo area, with over ten-thousand graves.
Excuse my brief history note but it's really interesting. As I was saying, once we've arrived I head straight to meet the Špacapan family. They've been here for over 40 years and continue with their original plan: serving traditional food of the Karst area, known by many as the classic Slovenian Gostilna.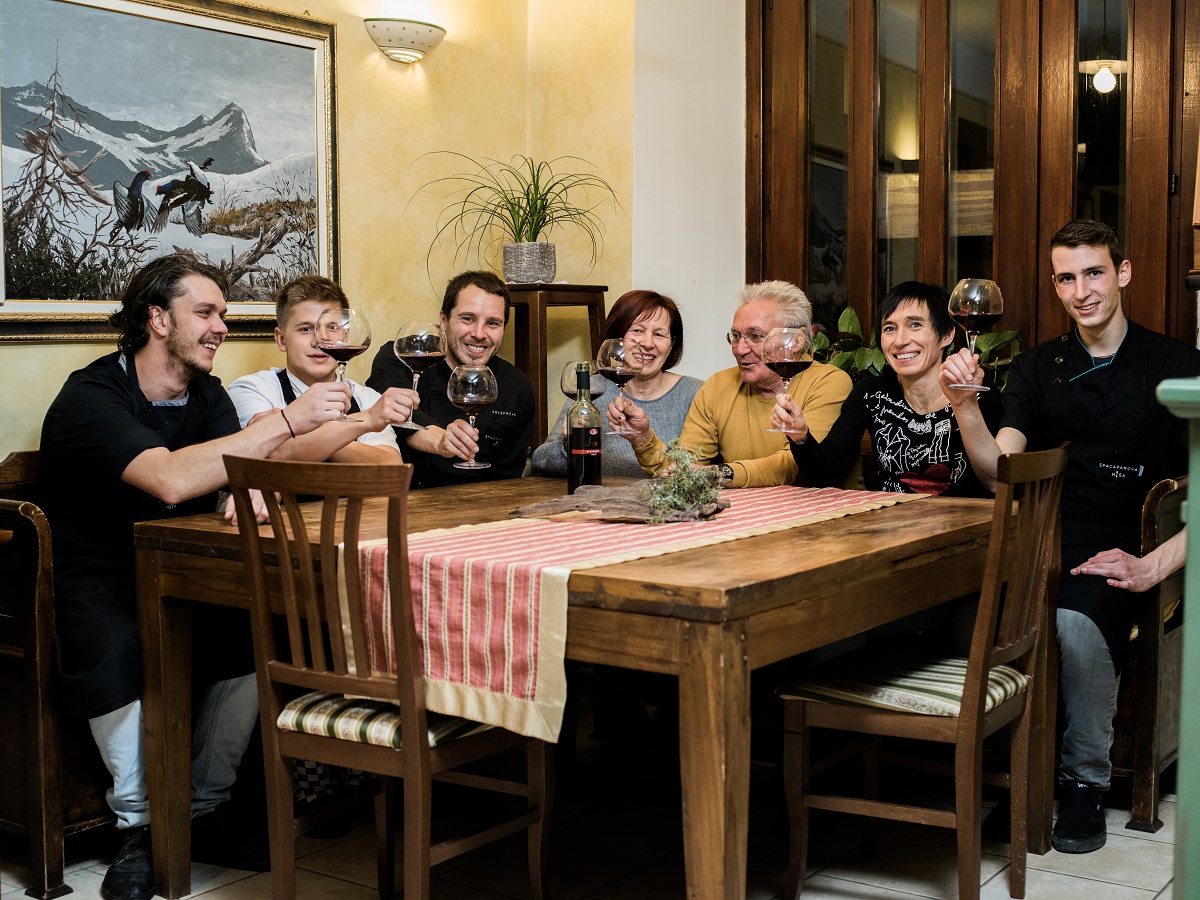 But there's more. Over the last four years, with the chef Ago, son of the owners, the kitchen experienced a modern change. This is how, still keeping close to their traditions, local ingredients and style, Špacapanova hiša earned 3 hats of the prestigious Gault&Millau guide. But that's not all. It was also selected as one of the ten best restaurants of the Mediterranean – Karst Region, nominated by the commission "The Slovenia Restaurant Awards". I'm not really here to list all their awards, I know; but if I'm writing about them because I also chose it… almost as important as any guide, right? J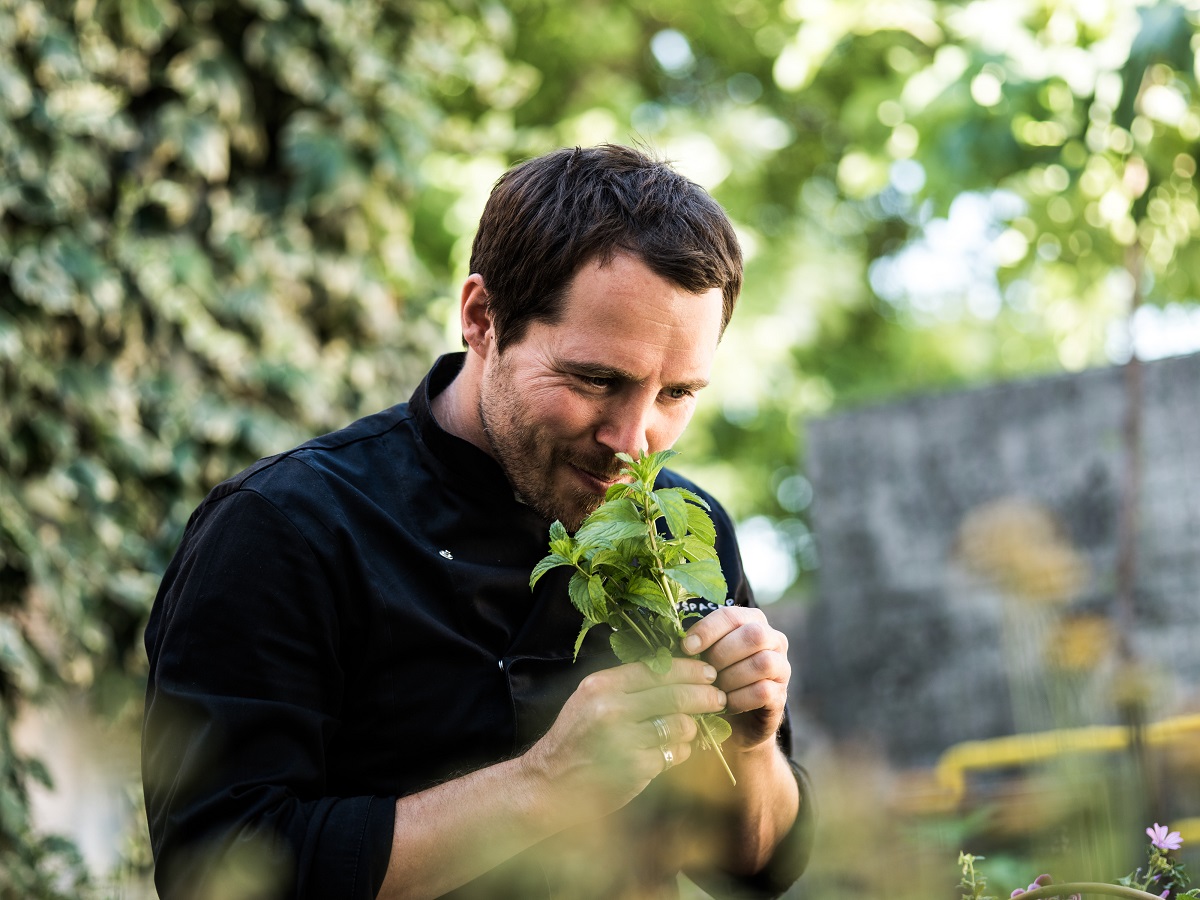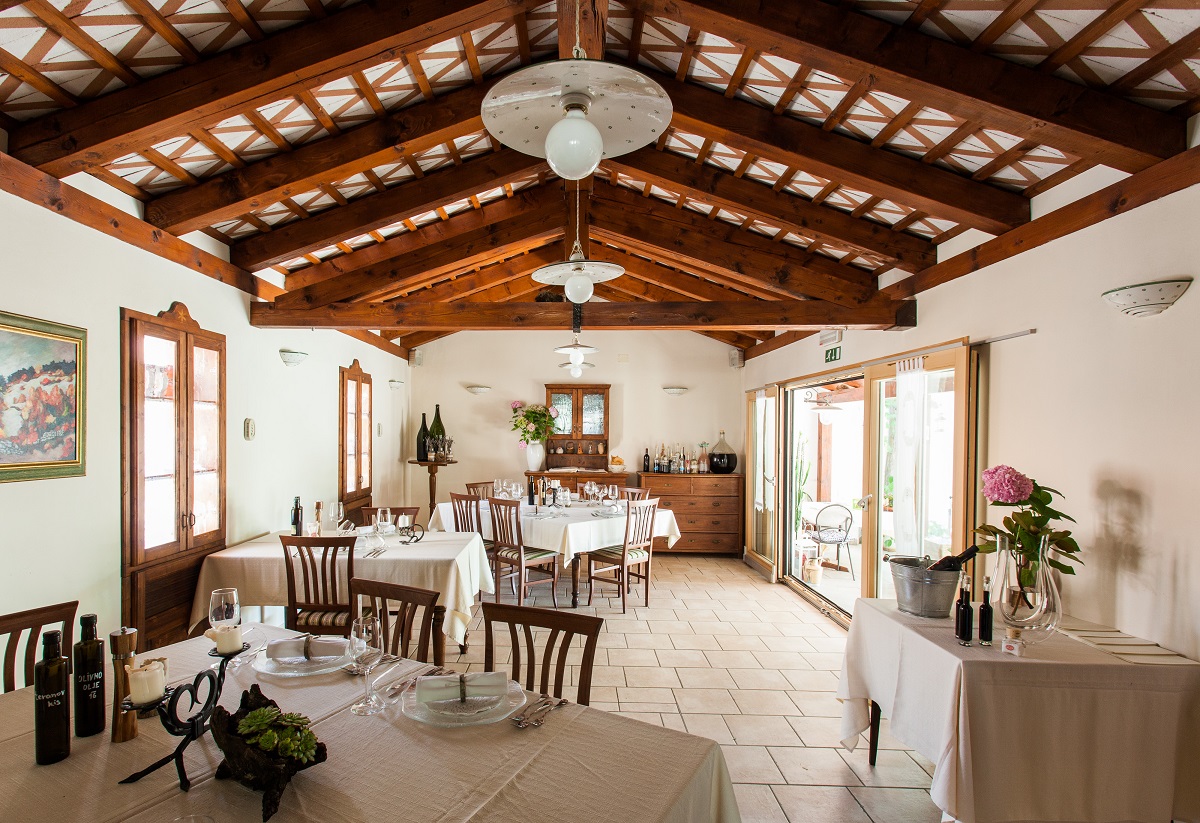 I've known this restaurant for some time, I had tried its food during the catering for a wedding (yes, they also offer this service, both in Slovenia and abroad) …  remember the Villa Mirasasso event?
On that occasion I was astonished by Ago's talent, by the presentation of his dishes and I thought: "If he's this good during a catering, he'll be amazing at his own restaurant! It must be exceptional!"
It took me almost a year to find the time to visit Komen and taste the cuisine of the local restaurant, but here I am at last, sitting on their terrace with a fork in my hand, ready to start my meal.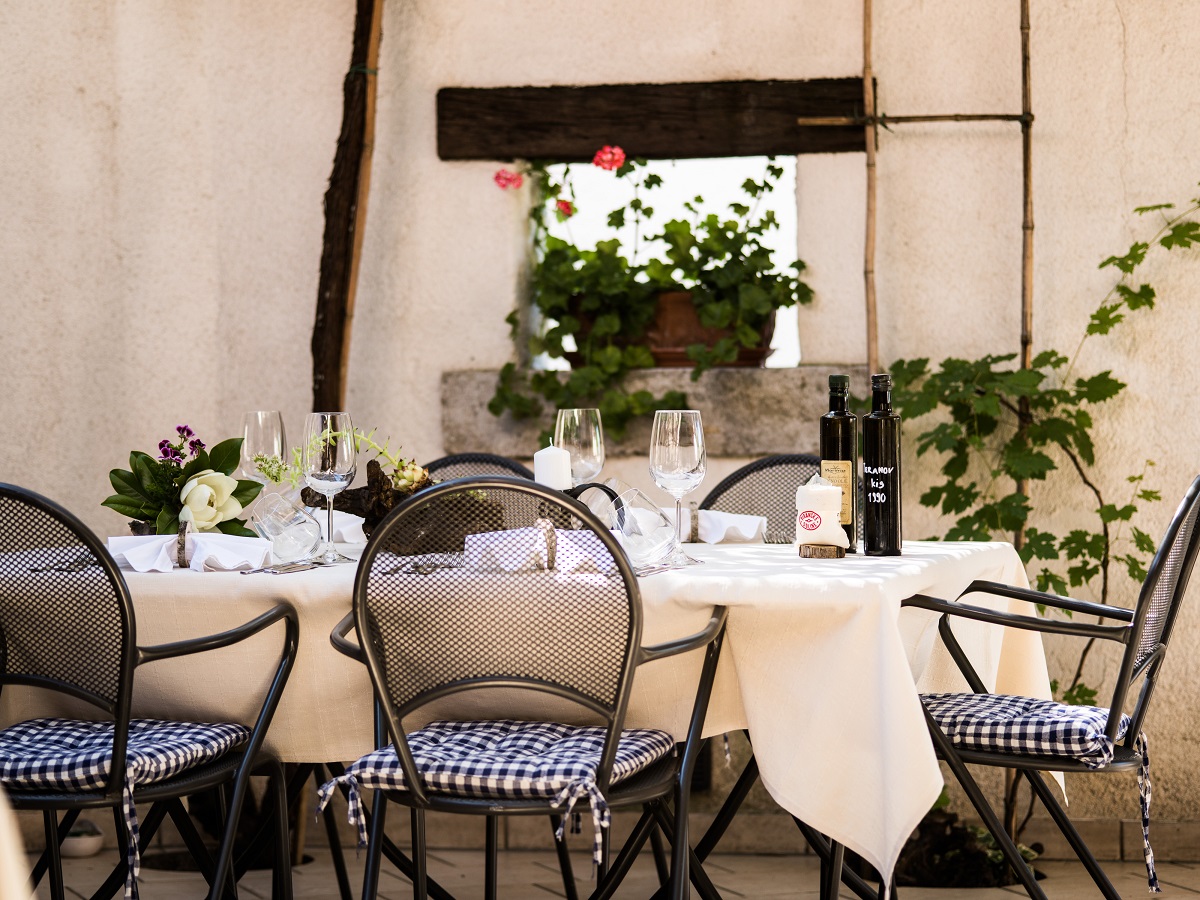 The restaurant is cozy, the weather is lovely and the meal starts with a rakija, as it would in Serbia, a spirit similar to brandy and vodka. They have two kinds, a sweet linden flavored one and another with herbs… Ago says he intends to send me home in a good mood. Well, let's start with a drink!
The kitchen door is now open and my meal starts with little samples that are elegantly presented; capon and porcini mushroom macarons, home-made breadsticks with bacon, grilled on the spot, a fried ravioli filled with bacon and served on a bed of hay and fried bread with asparagus cream, smoked  duck and hops.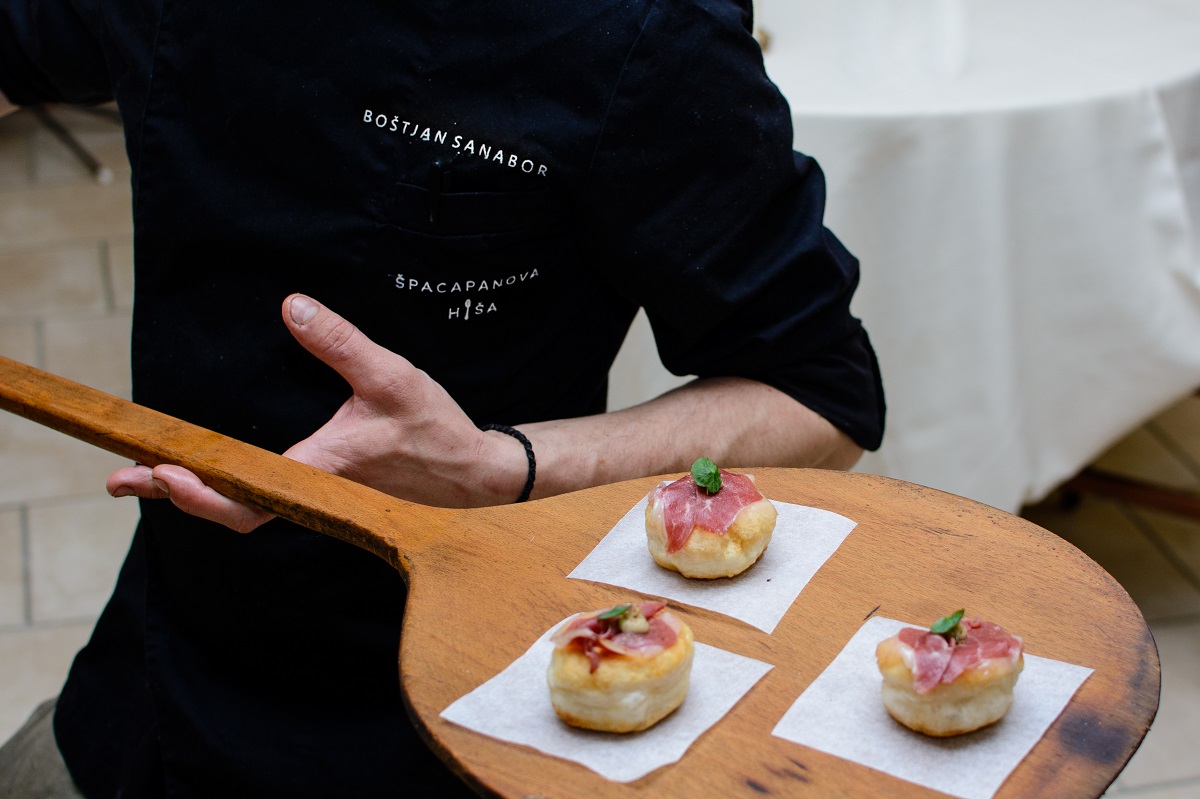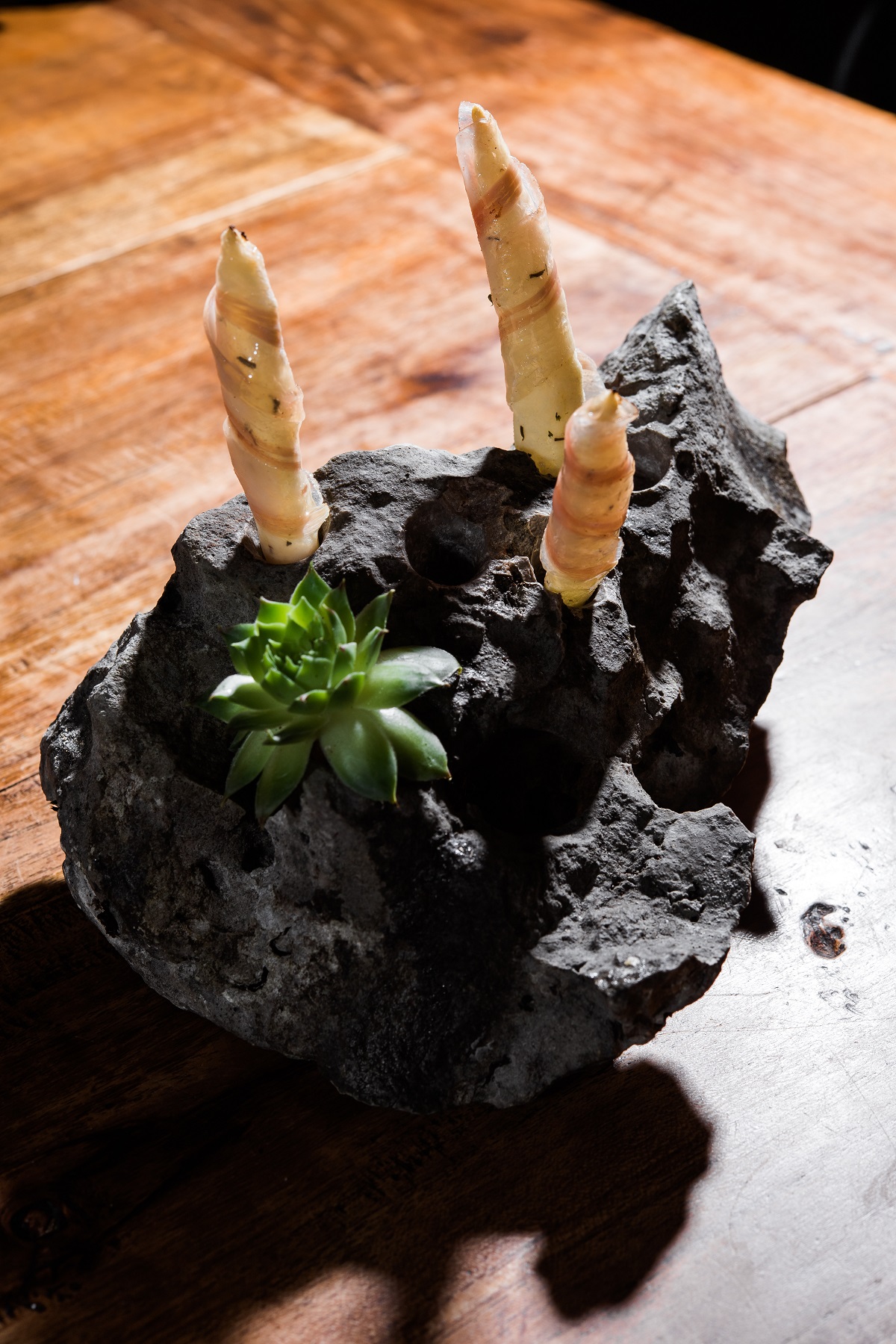 Everything is served with a Vinorodni Okoliš Kras, a sparkling wine from Štanjel, which is quite strong, with 13 alcohol degrees.
Next, I'm served a glass of young Terrano 2018 which they produce themselves!  Špacapanova isn't only a restaurant, but they also produce wine, cheese, meat, ham and vinegar. Wonderful!
With the wine I'm served a beef carpaccio from the Karst which has been marinated for two months and served with garlic mayonnaise, Zidarich cheese, Ribolla vinegar caviar (obviously home-made) and wild vegetables. A wonderful dish which is served with home-made bread and butter. And then? A soup made with orsino garlic and wild vegetable and potato chips. I'd call it poetry"
White wine takes over for the next dish, and what else could I expect, if not the queen of the Karst? My beloved Votovska! I tried one from the Pietra canteen (2017), a perfect match for the ravioli with Zidarich's ricotta cheese and with pea foam and fresh asparagus.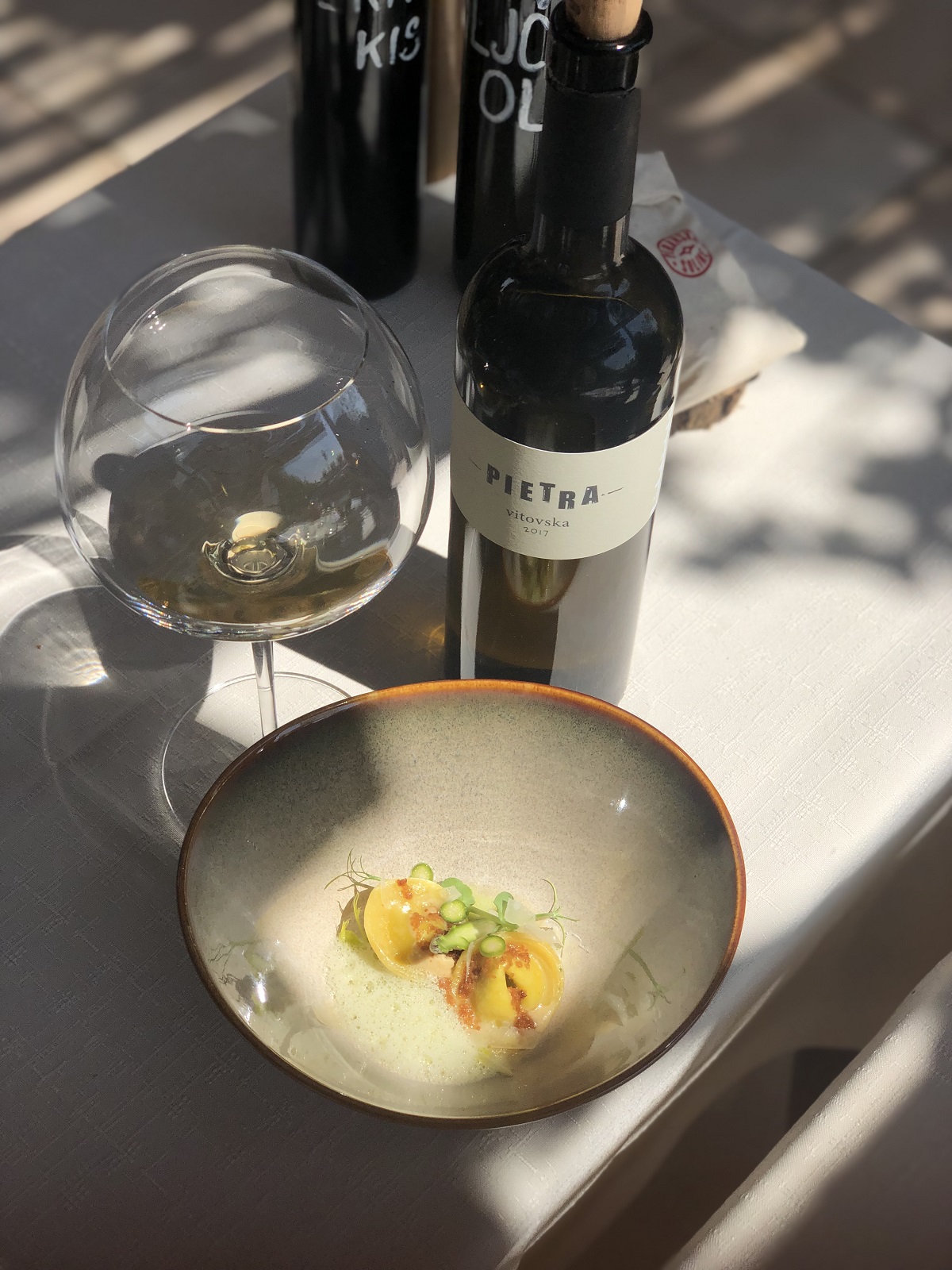 I then try a 2016 Ribolla of their own production, marinated for 5 days. What was it served with? trout cooked with spinach and served with spinach chips, asparagus and trout eggs.
I definitely deserved a sorbetto after all this, right? Ice-cream made with Zidarich yogurt and with Mate oil.
Something fresh to prepare me for the grand finale, the lamb with potato and season vegetable tart; an incredible dish, served with a glass of Renčel Vitovska 2015.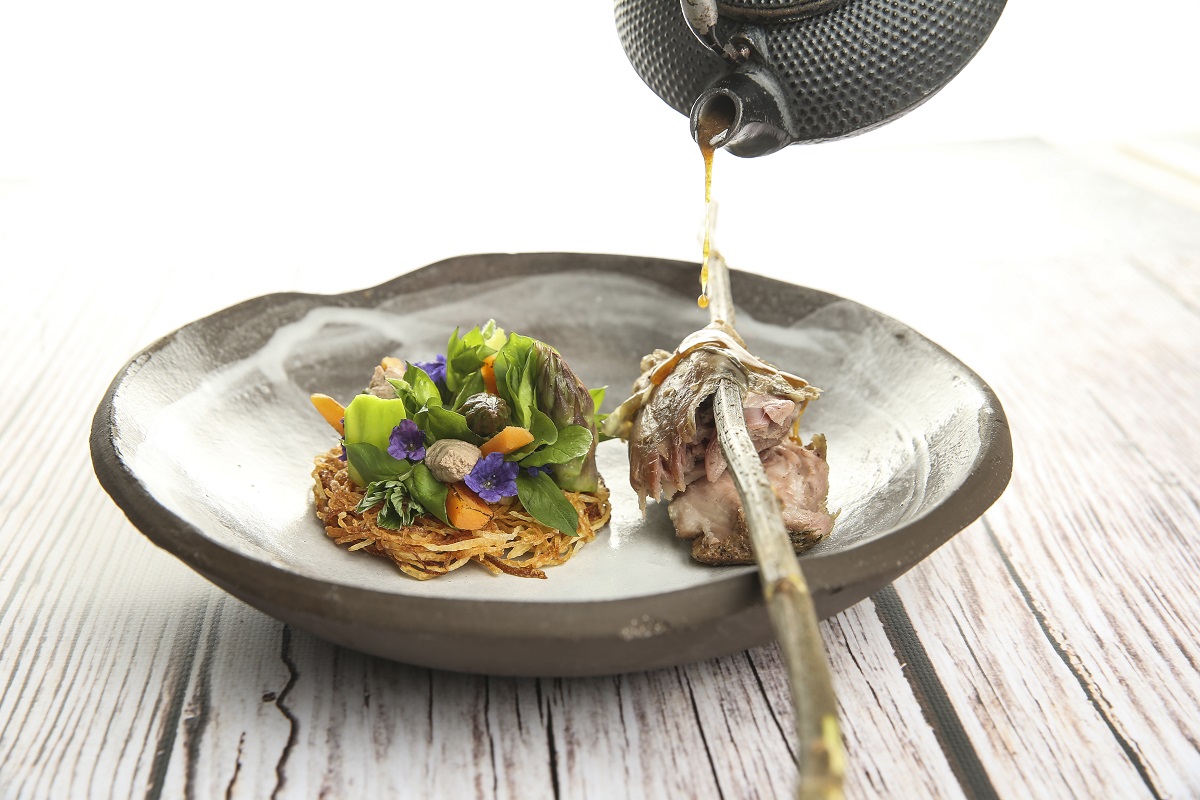 But I can't end the evening without trying the desserts… I was almost forgetting them! I tried a sour cream and raspberries foam, a three veils (I seem to be missing 997) and an apple strudel with marinated apples and biscuit crumble!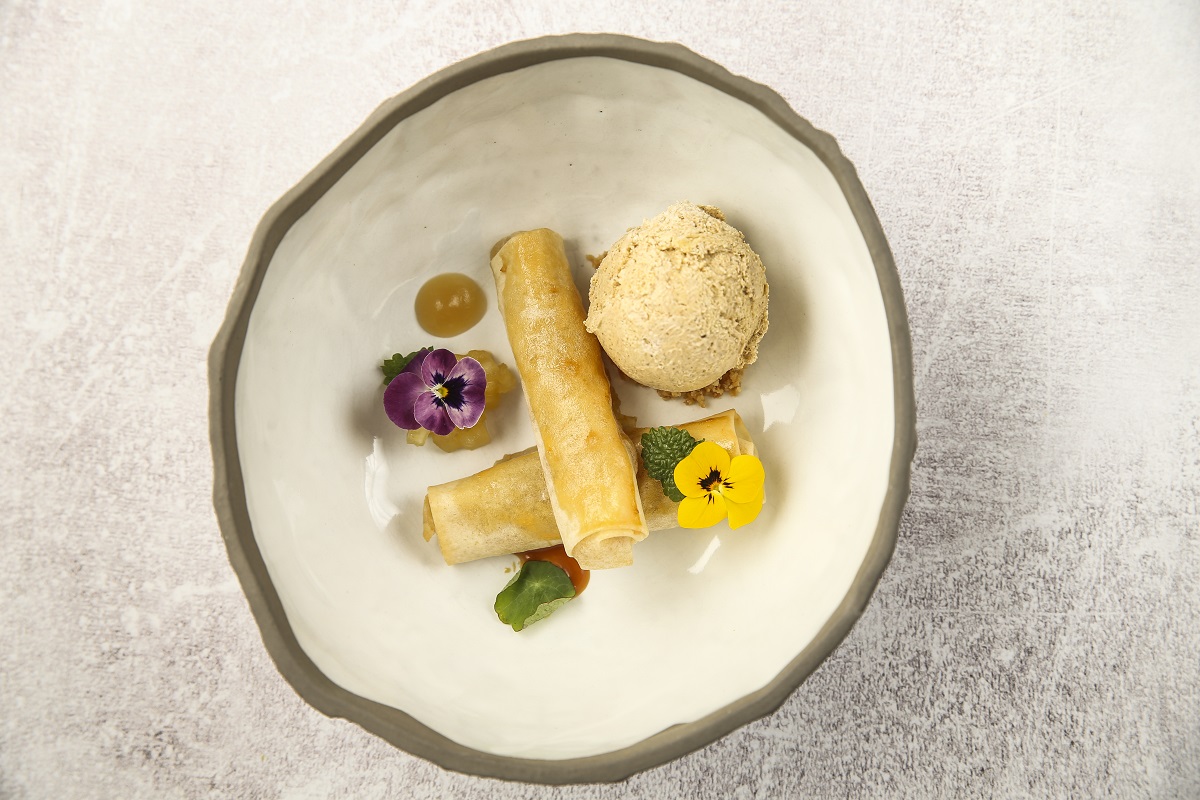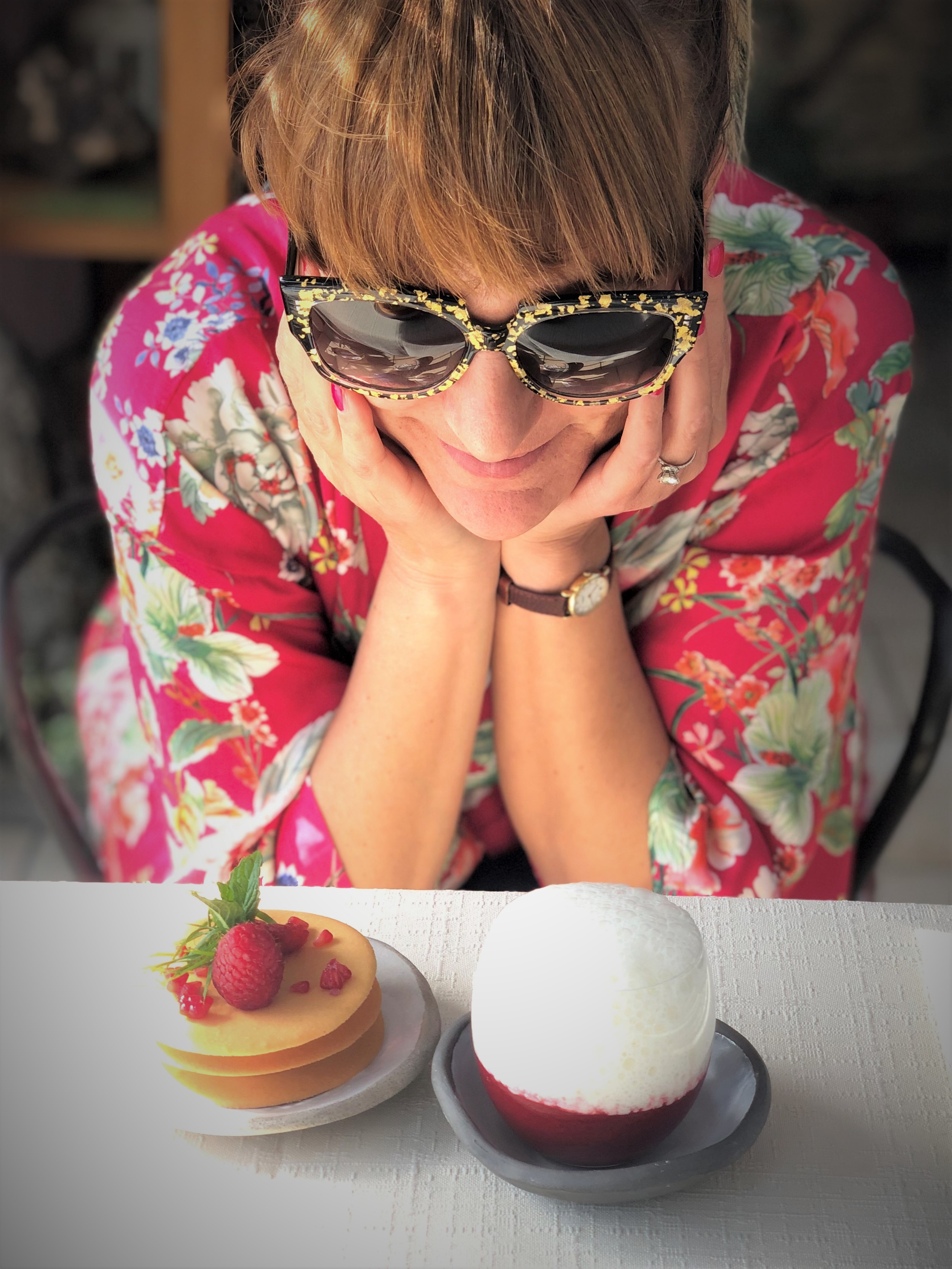 WHAT AN EXCEPTIONAL MEAL!
It all ended with some homemade grappa and a tour of their wine cellars: it has been a lovely day.
I can almost hear you asking me "sounds great, but how much is it?". The tasting menu with 5 dishes is 45 euros, while the menu with 8 dishes (the one I tried) is 64 euros. Without wine.
One last thing. If you don't feel like driving back home after a big meal it won't be a problem; Špacapanova has four bedrooms where you can spend the night. Just four for the moment, but … you'll see!
Nothing left to say except BUON APPETITO!
… and if you feel like it, share your experience with me on Social media J
See you soon
Chiara