Two and a half years have gone by since I first discovered this incredible restaurant; that time I'd just been there to nose around, using my phone to take pictures. A few days ago, I went back to the article I had written and thought I really should go back and give it a little more space. With some proper pictures that capture its glamour.
It's decided. I call the owner, Guido, whom I had talked to at the end of November, when I was a guest in his restaurant for my birthday. I had organized a cosy dinner by the fire place, just for my
This time I'll return with Andrea, my trusted photographer: he'll definitely be able to capture the essence of each dish prepared by the Chef Alessio Devidè, a shy and introvert professional who has been working with Guido for many years.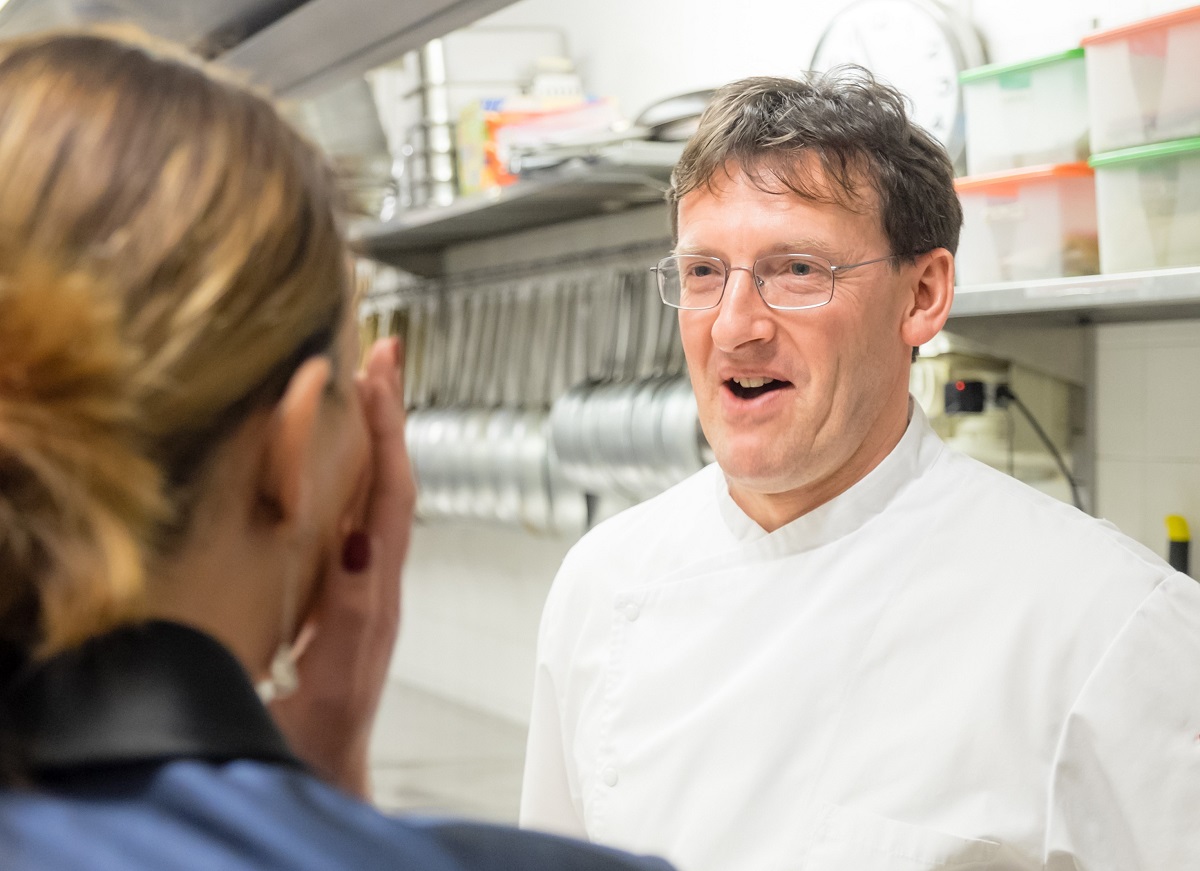 As soon as we arrive we head straight for their reign! Surrounded by aluminium and more we even manage to take a picture of Alessio J And this time I want to start my article with a quick look at the heart of the restaurant: its kitchen.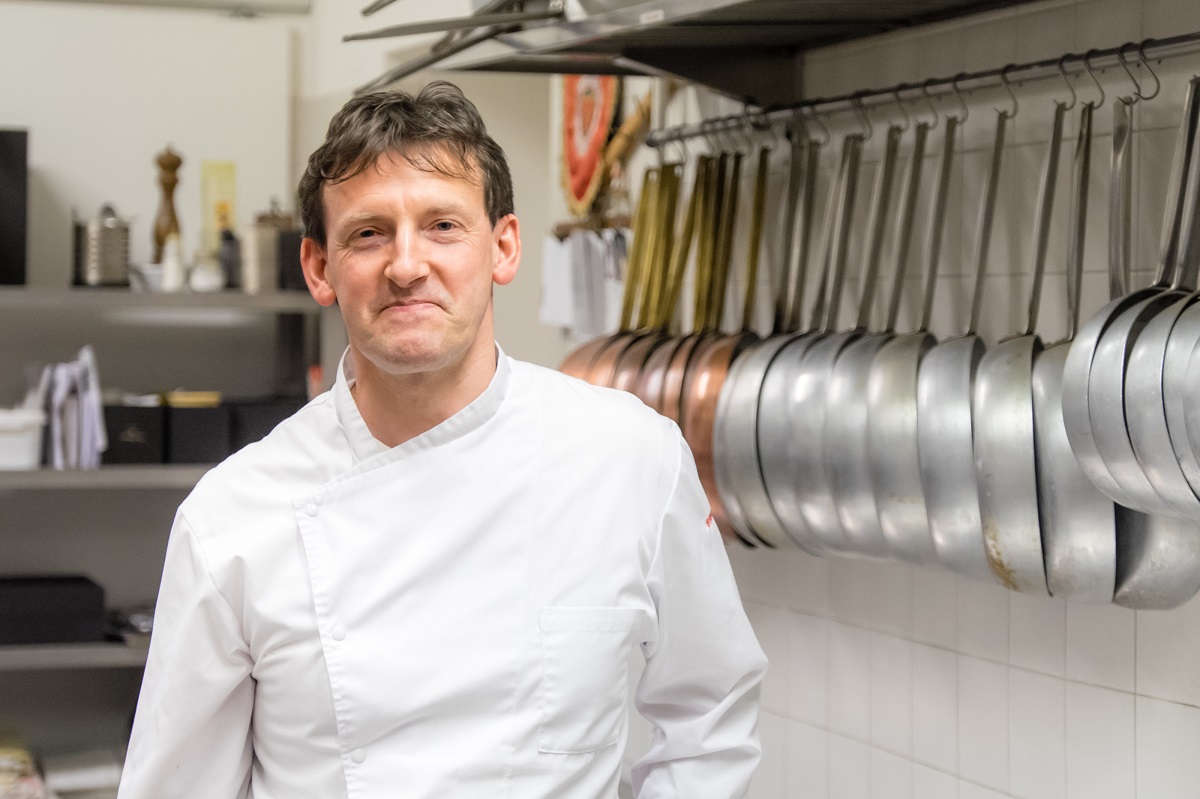 Here, surrounded by a spotless and neat environment, the best dishes are prepared. This is the first and only place I tasted the Ceviche, a typical recipe from Latin American countries made with raw fish and shellfish, marinated in lemon, and seasoned with spices like coriander and pepper.
The cod Ceviche and the gazpacho is still on the menu this time, along with three incredible new dishes; a MICRON, which is a sphere of cocoa butter – as thin as paper – with inside a liquid parmigiana. As soon as it makes contact with your mouth the taste of parmigiana takes over. Incredible.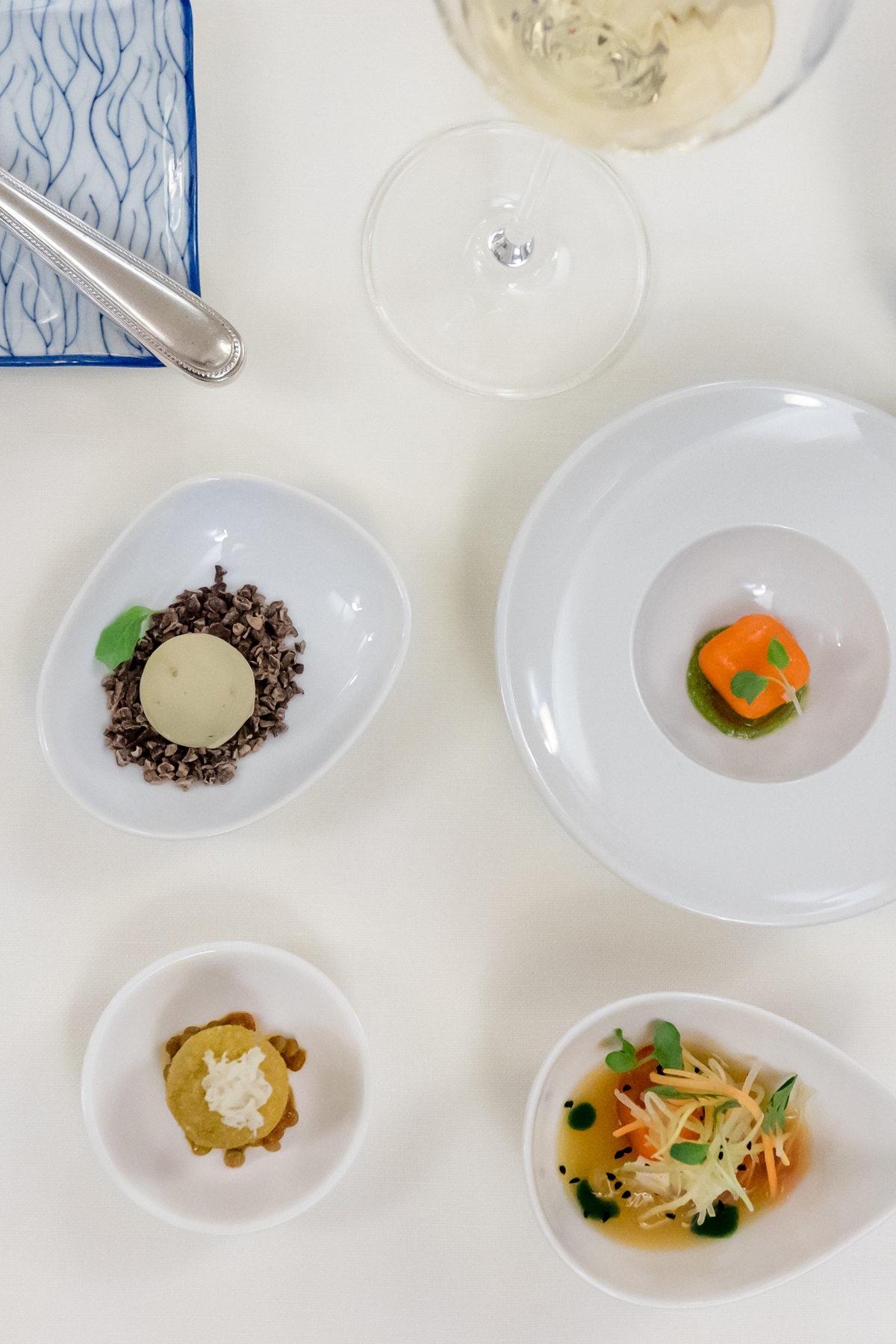 Another of these spheres is with the flavours of cotechino, lentils and horseradish. The third and last dish is a cream of parmesan cheese – aged 24 months – enclosed in a sort of yellow tomato gelèe, served over basil pesto.
I'm sure you're starting to realize that here, in Ruda, amongst the fields, you'll experience an incredible treat. The creative process is comparable to any other art discipline like painting, sculpture or photography.
Altran's cuisine is not strictly local; I'd describe it as innovative contamination, in which the main ingredient is always the search for THE BEST AND REFINED INGREDIENTS!
This time I also tasted the Percebes (Goose barnacles). And I'd like to see who of you knows what I'm talking about. You're not sure? Let me tell you … it's a type of crustacean, typical in this season. They're from the seas of Galicia.
The Percebes are very low in cholesterol; they're also low in calories, but still have excellent calcium, iron and iodine levels. The flavour of this crustaceous reminds me of the sea; a very generic description I know, but it's the first thing you think of when you taste them.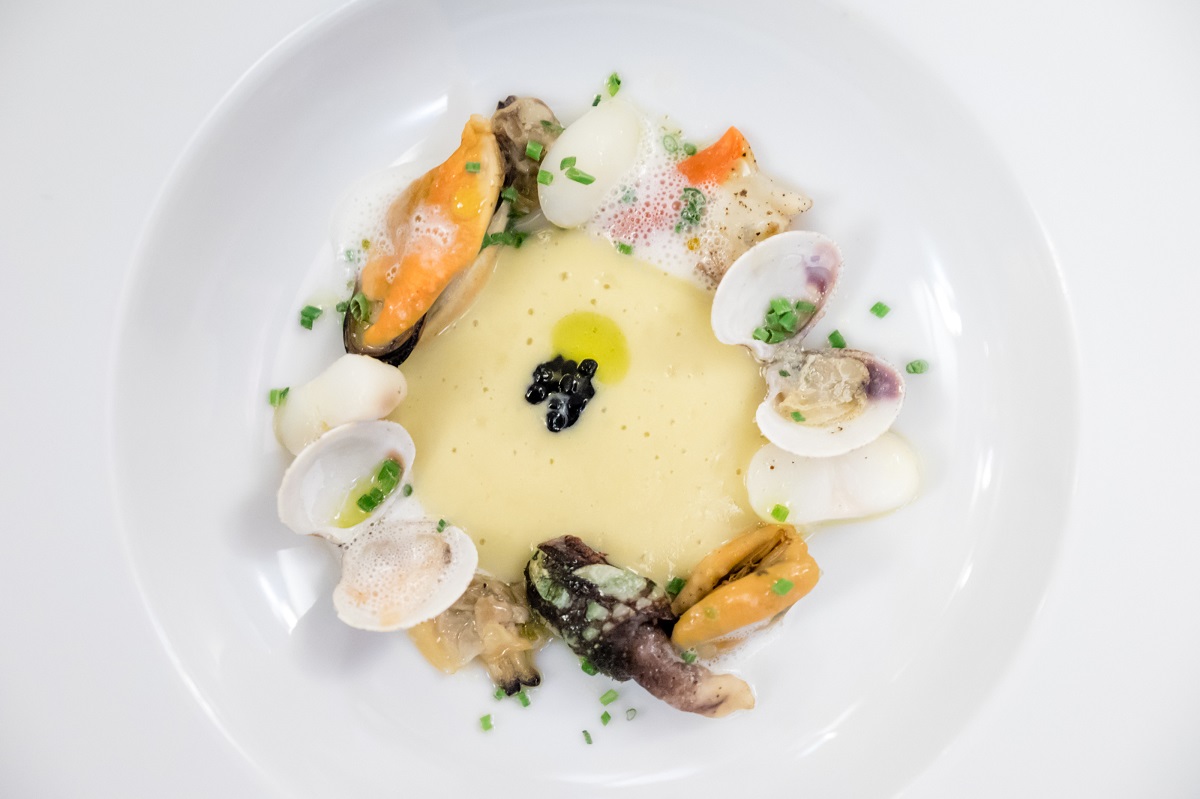 If you like oysters you'll definitely appreciate Percebes too. To collect them, men have to be lowered downs the rocky edges with ropes, an extremely dangerous activity. This is why this delicacy is hard to come by and quite expensive. The ones from Galicia are the best so they can even be about 100 euros a kilo!
I'm sorry I've gone off track a little, but it's not a very well know crustacius and it's fun to get to know new types of food when you happen to encounter them. A little like Guido, who is always trying to add interesting elements to his dishes. Delicacies like a cream of leeks and potatoes with caviar and season shell fish like the Percebes J
This way each dish is a discovery! but I don't want to bore you any longer, I'm sure there's still a lot more to talk about!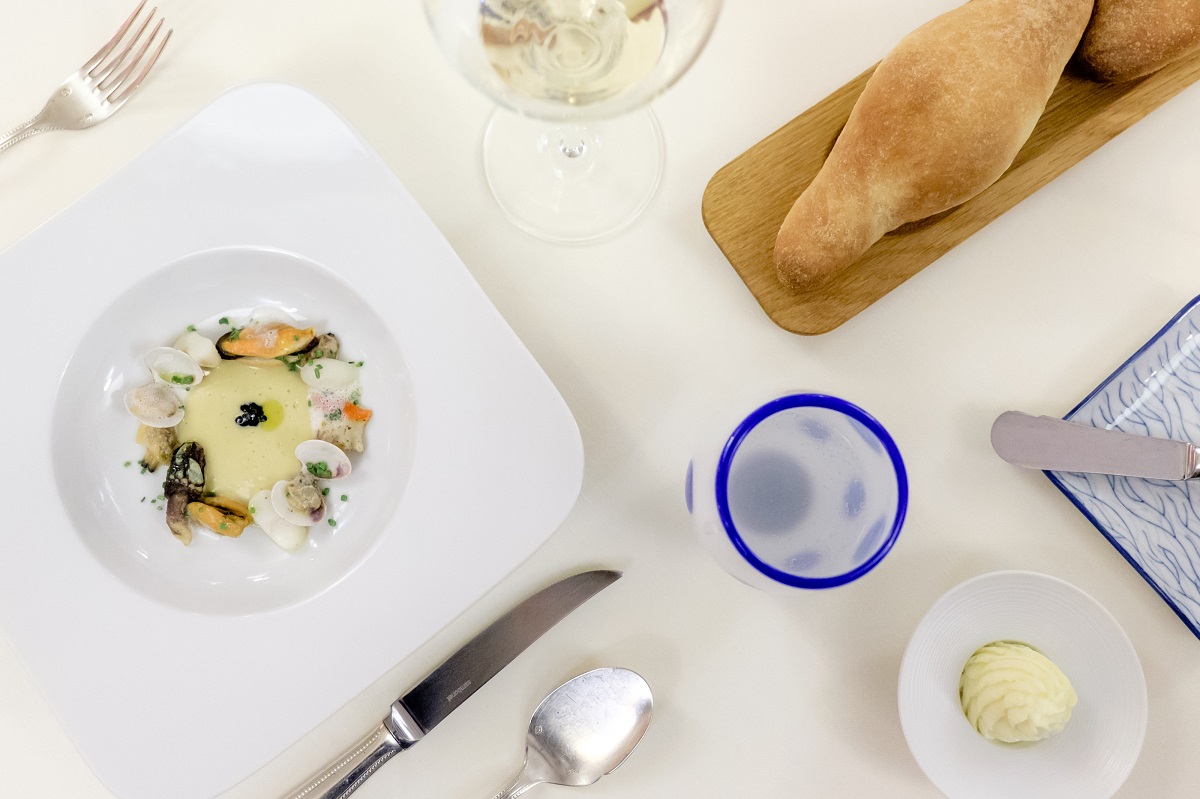 But there's a traitor at the table with me during this tasting menu, something that has always caused quite a bit of trouble: homemade bread, served warm. Yes, that's my problem. As soon as I walk in the restaurant the scent of it will fill your nostrils and as you break a peace off, it will pleasantly crunch as it spreads its warmth and flavour. Together with salted butter it creates a sort of dependence.
But fresh bread is not the only wonderful smell here. A simple onion, caramelized, with a Soubise sauce in the centre and a parmigiano reggiano fondue. And on top, a sprinkle of dried raspberries. What wonderful smells, and incredibly crunchy and sweet. Dear onion, you make us cry when you're raw… but as soon as you're cooked you bring tears of joy.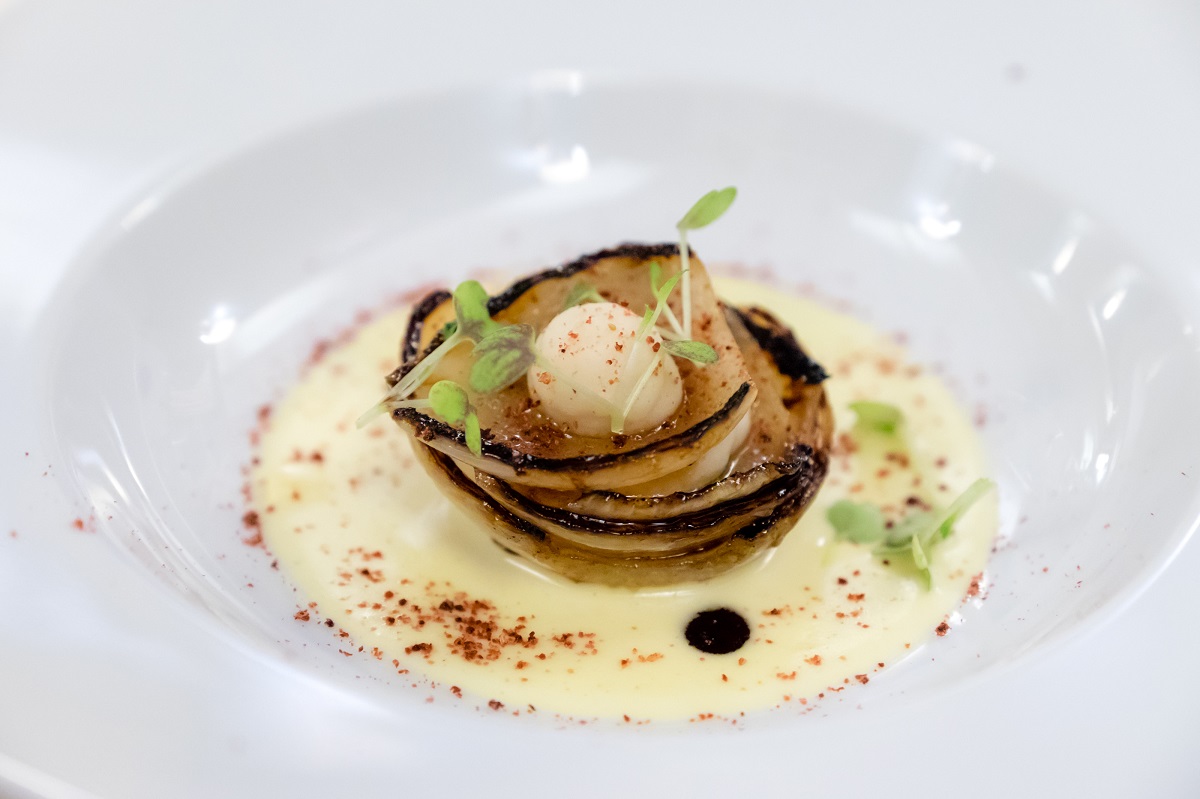 Shall we talk about the vegetables? A carrot tartar with capers, purple carrot extract, mustard ice-cream and a marinated egg yolk grated on top. I suggest you try all these ingredients together, to flavour their simplicity and the perfect balance they have together. The taste is incredible…just the best vegetables! Only a creative and well-trained mind can create such a dish. I can barely grate a carrot to put in my salad.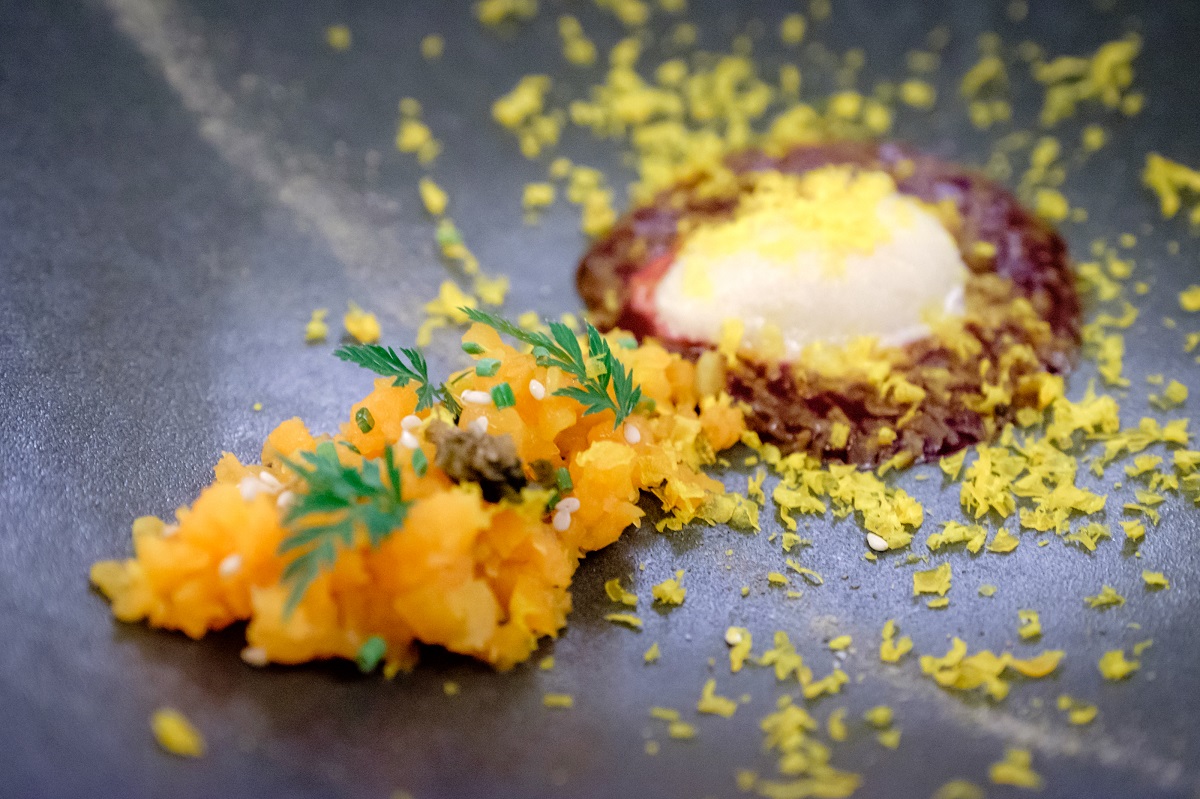 But let's forget my bad relationship with the kitchen and continue. Are you familiar with the Italian classic "aglio, olio e pepperoncino" (garlic, oil and red pepper)? Well, forget all about it. I'm tasting a cream of raw cicala di mare (a species of slipper lobster); there's only a little garlic in the bread gratin made with cuttlefish ink.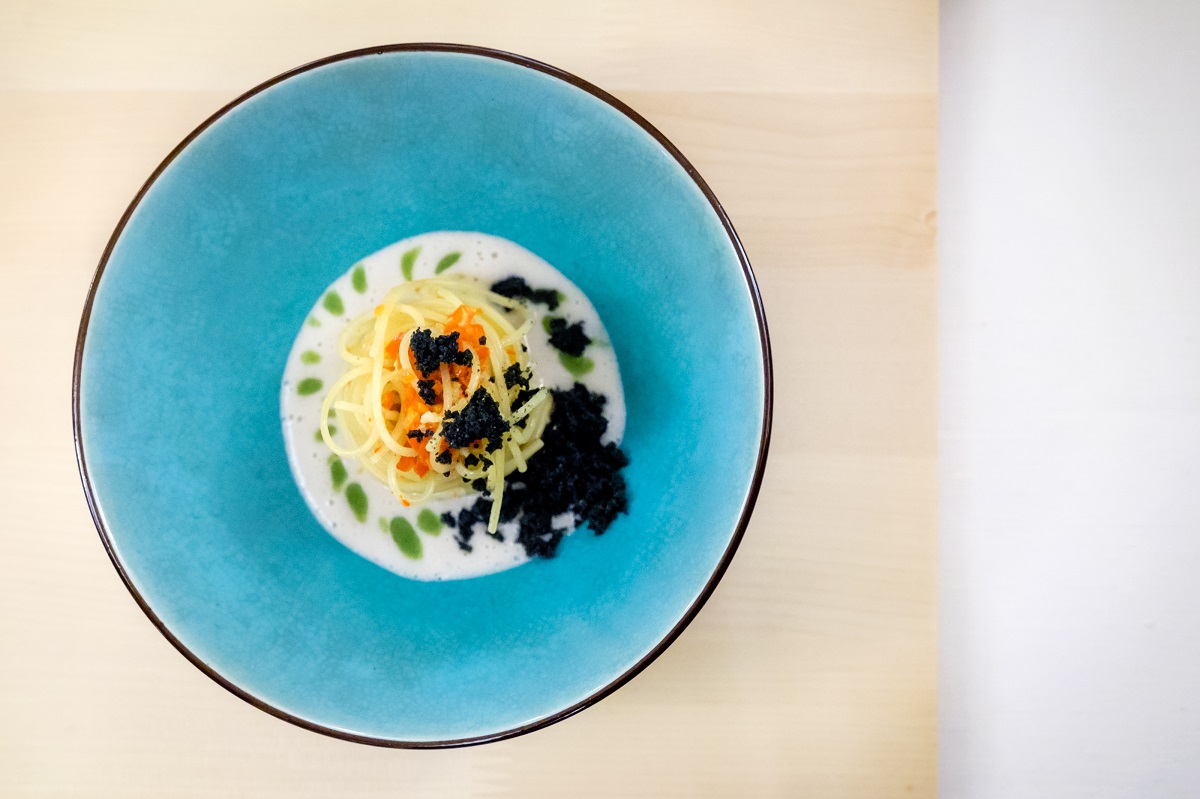 To follow I taste some dumplings (called rabbit buttons) with chanterelle mushrooms and red mullet bites, in a smoked rabbit broth, to taste following a precise routine: eat the first button only with some broth, the second with a chanterelle, the third with some fish. Done and finished.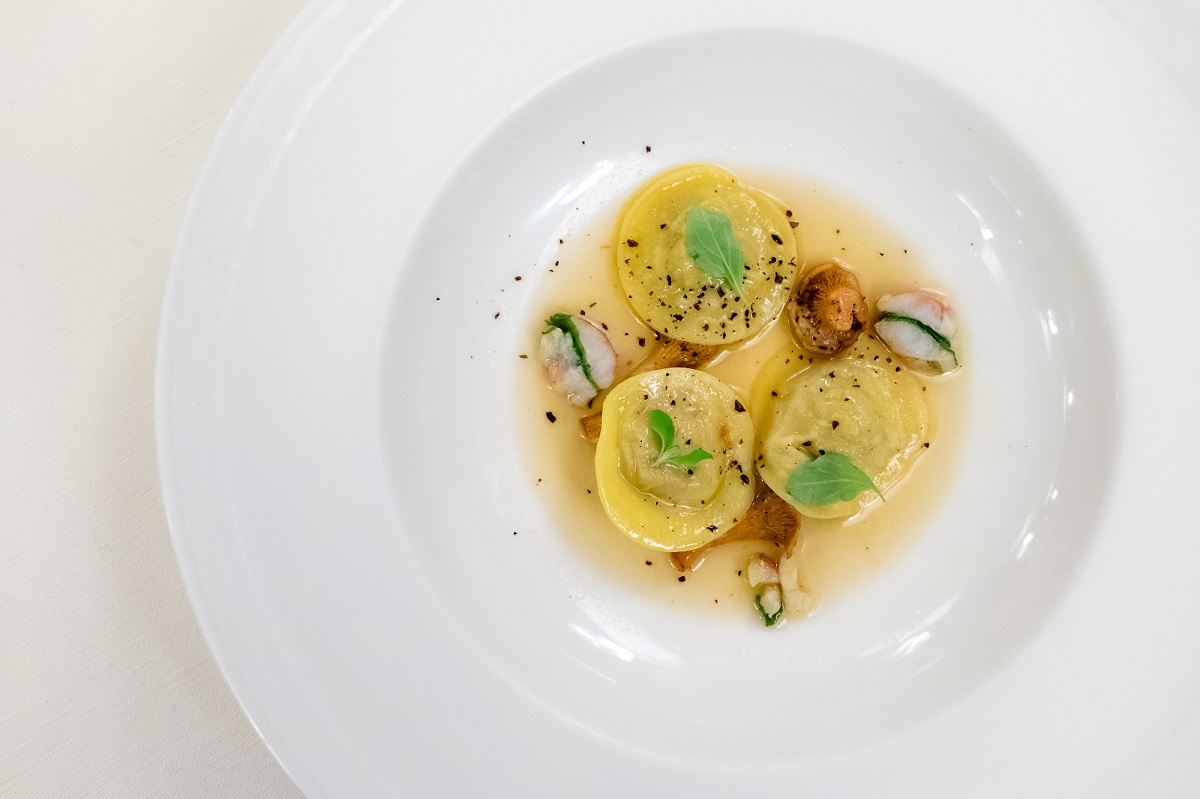 What next? The king of our seas, the seabass, filleted and cooked in a fig leaf with salted butter cream, tomato confit, baby aubergines and raw spinach. And I'm starting to regret eating all that fresh made bread 🙂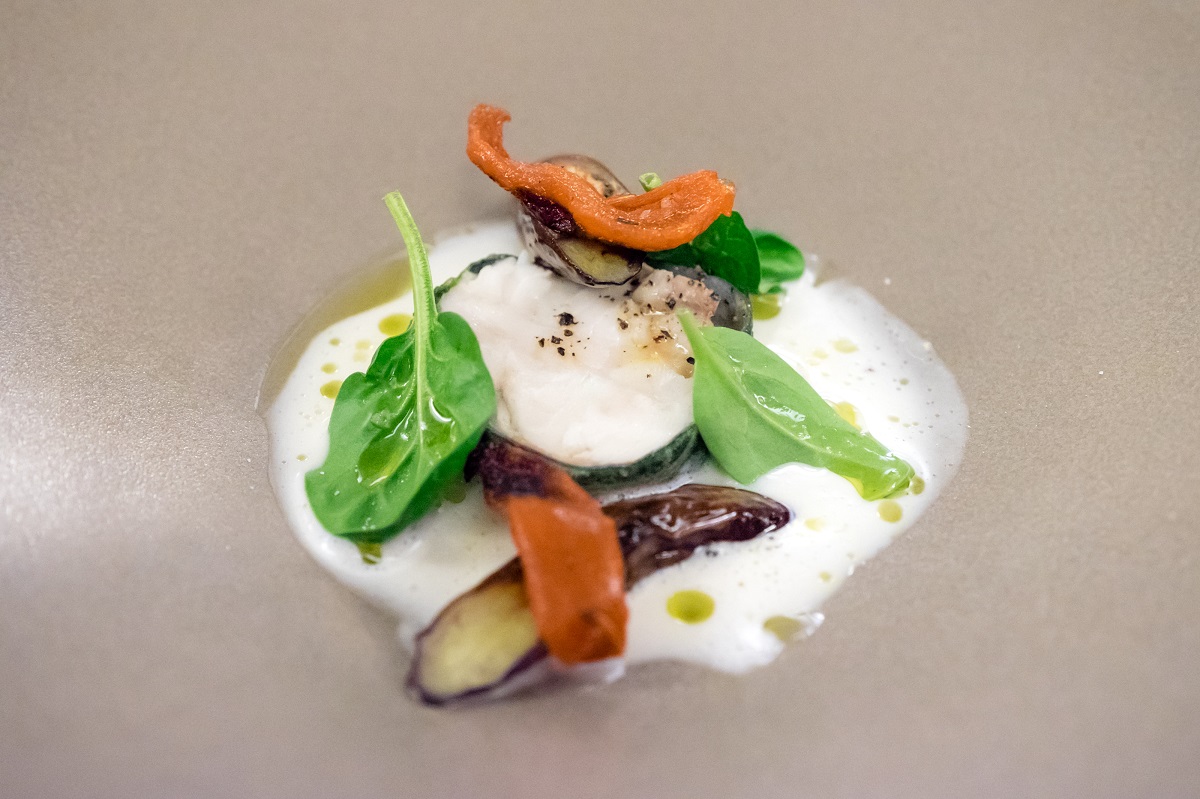 I'm sure you won't be leaving the restaurant hungry. The portions are just the right size. The perfect compromise of quantity and flavour.
I say this because during the dinner I made my usual Instagram Story… and a follower commented "are you off to eat a sandwich after dinner?". I can guarantee I didn't leave feeling hungry at all, I could barely finish what I had in my plate. And you know well I have an excellent appetite.
The tasting menu ends with a slightly smoked beef Asado, caramelized and served with a potato crumble. Incredible!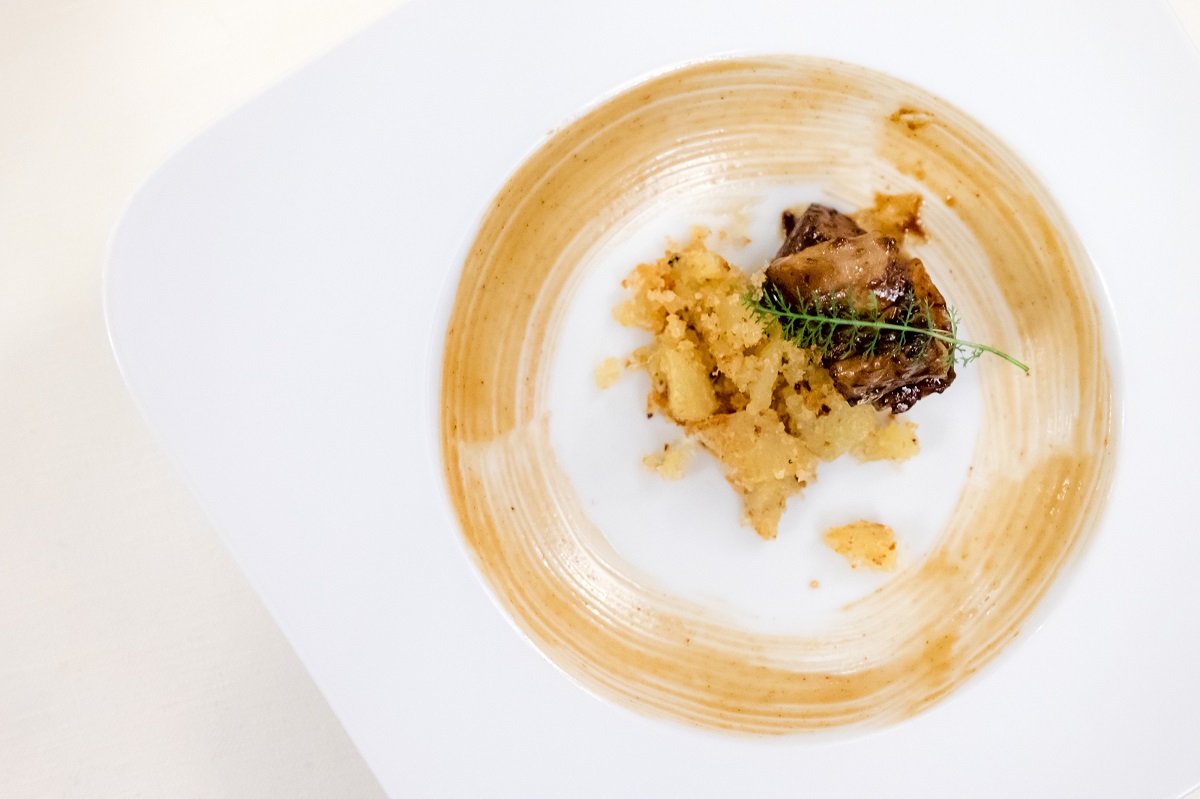 And it's time for dessert, a sugar wafer that you break with a spoon. And inside? A delicate vanilla cream with marinated fruit, and a meringue of celery, lemon and hibiscus syrup.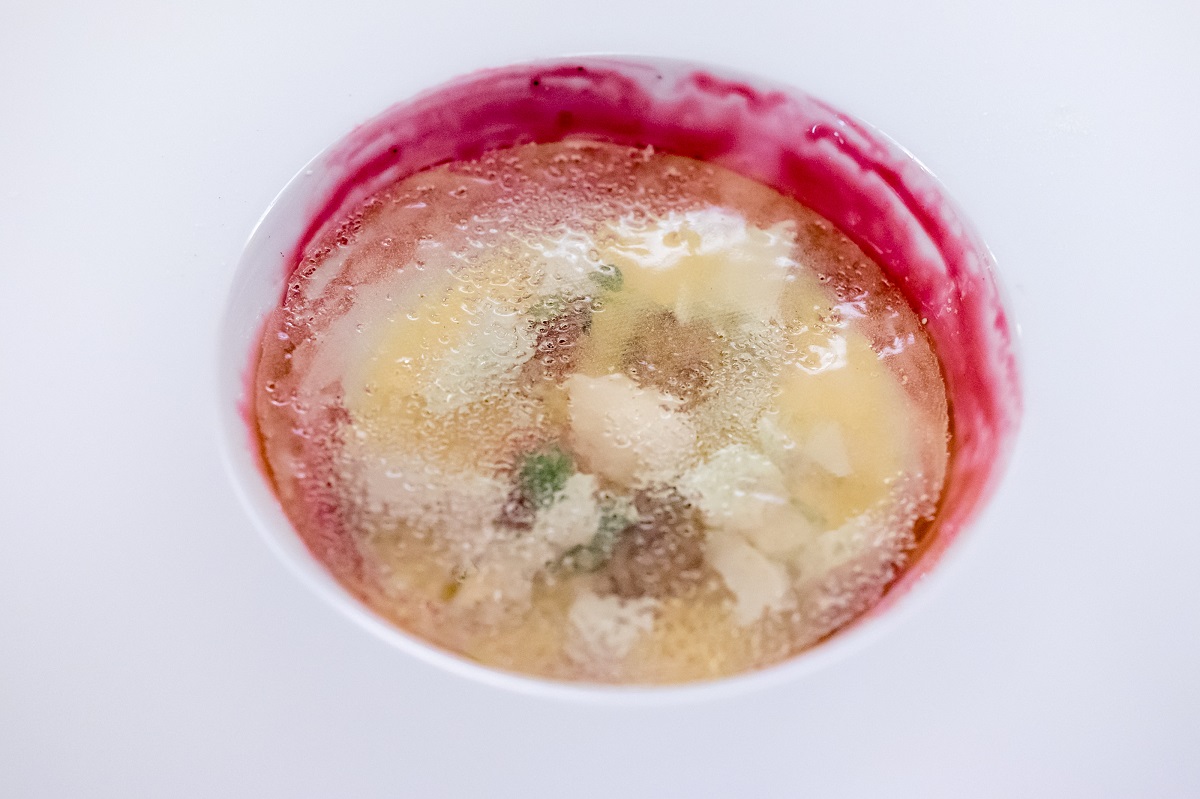 What else could you wish for if not a few crostoli and frittole with cream and a few sweets? It's almost the Carnival period!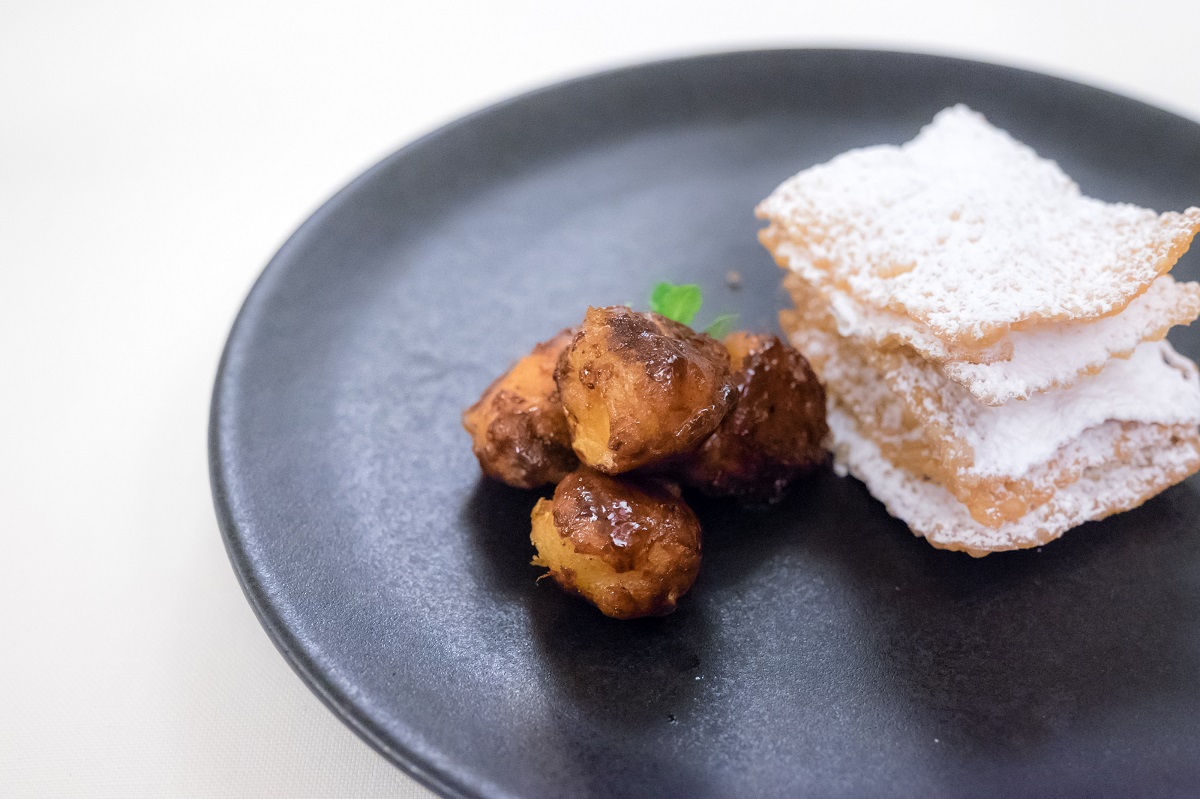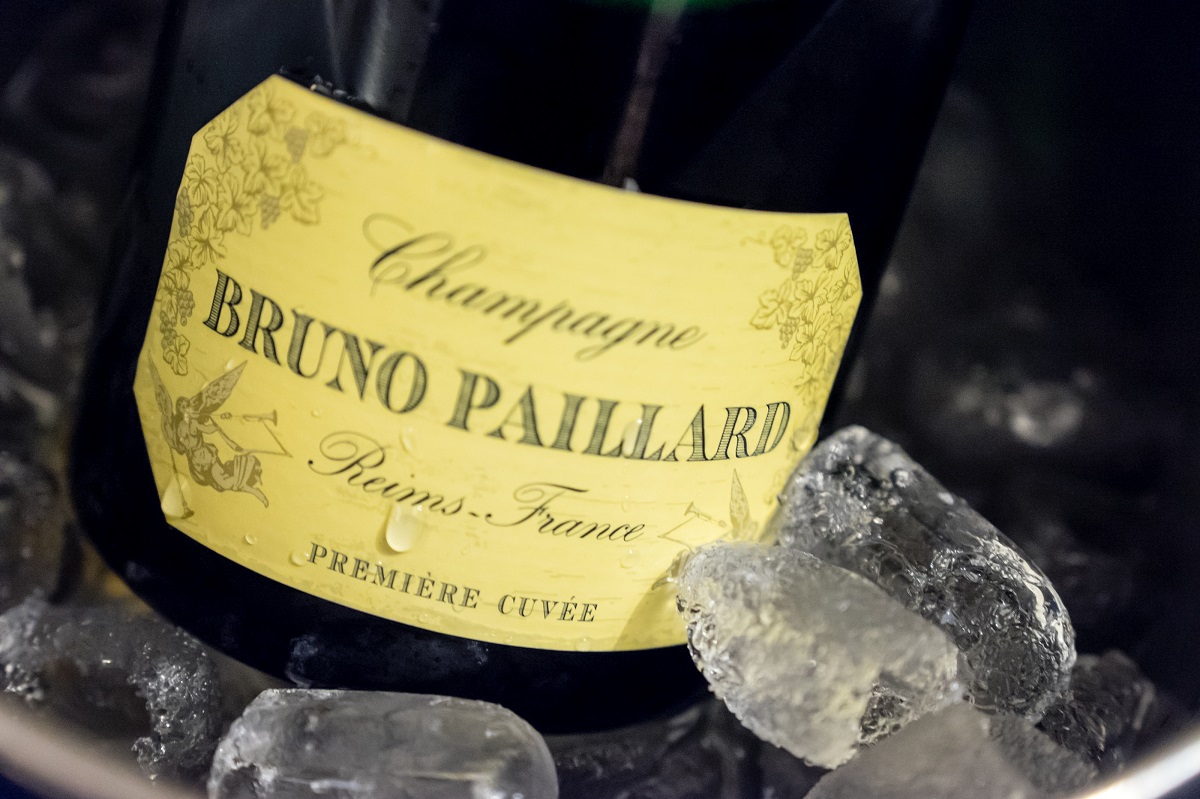 It might be because of the bottle of Bruno Paillard that accompanied the dinner, or the welcoming environment that always makes me feel at home, or because I've been sitting in front of the fire place chatting away with Guido as if we were two old friends, or maybe it's the cosy feeling of English cottage…but it's getting rather late. All the clients left aged ago, but I can barely get myself to say goodbye to this magical place in Ruda. Its large glass windows and two large dining rooms are so welcoming it makes it hard to leave.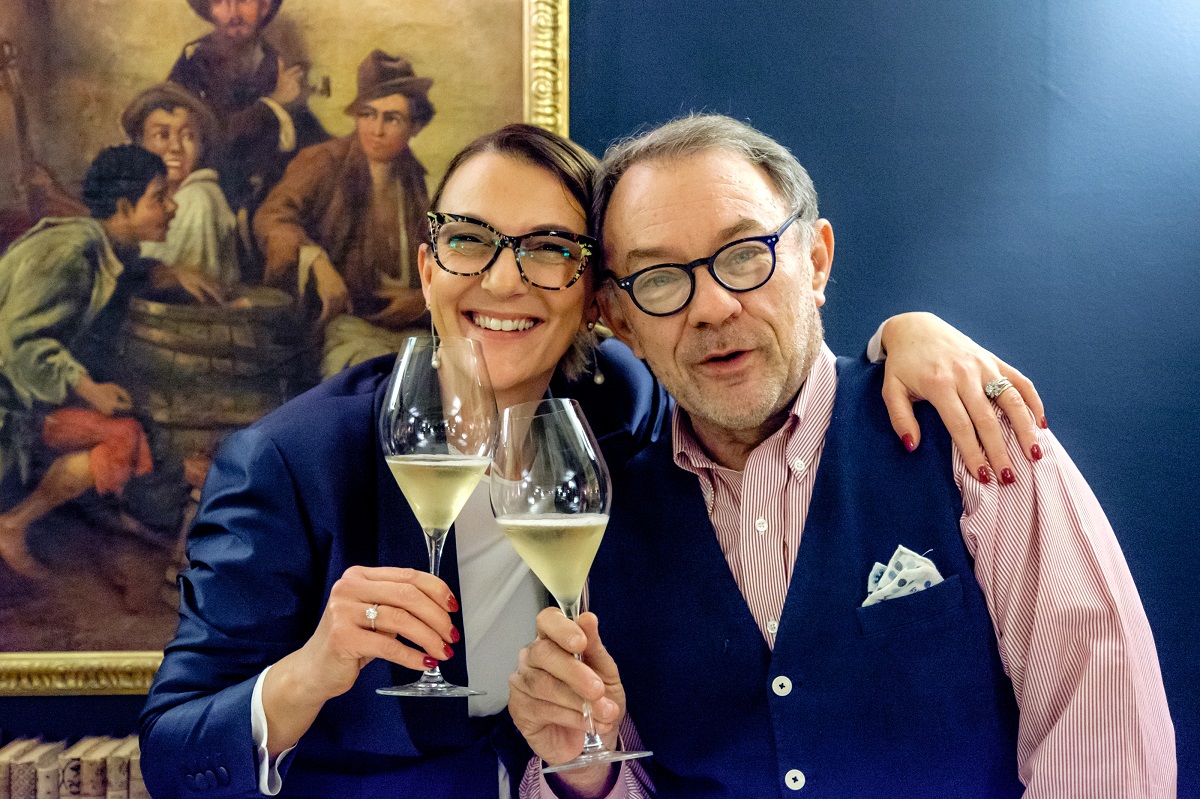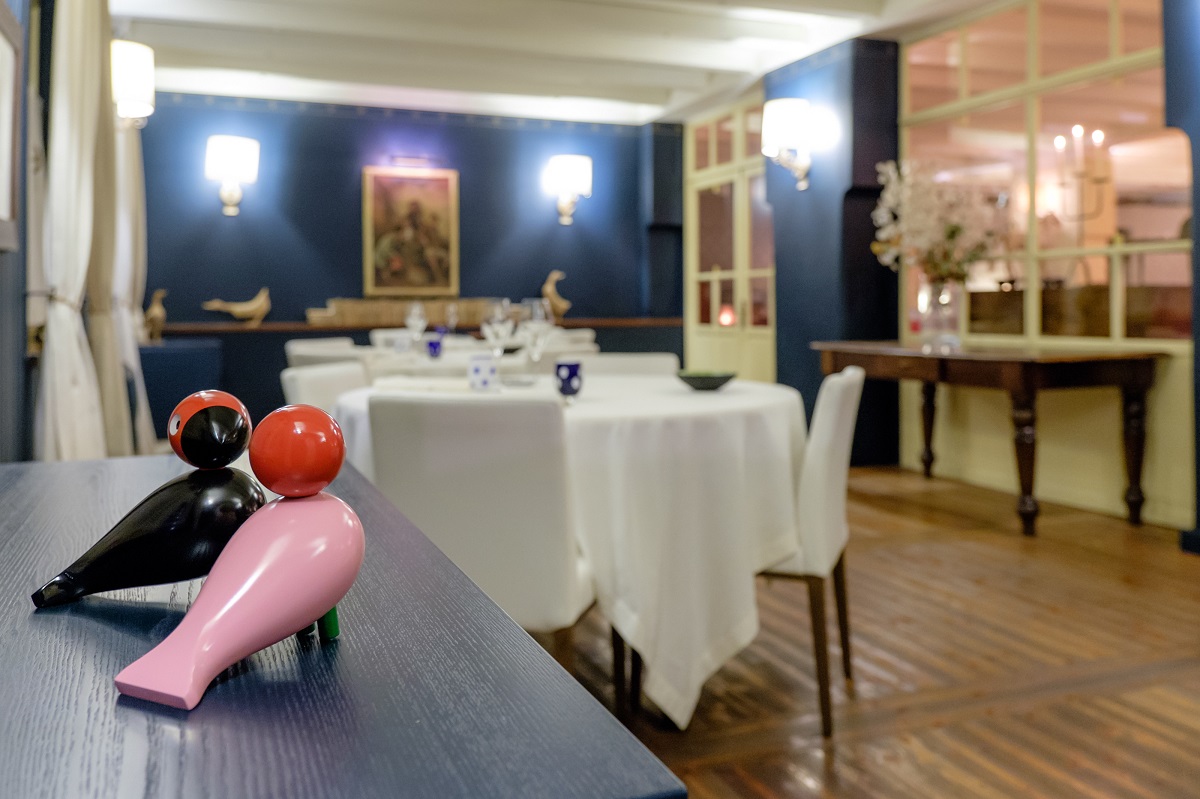 I've barely left and I'm already thinking of the next chance I'll get to visit, in this lovely country side that feels like home, tastes like creativeness and love for discovery.
Thanks you Guido! I'll be back soon!