On March 15th, 2016 I published a report of my experience at Joia's. At the time, the restaurant was still located on Via Cadorna, and I already had my eye on the cooking of young chef Pasquale Sorrentino, which was only 28 years old at the time.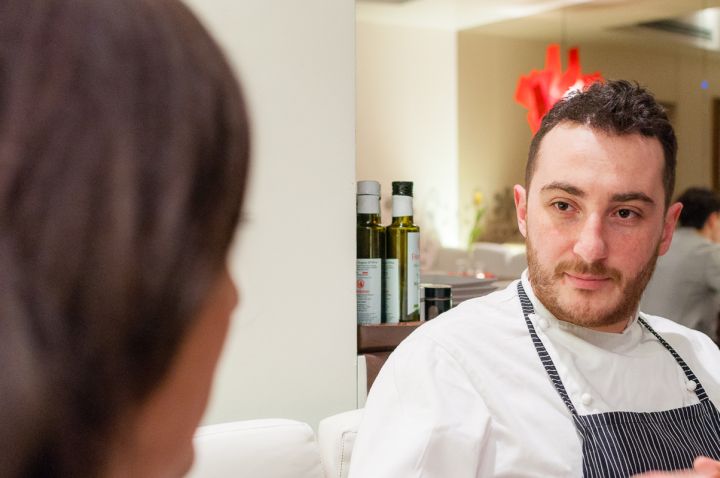 He has come a long way in 7 years, separating from his partner and earning his own Joia: I'm talking about the place on the Rive, in front of Eataly which you all know by now. It's hard not to have heard of it since I often go there and continue to recommend it on my social networks.
Today, however, I want to tell you about something else entirely! This is the story of a young Neapolitan who breaks down the barrier of my city's "no, we can't" state-of-mind, and decides to revive a place on the Coastal Road dear to all the people of Trieste, which has been a bit forgotten, lately (the historic Tenda Rossa).
Pasquale, in his heart and accent, never forgets the roots of his hometown, the wonderful Naples, and, remembering the Amalfi Coast, he decided to revive this place by opening the doors of Sorrentino Trattoria di mare.
Overlooking the gulf, protected by the Bora, and warmed by the sun's rays that shine on the Coast, you'll enter a crazy microclimate when coming here. It really feels like being somewhere else! Surrounded by lush greenery, the 1960s facility immediately reminds you of the Dolce Vita: they have splendid terracing under the restaurant among olive trees, you can enjoy the sea, the beautiful skies, and open views from Croatia to Grado.
Here, Pasquale wanted to create areas specifically meant for aperitifs, birthday parties, events, weddings, and much more. Remember and repeat with me: Pasquale can make everything POSSIBLE.
Why yes, my dear friends. You can also dine among the olive trees, illuminated by rows of endless lights that warm up the atmosphere between the smell of saltiness and a breathtaking view.
And could I just not try this? Of course not! So, I decided to do it in this unforgettable rainy May: the temperatures, however, allow you to indulge in a full-blown aperitif outdoors. Also, I decided to drag my lifelong friends along….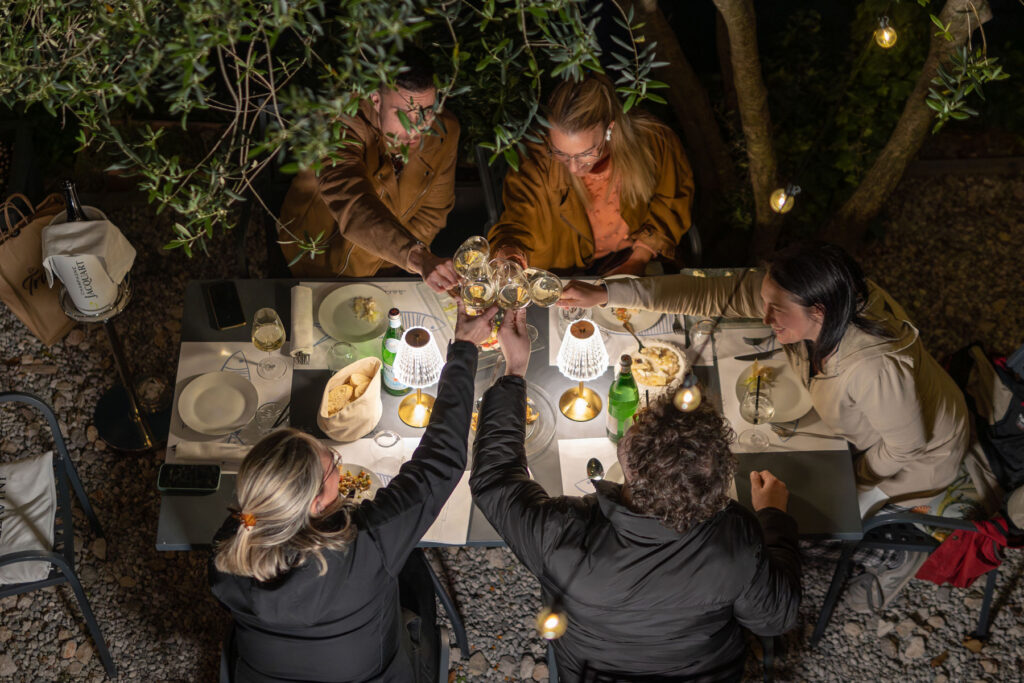 Kicking off the evening was a caprese salad made with PDO buffalo-milk mozzarella, Catalan-style shrimp, and a basil emulsion; it was followed by a mussel soup with bell peppers, mint, and tomato, paired with lemon-scented bread croutons… which is what we call cozze a la scotadeo around here 😉
A vegetable panzanella with cuttlefish salad and ginger sauce followed such goodies. It was amazing. And what about the pink shrimp tartar with smoked buffalo guazzetto, green apple, and cherry-smoked carasau bread? It left me speechless.
An appetizer that Pasquale often brings to the table are provolone meatballs with whipped codfish, and mint zucchini cream. They're so good! However, I must admit that my absolute favorite dish was the one with mixed marinades: marinated salmon, ombrine, and anchovies with brioche bread and citrus-flavored butter… taste-bud-poetry!
As we enjoyed these delicacies, in between chatting, the sun bid us farewell, and the air became crisp. It was too cold to be outside, ergo we decided to move inside to continue this wedding feast. What do you say? It isn't a wedding feast? Well, that's what it looked like to me!
And here they come: the first courses! This time, I didn't have my paccheri with scampi (which is how I always eat them at Joia's) but with calamari, mussels, baked date cream, buffalo-milk Stracciatella, and lemon scent.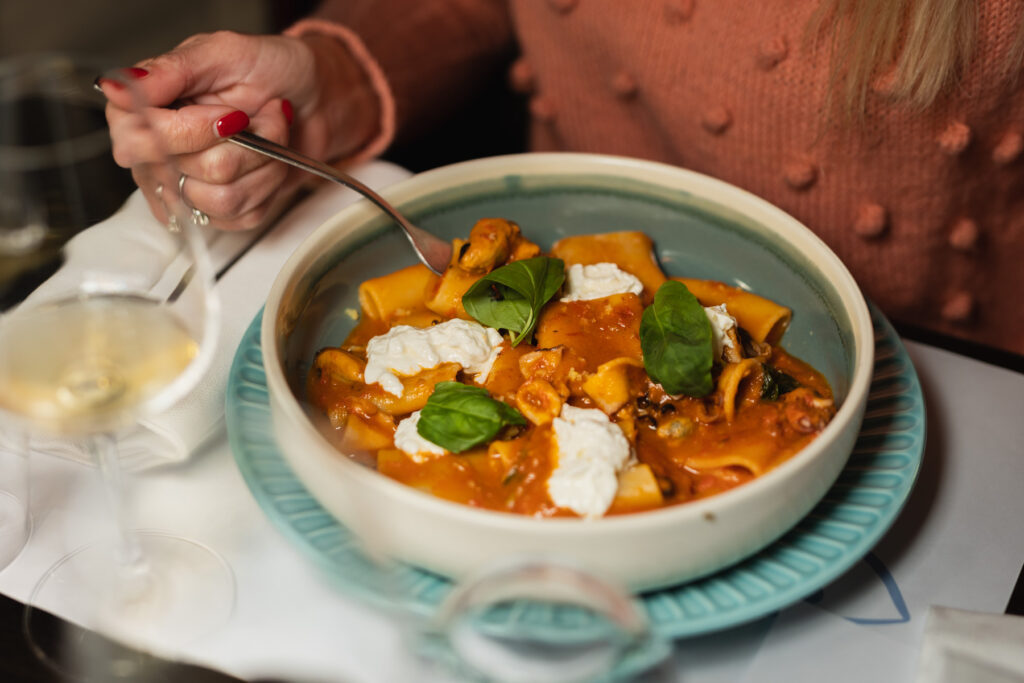 I also tried the linguine alla marinara with pink shrimp tartar, olives, capers, mint, and savory bread. I finished with the gnocchi al cartoccio with shrimp, squash blossoms, and smoked provolone cheese.
I am not a big fan of pasta dishes in general, but paccheri always remain at the top of my list. Pasquale really knows how to prepare them!
I must admit we got to the main courses gasping, but we were too curious to discover the new menu. In short, we didn't put down our forks and moved on with the meal. Besides, you know, you can't say no to a Neapolitan, he would be offended!
Off we go with the Yellow-Fin Tuna tagliata, paired with eggplant caponata and toasted almonds: it's a guaranteed flavor show (I think the best caponata I've ever eaten in my life… and what about the tuna, you ask? It was excellent. Then again when you work with excellent raw material… the meal can only be a success! These wonderful dishes call for a doggy bag 🙂 ).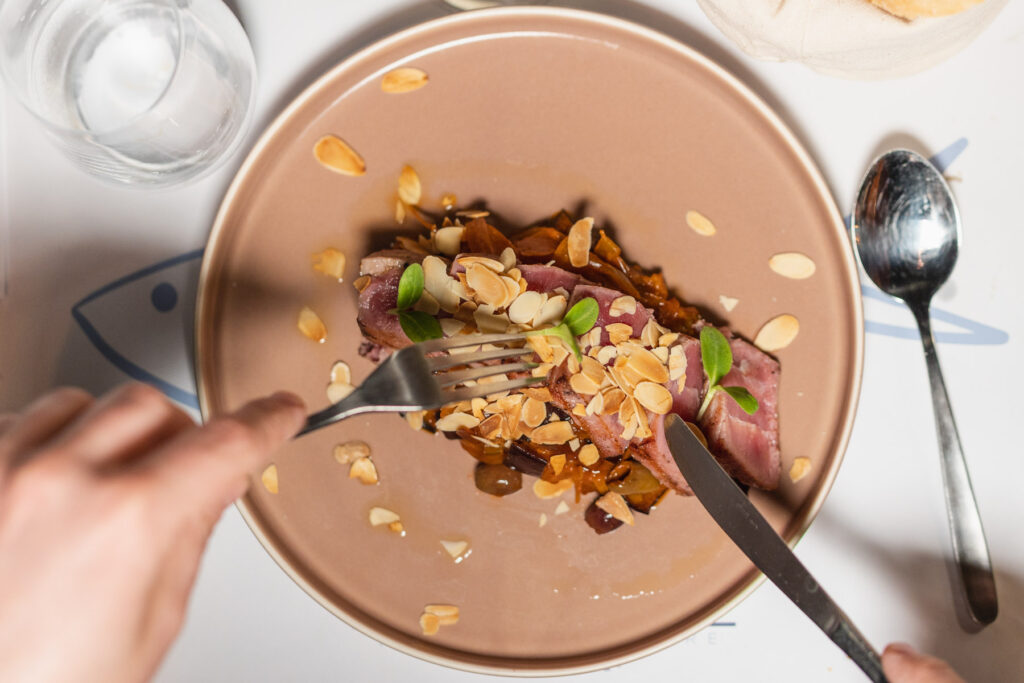 We continued with the most delicate dish of the whole dinner: the grilled octopus with sautéed escarole, a cream made with bread, buffalo-milk Stracciatella and candied cherry tomatoes. Closing this waltz is my favorite course, the one that stole my heart: the tempura seabream fillet with cherry tomato concassé, black olives, and capers. Friends, it felt like the Mediterranean was on the plate!
But can we possibly leave without tasting an ice cream and a classic decomposed Sicilian cannolo? And forgo the rivers and rivers of limoncello that Pasqualino makes (it's addictive, be careful)?
I'm sorry if I went on and on, but we tasted so many dishes and I wanted to include them all to give you a 360-degree view of this delicious cooking.
And since I have a crystal ball, I know you're now wondering, "Nice, but how much does it cost?" Well, I can tell you that the prices are very well-balanced for both the quality of the raw material and the location. I'll leave you the full menu at the bottom: judge for yourselves.
The End. Curtain.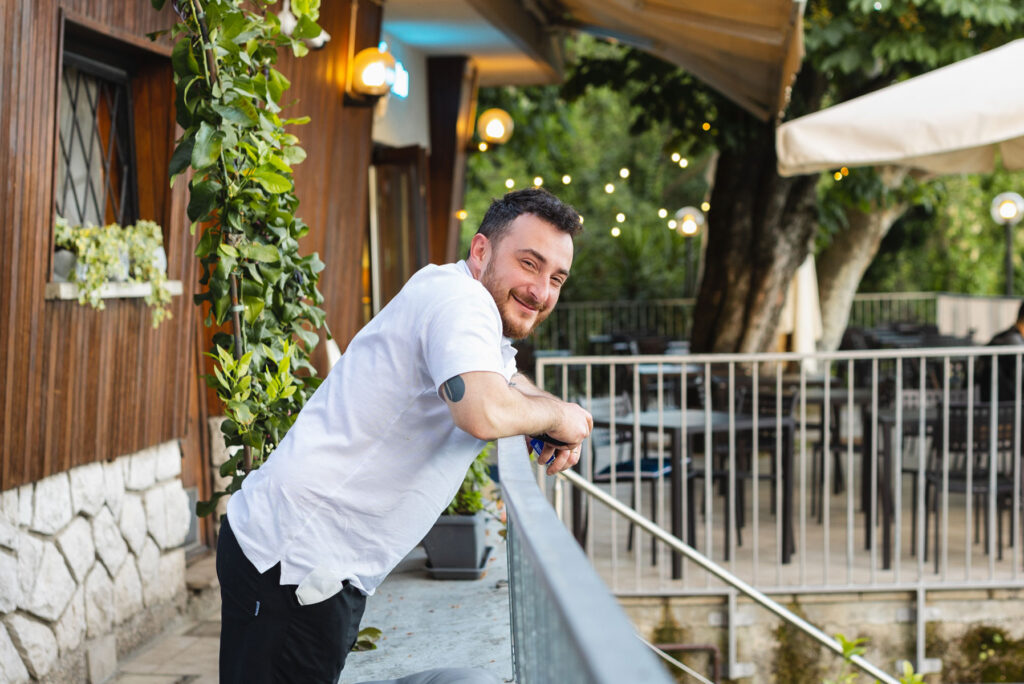 Your only option, now, is to try this all-Neapolitan experience in the heart of Trieste, booking a table at Joia's or Sorrentino's. The choice is yours!
Ph. Michele Grimaz