It's been almost a year since the last time I've put my feet on the green fields of Slovenia, and I never thought I would be so emotional once I would do it again 🙂
What I find really unbelievable, borderline magical, is how the landscape changes only a few kilometers away from home: I'm a two-hour drive away from the beautiful Dolenjska, an historic Slovenian region in the south of the country.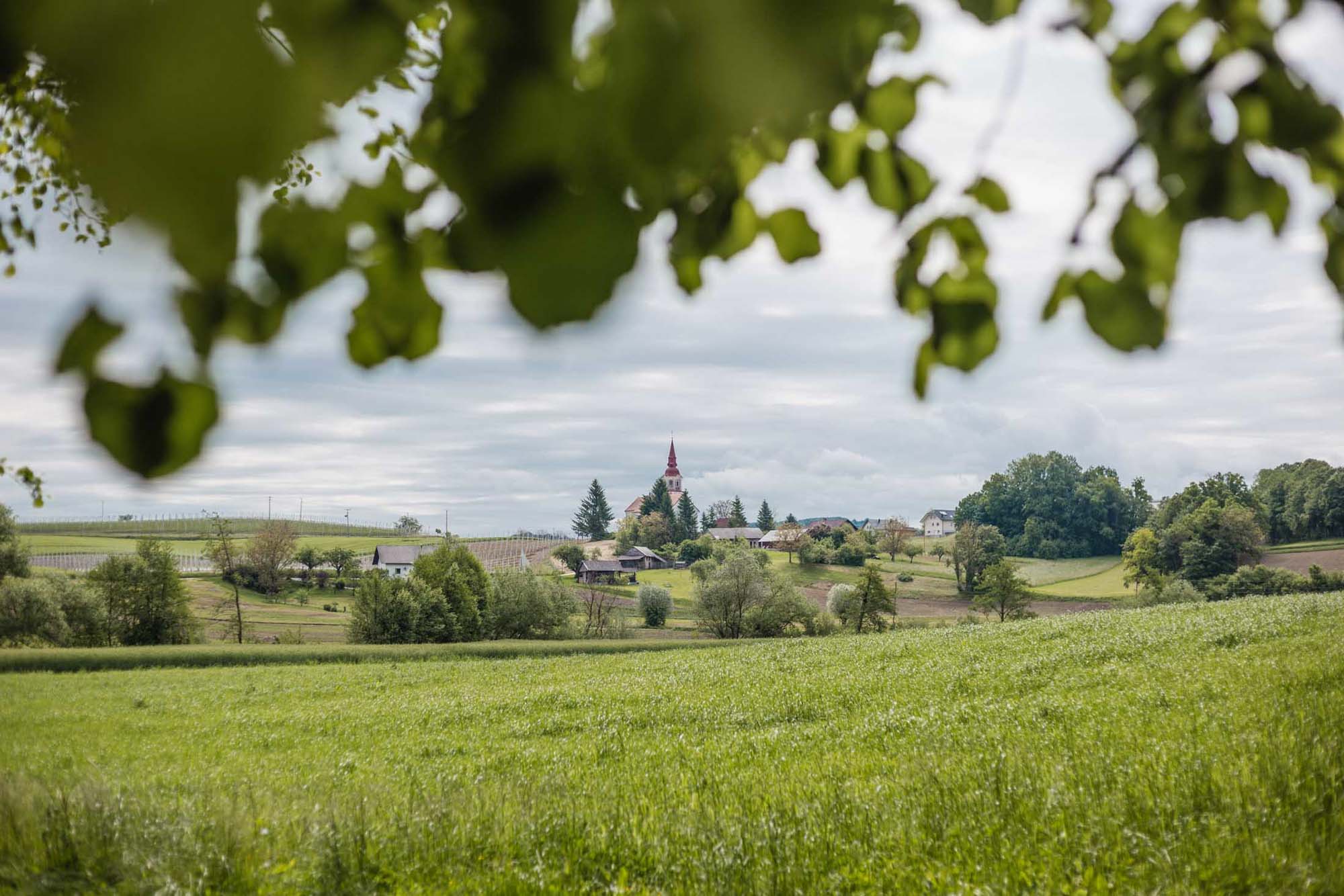 If I called it a paradise there's a reason… the Eden Garden isn't that far away from these beautiful sights. Hills with small vineyards, picturesque belltowers on every hilltop and the Krka River that grooves the earth and creates small islands, like the one which houses the town of Kostanjevica na Krki, or the smaller one with the Otočec Castle (do you remember? I told you about it a few years ago. Ah, and let's not forget about the golf fields and the hot springs of Krka).
This time I'm back for a weekend and I'm staying at Gostilna Vovko, where Rok Vovko is ready not only to make me taste the delicacies of his restaurant, but also to make me discover the beauties of this territory.
Rok speaks Italian very well and it is easier for me to understand better every nuance of what he wants to express: the passion for hospitality has been passed down to him from his mom and dad thanks to the Gostilna (be careful, because he loves this term! Not only so that he can remember his origins and traditions, but to remain faithful to the warm hospitality, too! It's traditional but warm and cozy).
Everything started in the 1970s with his parents: 20 years later they decided to go beyond the simple Gostilna and to add some bedrooms to the side, which can hold up to 23 people.
While working on the bedrooms they also made a new dining room with an earthenware tile floor, which was recycled from an old castle's roof. The tables are made of recycled wood as well. The vaulted ceiling is made of red bricks and the space is traditional but very cozy, also thanks to the really good looking fireplace.
The property is surrounded by a big, well-groomed and very green garden, where you can have a cocktail. You can also eat in a wisteria-covered porch, a personal table of great impact and very romantic!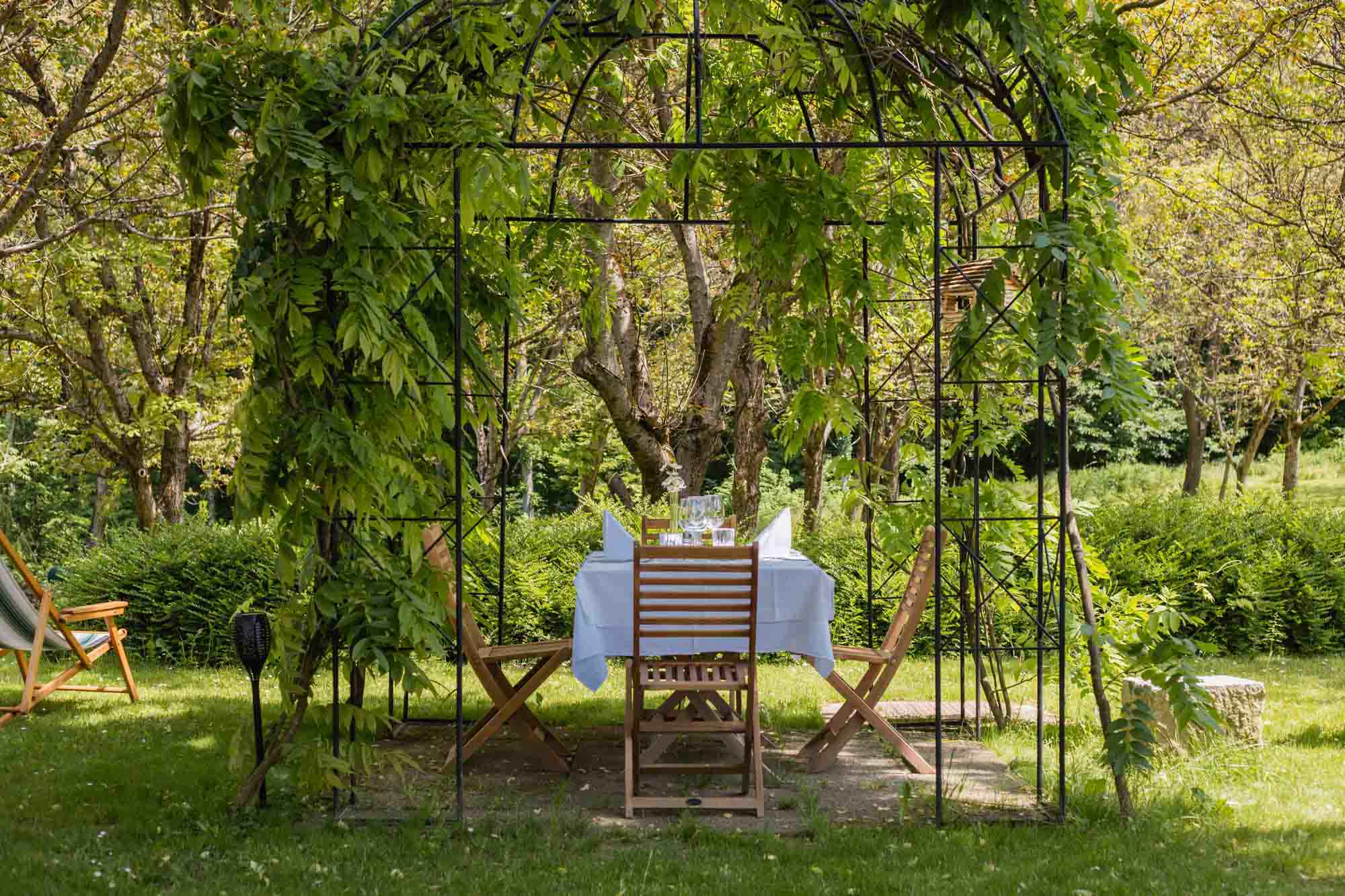 Their cuisine mainly includes this territory's traditions. Here, meat is the main ingredient for sure, but some courses include excellent trout dishes that combine the typical Slovenian flavors.
Every dish has one main characteristic: they're very seasonal. Tradition, as I already said, is highly taken in consideration but is never too heavily present, even though they keep its recognizable intense flavors.
Gostilna Vovko's cooking isn't only recommended by me, but by someone who has way more influence than my tastebuds: the Michelin Guide 🙂 What about prices? They're definitely low, if you consider that a five-course tasting menu is only 39€!
Here are their delicacies (get ready to have your mouth water…).
Smoked trout with homemade mayonnaise made with pumpkin oil;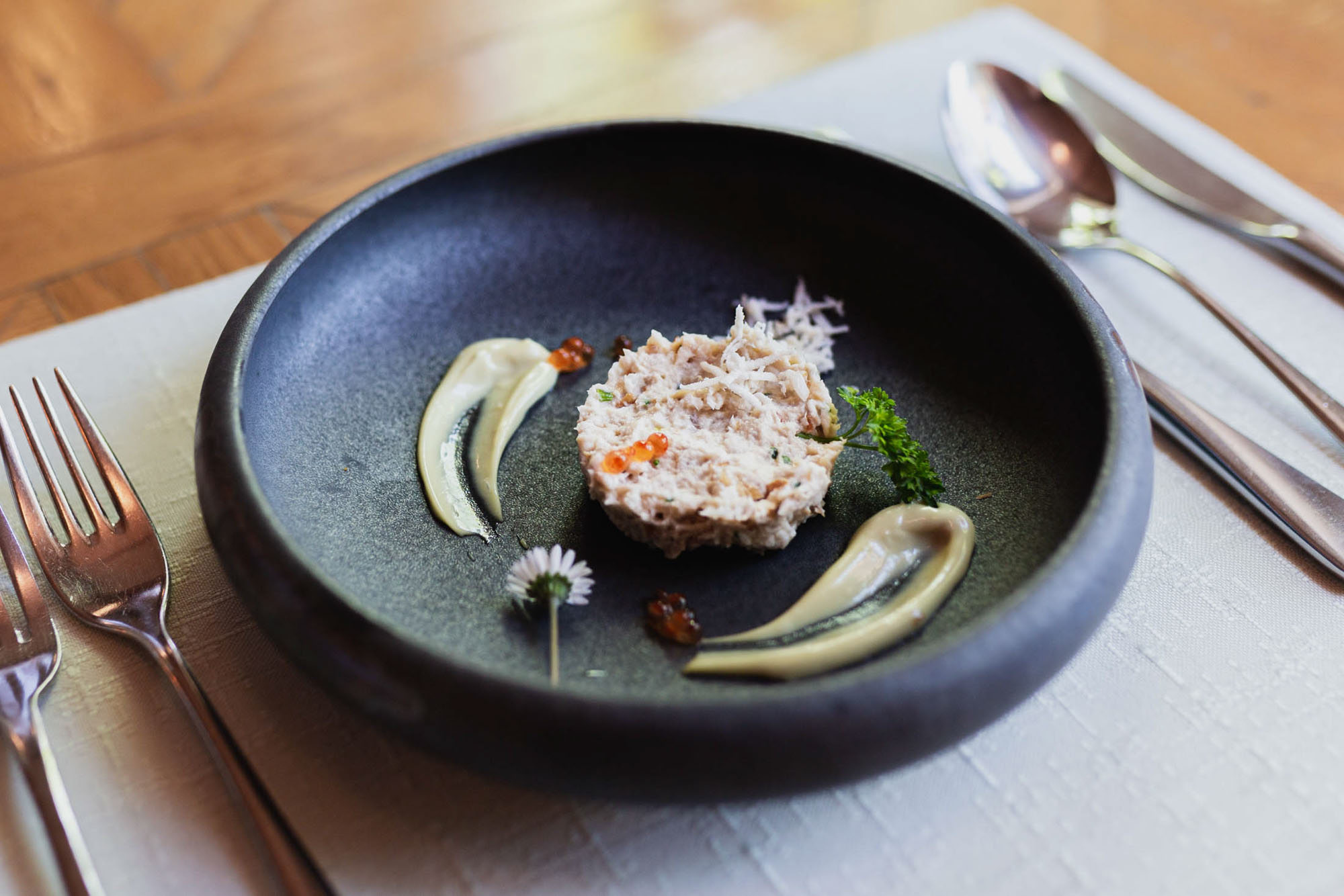 Pumpkin-filled ravioli and a soup with nettle and fermented garlic;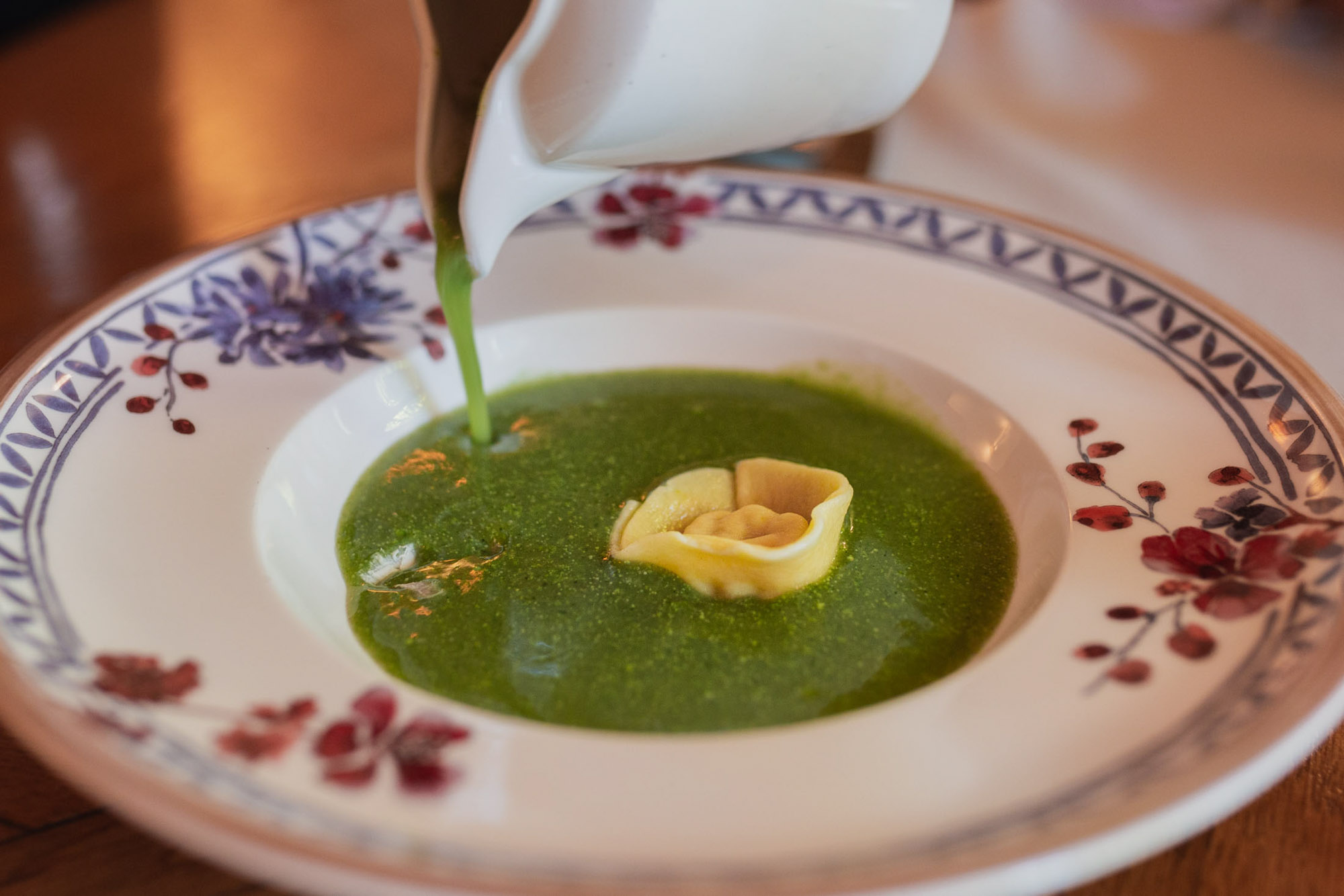 Duck liver served with potatoes and a raspberry reduction;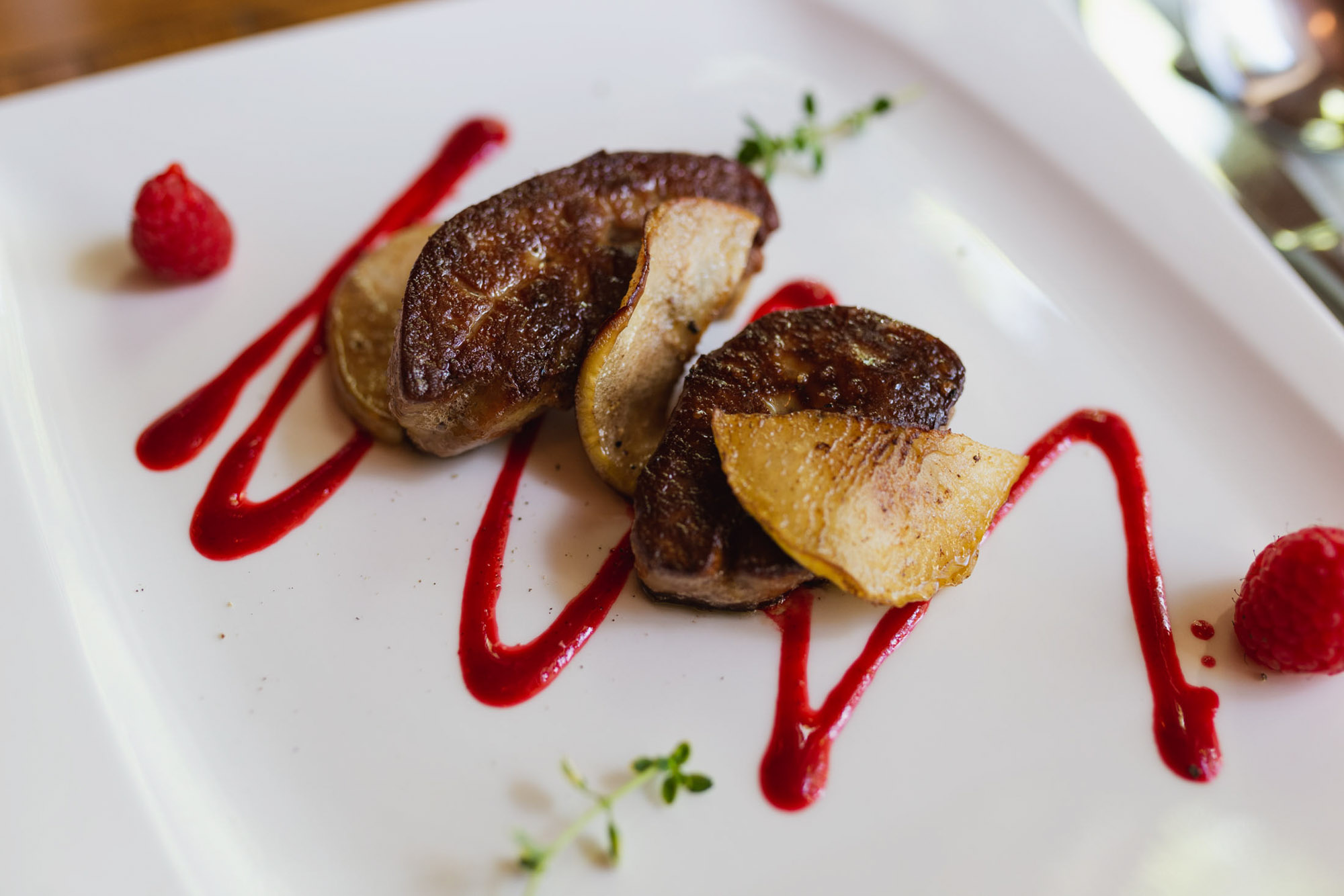 Frittata with asparagus;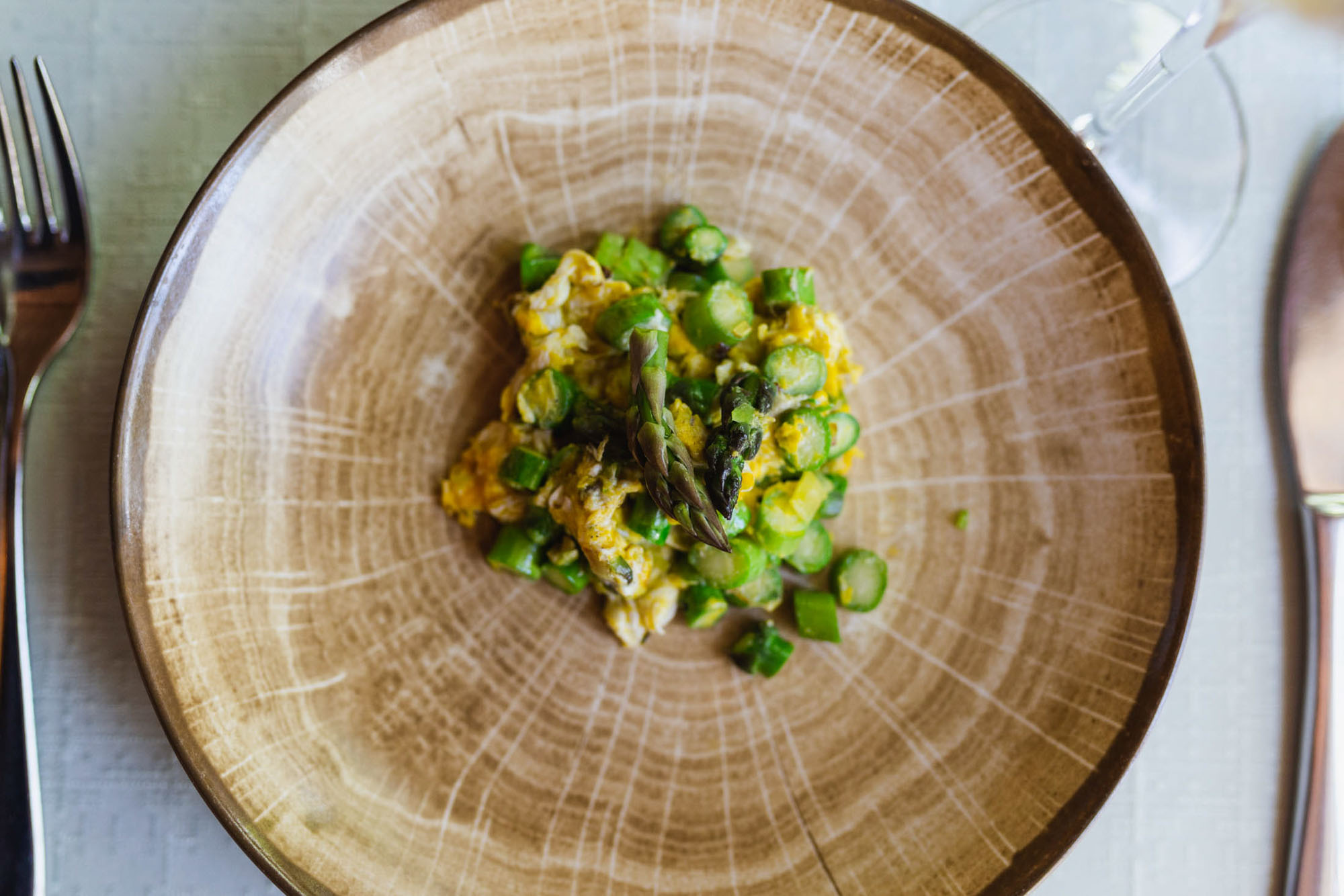 Veil medallion with a potato gratin;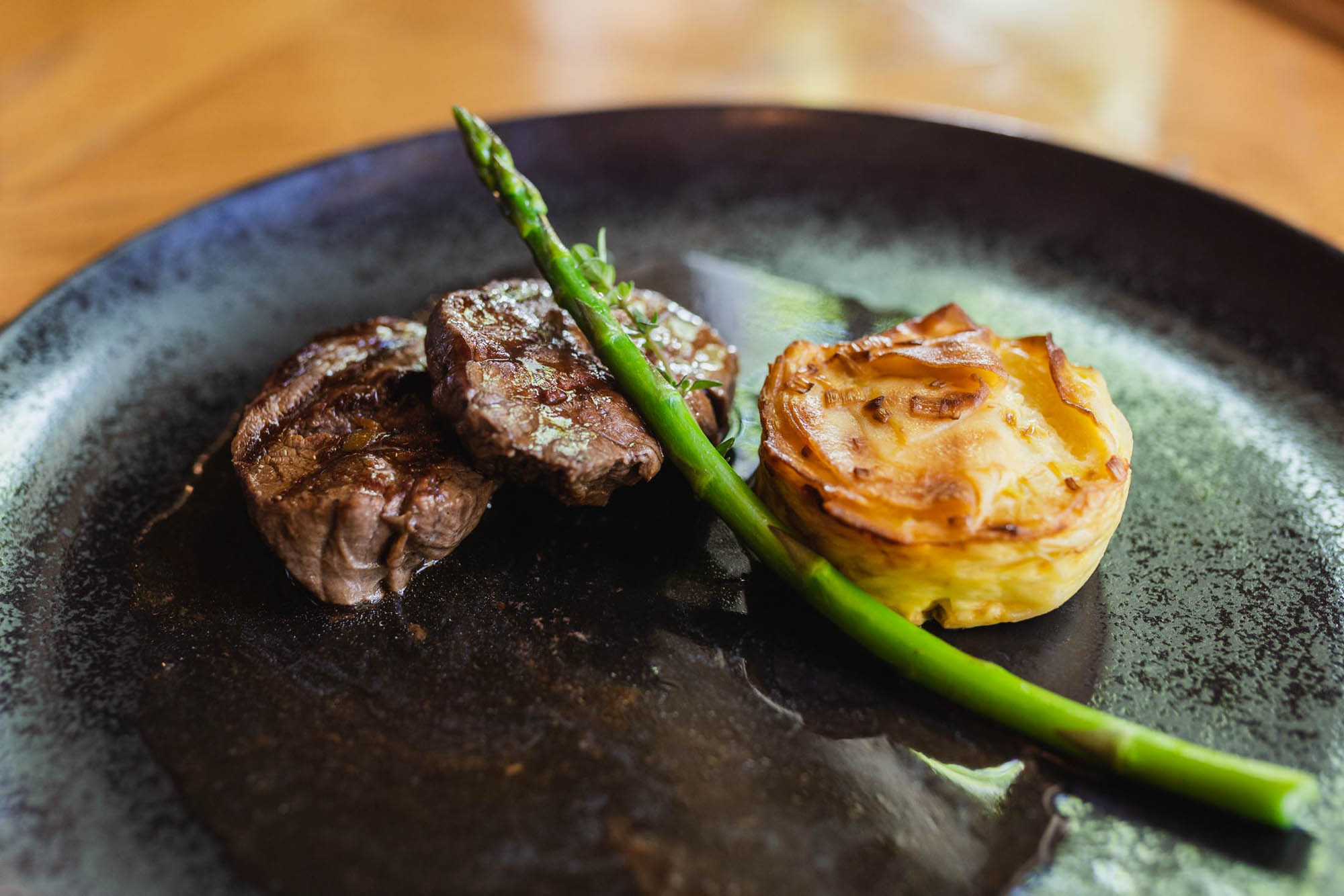 Trganci (traditional home and hand-made pasta) with lamb ragù;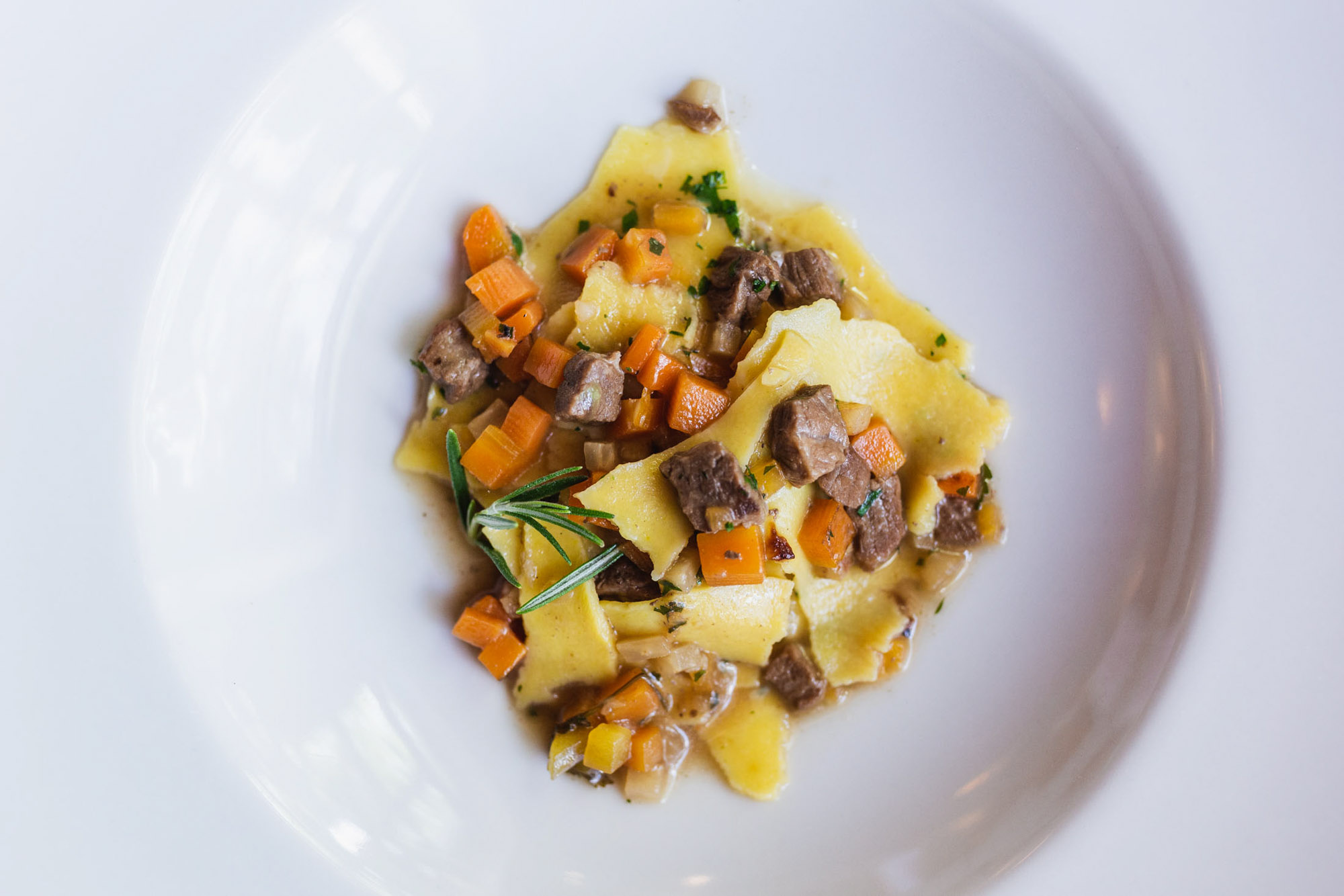 A Williams Pear cooked in vanilla sauce with small walnut gnocchi;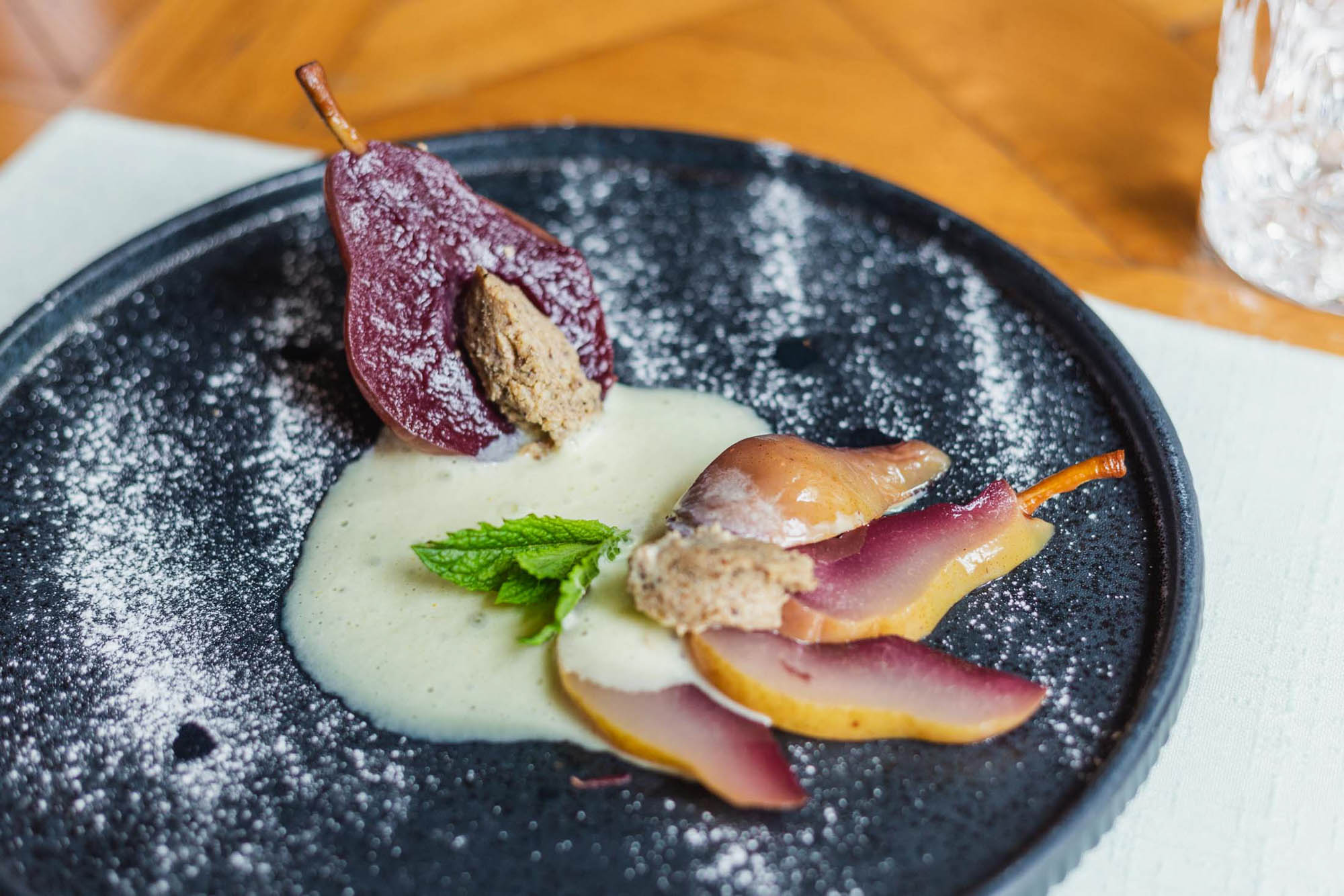 Charlotte with elder, pears, chocolate, raspberry cream, and strawberry ice cream;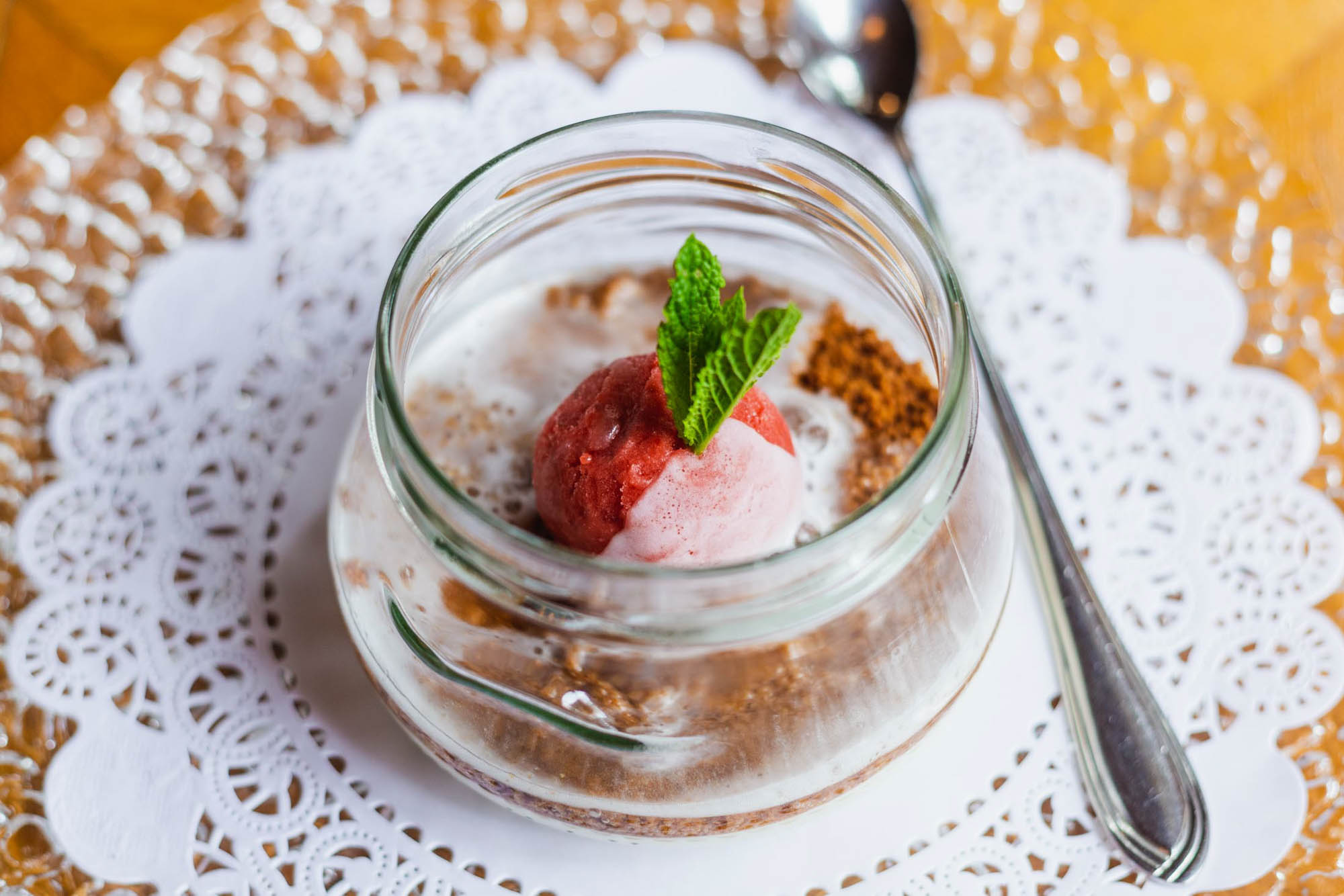 Everything is, of course, combined with local wines. How else would you have it…
What? Oh, yeah, the bedrooms at Vovko's are simple but well-finished, available both for couples and families. I stayed in a beautiful four-bed bedroom with a view on the garden. Heavenly (have I said that already? Oh well…)
I did say I would take you to the discovery of this region though… well, here we go. From here, you can easily join trekking or bike tours. If you want to ride around, you may ask Rok to book for you a classic or an electric bike (if you're not really sporty, my advice is to take the latter, as the best thing is to discover the surrounding hills and woods without making too much of an effort).
Going up and down unknown roads, surrounded by complete silence, you'll go through many villages and have the chance to make a stop to a wine producer as famous as Marjan Jelenič. Well, beware of excessive hospitality, because you won't be able to go out without having tasted a sip out of every barrel or without having opened 20 bottles all from different years.
My advice is to make a pit stop to "line your stomach", as they typically say in the AA world, at Gostilna PrinRomanu in Gabrje. A good klobasa with a nice glass of Cviček (a local wine) will put you right back on track!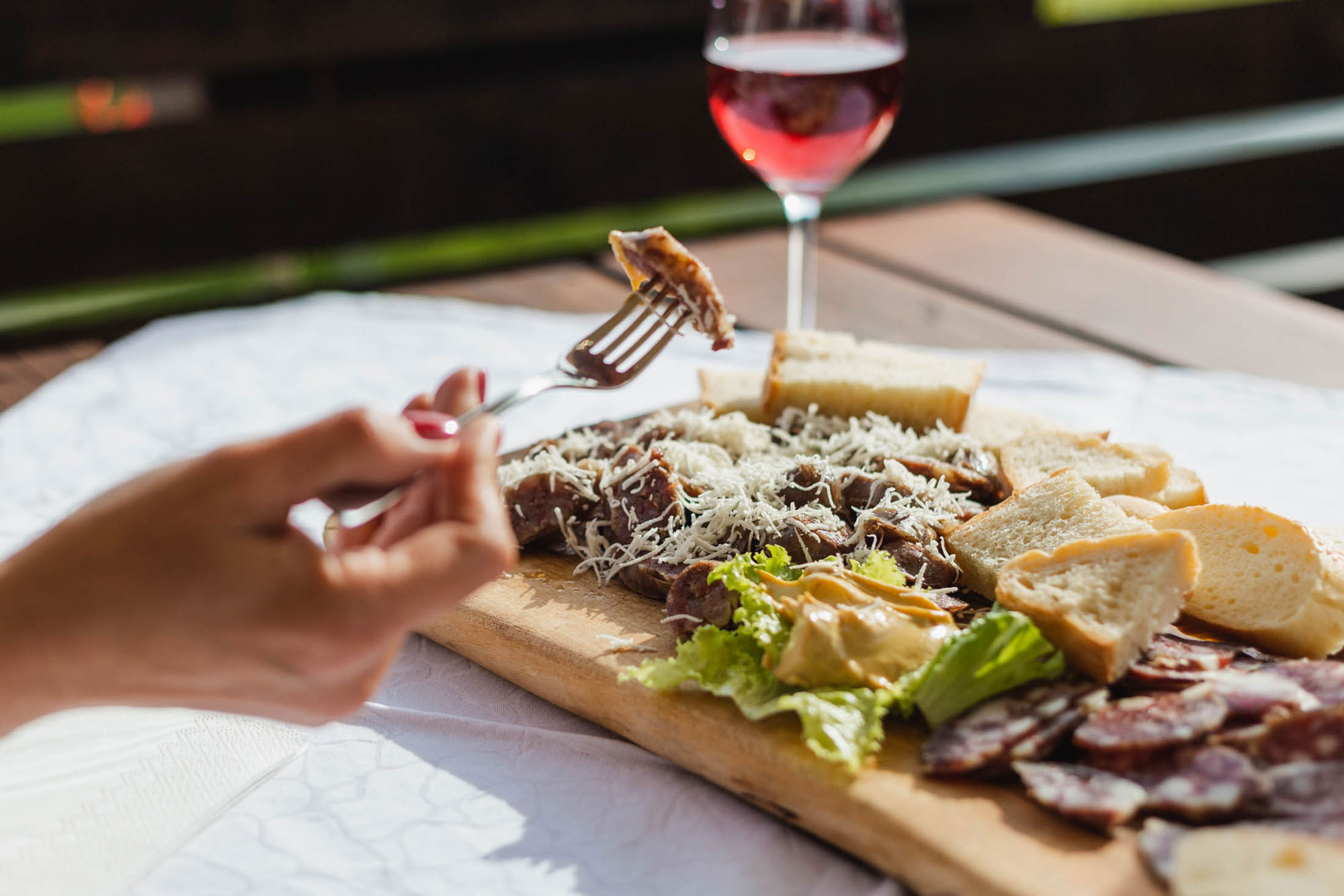 For the sportier ones: here, you have the Gorjanci, a mountain chain, house to the Trdinov, the highest peak (1178 mts). You may reach an astonishing view that shows you the border between Slovenia and Croatia, that you'll reach in a one-hour hike starting from Gabrje: you can also opt for a bike or your car (as did yours truly!).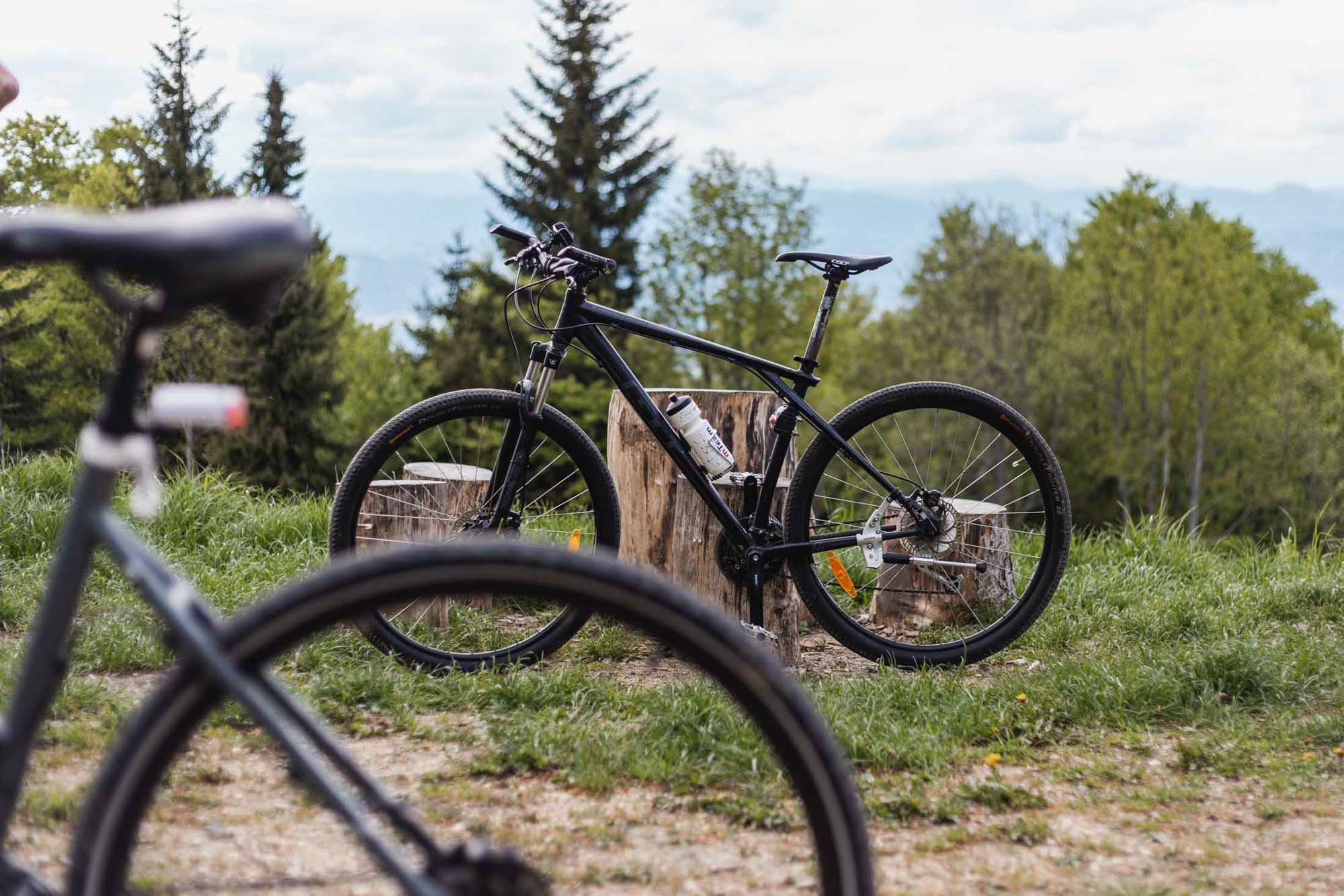 Attention! From here, you can also easily reach the Gospodična (which means "miss"), where there is a famous fountain of potable water that, some say, is a youth elixir…WOMEN, WRITE IT DOWN!
Do you want me to tell you my favorite spots? Here they are!
Naravne Toplice Klevevz: you can dive into a free, 24°C-warm natural Jacuzzi among waterfalls and nature…you'll be speechless.
The village of Kostanjevica na Krki, which is on a small island naturally created by the Krka River.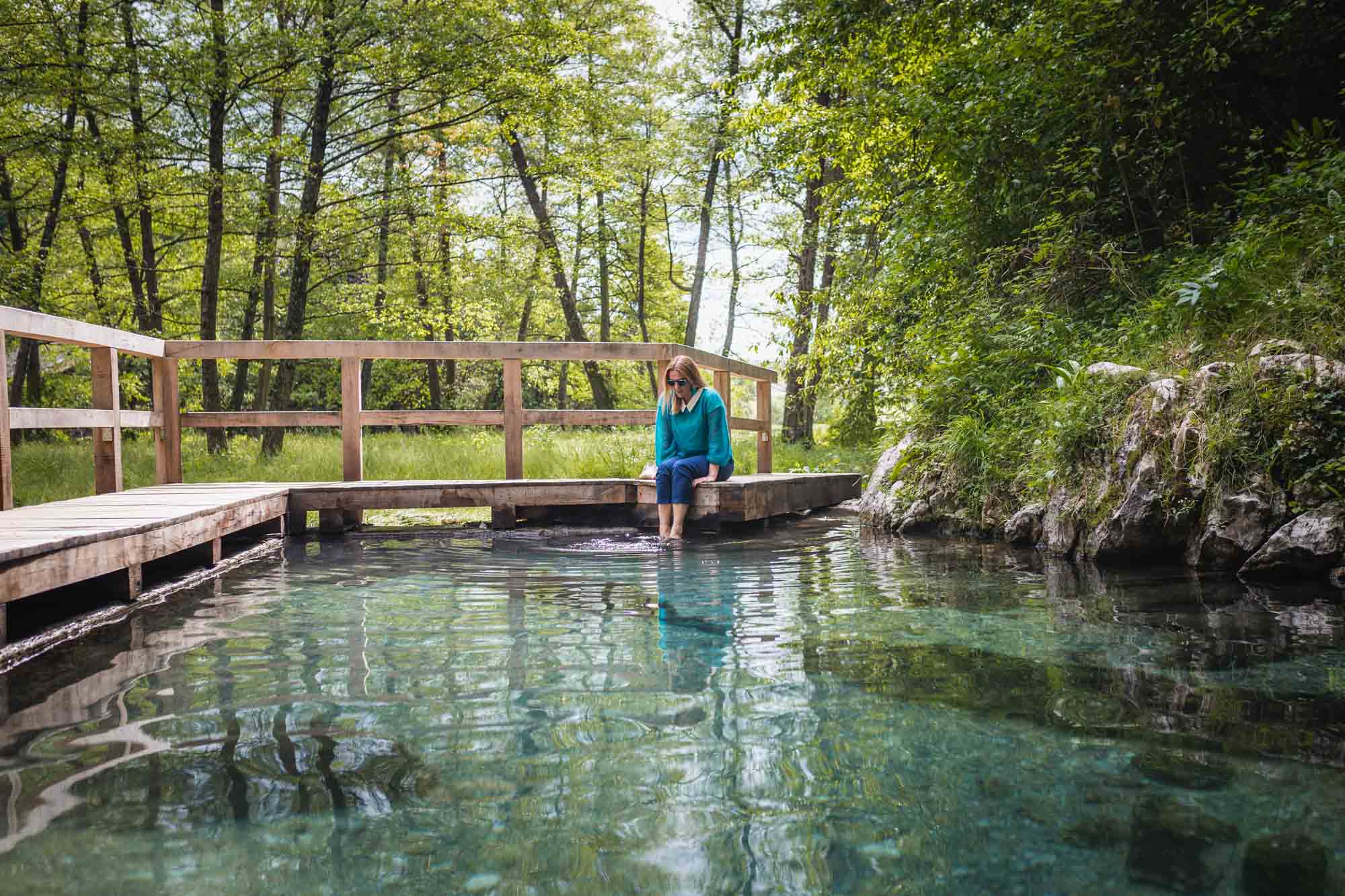 It's impossible not to stop in Novo Mesto, a very cute town with many bridges; a stroll in its car-free center will be very relaxing and they also have a lot of nice small shops and bars, where you can enjoy a good coffee.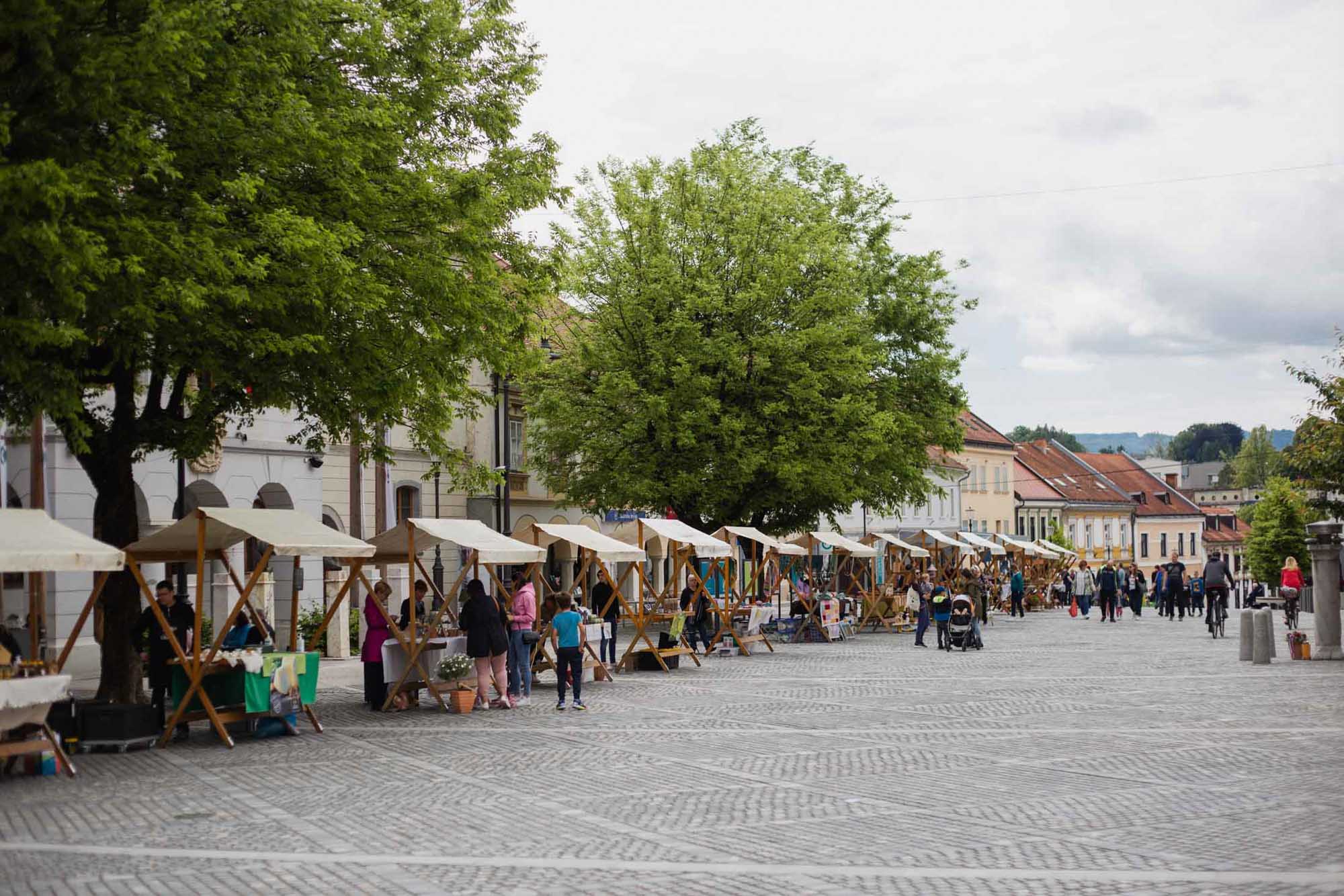 Well, I don't want to be too long. But I have to say, if you're looking for simplicity and the true essence of this area, I highly recommend a stay at Gostilna Vovko. You'll find Rok waiting for you, ready to answer to your every need, with the same warm hospitality as you would find at home. Wonder of wonders…a small paradise, not far from home!
Now, you only have to set a date for your departure, put a couple of clothes in your suitcase and go deep into Slovenia's nature. Have a good trip and relax 🙂
Ph. Michele Grimaz