MissClaire Home: finalmente apro le porte di questo nuovo progetto!
MissClaire Home: I'm finally opening up this new project!
Artigianato locale, recupero e …
Local artwork, recovery and…
Sono stanca ma felice e se penso a un anno fa quando, con le chiavi in mano e un appartamento tutto da rifare, è incominciato tutto, beh mi prende un colpo.
I'm tired but very happy, and if I think about last year when I was facing an apartment that needed to be completely renovated and redesigned, I'm amazed.
Sì perché come spesso accade, anche questa avventura nasce quasi per caso, da un'occasione da prendere al volo: mia mamma cercava di affittare questo piccolo e grazioso appartamento nel centro del Borgo Teresiano a Trieste, senza grandi risultati; forse perché la cucina non aveva i mobili, forse per quelle vecchie piastrelle, forse perché il bagno era anni '60 o forse perché era destino che andasse così.
As it so often happens, even this adventure started off by chance, with an opportunity I could take advantage of: my mum was trying to rent this small and cute apartment in the center of the Borgo Teresiano in Trieste, but with little success; maybe because the kitchen wasn't fully furnished, or the tiles looked just too old, maybe for the 60s style bathroom or maybe it just wasn't meant to be.
Come sempre una ne penso e cento ne faccio, quindi inizia a balenarmi in mente l'idea della "MissClaire Home", un progetto piccolo ma grande per me!
So I came up with one of my dozens of ideas, and I started to think about "MissClaire Home", a small project but very important for me!
Ho chiesto la collaborazione di due amici architetti d'interni, Francesca Petz e Rosario Zoccano, due persone dai gusti differenti, una con l'amore del recupero, l'altro con un gusto più moderno ed essenziale. A sei mani e con un budget ristretto, abbiamo cercato di sviluppare al meglio i 75 m2 di questo appartamento storico all'ultimo piano di una palazzina di inizio '900.
I asked two friends of mine to collaborate, Francesca Pets and Rosario Zoccano, two people with very different tastes, one with a fascination with recovery, the other with a more modern and essential taste. With three minds and a very tight budget, we tried to make the best out of this historic apartment with 75m2 on the last floor of a building from the beginning of the 1900.
L'atrio dello stabile è di quelli sfarzosi di una volta, il portone di ferro battuto si apre su una scalinata di marmo che porta all'ascensore dell'epoca.
The hall of the building is one of those fancy old style ones: the iron door opens onto a marble staircase that takes you to the elevators.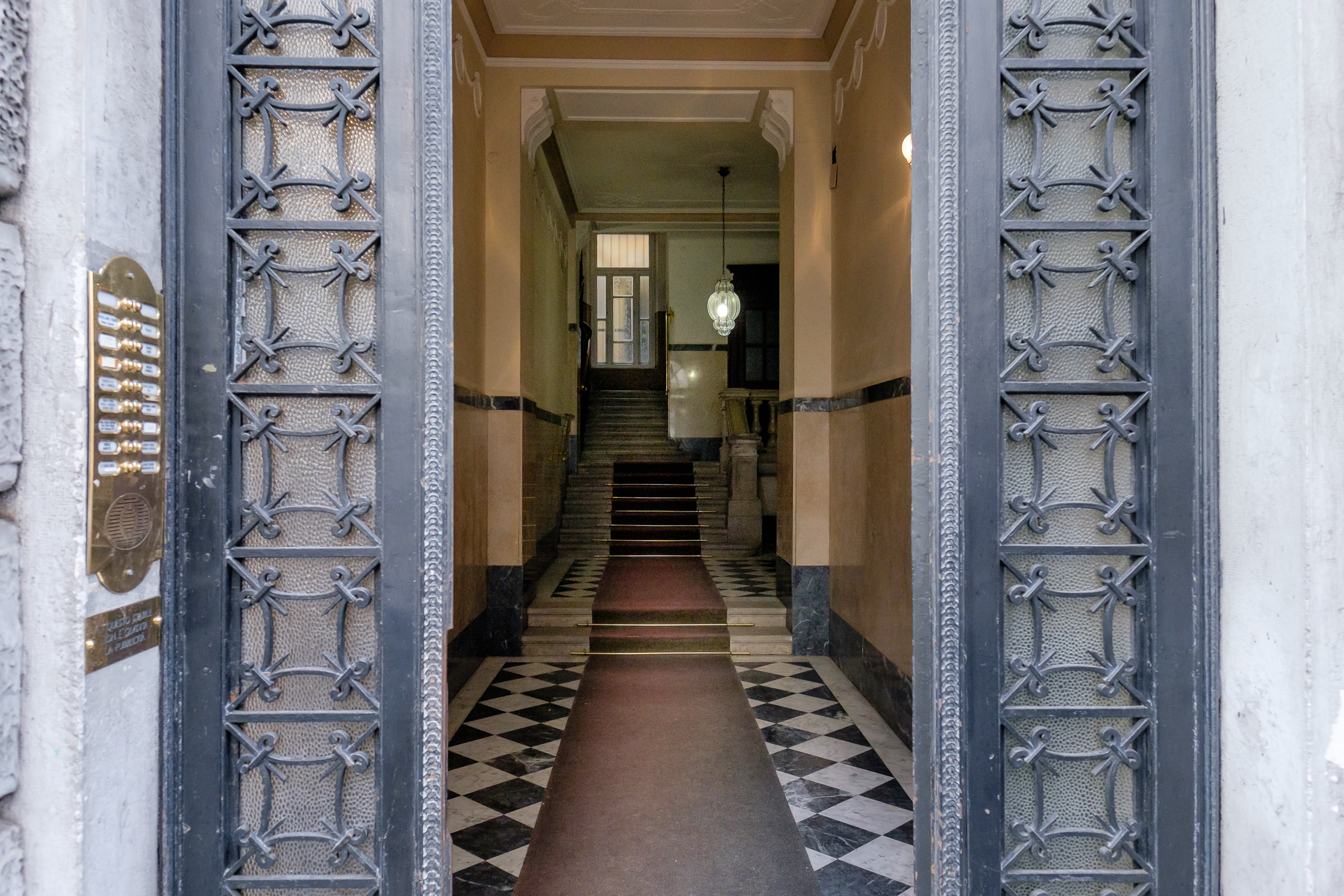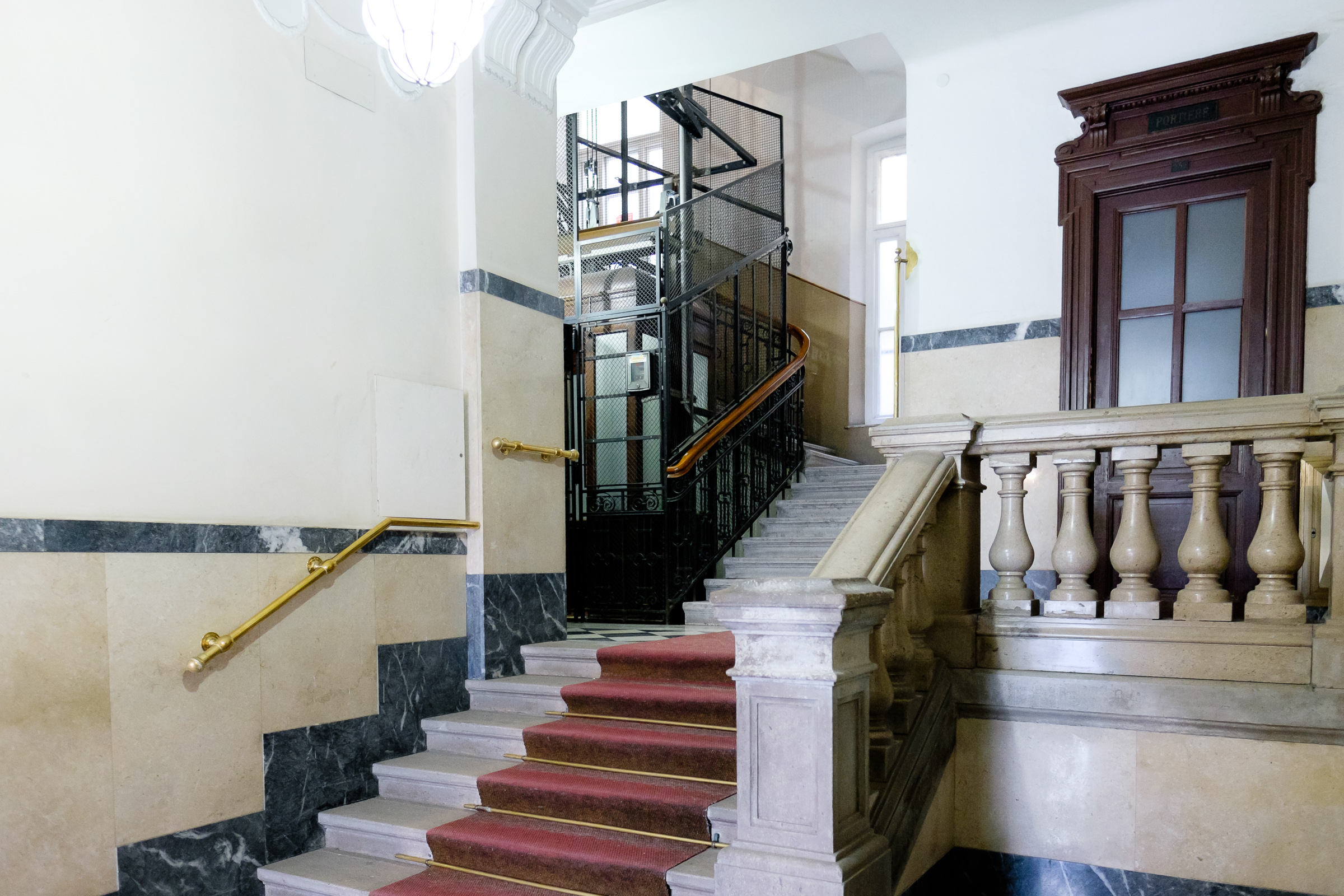 Pigiando il tasto del 5° piano (l'ultimo) si arriva a destinazione. Qui la luce che entra dall'esterno è più forte e illumina le finestre delle scale del palazzo che, in legno bianco e vetro opalino decorato, ti fanno assaporare il gusto dei tempi passati.
By pressing the button n 5°(the last) you reach your destination. The light up here is much stronger and it shines through the windows from the landings, that with their white wood and decorated opaline glass makes you feel in a different era.
Ma ora entriamo a scoprire la casa che ospiterà tutti coloro che vorranno sostare qui, alla scoperta della mia città!
But let's step into the apartment that is ready to welcome anyone who'd like to stay here and discover Trieste!
Appena entrati un profumo di Essenze, fragranze raffinate ed essenze rare, vi porteranno alla mente qualche viaggio lontano, i loro prodotti esclusivi e di alta qualità sapranno accompagnarvi in queste giornate di soggiorno in MissClaireHome.
The first think you notice as you walk in is the perfume of Essenze refined and rare essence that wil remind you of some far of journey, and their exclusive and high quality essences will be ready to accompany you during your stay at MissClaire Home.
Nel corridoio il parquet originale in rovere chiaro scricchiola sotto ai piedi, mentre le pareti dalla calda tinta blu balena salgono fino al soffitto altissimo.
Along the corridor the original light coloured parquet creaks under your feet, while the walls with their warm blue colour reach the high ceiling.
Un grande pesciolone appeso alla parete, opera di Alberto Rocca di cui vi avevo già parlato in un articolo, cattura l'attenzione: adoro queste sculture e non potevo non averne una nella mia casa, anche perché credo che con la parete del colore del mare d'inverno, si abbini a meraviglia!
A large fish is hanging from the wall, Alberto Rocca's artwork, of which I've already written an article about,which captures quite a bit of attention: I adore these sculptures so I really needed to have one in my home, also because it combines perfectly with the wall that's painted the colour of winter-time sea!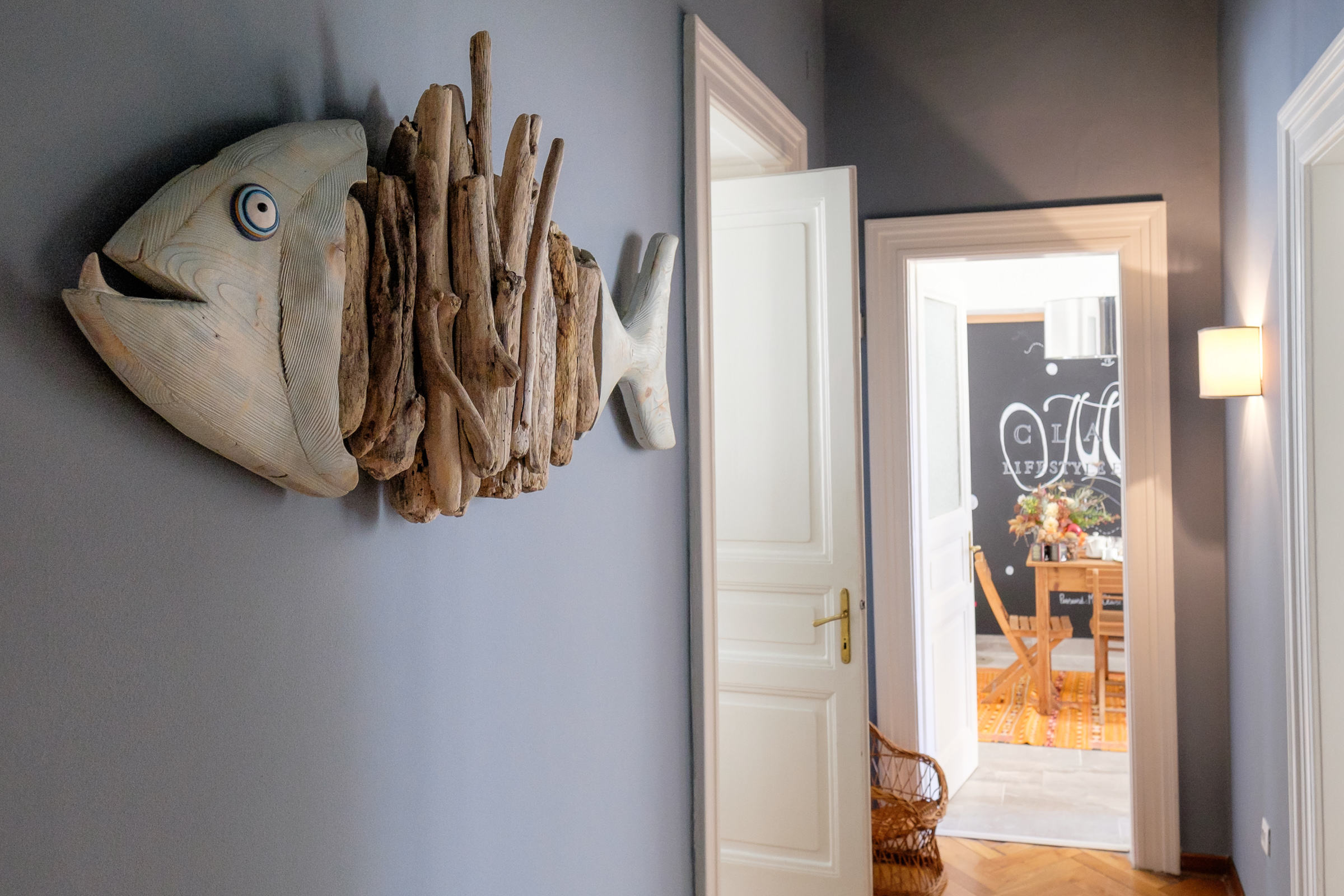 Non potevano nemmeno mancare elementi di recupero, perché come ben sapete la mia passione è mescolare le cose del passato con quelle attuali.
And obviously there had to be some recycled elements, because you know well that I love to mix and blend objects from the past with the modern ones
Così una piccola consolle anni '60 o un pannello di legno sverniciato possono risultare pratici per contenere dei piccoli "omaggi" per voi. Di cosa si tratta? I CONSIGLIATI DI MISSCLAIRE! Biglietti da visita dove troverete un piccolo sconto per voi, utili "consigli" per chi non conosce la città su dove passare delle ore liete e magari risparmiare qualche centesimo: dal bar, al ristorante, al negozio, tutto il meglio (per me) del territorio. Ho pensato di "allargare" il campo (perché solitamente non parlo di beauty) inserendo anche dei centri benessere, perché io amo farmi coccolare durante le vacanze, così troverete i riferimenti del salone più bello di Trieste, i massaggi Thailandesi migliori della città e tanto altro!
A small dresser from the 60s and a wooden panel are the practical place to keep small presents for my guests. What is in there? MISS CLAIRE'S SUGGESTIONS! Business cards with a little discount for you, useful suggestions about where to enjoy your time for people who don't know the city, hopefully saving a little money too: bars, restaurants, shops, all the best (according to me) of the local area. I thought to widen the range (because usually I don't include the beauty area) including some beauty and wellness centres, because I love to be spoilt during the holidays. You will find the contacts of the best beauty centre in Trieste, the best place for Thai massages and much more!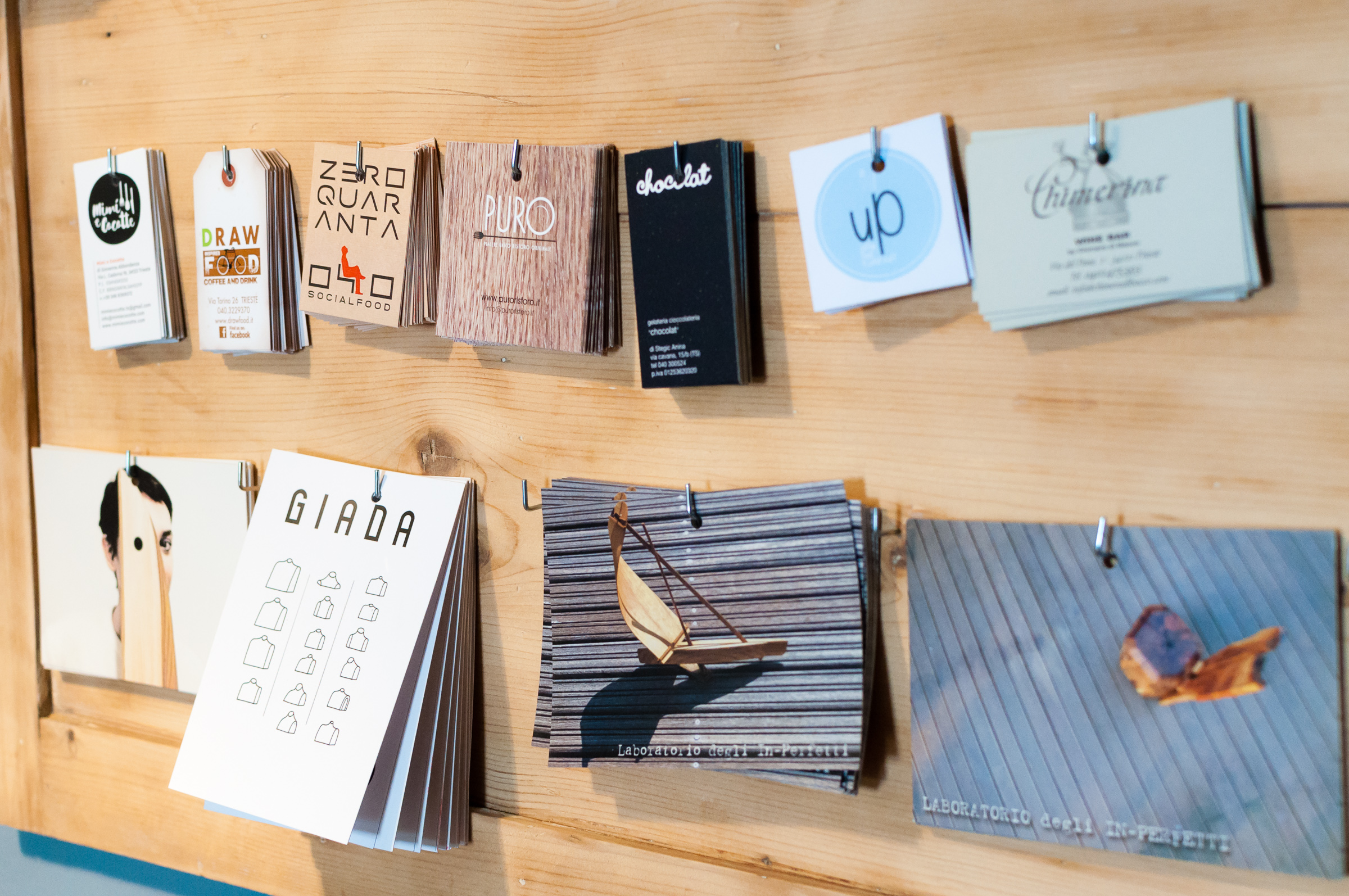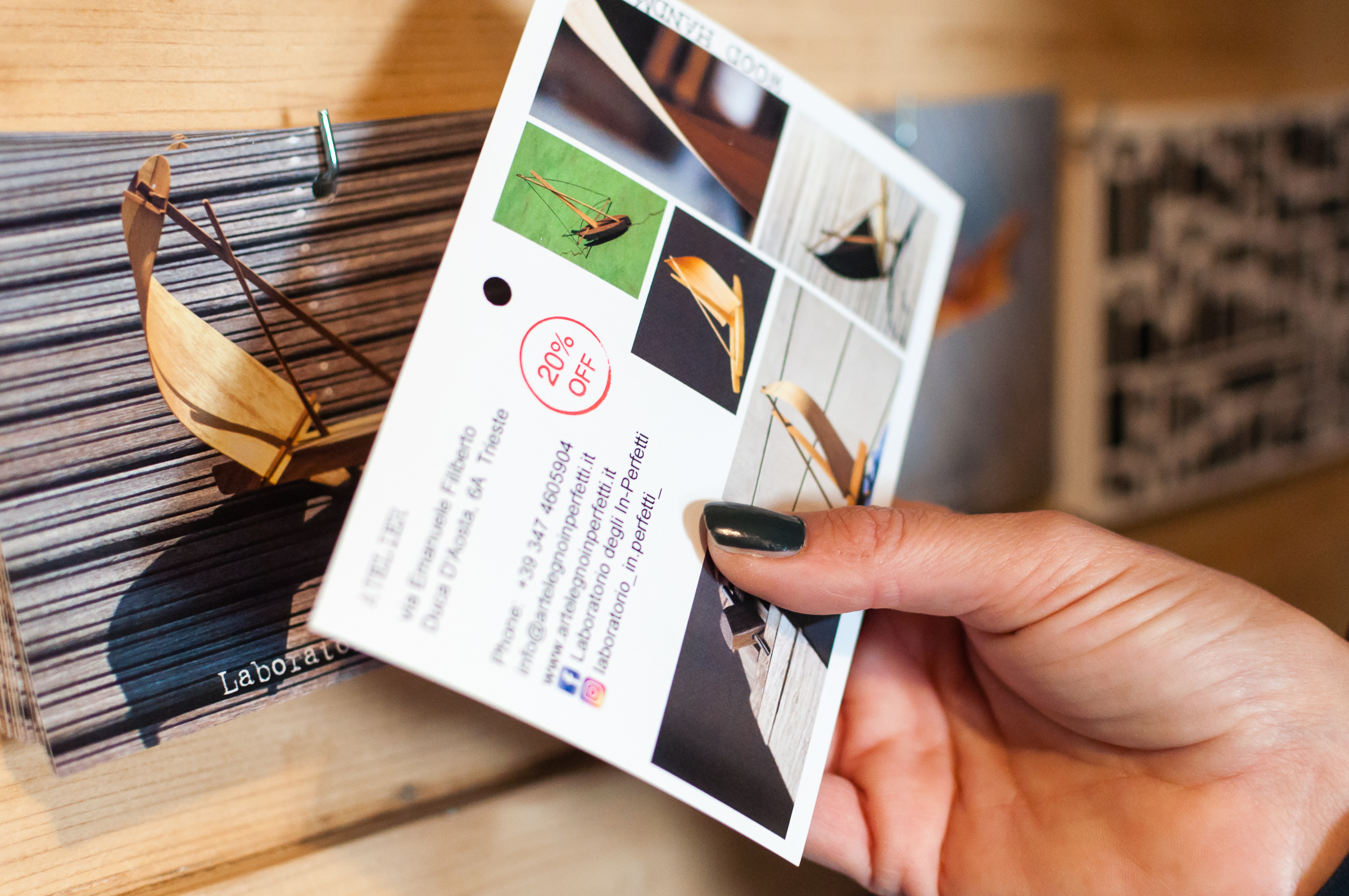 Ma continuando l'esplorazione eccoci nel salotto che all'occorrenza diventa camera da letto, perché i divani grigi dallo stile vintage si trasformano in letti ad una piazza e mezza.
But let's continue our tour: we are now in the sitting room that turns into a bedroom if needed, because the grey vintage style sofas, turn into king size beds.
La lampada la riconoscete? Una piantana fatta da hoc per questa casa, non poteva che diventare mia … Sandro con le sue sapienti mani l'ha creata per noi: Il Laboratorio degli In-Perfetti!
Do you recognize the lamp? It was custom made for this house so it obviously had to become mine … Sandro made it with his expert hands: Il Laboratorio degli In-Perfetti!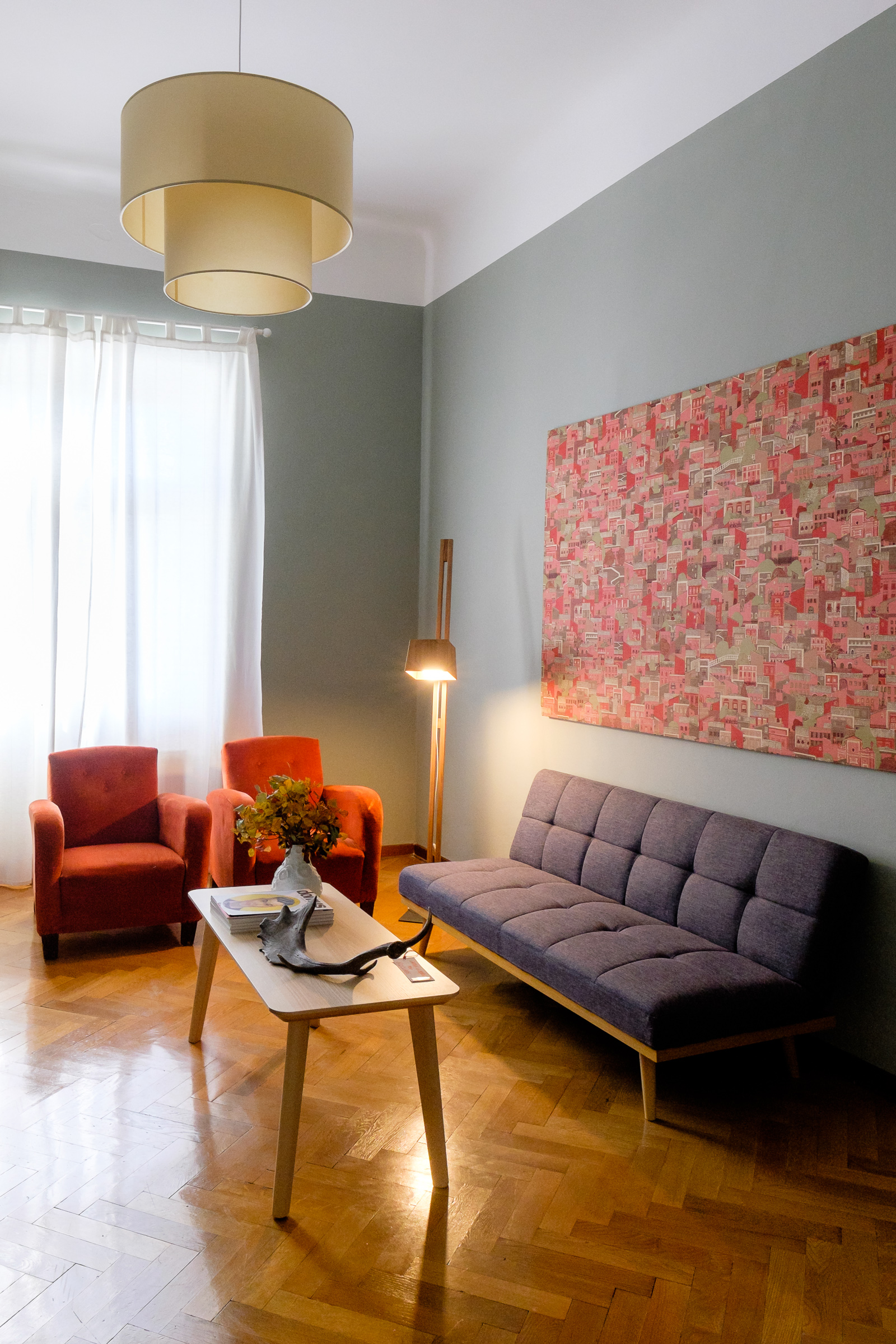 Le poltrone di velluto rosso corallo sono due pezzi di recupero, come il tessuto montato su telaio, che ho trovato da Studiocinqe e altro, mentre il porta abiti e le mensole fatte su misura sono creazioni di Vud, ve lo ricordate?
The red coral velvet armchairs are two recovered items, as is the fabric on the frame, which I found at Studiocinqe e altro, while the coat hanger and the shelving was custom made by Vud , do you remember them?
Vud e il suo design autoprodotto lo riconoscerete anche nella sala da bagno, con uno specchio fatto su misura e una mensola di abete, adorabile il suo taglio e la volontà di lasciarla con la corteccia, più naturale possibile!
You will find Vud and its design products also in the bathroom, with a custom made mirror and a shelf in fir wood; an adorable shape and the choice to leave the bark gives it a complete nature look.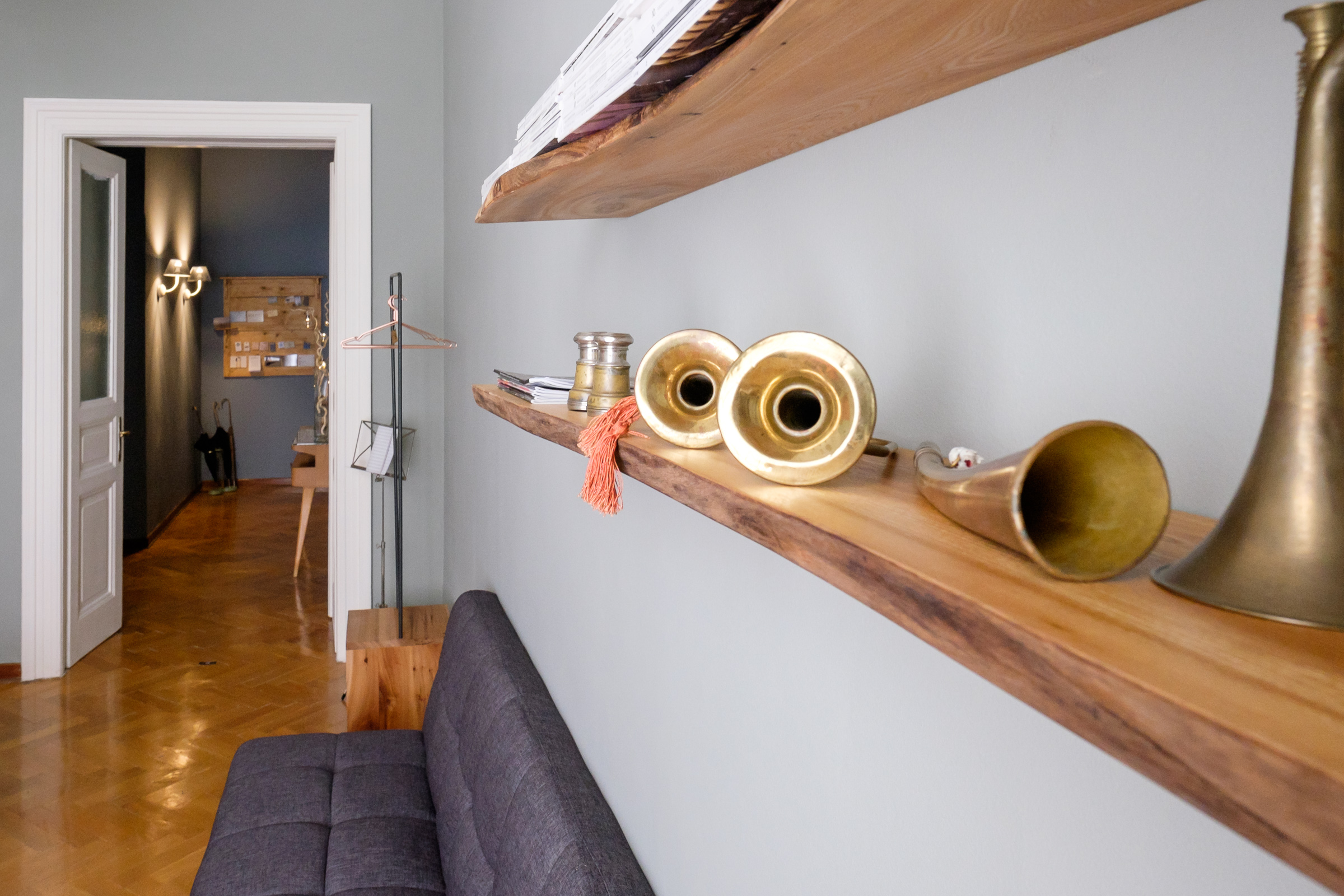 Il bagno è stata la prima cosa che ho deciso di rifare completamente, visto che quando soggiorno in un hotel è la prima cosa che valuto. Quindi tutto nuovo, a cominciare dalla doccia ampia e confortevole, il lavandino di design, un inginocchiatoio giallo che fa pendant con lo sgabello di recupero rifoderato in eco pelle gialla da Studiocinque e altro.
The bathroom was the first part of the apartment I decided to change completely, because when I'm staying in a hotel it'ss almost the first thing I take in. So it's all new, starting from the new large shower, the design sink and a few yellow furnishings here and there, vintage and reupholstered by Studiocinque e altro.
Sulla mensola di legno di Vud ecco due ali d'angelo di legno sapientemente intagliate da Vulcano di Blu di Prussia, una magnifica creazione, per far volare i propri sogni e per chi dovesse dimenticarsi dov'è eccoci un remind.
On the shelf created by Vud there are two wooden wings skilfully carved by Vulcano from Blu di Prussia, a wonderful creation, that gets our dreams flying and for who has forgotten where their workshop is, here is a small reminder.

Divertente è stato collaborare con Alessio di Fontana Luce perché ci siamo sbizzarriti nella creazione dei cappelli per le lampade, ideando linee diverse, materiali diversi. In tutta la casa sono presenti le sue lampade, fatte a mano artigianalmente e semplicemente stupende!
It was great fun to work with Alessio from Fontana Luce  because we had a great time creating lightshades for the lamps, thinking up new designs and using different materials. His lamps are all over the house, skilfully handmade and simply delightful!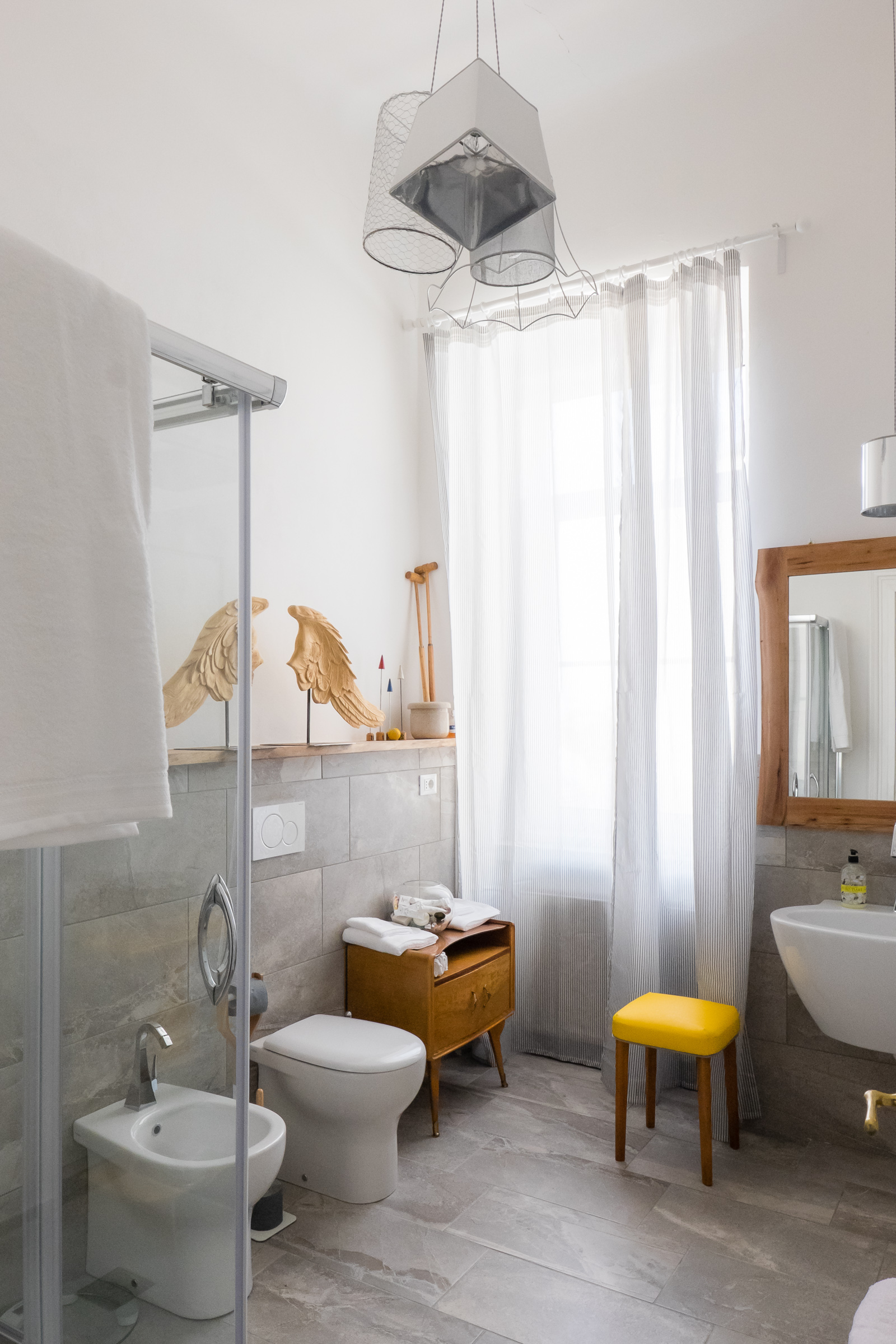 Nella camera da letto matrimoniale manca ancora qualche piccolo particolare, ma non ve lo svelerò ancora, visto che lo stanno ancora progettando, ma una cosa è sicura: qui i miei ospiti dormiranno col sonno di un bambino! Il materasso è il top della gamma: in aloe, memory form, lattice, anti allergenico, ortopedico. Insomma … chi ne ha più ne metta! Ovviamente non potevano mancare 3 tipologie di cuscini diversi (a seconda del vostro gusto ed abitudine), un piumino Svedese e lenzuola di cotone rasatello Made in Italy. Se non dormite comodi qui, vi servirà qualche goccetta di fiori di Bach! 😉
In the master bedroom there are still a few details missing, but I'm not going to tell you about them just yet, because it's still being designed, but it's definitely going to be there: here my guests will be able to rest as peacefully as a child! The mattress is top range: in aloe, memory foam, latex, anti allergic, orthopaedic. I'd say it's got it all! Obviously we also had to have three different types of pillows (according to how you prefer sleeping), a Swedish duvet and polished cotton sheets Made in Italy. If you can't sleep comfortably here you might need a few drops of Bach flower! 😉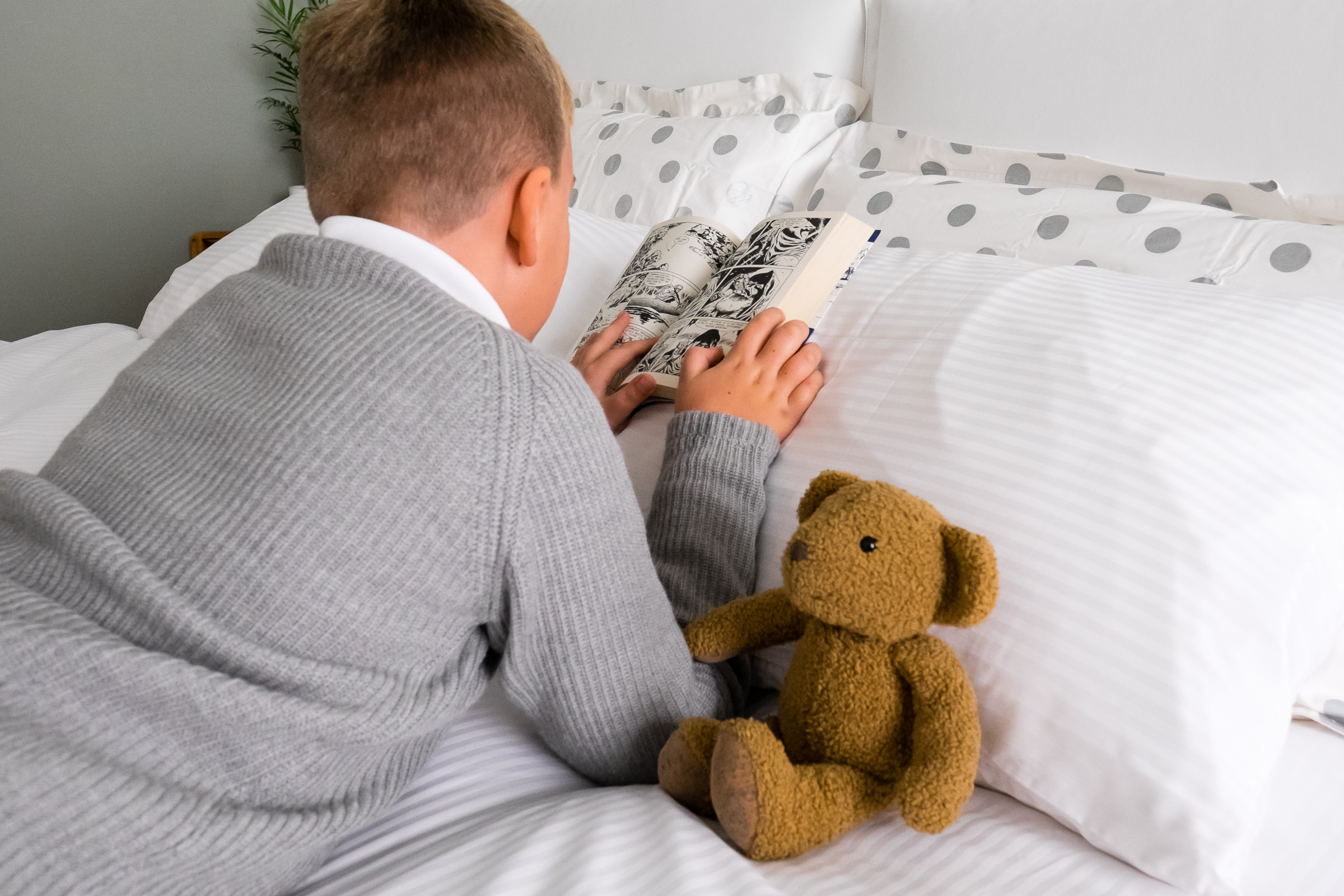 Il mobile su cui è appoggiata la televisione è di recupero, un piccolo pezzo di storia triestina, apparteneva alla birreria Dreher di Trieste, e di recupero sono anche le vecchie valige accostate in un angolo che ben si sposano con la tonalità delle pareti.
The TV stand is also recovered, a little piece of Triestine history: it comes from the Dreher brewery in Trieste. Even the old suitcases in the corner are vintage and they look great with the colours of the wall.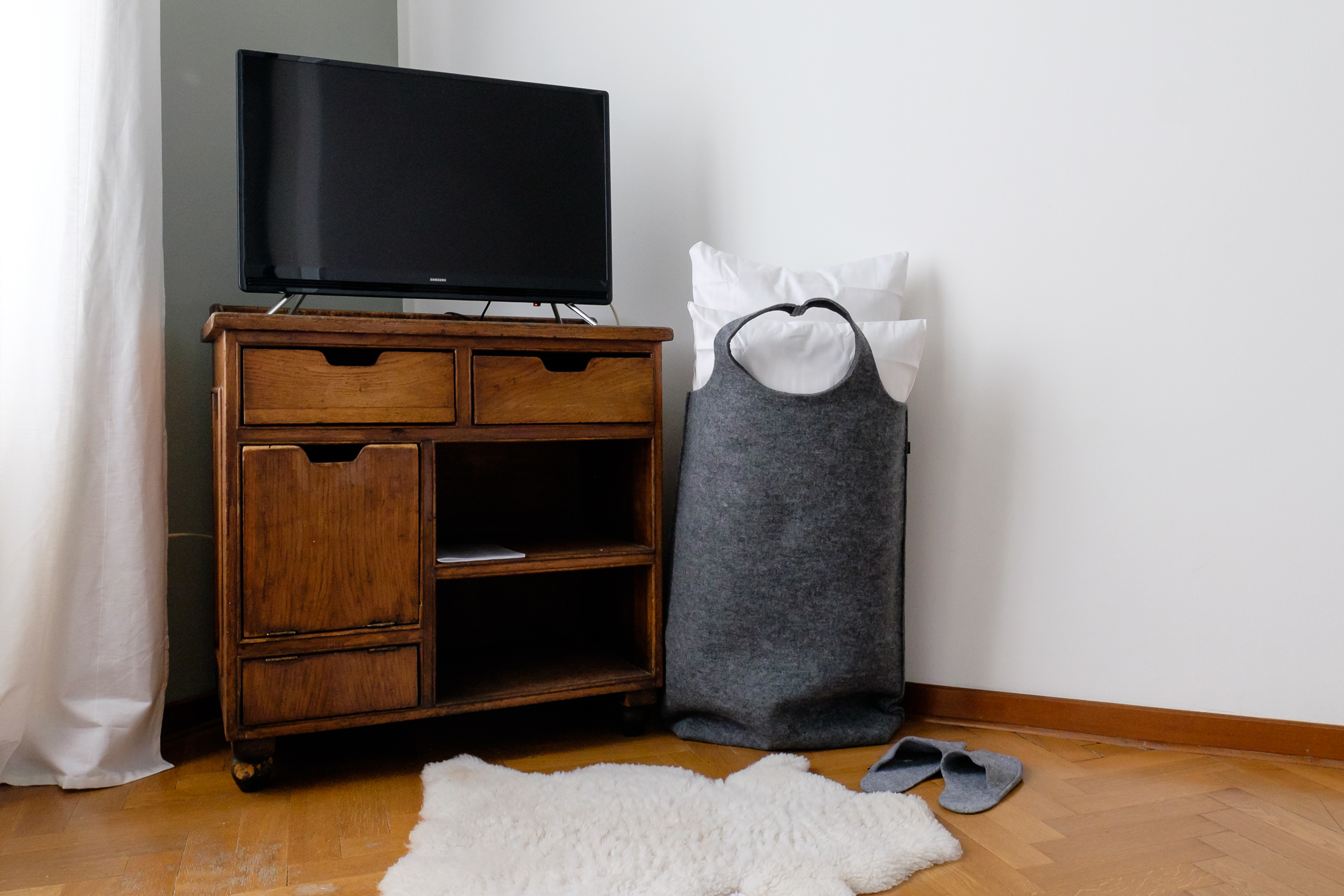 Orgogliosa della Laudry Bag di KAATIA, in feltro grigio. Dopo averla trovata a Ljubljana non potevo non portarla con me e farvela apprezzare dal vivo!
I'm also very proud of KAATIA's Laundry Bag in grey felt. After meeting her in Ljubljana I couldn't not have her in my house so you could appreciate her too!
A proposito del colore delle pareti: un paio di mesi fa, avevo quasi finito di restaurare tutto l'appartamento e le pareti erano tutte bianche. Ero sul mood NO COLORE. Ma presa dai miei classici raptus di follia, un giorno entrando e notando la luminosità di questo appartamento all'ultimo piano, ho pensato a come si sarebbe sposato bene un colore, e quanto avrebbe dato risalto alle porte bianche ed al parquet di rovere. Contattato il mio amico Aldo, che con la sua azienda che da più di 100 anni produce le migliori pitture di Trieste, eccomi a rifare il budget con cartella colori alla mano: via, si cambia tonalità!
And about the colour of the walls: a couple of months ago, when the main work had been just finished on the apartment, the walls were white. I was in a NO COLOUR mood. But I was suddenly taken by one of my moments of madness, I noticed how much light came in through the windows, and I thought that a colour would fit in quite well, enhancing the white doors and the oak floor. I called my friend Aldo, whose firm has been making the best paints in Trieste, and I'm already adding to the budget and choosing the right shade of colour!
Ma ditemi voi, quanto ci stanno bene questi specchietti (recuperati in vari mercatini e rifatti mettere a posto) su questa parete verde fango? Non sembra anche a voi che tutto risalta di più, anche questo pannello scorrevole con il suo tessuto francese di felci?
But what do you think? Don't the mirrors look nice on this mud green wall? (I collected them in various little markets and had them fixed up) It gets the colour to stand out even more, as well as the panel covered in this French fabric with ferns!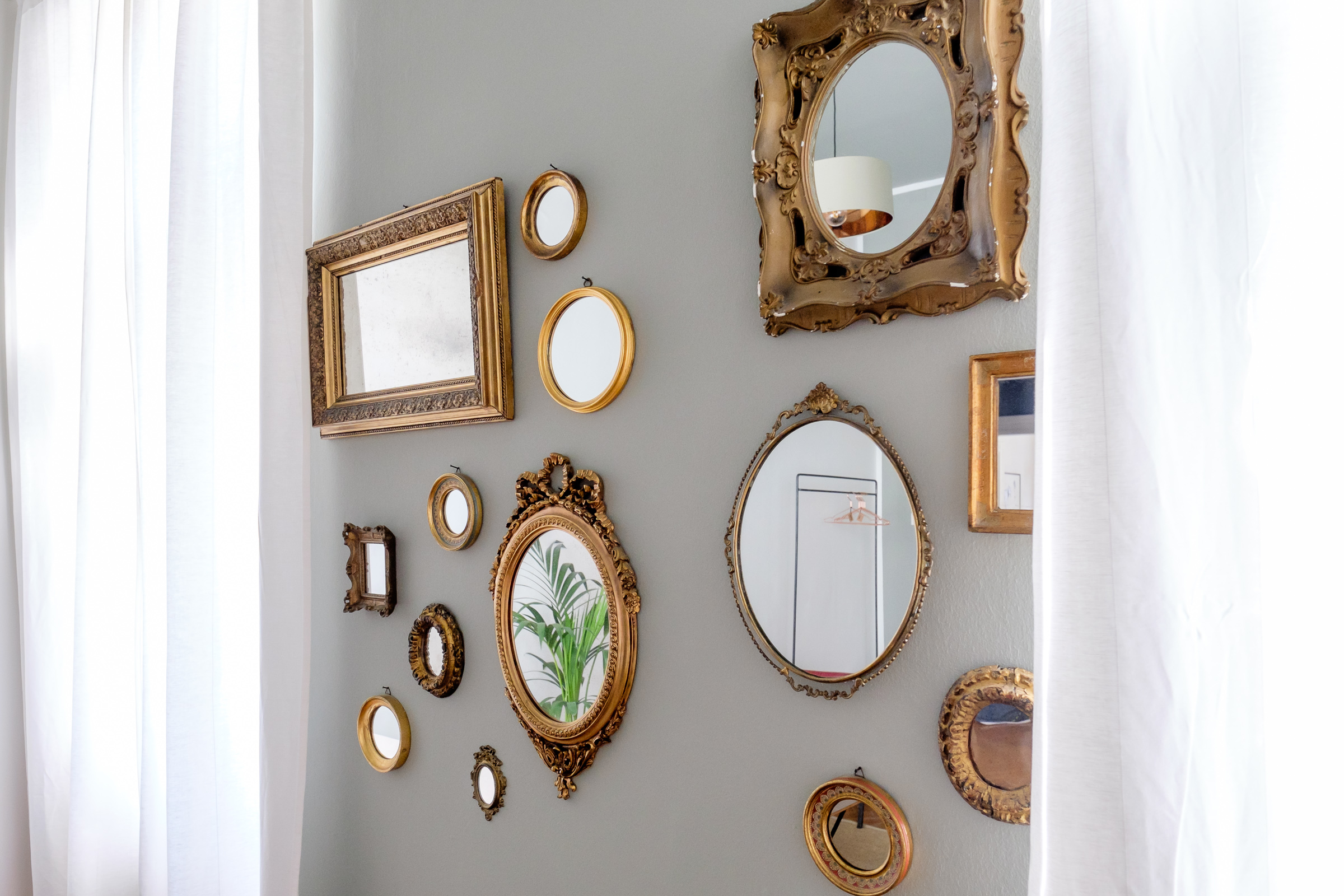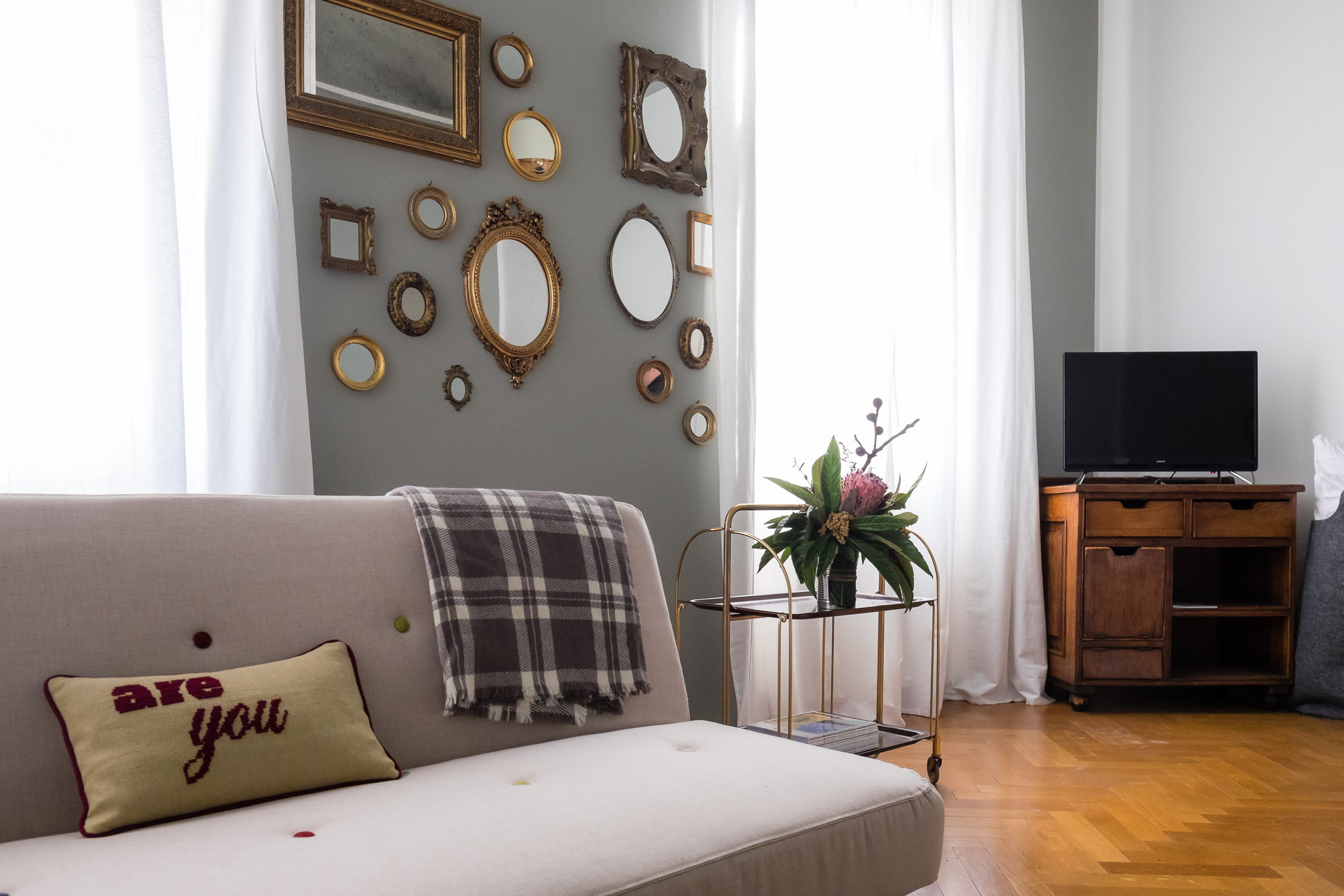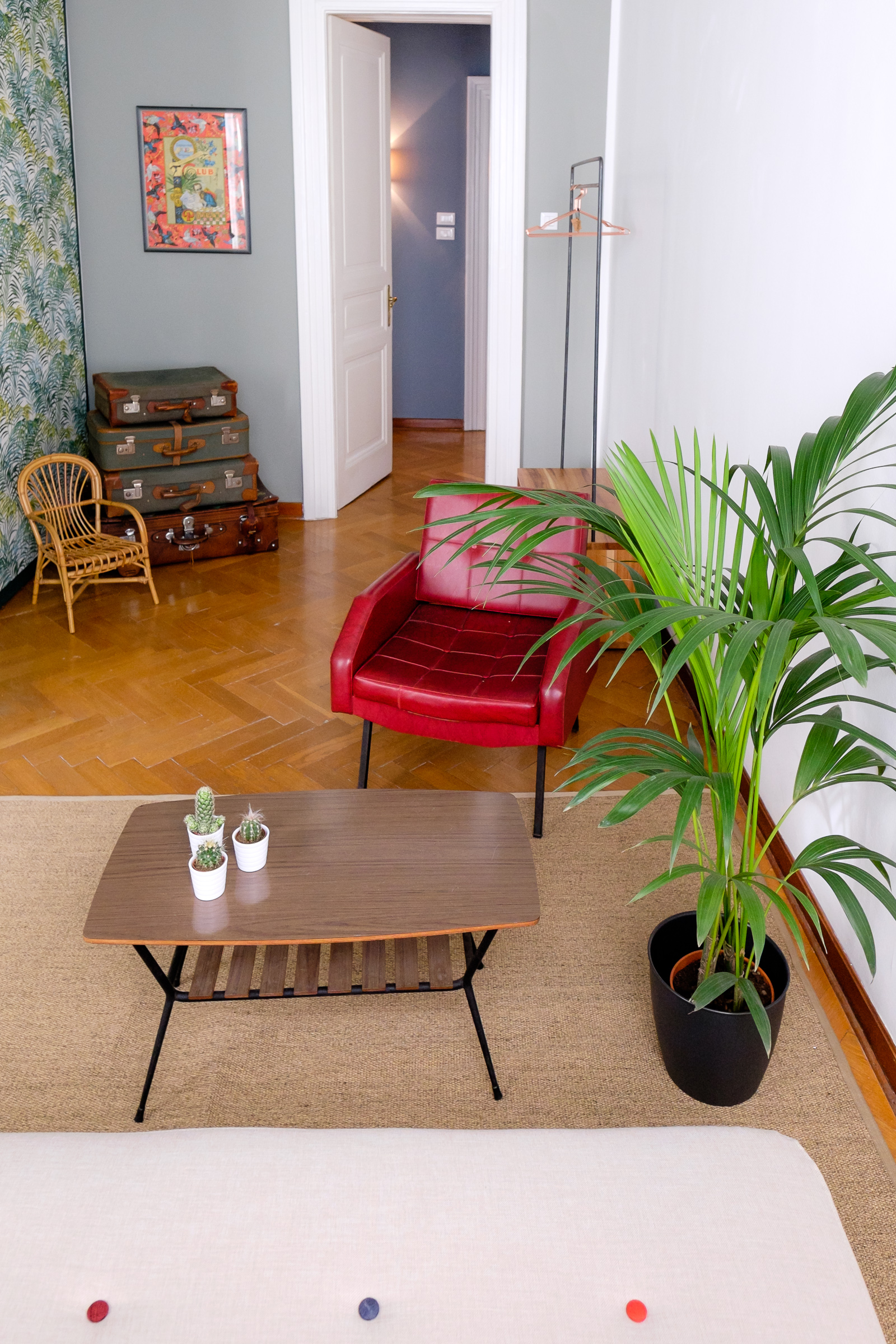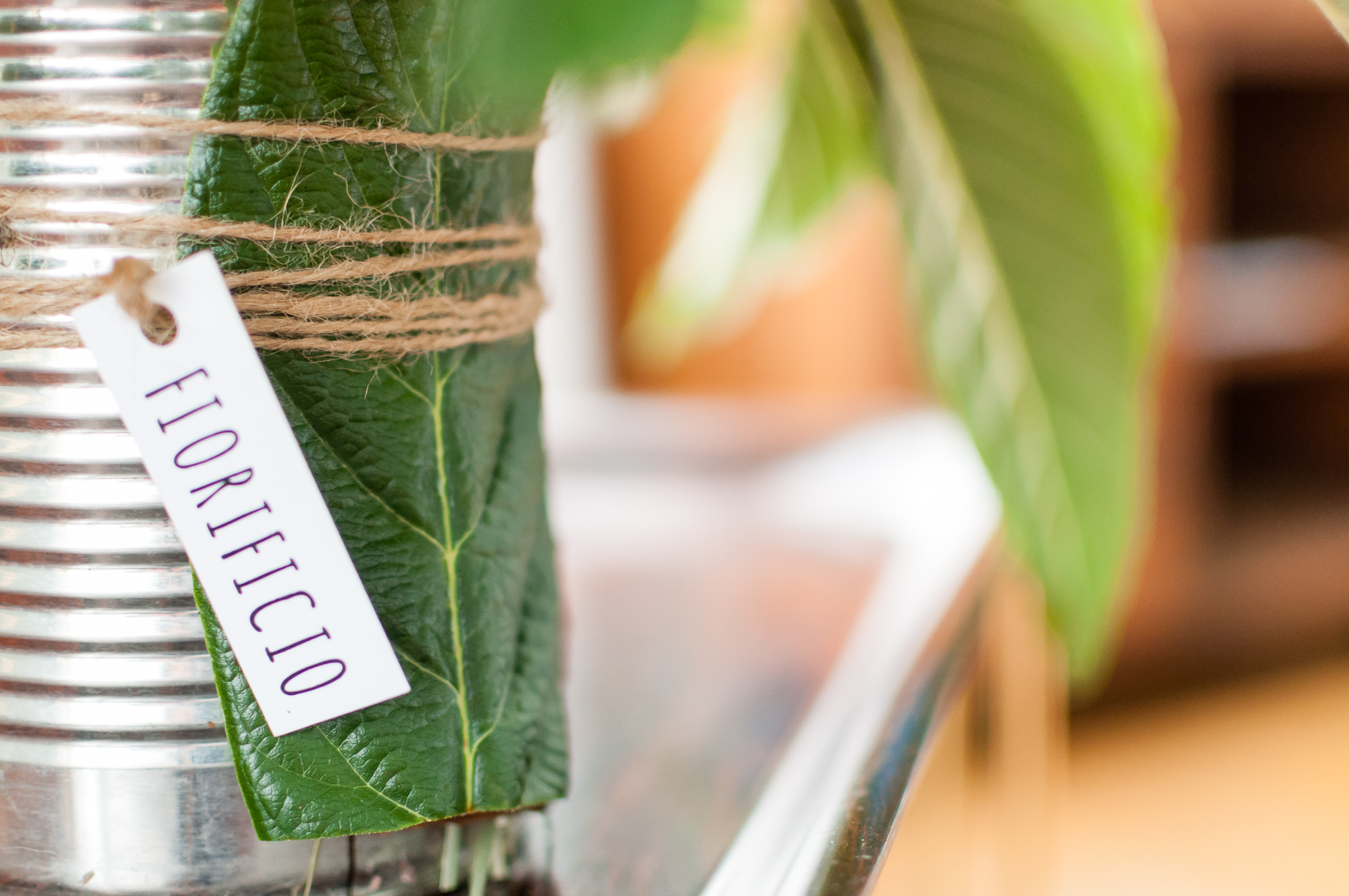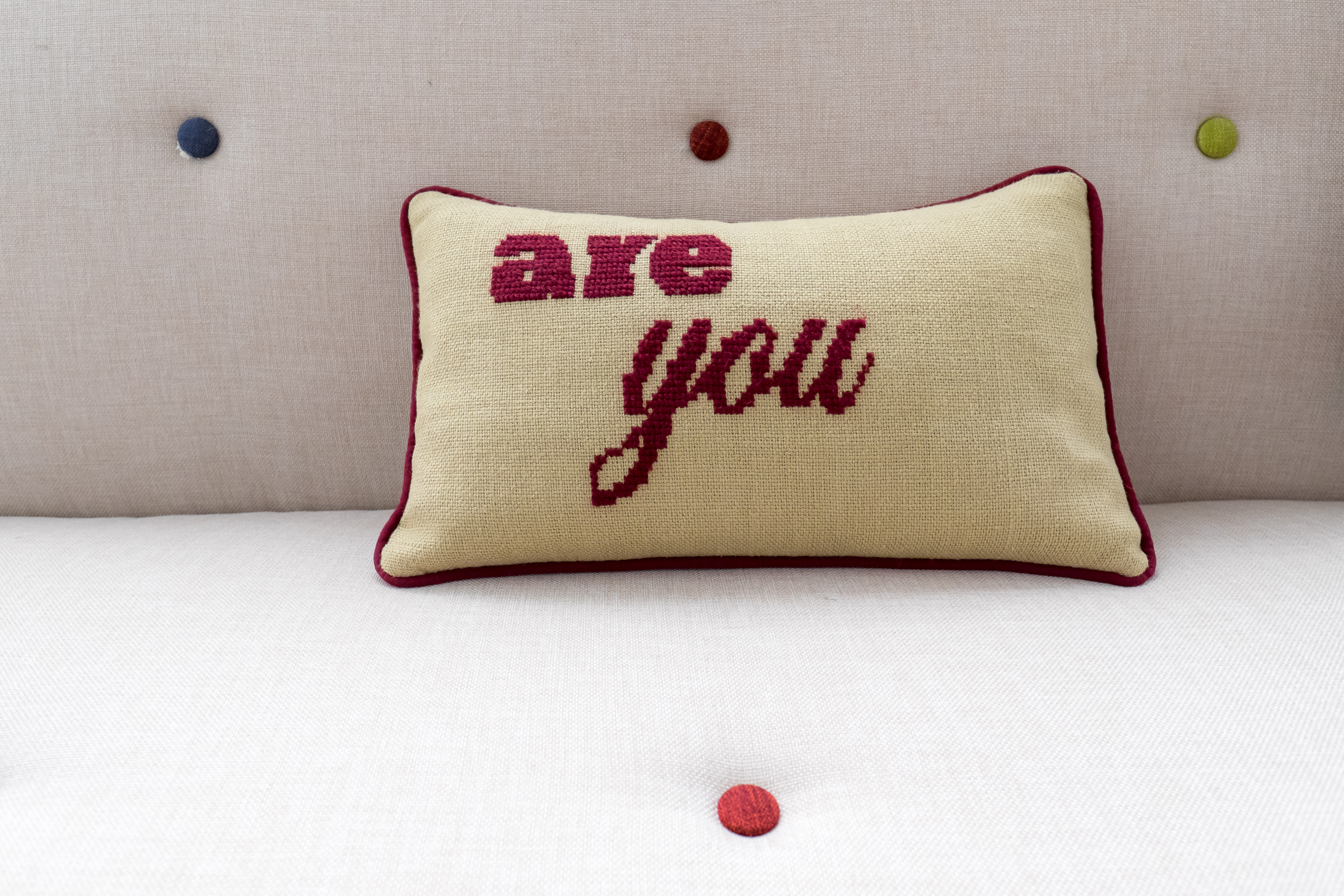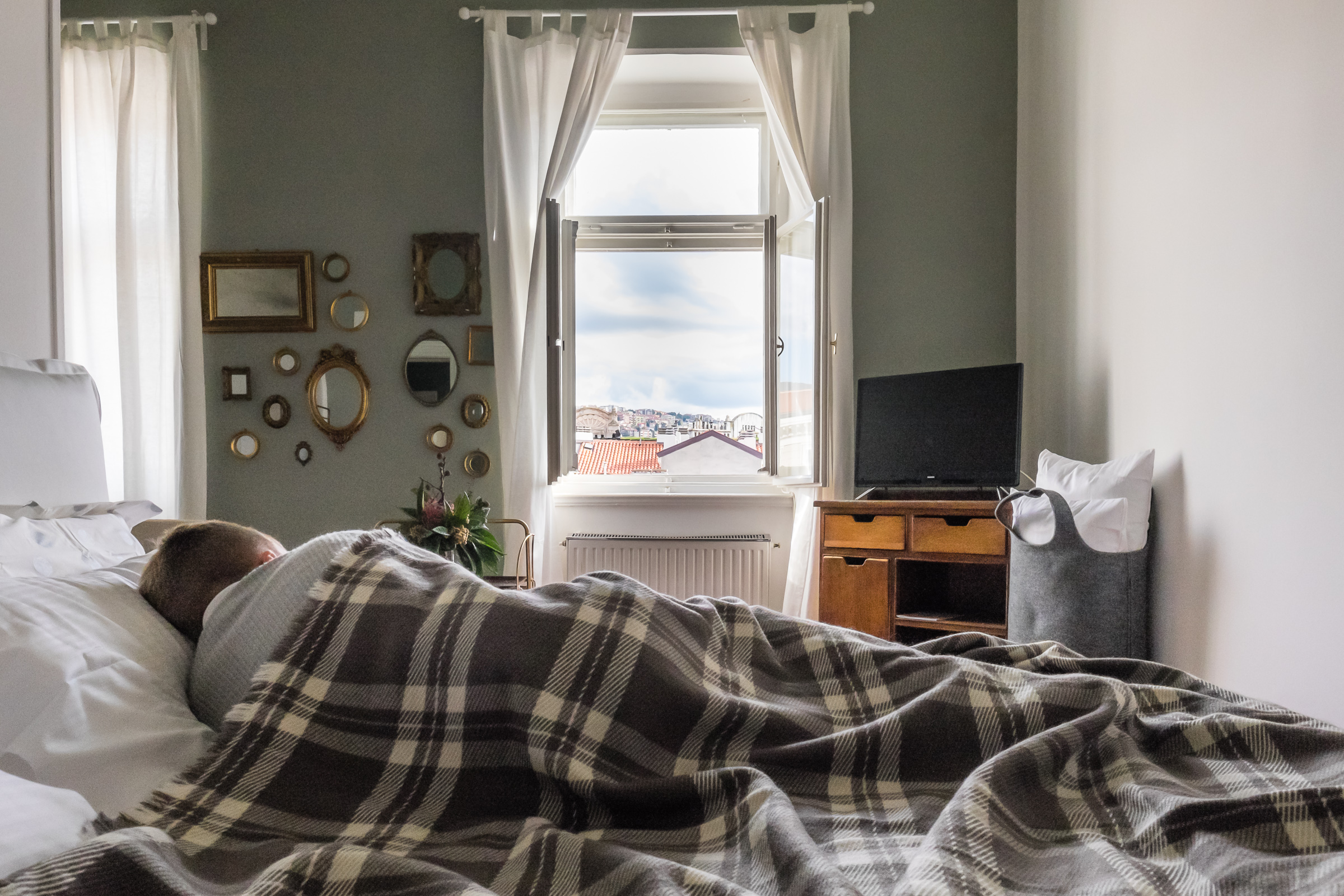 Ora manca solo la cucina e il mio tour per la casa sarà concluso!
Now there's just the kitchen to see and my tour will be complete!
Eccola come si presentava quando la vidi per la prima volta …
Here you can see what it looked like when I saw it for the first time…

Le sue piastrelle anni '60 mi divertivano, e vi assicuro che le avrei volute tenerle, se non avessi dovuto cambiare tutto l'impianto e i tubi di piombo che stavano sotto! Così forza e coraggio, si rompe tutto e si rifà nuovo!
I found those tiles from the 60s quite fun, and I can assure you that I would have liked to keep them, if I hadn't had to change all the water system and pull out the led pipes underneath. So with a little courage we pulled it all up!
Oggi si presenta così, semplice e funzionale, divisa in due ambienti. Gli spottini illuminano la parete di lavagna dove Camilla di CB Paintings con il suo decoro ha realizzato al meglio il mondo di MissClaire e dandovi un bel benvenuto.
Today it looks like this, simple and functional, divided into two areas. The spotlights are lighting up the wall painted in blackboard paint where Camilla from di CB Paintings and her creativeness have represented the best of MissClaire, with a welcoming feeling.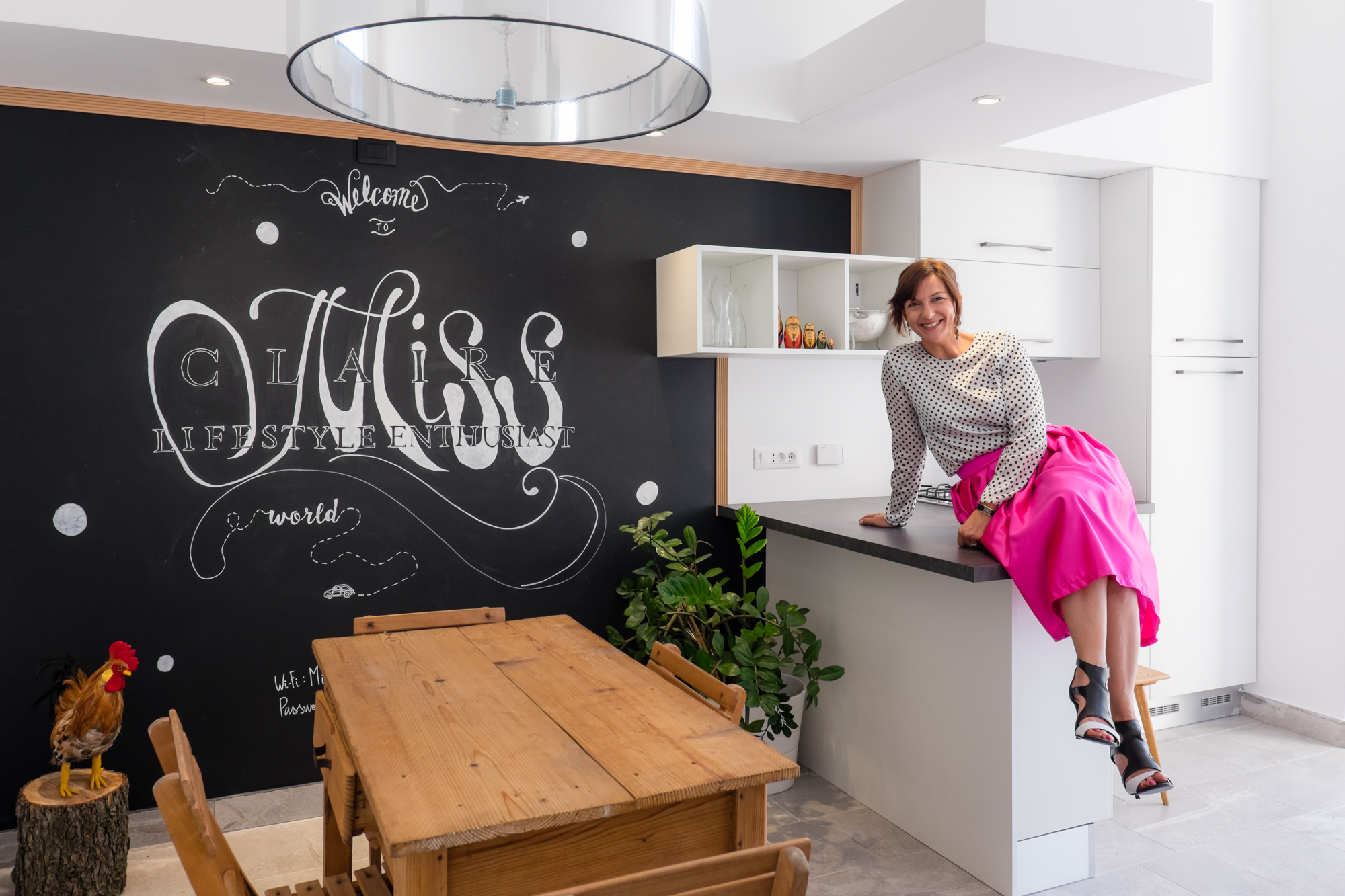 Il sapore del recupero c'è anche in questa stanza, il tavolo di legno con le sedie prese dal campo Scout sloveno che le dismetteva, e le stoviglie di Limoges anni '70 che sposano appieno il mio gusto!
There's a little recycling going on in this room too: the wooden table and the chairs are from a Slovenian scout camp that was giving them away, and the dishes are from Limoges, directly from the 70s!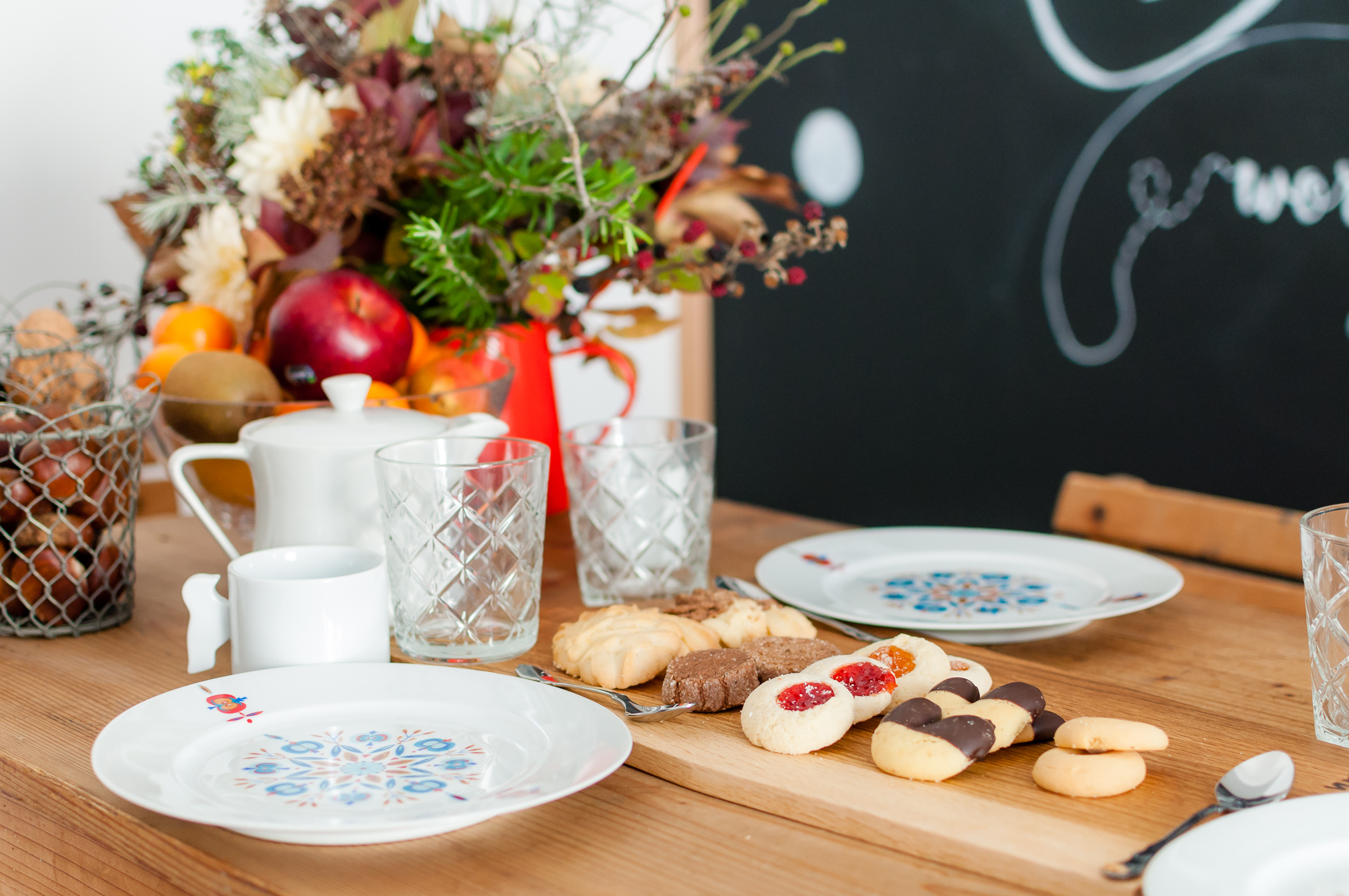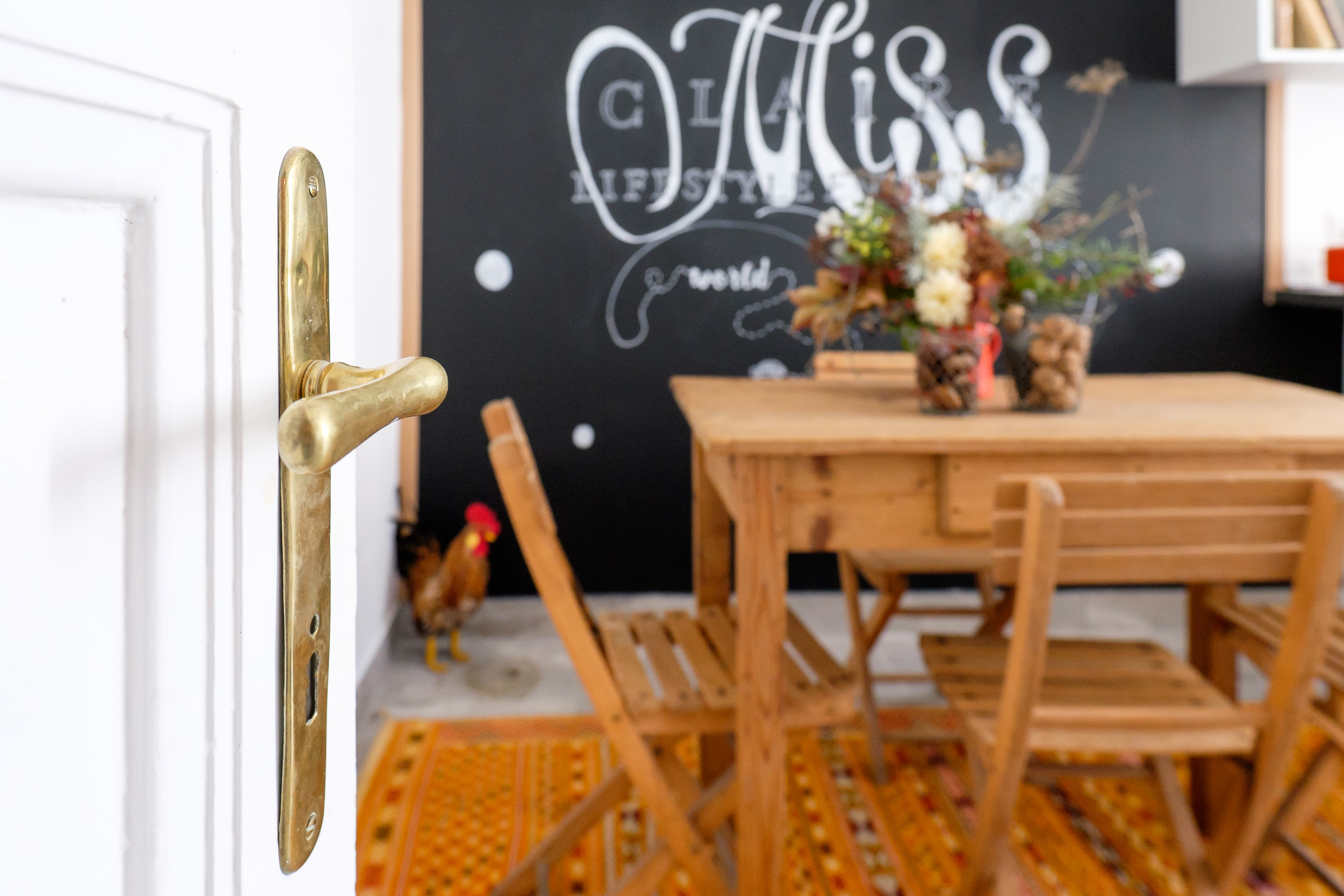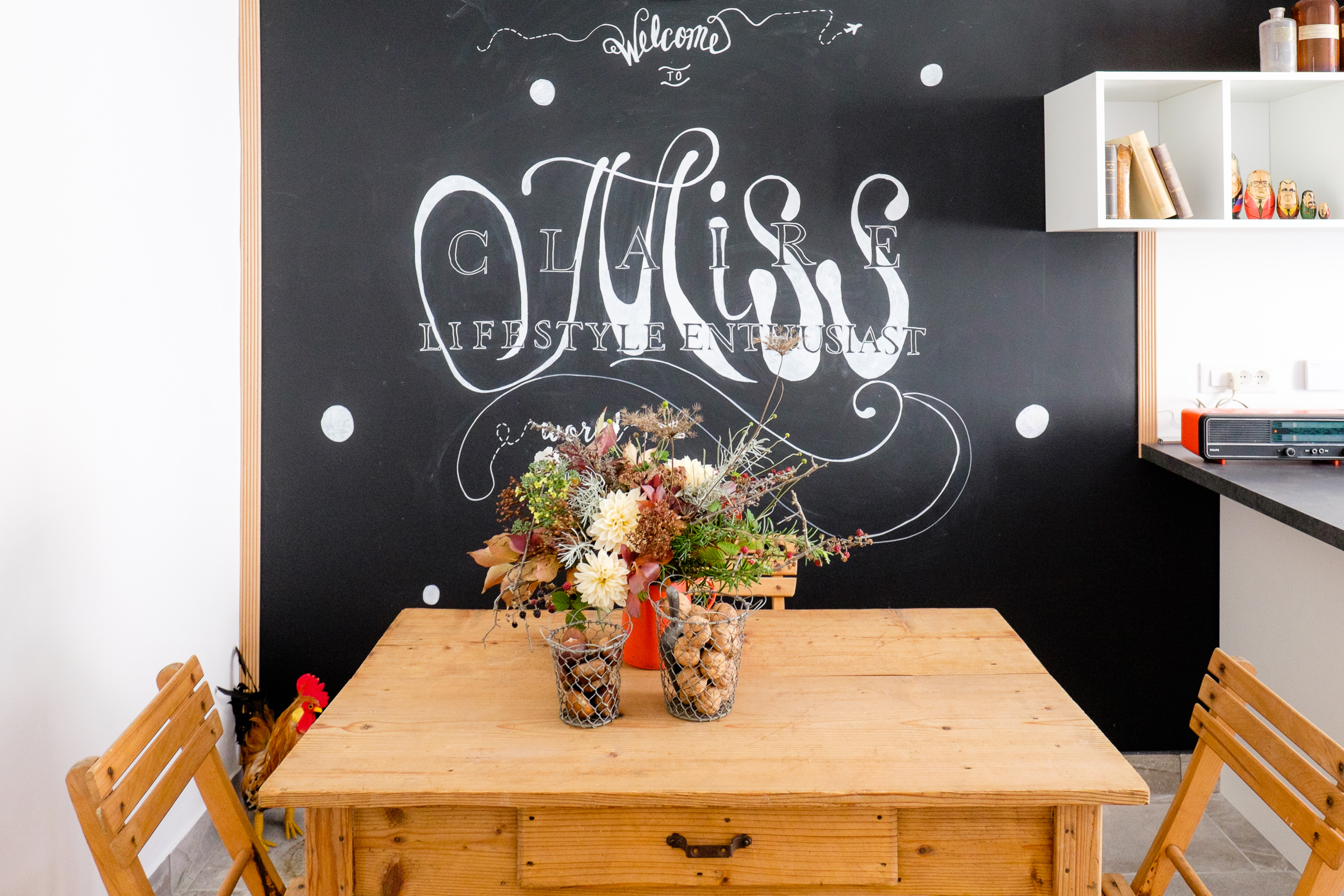 Dal balconcino si può godere di un magnifico panorama sui tetti dalle città, una vista che abbraccia il Castello di San Giusto e la cupola della Chiesa Serba Ortodossa, fino ad uno scorcio di mare.
From the little balcony you have a nice view of the rooftops of the town, a view that includes the San Giusto Castle and the dome of the Serbian Orthodox church, and even a glimpse of the sea.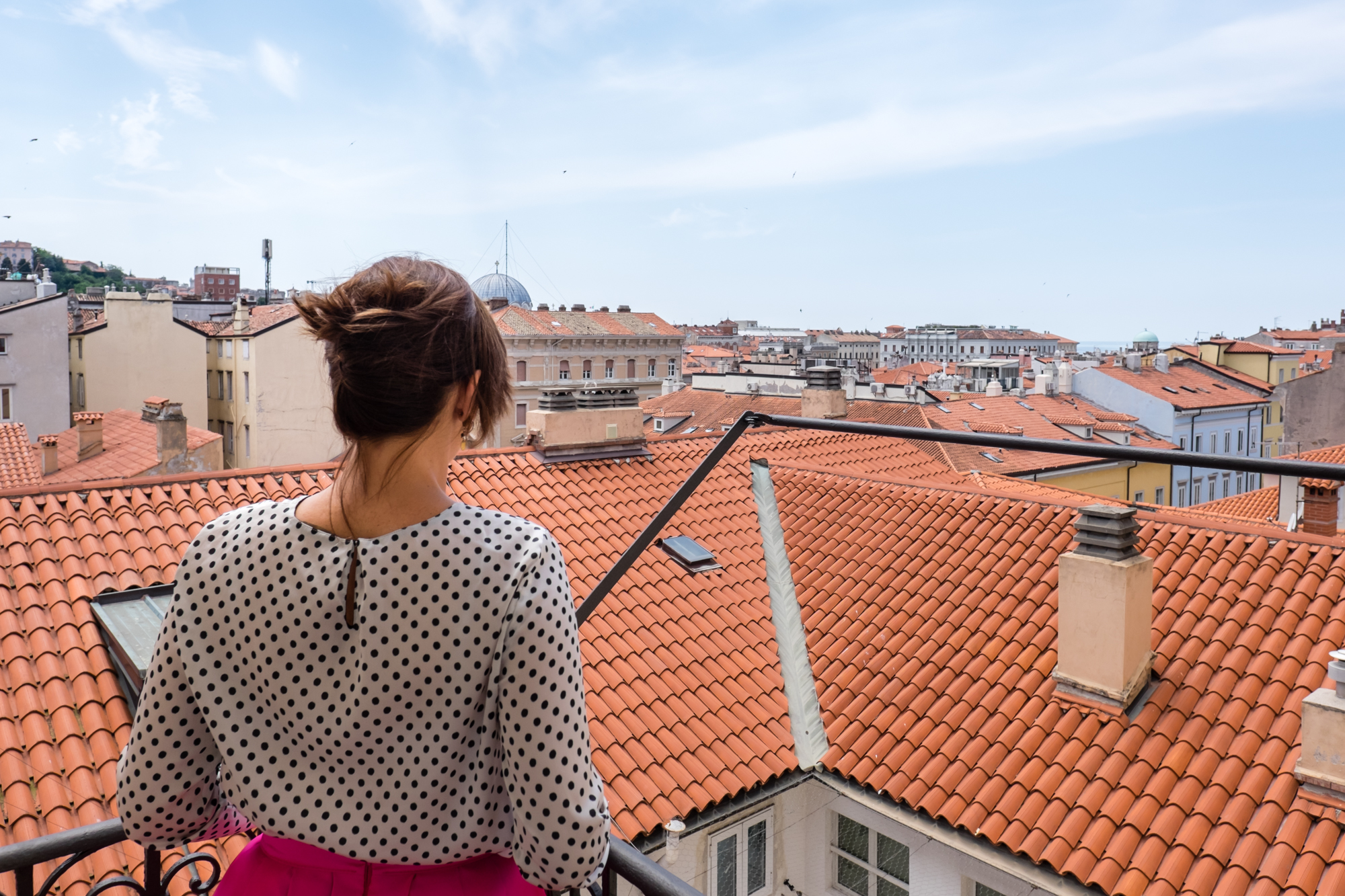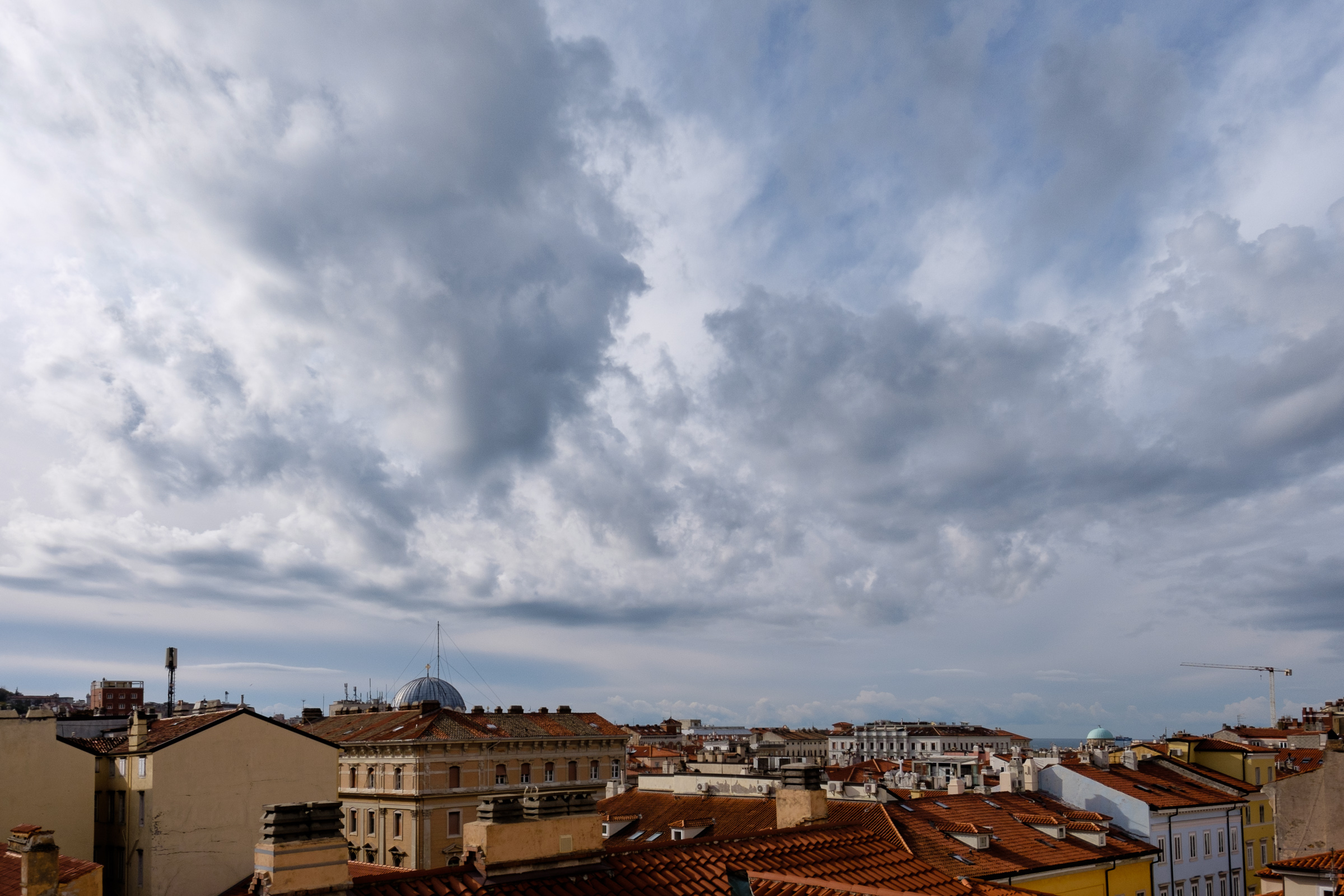 Come potete vedere, questa casa l'ho restaurata come se dovessi andarci ad abitare io, mettendoci tutto l'amore possibile, e triplicando il valore del budget iniziale… 😉
Ora è tutto pronto per ospitarvi nel vostro soggiorno Made in Trieste; per prenotare è molto semplice, basta collegarsi a Airbnb: MissClaireHome!
It's all ready to welcome you during your stay in Trieste; it's very easy to book, just connect to Airbnb: MissClaireHome!
"Ho attraversato tutta la città. Poi ho salita un'erta, popolosa in principio, in là deserta, chiusa da un muricciolo: un cantuccio in cui solo siedo; e mi pare che dove esso termina termini la città. Trieste ha una scontrosa grazia. Se piace, è come un ragazzaccio aspro e vorace, con gli occhi azzurri e mani troppo grandi per regalare un fiore; come un amore con gelosia. Da quest'erta ogni chiesa, ogni sua via scopro, se mena all'ingombrata spiaggia, o alla collina cui, sulla sassosa cima, una casa, l'ultima, s'aggrappa. Intorno circola ad ogni cosa un'aria strana, un'aria tormentosa, l'aria natia. La mia città che in ogni parte è viva, ha il cantuccio a me fatto, alla mia vita pensosa e schiva."
Umberto Saba
"I traversed the entire town. Then I climbed a steep slope, crowded at first, deserted further up, closed by a low wall: a nook where I sit alone; and it seems to me that where it ends the town ends too. Trieste has a surly grace. If one likes it, it is like a rascal, harsh and voracious, with blue eyes and hands too big to offer a flower; like a love with jealousy. Up from this slope every church, any street I discover, whether it takes to the huddled beach, or to the hill where, onto the rocky top, a house, the last one, clings. All around circles all things a strange air, a tormented air, the native air. My town that is in every of its part alive, has a nook made just for me and my life, pensive and reserved"
Umberto Saba
Foto di Andrea Zangrando