The first time I set food in the area of Friuli I had the strong impression that "qua se pol" (here things are done). Things are done a little differently here, after all there has always been a little rivalry between Trieste and Udine, which is also connected to their way of like; Trieste admires the great entrepreneurship spirit and work dedication they have here. They envy Trieste's inclination to leisure activities.
But don't let their appearance fool you. We still have a little in common and we also quite like each other! During the weekend we often exchange locations; a form of "migration" pushes people from Trieste to go looking for events, wine cellars and great restaurants in Friuli, while people from Friuli often head to Trieste to enjoy the sea.
I'm sure you're wondering what this has to do with the article! I received an e-mail invitation from the "GROUP OF WINEPRODUCERS OF THE WESTERN COLLIO OF CORNO DI ROSAZZO" to come and visit them and get to know this interesting area. I accepted immediately J
I got in the car and headed to my visit in the area of Friuli. I reached a little town, with just about 3.000 inhabitants, then I drove up to the elegant Villa Nachini with an unexpected welcoming crowd: Demis Ermacora (President of the Gruppo Viticultori), Visintini Oliviero (previous President of the Gruppo Viticultori), the honourable Daniele Moschioni ( mayor of Corno di Rosazzo), Maurizio D' Osualdo (deputy mayorof Corno di Rosazzo) and Giuseppe Longato (Council member in charge of heritage). I was actually expecting a troup in high uniform and the town band (which counts 300 people!). But I should be satisfied as it is.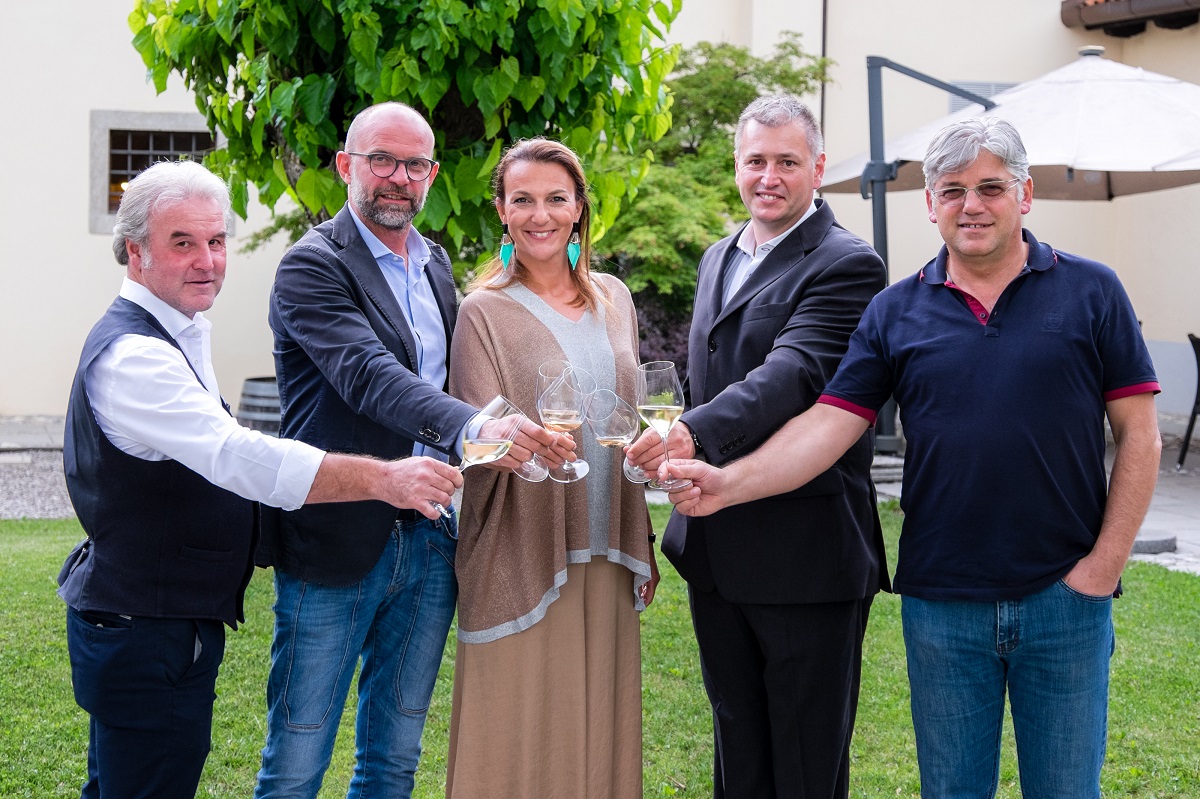 This was just the beginning of a lovely day, accompanied by these words: HOSPITALITY, DESIRE TO PROMOTE THEIR TERRITORY, HARD WORK AND TEAM SPIRIT!
In a late afternoon which was continuously interrupted by a "taiut" (which in Friulano means a glass of wine" I managed to discover this beautiful villa from 1720, one of the first Venetian villas in Friuli, which before becoming property of the Comune was initially donated to a Croatian friar in exchange for building the church's organ.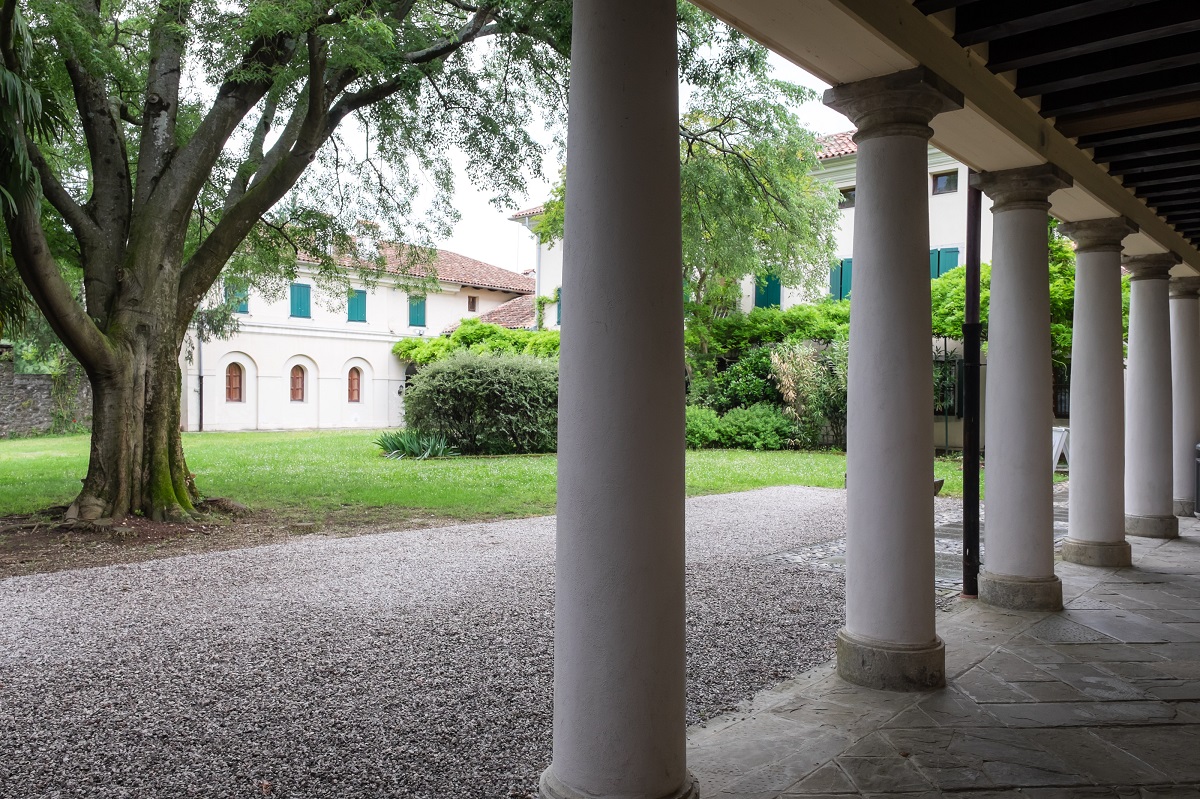 But lets skip to the 29th of March 2014 and its grand opening, because this is where I want to start to tell you a little about what happened 😉 the common of Corno di Rosazzo managed to help two institutions develop inside the villa: the Fair of the Western Collio wines manages the Conference Room Cavalìrs, the small apartment which is used for hospitality, the area of the fogolàr (fireplace) and the lovely park that is often used for weddings and events; while the Group of Winemakers of the western Collio, manages the wine-cellar/tavern, the shop of local wine and food products and takes care of the Infopoint in collaboration with Turismo FVG.
After this brief introduction I can tell you all the rest. From the square (in front of the church) you can access the Villa and the shop; here you'll find a collection of products from the Region which will get your appetite going. Frico, rice, Midolini balsamic vinegar Molino Moras flour, jams and much more…it's useless for me to point out that because the shop was created by the Wine makers of the western Collio, you will also find all their spectacular wines, with a consortium of 28 members, from the small to larger producer.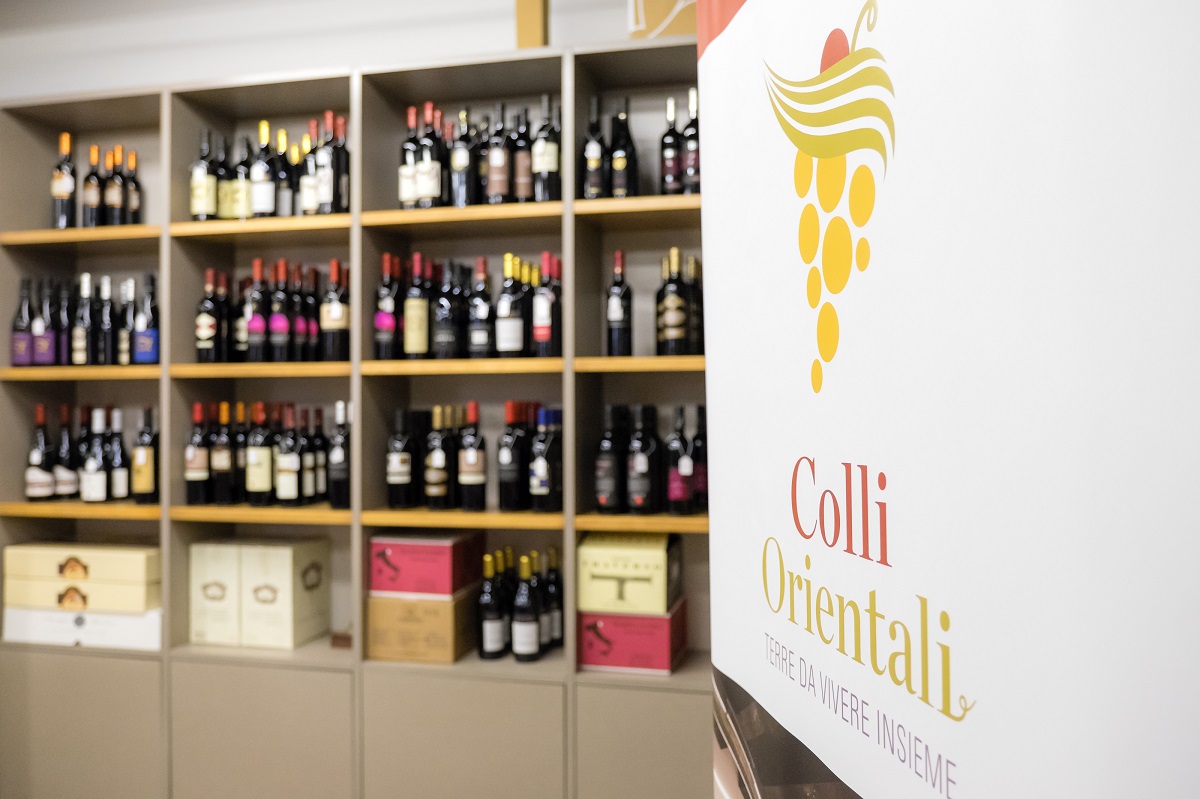 The most important thing, which I had already told you about on my social media channels, is that with the magic word "MISSCLAIRE SENDS ME" you can have a 10% discount on everything you decide to take home and try.
From the shop you then access the Infopoint, which is small but well organized. And very efficient! Because along with Turismo FVG the winemakers decided to offer more information about local wine producers to visit; they have a detailed map of the area with everything available to visiy. Wine producers which also have a b&b or a guesthouse, and much more. If you're on the look for wine and food you have all possible information 😉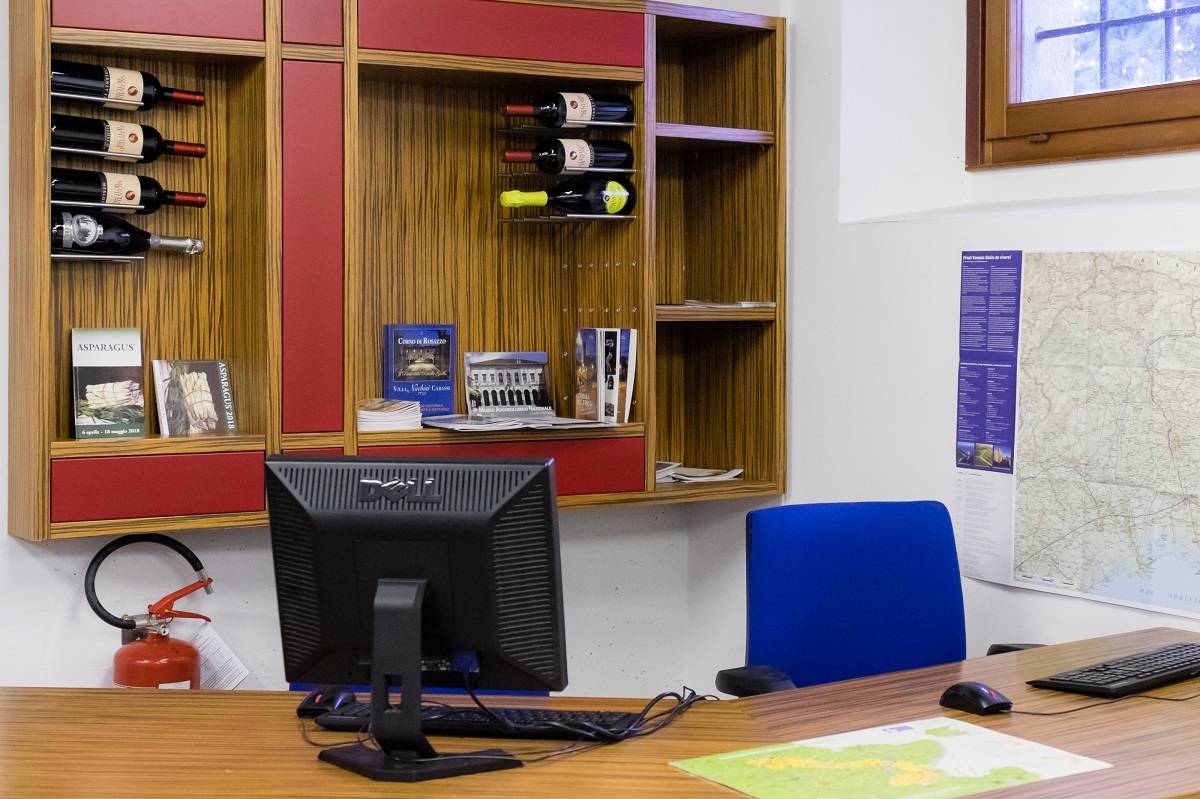 Oh and at the Infopoint they can also contact the destination you choose, or find a bicycle for you to use to reach the location! The Common of Corno di Rosazzo is just an area of 12 square kilometers but has 18 km of bicycle lanes. If you travel along these roads you can experience the feeling of breathing in this wonderful territory, rich in history, culture, nature and wine and food!
We're now at the heart of the Villa, the fogolàr, redecorated in an exceptional way; this rooms can be rented for birthday parties, weddings, meetings and any other event.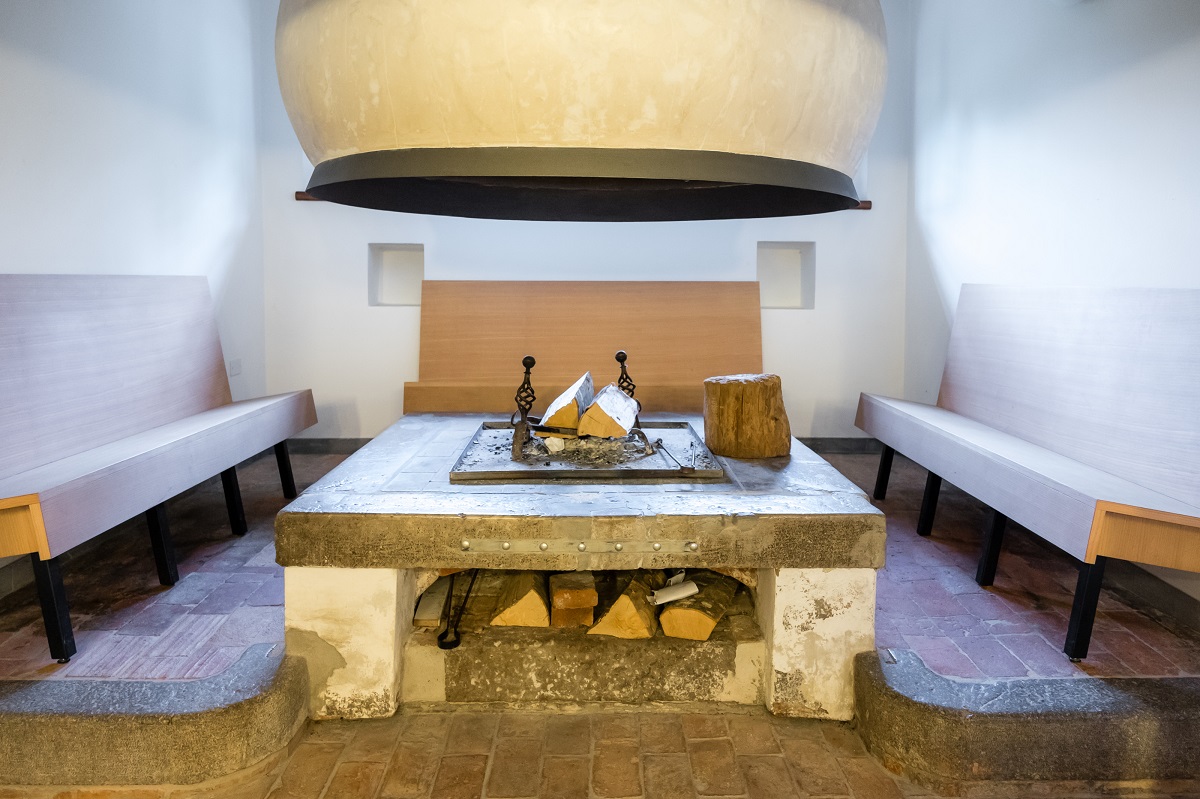 On the second floor you'll find the Salon of Cavalìrs which can host over 160 people; it's equipped with audio/video systems, wardrobe service for conferences of a certain standard and can be furnished as you prefer.
This once was the room where they kept the silkworms: you should know that one of the most important economic resources of the country in the eighteenth and nineteenth century once was the cultivation of the silk worm. Villa Nachini, in fact, has two spinning mills; even if most of the production was concluded in Austria. Guess what the silk worms used to feed on? Mulberry! That's why there are many in the garden of the residence, but also spread here and there in Corno di Rosazzo.
If you walk back down to the first floor you'll find the area once reserved for the equipment of the villa, where they now have a winery with a restaurant. The management is kept by two young workers, Michele Simcic e Lisa Zulian. Even here the idea of promoting the territory continues, in fact the tables are not numbered but they each have a name of a company; the chairs you'll sit on are all made in local companies and they change every six months.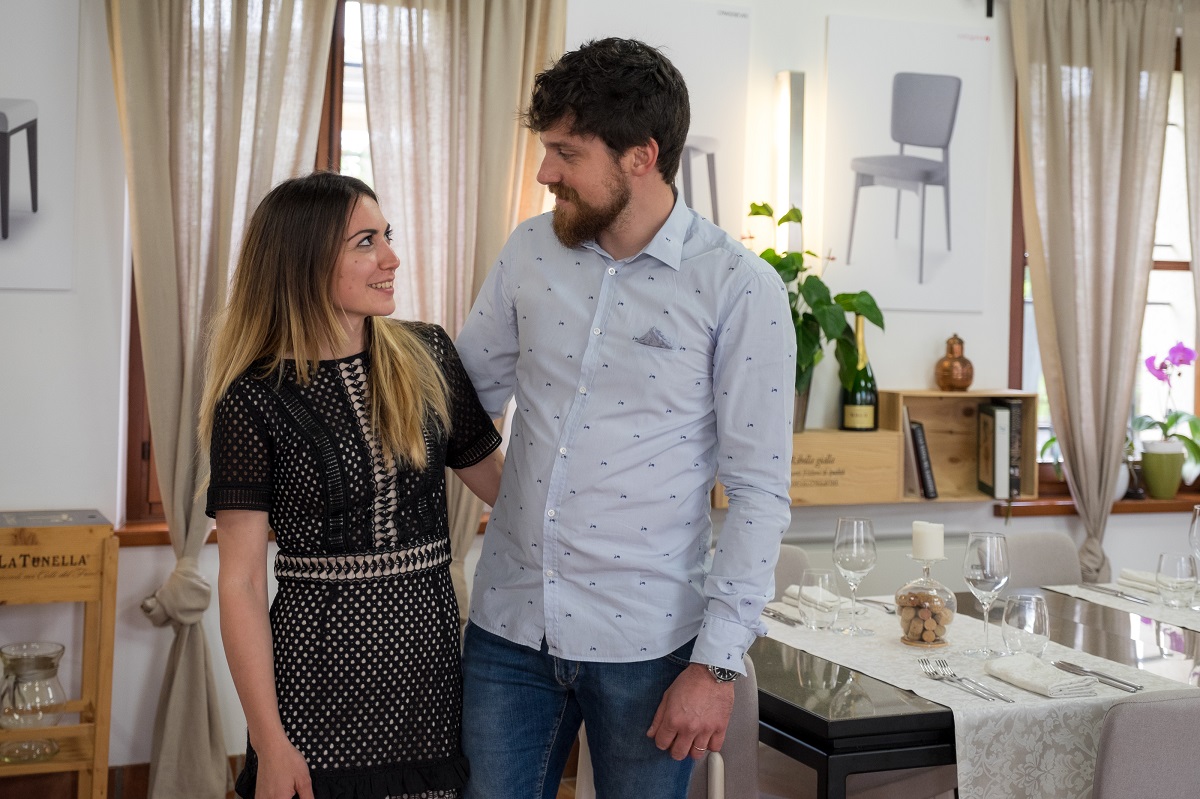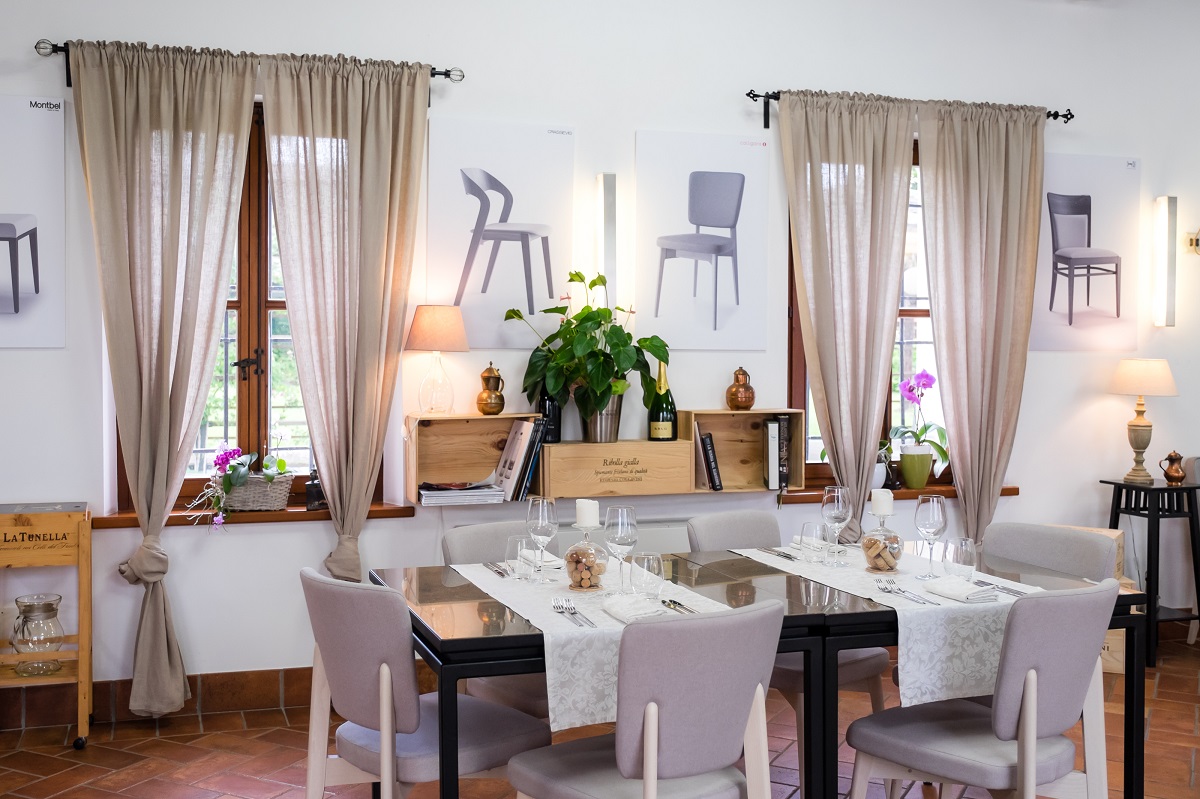 You will have the opportunity to try different seatings for your comfortable evenings. In a well cared for and informal area I enjoyed a lovely dinner with excellent wines (which were obviously the ones of the wine producers) and raw fish dishes, home-made pasta with shrimps and asparagus, a gourmet hamburger made with local meat and home made sweet bread with double rising process, meat from the Bergamasco farm in Cividale and pork jowls from the d'Osvaldo Family in Cormons. To end the dinner a tasty cheese from Cividale milk farm in the Valleys.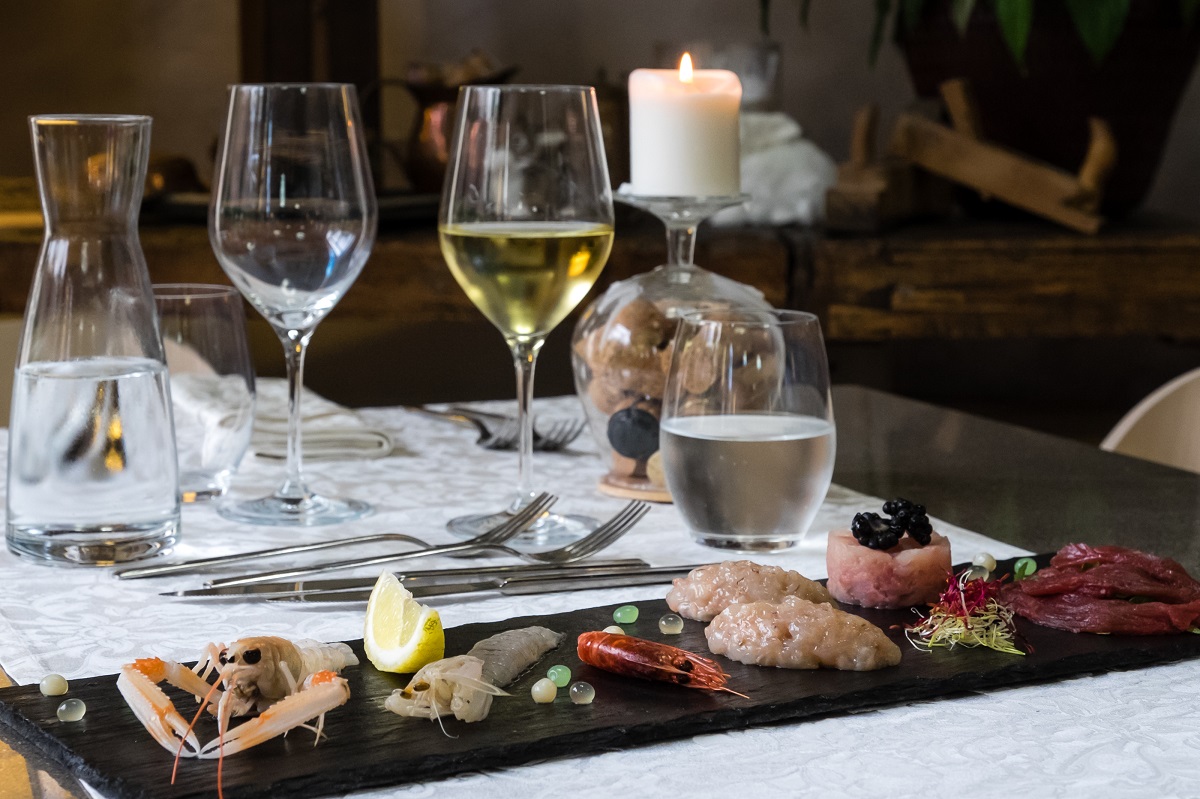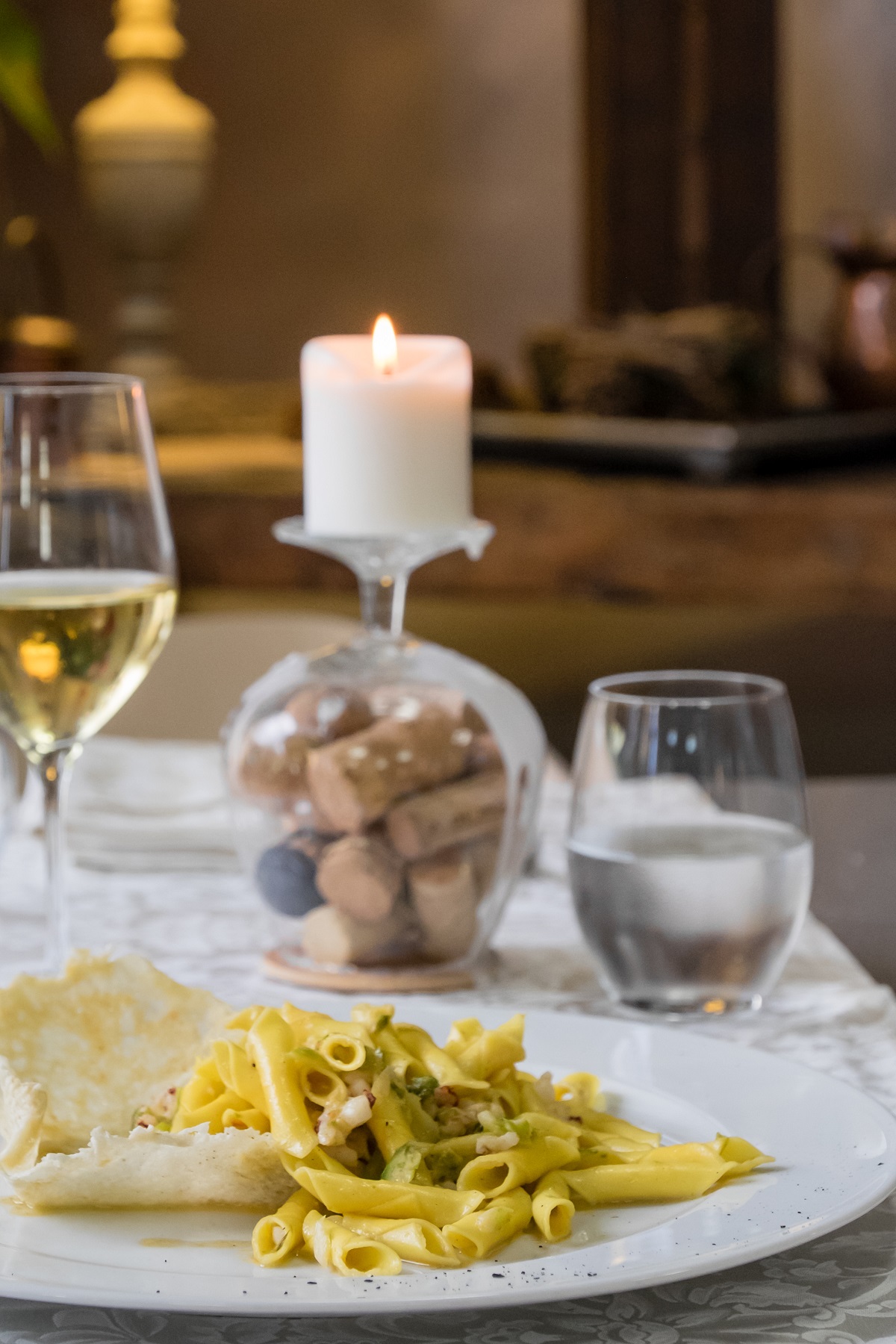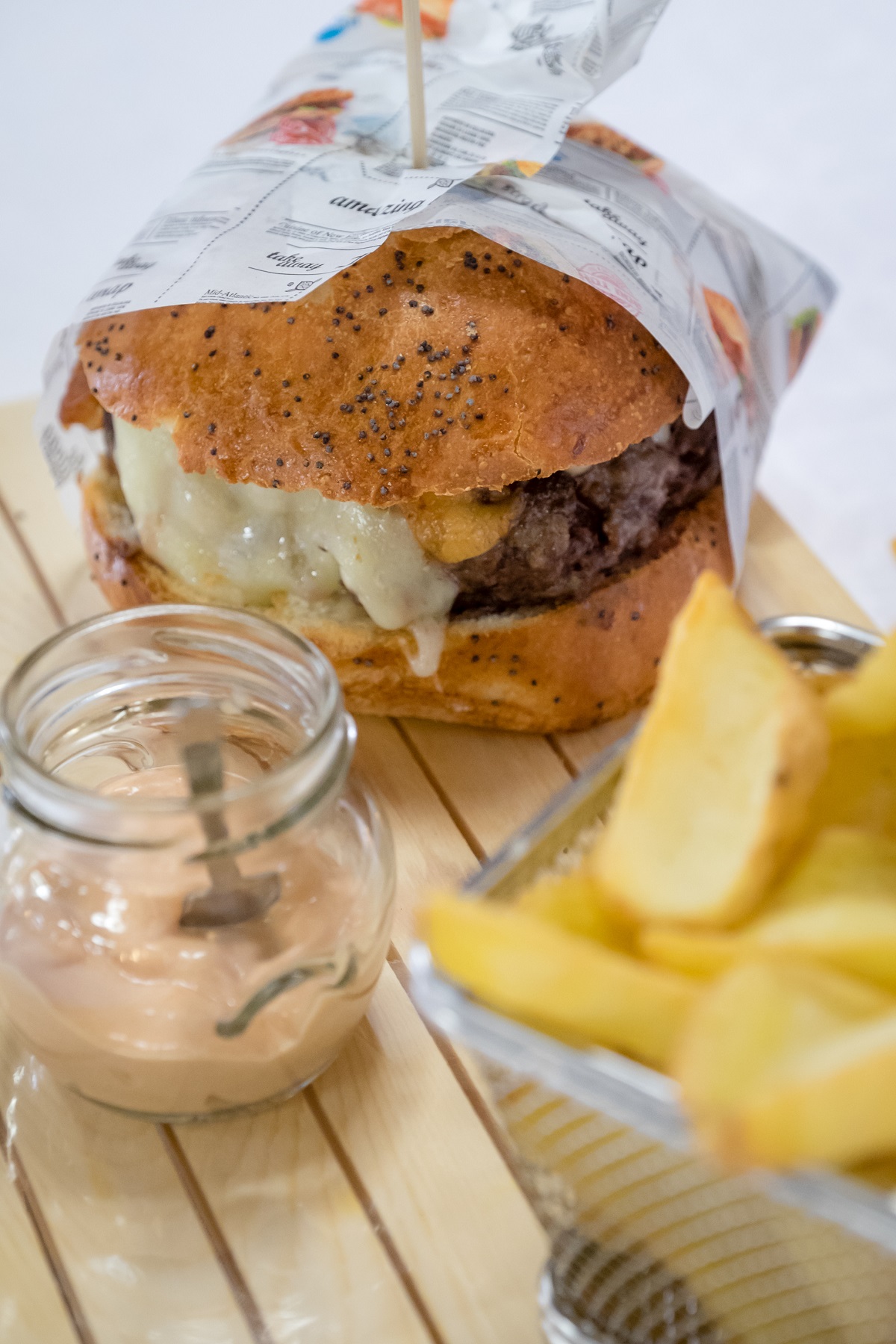 But wait just a moment. I'm sure you won't believe I was satisfied with only these few nibbles! Obviously not. I continued my dinner with a smocked crudo d'Osvaldo with burratina and a fiorentina to share with my friends. And to end with? A light chicken breast cooked at a low temperature with julienne vegetables!
When they asked "would you like dessert?" I could barely answer.
I think I've told you almost everything, there's just one detail left: here you'll feel as welcome as in your own home, a genuine and sincere welcome, where it's easy to talk with a nice glass of wine and lots of projects.
When I go to Friuli and say I'm from Trieste, I'm often worried they'll think of me as someone who's only up to partying J But I'm always welcomed very warmly. They often say that "THEY ADMIRE OUR WAY OF FACING LIFE AND TAKING IT EASY".
Every time I leave Friuli I always think of how much I admire their sense of duty, of working and taking on even more than they can manage without being tired or feeling like they've reached their goal. As if they were from a different era.
Mandi Mandi my dear friends
Outfit ÊtreConceptStore
Ph. Andrea Zangrando