You won't believe it but this was my first visit at Nero di Seppia!
I had tried their cuisine during a few events and I'd often heard friends and colleagues talk about them with great appreciation, but I'd never been to their Trattoria.
The environment is homey, thanks to how Valentina and Giulio run the restaurant (they have been partners for 20 years), and for the welcoming feeling you get here.
They are wonderfully welcoming, two cheerful and kind people, so passionate about their work that you you'll end up sharing their enthusiasm for catering and hosting.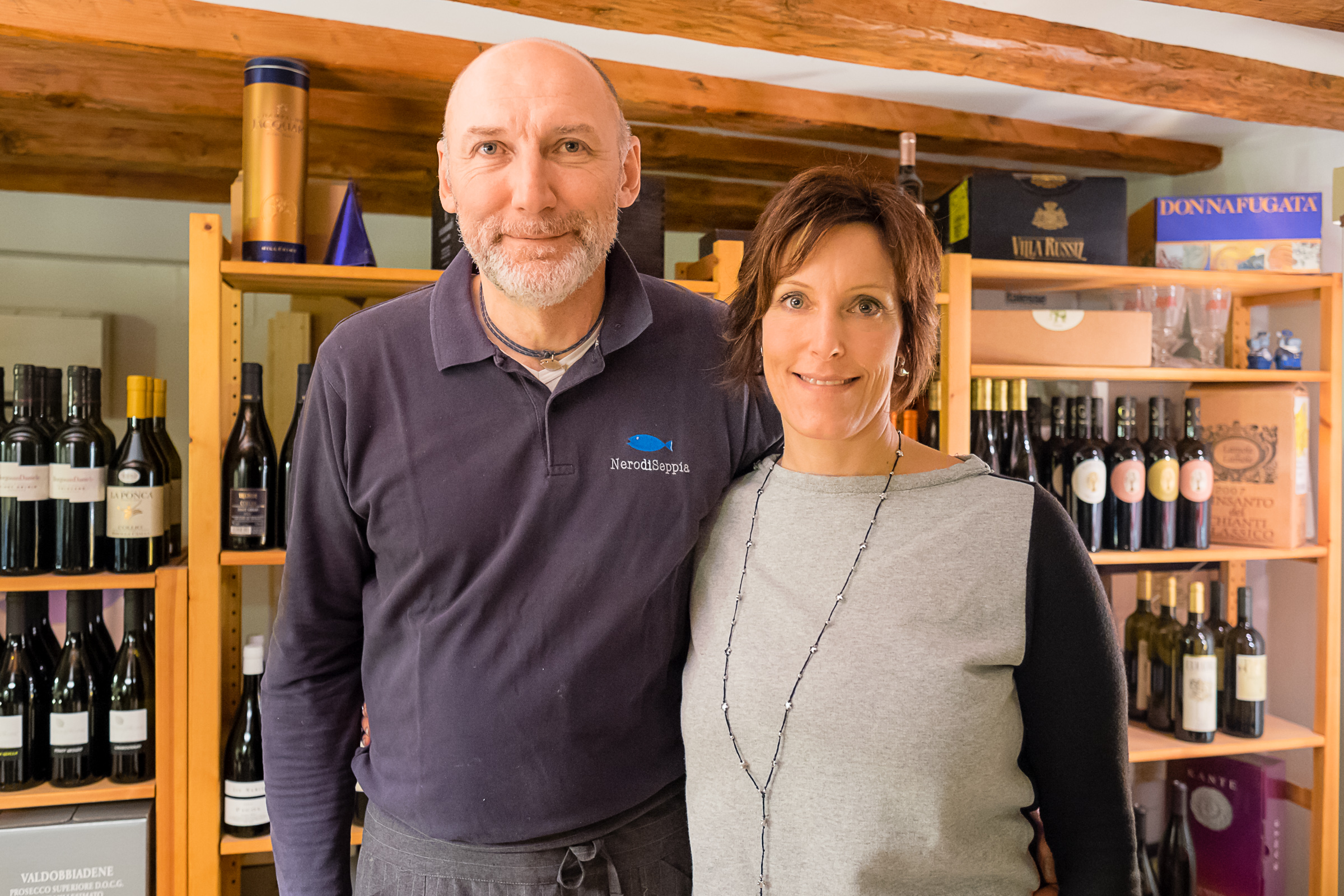 In this little restaurant – where finding an available table for lunch or dinner is as hard as winning the lottery – you will feel comfortable and cosy, surrounded by a simple décor: it doesn't want to be a luxury restaurant with table cloths that touch the floor, frills and decors, just the right balance between a trattoria and an elegant restaurant. The runners on the wooden tables and simple settings will make you feel at home!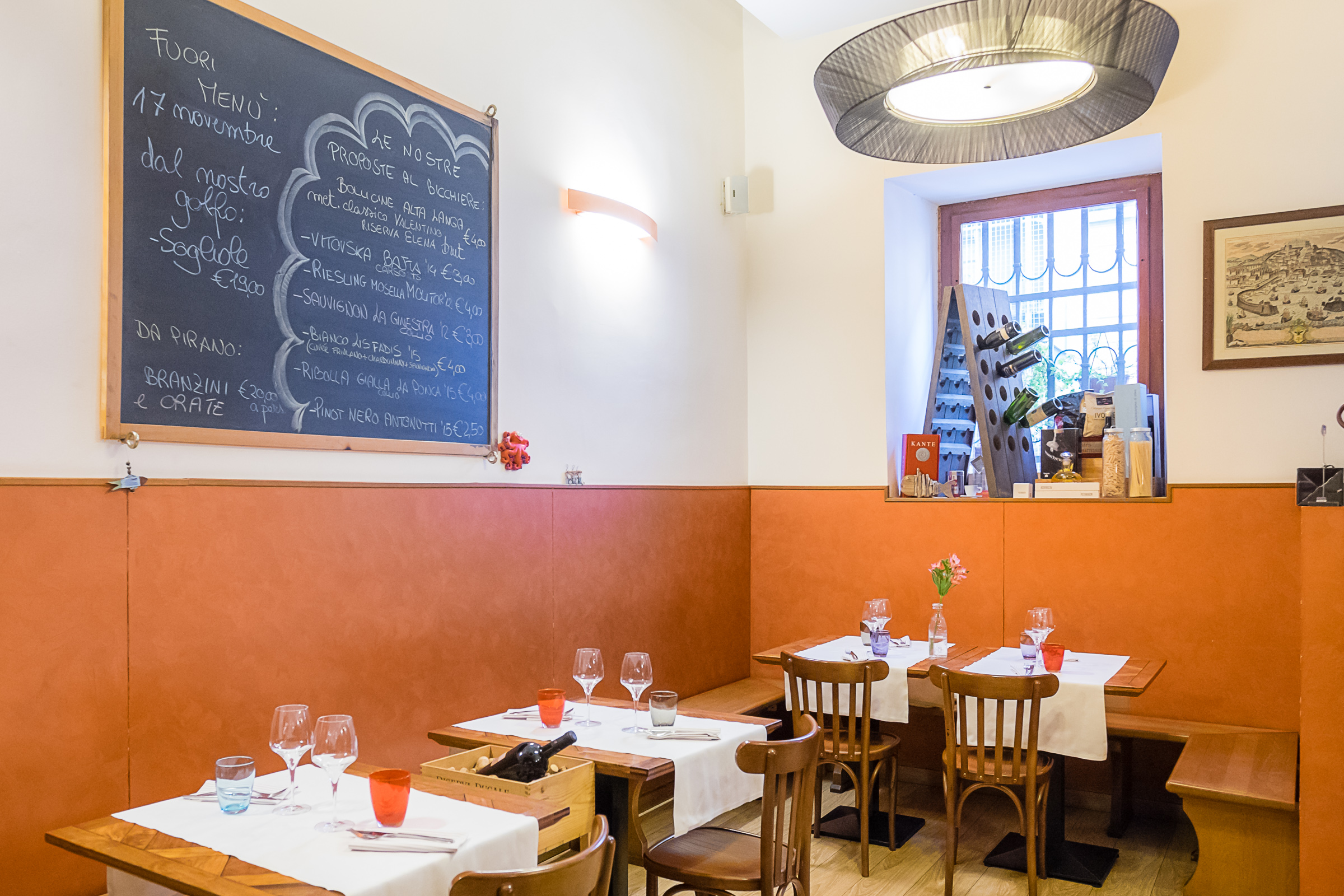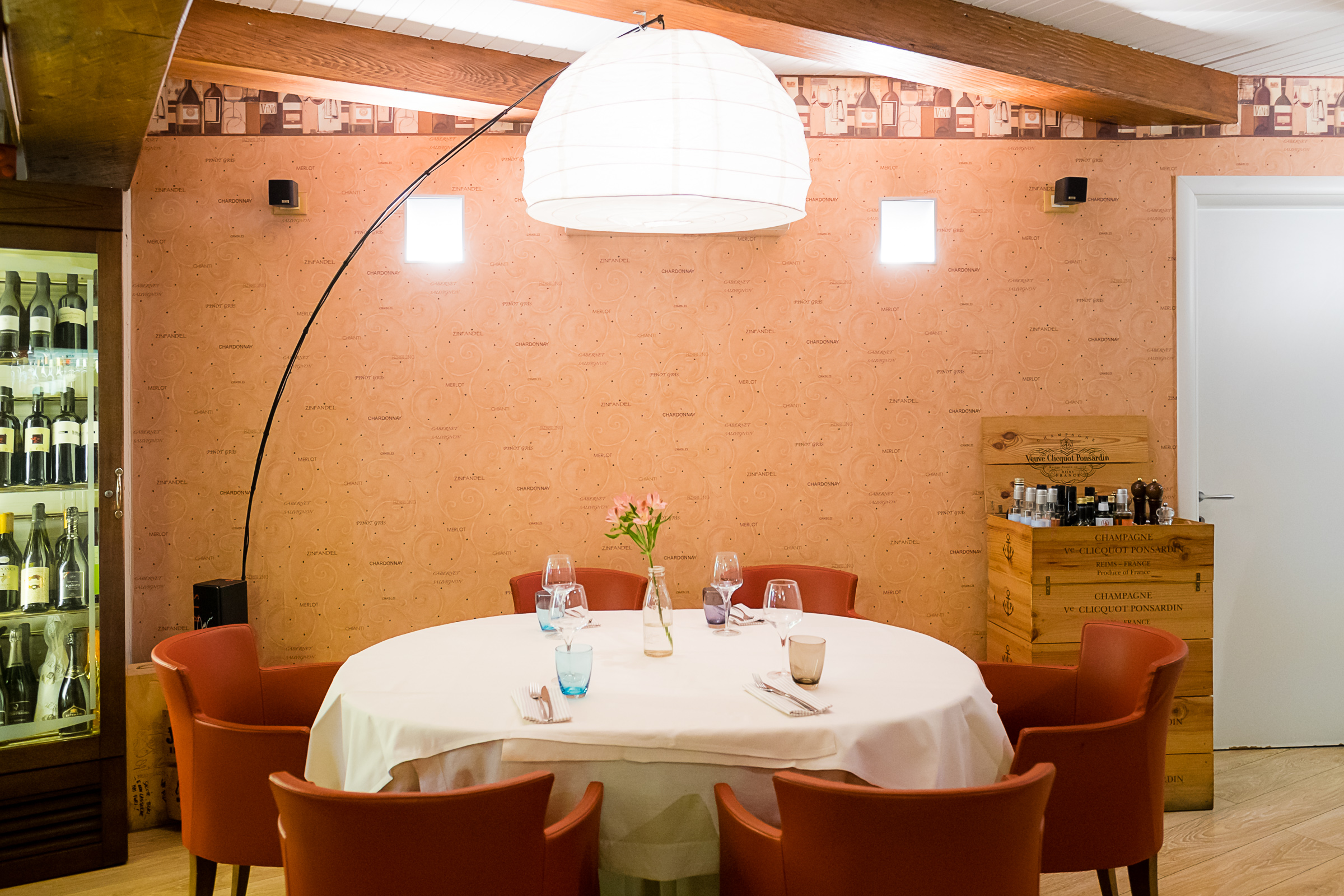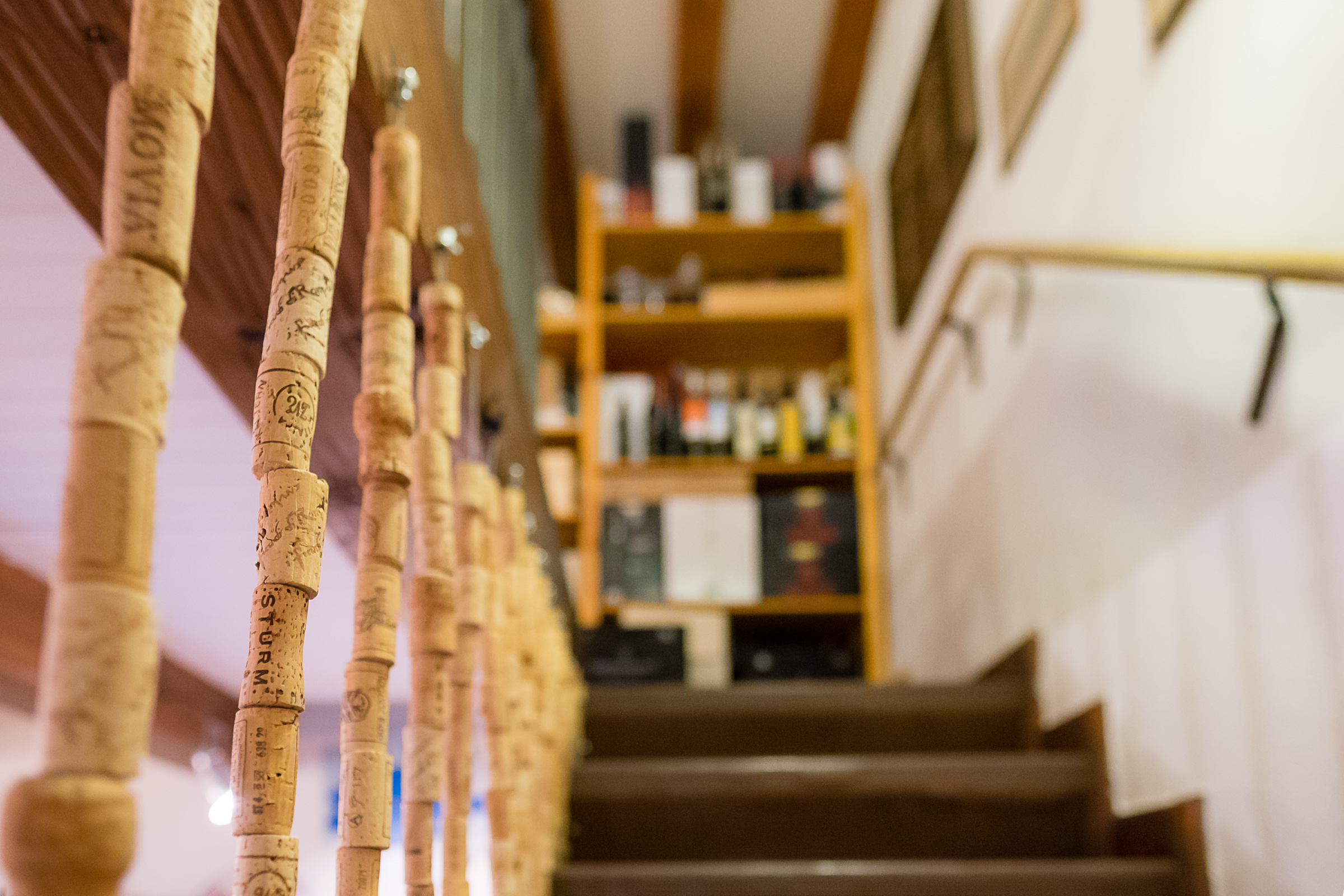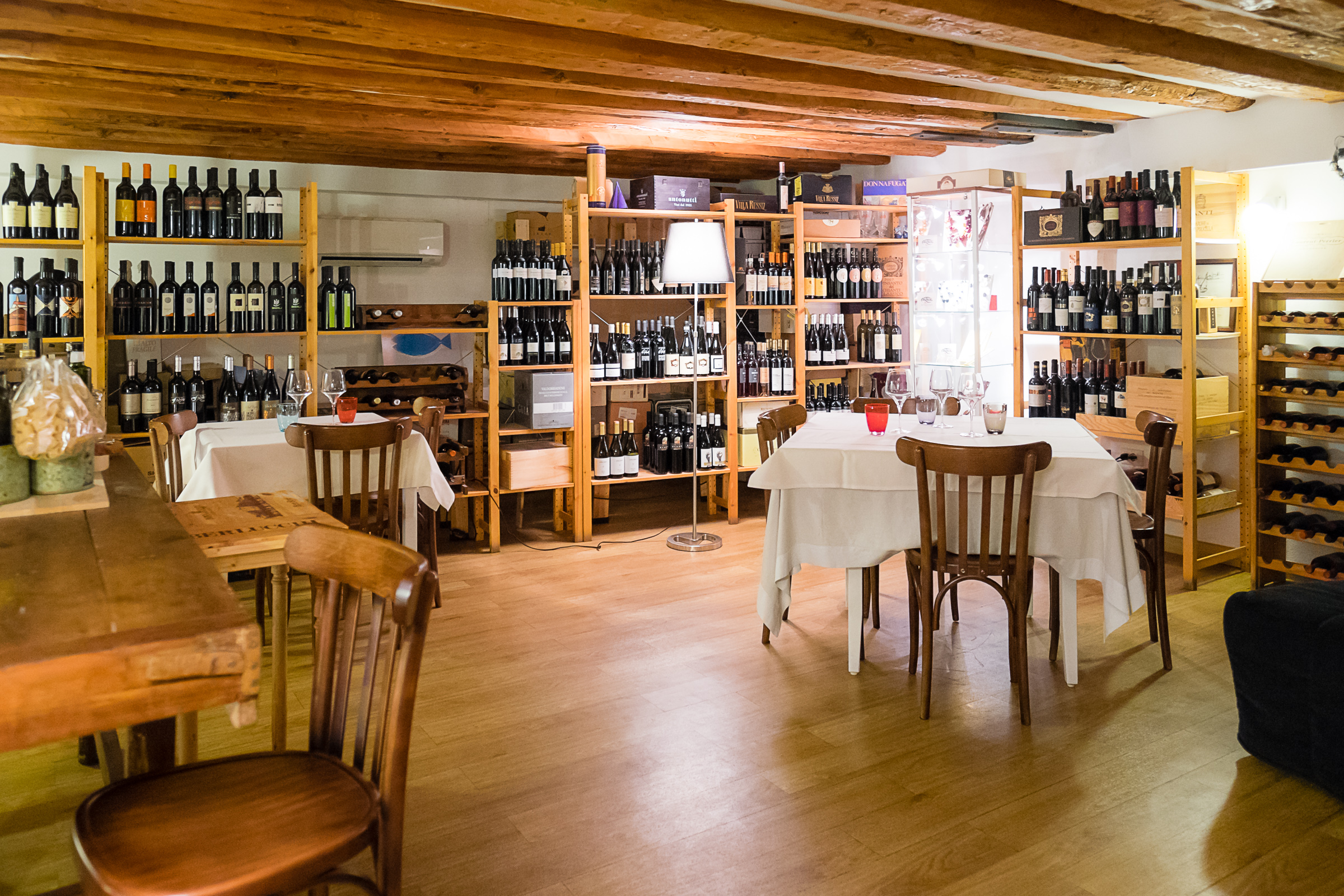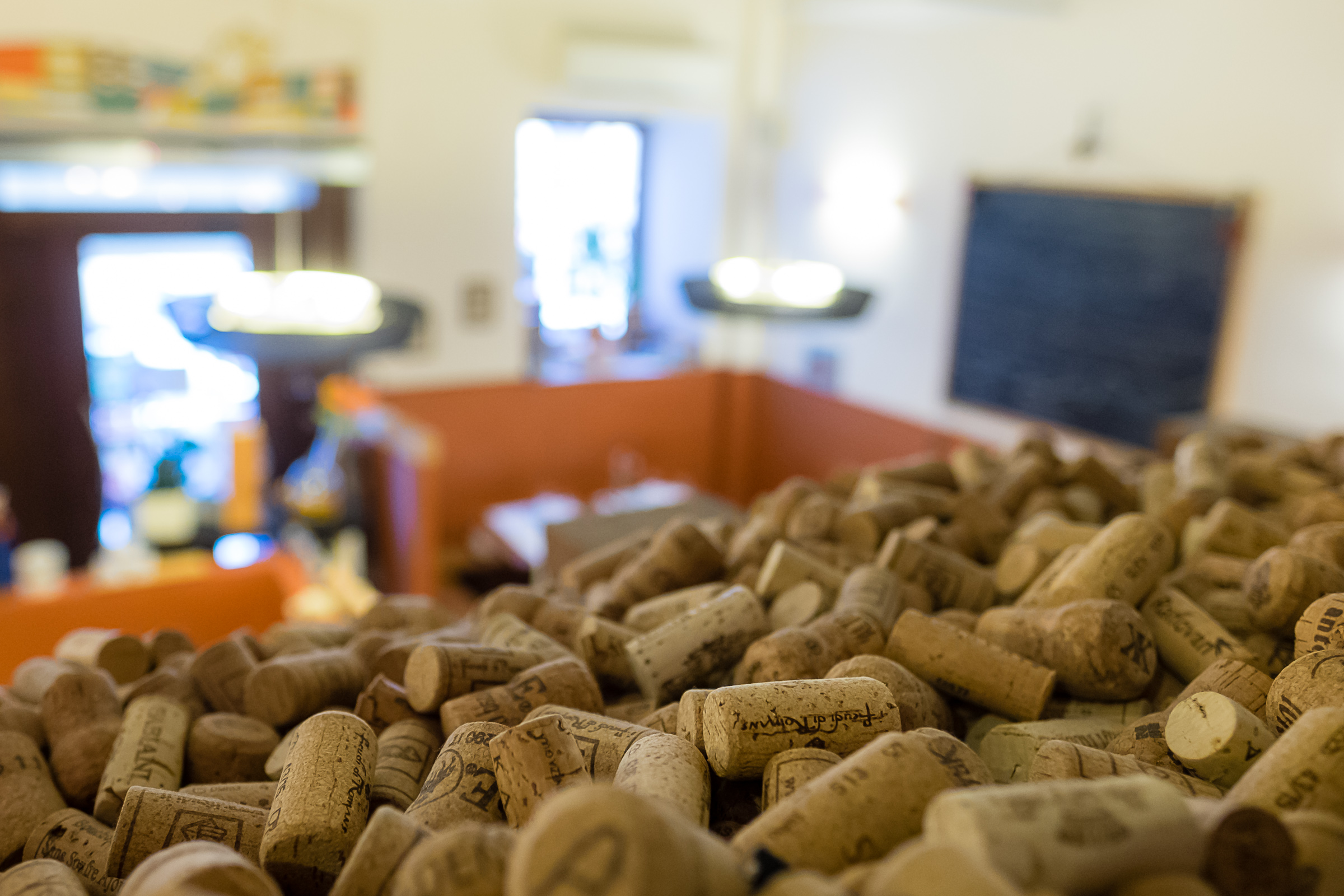 Their menu is also very simple, clear and with a description of the dishes that doesn't depend on complicated and pretentious terminology, it simply describes what we'll be eating.
Two large blackboards describe their wines, from the classic bubbly Alta Langa di Valentino 2011, that I chose to start my meal with, then a trip through the Collio to end with Vitovska from Baijta del Carso. And talking about wine, Valentina (Sommelier), told me that in 2016 they were nominated Cavalieri della Vitovska (knights of Vitovska) and they are very proud about this title that was granted to them by the Association Viticoltori del Carso (winemakers from the Karst) because they always have a Vitovska in their wine selection, this magnificent local wine from Trieste's Karst!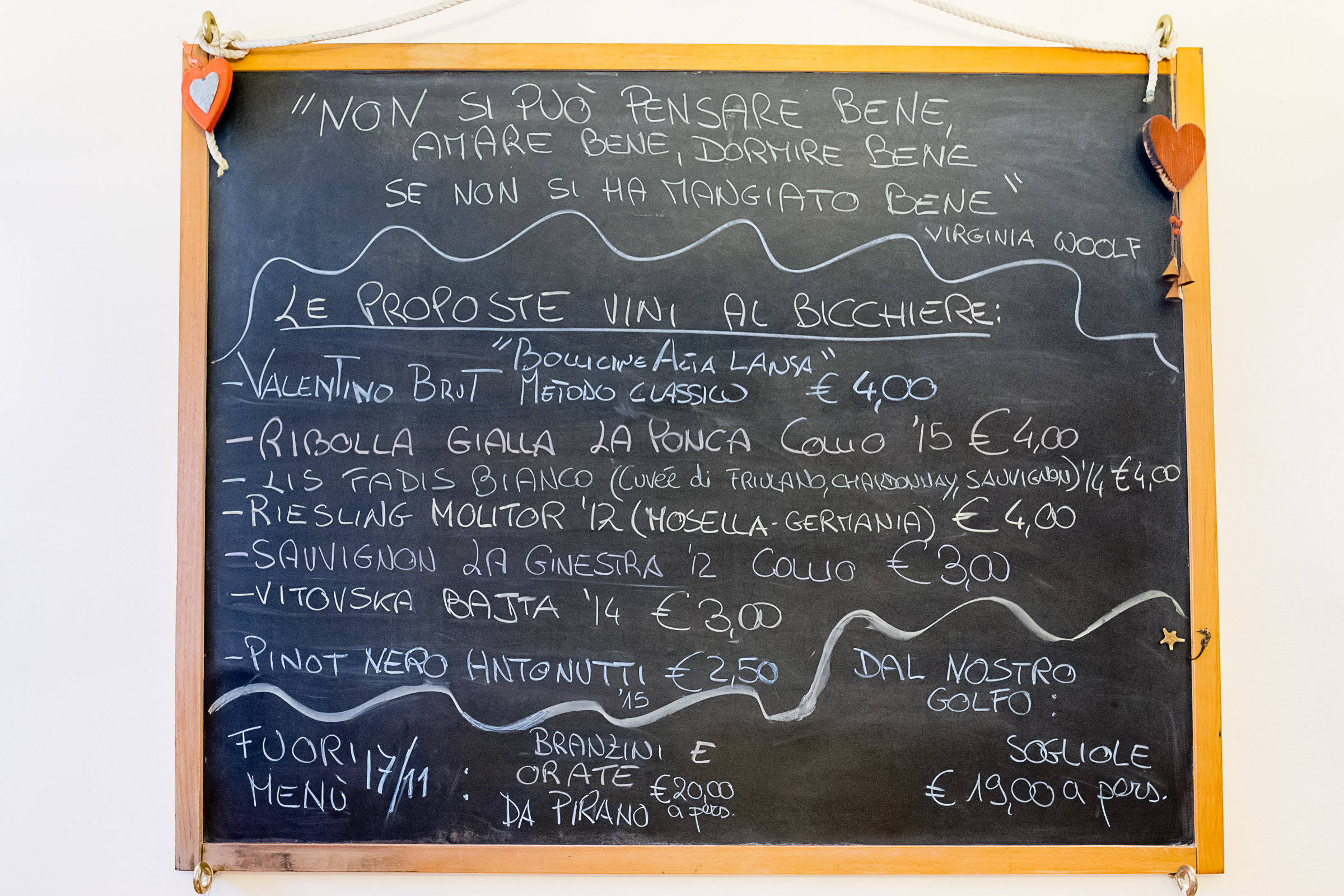 Like their preference for local wine, Giulio (chef for 35 years) also buys locally caught fish at Marano all'Istra; all the local catch comes from those areas. In fact, on the board next to the wines they're also some "extra menu" offers, and today they have soul from our gulf or gilt-head bream and seabass from Pirano!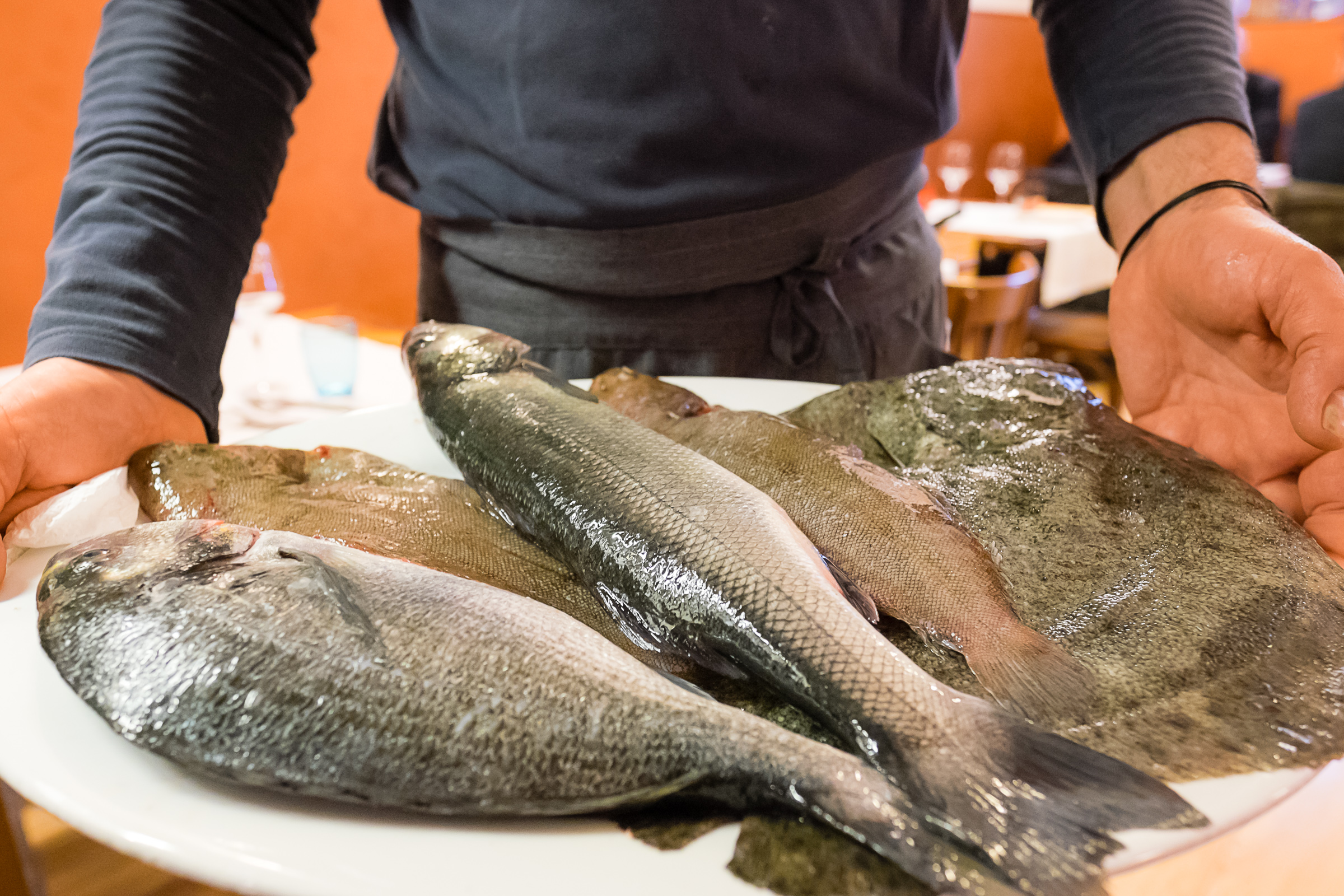 I'm now comfortably sitting at my table with a starter: an octopus, squid and calamari salad, with vinegar potatoes. The peculiarity of this dish is the onion, that is places on the edge of the plate, because not everyone appreciates it as much as I do: they take care in considering everyone's taste and especially for people who don't love strong flavours.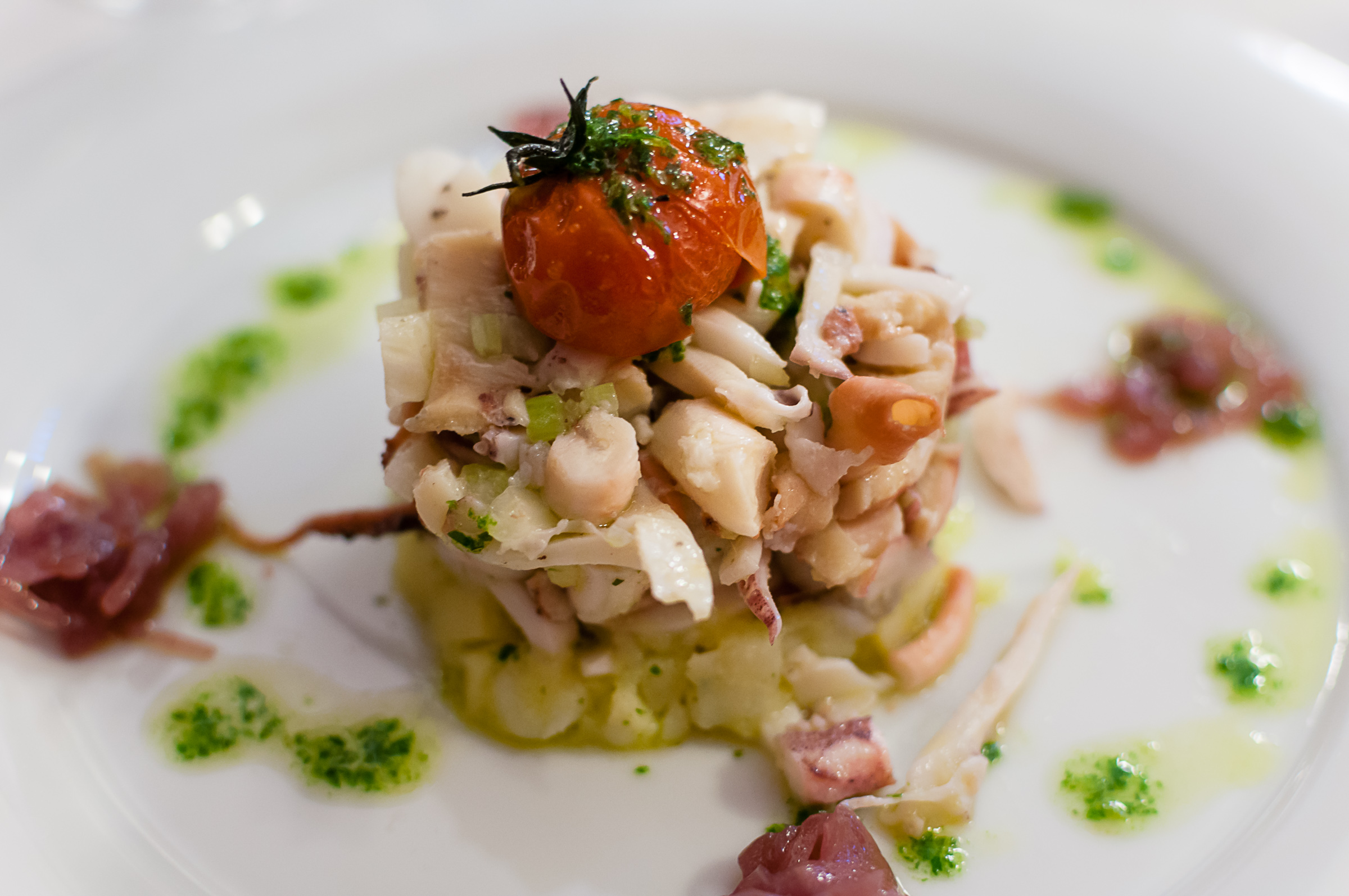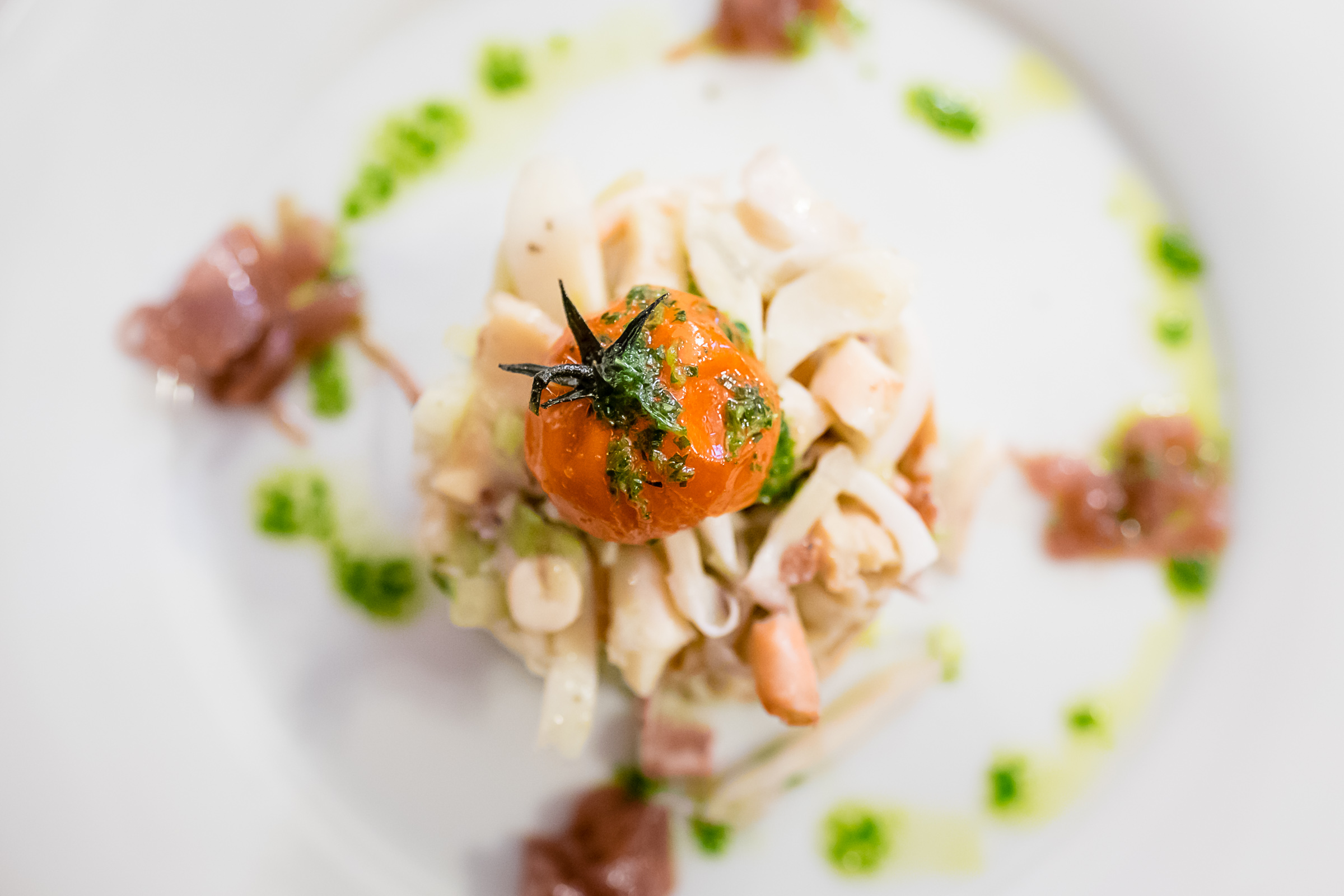 He also points out that they are a "garlic free" restaurant, even if he himself is a great garlic lover (maybe for his Istrian origins, it is greatly appreciated in that region). But I'm from Trieste and love it too, if it was for me I'd add it to any dish; but I'm one in a crowd because Giulio tells me that most people today don't like this precious medicinal plant.
So there is no garlic on the bread when they serve the tartars: wild Alaskan salmon, Vitovska sea brass and mojito flavoured shrimps accompanied by a delightful taste of "tartanzievola", a steamed spider crab tartare!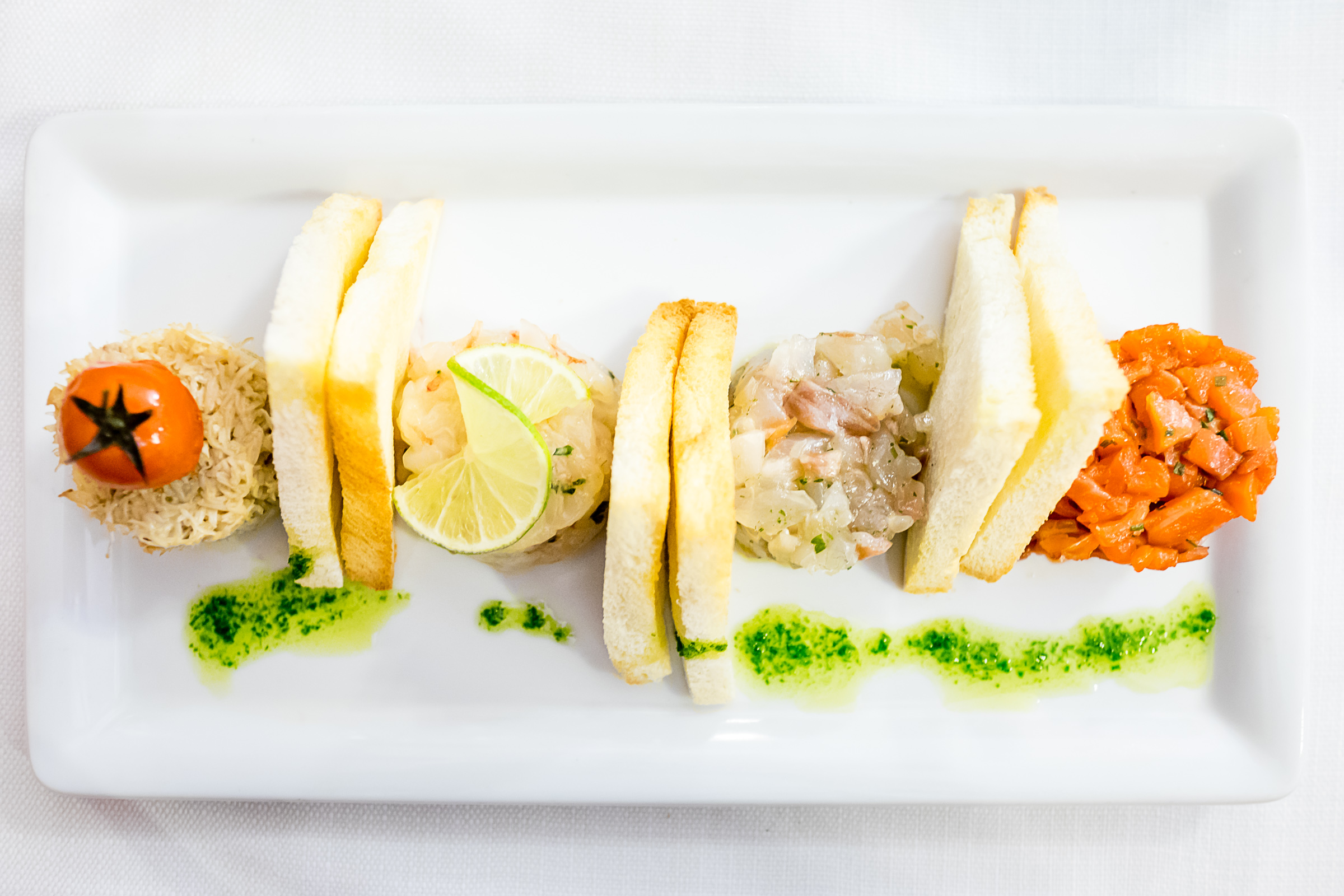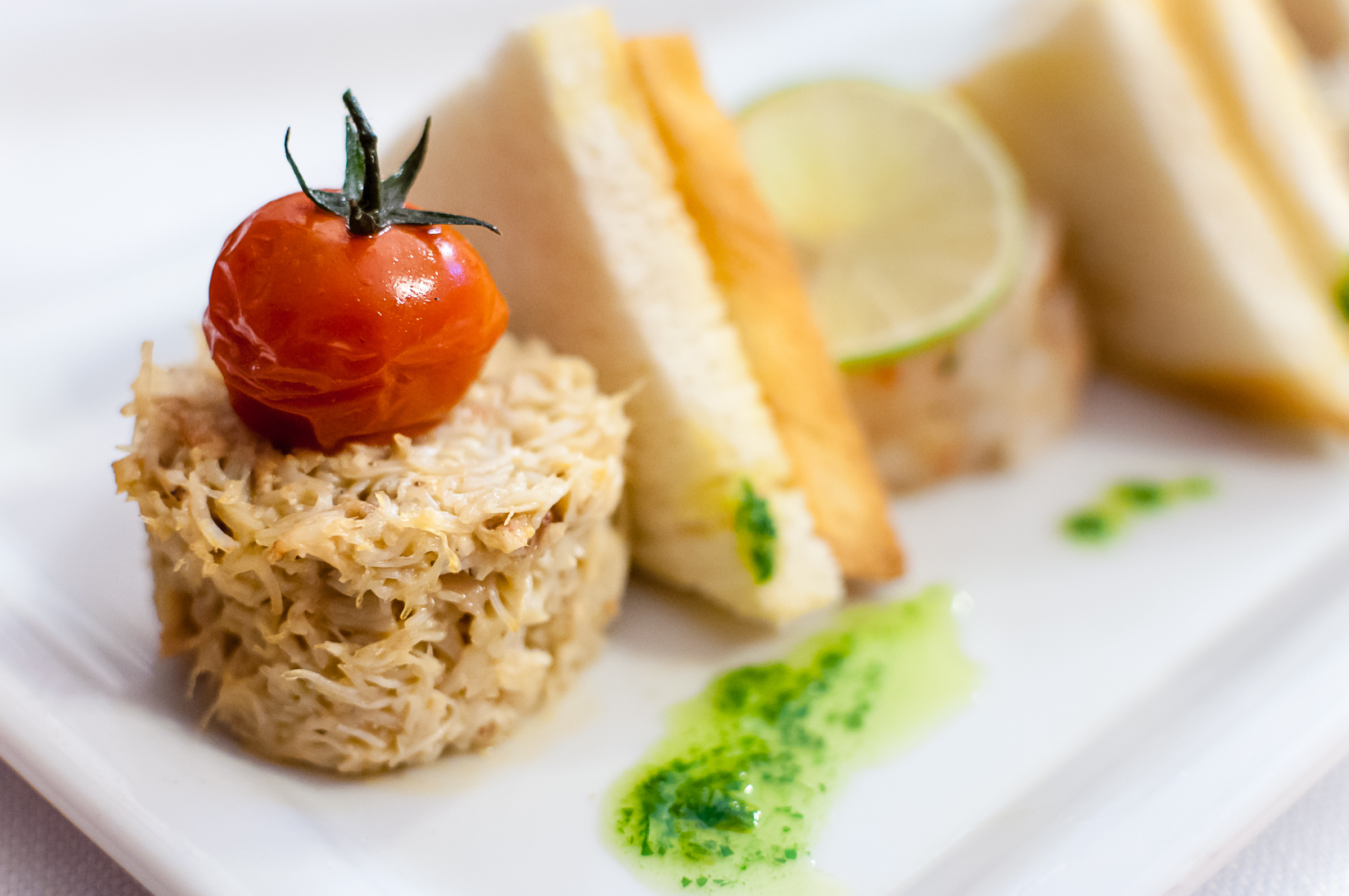 A trip to the past because I hadn't eaten spider crab for ages and it was quite a treat; I closed my eyes and could almost relive those family moments from my youth…
As I waited for the first course I took a look at the menu and …what a surprise! I keep checking the prices over and over, because I can hardly believe my eyes … the first courses are from 10,00 to 15,00 euros? The local gilthead bream is 15,00€? The octopus salad I just ate is only 13,00 euros? The prices are quite incredible considering the quality and the ingredients they use, as well as the great service I've received!
Incredible! Now I understand why you need to book ahead to be sure to get a table here.
But let's get back to the food because the first course is here: risotto with special local clams (vongole veraci), Mazzancolle (particular prawns), pumpkin and red Treviso radicchio which was excellent. But I actually preferred the dish of Istrian fusilli with a fish ragù accompanied by roman style artichokes (without garlic) J. It was gone in about a second! Two first courses with a very delicate flavour but very tasty, an excellent blend of flavours, all perfectly balanced, without any of the ingredients dominating on the other.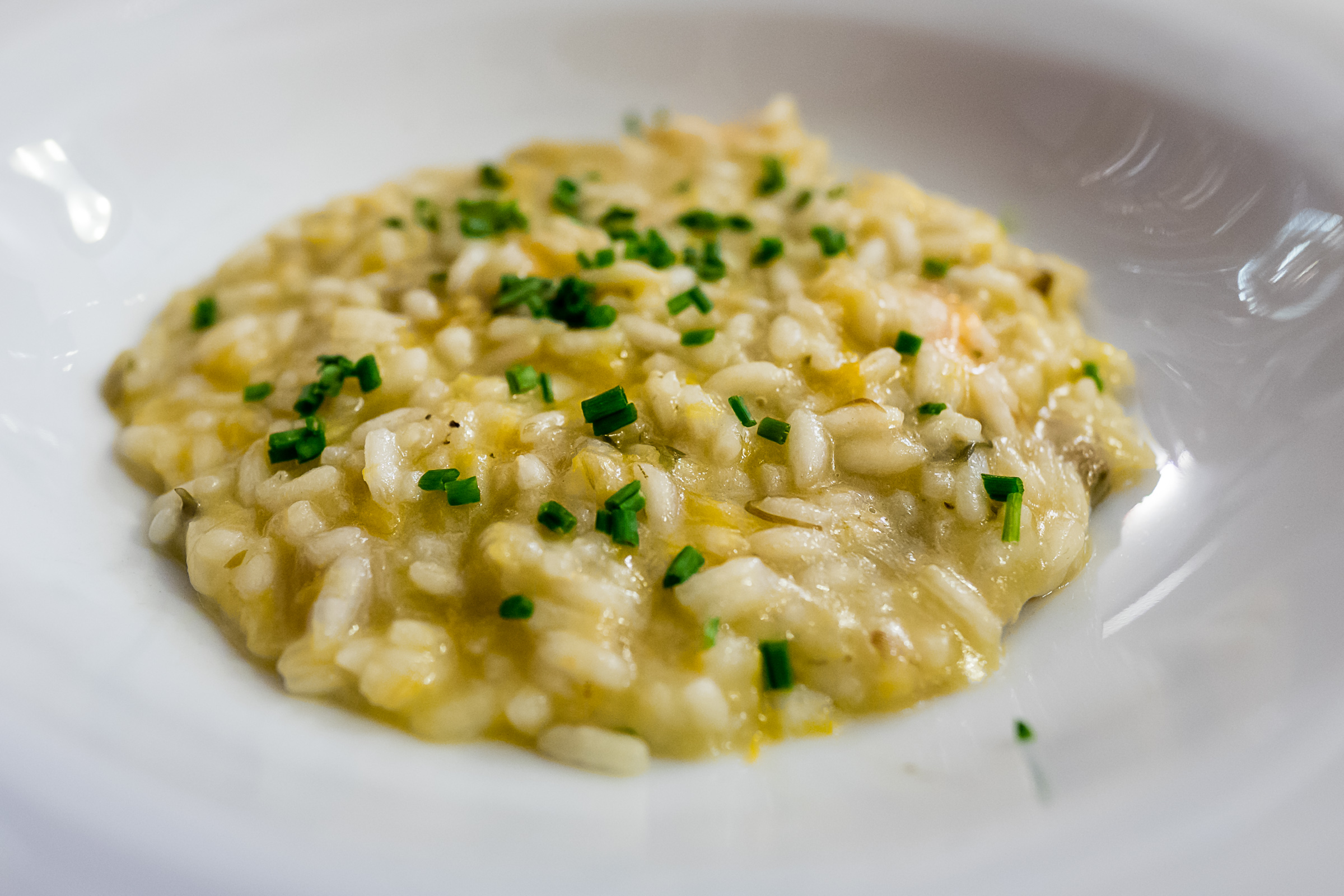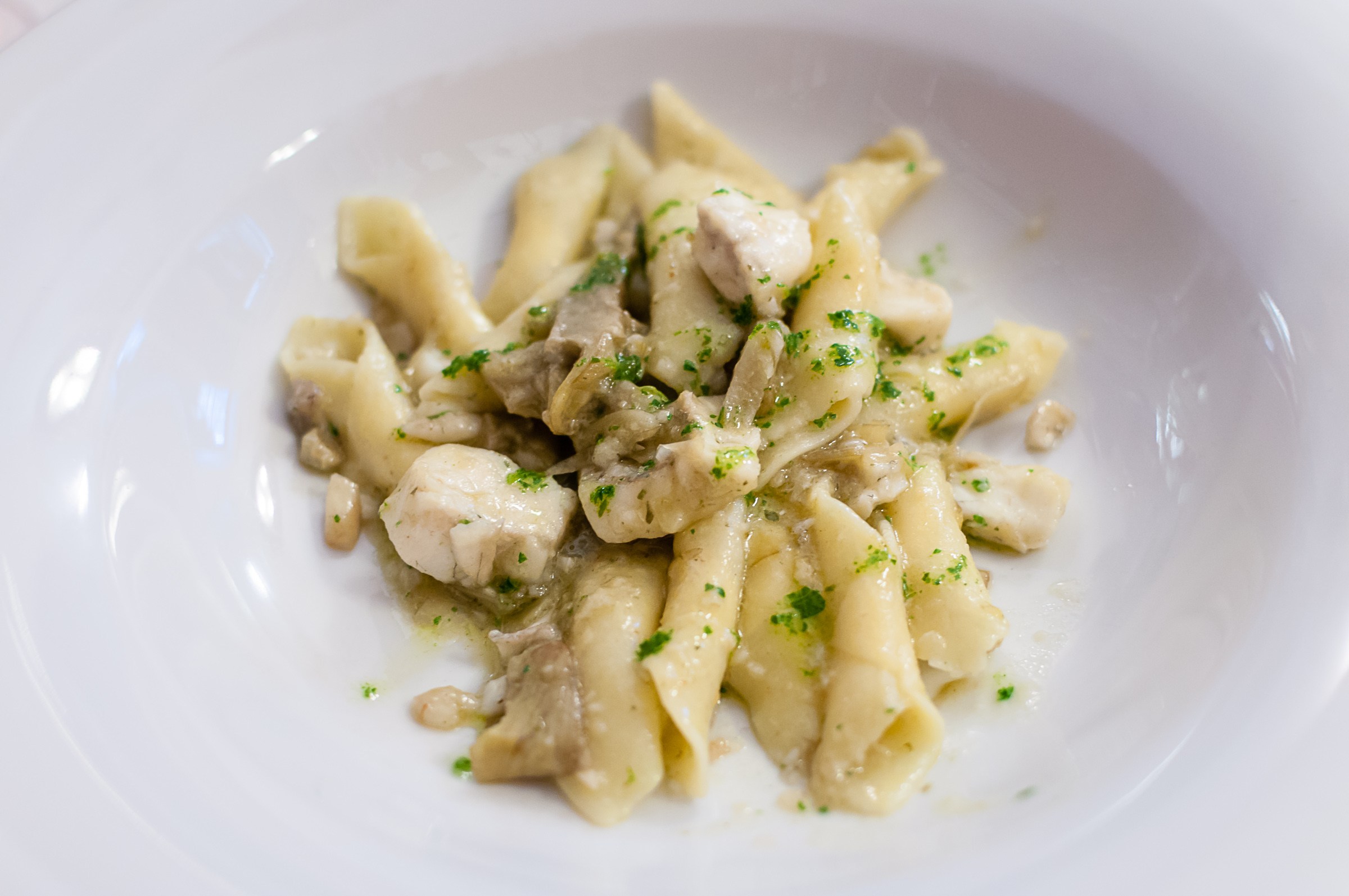 It's now time for a good glass of Sauvignon del Collio "La Ginestra".
Now, I won't pretend to be what I'm not (a wine expert), but I'd like to express my personal opinion and say that I particularly appreciated this wine. Usually the Sauvignon, being the most common white grapevine – along with the Chardonnay – is not among my favourites because that intense scent is often too strong for me. But this wine doesn't have that typical perfume and scents of sage, thyme, pineapple and lime stand out with a soft feeling that totally wins me over. Excellent, especially for its price (3,00 € per glass)!
Sorry for my little "wine un-expert" detour, but by drinking and tasting so many different wines I feel like giving my opinion with all my scent and flavour experiences.
Well after this little moment as a judge J, the second course is here, a gilthead bream fillet, baked with little tomatoes, olive pine nuts and capers, all served on incredibly tasty broccoli. If you close your eyes you can almost feel the taste of the Mediterranean, a simple dish but rich in the best Italian flavours.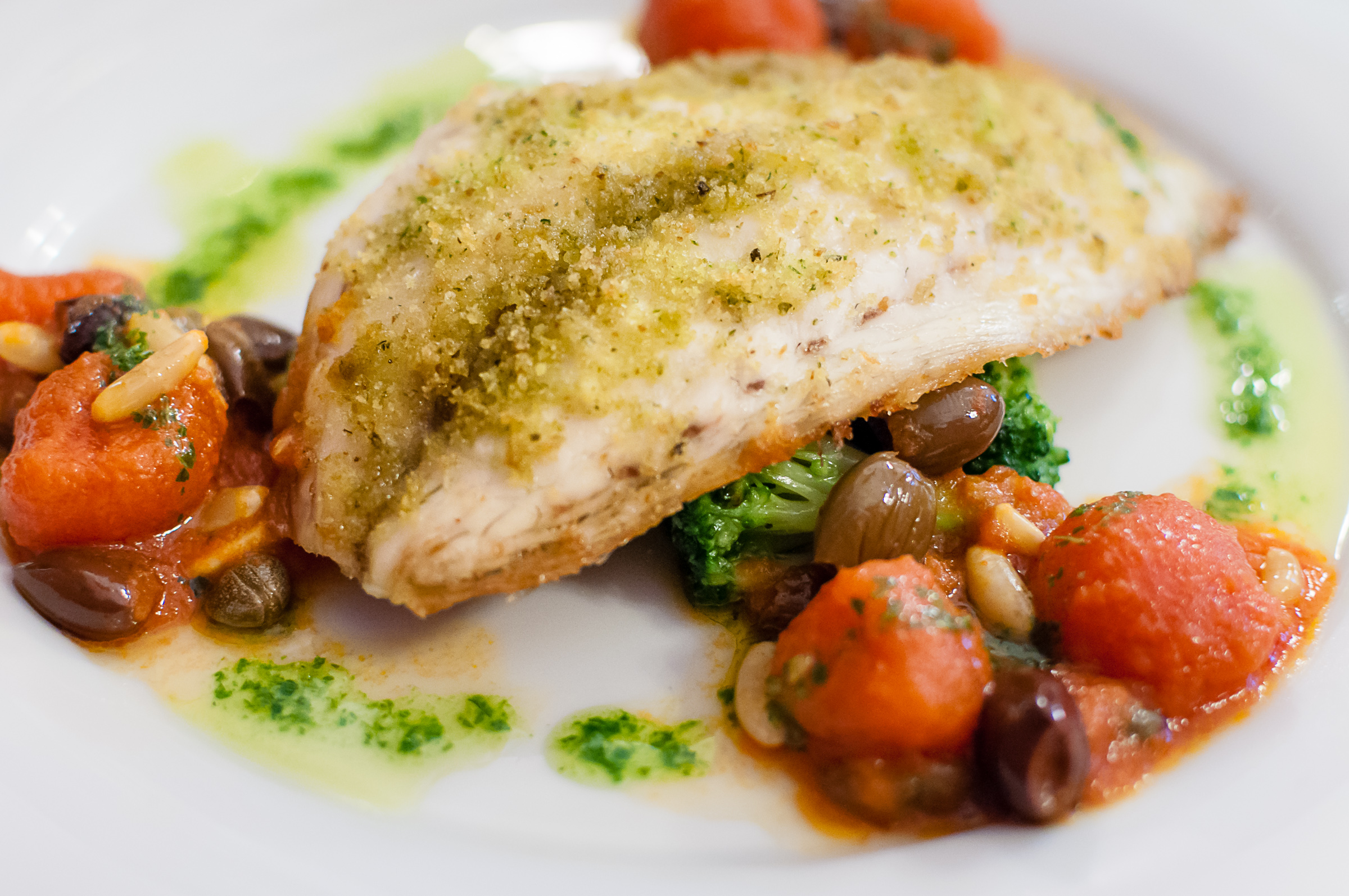 As well as the gilthead bream you must try this dish: THE BEST FRIED LITTLE FISH FROM TRIESTE'S GULF!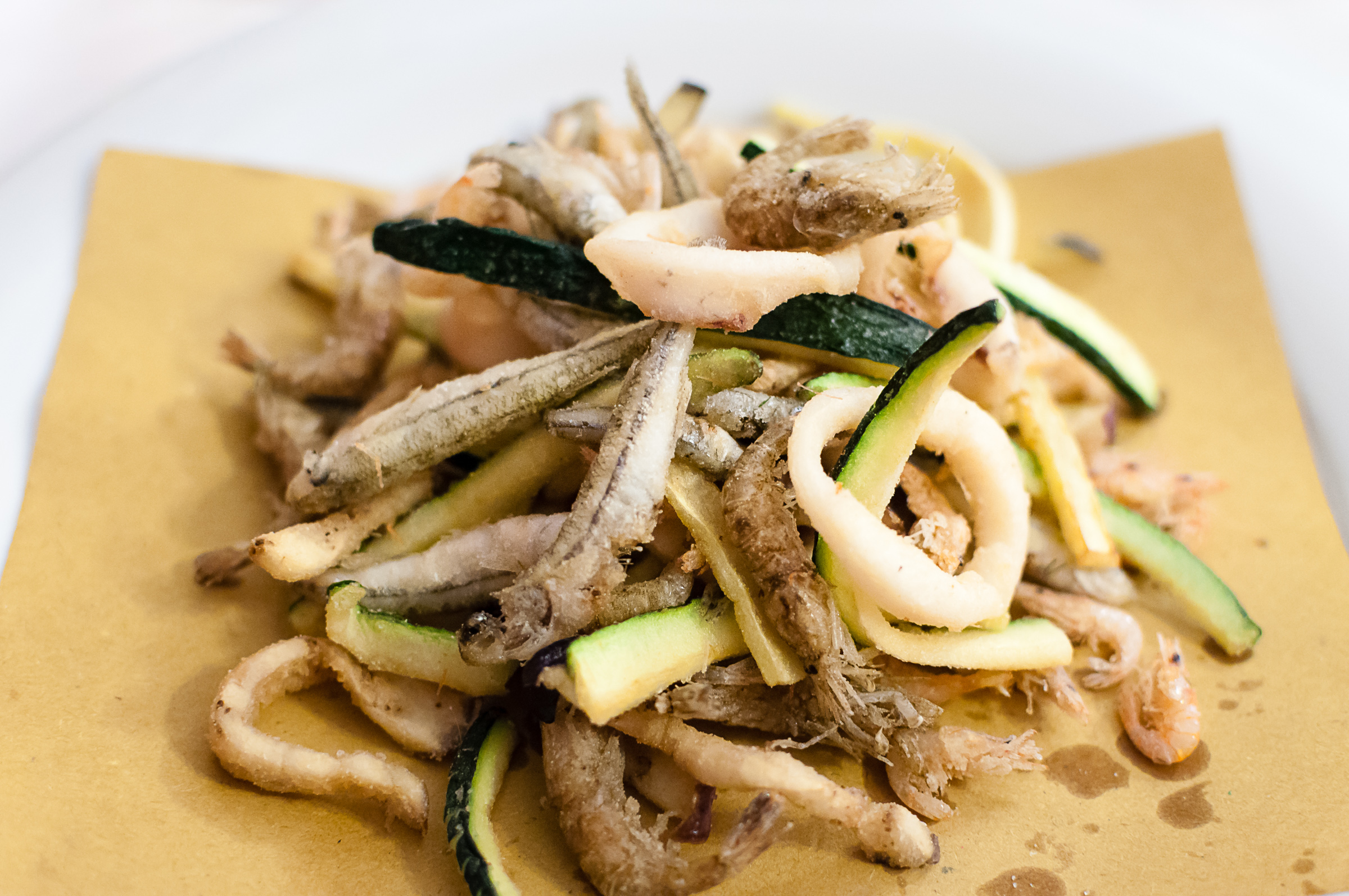 What a treat, small fish and baby vegetables, lightly covered in rice flour to be lighter and crunchier: a wonder to feel and taste and I can swear I didn't feel them on my stomach at all during the afternoon. Even if it's a very simple dish, it's very difficult to find it well fried, because very few places take so much care in choosing the right oil. This is hands down the best fried fish I've had in town!
At this point I can't turn down dessert, because it's been handmade by Giulio himself! I have to choose between the Linzer Torte and the greedy nibble, so in the end I chose the warm ricotta cake with vanilla ice-cream and raspberry jam and… the broken down millefoglie, so tasty I'm tempted to order another one! I'm now at the end of my meal, and I'm wondering why I waited 5 years to come and try this incredible cuisine (Giulio and Valentina have been here since July 2010). Now that I've tried it I can't wait to come back!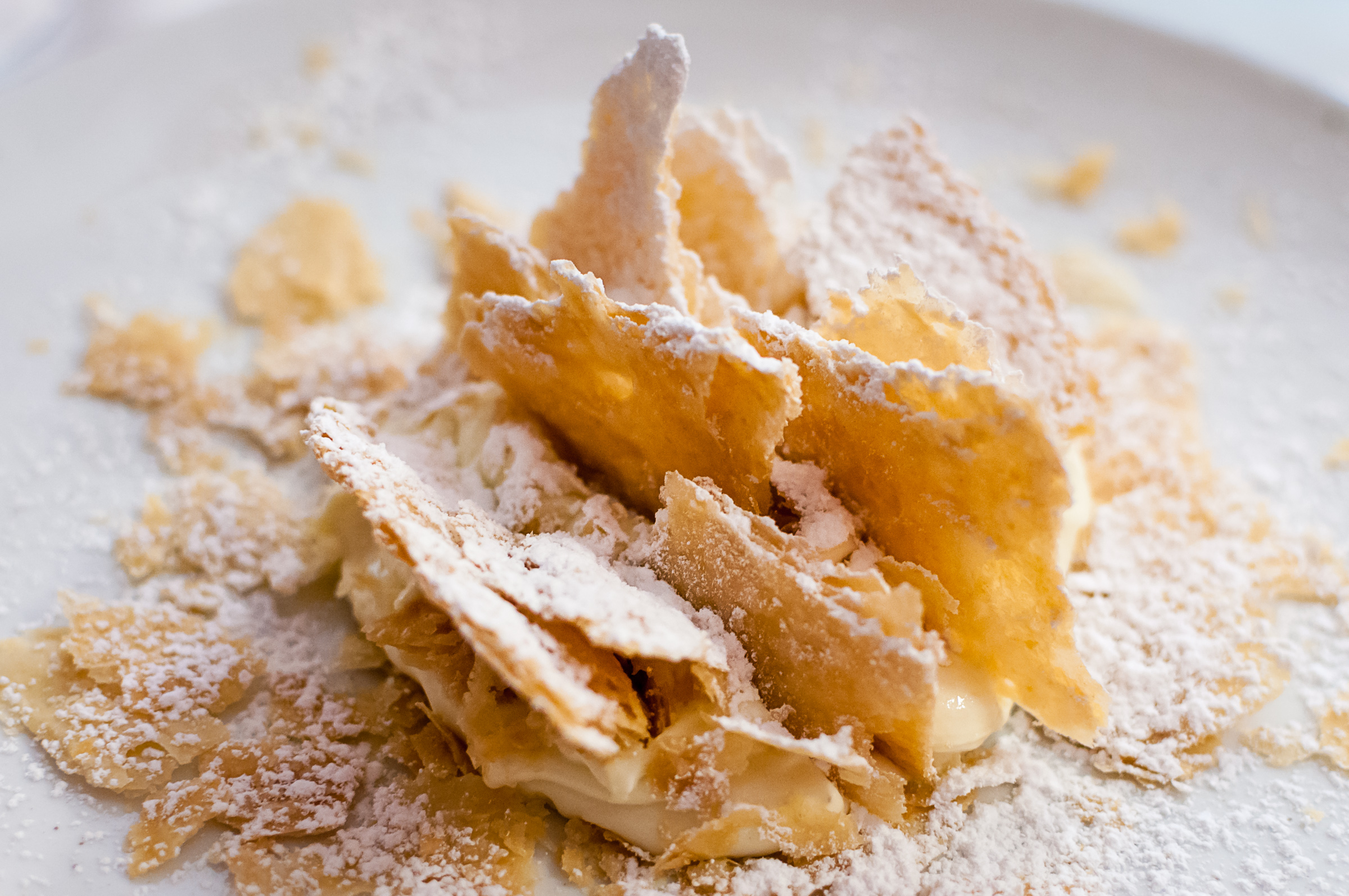 Giulio and Valentina you have been marvellous!
So as I read the last sentence on the blackboard I head out:
"You can't think well, love well, sleep well, if you haven't eaten well"
Virginia Woolf
Ph. Andrea Zangrando