I've always loved Ljubljana: as soon as I have some free time, I take a little trip towards this lovely city, hoping to discover something new.
Today I'll tell you all about some of the most characteristic places in town, where you can enjoy some traditional cuisine!
If you're looking for a Mc Donald's it's the wrong article, but if you like the style, I'll suggest a Slovenian version, and I'll take you to KLOBASARNA!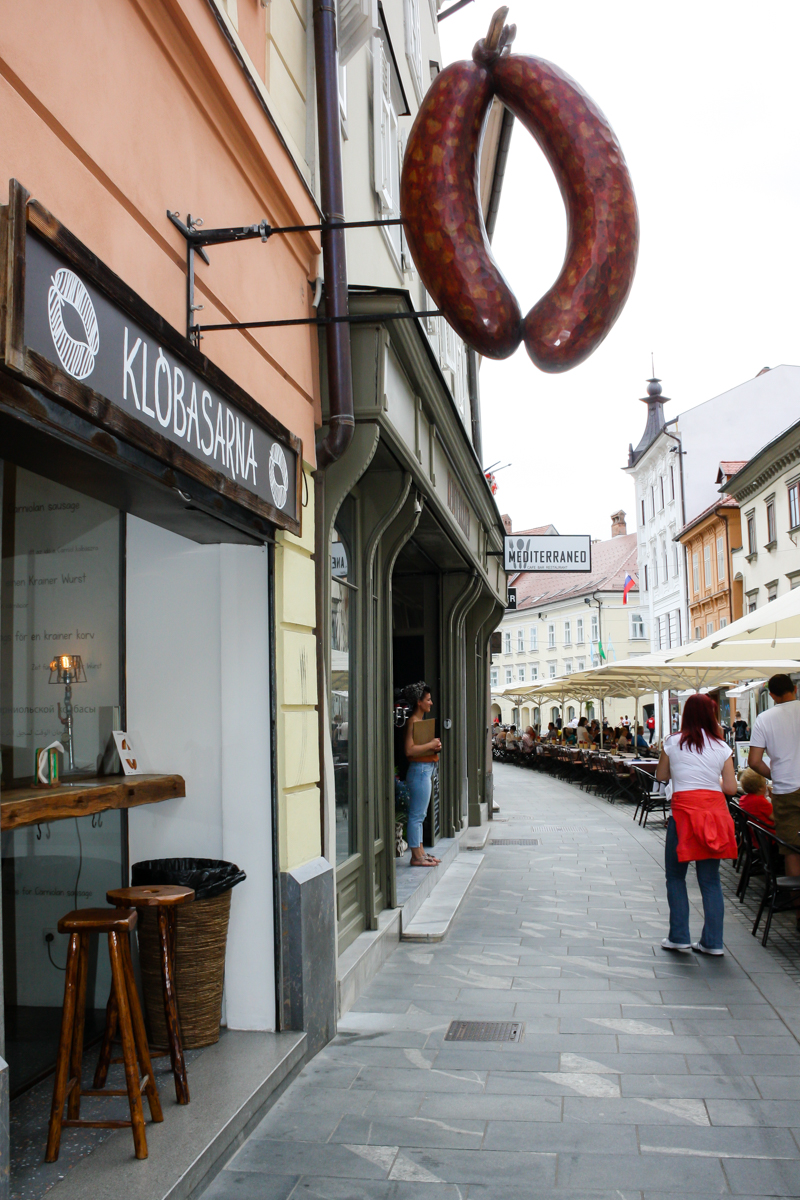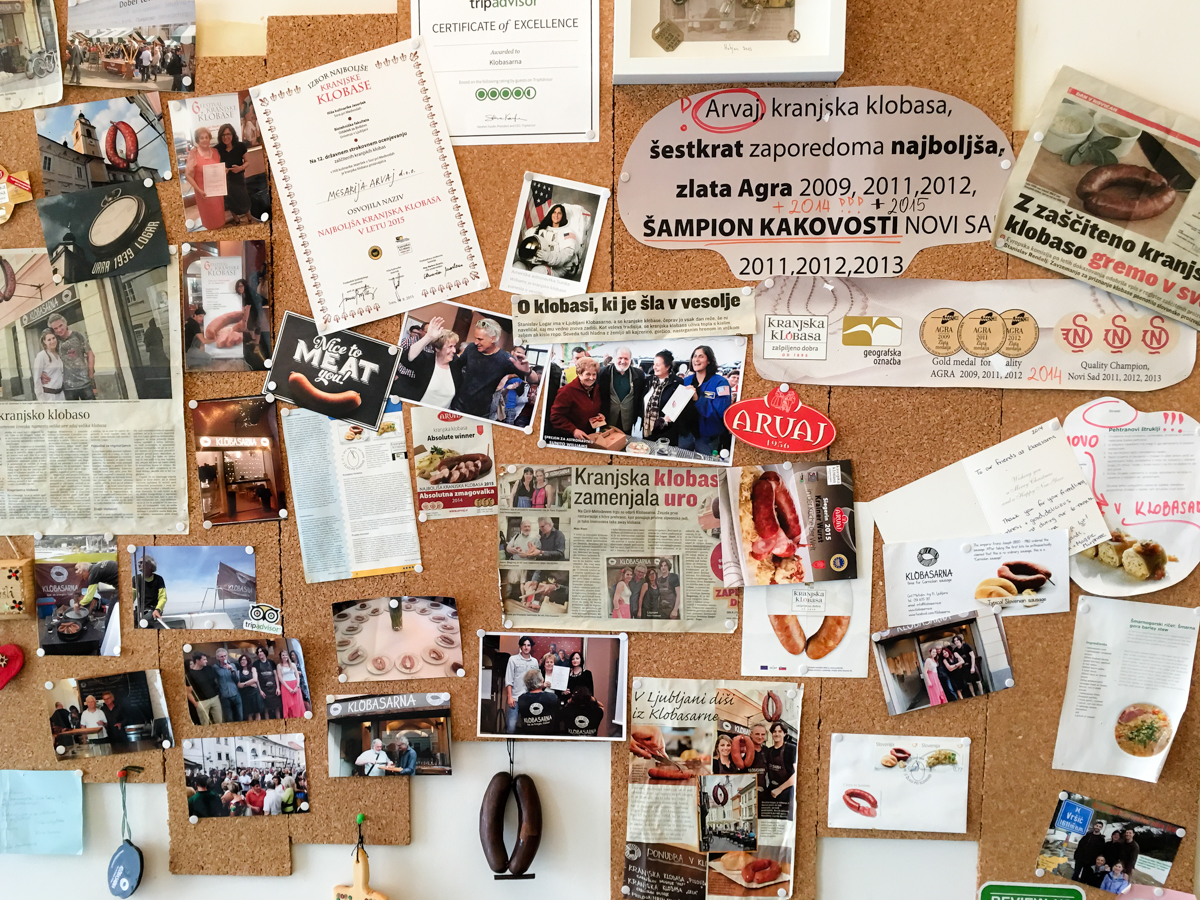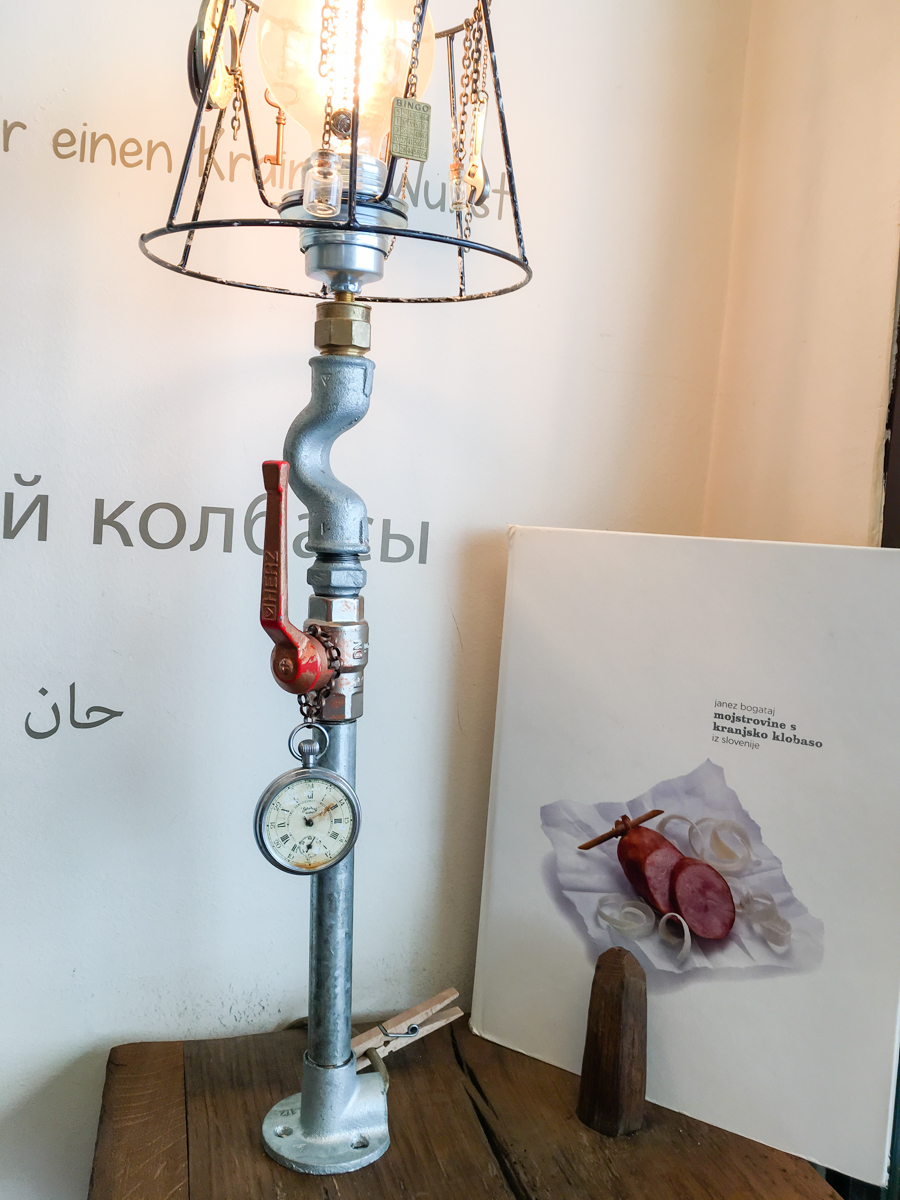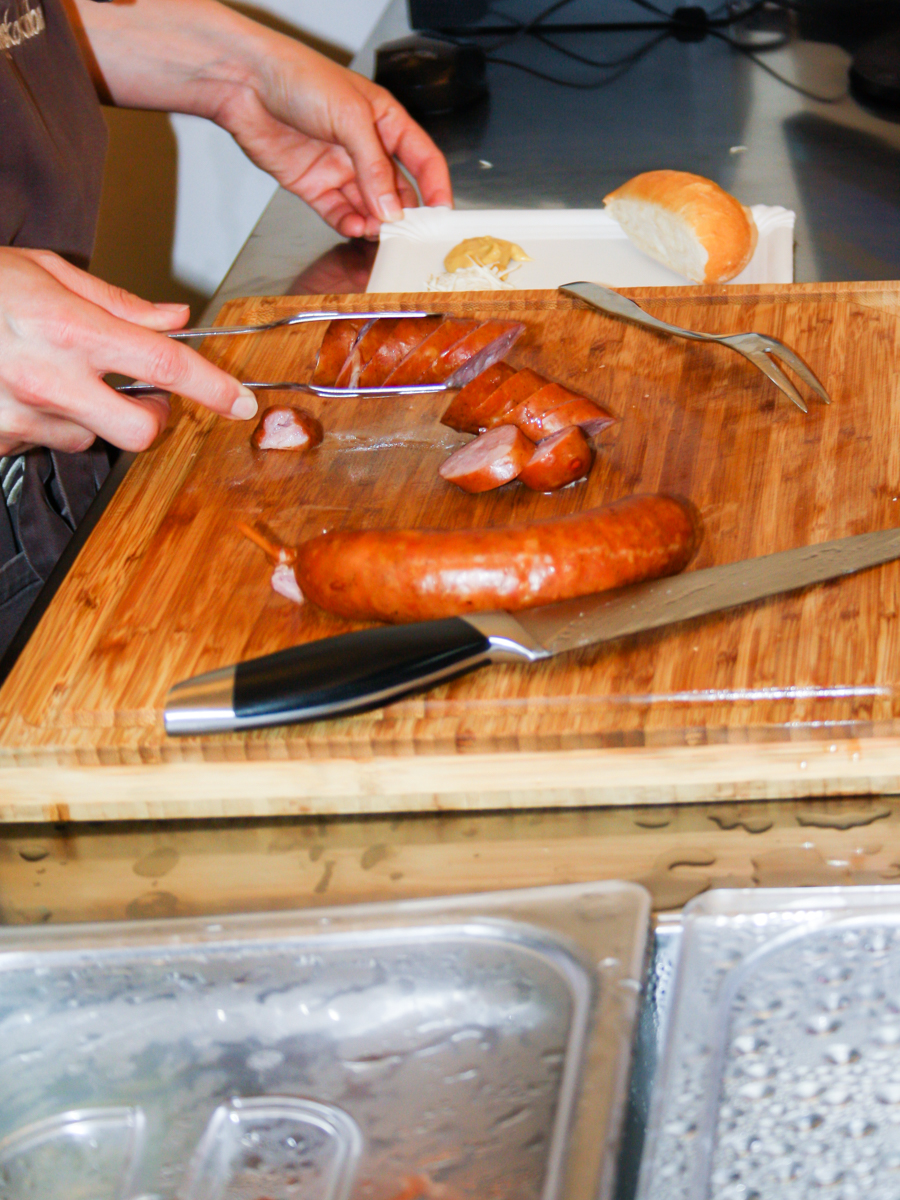 Right in the centre of town, there's a nice little vendor that sells street food, where they mostly serve Klobasa (pork sausage with pepper and garlic), Ricet (a typical vegetable soup with cauliflower, potatoes, carrots, celery and barley) and Strukelj (strudel with cottage cheese).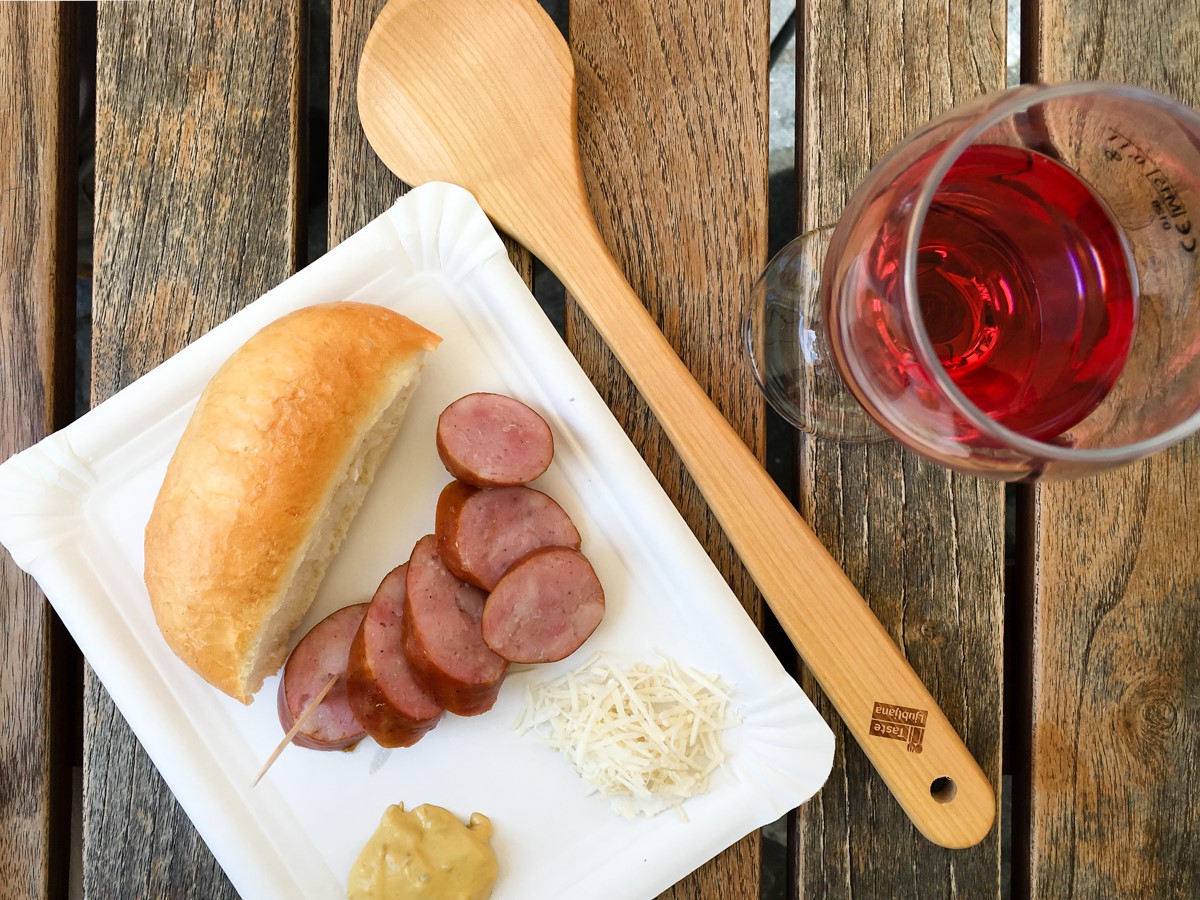 This little place is quite cute, you can stop and try one of these typical dishes in slow food style, maybe with a glass of Cvicek, a blend of red and white wine with very little alcohol: just 9%.
If instead you prefer a proper restaurant, just round the corner from here you'll find the Gostilna VODNIKOV HRAM, that also serves traditional food, but with a modern twist. It's not the oldest restaurant in the capital, but it's the best place to taste real traditional food! I'm trying a dish with beef tongue, horseradish and grilled apple … perfectly balanced tastes: a dream for anyone who loves boiled meat!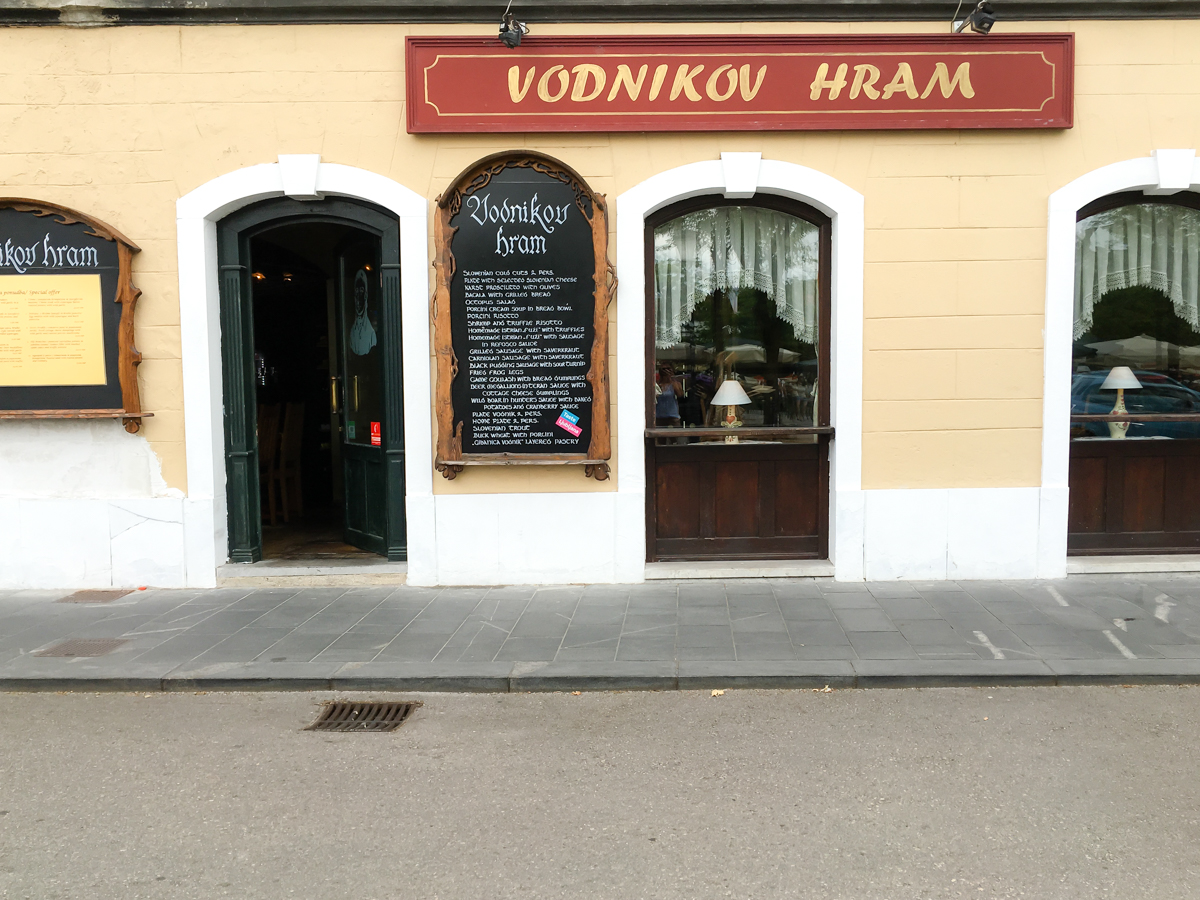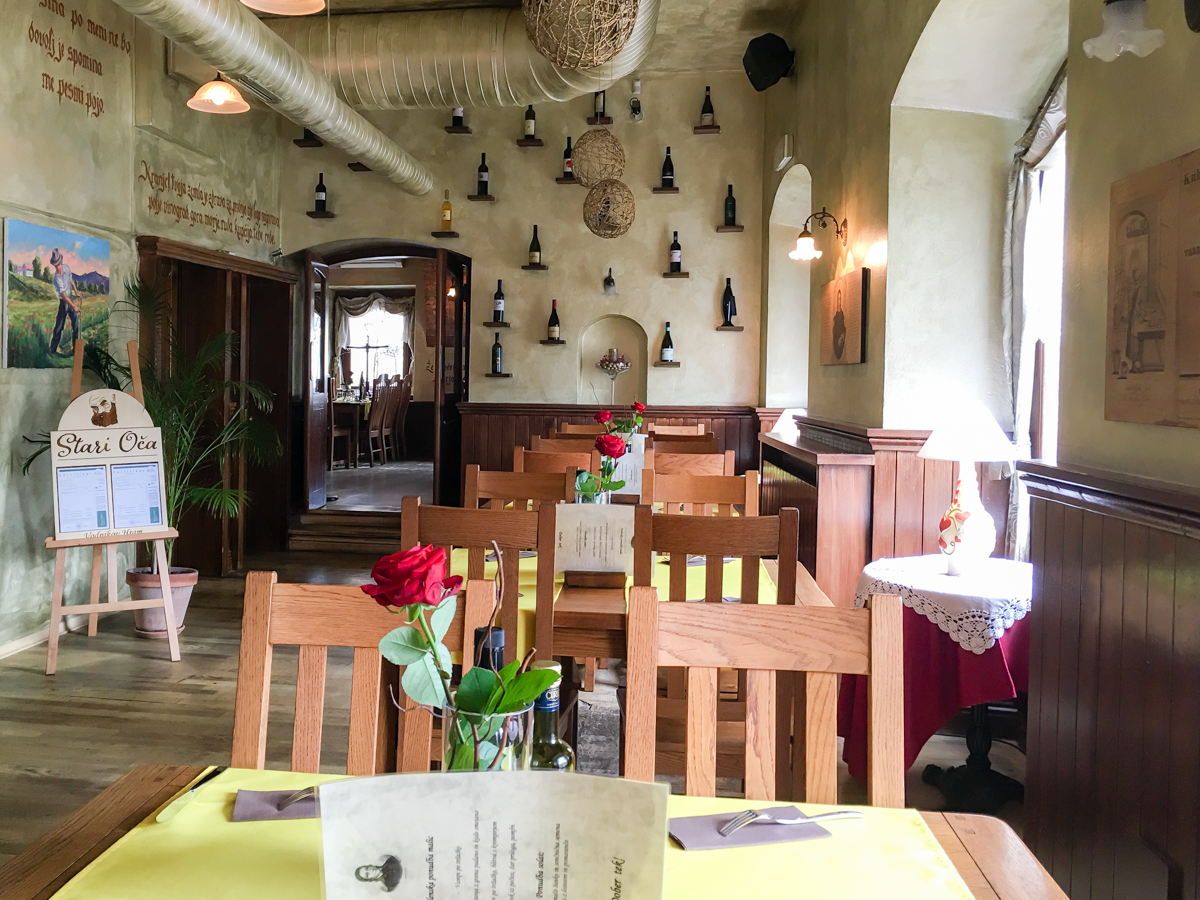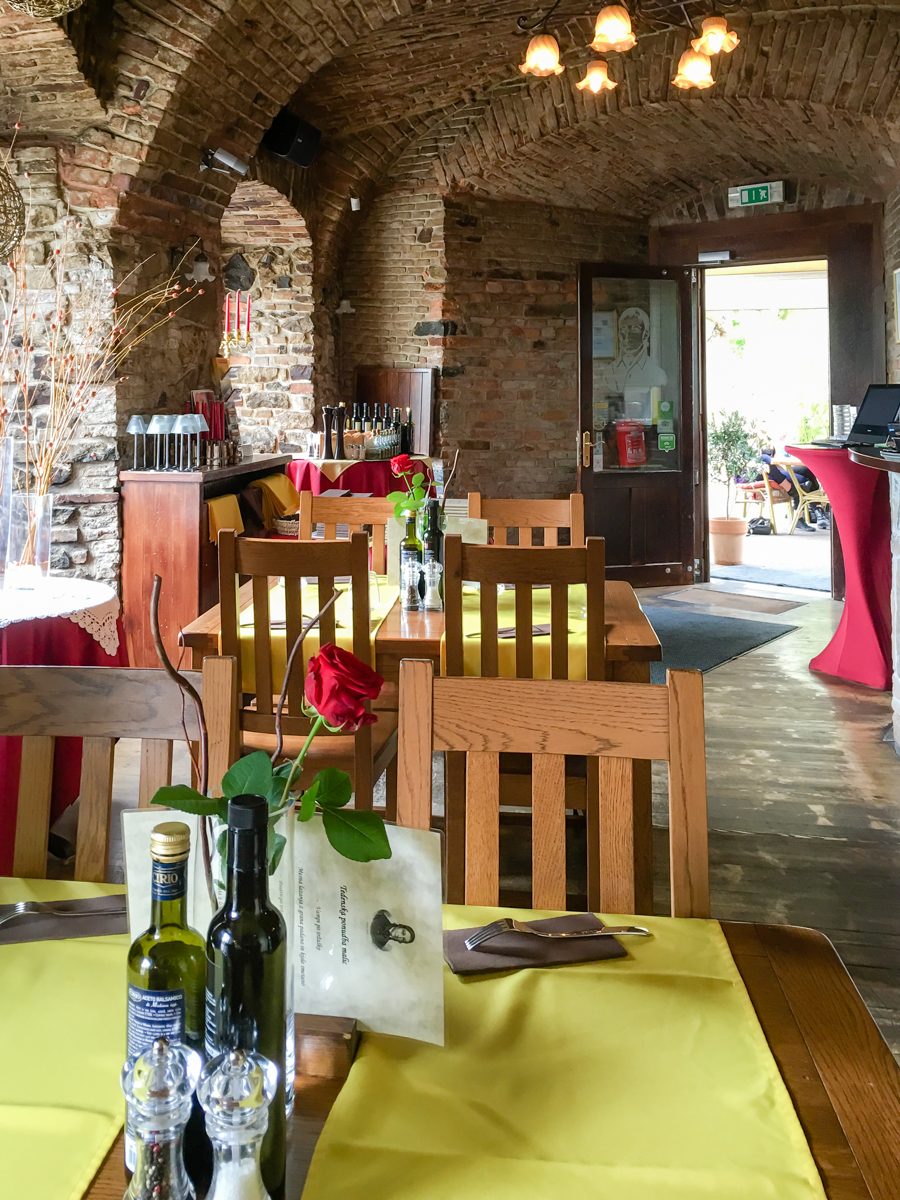 Slightly distant from the main tourist attractions, but still in the centre of town, near the Parliament, in the business district, there's MAXI- ROMANSA, a restaurant that's only open until 5pm and closed on a Sunday.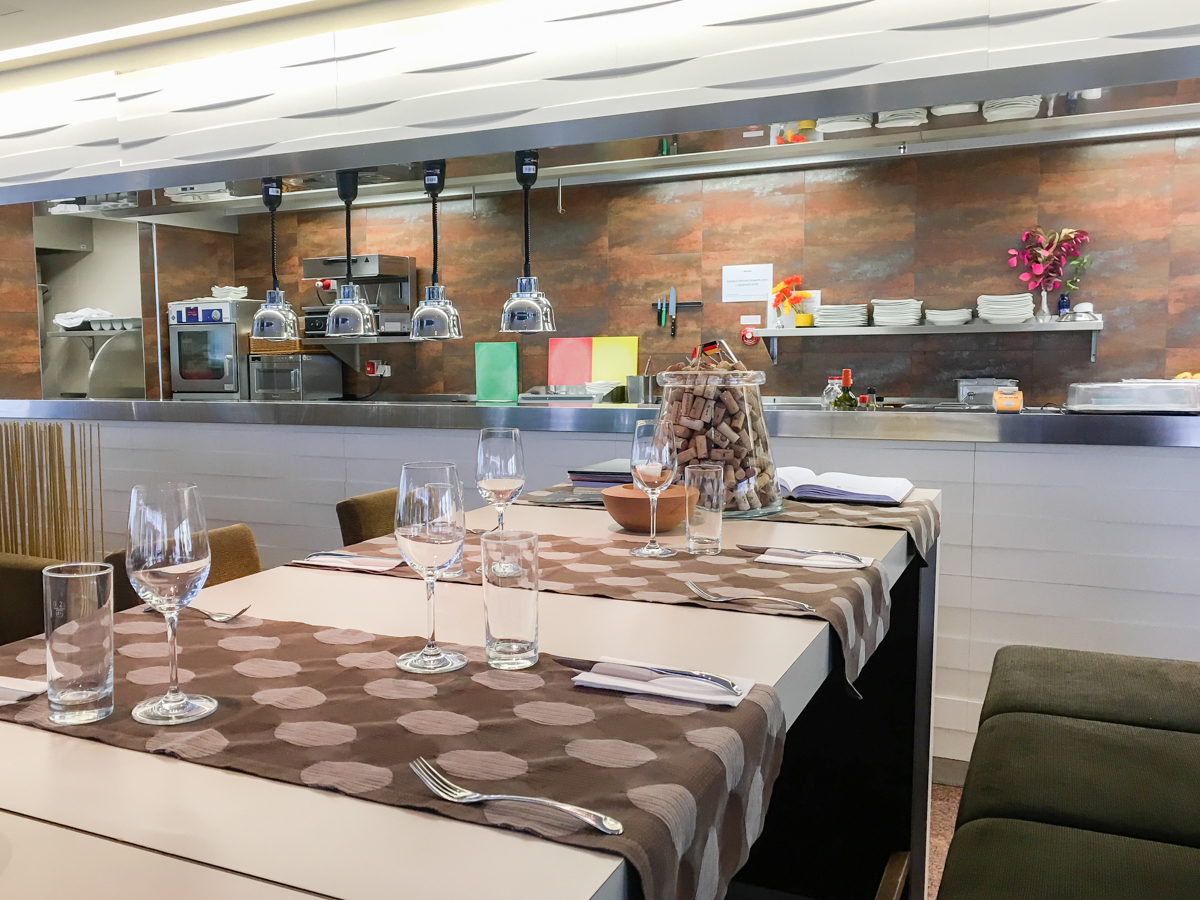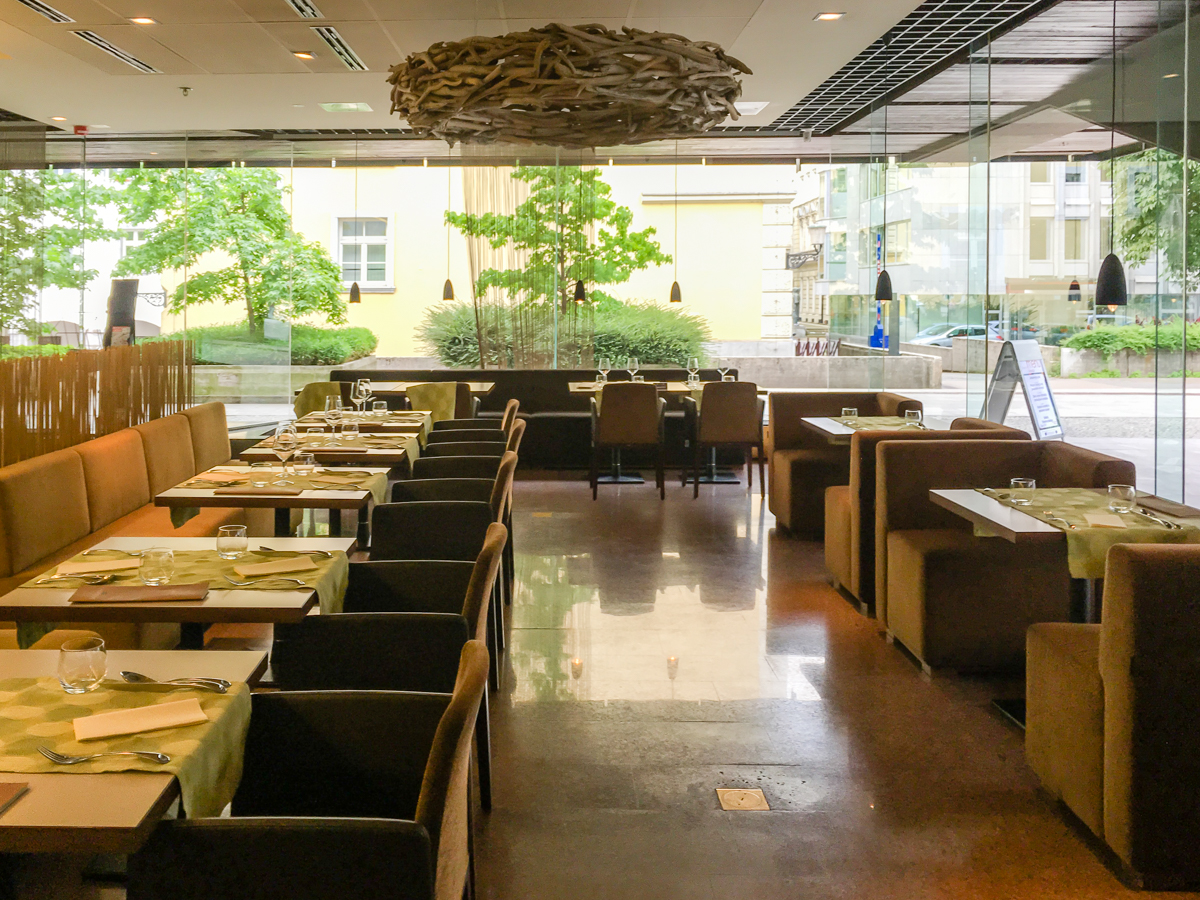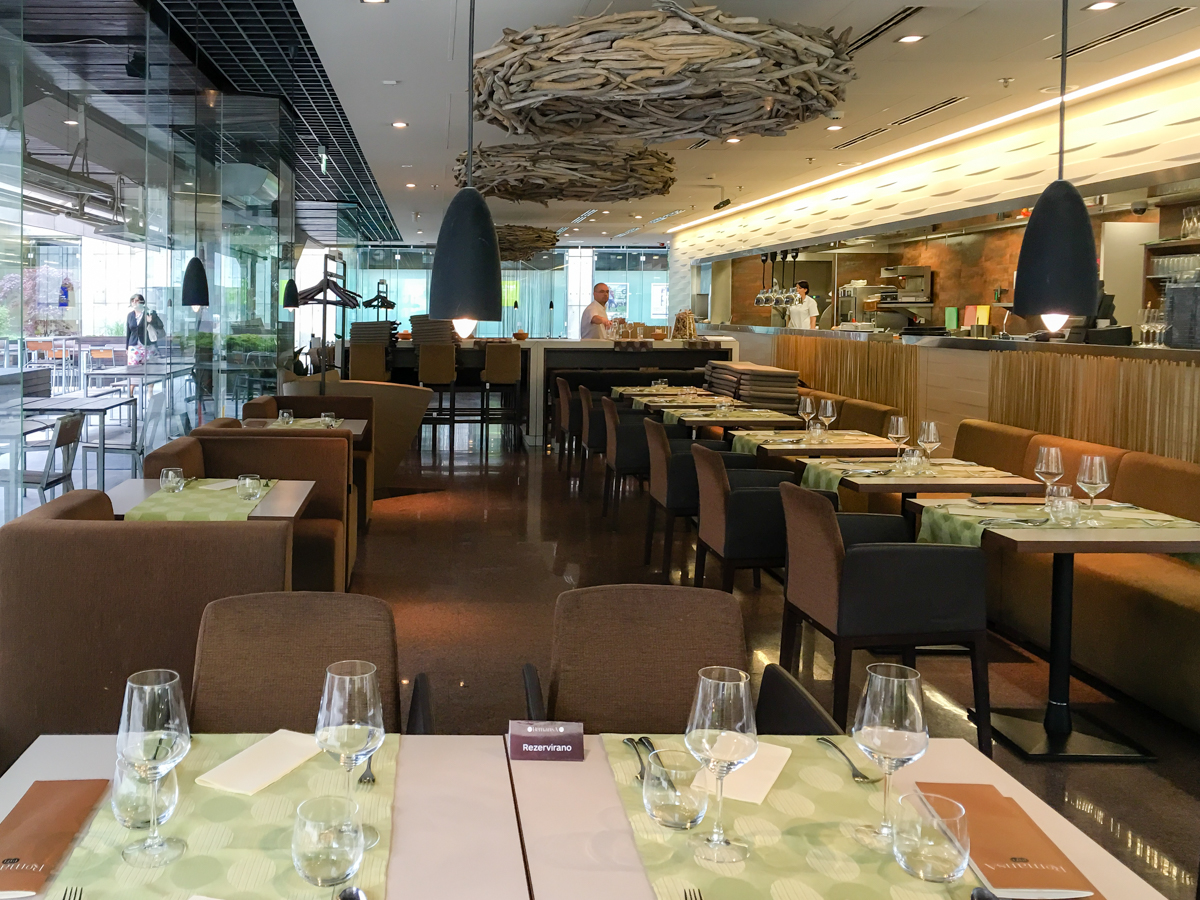 Large glass windows and modern furniture welcome you in a pleasant and neat environment, where you can order the Lubljanese dish: a fried chicken leg with potatoes (that in Trieste we'd call "in tecia" potatoes, that means they've been cooked in a pan with onion). The crisp fried batter encloses lovely soft meat.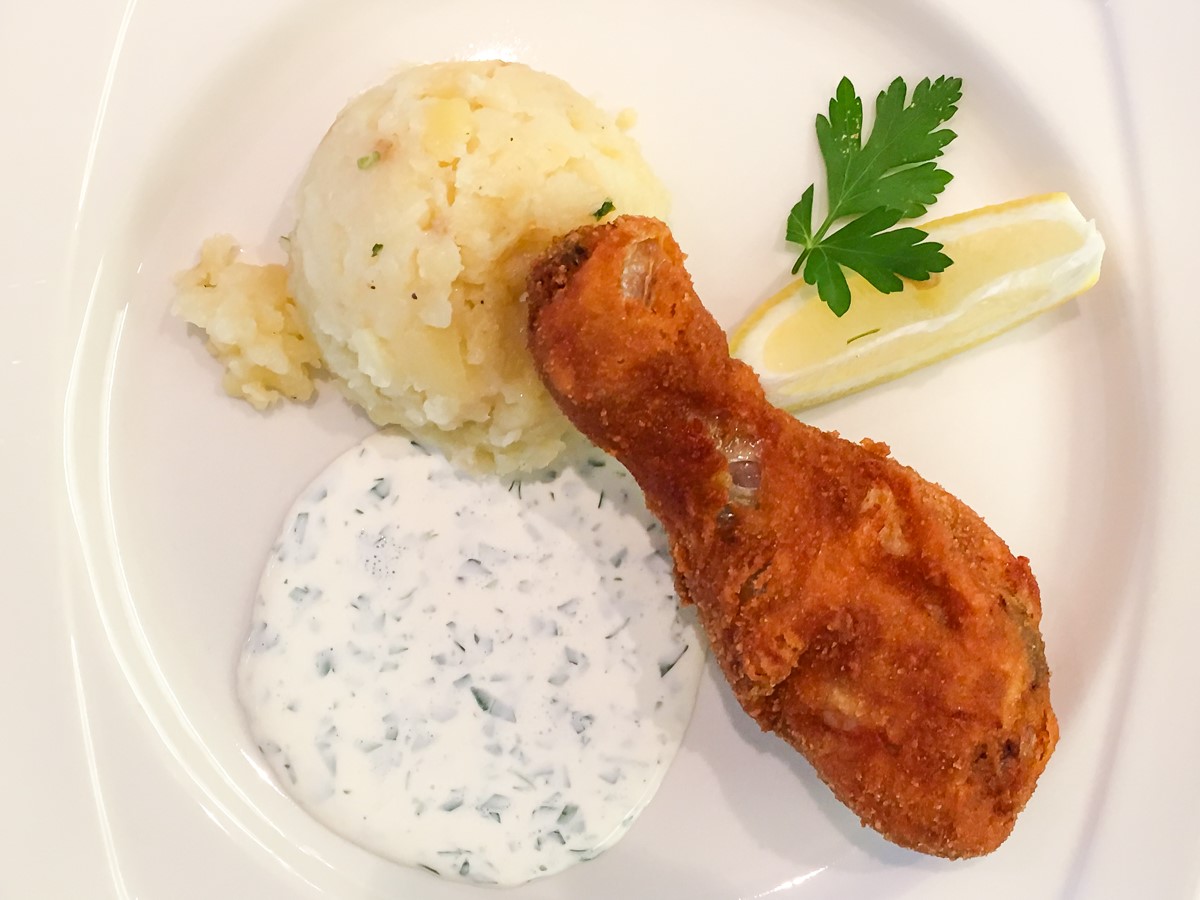 It's incredible, here in Slovenia they have about 80 different recipes for "Potatoes in Tecia": some boil the potatoes first, some add more seasoning and spices, some add the water in with the onion… so you can eat the same thing in 80 different ways!
It's now time for a lovely walk to help us digest all this wonderful food.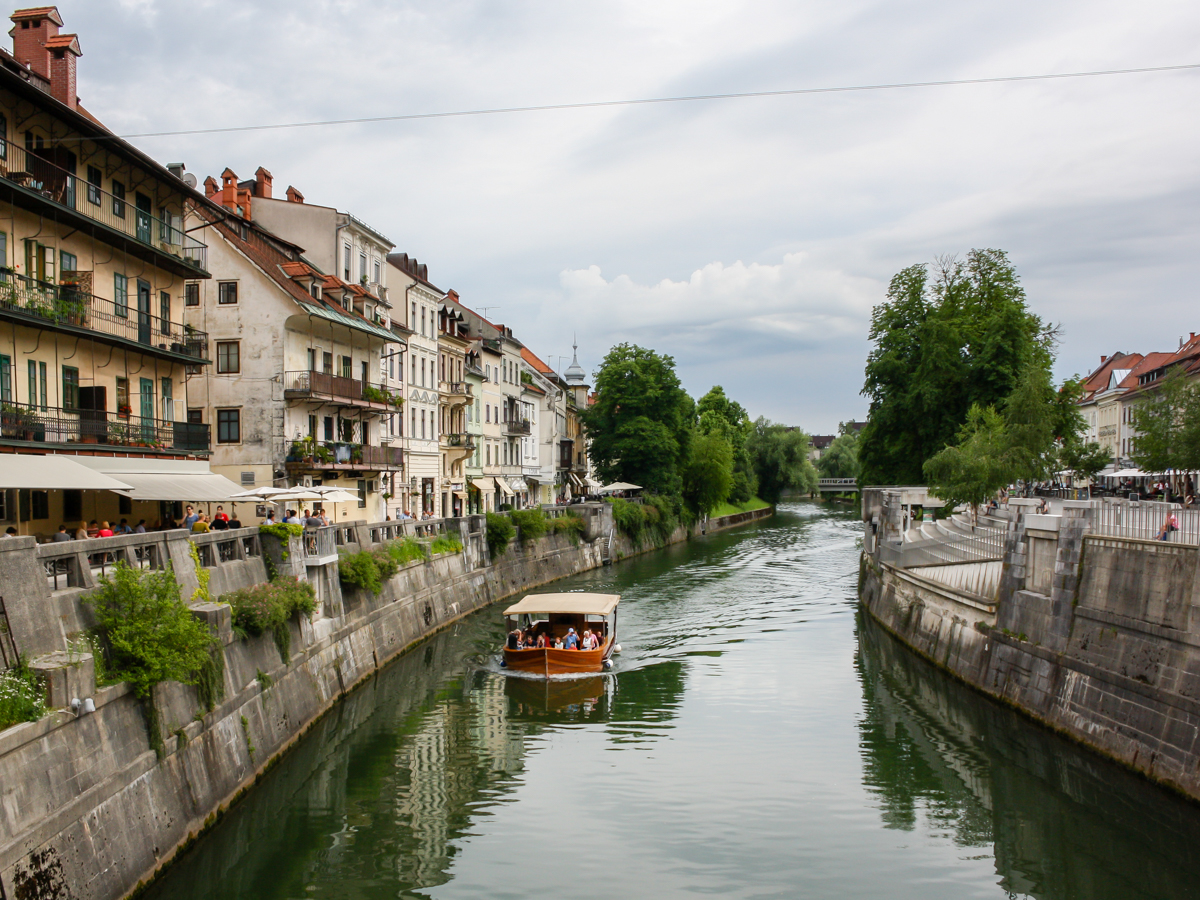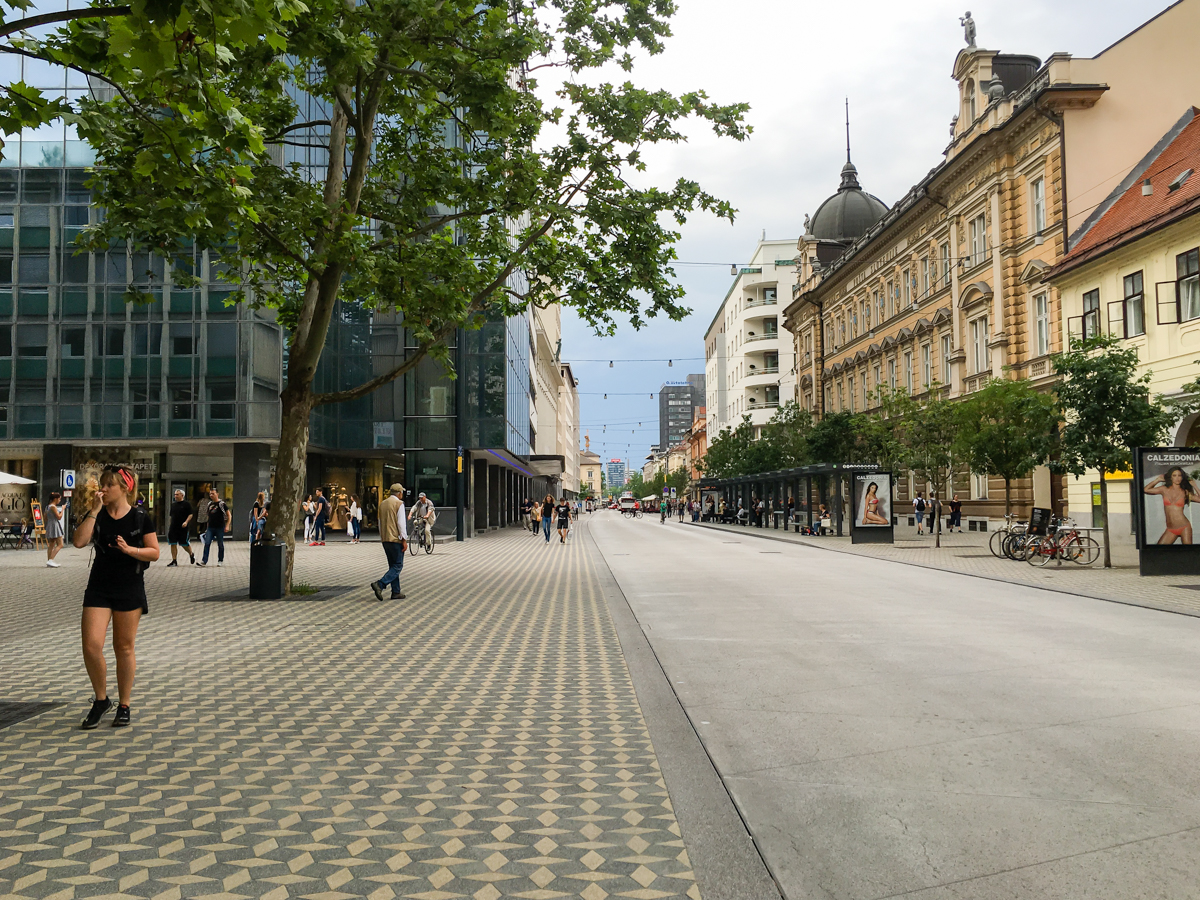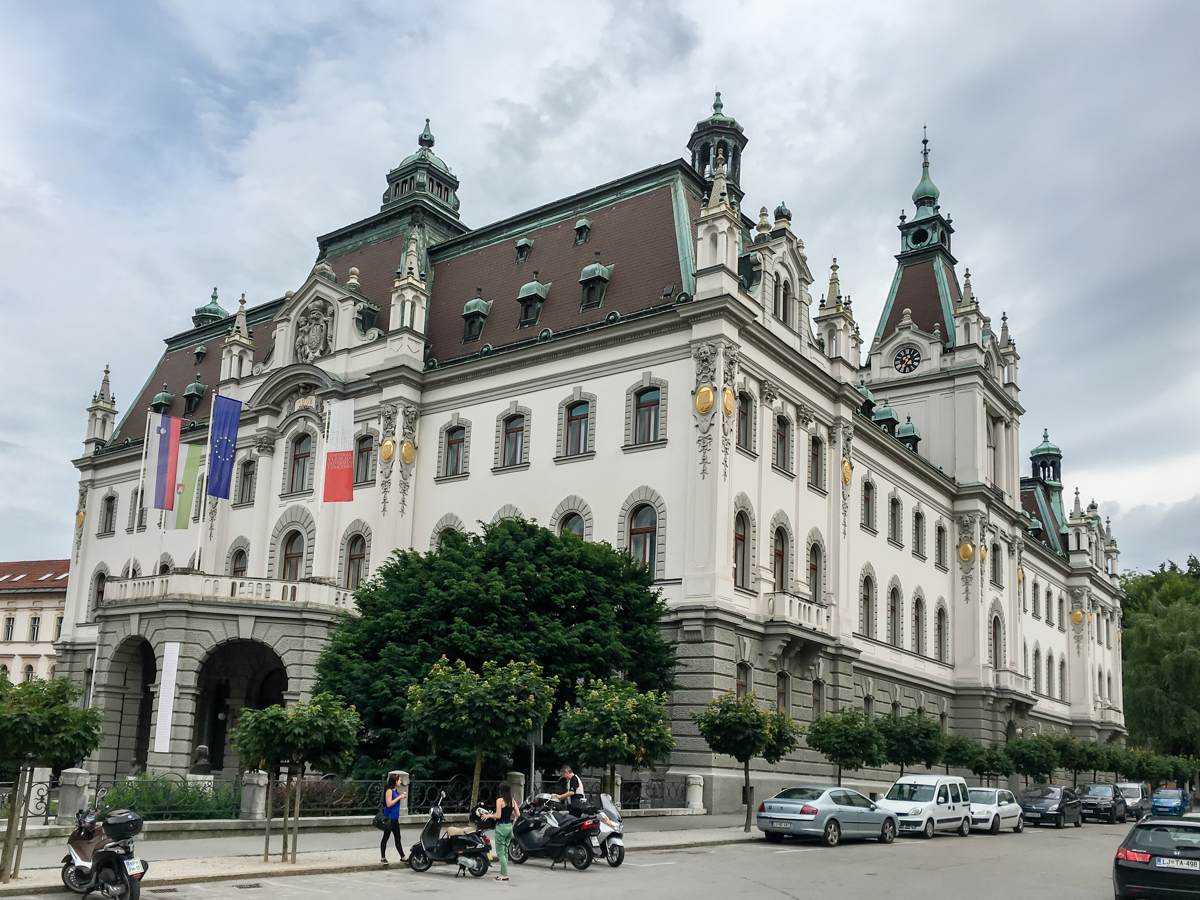 There's a place I particularly liked, DRUGA VIOLINA, because a disabled boy was our waiter for the evening! DRUGA VIOLINA is a social experiment that started 3 years ago, where all the waiters are special!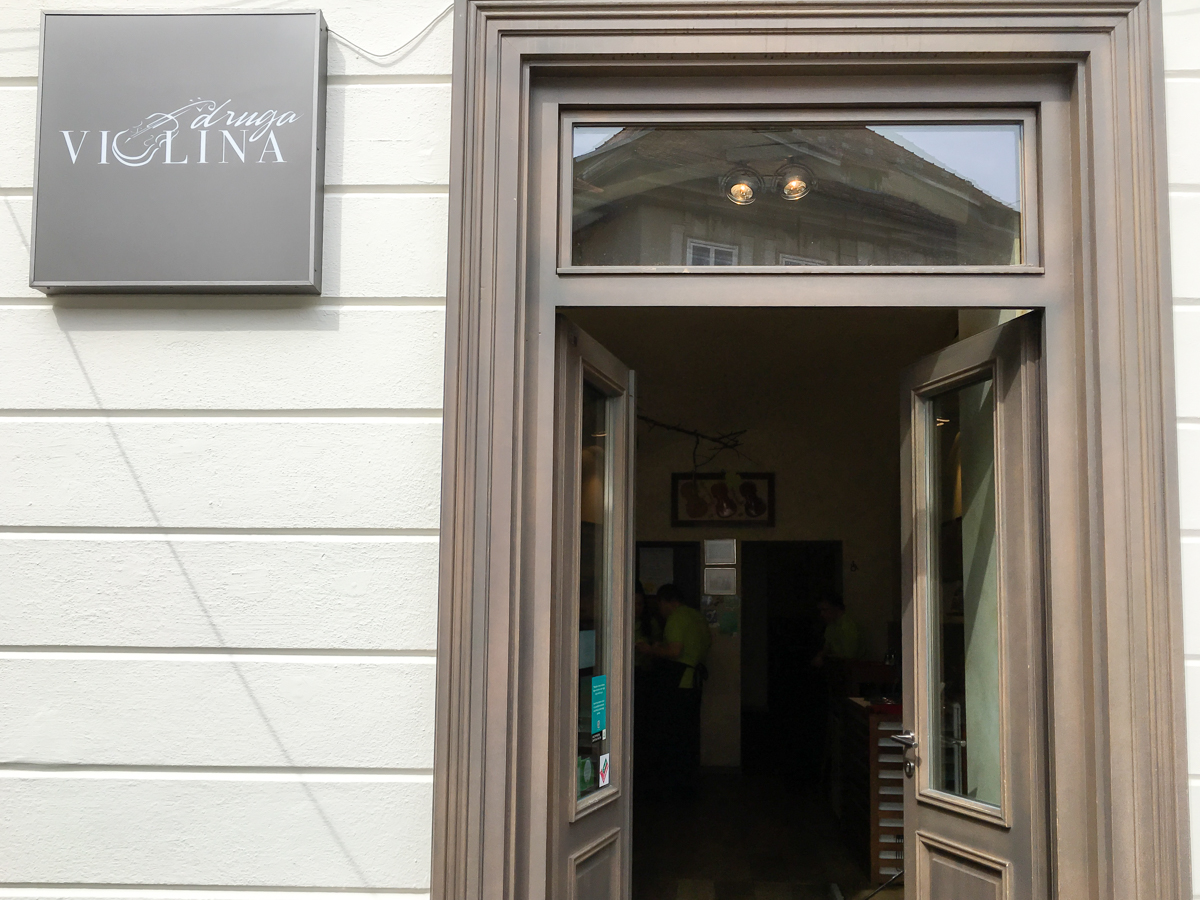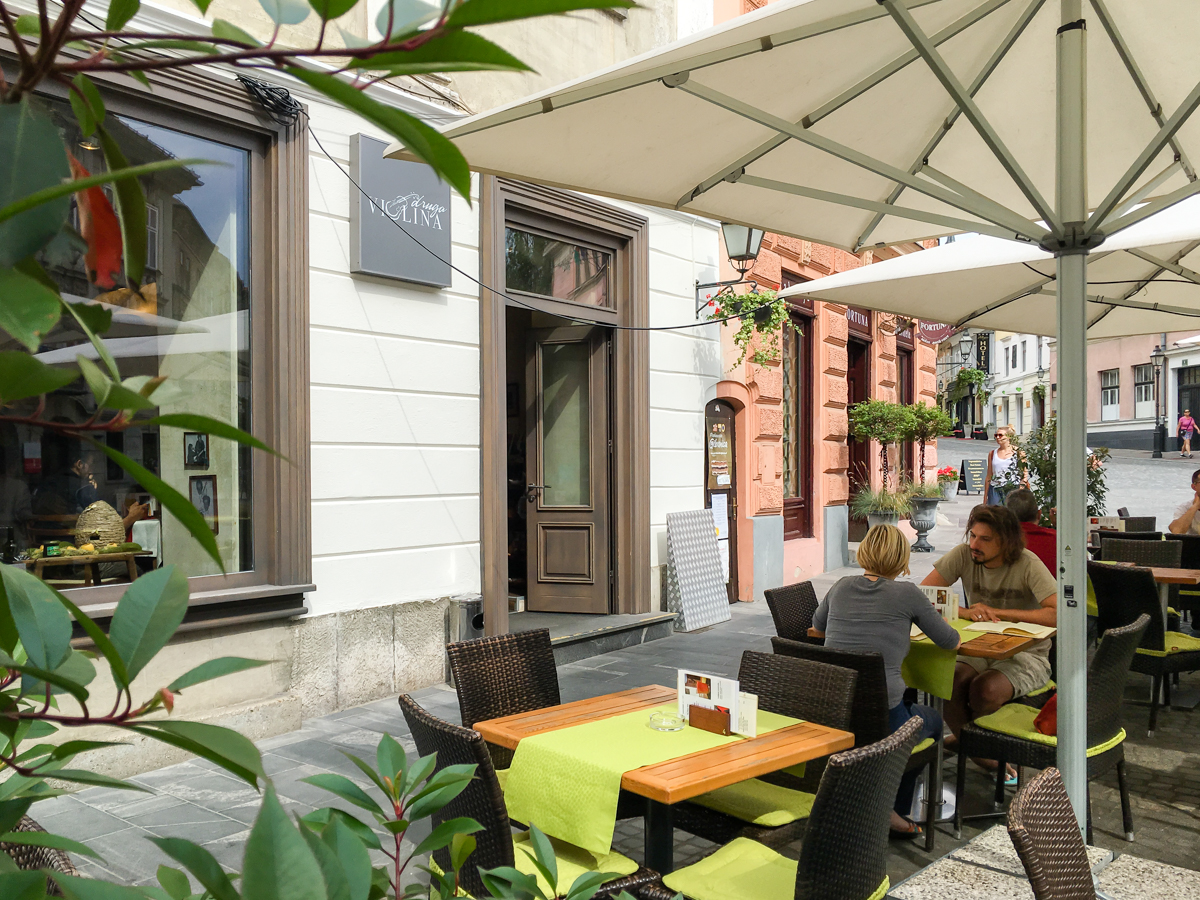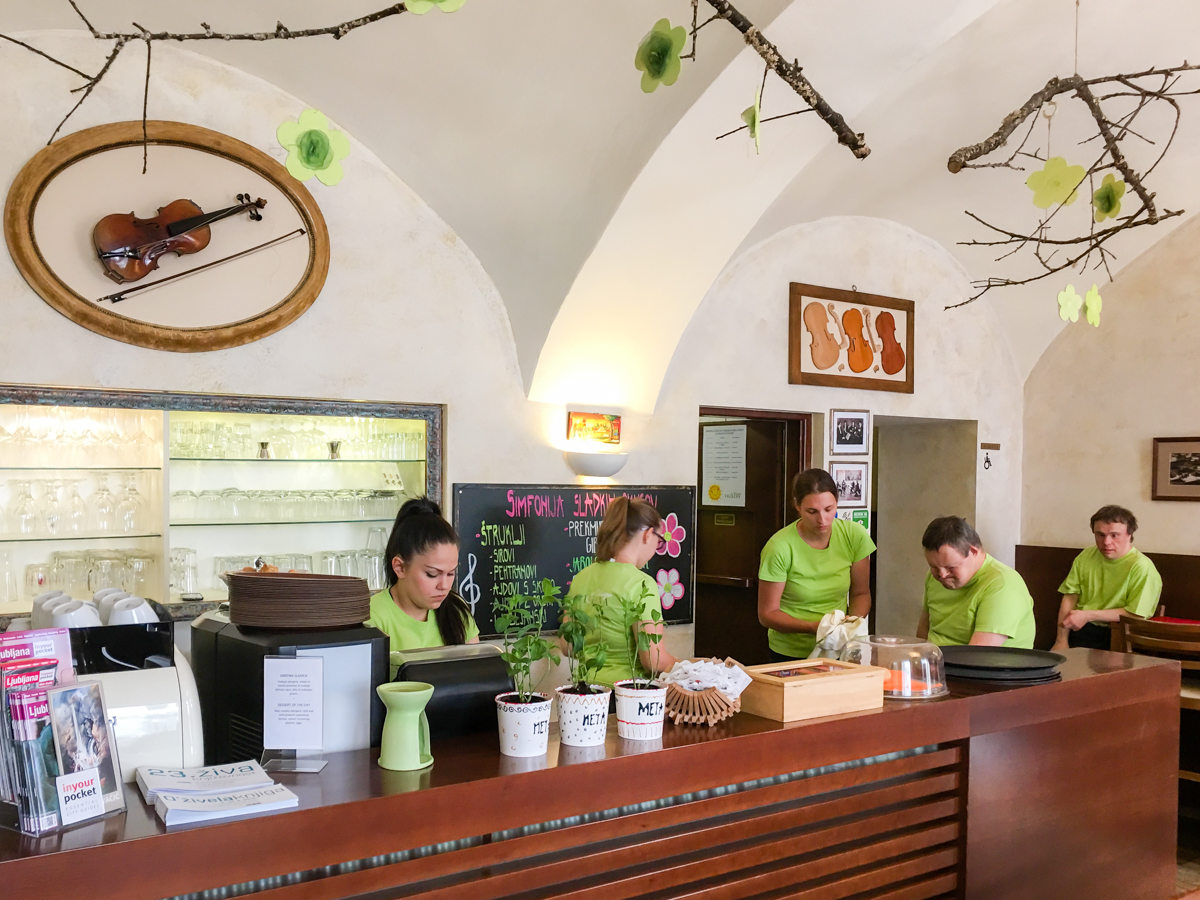 It's a restaurant with an added value, everything they cook is home made, and nothing is industrial or pre-prepared.
They have "in tecia" potatoes here too, so I decide to try them to see if they make them differently and I realize that for this recipe they used parsley and less onion, different from the dish I tried at MAXI.
It's time for coffee and to take a look at the town from above, I'll take you to n.1 of Štefanova ulica, in the first skyscraper of Ljubljana, built in 1933, where they have a café at the 12th floor, NEBOTICNIC CAFE' TERRACE, where I also had a nice typical pastry along with my coffee, and two digestive drinks: OREHOVEC (snaps made with wall nuts) and BOROVNICKE (a blue berry distilled wine).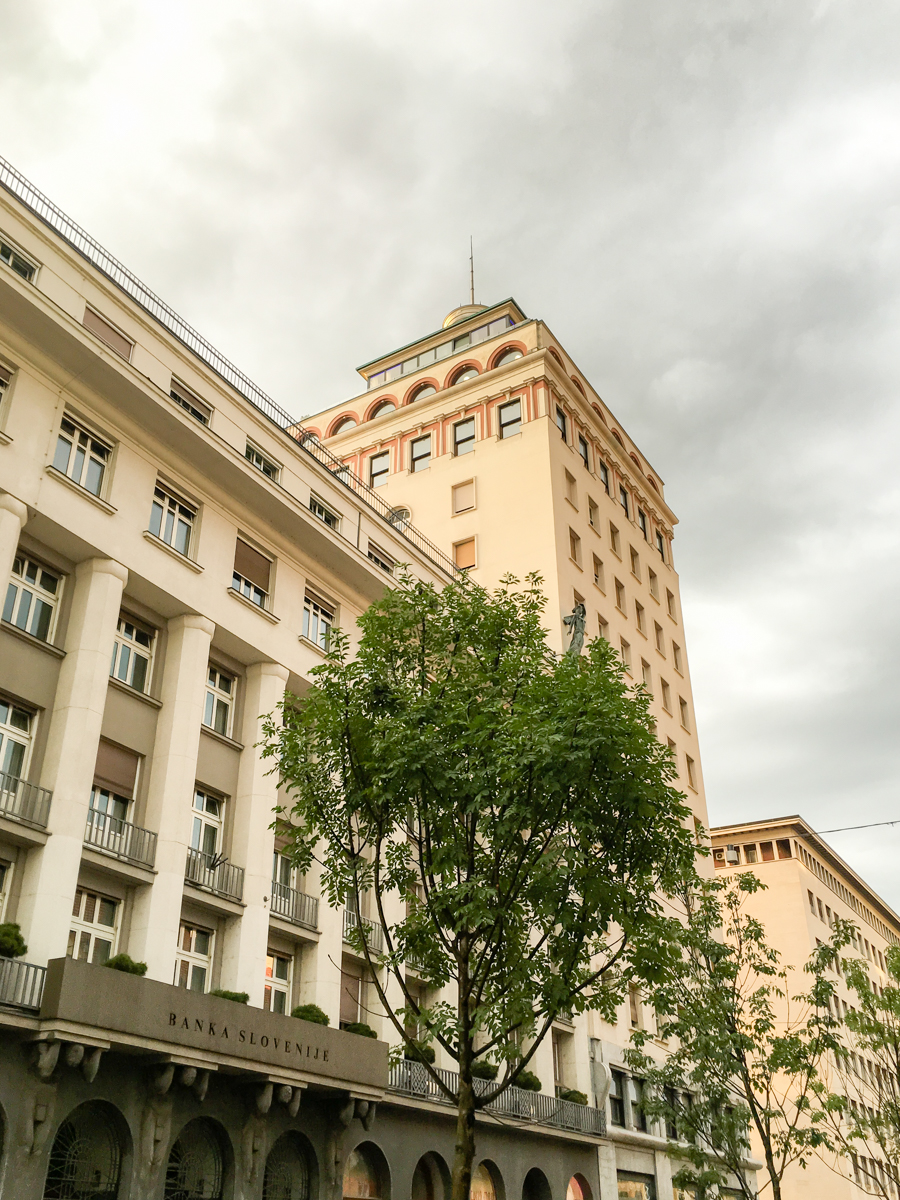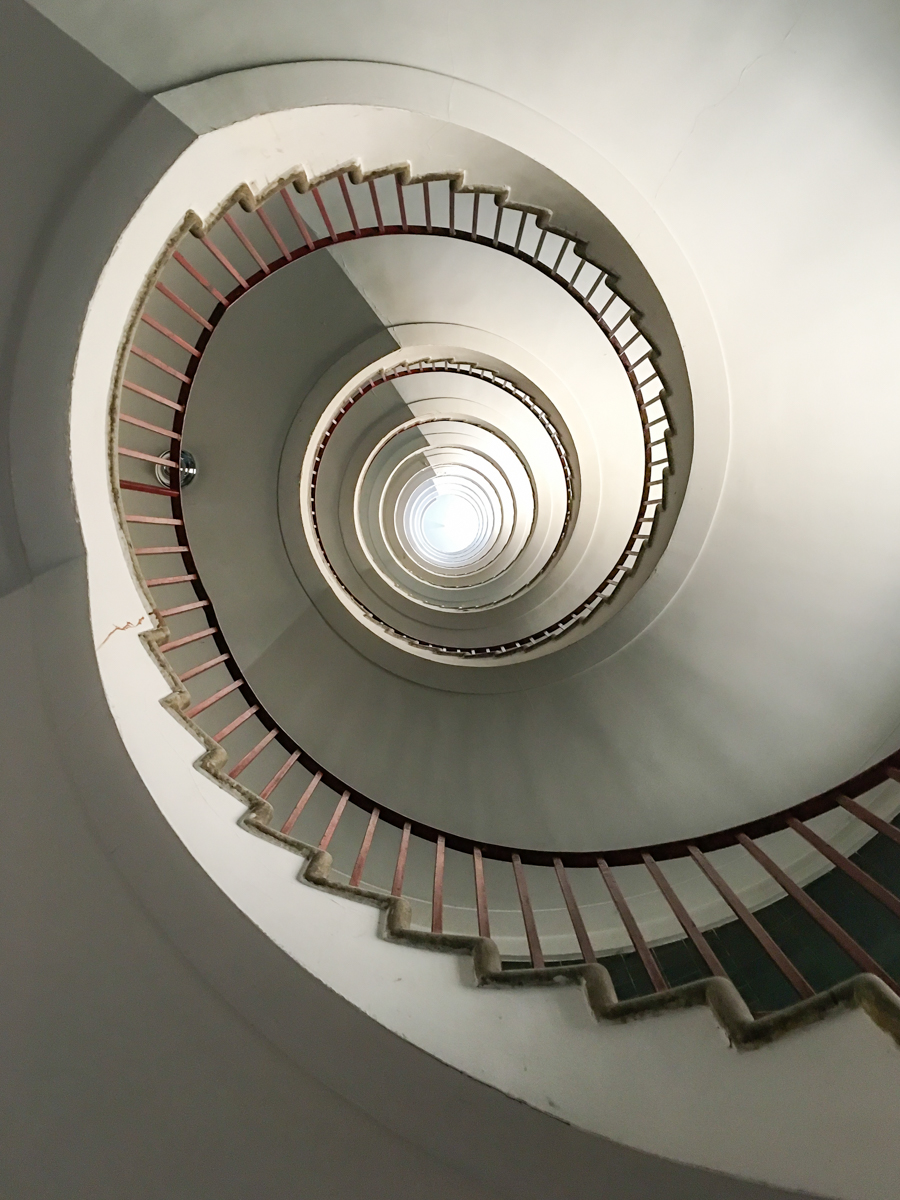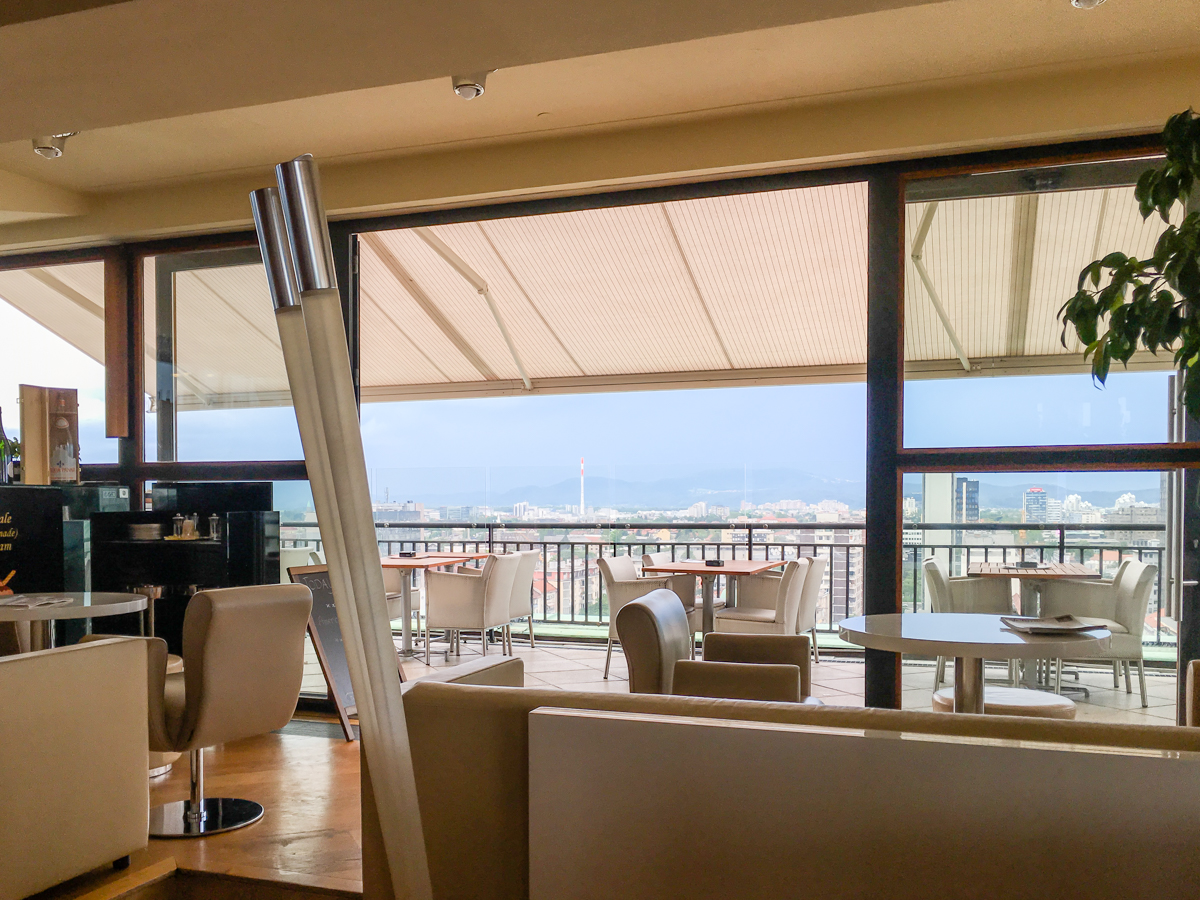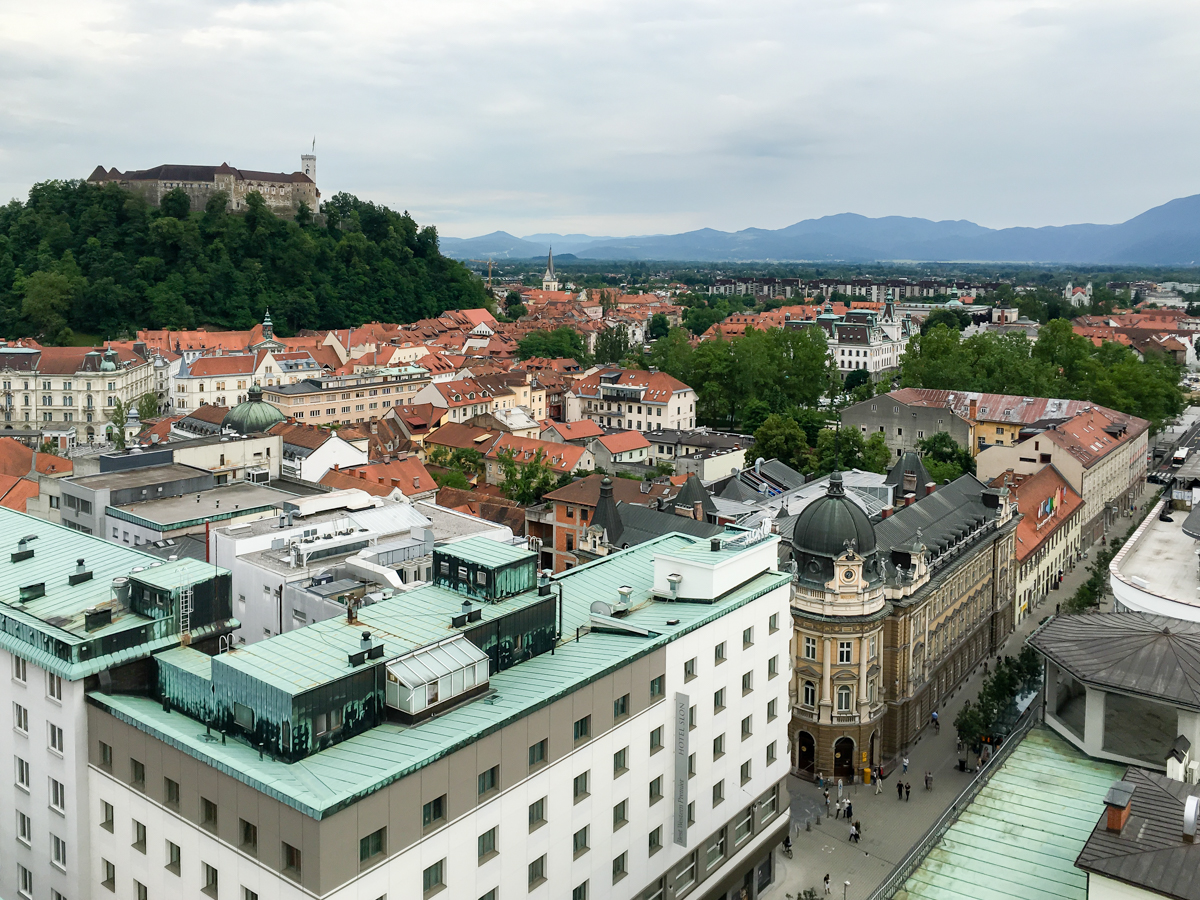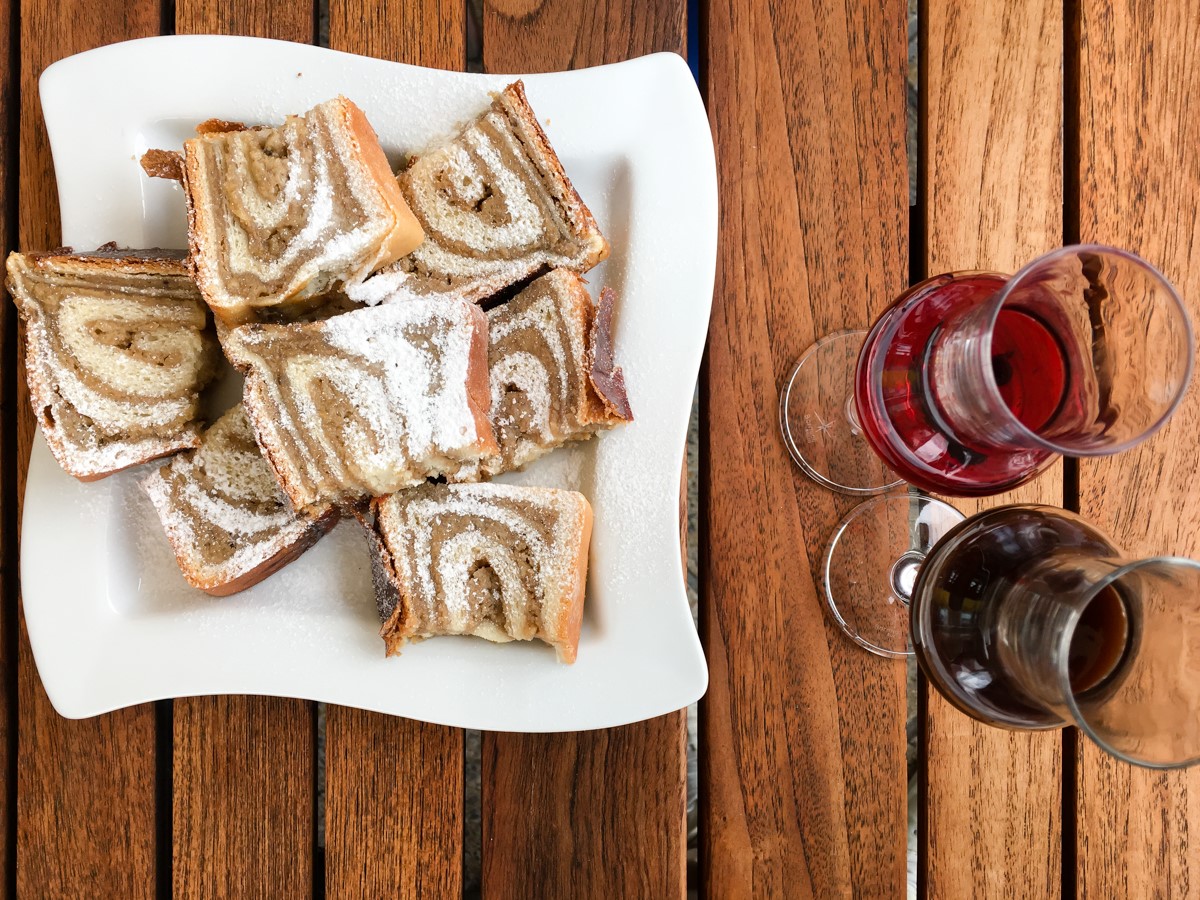 As I look down on this lovely city I send you my best wishes, as I think of all the interesting places I'll tell you about in the next article…