I promised you. What do you mean "what"? I promised I would collect all the things to do (or rather what I did) in Sappada in a little guide!
I fell in love with the place but seen how you've reacted to what I've told you on Facebook and Instagram, I think I'm not the only one!
On Saturday 16th of January, the last day of yellow zone for our Region, I've had the pleasure to cross roads with many of you on the streets of the old Sappada, which were covered in soft snow.
Well, let's try not to lose ourselves in cheesy stories…let's get to the point right away. The mountain is not only about ski: there are so many more things to do. Which is why I'm writing such a rich piece.
WHERE TO SLEEP
On my last visits here, I decided to stay at Solder Chalet Dolomiti, a facility that has 4 bedrooms and 3 apartments, available according to your necessities: as a matter of fact, you can rent a romantic chalet for couples or a larger one, perfect for families. Needless to say, the style is typical of the mountains: the main features are wood and warm-colored furniture. Pure comfort.
I've thought of a very good offer for you readers of MissClaire, together with Alessia, the hostess. Are you ready? CRAZY DISCOUNTS COMING RIGHT UP! 🙂
1 night, 20% off
2 nights, 35% off
From 3 nights on, 50% off
The offer is available from now on and it isn't supposed to end, at least for now. I think it's perfect for families and…yes, what the hell. It's great for sigles, too, like yours truly! 🙂
There are many facilities where you can stay in Sappada, but this is the one I've had the more chances to try. How can you benefit from this offer? You'll only need to make a reservation via phone or e-mail and say "MissClaire Sends Me". Simple, yet effective.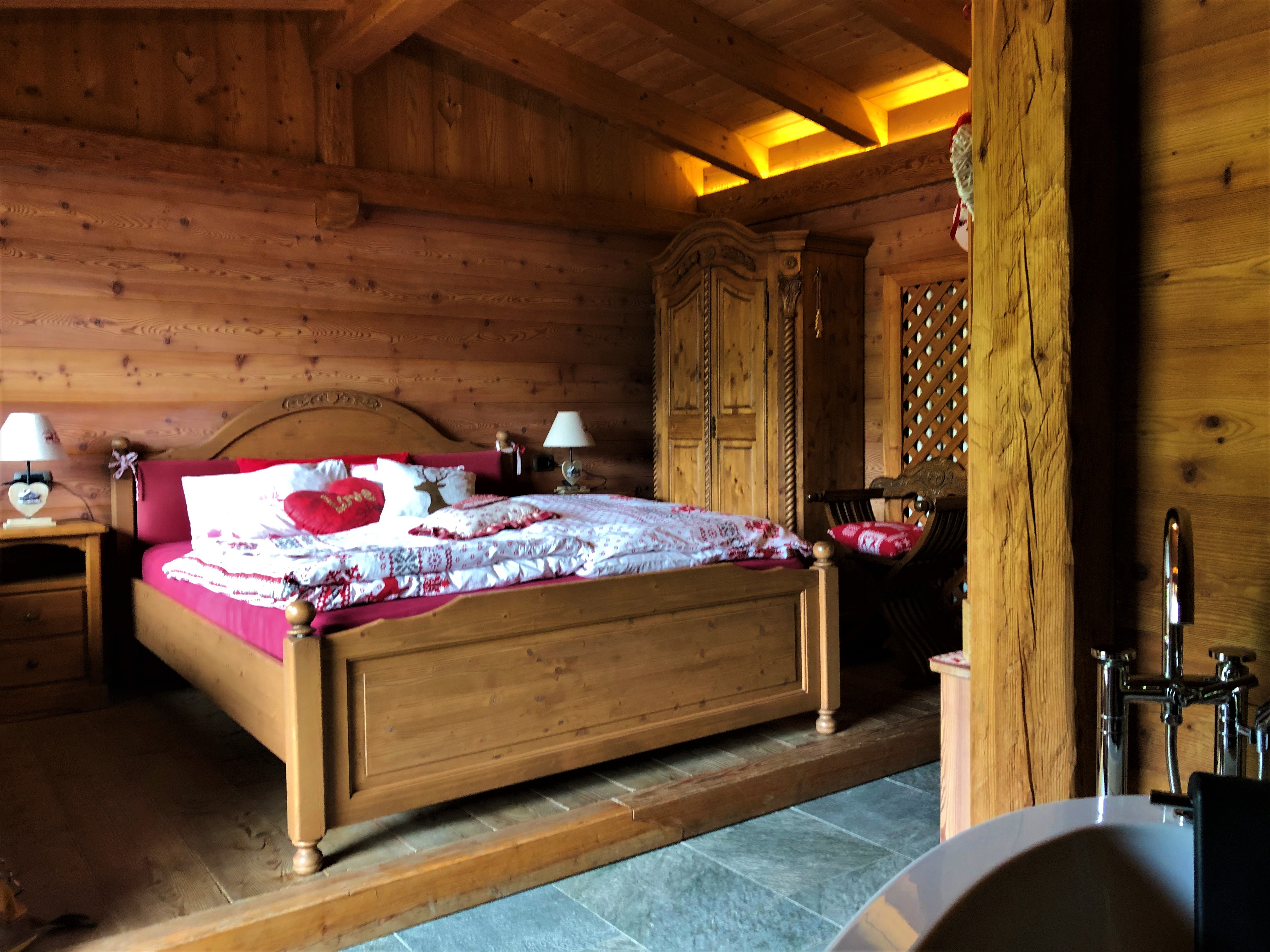 WHERE TO EAT
Many of you asked me, sometimes with a little fear, where to eat around here. And then the fatal question, pretty recurring in this time: "If I leave during a yellow-zone time and then when I'm there it becomes orange or red, where do I feed?".
You will survive, don't worry, Sappada isn't the desert! Here there are many little shops where you'll be able to buy bread and something delicious for a quick meal on the go. For dinner? Well, no need to panic, here too, many restaurants offer a delivery service (for example, the Solder settled for a small table and cutlery in your room).
You want names? Then names it is.
Edelweiss Stube is one of my favorites. Alessandro has a simple though refined kitchen: the flavors are the classic mountain ones, and you can easily find the menu on his website. He'll deliver everything to your door, even a gin & tonic, if you have a special night planned. 🙂
The quality/price ratio is perfectly in line with his offer. If you're lucky enough to find him open, that'll be wonderful, but you'll be satisfied either way.
If you're looking for something more "exclusive" instead, then you have to make a reservation at Mondschein. Paolo will welcome you exclusively clothed in 4.0 mountain outfits and the chef Marco Vigo di Cadore will know how to make your tastebuds dance. It's an elegant setting, heated by a stone fireplace, amongst old wood and sophisticated furniture: the Mondschein will cuddle you with their local and tasty meals. What if I want to try a gin & tonic (ok, you got me. I love it), you ask? My advice is to try the smoked, cardamom one or the one orange and cinnamon scented…I'm sure you'll ask for another one!
Also, here you have the chance to place a takeaway order or delivery one, but the difference is that you have to complete the dish at your place. So, if you have a kitchen available it's great, otherwise you'll be forced to taste either their tartare or the carpaccio (both excellent) which don't require home cooking 🙂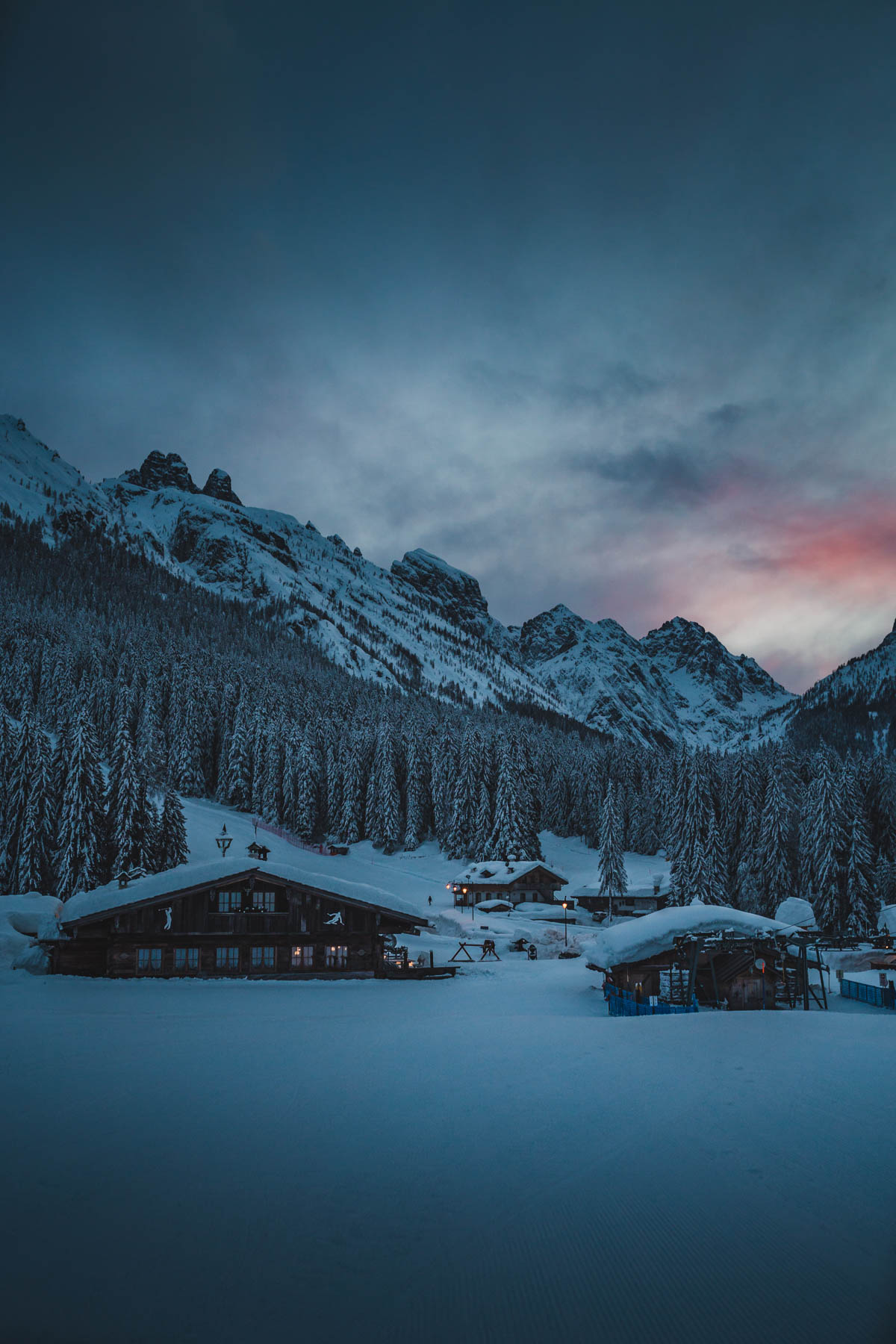 I don't know if you're aware, but in Sappada shines a star! Well, at night if you're watching the sky, you'll see plenty…but if we're talking Michelin, then the focus must turn to Laite. You'll find it in the old city: it's true they only have a few tables, but here you'll live mystical experiences! Fabrizia works in the kitchen and her daughter serves the clients: I've had the chance to taste their cooking on their last opening day (more or less in October). I know that since then, they've been closed and they still haven't opened, at least for now. Although, one thing is sure: when the sun will shine again and warm the two restaurant rooms at Laite's, you'll have to be on your marks, because it'll be difficult to find a table!
Two steps away from here, a couple of days ago, Kluit – Brace opened their doors (kluit, in the local dialect, means "grill", as given away by the Italian translation). Do you need me to tell you what you can taste in this really modern bar/restaurant? Very flavorful meat cuts, such as Picanha or Cuberoll, along with delicious first courses and desserts!
The restaurant rises where once stood a grocery store which belonged to Andrea's family (who now is the host, together with his wife Okana).
The entrance is right on the road and you first walk into the bar: the convivial tables and the old and new wood blend in with natural materials such as iron or stone. On the lower floor, huge windows face the cross-country ski trail, and you can see the whole bottom of the valley, completely covered in snow along with small alpine huts. Mesmerizing!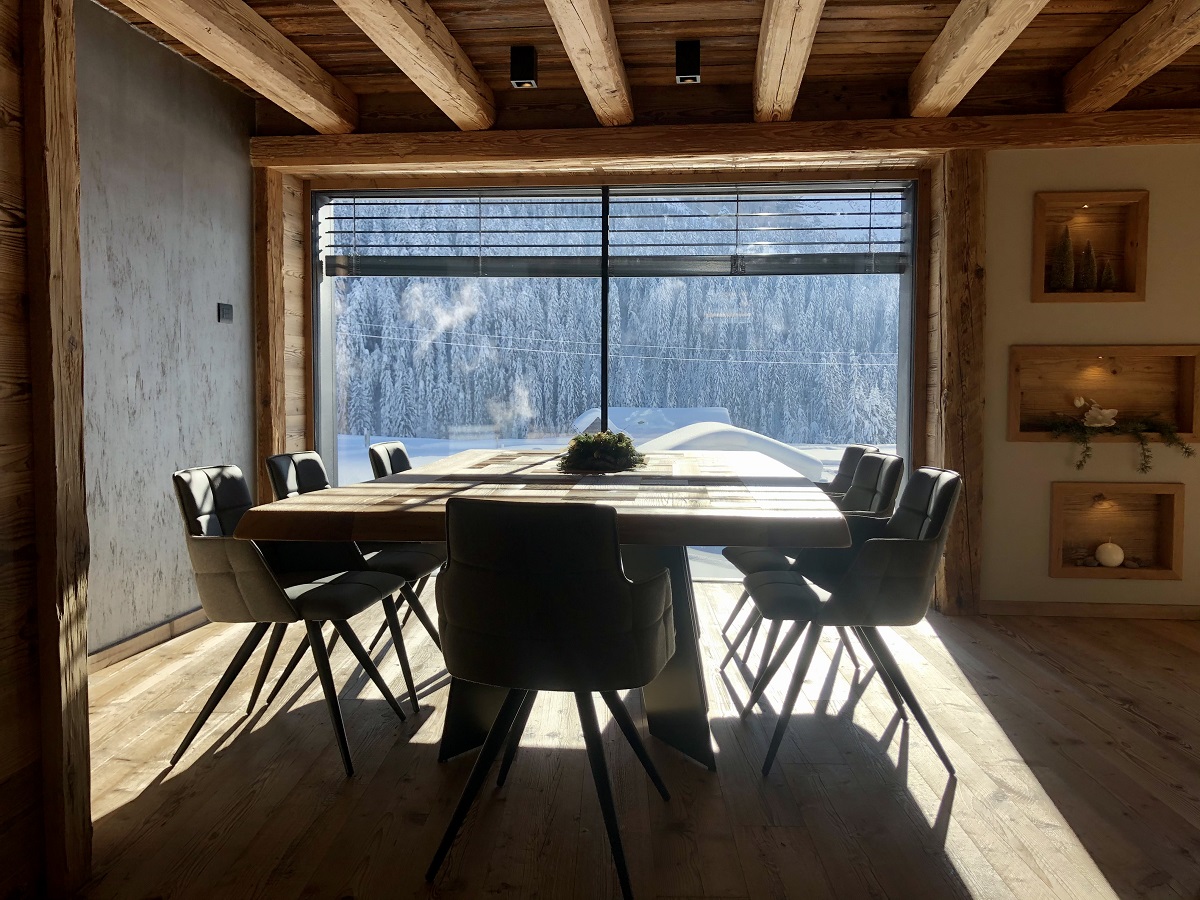 STOP. Are you suddenly hungry or maybe just a little peckish? Don't forget about Latteria di Sappada. Here, a very tempting table covered in cheeses and cured meats (strictly homemade) awaits you, together with a small taste room, where you can dip your fork into a tasting of fresh or aged goat cheese. And what about the cured meats? You can have a very delicious speck, some guanciale or a wonderful bresaola.
If your mouth is drooling, don't worry: they send their products all over Italy! Go have a look at their website 😉
I'll conclude with the less typical thing, but this doesn't mean it isn't as delicious as the others (and more dinner-solving, I dare add): pizza! Not only the small ones love it 😉 I tried two of them around here and I want to recommend them: Karl's Keller and Ti Spiazza! They're very good.
WHAT TO DO IN SAPPADA
For the "everybody knows that…" series: you don't really think that if the ski facilities are shut, you have to get bored in the mountains, right?!? Well, if you do, you've FAILED THE EXAM, see you next year.
Let's start from the simplest thing: you can enjoy the wonderful view and breath the crisp air, diving completely in nature's peace. Here in Sappada there are many itineraries that everybody can do on foot (even the less athletic). The tracks are now almost all beaten, so you'll only need your usual hiking boots and you're good to go. How to find these paths? Have a look on Visit Sappada's website. I walked towards the Trout pond, on a path number 5 filled with sunshine, which would be great to walk on with the kids. I also walked to Baita Rododendro, from which you'll be able to see the Piave's source; from here, along the Sesis Valley, you can scramble on the long, beaten tracks and arrive to the Rifugio Ferro or can try and be more ambitious and get to the 2000mt one, where you'll dominate the mountains!
If it was to snow again, you'll certainly need snowshoes (or a much simpler sled). You can always try ski mountaineering, as I did. The wonderful Katrin from GI – Sport Kratter in the center of the village, rents all the equipment you need! Be careful though, because Katrin isn't a common human being: leaves at 6am, before opening the shop, to do a walk that has a difference in height of 1200 and she comes back down to open her door at 9 o'clock. Yeah.
This alien, with a group of local girls, made me try this experience on the Ferro. Well, I have to admit that it was really tiring but amazing! Giovanni, my 13-year-old son, loved this sport so much that he's been asking for the equipment to keep doing it! It was really intriguing and suited for all ages.
Are you already tired? Are you part of that group that when hears "mountain", thinks "bombardino, refuge and climb by using the facilities"? Fear not, there's plenty of thing to do for you, too.
Does riding a snowmobile through the Digola Pass and a happy hour on top of the mountain sound good? Motoslitte Tour Sappada is the right choice, then. You'll leave from Mondschein's with two guides, one at the opening of the line and the other at the end, and you'll ride the snowmobile by yourself or have someone do it for you (the cost freezes at 110€). Breathtaking views and no effort whatsoever.
Too loud, you say? Well, I have something for you guys, too! From Sappada Peak you can start a tour on a dog-pulled sleigh! You'll have to talk with Sappada Dolomiti Turismo.
Oh, I almost forgot (only because I haven't tried it yet): there's also cross-country ski! You'll find a huge ski track and the daily ski-pass is not as expensive as the one you usually pay to go down the classic tracks. We're only talking of paying 5€ (well, the first few times it'll be a bit pricier, given the equipment rental and the lessons…but once you've learned…).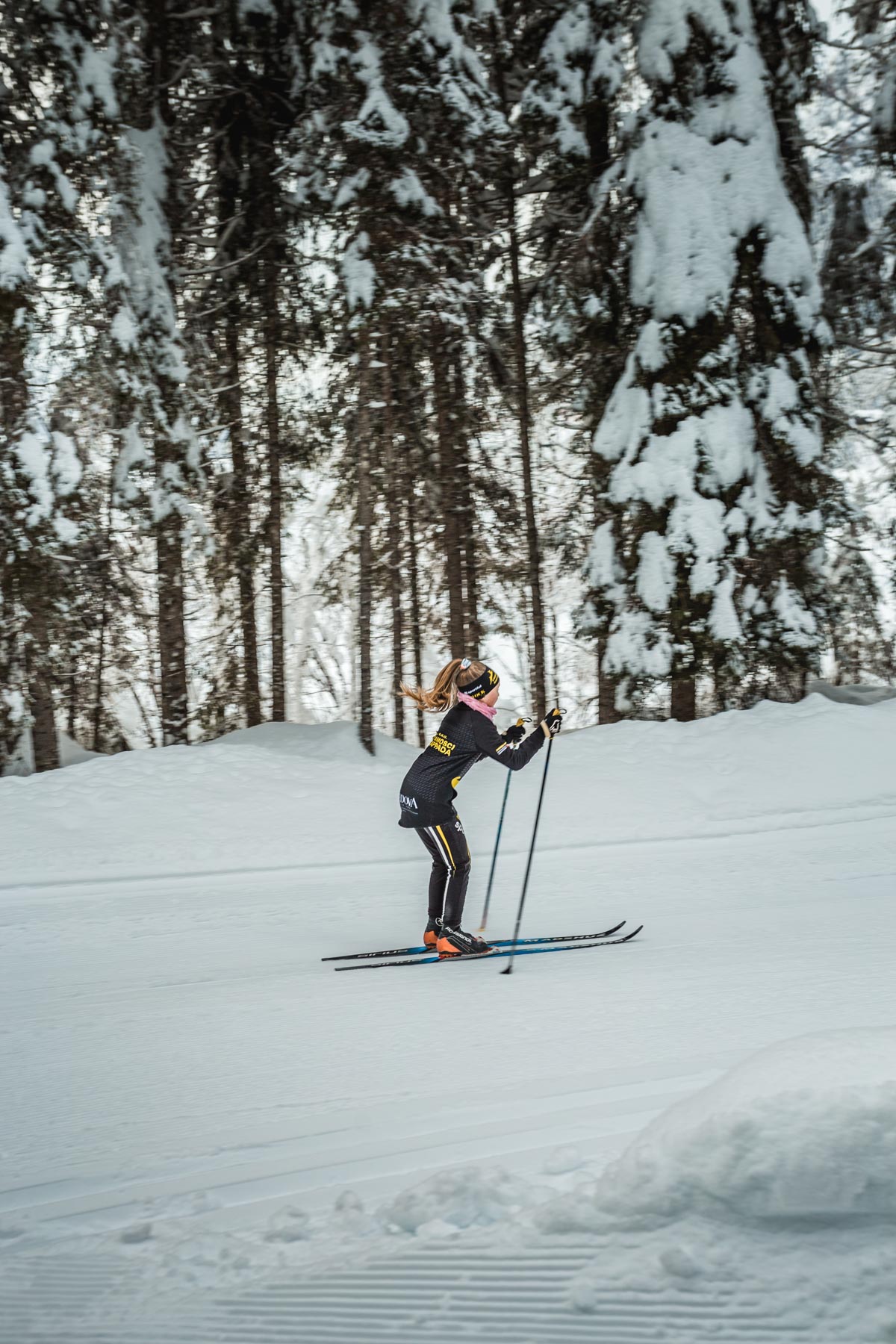 If, on the other hand, you're passionate about climbing, or, like me, you want to try EVERYTHING, you must turn to Alex Corrò, an alpine guide and ski teacher. He'll take you climbing on the ice!
I never used a harness and I've never climbed on rocks, but I wanted to try this incredible experience! Alex brought me to the Futura waterfall, where I climbed the ice with an ice axe and crampons.
You have to know that Sappada is very well-known for its countless ice waterfalls, so much so that in "normal" times in February they hold a festival dedicated to this discipline, in which the experts challenge each other, and the participants are given the chance to try climb the wall.
To me, this experience was one of the most exciting I've ever lived: Alex calmly guided me, reassuring me with his professionalism. I was so much at ease with him that I reserved Corrò for a hike of three days next summer: he'll bring me to discover the peaks of the mountains of Friuli-Venezia-Giulia, by staying in Refuges (but this is a story I'll tell you in July).
What do you say, was I thorough enough? I hope I haven't forgotten anyone in this multitude of things 🙂
Wait…why are you still here? Make reservations, people, make reservations. You won't regret it.
Ph. Andrea Zangrando e Michele Grimaz