Nope, this certainly isn't the first time I've come to Grado and this is not even the first story I tell about it (here is an "old" tale of mine)! It's always nice to come back here to discover new little places to experience with my now established group of friends!
WHERE TO SLEEP? Agenzia Futura
Over the last two years I have tried out several apartments from Agenzia Futura, which manages as many as 100 apartments located in various parts of town. Different sizes for different needs: there's the perfect house for people traveling with friends and one designed for couples. No one can be disappointed.
I must admit that the three young managers are very good at what they do, because if my calculations are correct, managing about 30 apartments each is sheer madness to me, that I only have to handle one!
Yet, everything is perfectly organized, from booking to check-in, and the services they offer – everything runs smoothly! By relying on them for your stay in Grado, you can also ask to book the beach with all the attached services for you and enjoy sunbeds and umbrellas. Until last year, they only offered this service with the GIT Beach, but now they offer a couple of new features!
New partnership with Piper Beach on the French Riviera.
"MissClaire sends me" with a -10% discount on selected apartments until the end of June 2022. Take a look at this link.
However, my advice is to check out their "PROMOTIONS" page, where you will find a lot of collaborations with other businesses on the Sunshine Island!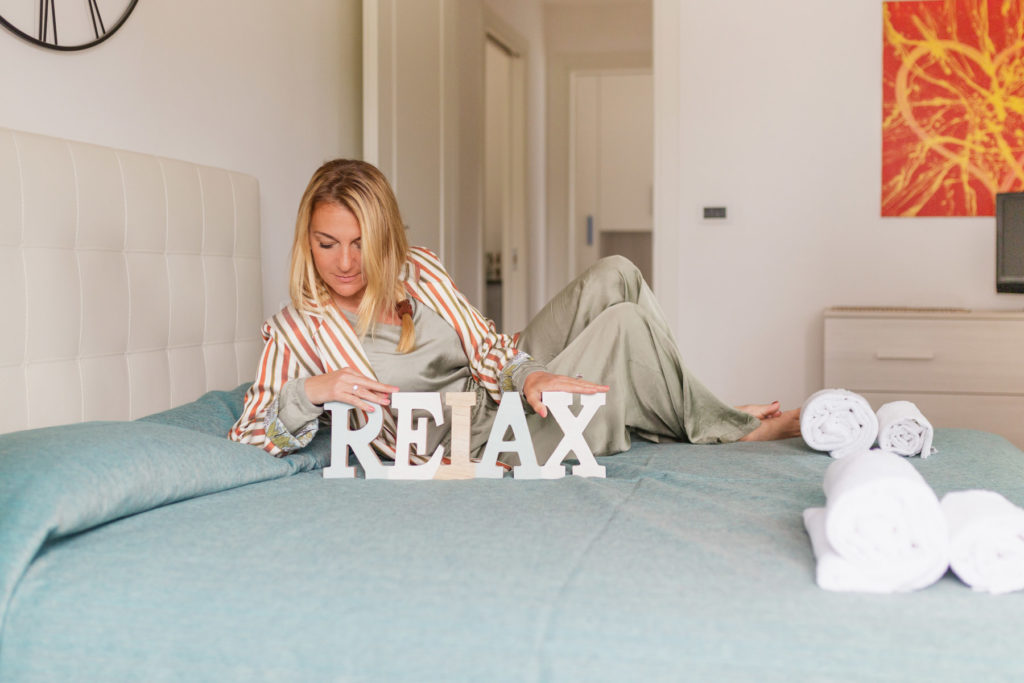 WHERE TO EAT THE BEST PIZZA? La Ciacolada
Yes, I admit it. This is nothing new, because I've already extensively told you about La Ciacolada on my social media pages…nevertheless, excuse me for pointing it out, I remain open-mouthed every time I eat something made by Luigi (I'm always ready to bite into his wonderful Neapolitan delicacies).
The toppings are of the most unique, but they often use products from the region's small producers of cheese and cured meats – a wonderful and quite spot-on mix of North and South that will leave you speechless.
Watch out, though: La Ciacolada doesn't just rhyme with pizza! Here you can also find the excellent home-like dishes (for Luigi, at least), such as paccheri with Genovese sauce, paccheri with a red sauce and meatballs, hand-cut burratine and caprese salads with a mind-blowing mozzarella.
Service and friendliness are included in the bill!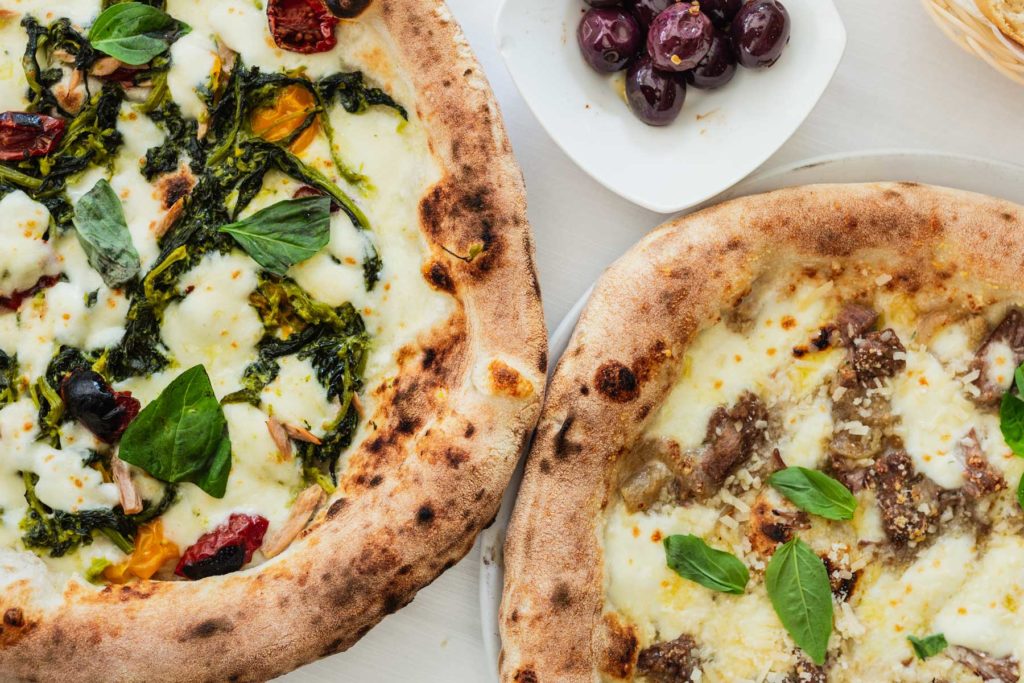 WHERE TO EAT FISH in an EASY way? Hosteria De Gustibus
A neat and informal ambiance is often perfect for those who don't chase essence instead of good form: this is Hosteria De Gustibus.
I ran into this place with a friend from Grado for the first time, and it is well known that if local people take you out to eat, it's almost sure you'll have a good meal!
I didn't dare to change my order from the pasta with clams I had the first time, but I wanted to order it again to be sure of how good it was: a riot of tasty and juicy shells that enrich your classic spaghetti! As an appetizer, I chose the grilled scallops and also grabbed a small taste of my friend Marco's gnocchetti with prawn ragu. Everything was divine, as were the lard-wrapped prawns.
I already know that this will be one of my regular stops in Grado.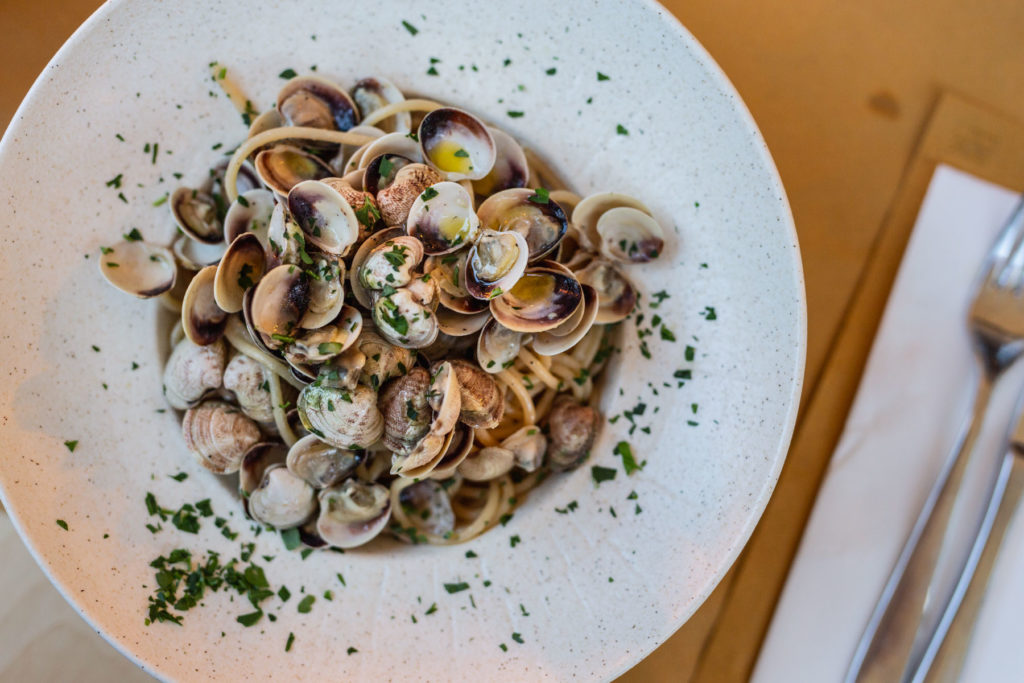 WHERE TO APERITIF with mind-blowing CICCHETTI? OSTERIA CAMPIELLO della TORRE
It's time to get the anchors off the beach! It's Sunday and we've got to head back home…but how can't we stop for an aperitif with cicchetti that will solve our dinner issue as well?
This cute little place will fully satisfy your needs, for example with local wine labels or with tasty plates or cicchetti both of meat and fish that will quench that end-of-the-day peckish-ness.
Three brothers hold the reins of Campiello: after going their separate ways, they decided to join forces and bring a dream to life. Marco, the oldest and newest here, lived abroad and worked as a lawyer. Amazing how life always holds new surprises, isn't it?
In other words, this is a little place in the old town of Grado to keep in mind. I am sure you will be thrilled!
WHERE TO GO TO THE BEACH – Piper Beach
We are in the "old" part of Grado, more precisely in what is called the "Blue Coast", as here the sand is slightly lighter, and the water is more crystal clear. But that's not all…
I discovered it a few years ago, as I didn't even know it existed, I always stopped at the free beach and at the GIT beach.
When some friends took me to Piper Beach, a thousand-and-one-night establishment, a whole new world opened up to me 🙂
Here you don't have to walk miles and miles before you get to fully immerse yourself in water, (and that's not a small detail) and in my humble opinion I have the impression there are fewer screaming children…isn't that enough for you? The double gazebos in the front row with the service of a bottle of prosecco are a plus which is not to be underestimated.
You won't lack anything here, not even the service at the bar that offers a beach lunch, to which I never say no to!
Be honest. Did I make it at least a bit intriguing? Have I managed to tell you something you didn't know about the Sunshine Island yet? Then come on, now it's your turn.
Have a great summer!
Chiara
Ph. Michele Grimaz