…find a comfy seat, grab a pack of popcorn and read this article that, I'm warning you, won't be very short. But to tell you what I've done in Grado at best, I have to start from the beginning.
During the wonderful 1980s, I still was a child, and this was the usual place we came to on summer Sundays. I was a lucky child and I'm aware of that: from the day school ended to the first few days of September, I moved over here in a beautiful house on the sea. Uncontaminated nature with great-tits, squirrels and mesmerizing fruit trees: and then maritime pines, from which we picked pine nuts with which we made a wonderful pesto with the basilic from our orchard…a perfume I will never, ever forget.
I'm not exaggerating when I say that Grado to me was comparable to the Eden Garden 🙂 Here I had everything I needed. Ehm, well, maybe I missed company, as the only people I could talk to were my family, the neighbors, my cousins and an old fisherman that used to pass by our house with his boat. But when I grew up…
Well, when I grew up, Grado became the meeting point for all my classmates! And don't get me started on how difficult it was to go back to normality when the holidays were over: it really was hard to quit the fun ride. My mom still tells me about how in September she literally had to tame me all over again, because over summer I used to transform into a savage! Try to imagine me going back to a Montessori method school after a whole summer of craziness: I'm sure the nuns have hated me. They had to keep me calm while I told my classmates my summer experiences and anecdotes.
And then, as I was telling you, we went to Grado on Sundays. How? By boat, if the sea was good enough, via land if the weather wasn't kind (and what to say about those times in which the sun was shining while going there and while coming back the waves were storm-like?). We had a very precise schedule. We stayed on the beach the whole day, we stopped for an ice-cream at Pancera's and we went shopping in the boutiques with my mom, that always bought here her New Year's Eve's dress (yes, in august…better to play in advance).
Let's jump from the 1980s to the 1990s. I didn't have my family around anymore (I was old enough) and I got to Grado with the Saita, the 50-people bus that went from Trieste to the city of the sun: I came here with the usual group and I almost always made sure that I had mum's authorization…
Do you want to know what's funny? When I became a mom and Giovanni turned two, we decided to take him to Grado. You know how Giovanni is, right? Blonde, blue eyes and milky-white skin…long story short, the sand irritated his eyes and, in a few hours, he became purple… we went the pharmacy, then home and goodbye Grado 🙂
After this mandatory introduction, let's get to today. A month ago, I got a phone call from a resort at the old beach of Grado (the one the call Costa Azzura), saying they would host me for a whole day; I got there by electric bike and I discovered an area I never went to.
I laid under a gazebo in the first row and went for a swim (lo and behold, I didn't walk for kilometers!), I met a lot of friendly people, I had lunch, I feasted my eyes, I enjoyed the classic slice of coconut on the seashore and…I lost the Delfino Verde that would have taken me home! Whose fault was it? What's fault was it. I was fascinated by the golden hour, the perfect time, when the light becomes of a golden orange and the temperature lowers: the noise of the children appeases, the beach umbrellas are closed, the folding beds are well set. The music intensifies.
Long story short, I decided to spend the night here because I couldn't separate from this magic…and a small but gracious B&B opened its doors to me. At night I decided to go out: I went alone but I wasn't alone. In 24 hours, here, I've met many people! The night is over, and the dawn arrives: I have to go back. I jump on the Delfino Verde and I go back to Trieste 🙂
But you guys know how I am, don't you? Two weeks' time and I'm back here, on a canoe, discovering Grado's Lagoon; I'm with two naturalistic tour guides in a Canadian canoe. Mosquitoes didn't assault me like I feared and the Autan bottle I had, ready to shoot like crazy, stayed in my pocket.
I've seen white horses, many different birds which names I can't remember (I hardly recognize a swan from a cormorant): it's a landscape that brings my mind back to the Camargue and the Kopački Rit Natural Park in Slavonia.
INFO > CANOE TOUR https://grado.it/en/eventi/seataste-in-canoa-allisola-di-cona/
To me, it's never enough and seven days later I'm back in the area to discover new parts of the territory. My first stop is in Aquileia, a place full of history. A visit to the archeological site is mandatory, better if with a guide…you will never want to leave!
I've also walked barefoot on the base of a decuman 🙂 I've heard you! You're asking "A decu…what?". The decumans where the main streets made of 40-to-60-centimeter cobblestones. Would you have guessed that in Aquileia came to live 100 thousand people? It was a magnificent river port city that, in 452 A.C., was wiped away by Attila. Those who survived had to move to Grado…only under the reign of Franz Joseph they started digging to bring this wonderful city back to light.
INFO > THE ARCHEOBUS, from Grado to Aquileia that comprehends a guided tour, a visit with tasting at the Cocambo (the ONLY chocolate factory in FVG), with wine matches. 10 euros per person.  https://grado.it/en/events/archeobus/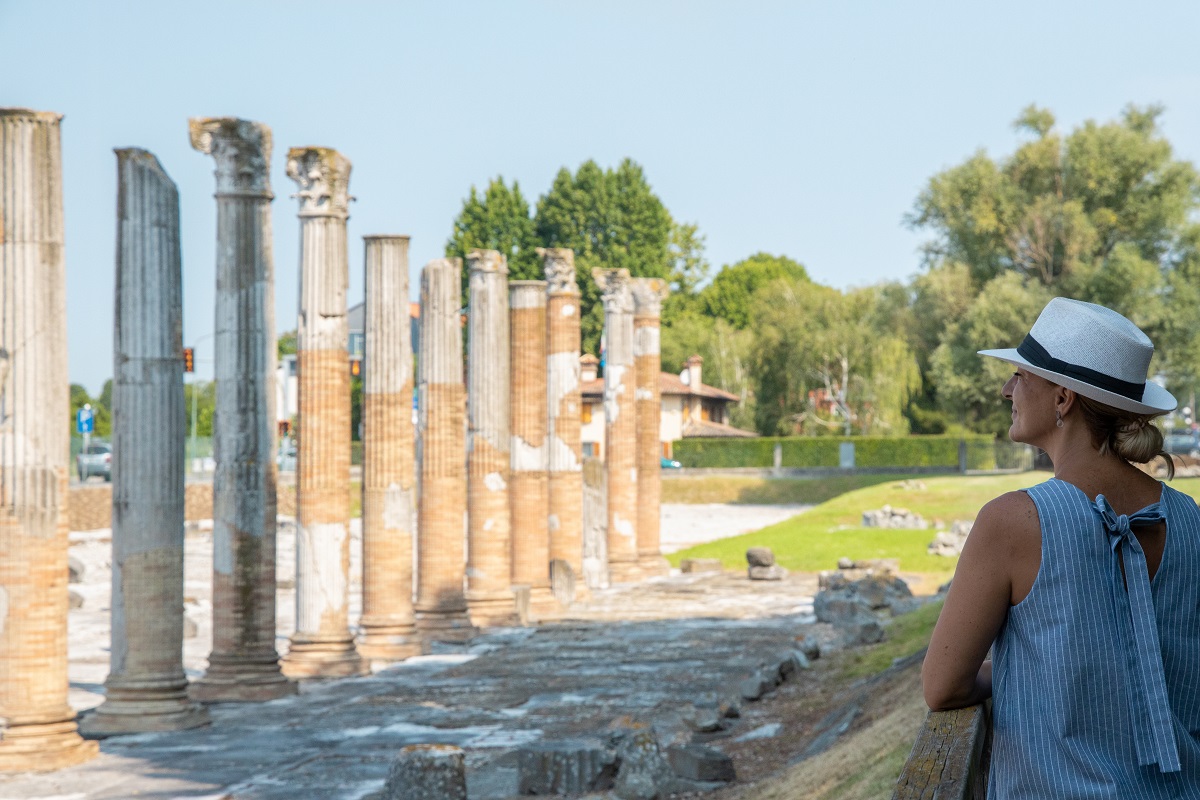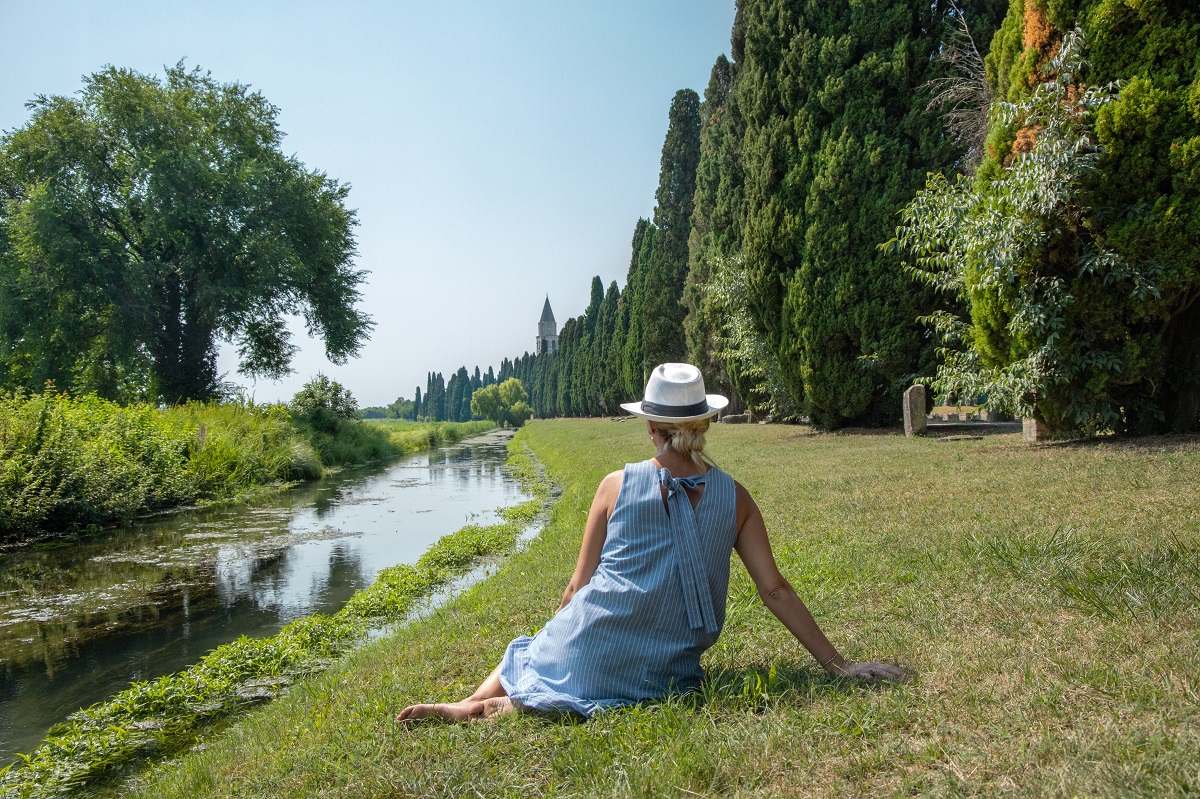 Not only have I tasted some wonderful chocolates, but I've also discovered the processing of this fabulous ingredient. It's so good.
I'm back in Grado and what do I do? I shop of course! I go in and out many boutiques and I never quit one empty-handed: no-one can stop me, also because of the sales 🙂 and how could I say no? Now I completely understand why my mother came here to choose her New Year's Eve's dress.
I still have some time left and I want to make as much of these days as I can, so I decided to tour the wines shops.
INFO > WINE TOUR  (https://grado.it/en/eventi/wine-tour/) They'll serve you four chalices with a canapé and a cocktail. The price, you ask? 15€.
The hours have gone by so fast, and I didn't even notice. I had great company, too! Two very friendly local girls joined the tour too…it was just wonderful. It was a great selection of wines and I had great chats.
Did you know that Grado is also well-known for its artisanal shops? How could I not go? If you know me, you're well aware that this is one of my greatest passions.
INFO > FREE TOUR OF 4 ARTISAN SHOPS https://grado.it/en/eventi/walking-tour-delle-botteghe-artigiane/
Thanks to this tour, I met a handful of local craftsmen: jewelers, sculptors, painters, incisors and photographers…the people from Grado really are artistic!
What fascinates me the most is to see how little I knew this small and gracious gem: I only saw the sea, the beach and a couple of restaurants. I really am amazed. These wonderful places and the hospitality and kindness of these people fascinate me.
A last "labor" awaits me after a delicious fish dinner, that was greatly presented and cooked.
INFO > A GUIDED TOUR AROUND THE HISTORIC CENTER OF GRADO https://grado.it/en/eventi/visite-guidate-gratuite-in-centro-storico/
…after all this, I fell into Morpheus' arms. But my alarm rang really early, because at 7a.m. I attended a yoga lesson in the Parco delle Rose.
INFO > A FREE YOGA LESSON https://grado.it/en/eventi/yoga/
To find out more about the activities you can attend in Grado, go have a look at this website https://grado.it/en/events/
I haven't missed anything, have I? Well, I can't leave without having learned how to make the classic boreto a la graisana 🙂
INFO > LEARN HOW TO MAKE BORETO A LA GRAISANA (and of course, you will taste it, with a glass of good wine). 40€ per person https://grado.it/en/eventi/dietro-le-quinte/
I have been behind the scenes of a REAL kitchen with Antonella that not only has taught me how to make this traditional dish, but she also told me its story. The boreto a la graisana was born into the houses of the fishermen, that prepared it with the unsold fish of the day (which was really poor fish): it tastes amazing, and it's always served with polenta.
And here comes out virtual golden hour. The daylight is fading and this nice trip ends…
Before closing this up, allow me to thank again all the people I've met in these days: they've welcomed me kindly and enthusiastically. I will never forget it, because you never have to forget that places are made out of PEOPLE.
Thank you Grado, thank you Mammoli and Mammole. I'll see you soon!
Chiara
Foto Lara Perentin