As I often say the best things happen by chance.
A few months ago I was in Milan for Identità Golose, and while I was talking to Andrea, producer of the rose of Gorizia (Azienda Agricola Lucia), Katia – a beautiful young woman from Trieste – walked over.
Andrea introduced her as the owner of an excellent restaurant and she told me a little about her story and her local fish restaurant in Cervignano. I thought that as soon as I got the chance I would stop by and have a look.
I finally had the chance a few days ago. I type in "Via del Mercato 3, Cervignano del Friuli" on my navigator and I'm there in less than an hour!
I find myself facing a three storey historical building, with old green window frames that contrast with the yellow paint of the building, and over a painted wooden door I see the writing 1883! We're in the right place! I was worried for a moment 🙂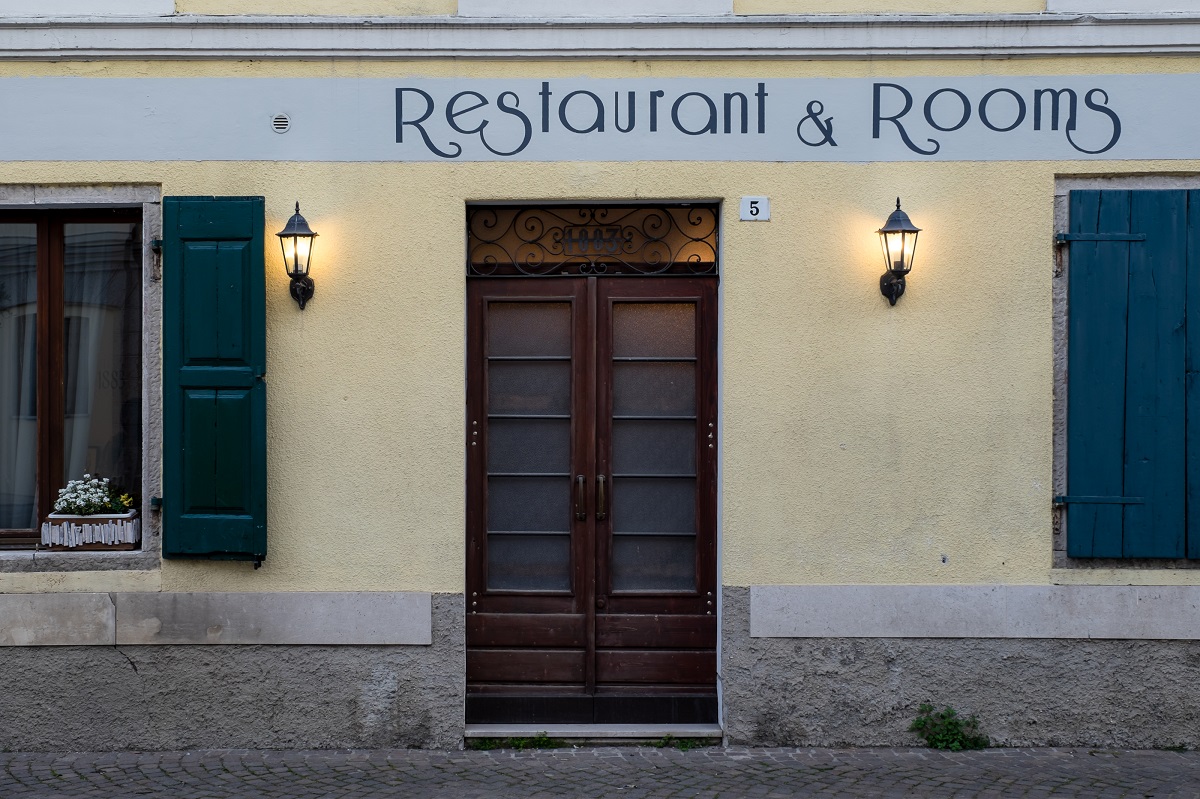 The perfectly preserved salt and pepper marble floor, a long wooden bar counter, small armchairs and antique furniture are mixed in a lovely harmony of wooden colours, white and blue. The wooden ceiling beams above my head have been painted white and the stone wall behind the counter perfectly frames the restaurant's entrance.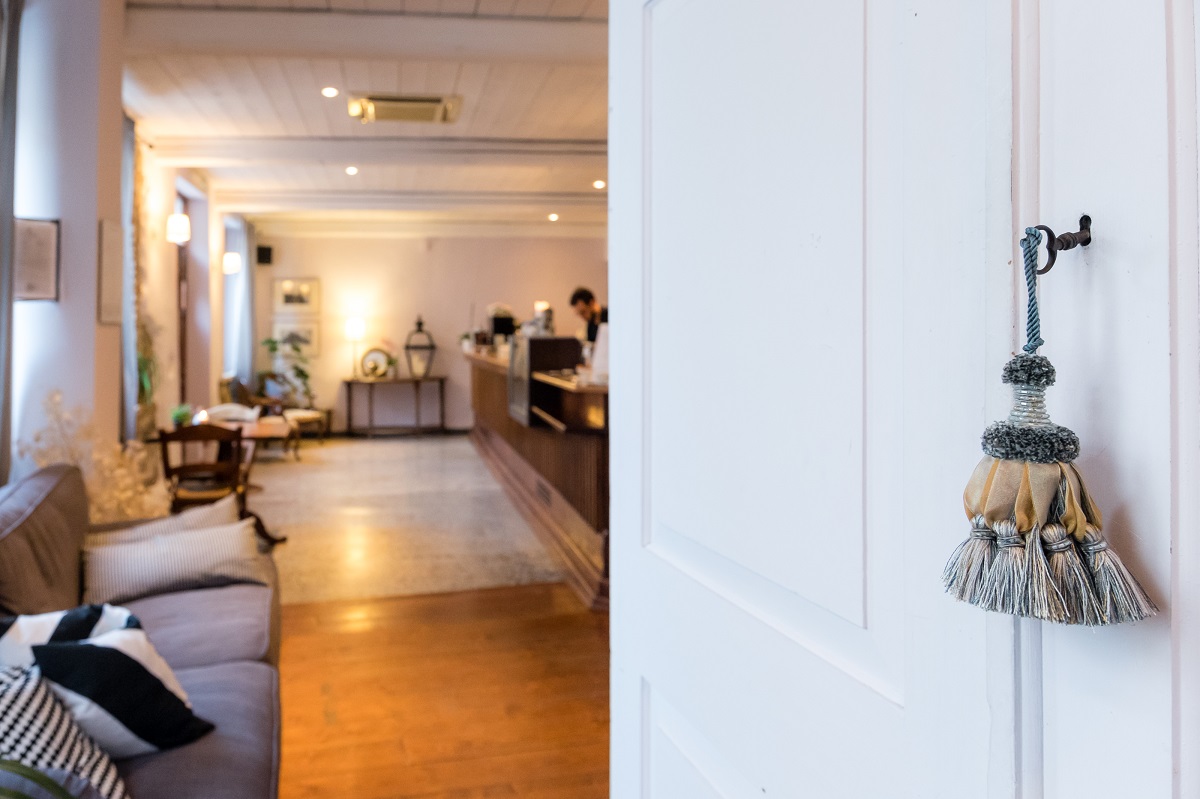 As you head towards the two dining rooms and the small cellar you get the feeling of a rustic chic restaurant, with wooden tables carefully set with a simple but tasteful brown paper runner, orchids and hyacinths, candles and cotton napkins to create a pleasant mise en place.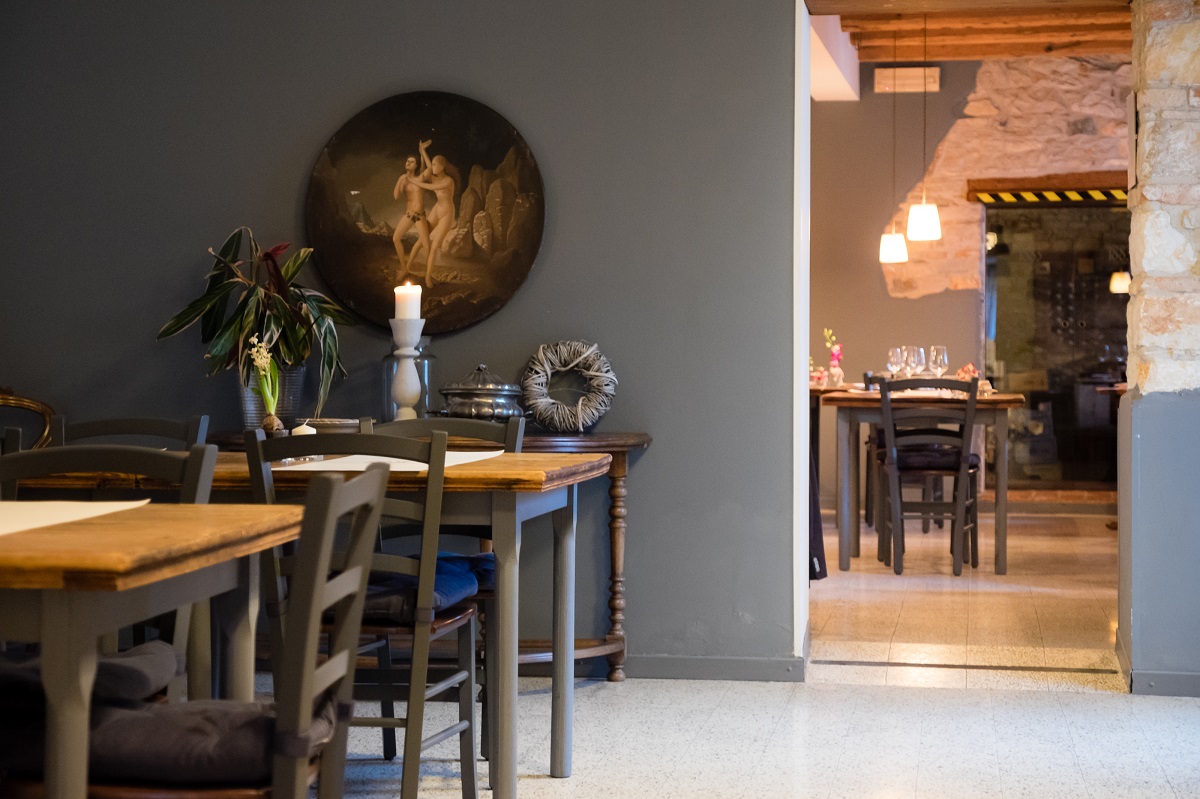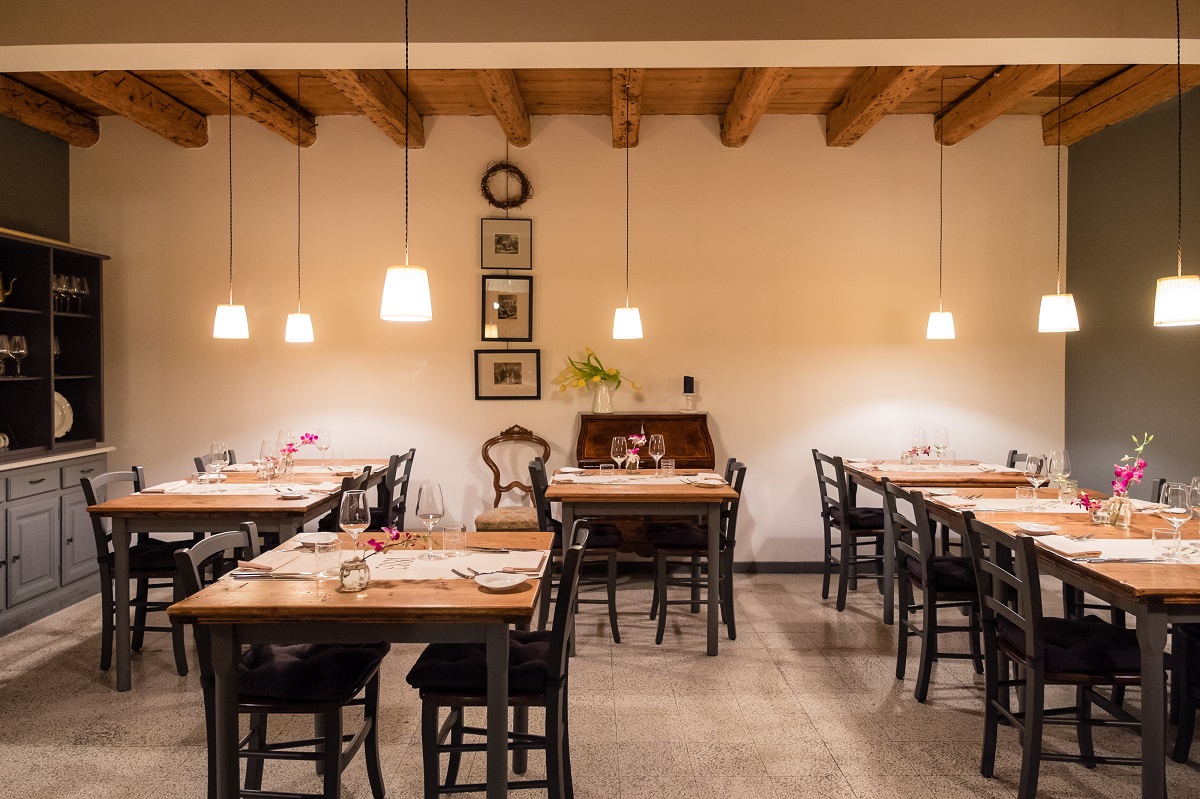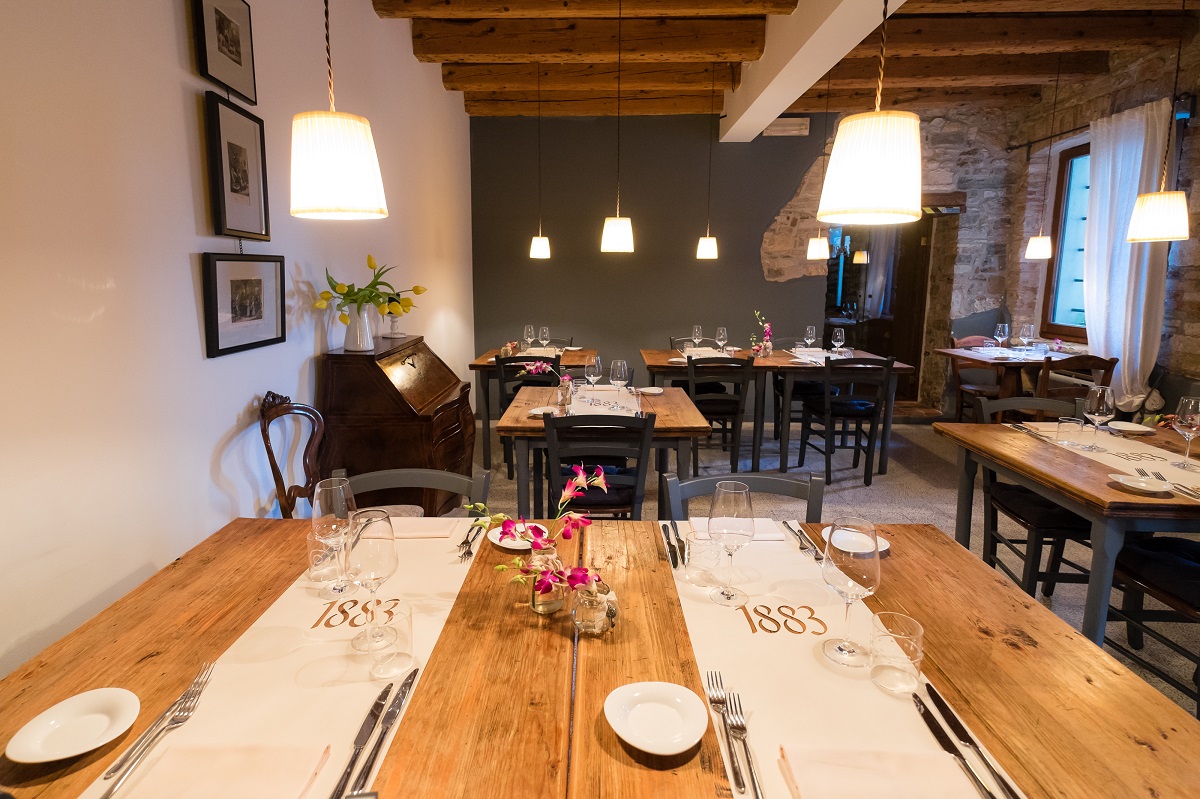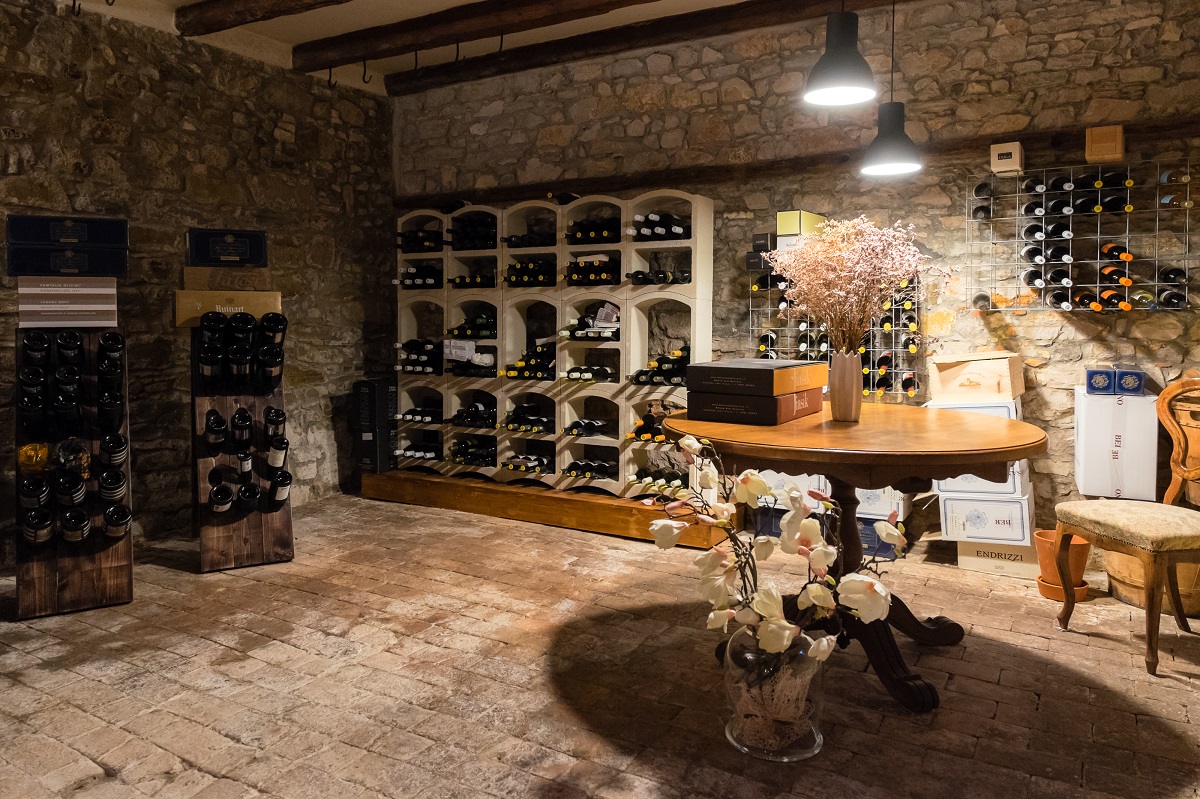 From here you can access an outside terrace that hasn't been set yet… after all the weather has just started warming up over the last few days!
But here, under the pergola, there's a lovely corner where in the summer you can almost feel a sea breeze. Incredible!
Kiara is here to guide me around this lovely place and tell me all about its story; in the seventeenth century this place was a convent and it then became the local osteria (tavern). After a number of owners it was even left as a donation to the church from one of these families; just two years ago the rooms of the 1883 building become property of these young woman from Trieste.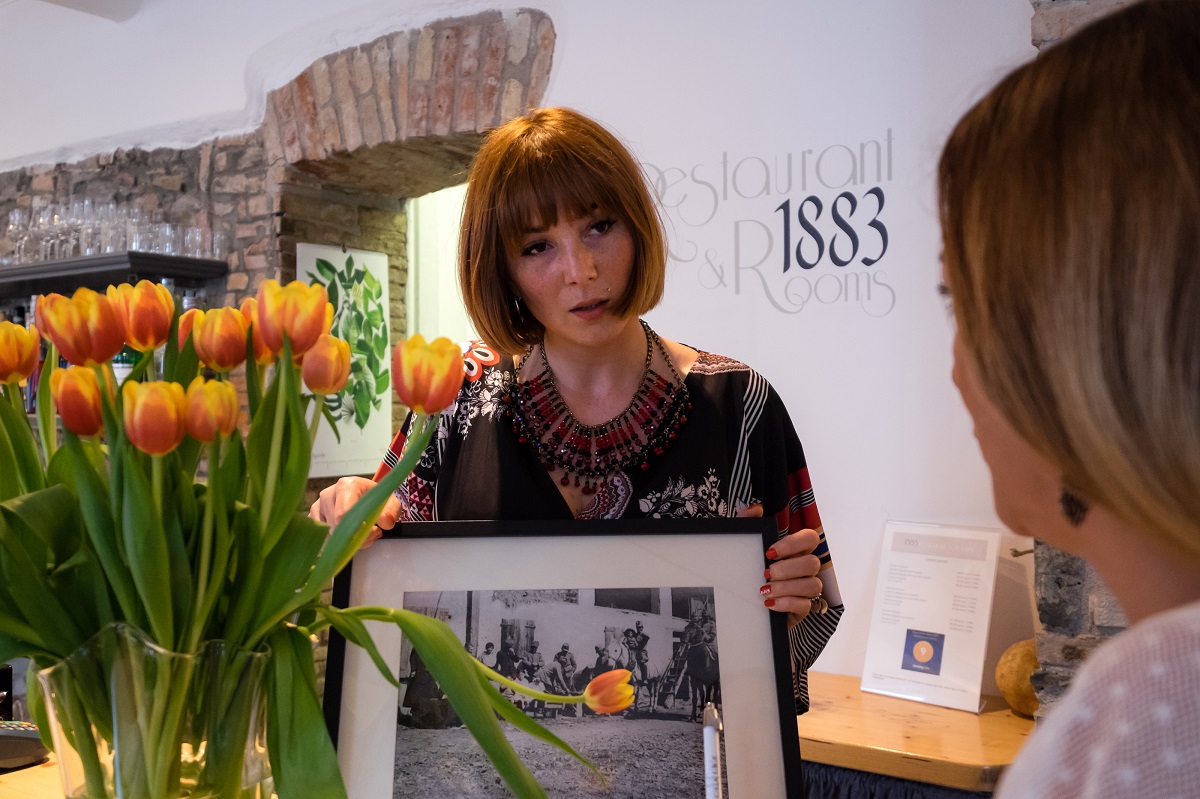 In this adventure Kiara (which is actually written Chiara, but her mum always used to spell it with a "K") is not alone, she has a well trained team that used to work with her in another restaurant in Gredič. Stefano and Marco are both in their thirties. Stefano is a Super chef; Marco is a wine expert and a perfect host.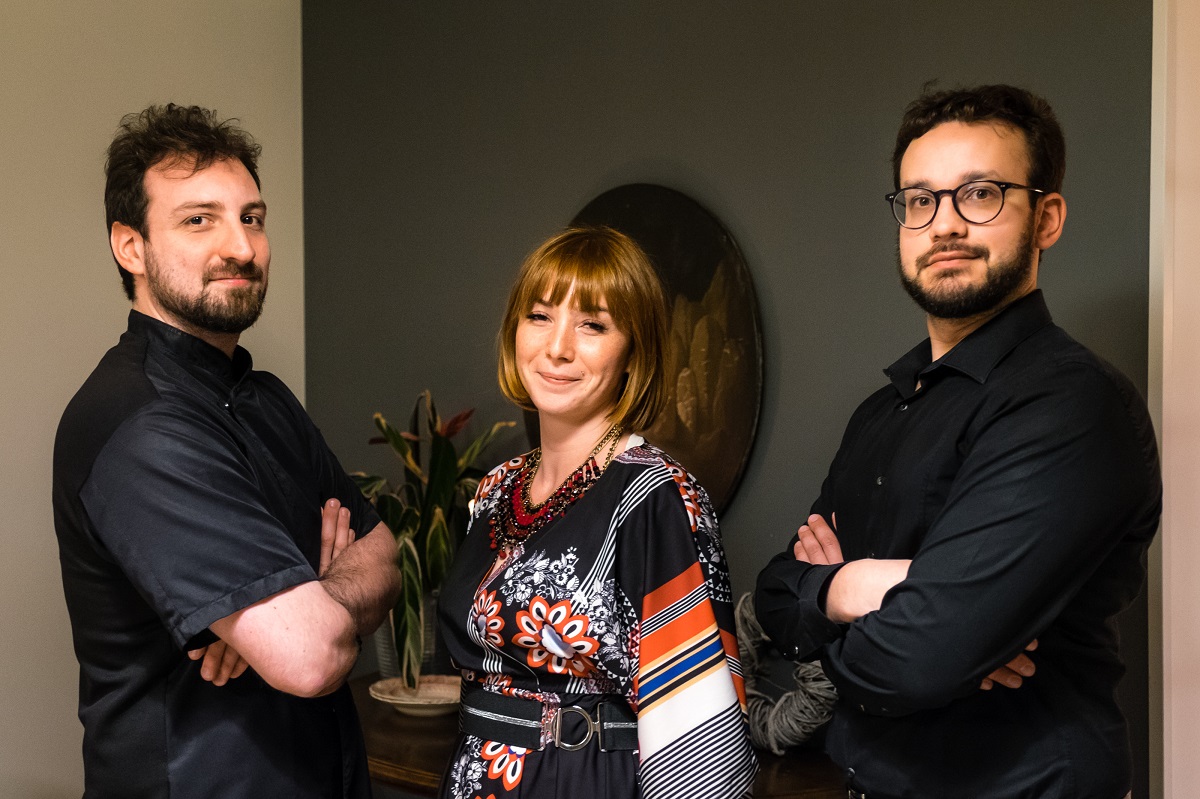 And then there's Kiara herself, eclectic and smart, she likes cooking but loves desserts even more, she's passionate about pastry making… in fact all the desserts of 1883 are her creation.
As always I've been going on a little too much, so I hope Andrea's photographs will show you what I saw in this lovely place: but let's get to what I was lucky enough to taste!
Everything starts with a chat at the bar counter accompanied by a drink, an excellent prosecco millesimato 100% Glera by Italo and Lorenzo Tormena of Colbertaldo; it's easier to drink than water and it prepares me for the pumpkin and goat ricotta cheese frittelle, Patanegra lard with olive sauce and chocolate (it's incredible, if you do come here you MUST try it), and olives marinated with citrus and spices and cow cheese aged in hay with Schioppetino jelly.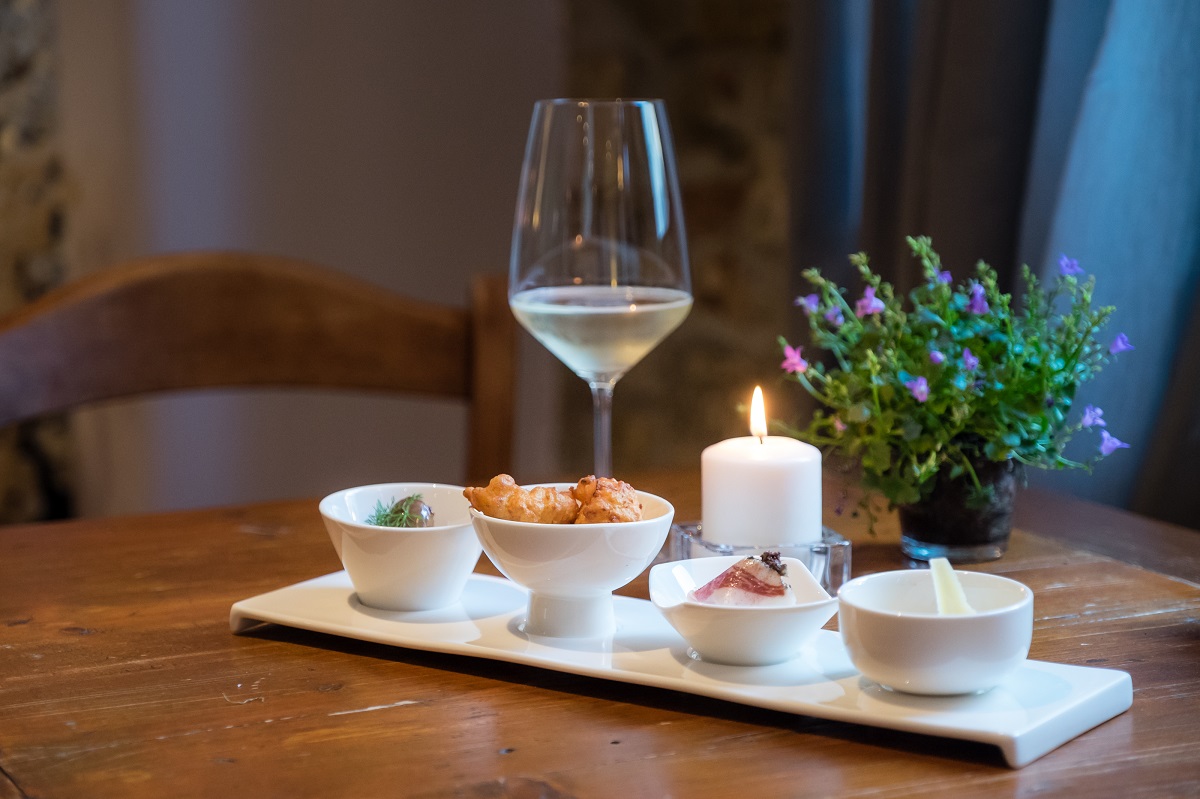 The introduction is perfect, it makes me think of a cuisine that keeps its roots in Friuli but looks a little to other regions, as long as the products are top quality!
The next dish is a hand cut Pezzata Rossa Friulana (a particular type of beef), served on bufala stracciatella with grated lime zest, grilled chicory, dried tomato and bread.
I'm already smiling and I keep repeating "lovely, beautiful, incredible" and I haven't even sat down at my table yet 🙂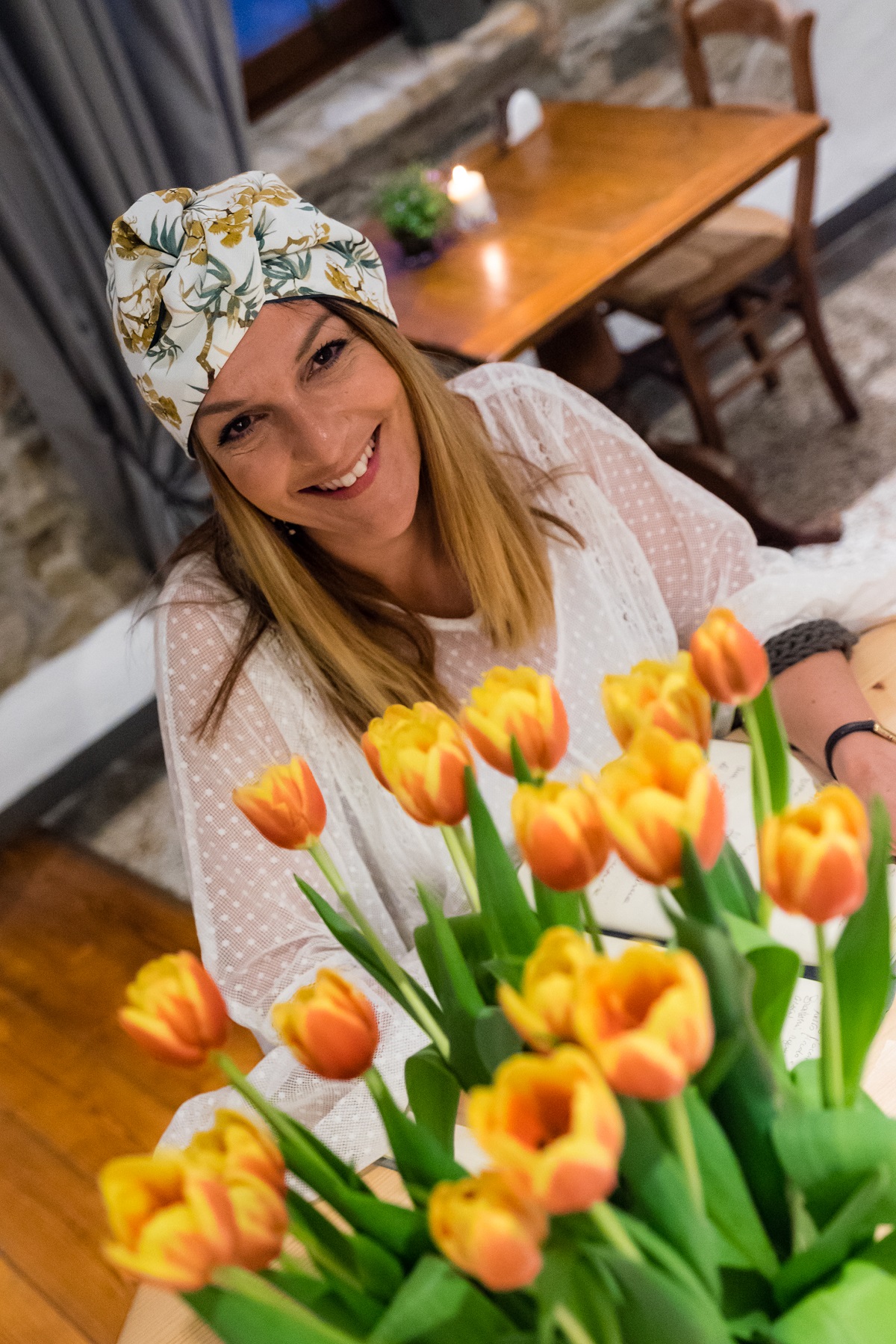 As I sit down they serve a small slice of toasted bread with sun-dried tomato from Cilento and Controne bean: the flavours of Salento come to Friuli.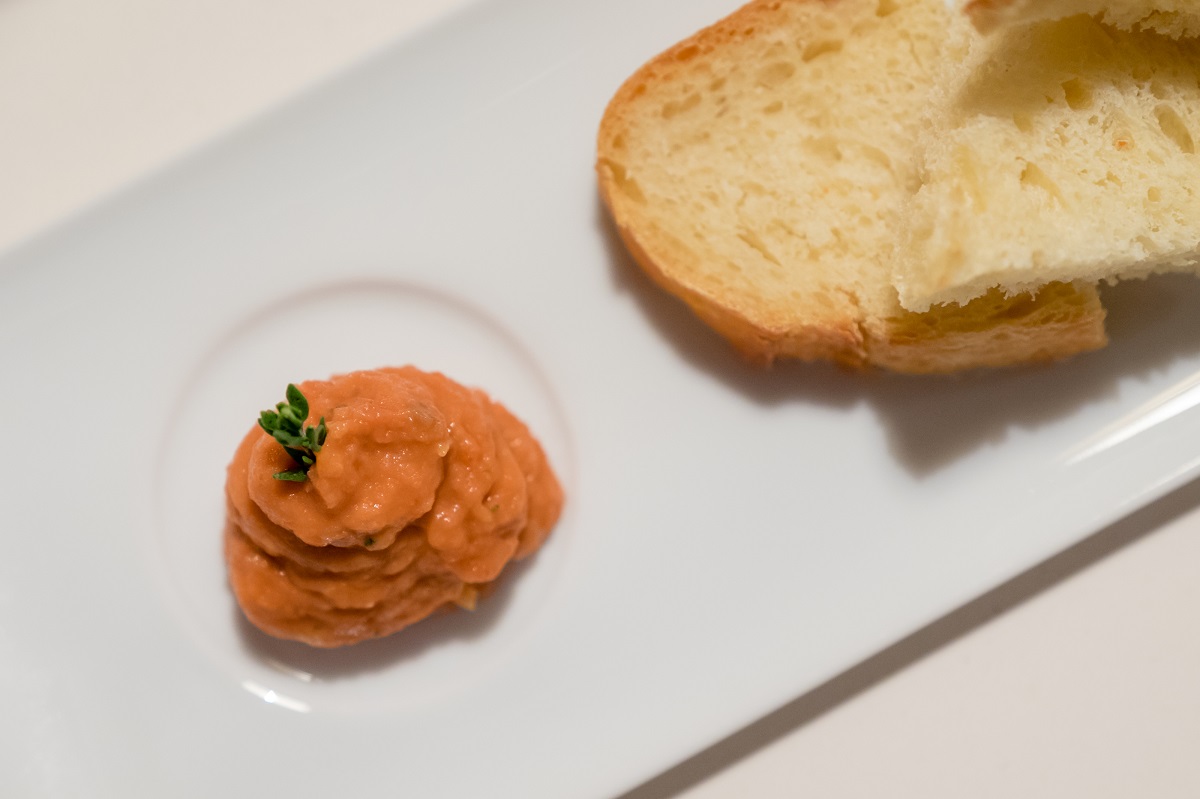 Shall we start dinner? Good. I present the evolution of baccalà.
Baccalà (dried and salted cod) served with just a little oil and pepper, marinated with truffle honey, thyme and citrus fruit zest, and served with a Campari and orange cocktail.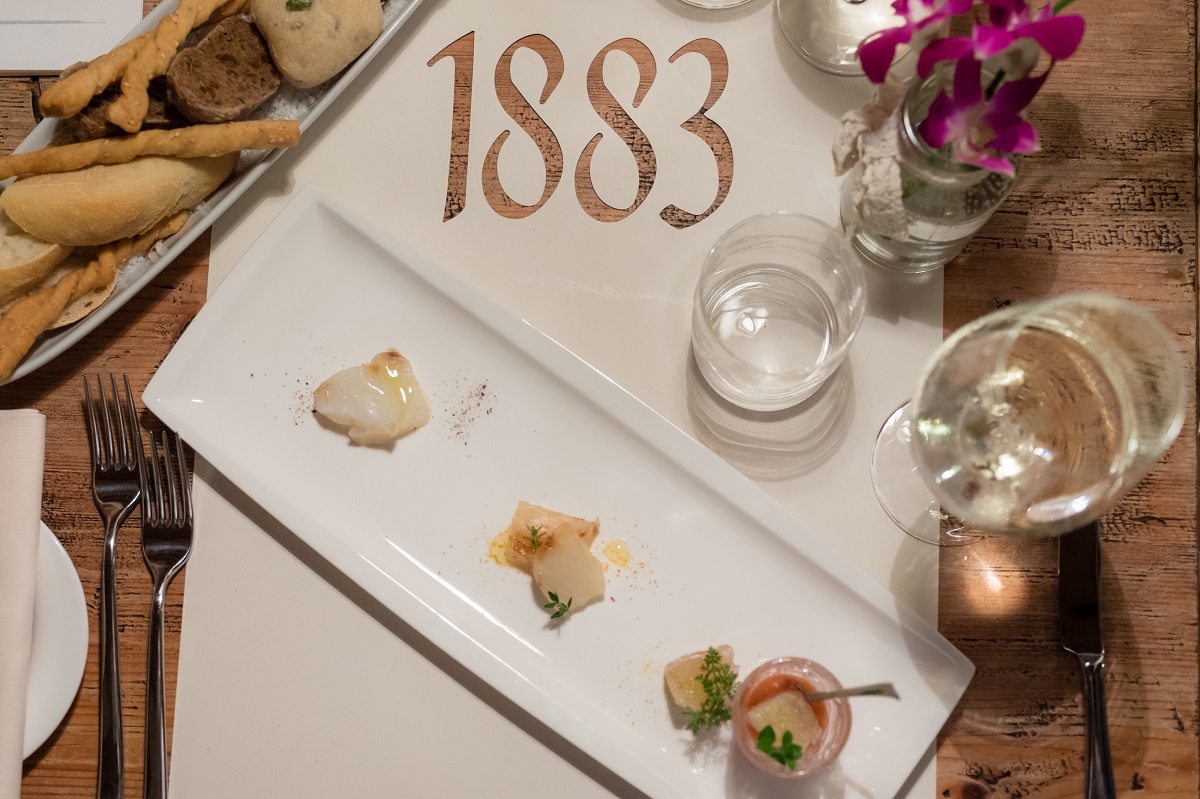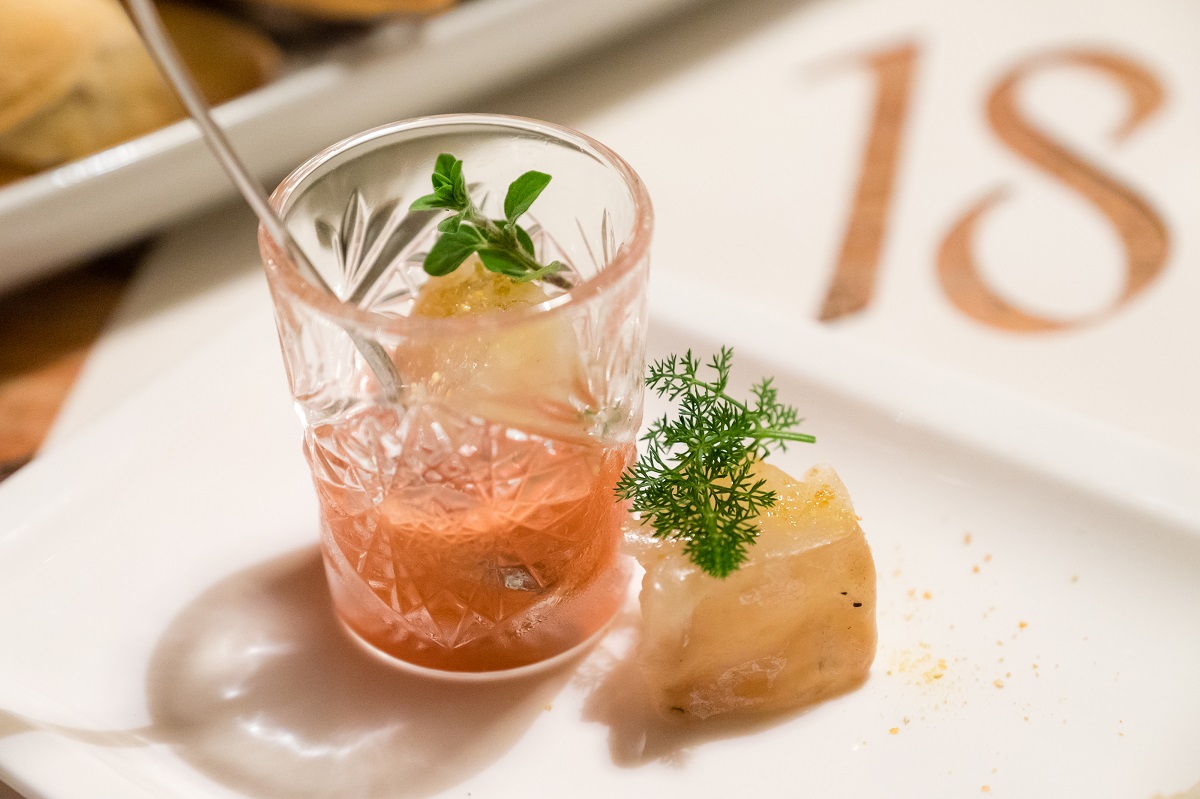 My dinner is accompanied by one glass of wine (just one unfortunately – I have to drive!), a 2016 Friulano by Colle Duga.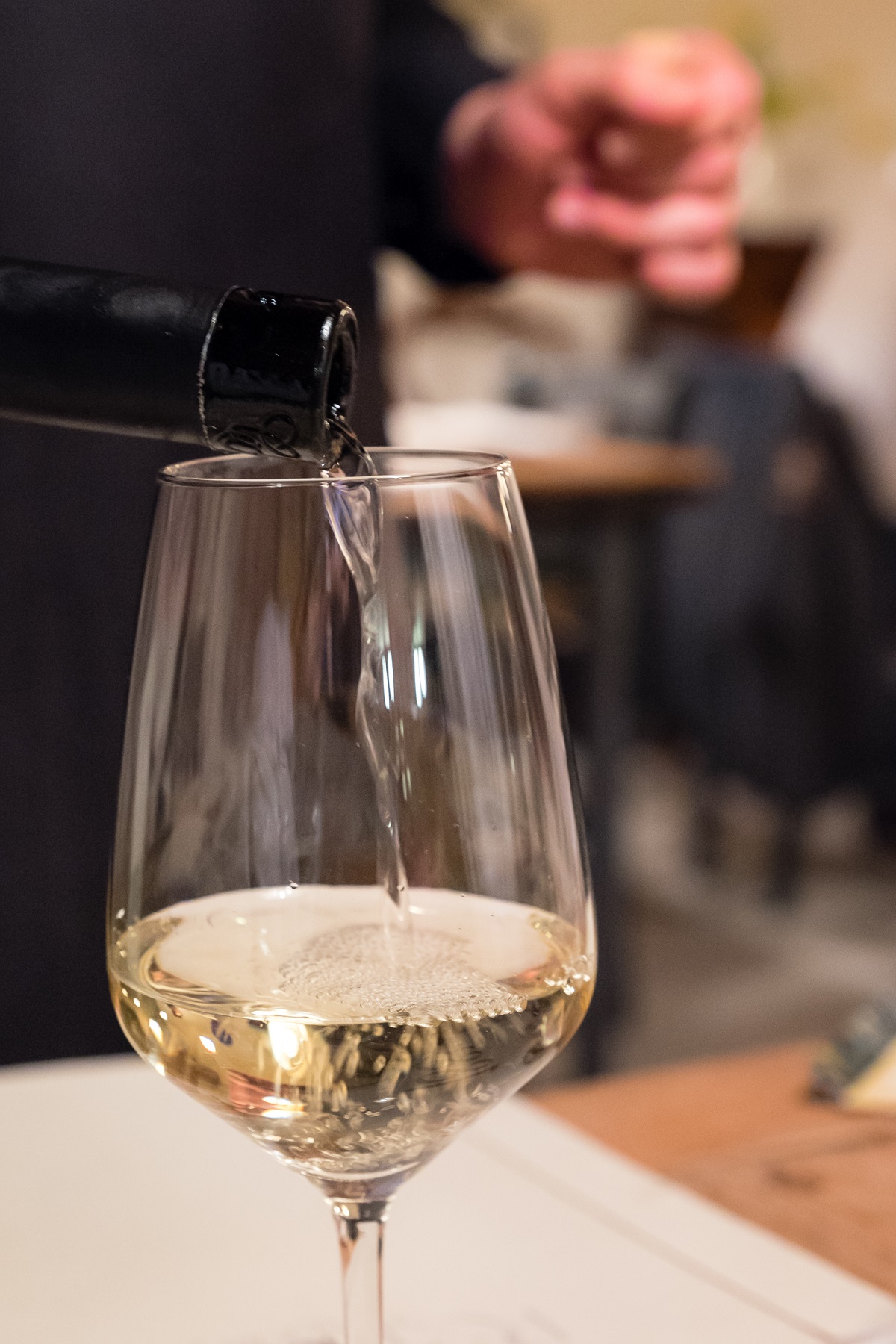 Shall we continue? The starter is served. Gragnano spaghetti with a sauce of toasted sole and orsino garlic, ricotta cheese and saffron. Don't think the garlic will influence your dinner, because I can assure you the dish is delicate and the garlic was just a pleasant back flavor. A perfect combination of seasonal flavours!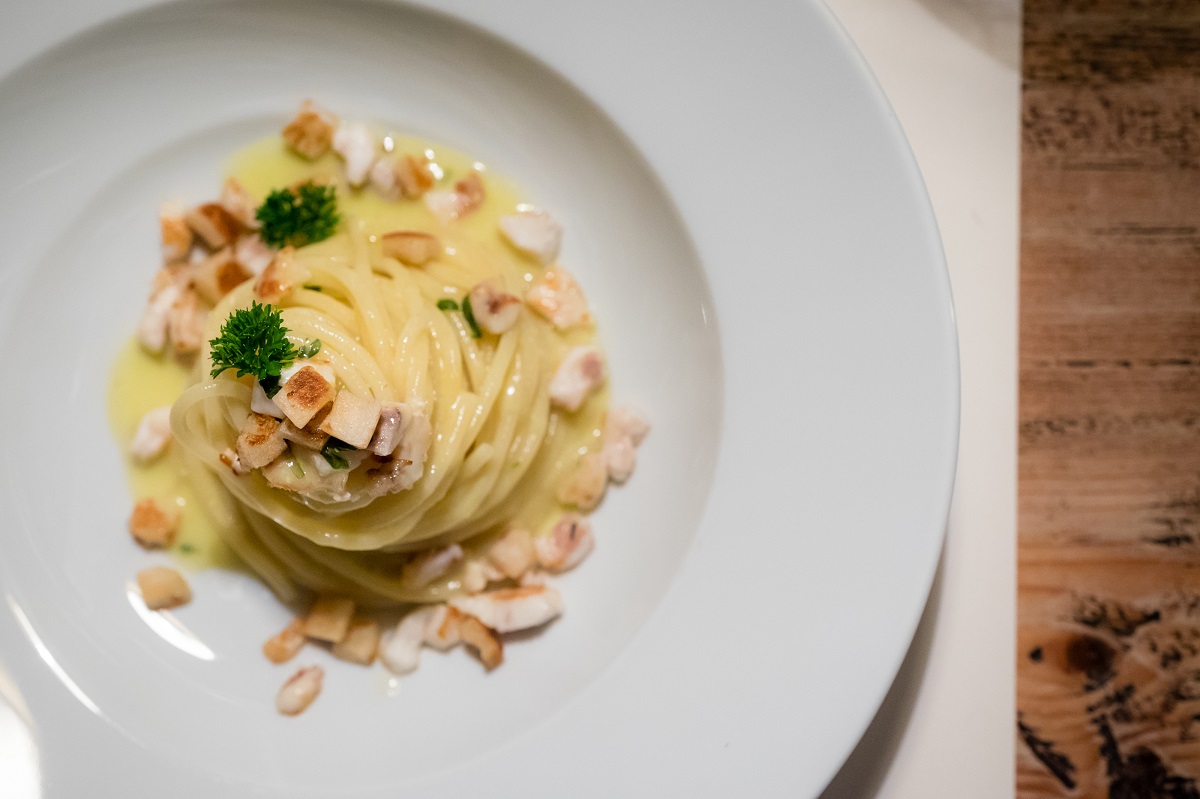 And the main dish, the queen of the seas, a fish that I really love and that I hadn't eaten for ages: the shi drum on a slice of grilled bread, accompanied by green vegetables and mussel sauce.
This dish, like the others, is delicate, harmonious, well prepared and with fine and balanced flavours.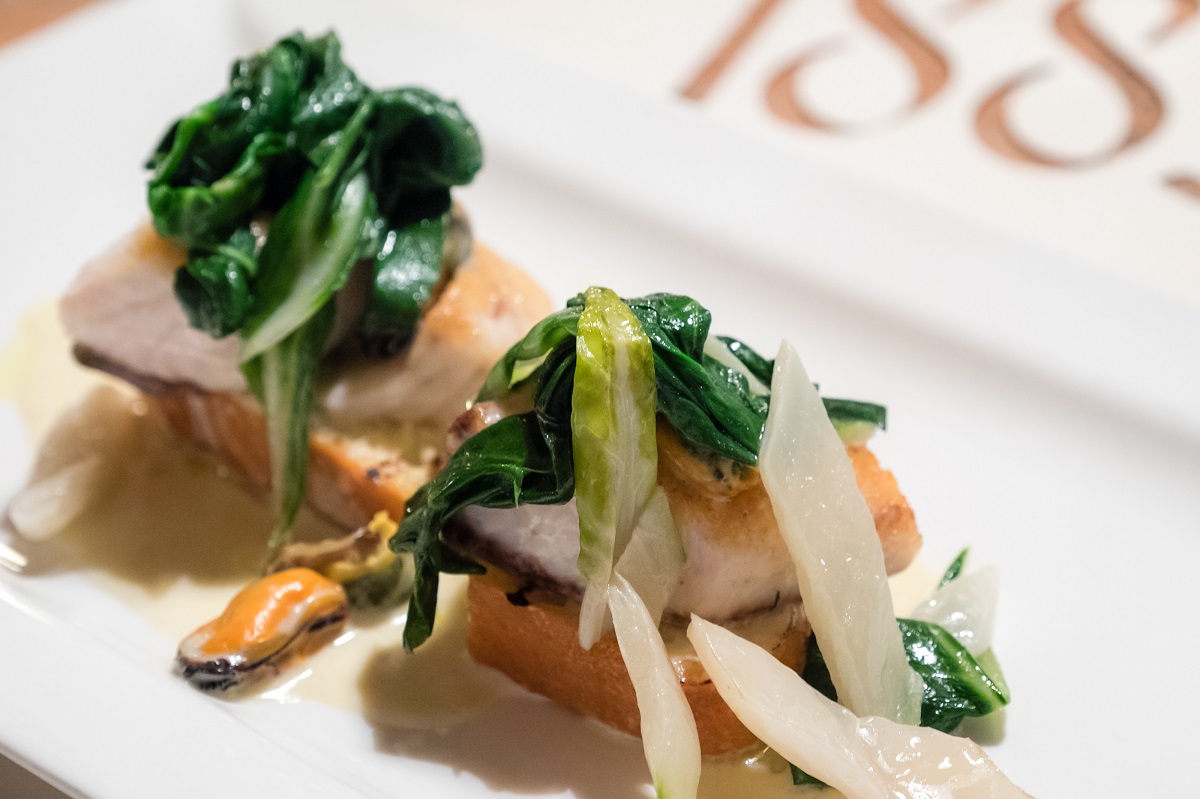 As always I've been writing way too much, I'm sorry, but we're almost ready for dessert. Be a little more patient.
I was seduced by a wonderful and particular version of trifle made by Kiara.
A dark chocolate namelaka (it's a light and creamy mousse, invented by a Japanese pastry chef), a mascarpone cheese Pâte à bombe, a nocino cream and biscuit soaked in Alchermes.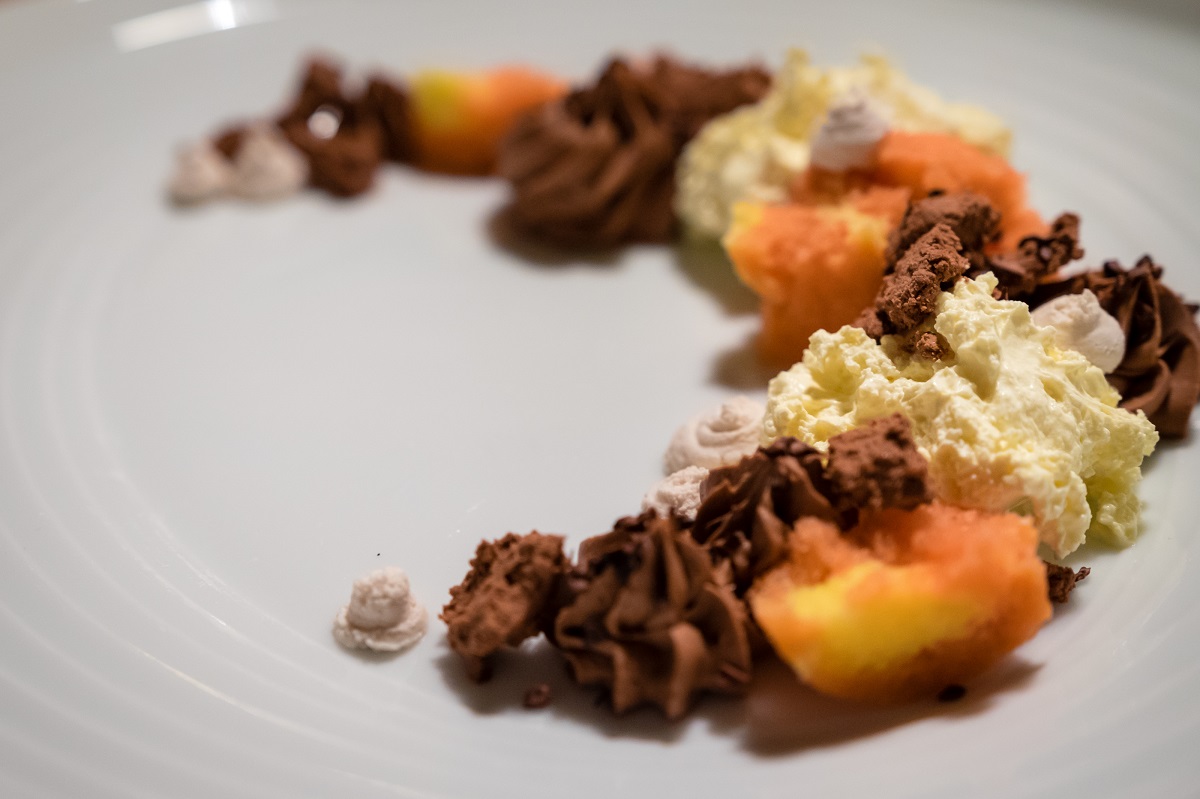 This dish is also special, because one thing I don't love is ending my dinner with a dessert which is too sugary, covering and ruining the flavors of the dinner. But it wasn't the case!
What was the last dish? Well for this dish you should close your eyes and imagine to be in Linz, with a broken down Linzer Torte made by Kiara, INCREDIBLE!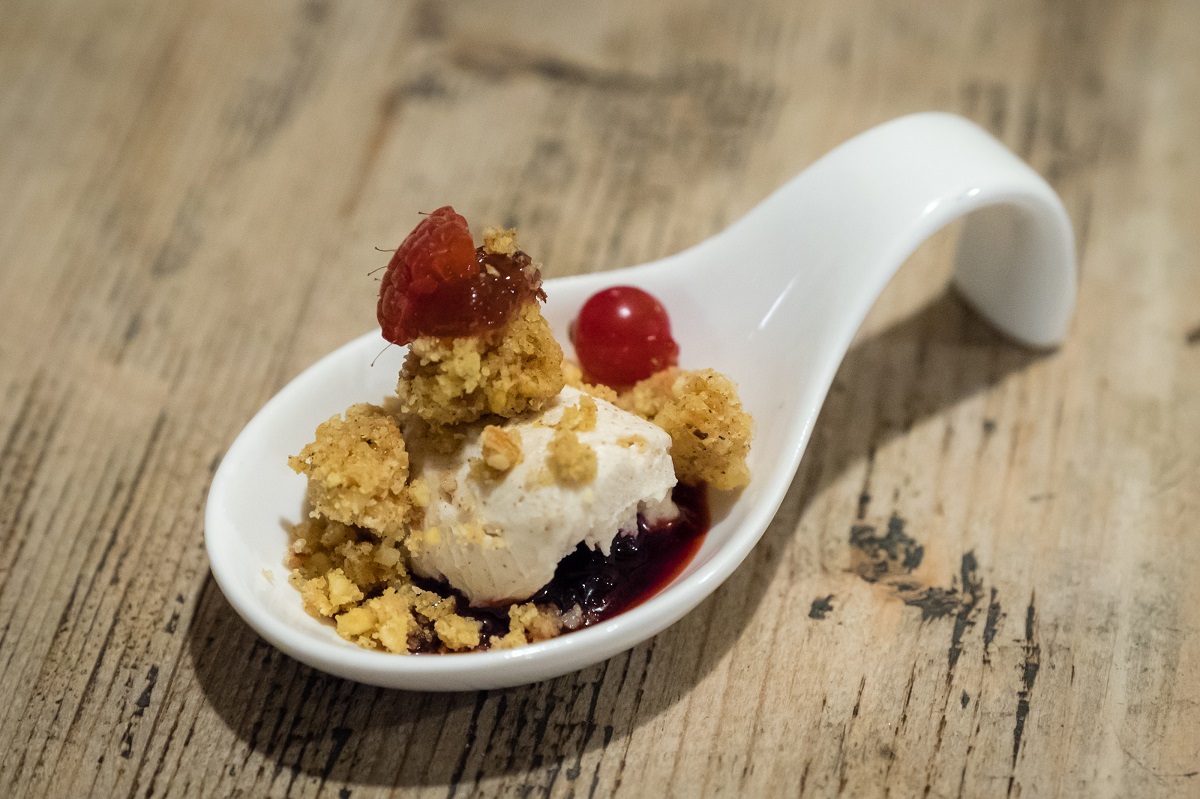 I was also lucky enough to visit Linz a few years back and tasted this cake in its original recipe and I can guarantee that reliving the same flavours in a "pudding" edition of the cake was quite incredible.
I was almost forgetting…1883 Restaurant & Rooms (1883 is the first year the place was issued for serving alcohol) also offers, as the name suggests, six welcoming rooms.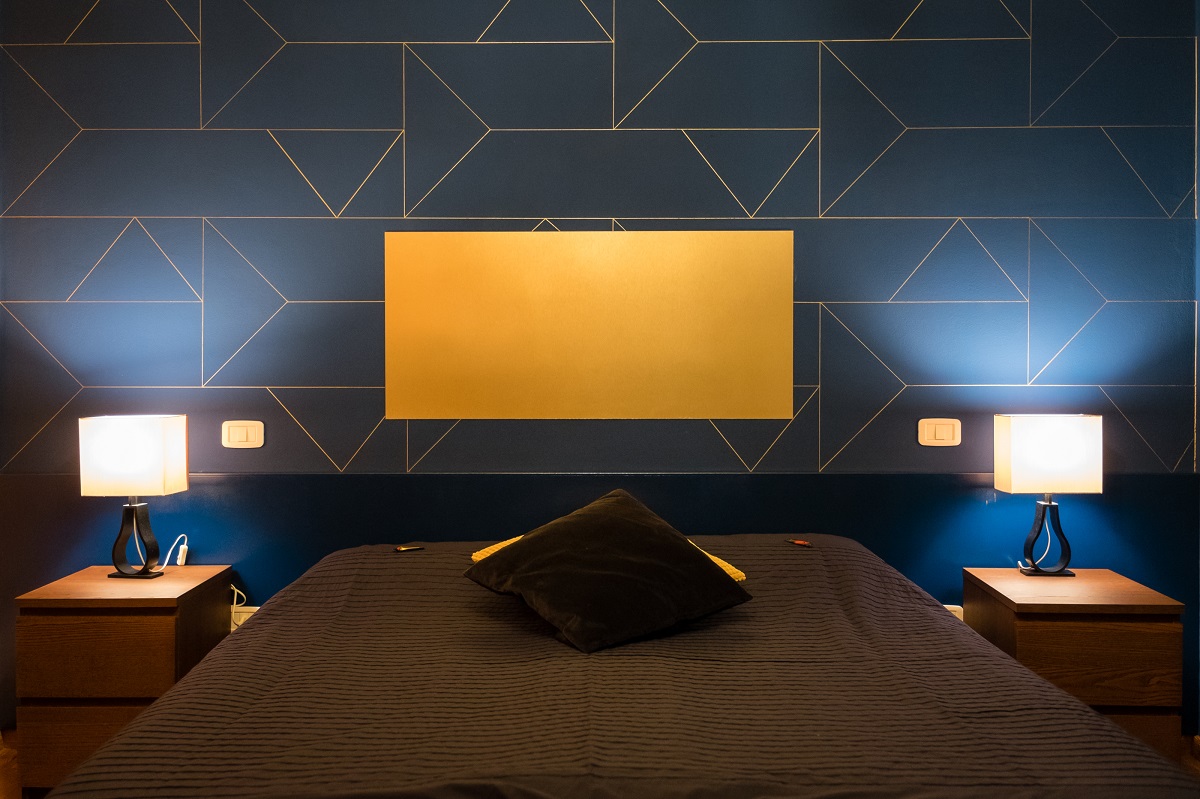 It's now up to you to go and discover everything I told you about.
 "One never believes other's experiences, and is only gradually convinced by their own"
(Victoria Sackville-West)
Oh yes. Before you ask, my look for the evening was entirely the work of Être Concept Store, my favourite shop. See you at the next adventure!
Ph. Andrea Zangrando