I'm tired but very happy, and if I think about last year when I was facing an apartment that needed to be completely renovated and redesigned, I'm amazed.
As it so often happens, even this adventure started off by chance, with an opportunity I could take advantage of: my mum was trying to rent this small and cute apartment in the center of the Borgo Teresiano in Trieste, but with little success; maybe because the kitchen wasn't fully furnished, or the tiles looked just too old, maybe for the 60s style bathroom or maybe it just wasn't meant to be.
So I came up with one of my dozens of ideas, and I started to think about "MissClaire Home", a small project but very important for me!
I asked two friends of mine to collaborate, Francesca Pets and Rosario Zoccano, two people with very different tastes, one with a fascination with recovery, the other with a more modern and essential taste. With three minds and a very tight budget, we tried to make the best out of this historic apartment with 75m2 on the last floor of a building from the beginning of the 1900.
The hall of the building is one of those fancy old style ones: the iron door opens onto a marble staircase that takes you to the elevators.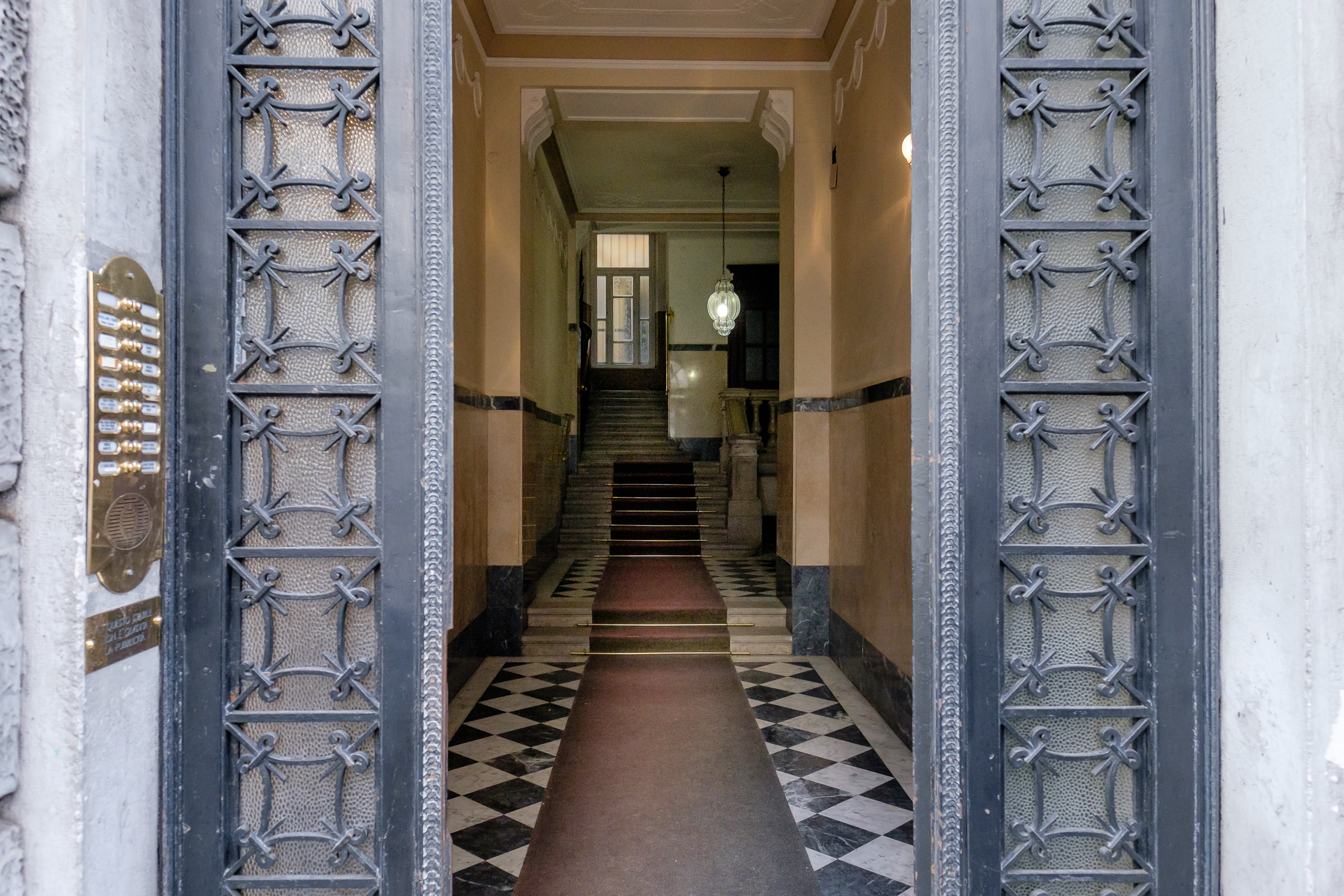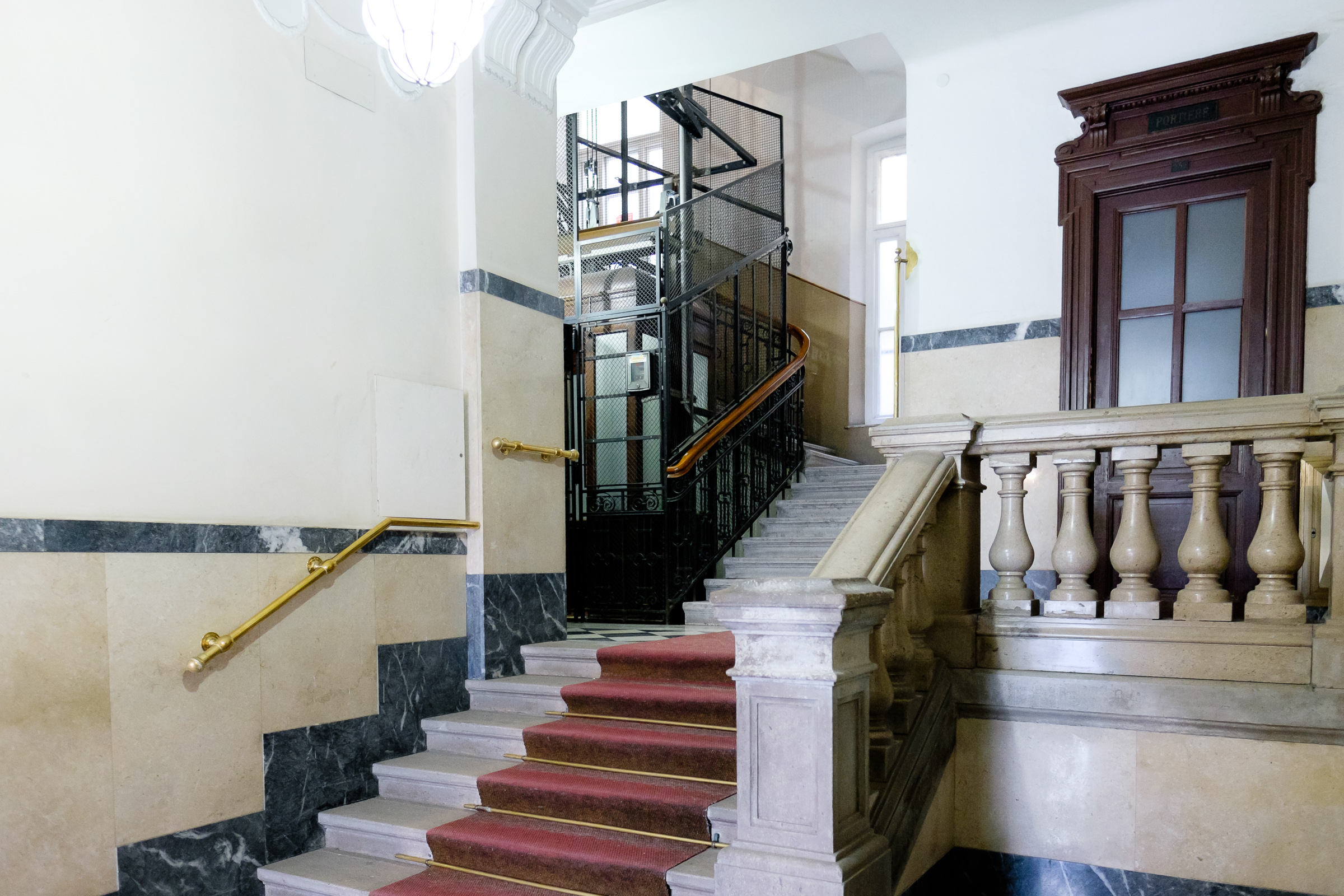 By pressing the button n 5°(the last) you reach your destination. The light up here is much stronger and it shines through the windows from the landings, that with their white wood and decorated opaline glass makes you feel in a different era.
But let's step into the apartment that is ready to welcome anyone who'd like to stay here and discover Trieste!
The first think you notice as you walk in is the perfume of Essenze, refined and rare essence that wil remind you of some far of journey, and their exclusive and high quality essences will be ready to accompany you during your stay at MissClaire Home.
Along the corridor the original light coloured parquet creaks under your feet, while the walls with their warm blue colour reach the high ceiling.
A large fish is hanging from the wall, Alberto Rocca's artwork, of which I've already written an article about,which captures quite a bit of attention: I adore these sculptures so I really needed to have one in my home, also because it combines perfectly with the wall that's painted the colour of winter-time sea!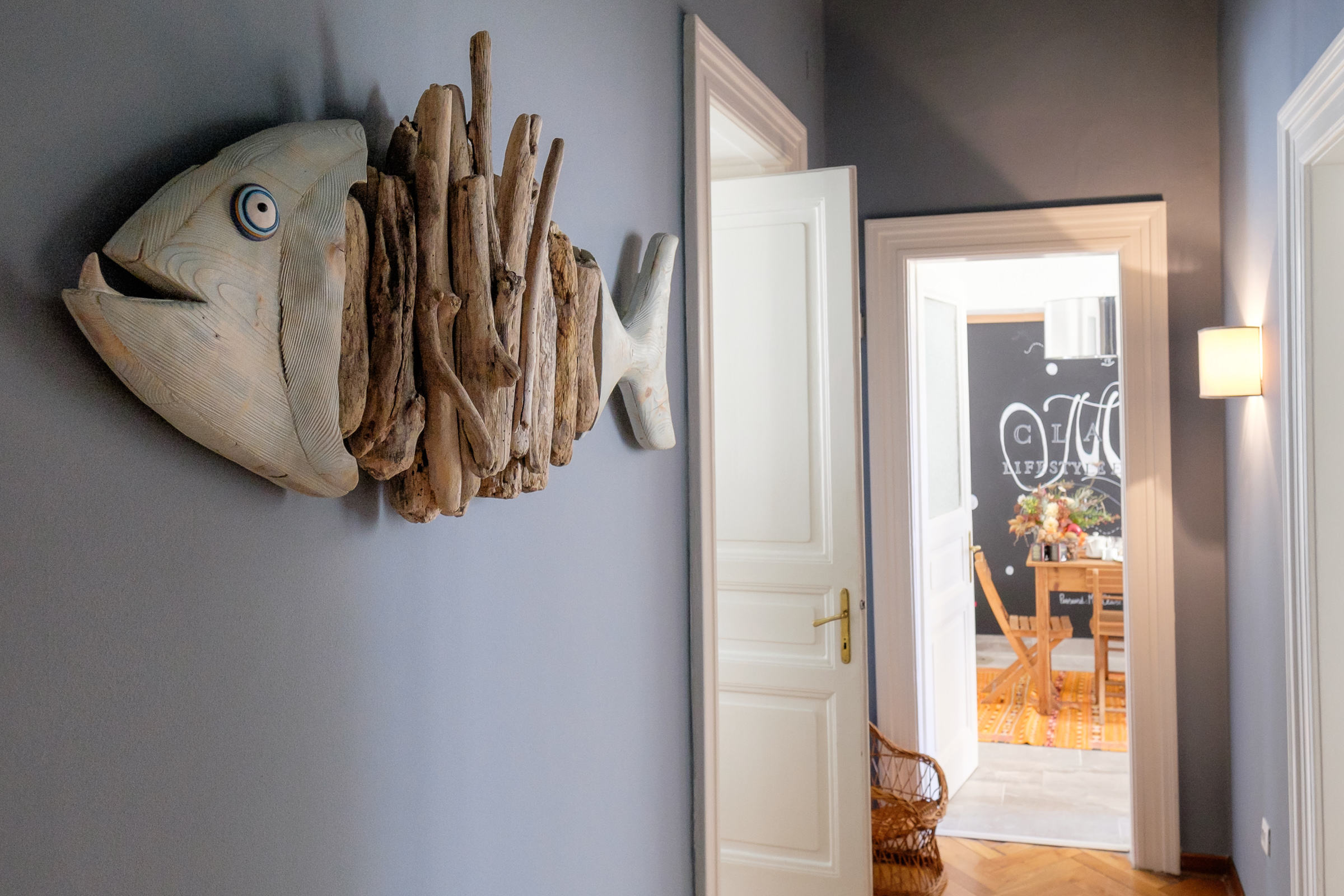 And obviously there had to be some recycled elements, because you know well that I love to mix and blend objects from the past with the modern ones.
A small dresser from the 60s and a wooden panel are the practical place to keep small presents for my guests. What is in there? MISS CLAIRE'S SUGGESTIONS! Business cards with a little discount for you, useful suggestions about where to enjoy your time for people who don't know the city, hopefully saving a little money too: bars, restaurants, shops, all the best (according to me) of the local area. I thought to widen the range (because usually I don't include the beauty area) including some beauty and wellness centres, because I love to be spoilt during the holidays. You will find the contacts of the best beauty centre in Trieste, the best place for Thai massages and much more!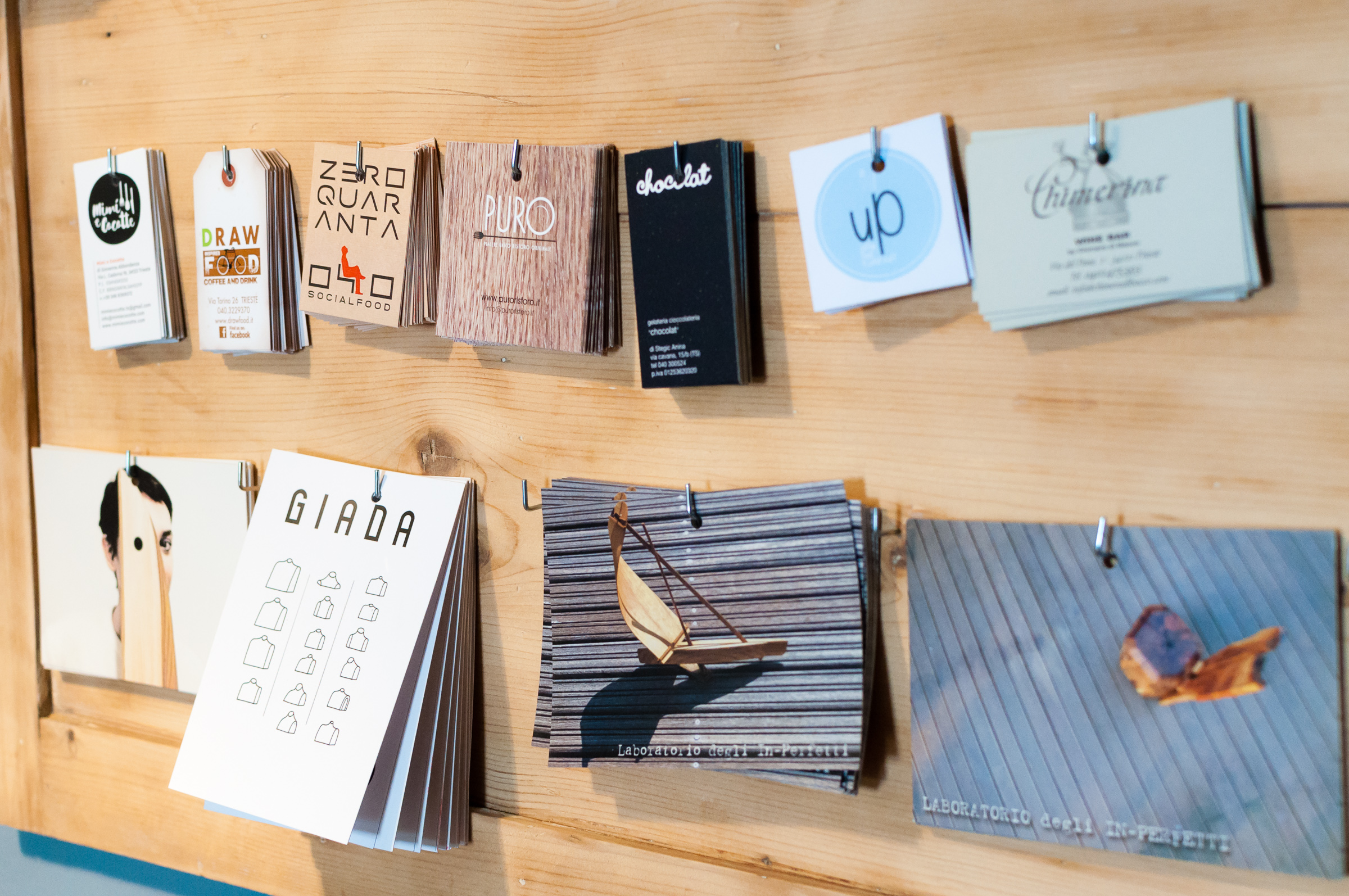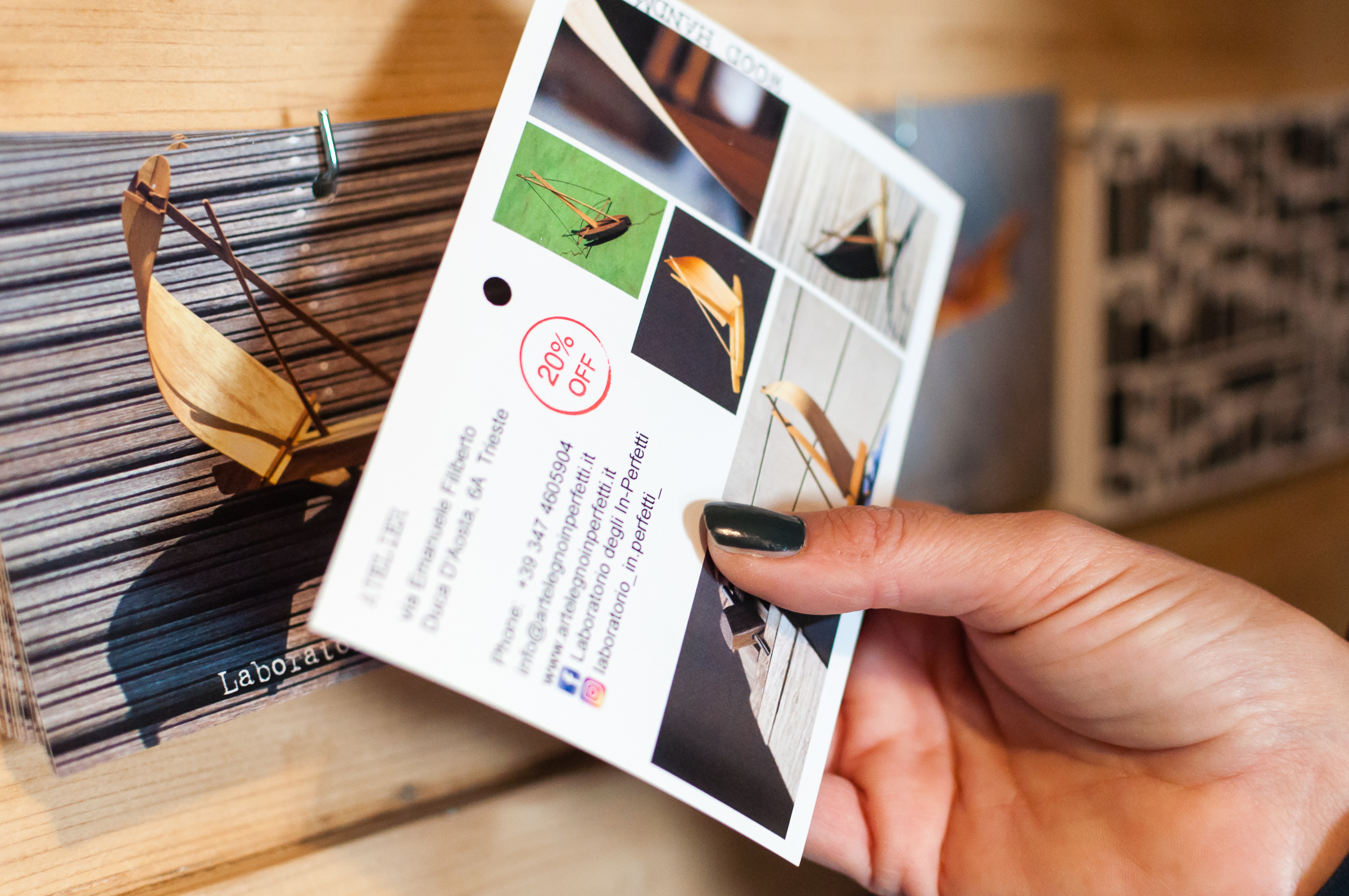 But let's continue our tour: we are now in the sitting room that turns into a bedroom if needed, because the grey vintage style sofas, turn into king size beds.
Do you recognize the lamp? It was custom made for this house so it obviously had to become mine … Sandro made it with his expert hands: Il Laboratorio degli In-Perfetti!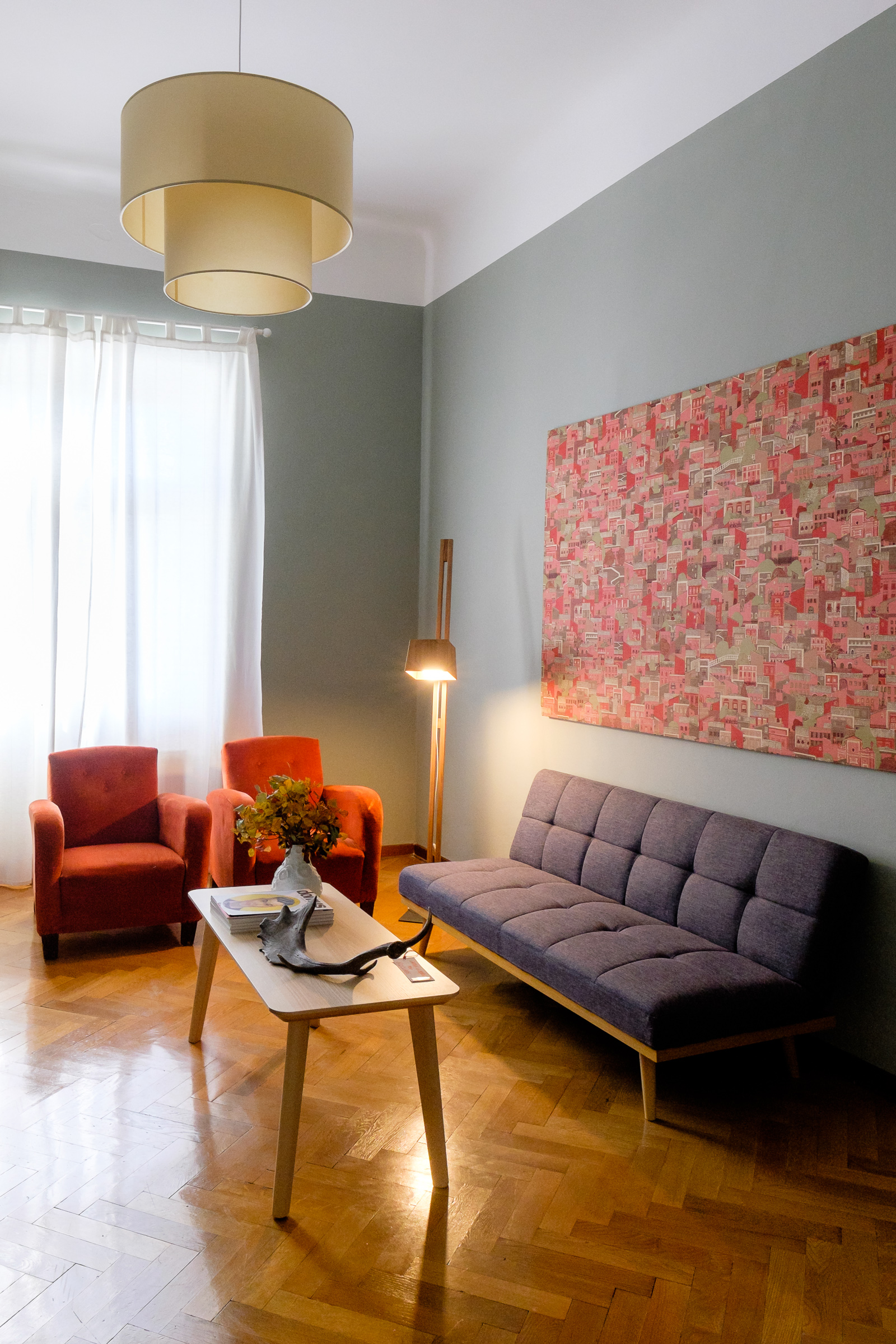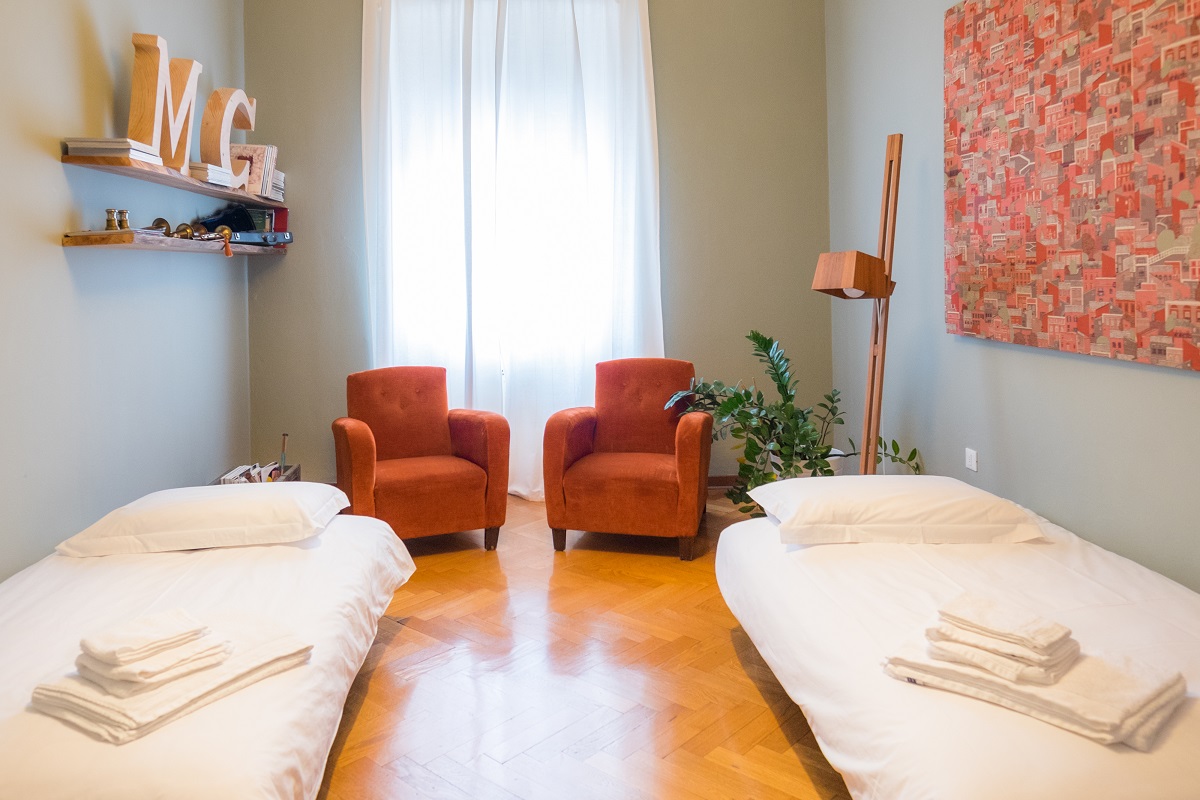 The red coral velvet armchairs are two recovered items, as is the fabric on the frame, which I found at Studiocinqe e altro, while the coat hanger and the shelving was custom made by Vud, do you remember them?
You will find Vud and its design products also in the bathroom, with a custom made mirror and a shelf in fir wood; an adorable shape and the choice to leave the bark gives it a complete nature look.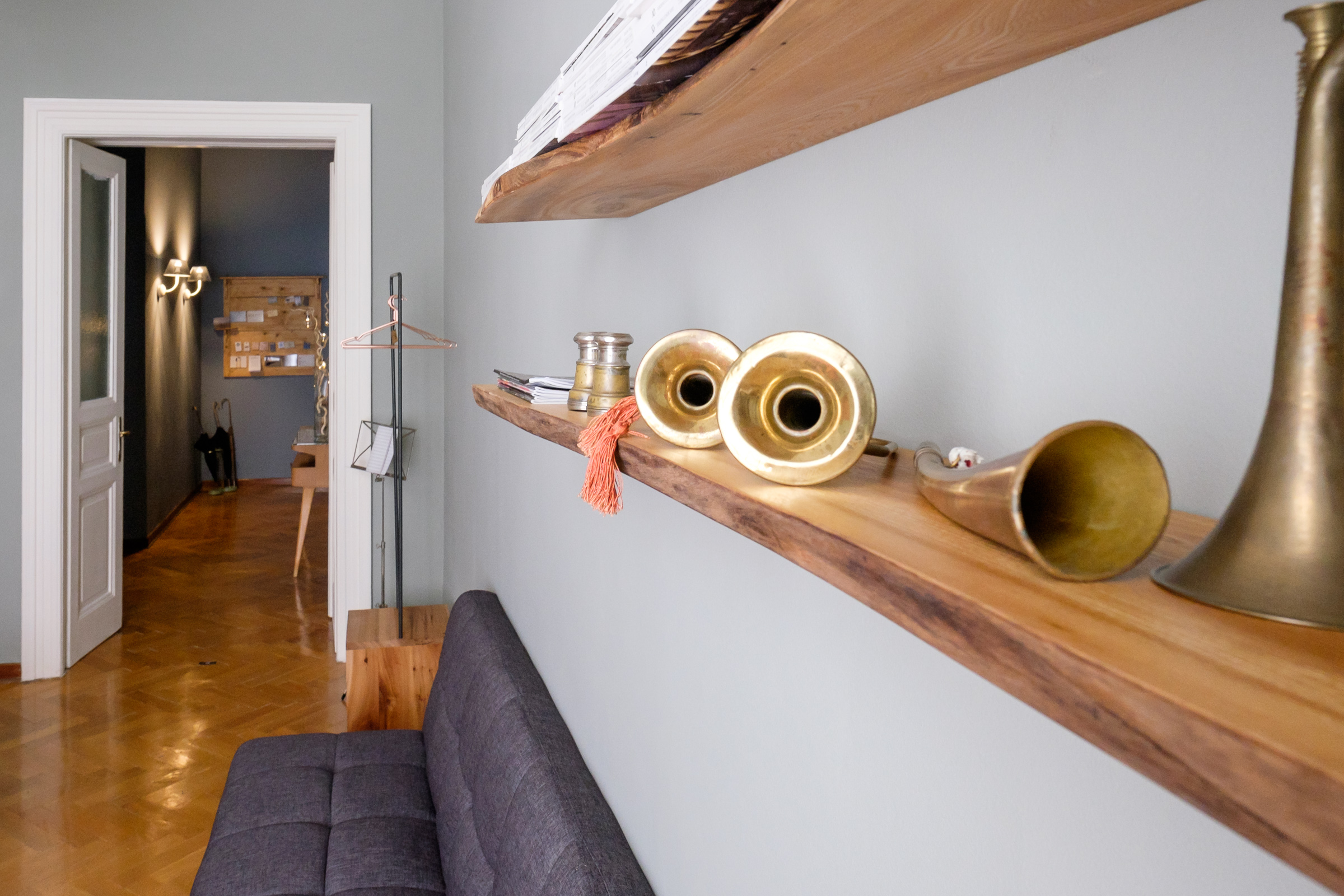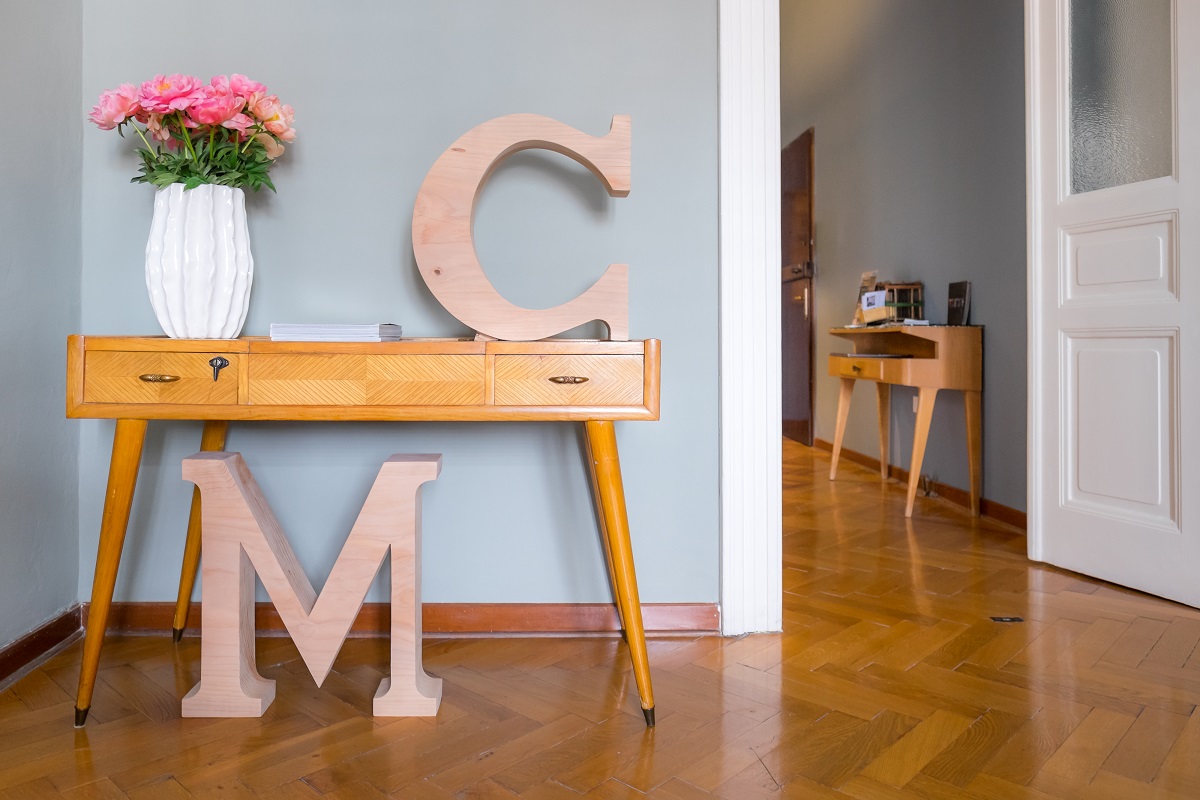 The bathroom was the first part of the apartment I decided to change completely, because when I'm staying in a hotel it'ss almost the first thing I take in. So it's all new, starting from the new large shower, the design sink and a few yellow furnishings here and there, vintage and reupholstered by Studiocinque e altro.
On the shelf created by Vud there are two wooden wings skilfully carved by Vulcano from Blu di Prussia, a wonderful creation, that gets our dreams flying and for who has forgotten where their workshop is, here is a small reminder.
It was great fun to work with Alessio from Fontana Luce because we had a great time creating lightshades for the lamps, thinking up new designs and using different materials. His lamps are all over the house, skilfully handmade and simply delightful!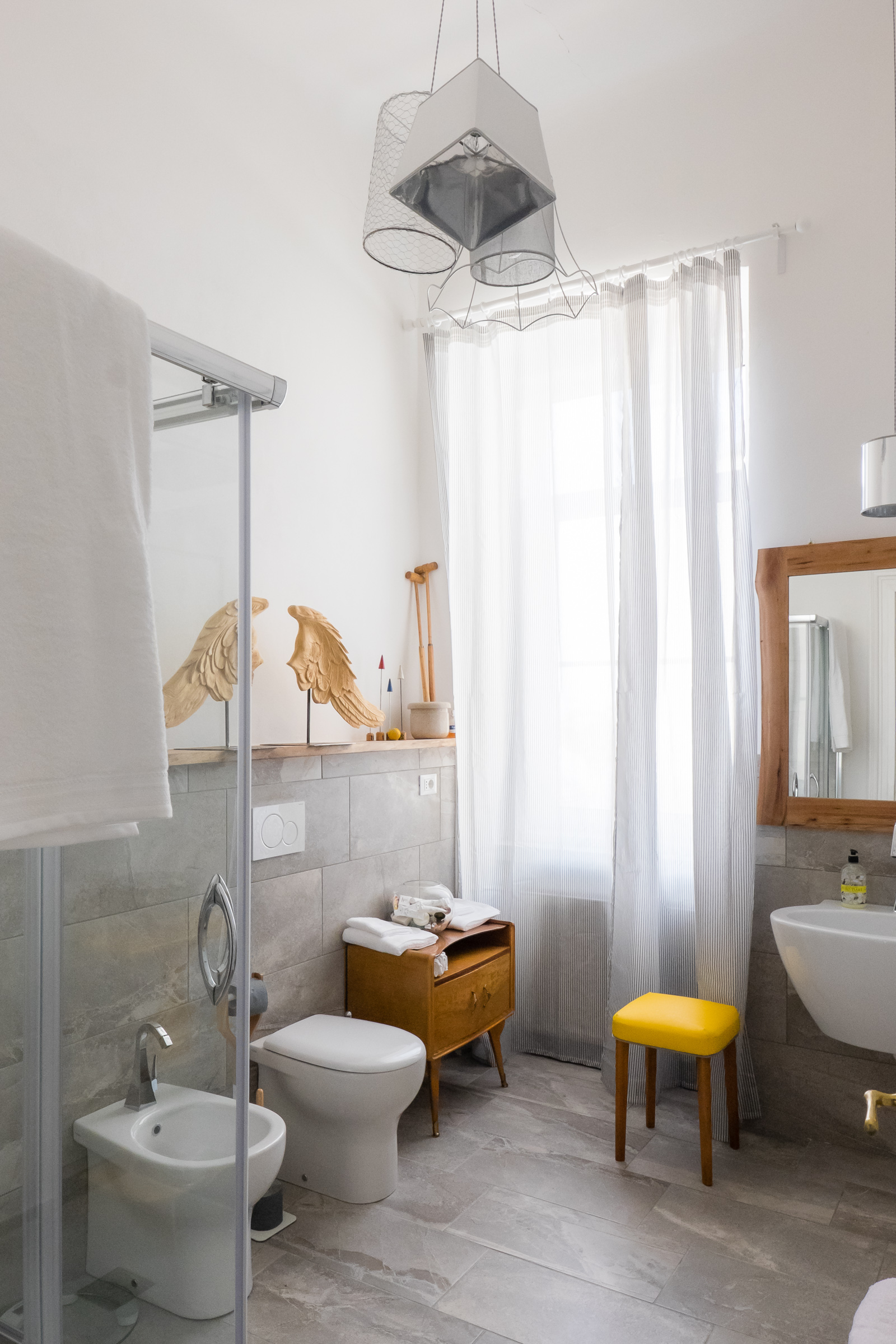 In the master bedroom there are still a few details missing, but I'm not going to tell you about them just yet, because it's still being designed, but it's definitely going to be there: here my guests will be able to rest as peacefully as a child! The mattress is top range: in aloe, memory foam, latex, anti allergic, orthopaedic. I'd say it's got it all! Obviously we also had to have three different types of pillows (according to how you prefer sleeping), a Swedish duvet and polished cotton sheets Made in Italy. If you can't sleep comfortably here you might need a few drops of Bach flower! 😉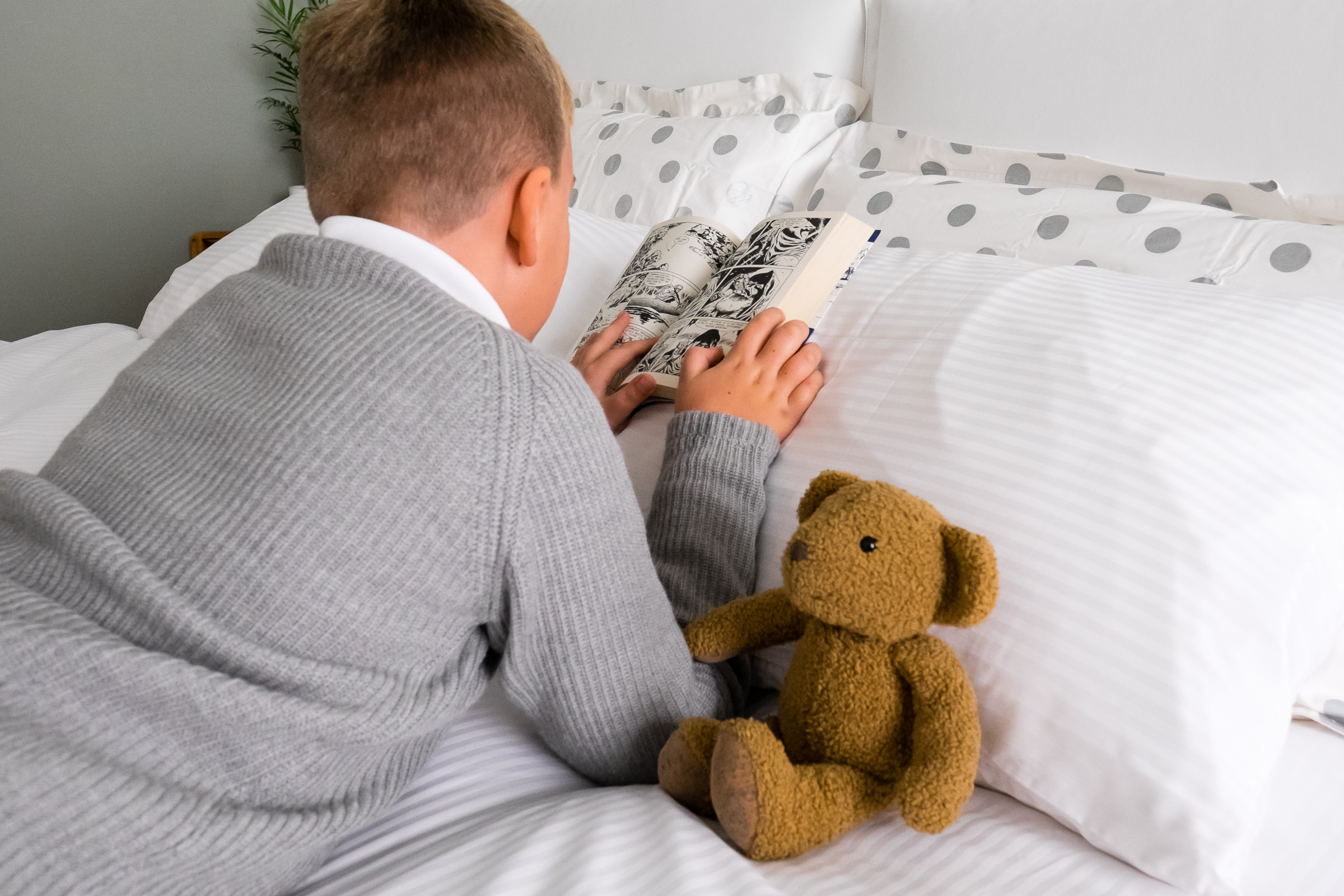 The TV stand is also recovered, a little piece of Triestine history: it comes from the Dreher brewery in Trieste. Even the old suitcases in the corner are vintage and they look great with the colours of the wall.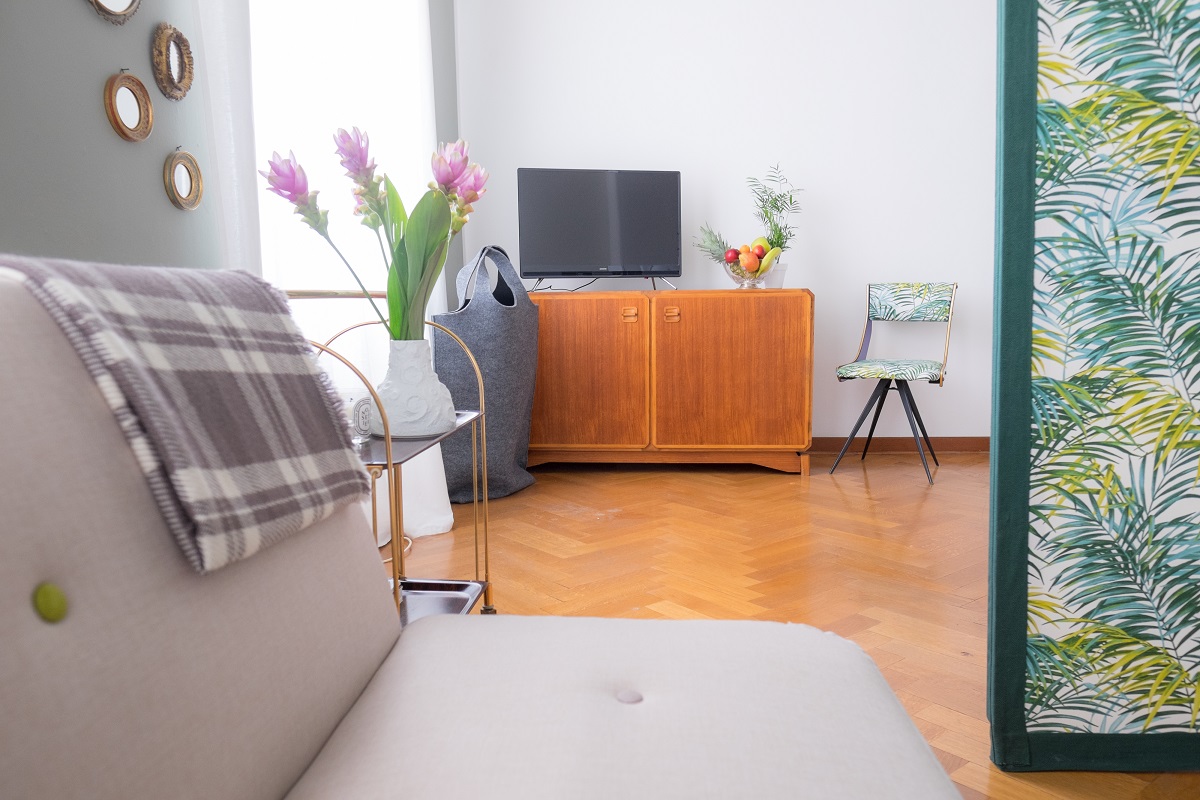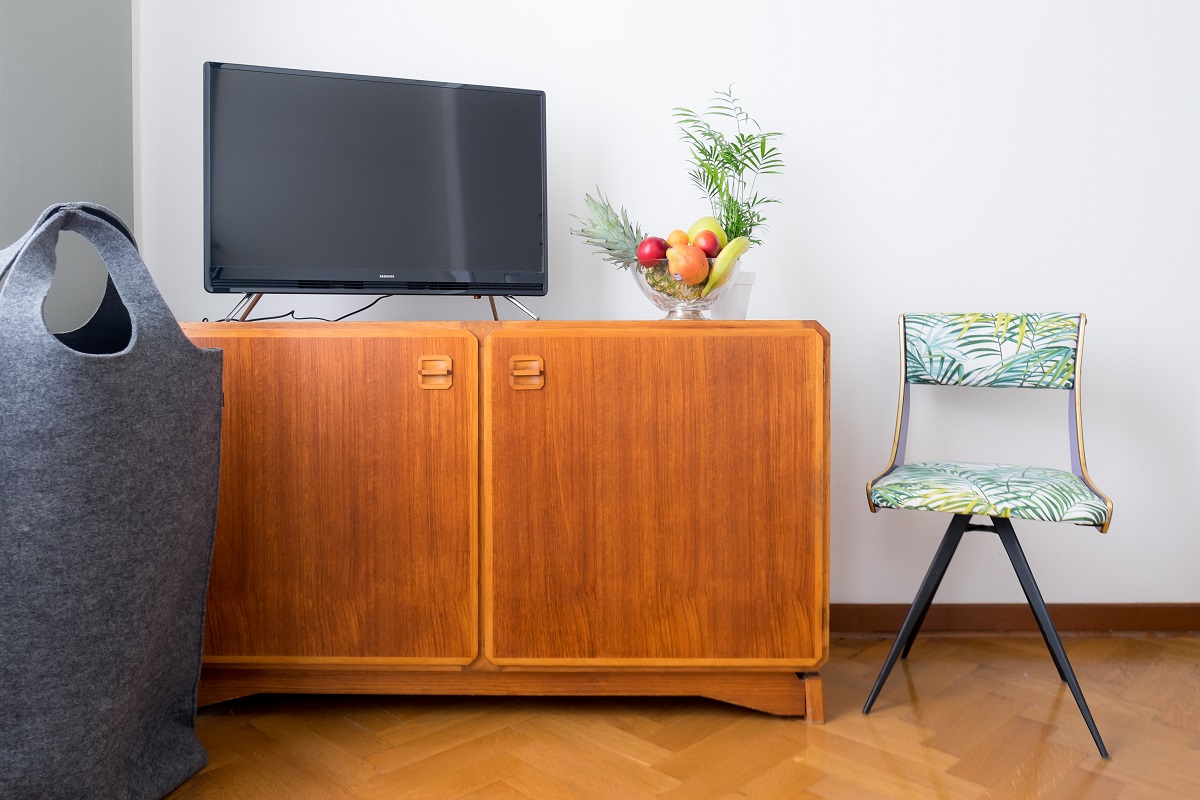 I'm also very proud of KAATIA's Laundry Bag in grey felt. After meeting her in Ljubljana I couldn't not have her in my house so you could appreciate her too!
And about the colour of the walls: a couple of months ago, when the main work had been just finished on the apartment, the walls were white. I was in a NO COLOUR mood. But I was suddenly taken by one of my moments of madness, I noticed how much light came in through the windows, and I thought that a colour would fit in quite well, enhancing the white doors and the oak floor. I called my friend Aldo, whose firm has been making the best paints in Trieste, and I'm already adding to the budget and choosing the right shade of colour!
But what do you think? Don't the mirrors look nice on this mud green wall? (I collected them in various little markets and had them fixed up) It gets the colour to stand out even more, as well as the panel covered in this French fabric with ferns!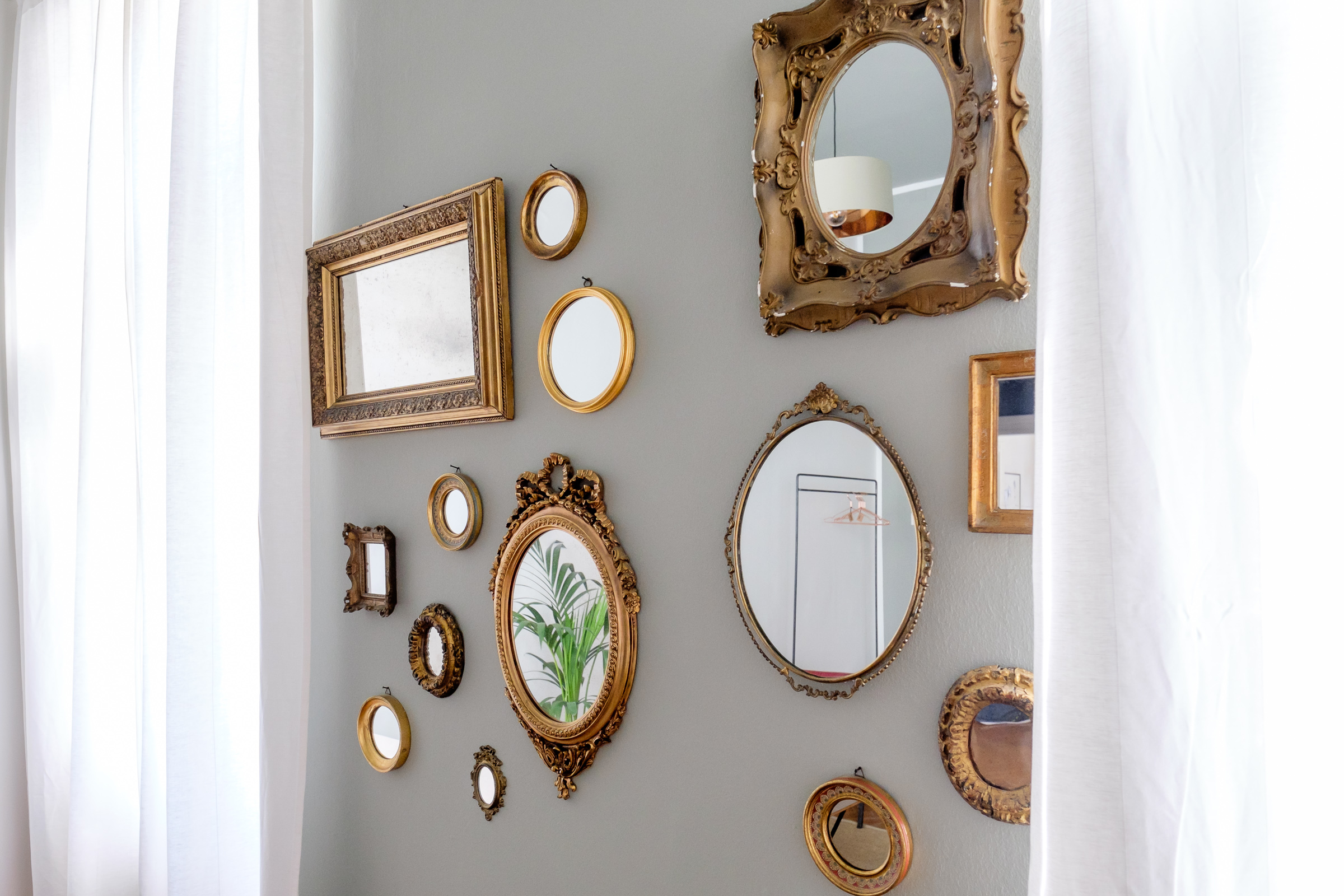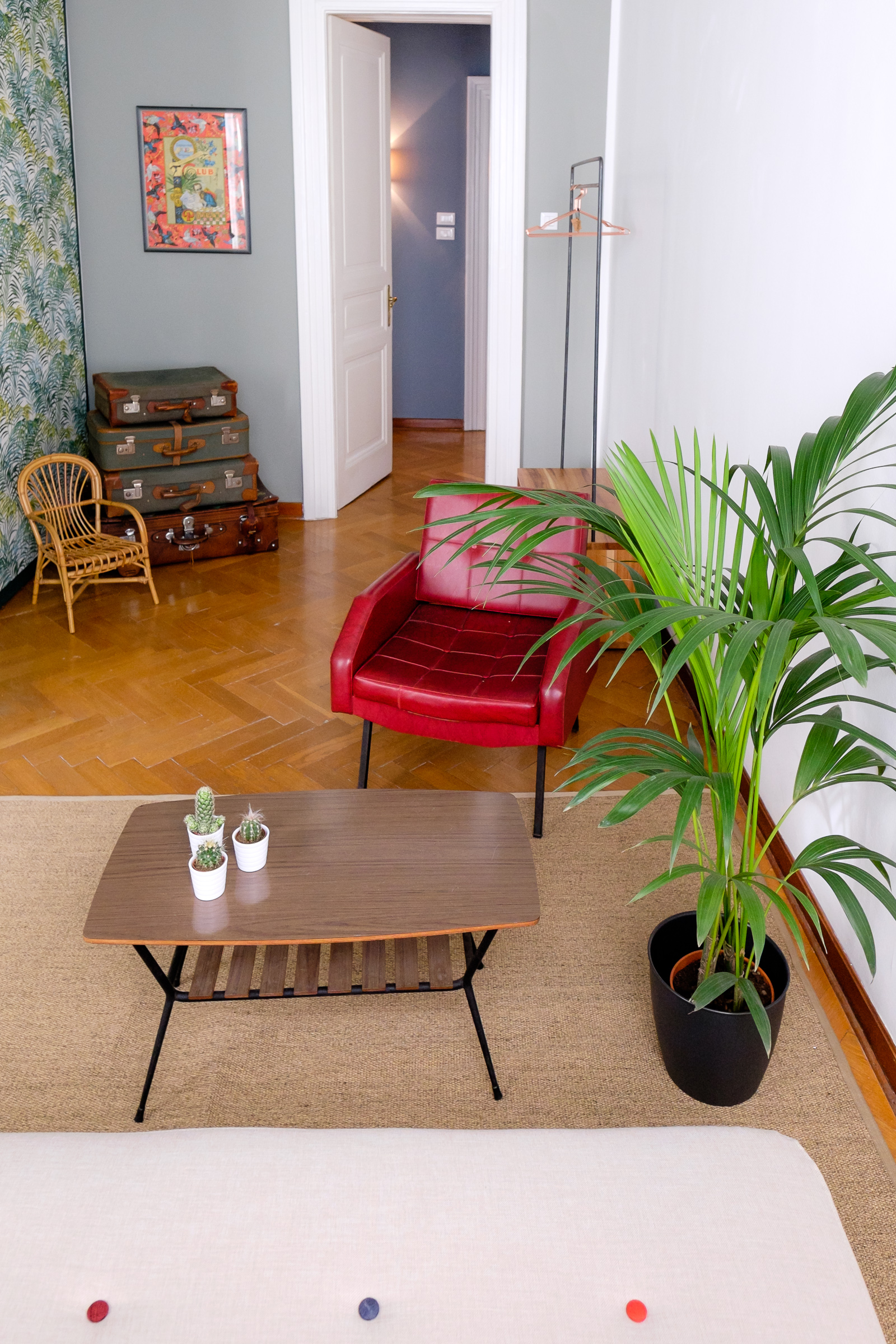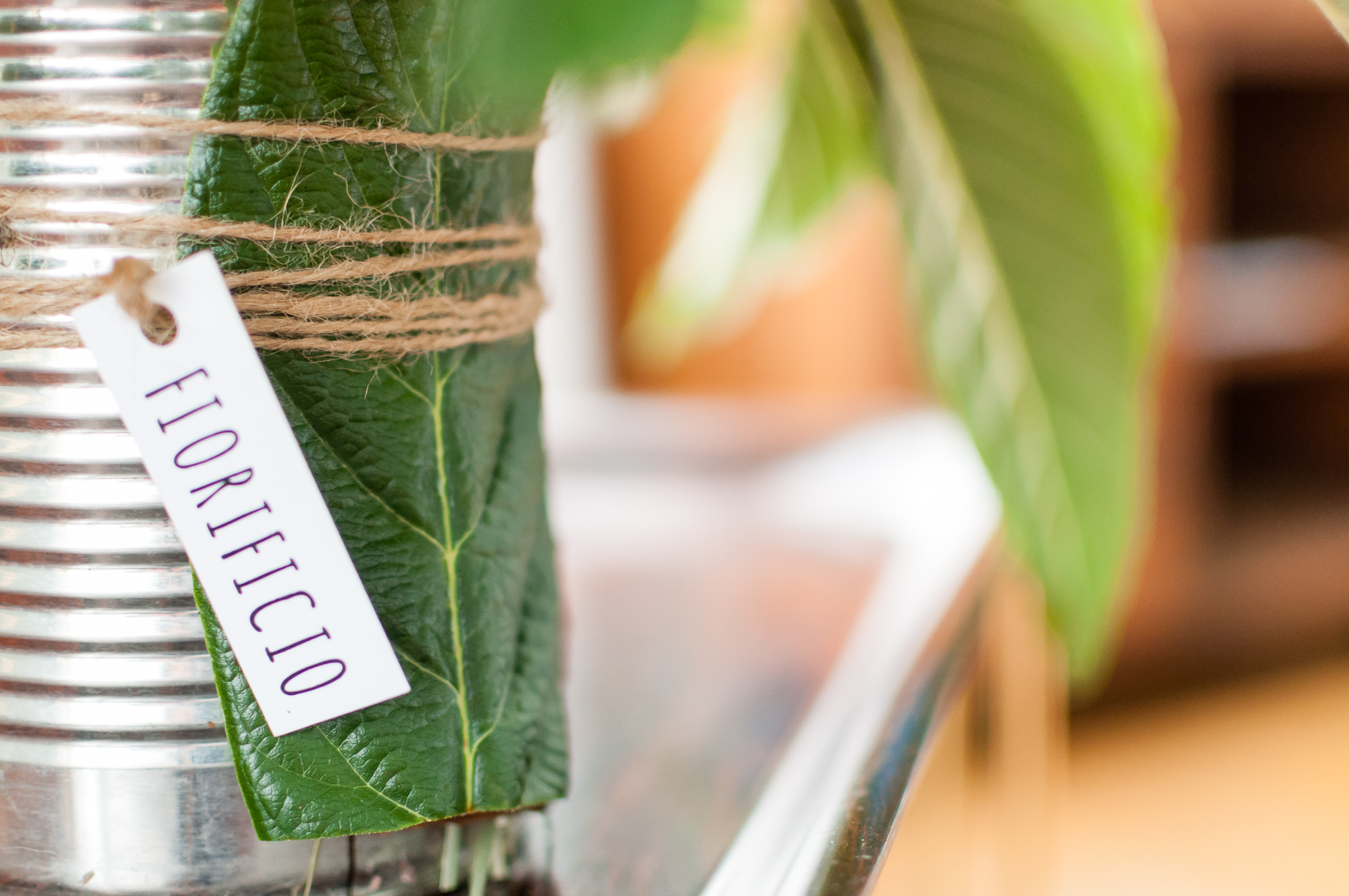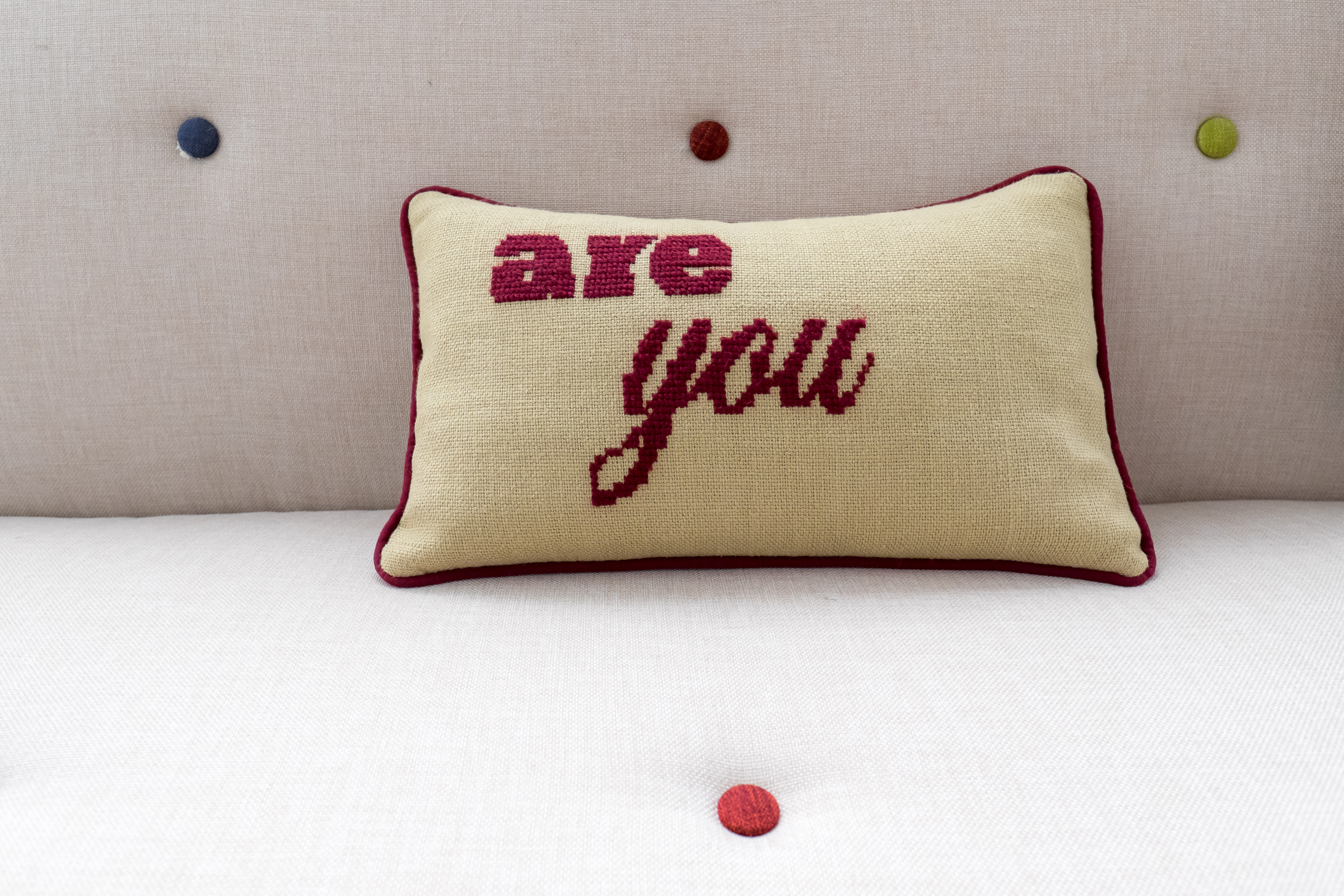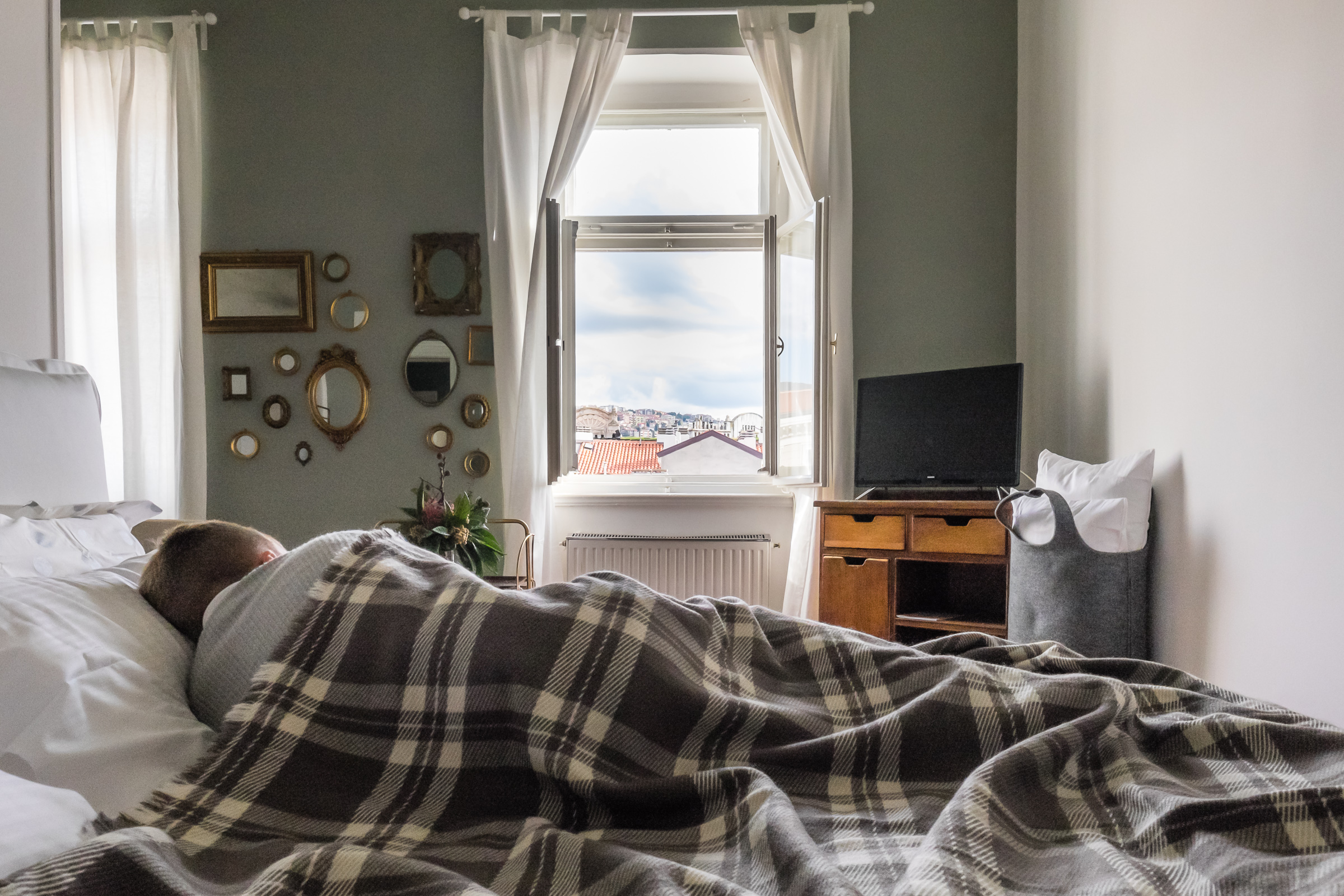 Now there's just the kitchen to see and my tour will be complete!
Here you can see what it looked like when I saw it for the first time…

I found those tiles from the 60s quite fun, and I can assure you that I would have liked to keep them, if I hadn't had to change all the water system and pull out the led pipes underneath. So with a little courage we pulled it all up!
Today it looks like this, simple and functional, divided into two areas. The spotlights are lighting up the wall painted in blackboard paint where Camilla from di CB Paintings  and her creativeness have represented the best of MissClaire, with a welcoming feeling.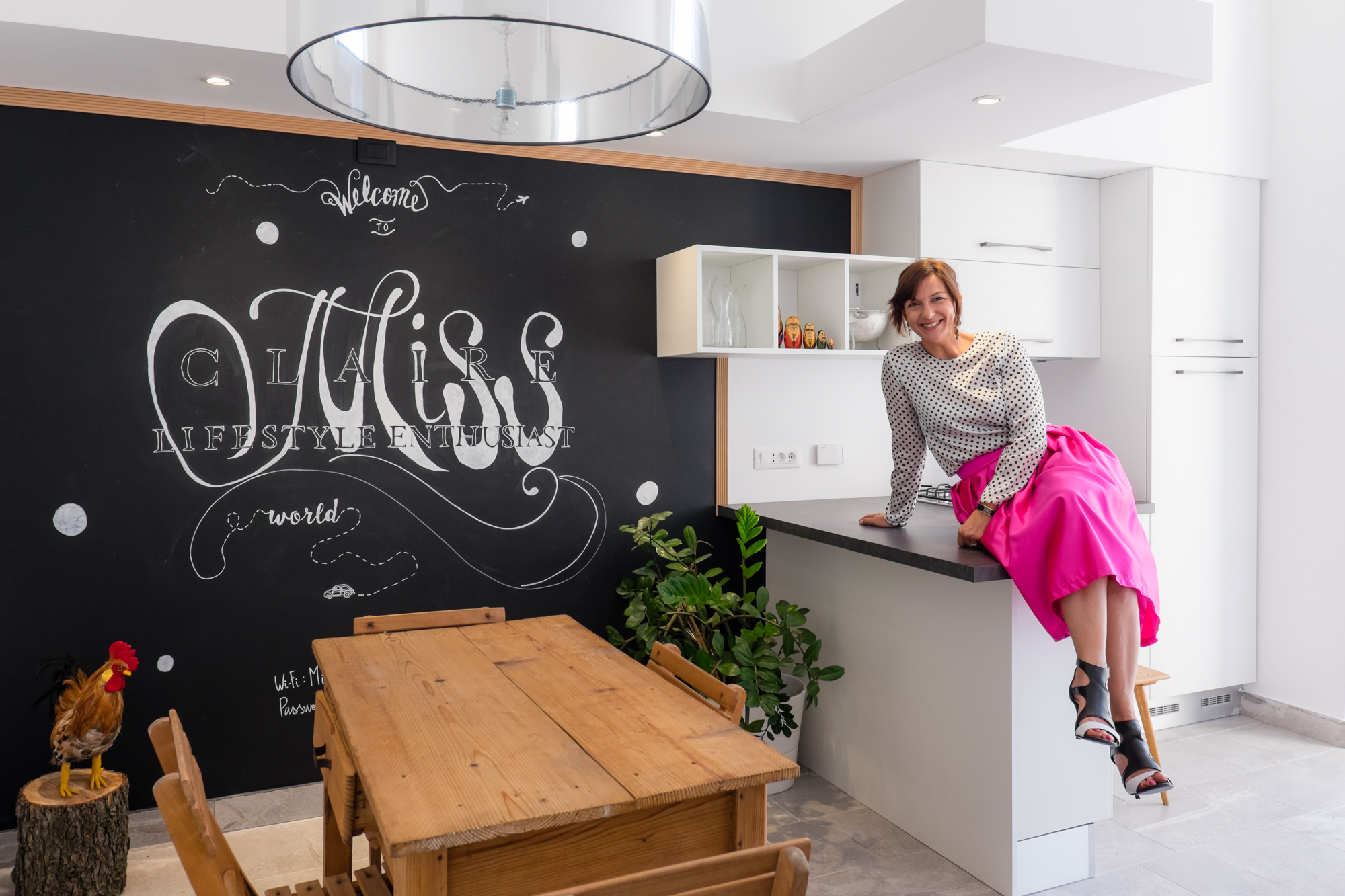 There's a little recycling going on in this room too: the wooden table and the chairs are from a Slovenian scout camp that was giving them away, and the dishes are from Limoges, directly from the 70s!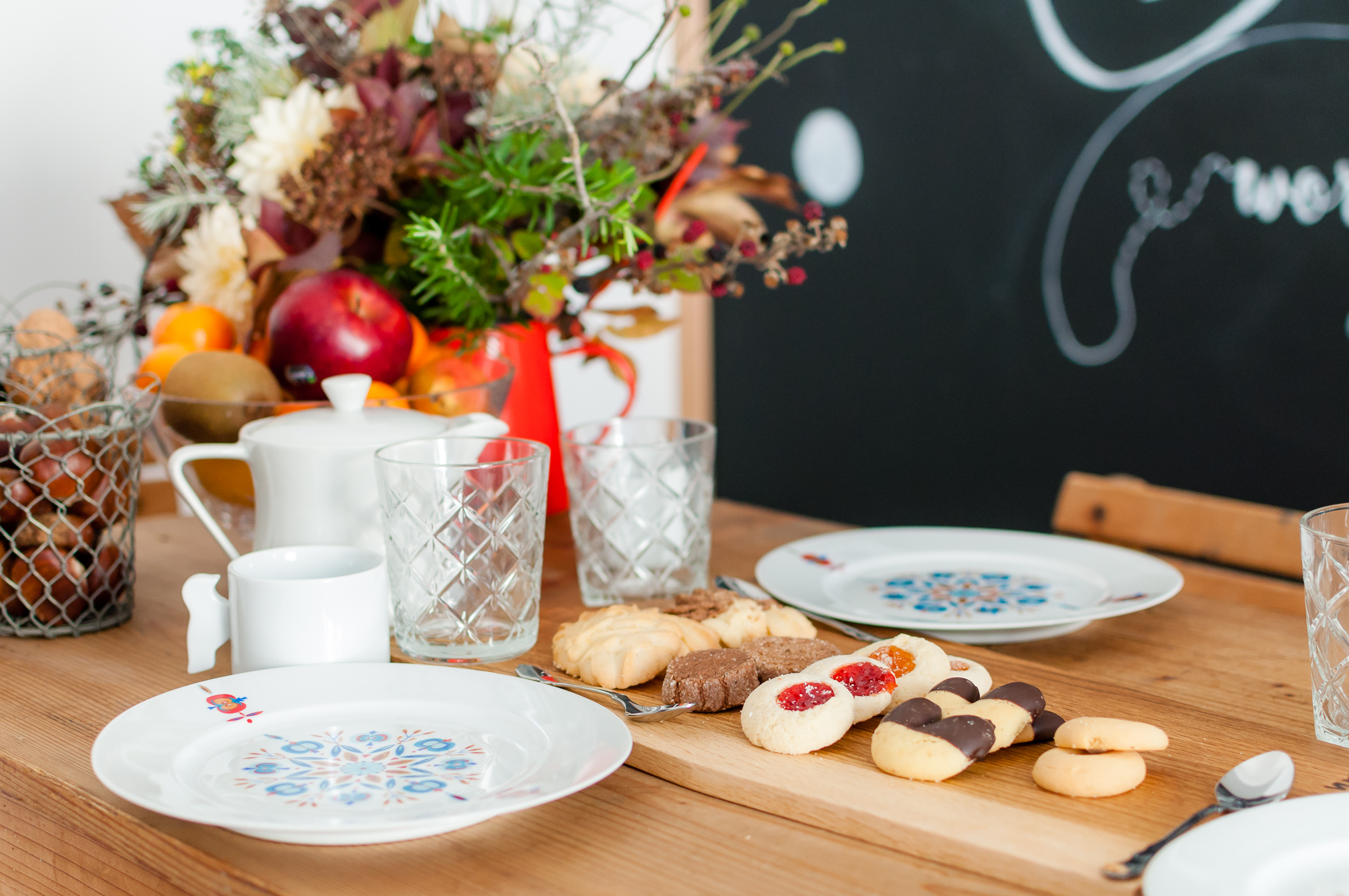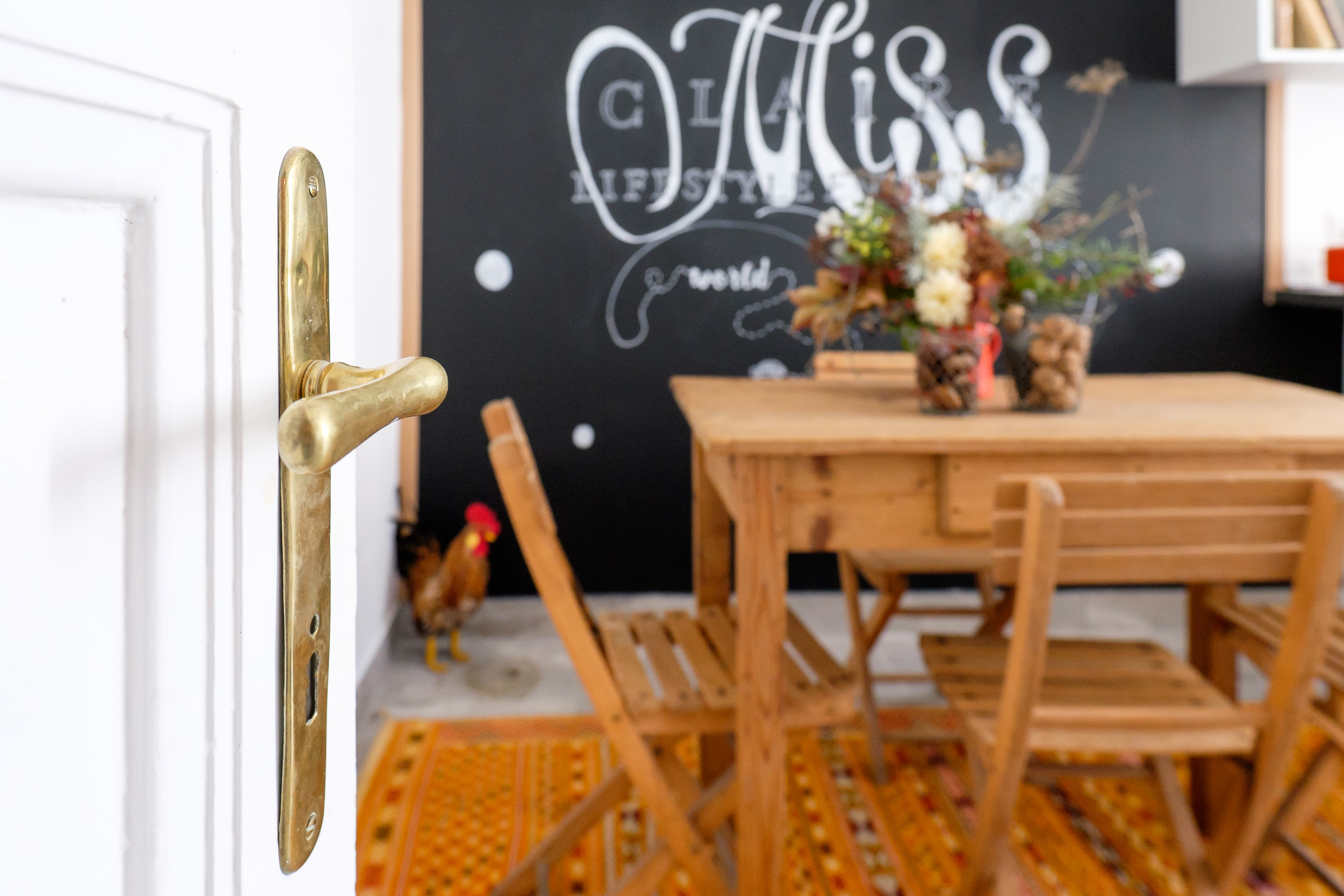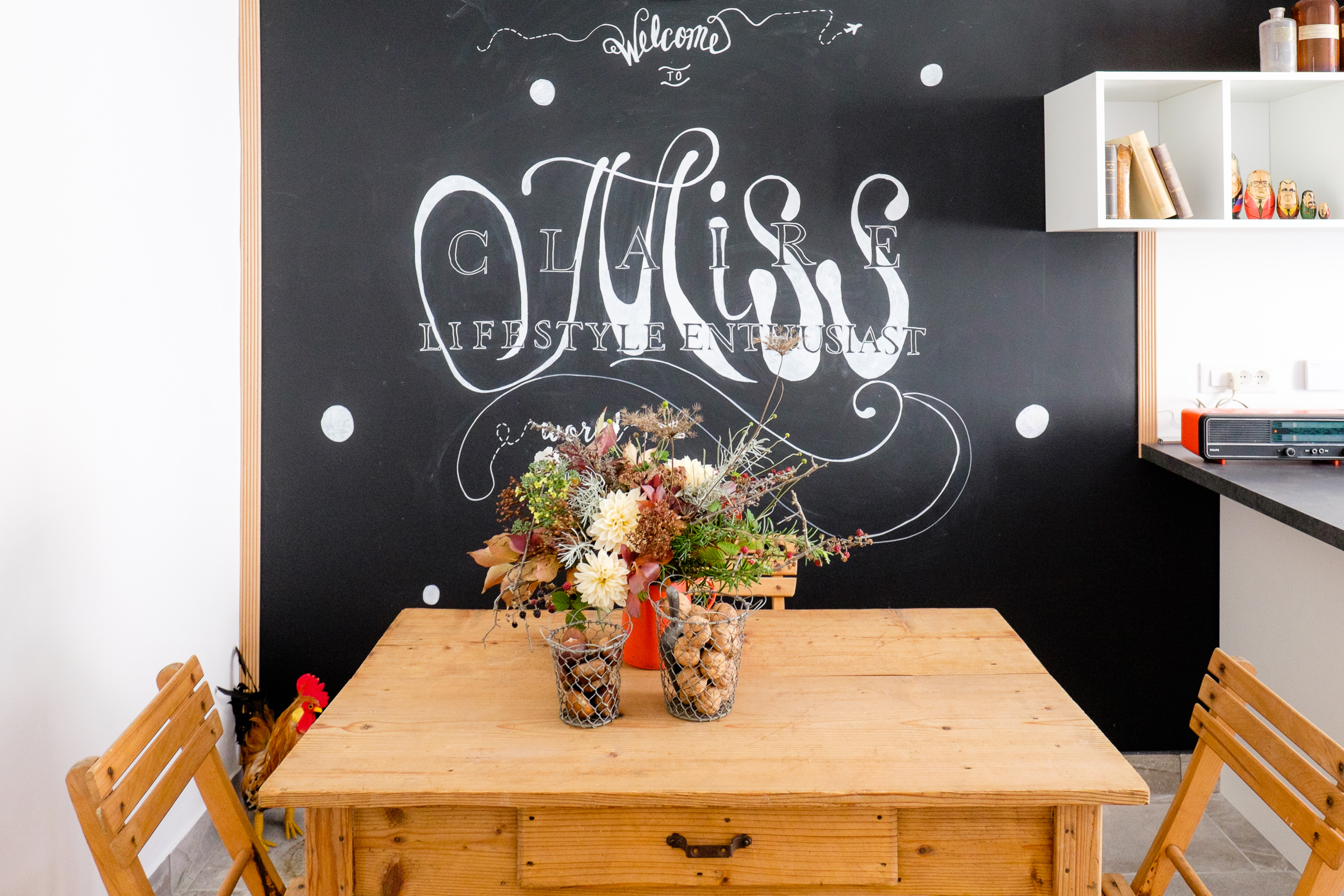 From the little balcony you have a nice view of the rooftops of the town, a view that includes the San Giusto Castle and the dome of the Serbian Orthodox church, and even a glimpse of the sea.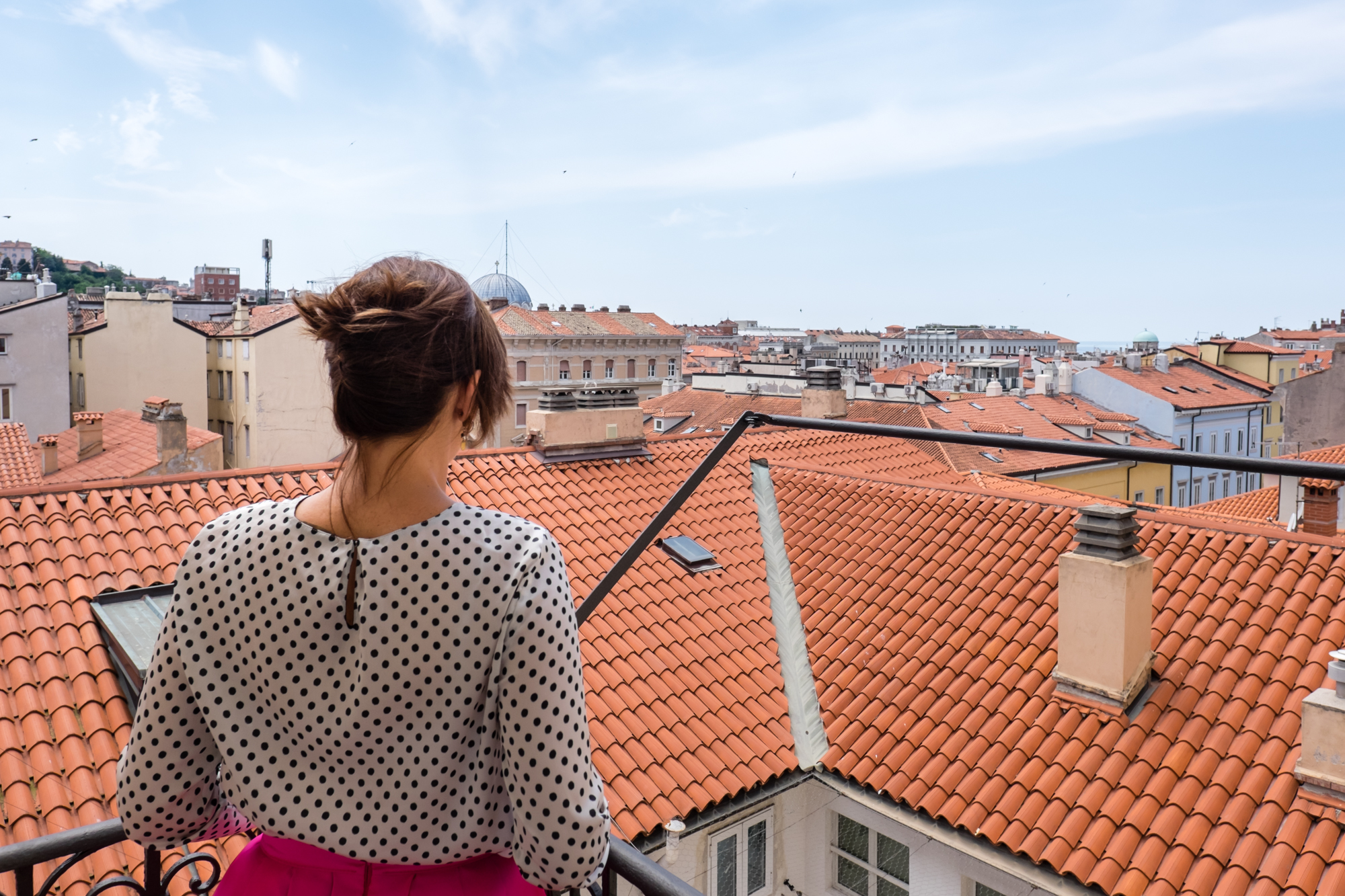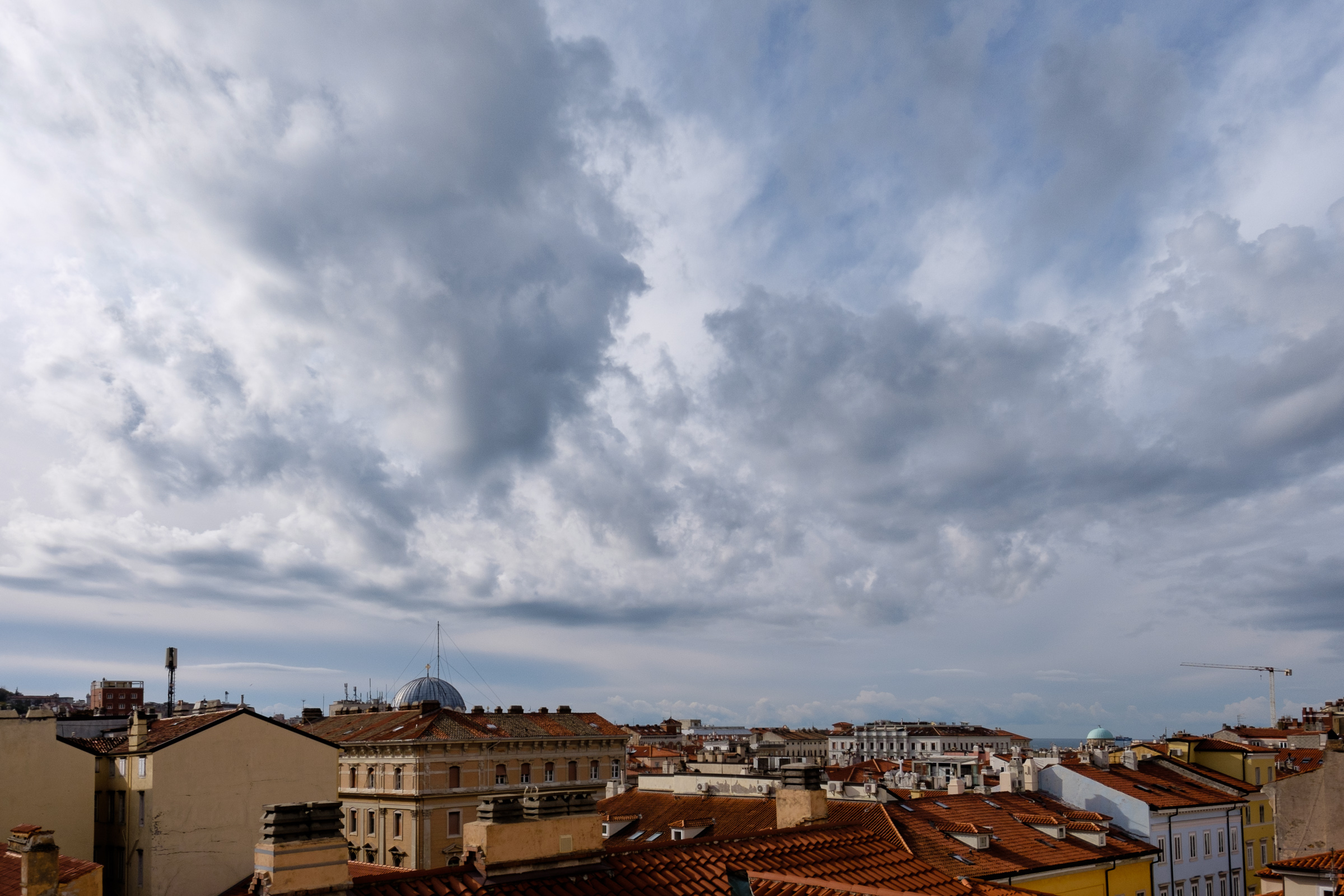 As you can tell I renovated the house as if I were going to live here, with all the possible care and love, and tripling my initial budget… L
It's all ready to welcome you during your stay in Trieste; it's very easy to book, just connect to Airbnb: MissClaireHome!
I traversed the entire town. Then I climbed a steep slope, crowded at first, deserted further up, closed by a low wall: a nook where I sit alone; and it seems to me that where it ends the town ends too.
Trieste has a surly grace. If one likes it, it is like a rascal, harsh and voracious, with blue eyes and hands too big to offer a flower; like a love with jealousy. Up from this slope every church, any street I discover, whether it takes to the huddled beach, or to the hill where, onto the rocky top, a house, the last one, clings. All around circles all things a strange air, a tormented air, the native air. My town that is in every of its part alive, has a nook made just for me and my life, pensive and reserved.
Foto di Andrea Zangrando