As you well know I was a guest for a couple of days at the event CARE's in Val Badia; an incredible experience that I've told you all about. https://www.missclaire.it/foodbeverage-eng/missclaire-at-cares-the-ethical-chef-days-2018/
What I hadn't told you about yet, was where I stayed when I was there! I immediately had to include him in MissClaire's space: because if we want to talk about excellence and uniqueness, I have to tell you all about La Majun🙂
We're at La Villa, in the heart of the Dolomites, an incredible place. The owners Roberta and Natalie, mother and daughter, don't want to define it only a hotel, they call it HOME. It's a place where you feel cosy, surrounded by genuine people.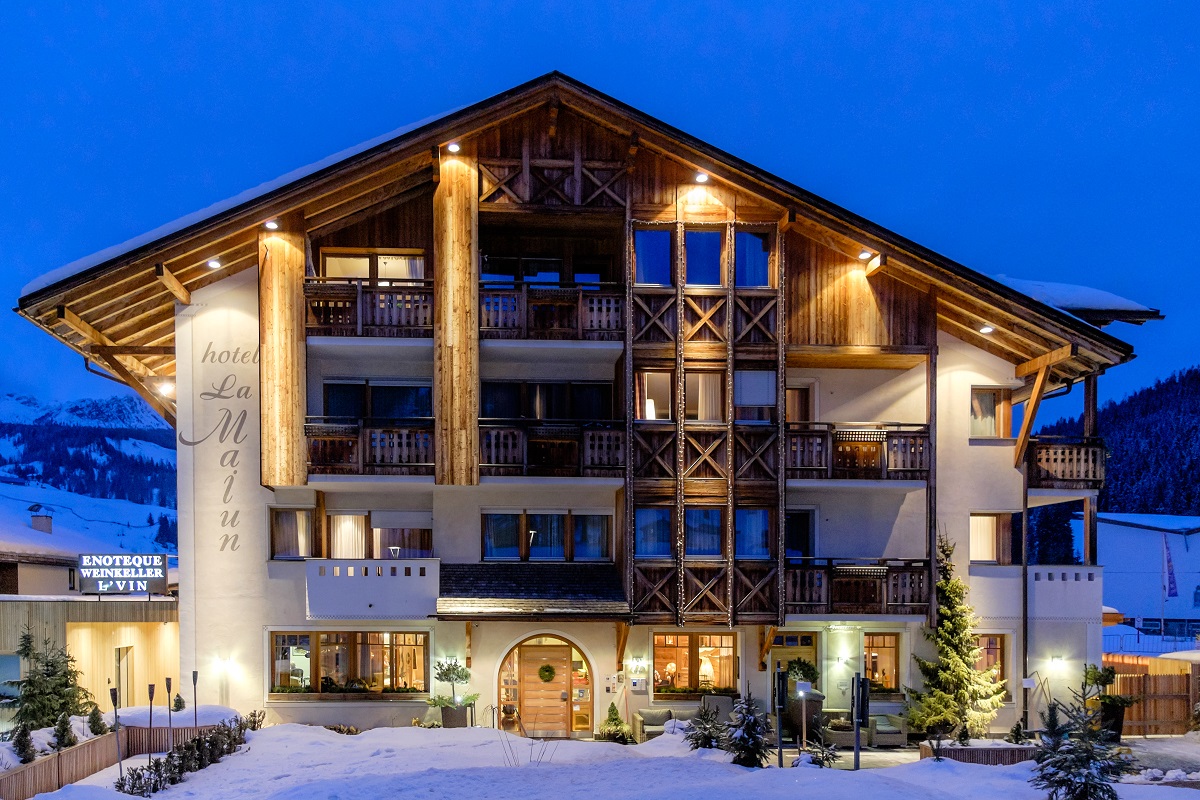 To be precise there are three women; La Majun is actually at its third generation. Everything happened in the seixties when Giuditta, mother of Roberta and other five children, finds herself alone to run a family. In these years, she starts running the first two rooms "la Villa Alpina" and with the help of her young children she sets the foundations of what will become, over time, an incredible place.
The location is perfect, from here you can walk to the famous "Gran Risa", a ski slope on which they host the world cup of Alpine skiing. But if you're not ski champions you just need to cross the road to a ski lift to a simple level slope. Whoever is staying there with their family and small children will be happy to find a ski camp for young learners right in front of the hotel. Your children can have fun on the slopes while you relax at the SPA or at the bar.
Great but let's talk about this lovely hotel (its name in Badiot means barn). You'll walk in to a cosy environment and a scent of fire wood; the furnishing is modern, and the colours are warm, Venetian red and grey prevail in the hall and in the suites where you'll spend wonderful days. The lighting and the fire place will make you feel wrapped in a hug! Almost a little nest.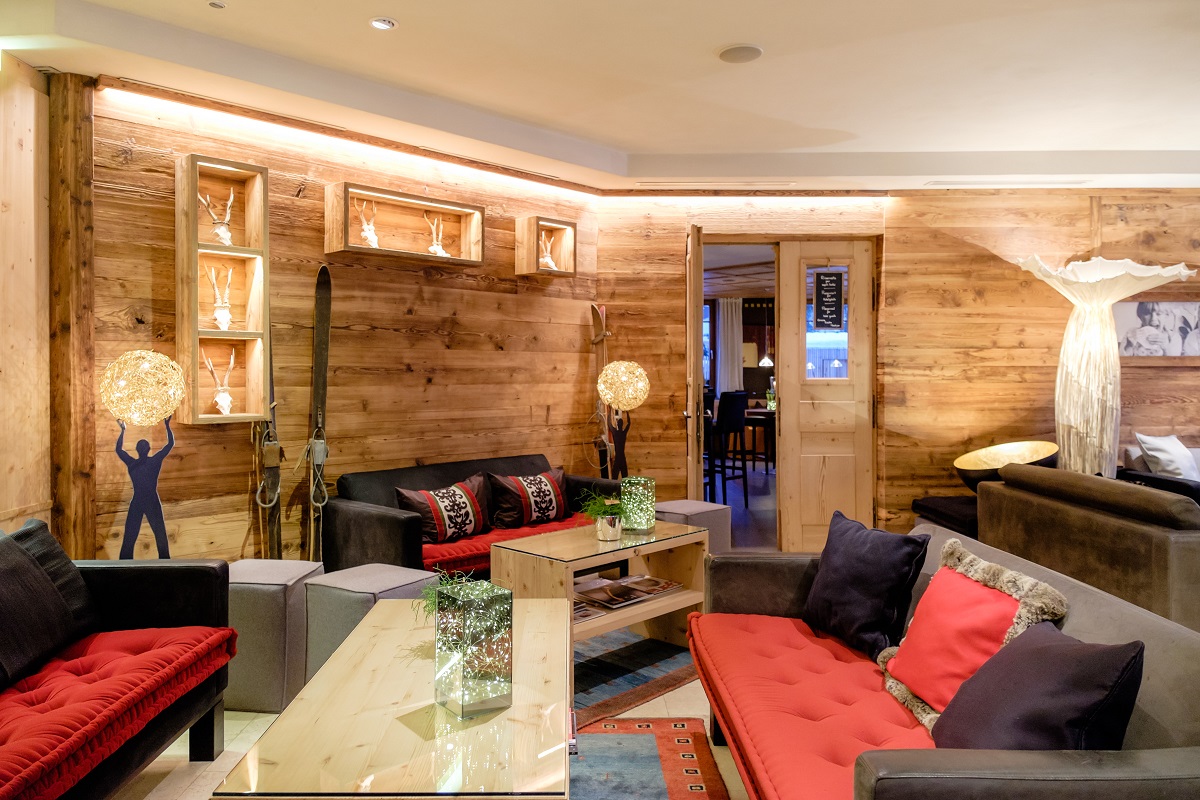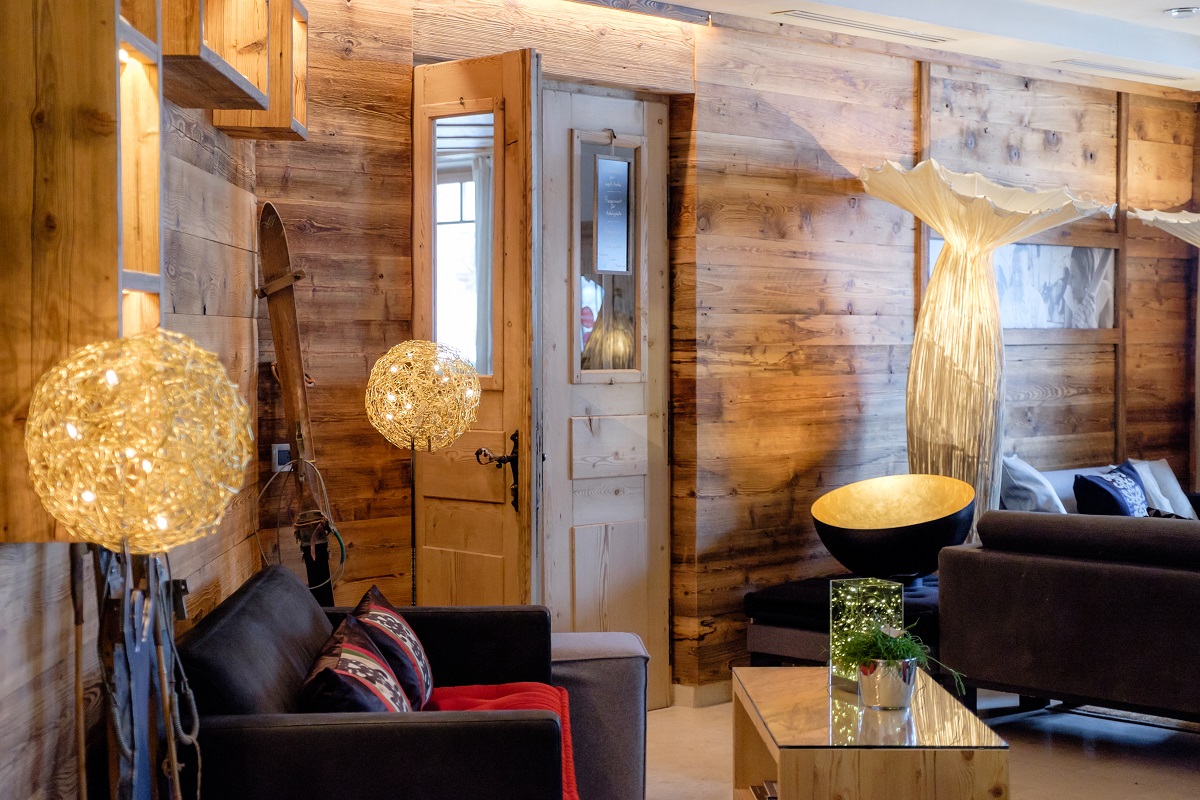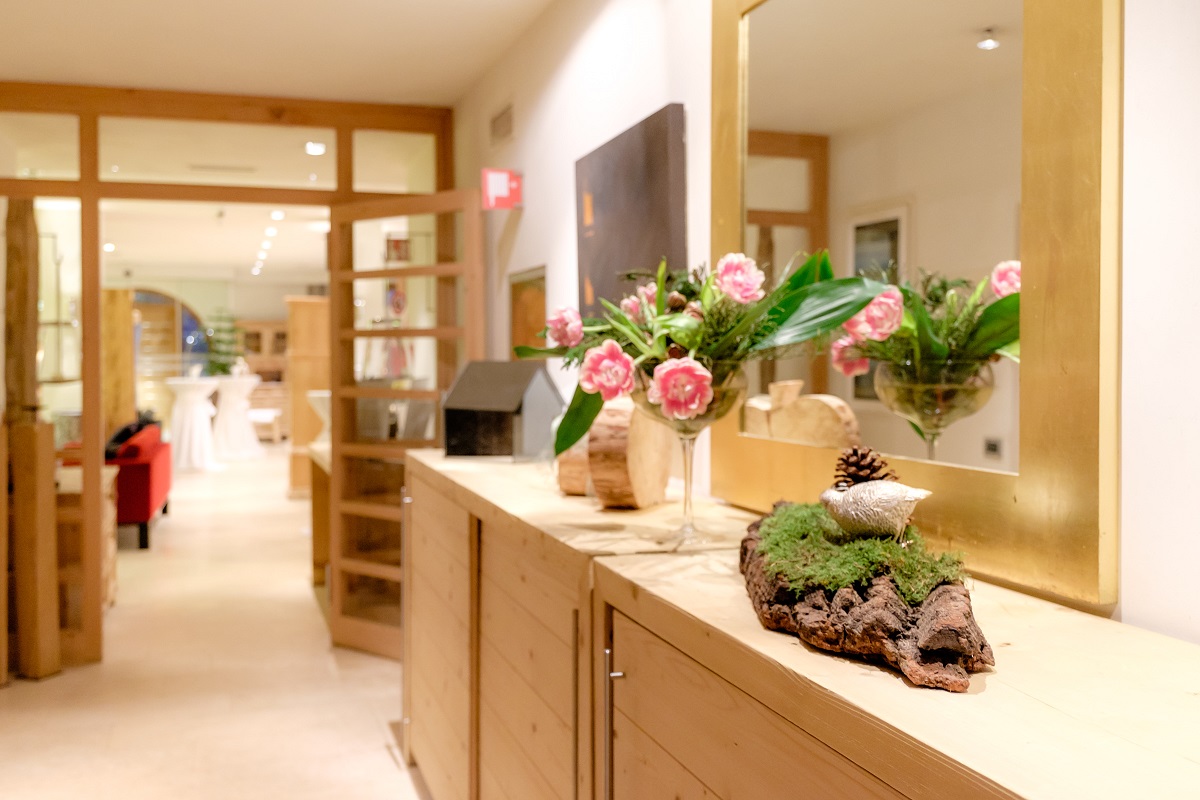 Everything is harmonic and well cared for, wherever I look I find ornaments or furnishings with a mountain style, but elegant look.
After my check in, Roberta invited me to taste something nice in the bar near the hall. I couldn't refuse! And that's when I found myself facing a buffet of delicacies. From strudel to wonderful scented cakes.
But I decided to resist! After all it is 1.30 pm, the perfect moment to postpone dessert and opt for a nice warm main dish J I sit in a small reserved dining room that faces the childen's ski camp I told you about before; here, in this little wooden room with large glass windows, I'm ready to taste La Majun's cooking.
What did I eat? Potato gnocchi with cheese and truffle fondue and spinach spätzle with finferli mushrooms. Delicious.
After lunch, I didn't even have the chance to go to my room because I was so curious I decided to wonder around. I started browsing around the restaurant and I immediately noticed a small door, pushed it open and reached a lovely relax room! Chaise lounges that face the lovely scenery of the Dolomites, surrounded by so much peace. WOW!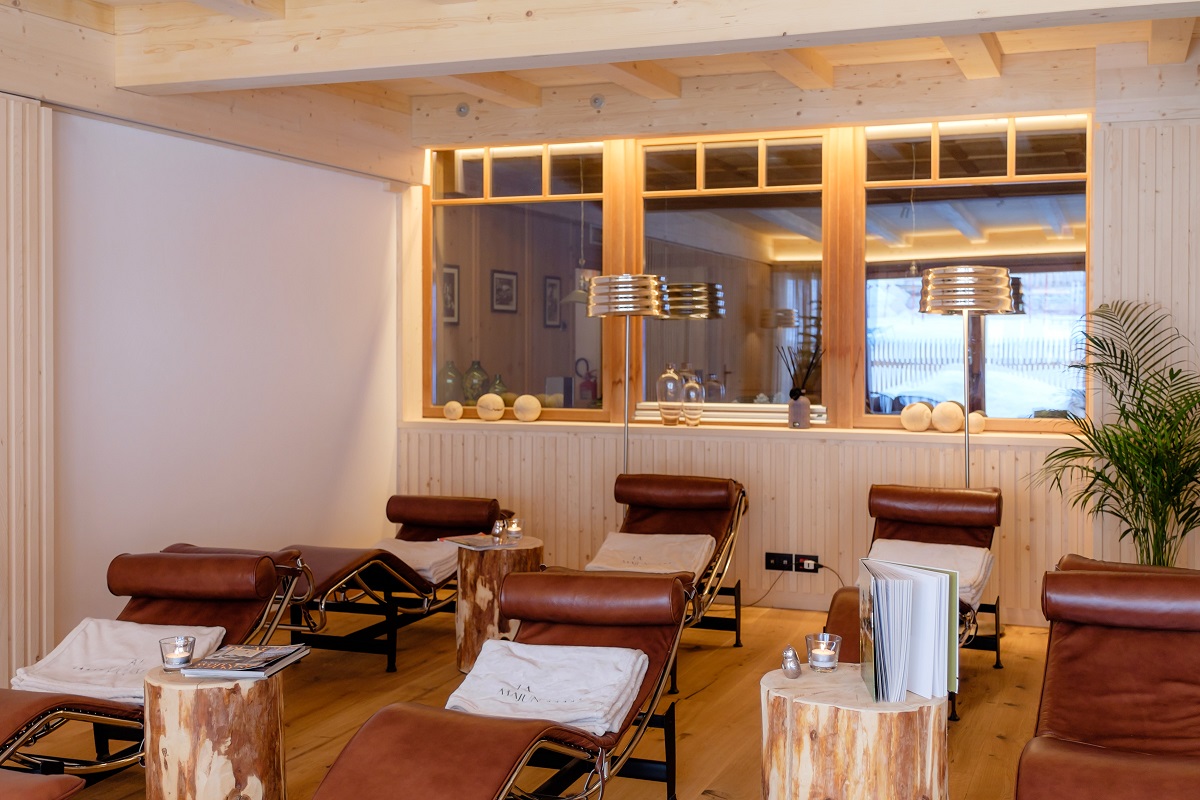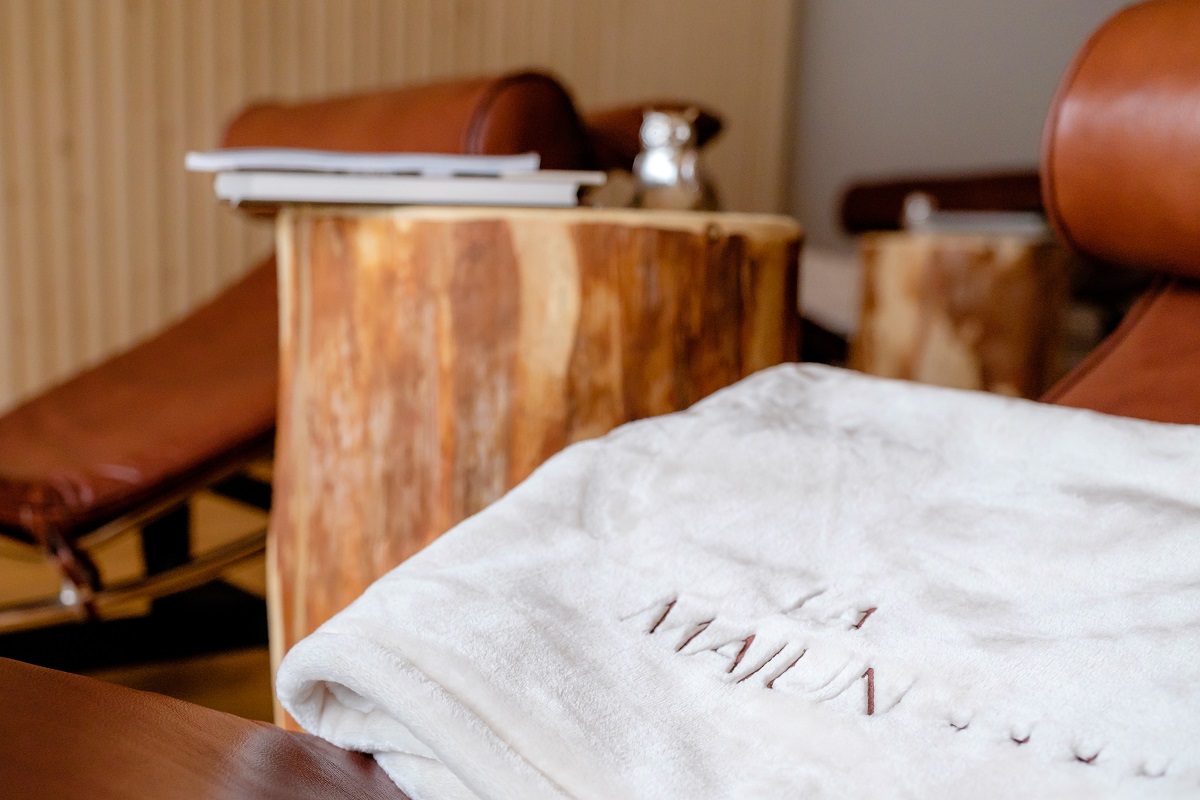 From here I go to the "Agana" wellness area, 600 square metres with (get ready for this): an indoor swimming pool with a view of the mountains, a jacuzzi tub, solarium, relax area with traditional wooden sun beds, a 60° and 85°sauna, salt Turkish bath, mountain flower Turkish bath, Kneipp treatments and a cold mountain water tub. Not enough? Agana also has a little living room with herbal teas, all made with spring water; everything is surrounded by soft music, candles and designer lamps.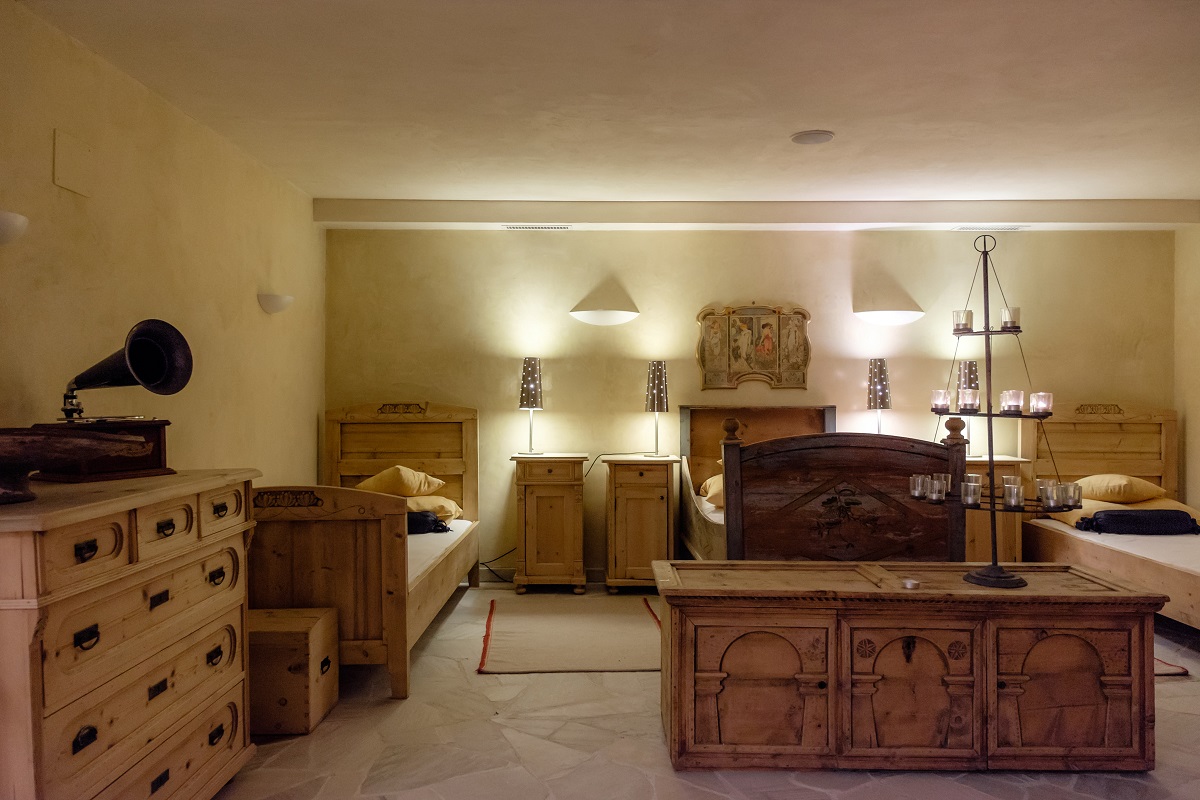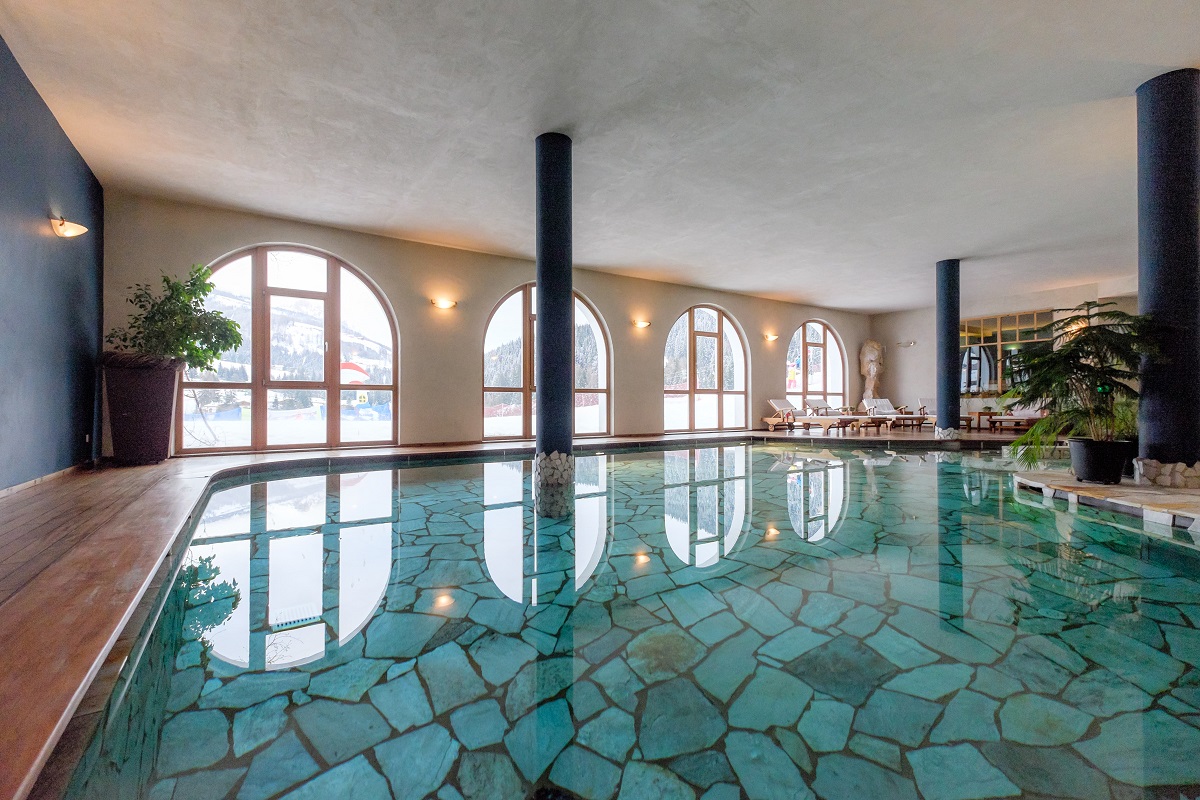 There's also a Beauty Farm where it's possible to choose one of the many treatments. Face and body, detox, relax, anti-stress and anti-age, aromatherapy, hay baths from the south Tyrol tradition, bandaging, peeling and much more!
But what about my room? It's finally time to check it out. Pure magic. As soon as the lift opens onto the second floor, a lovely scent takes me back to when I was 8 years old: what a flashback. A few emotional seconds, I hold my breath a second to try and capture it for a little longer…
Do you know what it reminded me of? The mountain hotel where my family used to spend the Christmas holidays every year. I remember that scent, but just my mother and sister understand what I mean. The scent of wood mixed with the smell of the PizBuin sun cream! Remember? I'll give them a call and ask them J
But I won't bore you any longer. Shall we continue? I pass the key card and I'm in, a 45-square metre suite with a private balcony and two bathrooms. A paradise.
Wood, warm coloured furnishings, king size beds and a collection of cushions (they also have wheat cushions which are naturally soft), a small living room and a balcony facing the mountains of Lavarella e Piz La Ila.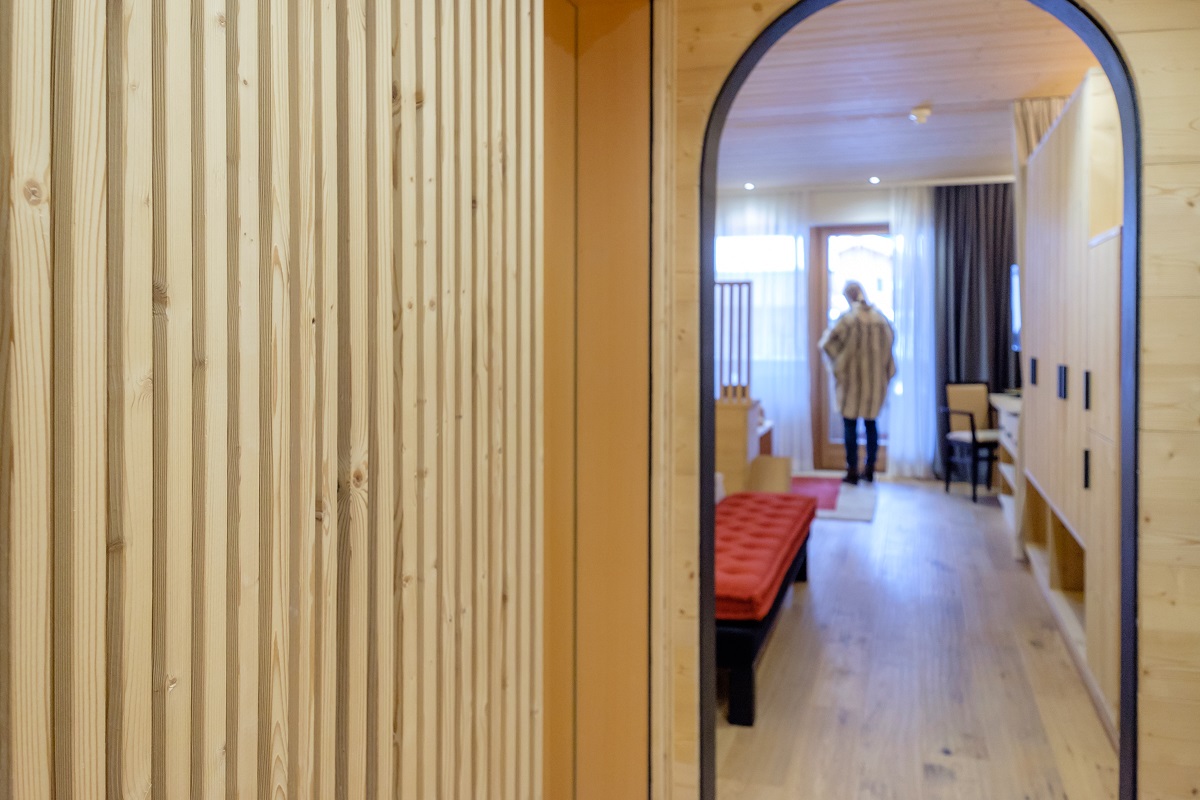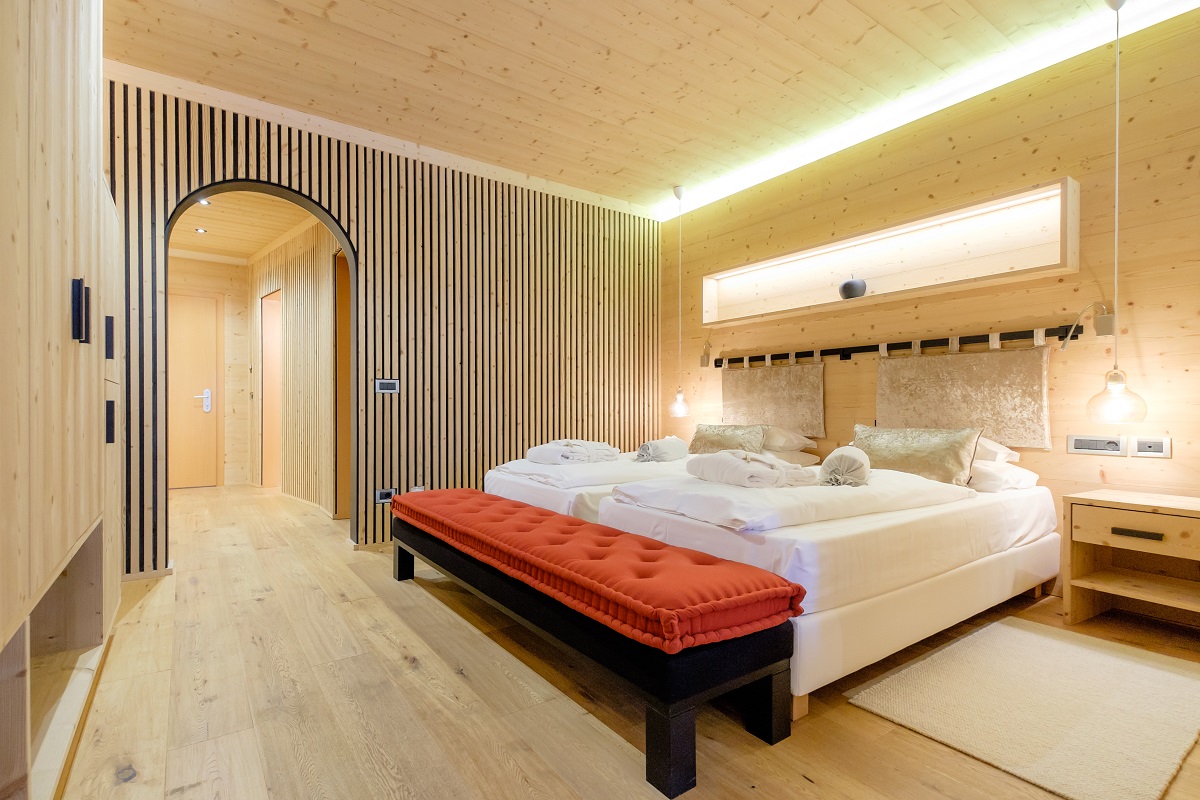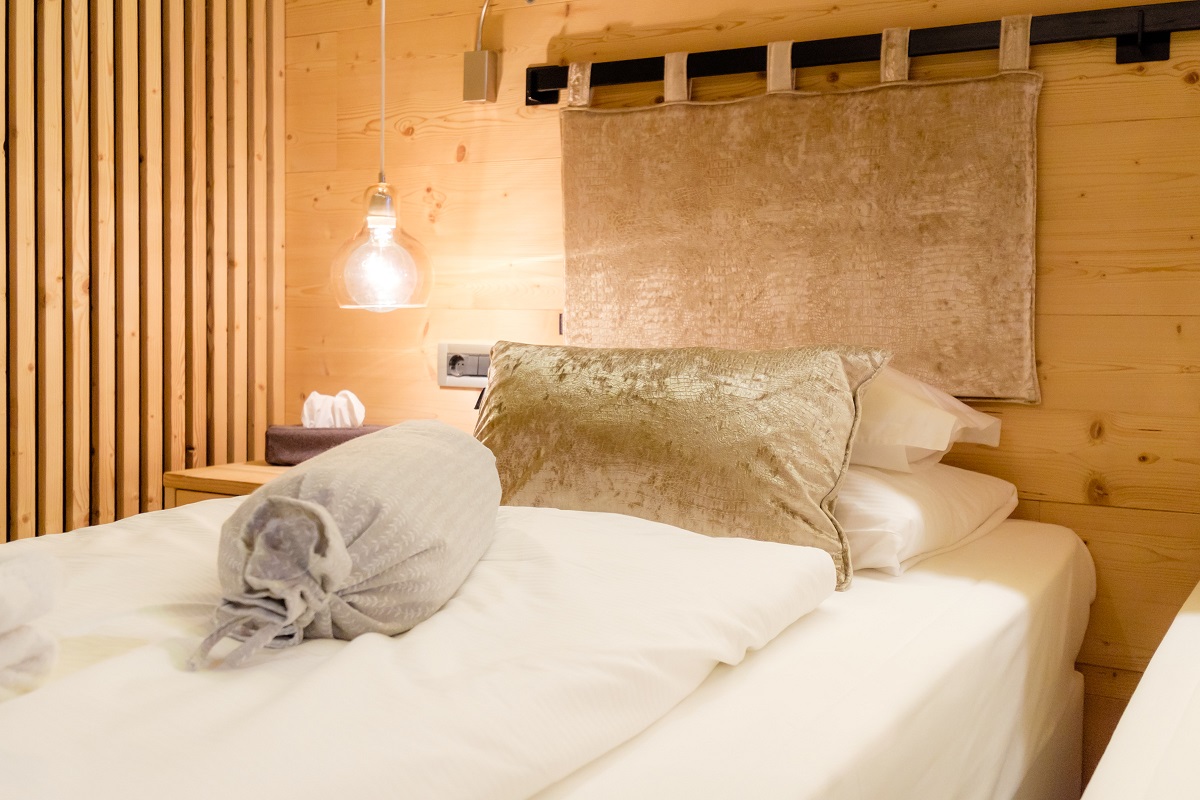 I slept wonderfully in this place: and the breakfast was wonderful… marmalade, black bread, fresh juice, speck and cheese got me out of bed and reminded me of all the flavours of this enchanted location!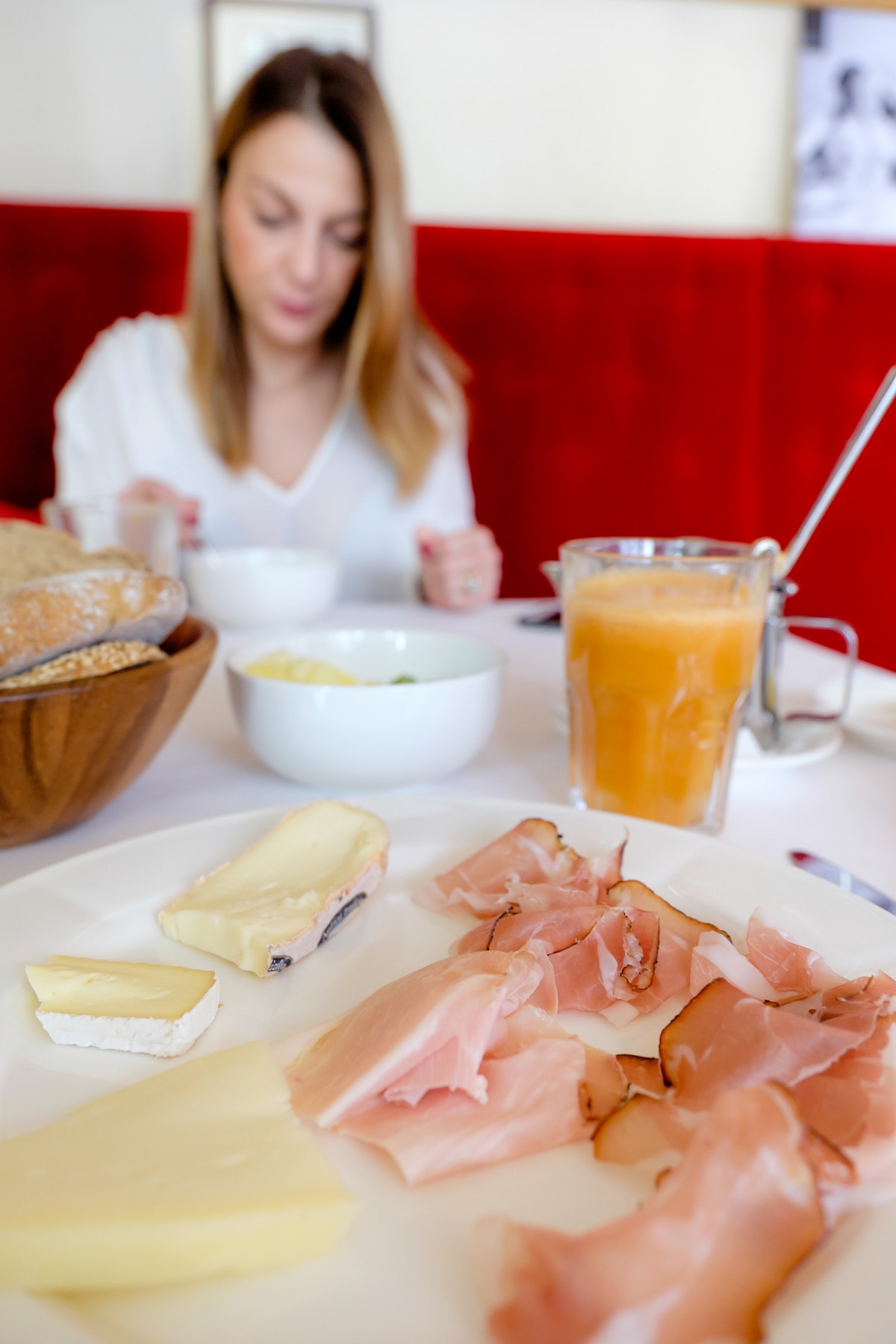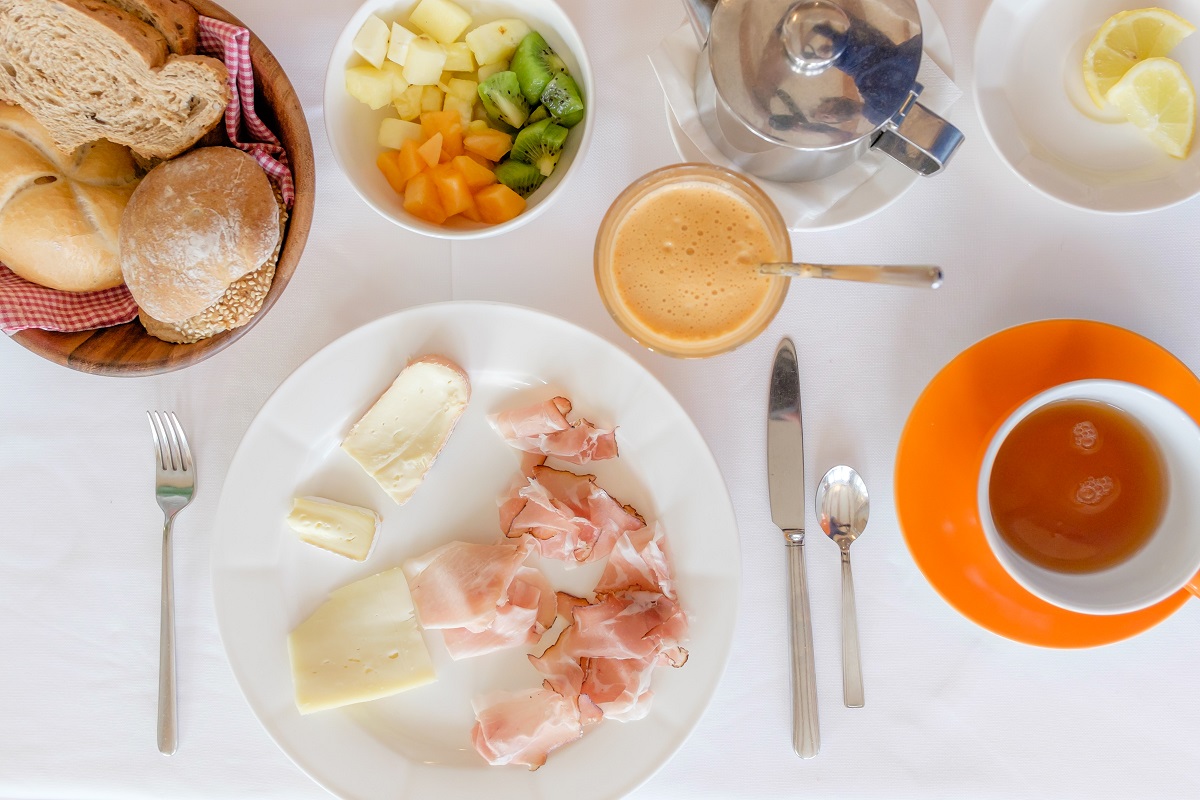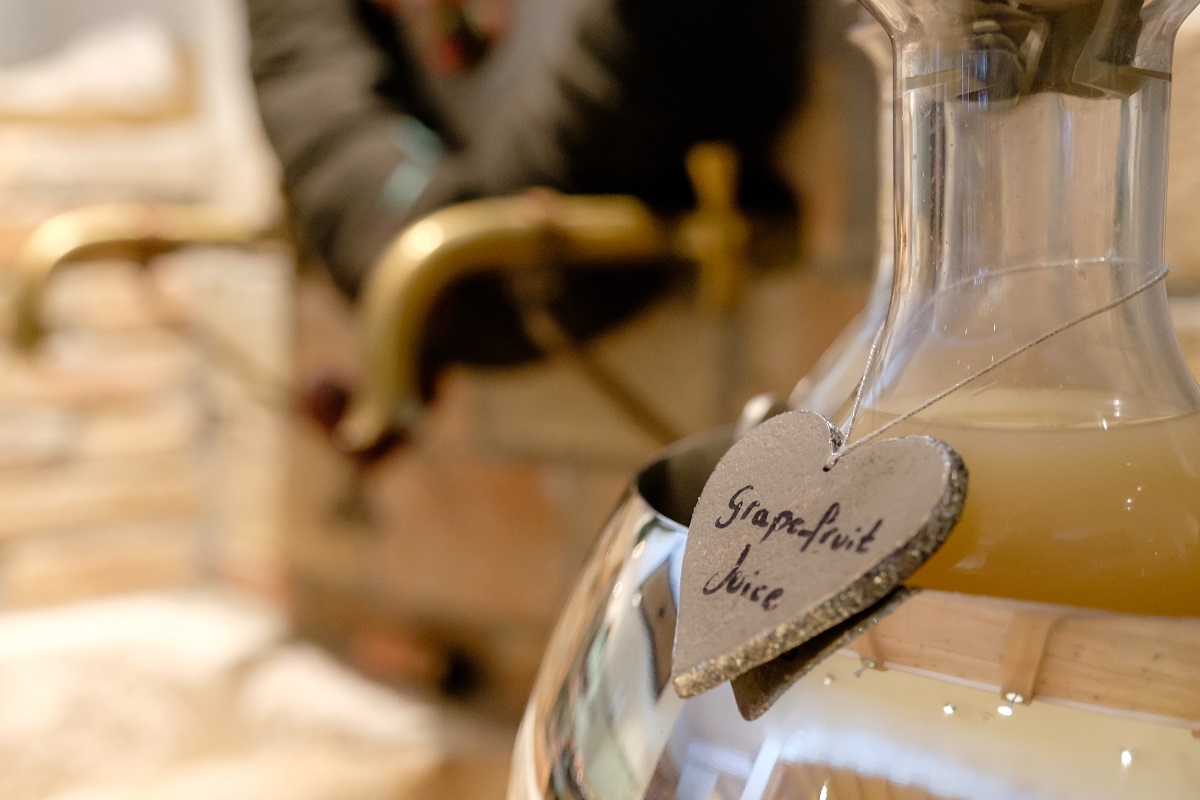 And as usual I realized I just wrote a really long article, but La Majun was a great discovery; thanks to the hospitality and warm welcome Roberta, Natalie and their staff gave us, I understand why the two rooms they initially rented out turned into such a wonderful place. With hard work, passion and love for what you do every day you have great results!
The power of perseverance is supreme: who has tenacity as their guide, will reach each finish line. Failure is incompatible with perseverance, it can't keep up. (Napoleon Hill)
Ph. Andrea Zangrando