If you've followed my stories you'll know that for the first time ever I took part in CARE's, which was probably the most incredible and fantastic experience I've ever had since I started this job. Three wonderful days that I can't wait to share with you.
Over 2.000 photographs, 38 chefs, 40 tastings and… I can't even count how many people I met, just as I can't count the cocktails I tasted and how many meetings I took part in. Well, I should start from the beginning, let's try to keep track of everything.
What is CARE'S, the event that this year is in its third edition? I've already told you about this in another article (here it is https://www.missclaire.it/foodbeverage/etica-e-sostenibilita-in-campo-food-mi-preparo-per-cares-2018/), but I can summarize it: CARE's gathers 38 famous international chefs, that meet in the Dolomites for the winter edition, precisely in Alta Badia. The event is planner by Paolo Ferretti, Norbert Niederkofler and Giancarlo Morelli and the main purpose of the event is to attract interest on sensible subjects. FOOD WASTE, RECYCLE, WASTE DISPOSAL, NO WASTE, REDUCING WASTE, the CONCEPT of COMMUNITY in THE LOCAL TERRITORY, EDUCATION and SCHOOLING as TOOLS to REACH SUSTAINABILITY and much, much more.
The matters were all discussed by important people from the restaurant industry; because they have to be the ones to give the good example. Who else could?
Each of them, along with the sponsors (carefully chosen, of course, because also multinational companies have started representing their projects for sustainability and environment protection), gave their contribution in sustainability and food ethics.
All dishes were created respecting the territory and the importance of the quality of the ingredients, which are connected to small local producers and respect the season of the different products. A chef's main task is that of correctly explaining concepts of no waste and involving the client, the supplier and the producer in topics of sustainability.
This is what CARE's focuses on, an event which is not only a large party in a dream location, where you drink and eat excellent food. No.
CARE's is so much more, it captures you, takes hold of you and shakes you until you understand the importance we each have – not only internationally famous chefs – in environmental protection.
If only we started emptying our fridge before we filled them with more food, maybe trying to be creative with the few left overs we have, with a NO WASTE attitude, then we can hope to guarantee a better future for ourselves and for our children.
But get on board now because I'm taking you on a trip to the Dolomites!
Travel Journal
Day one. Sunday the 14th of January
Hotel Fanes – San Cassiano "Sustainability in the production of sparkling wines worldwide"
An encounter with the Master of Wine Essi Avellan. After an introduction on champagne, Essi focused on the company Ferrari (a CARE's sponsor), telling us how the company managed to adapt to modern values while holding on to past traditions; the strong connection with the local territory (the Trentino Region), sustainability as a social responsibility, respect for the environment and for the health of all its workers, management of the production chain from the vines to the table and the search for excellence in every detail.
All the 100 hectares owned by the Lunelli family are certified organic; no pesticides or weed-killers, just sustainable treatment with natural methods.
I'm sure you'll want to know what we tasted! An excellent perlè from the Ferrari vineyards on the highest mountains of the Trentino. The significant change in temperature between day and night helps the development of a perfectly balanced acidity and a strong aromatic profile… cheers!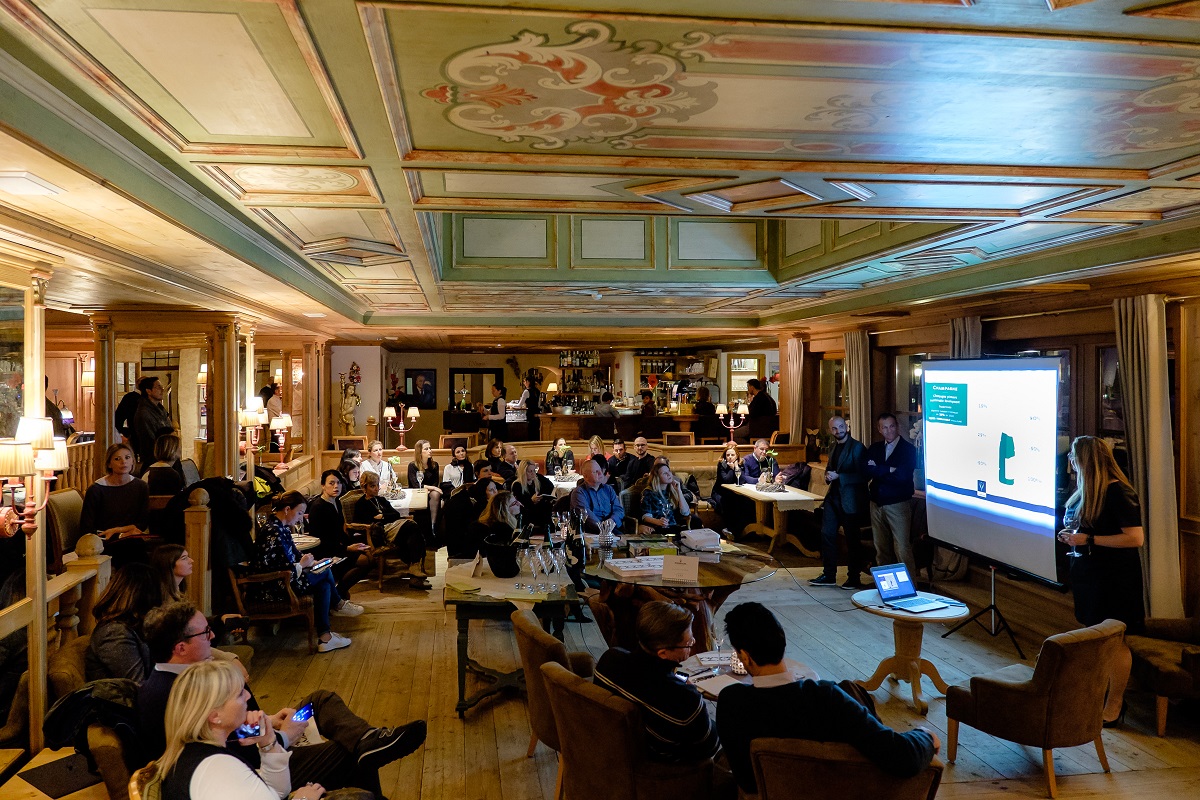 WELCOME DINNER – Hotel Rosa Alpina San Cassiano
After a warm welcome at the Rosa Alpina, we're ready for a dinner made by 11 hands… or rather 11 chefs (that I'll name one by one)! I admit I didn't taste every serving but everything was impeccable 😉
ANDREA BEDIN Hotel Col Alto, Corvara (BZ), MASSIMO BUSIN Hotel Sassongher, Corvara (BZ), ALEXANDER EGGER Sporthotel Panorama, Corvara (BZ), THEODOR FALSER Johannesstube, Nova Levante (BZ), GIUSEPPE GRAVELA Hotel Cristallo, La Villa (BZ), ANDREA IRSARA La Stua dla La, Badia (BZ), MICHELE LAZZARINI St. Hubertus, San Cassiano (BZ), MARTIN MAIRHOFER Reipertingerhof, Brunico (BO), SERGIO MEI Hotel Sassongher, Corvara (BZ), SIMON TIREL Hotel Diana, La Villa (BZ), ANDREA TORTORA St. Hubertus, San Cassiano (BZ)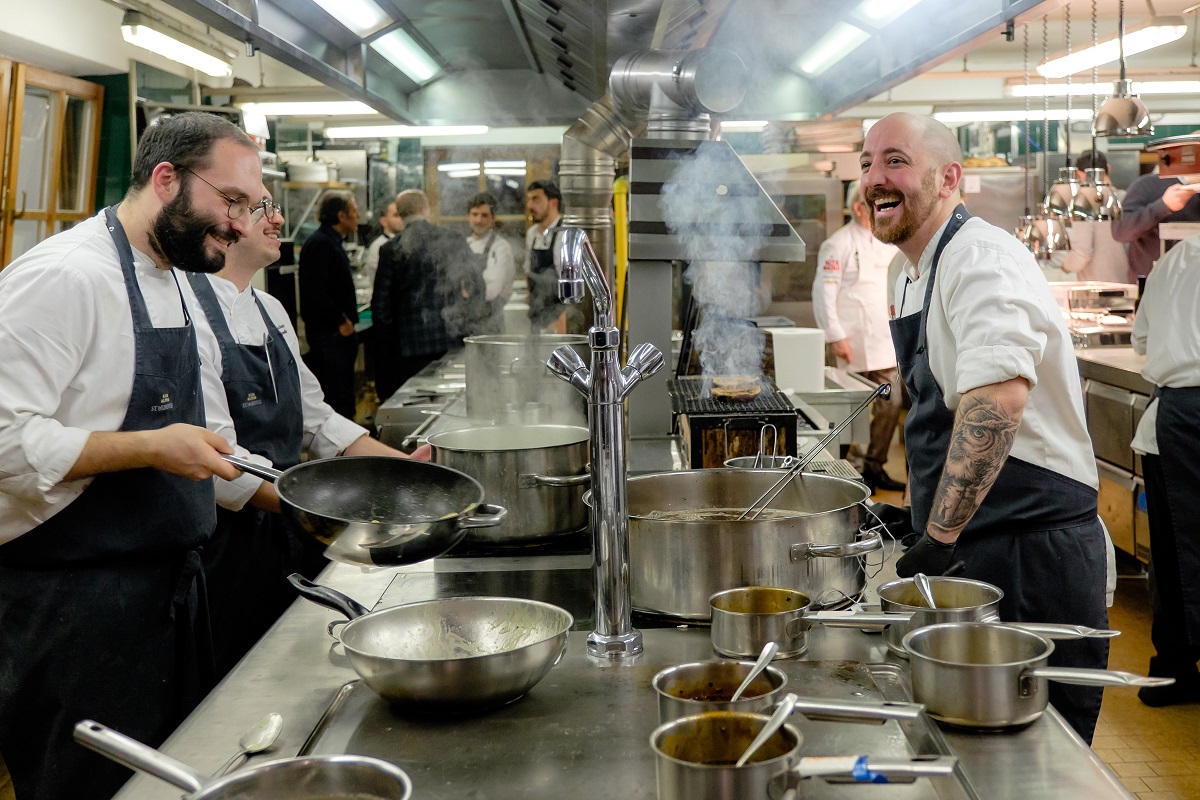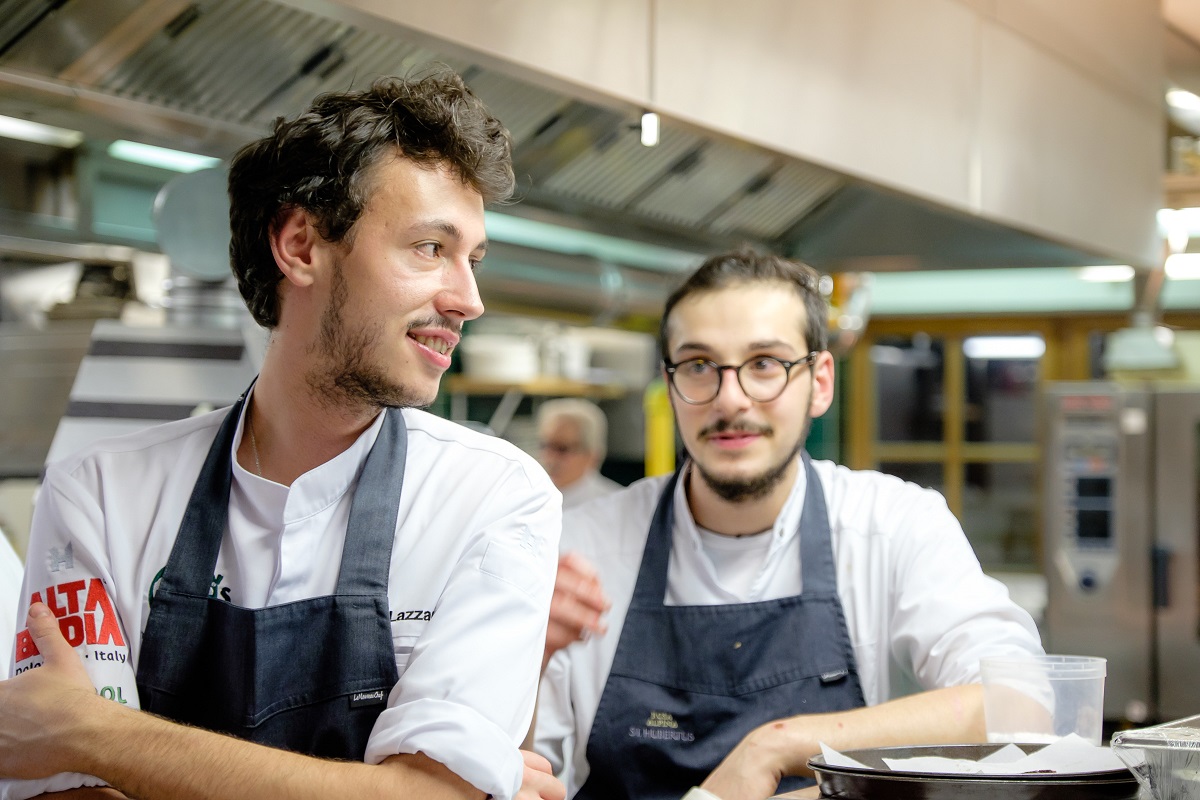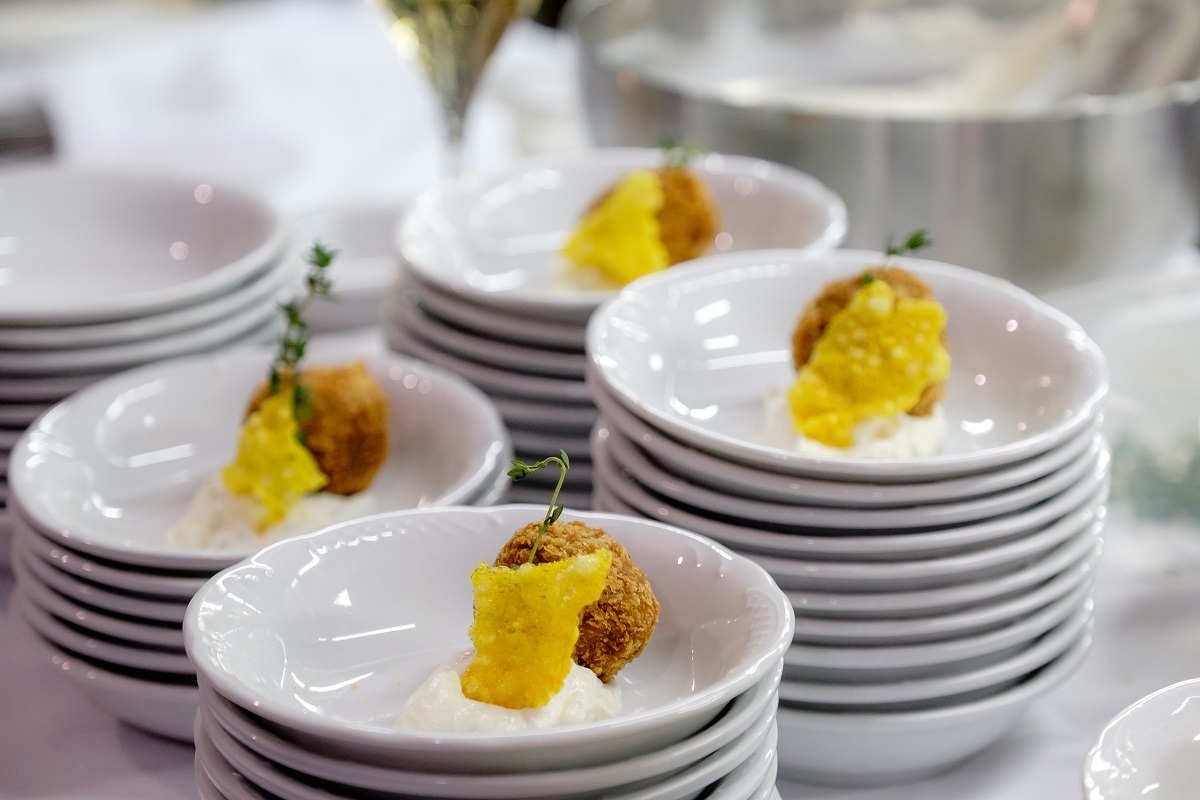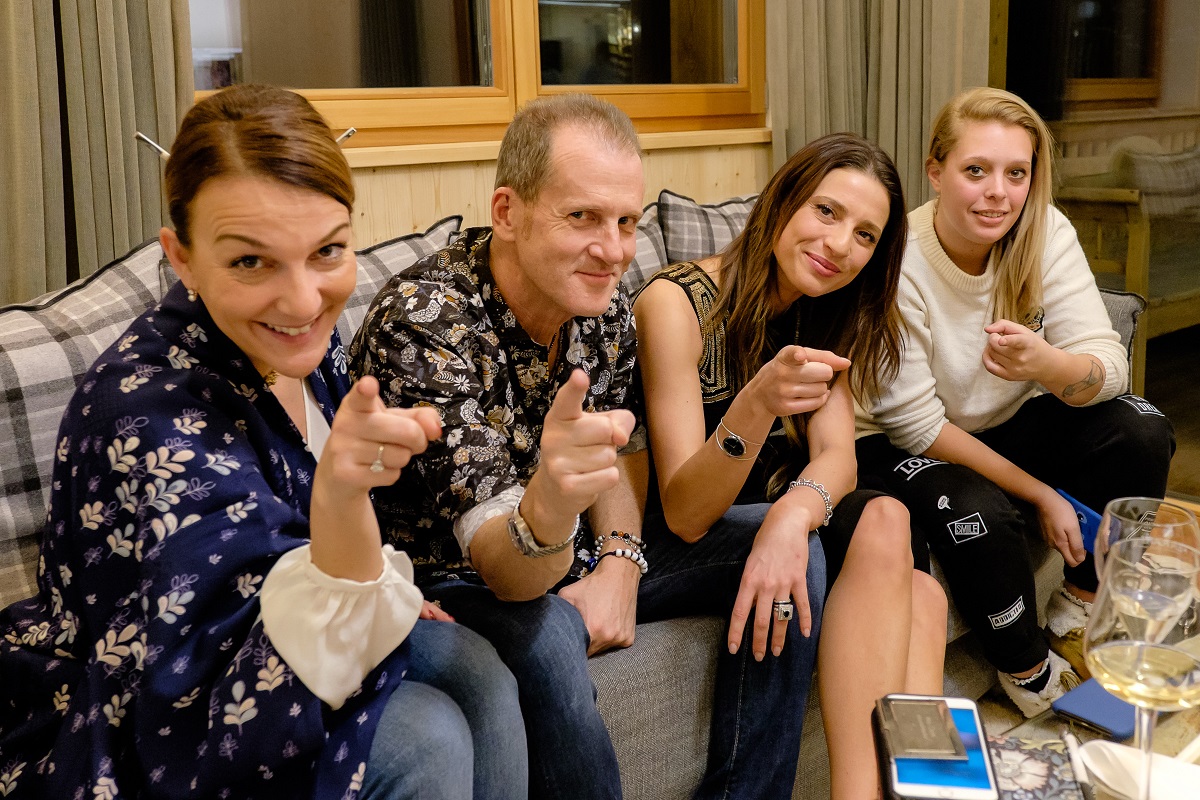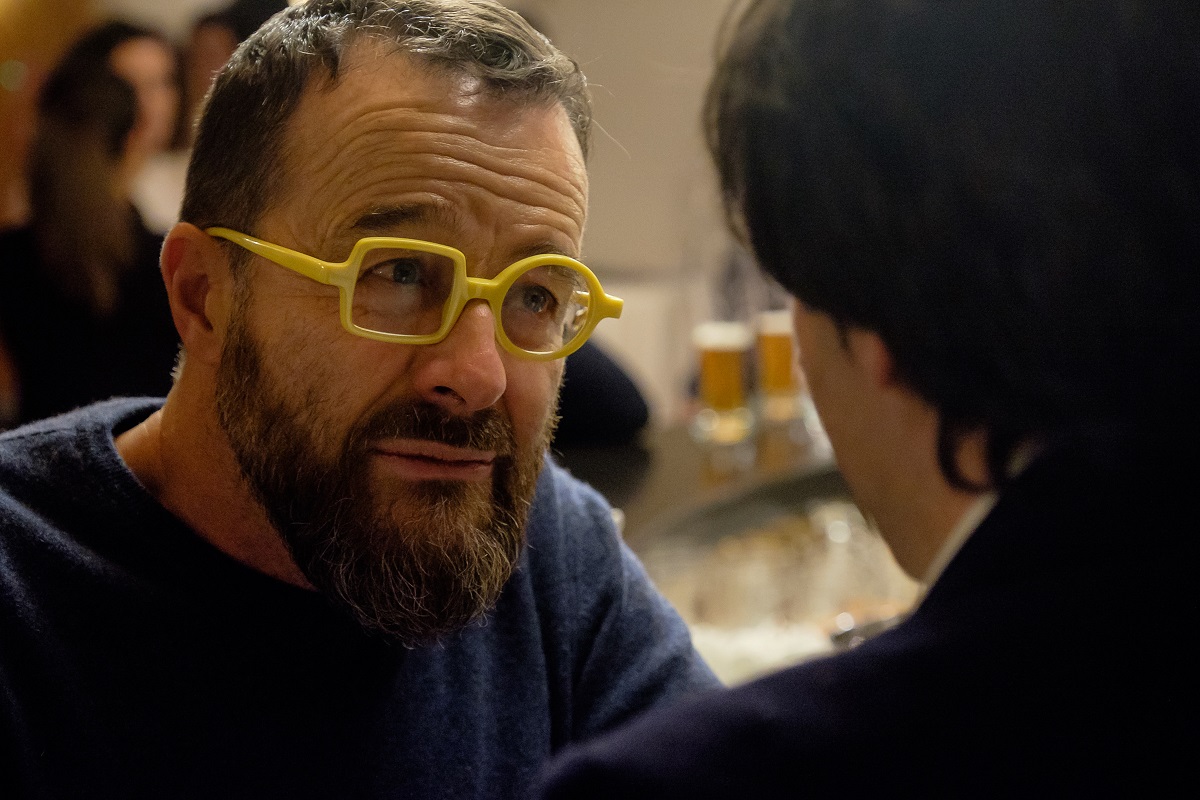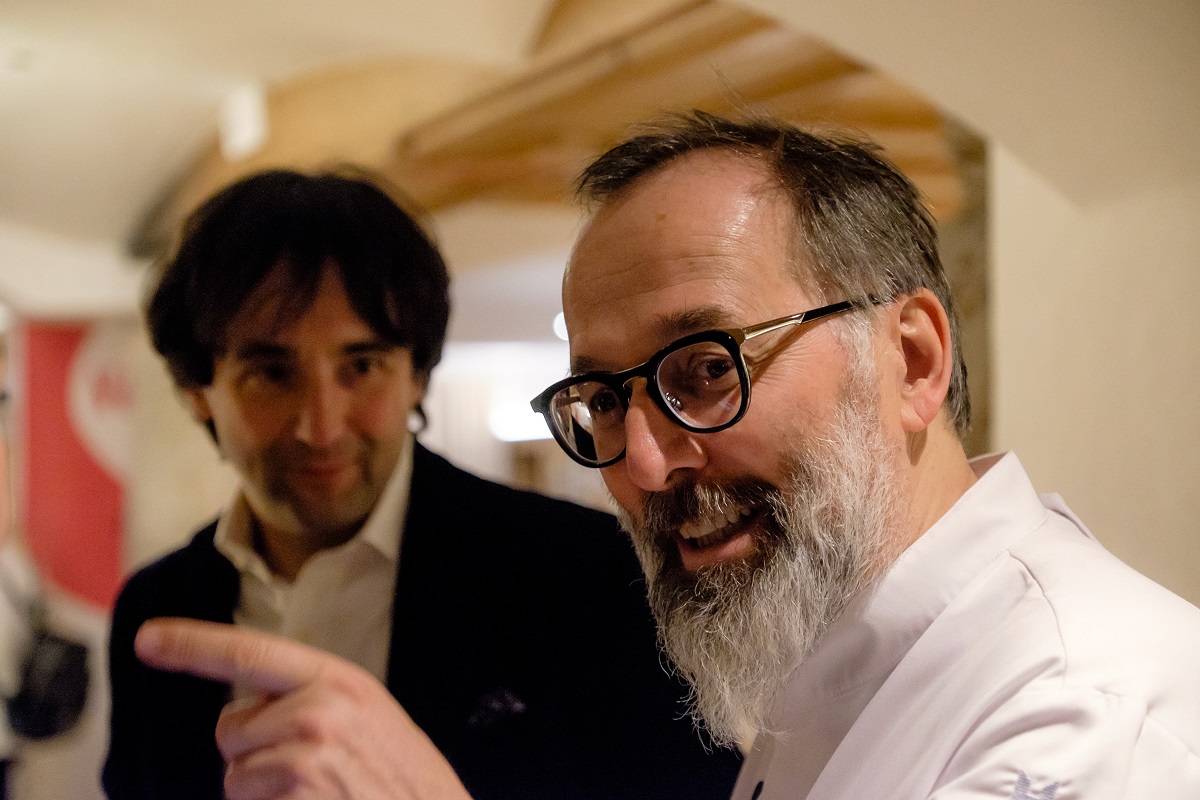 AFTER DINNER PARTY – Hotel Cristallo La Villa
Everything was organized in detail, even the after-dinner party that went on until late… and I couldn't miss out on joining the entertainers: Tomaž Kavčič and Flavia Furios, Giancarlo Morelli (vocalist for the evening), Norbert Niederkofler and the famous Fabrizio Nonis with Veronica De Filippis!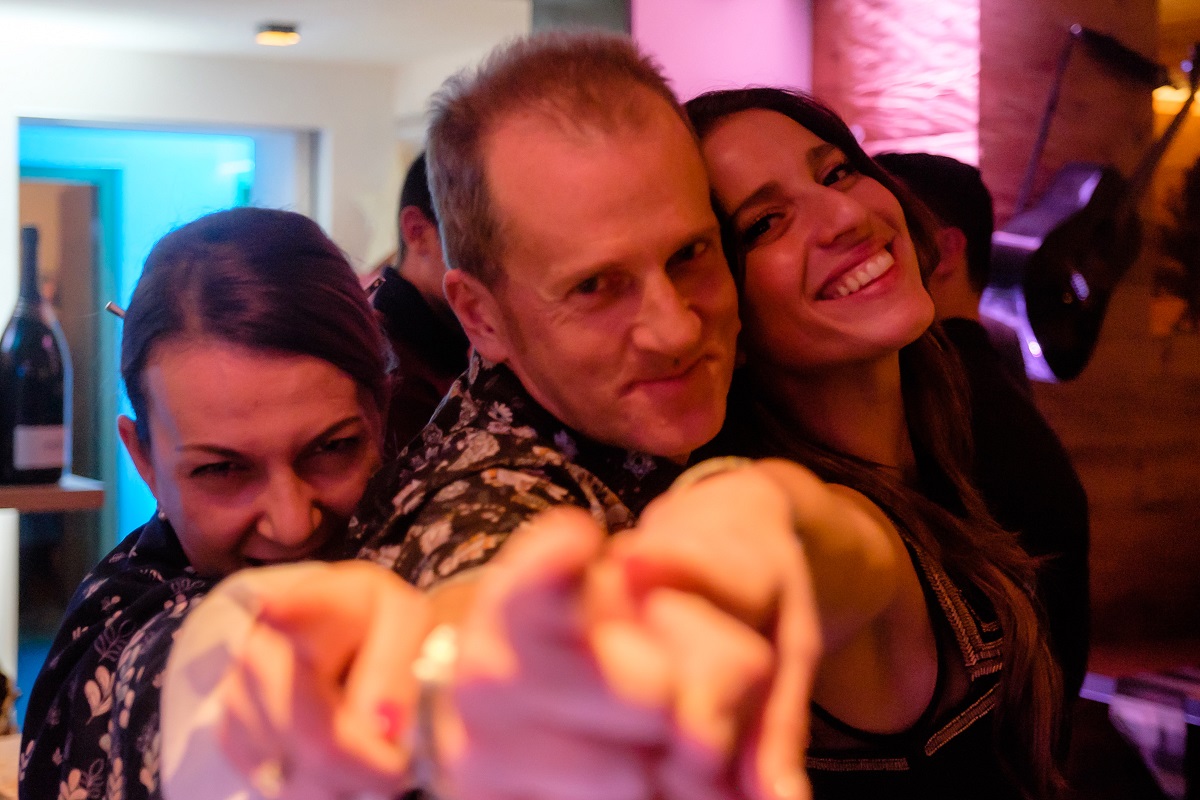 Day two. Monday the 15th of January
COOKING MASTERCLASS: CULTURAL CHANGE CIASA DLA CULTURA, LA VILLA
The topic of contaminations in the kitchen was also very interesting. I listened to the presentation of only one of these chefs because I then ran off to catch the cable car that took me straight up to Rifugio Moritzino (where a special lunch was waiting for me)… but here are a few photographs of Takeshi Iwai, class of 1978, born in Tokyo and now chef at Ada e Augusto in Milano 😉
TAKESHI IWAI Ada e Augusto, Gaggiano (MI), MITSUHARU TSUMURA Maido, Lima – Perù JOCK ZONFRILLO Orana, Adelaide – Australia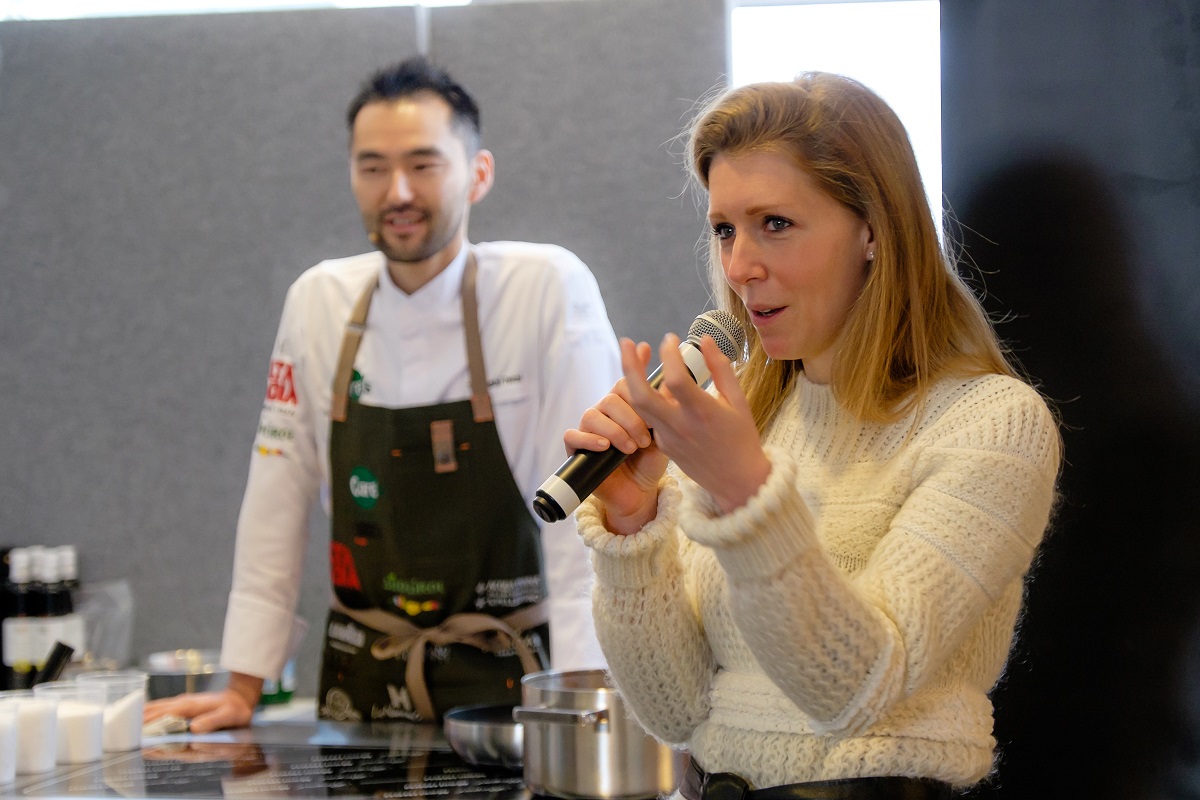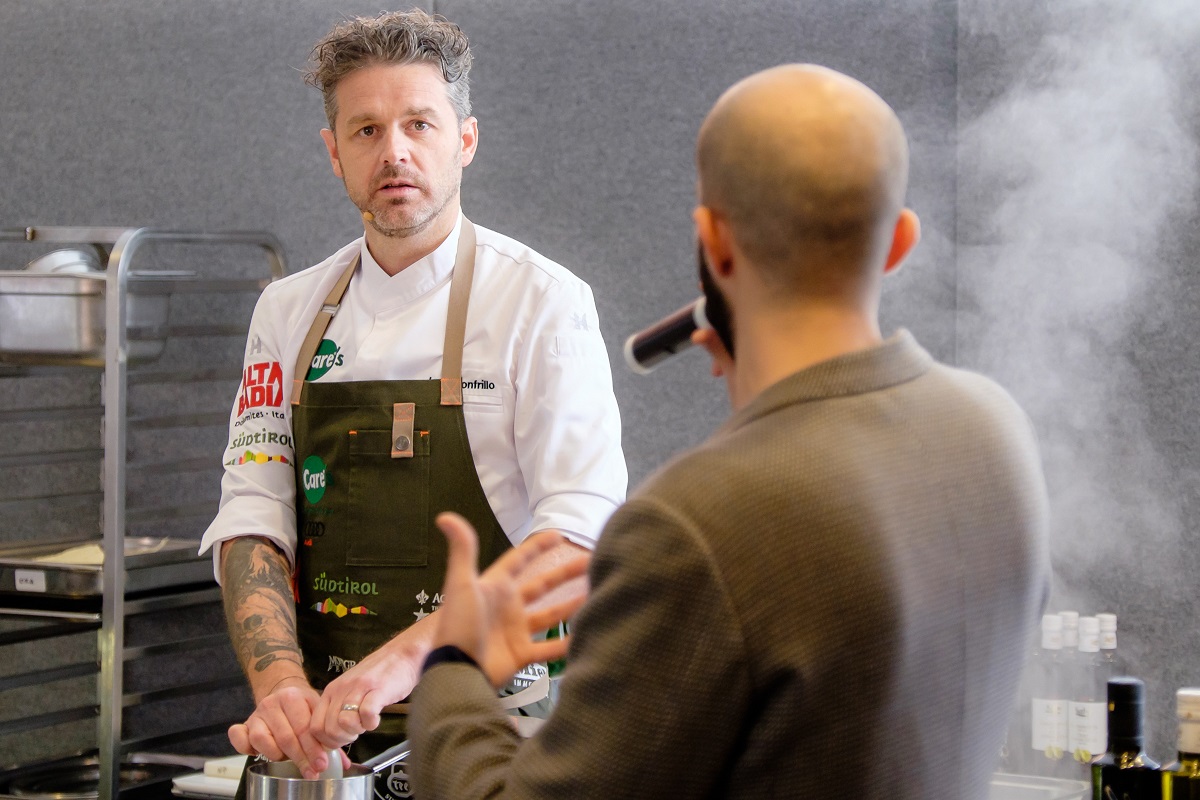 LUNCH AT THE RIGUGIO – Rifugio Moritzino, Badia (BZ)
I've reached high ground now and the view in breath-taking, with the sun filtering through the clear air as the background music moves everything with a steady rhythm. I see some people get here skiing, while others like me are rushing from one event to the next and prefer walking boots, and some are already here to warm up the pots and pans.
Here's Fabrizio Nonis to present his cotechino in bread crust, and even if I don't go mad for cotechino I had three helping of this lovely wrap! Then we all sit at our tables and I discover I have the honour of sharing a table with the patron of MIELE and its staff (who are also partners of the event).
We chat happily as we're served Edoardo Fumagalli's dish of Porcini mushroom soup, with golden toasted bread and a cube of brazed beef, and to follow Filippo La Mantia's dish of pasta margherita or reginella with red anchovies and fish "meatballs".
And the dessert? I couldn't miss out on a dessert designed by Andrea Tortora, an incredible ricotta cheese cake with fruits of the forest. I have just about enough time to sip a glass of Prime Uve and then I'm off to another event. NEXT!
FILIPPO LA MANTIA Filippo La Mantia – Oste e Cuoco, Milano, EDOARDO FUMAGALLI La Locanda del Notaio, Pellio Intelvi (CO), FABRIZIO NONIS Butcher & Chef, El Bekèr, ANDREA TORTORA
St. Hubertus, San Cassiano (BZ)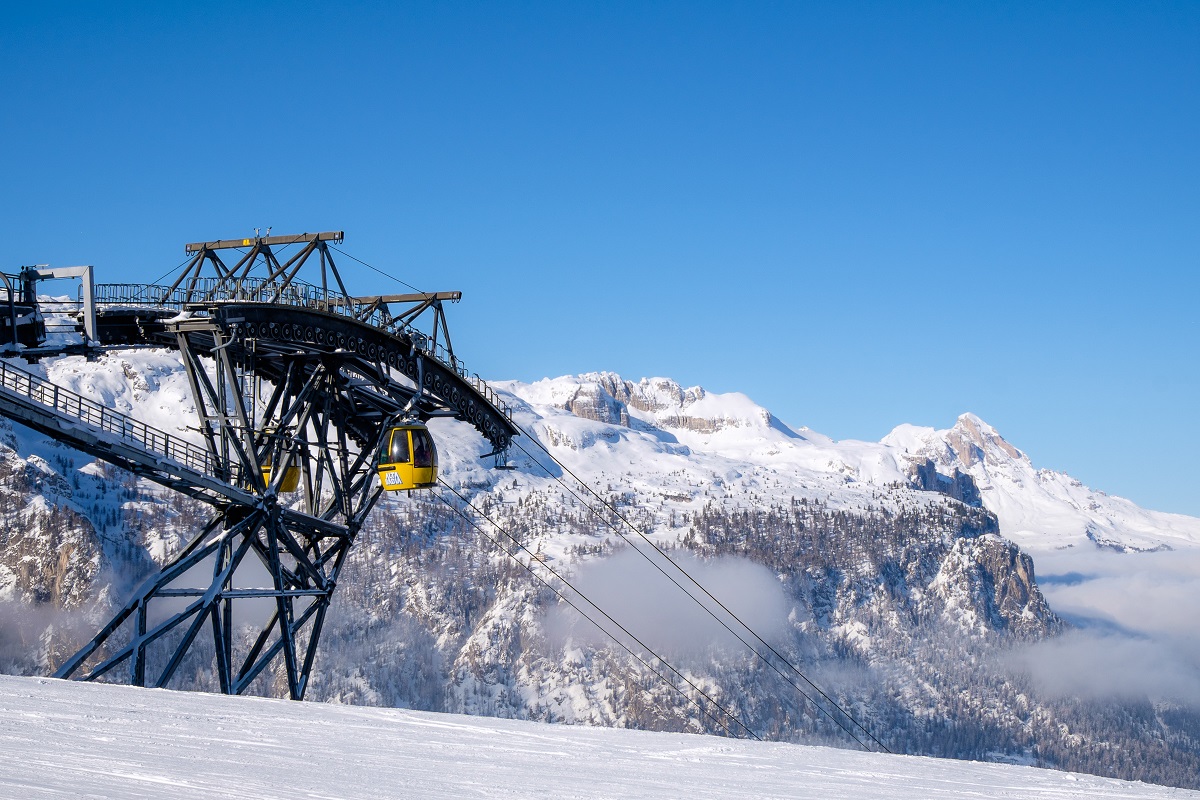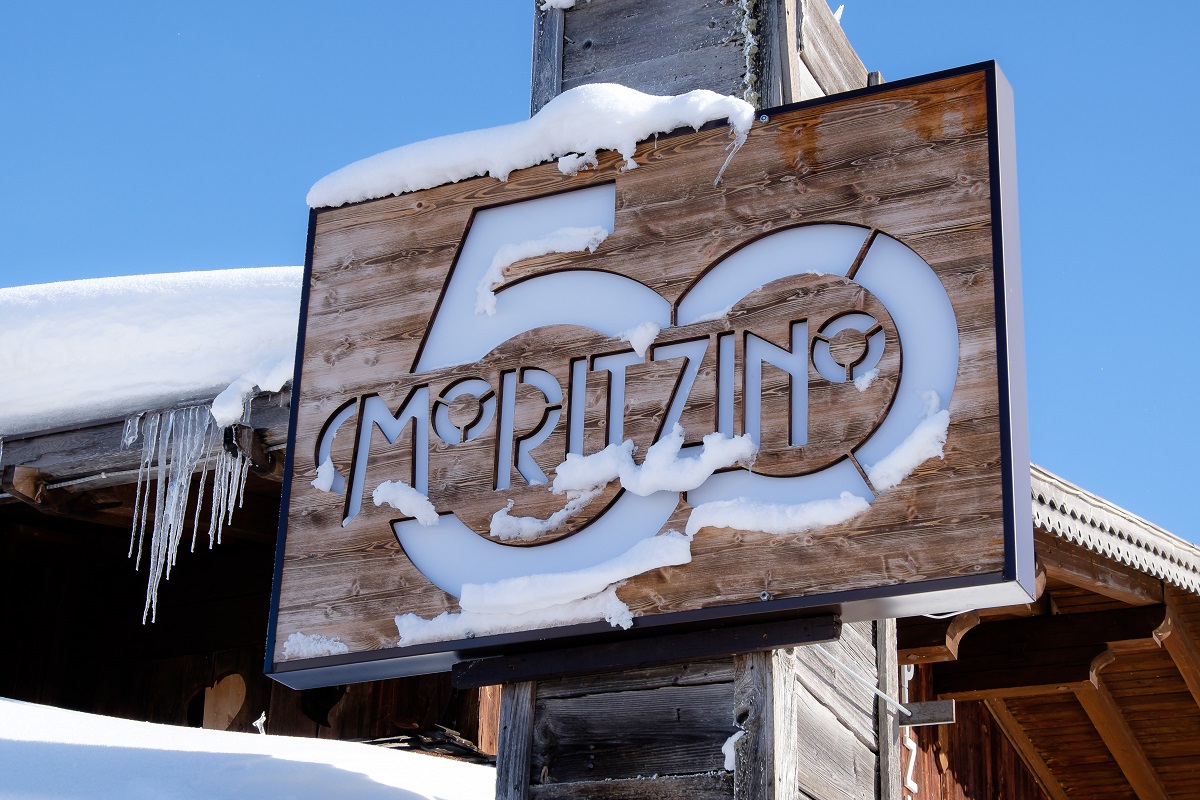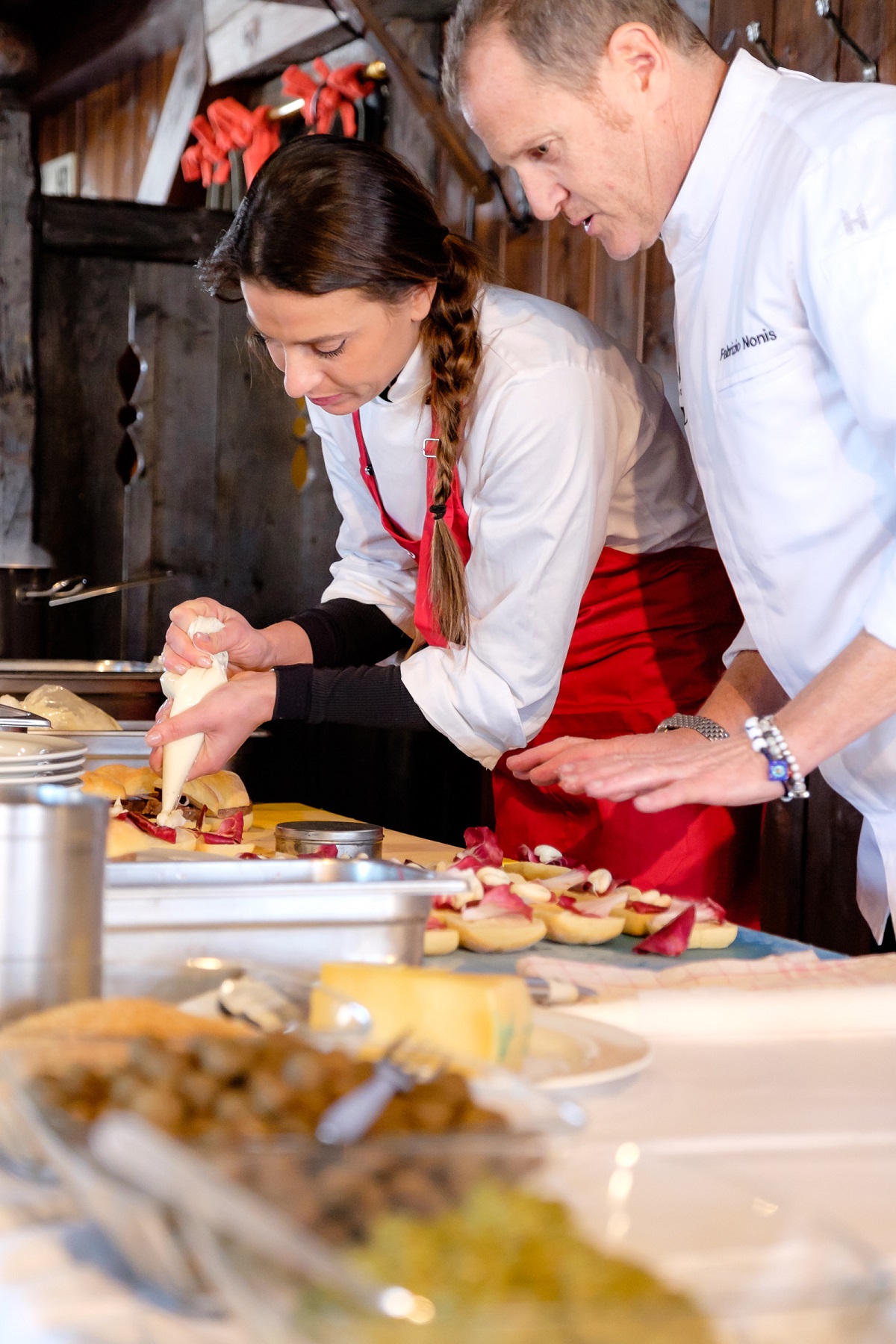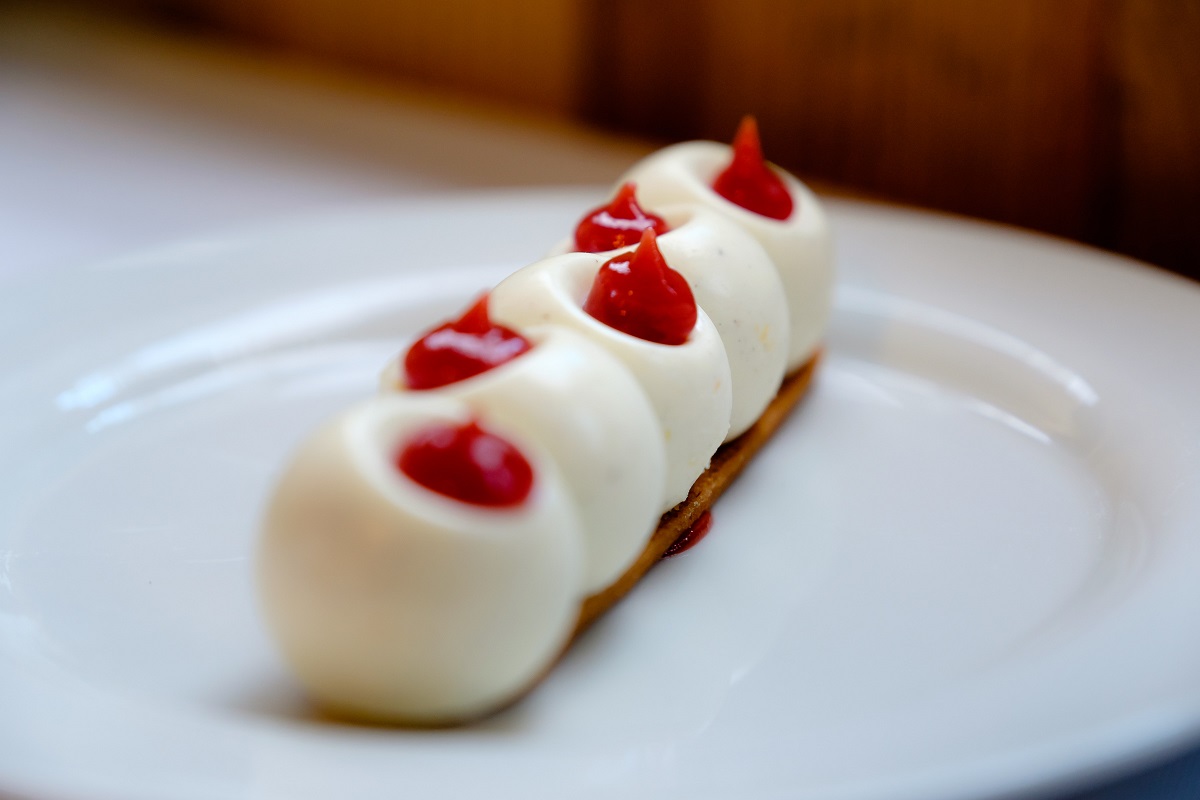 MIXOLOGY WORKSHOP – HOTEL CRISTALLO, LA VILLA
For whoever loves drinks, they organized an incredible workshop with Tomas Péozzato, barman at the Hotel Cristallino, and Patrick Destetti, Ambassador of Prime Uve. We watched as her prepared a few cocktails which follow the no waste ideal.
But between a drink and the next it's time to catch the next ride, because it's almost dinner time. What's our next stop?
THOMAS POZZATO Barman Hotel Cristallo, La Villa, PATRICK BESTETTI Ambassador Prime Uve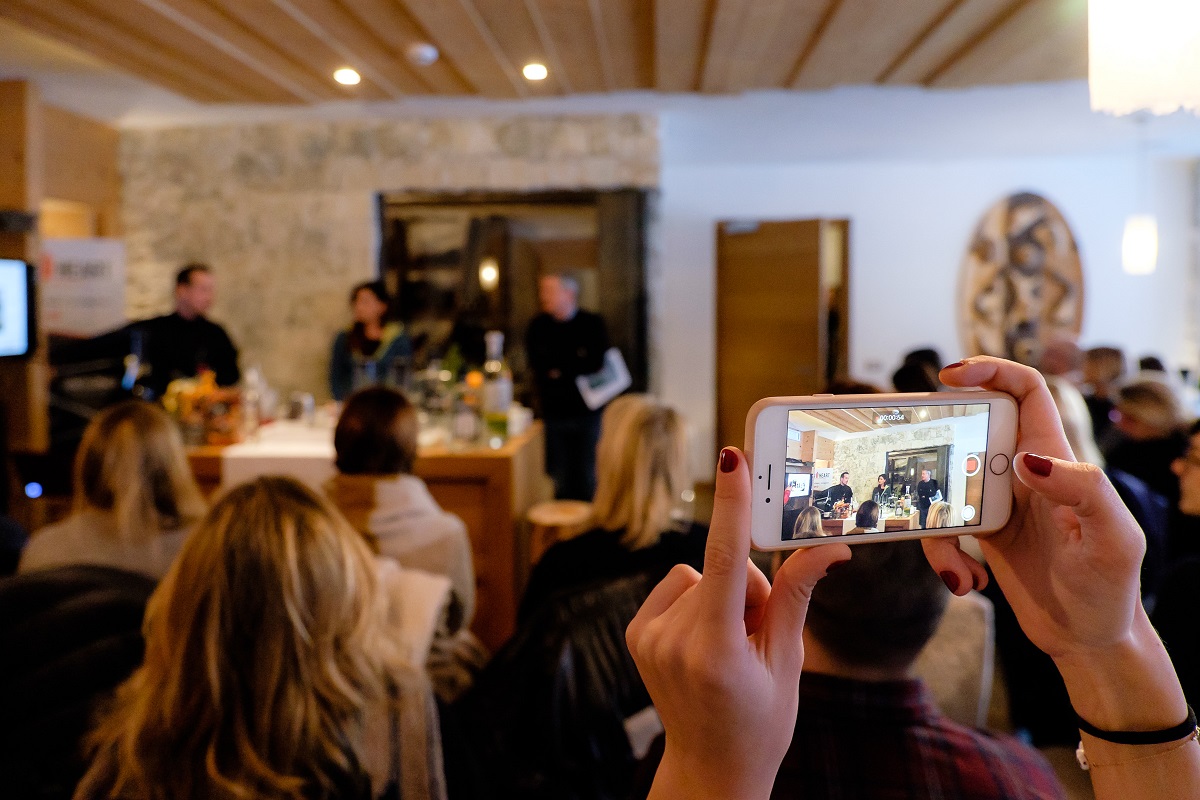 AT THE TOP CARE's DINNER – PIZ BOÈ ALPINE LOUNGE, CORVARA
I'm amazed! The cable car that carries us all the way up 2.800 metres lights up and starts moving again. When we reach our destination, 11 chefs are waiting for us, each at their station, each with their dish.
In the most incredible environment, we walk into this beautiful mountain "rifugio" which looks like a modern restaurant, and we're welcomed by the lovely rose of Gorizia, served as a flower bouquet, wrapped in natural paper and seasoned with left over spices with an incredible flavour: a beautiful dish created by Jock Zonfrillo!
The dinner was filled with lots of incredible dishes, from the "scent of Christmas" made by Tomaž Kavčič, a sausage cooked in mulled wine and served with the rose of Gorizia and mustard, to the Raviolo in toasted flour, tongue, brazed red turnip and arctic char made by Giancarlo Morelli. And then Martina Caruso's 3.000 metre Babbaluci snails and a coffee flavoured dessert made by Diego Crosara.
APERITIF
MARTINA CARUSO Hotel Signum, Malfa (ME), JAMES CLOSE The Raby Hunt, Darlington – UK, PINO CUTTAIA La Madia, Licata (AG), JAMES P. MCMAHON Aniar, Galway – Ireland, JOCK ZONFRILLO Orana, Adelaide – Australia
DISHES
IVAN e SERGEY BEREZUTSKIY Twins Garden, Moscow – Russia, ALFIO GHEZZI Locanda Margon, Trento, TOMAZ KAVCIC Pri Lojzetu, Vipava – Slovenia, GIANCARLO MORELLI Morelli Bulk, Milano  (MI), NORBERT NIEDERKOFLER St. Hubertus, San Cassiano (BZ)
DESSERTS 
DIEGO CROSARA Chef Pâtissier, Agrimontana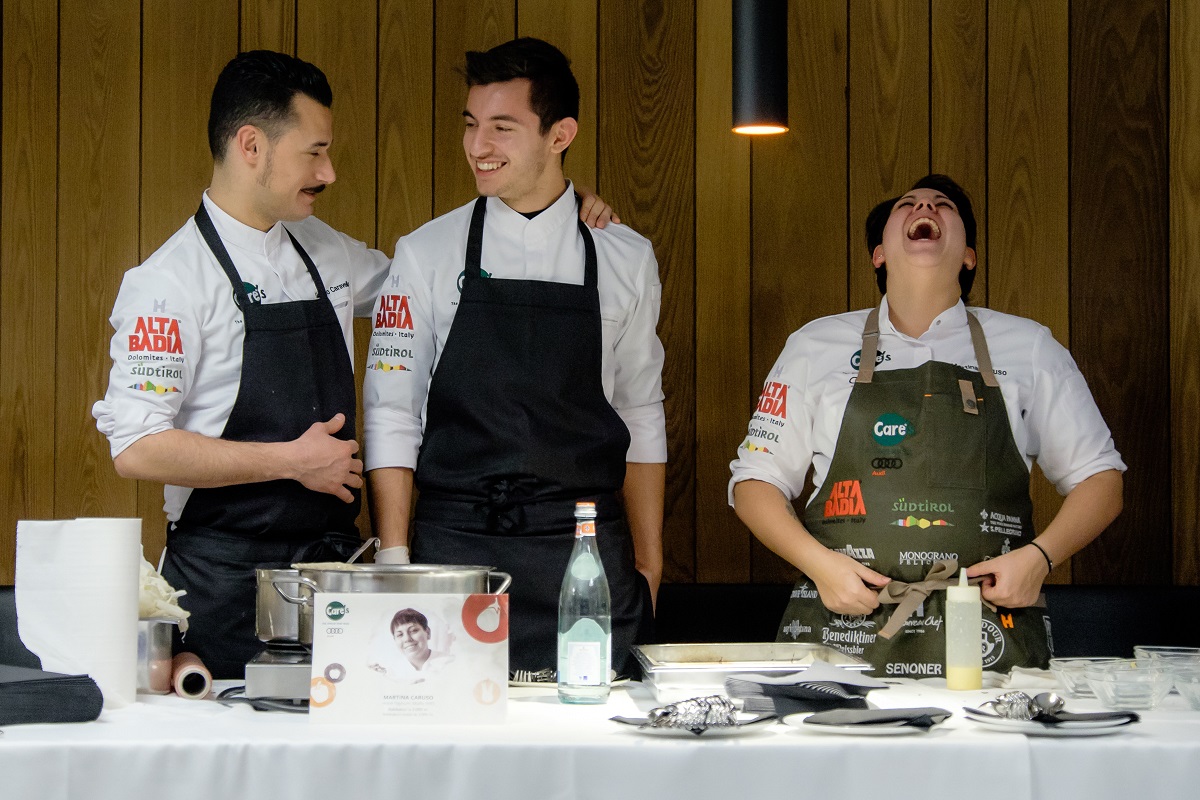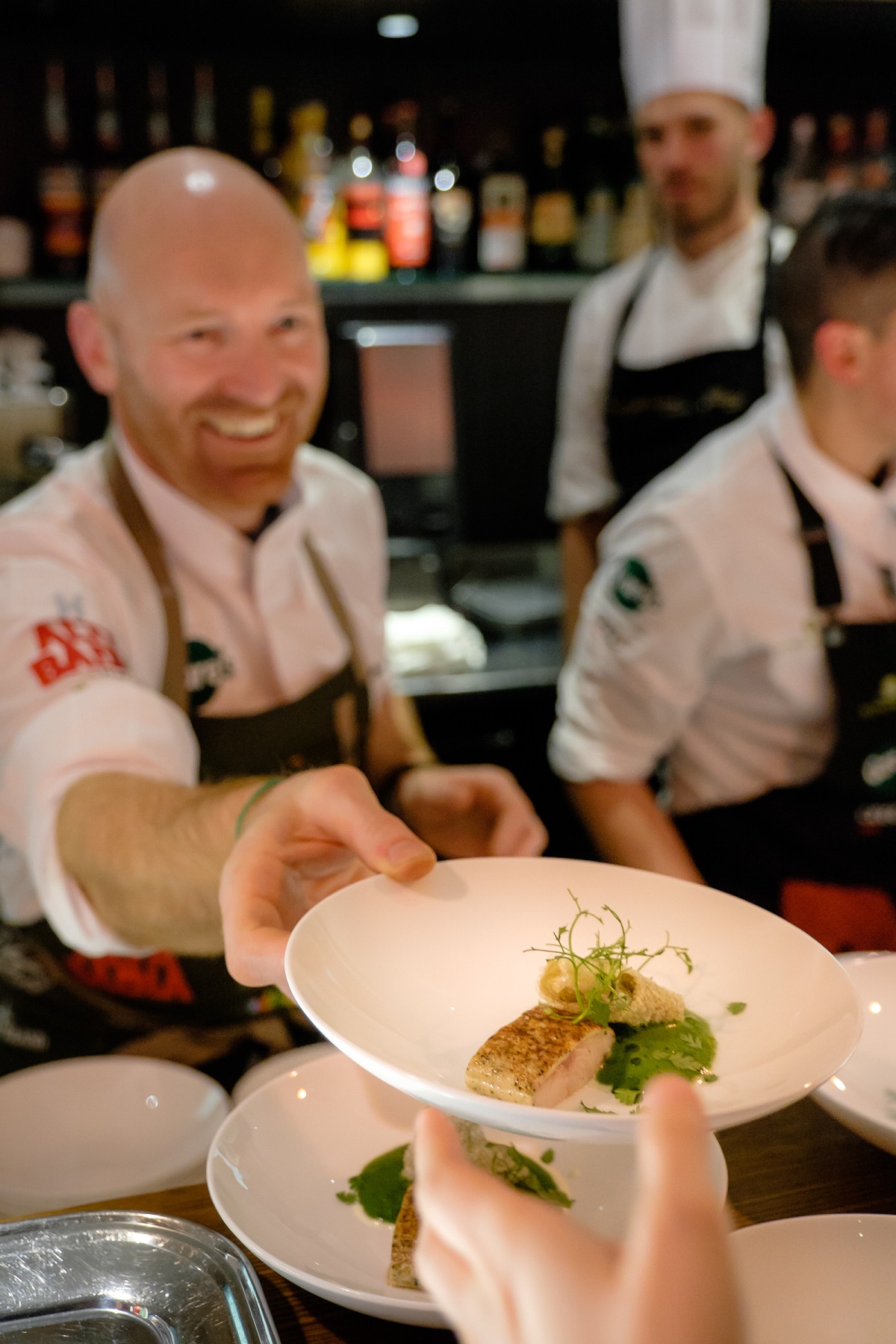 Day three. Tuesday the 16th of January

WELCOME BREAKFAST– CIASA DLA CULTURA, LA VILLA
Well, I've just finished having a rich breakfast at the hotel, but why not go for seconds? I'm here at the Ciasa dla Cultura a La Villa to taste the bassalà, the croissant, the panettone and the raisin bread, all made by Andrea Tortora.
After filling up on calories, I'm ready to listen to CARE's talks featuring the event's partners (Vodafone, Ferrari Trento, Lavazza, Miele Italia, Sanpellegrino).
To follow we had a little taste for a "No Waste" lunch. We had the Pino Cuttaia cheese tortelli, blu corn Tacos with matcha sauce and neck of lamb, and James Close's lamb with anchovy.
The evening ended with another one of Andrea Tortora's desserts, a chocolate mousse with hazelnut Bavarian cream and bread pastry: a delicacy!
JAMES CLOSE The Raby Hunt, Darlington – UK, PINO CUTTAIA La Madia, Licata (AG), ANDREA TORTORA St. Hubertus, San Cassiano (BZ)
These three days were a blur and it's already time to return to Trieste. But with this long article, I hope I've left you a little something. I'm heading home with an incredible experience to remember.

TAKE A LITTLE BIT MORE CARE