If you follow me on social media you'll know I've just returned from a three-day trip to Laško, a center which is famous for its beer as well as for its thermal spring! This time I had a special guest with me. Giovanni I couldn't go without him once he knew I'd be at Thermana, a hotel which is especially suited for children and families.
The oldest structure here is 165 years old; I actually stayed in a more recent one from 2012. What I'm saying is that if you need to relax a little this is the perfect place. The two centers are different because they welcome different types of guests; one is for rehabilitation treatments, the other is for families.
The Thermana hotel is modern, with a lovely view over the river and from my room I overlooked the nearby woods: you'll feel completely surrounded by peace and tranquility as you look out over nature!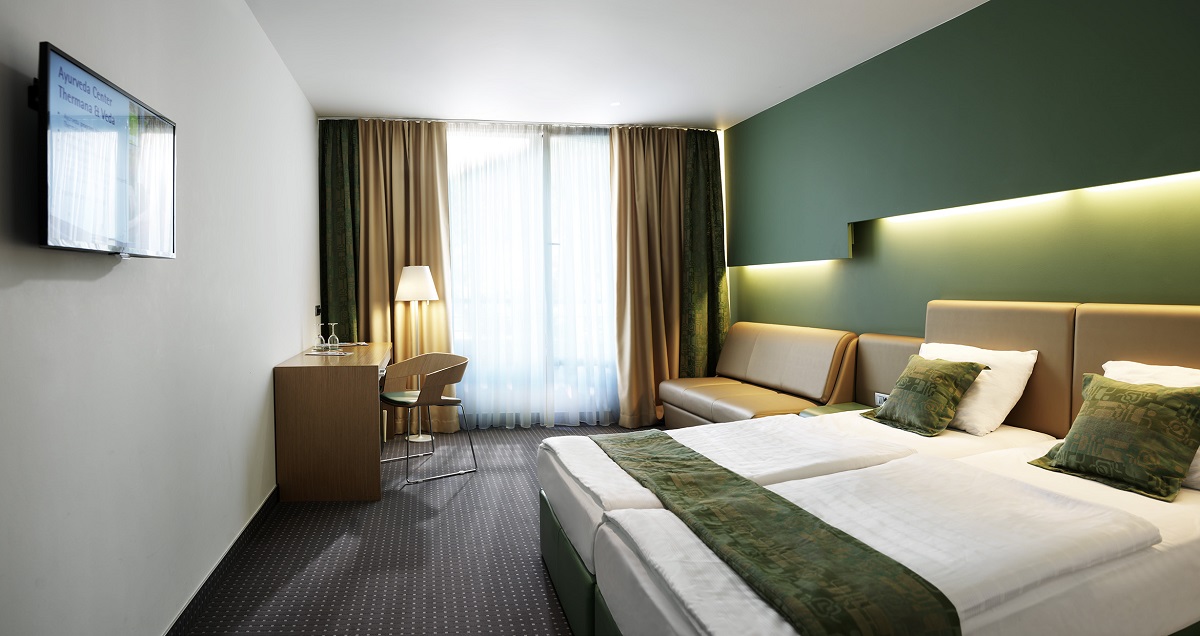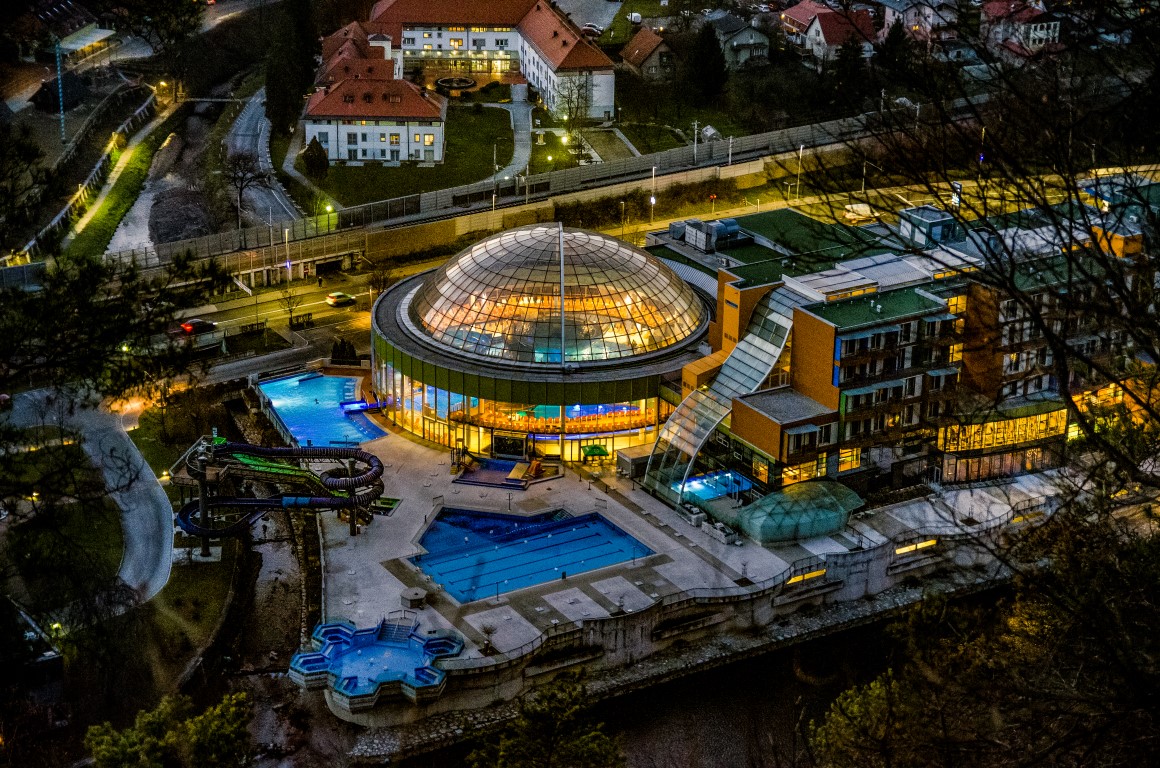 Even the architecture of the thermal baths captured my interest. The large glass dome fills the area with light, and during the summer they open it to allow fresh air into the thermal area. The pools are very large and filled with different sorts of entertainment like vortexes, waves and a slide for kids (I couldn't resist and tried it too); then there are three elevated pools shaped like champagne glasses which are actually jacuzzi tubs.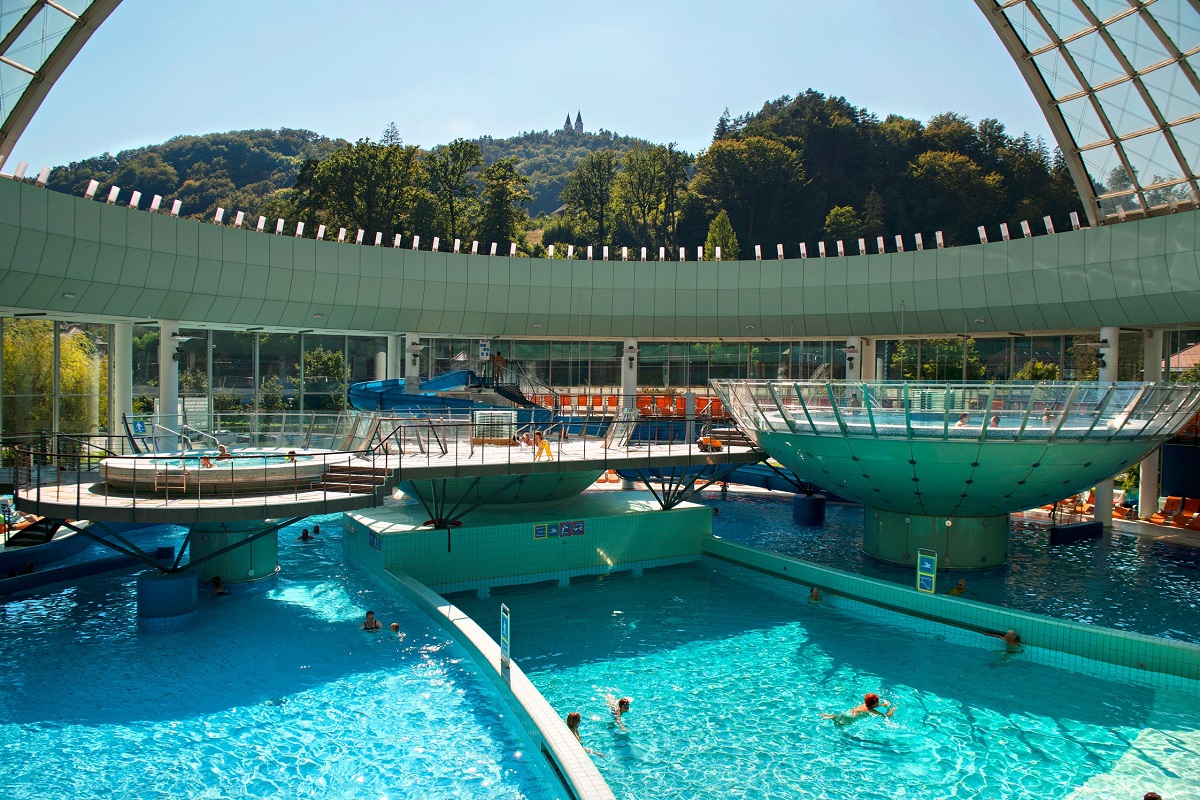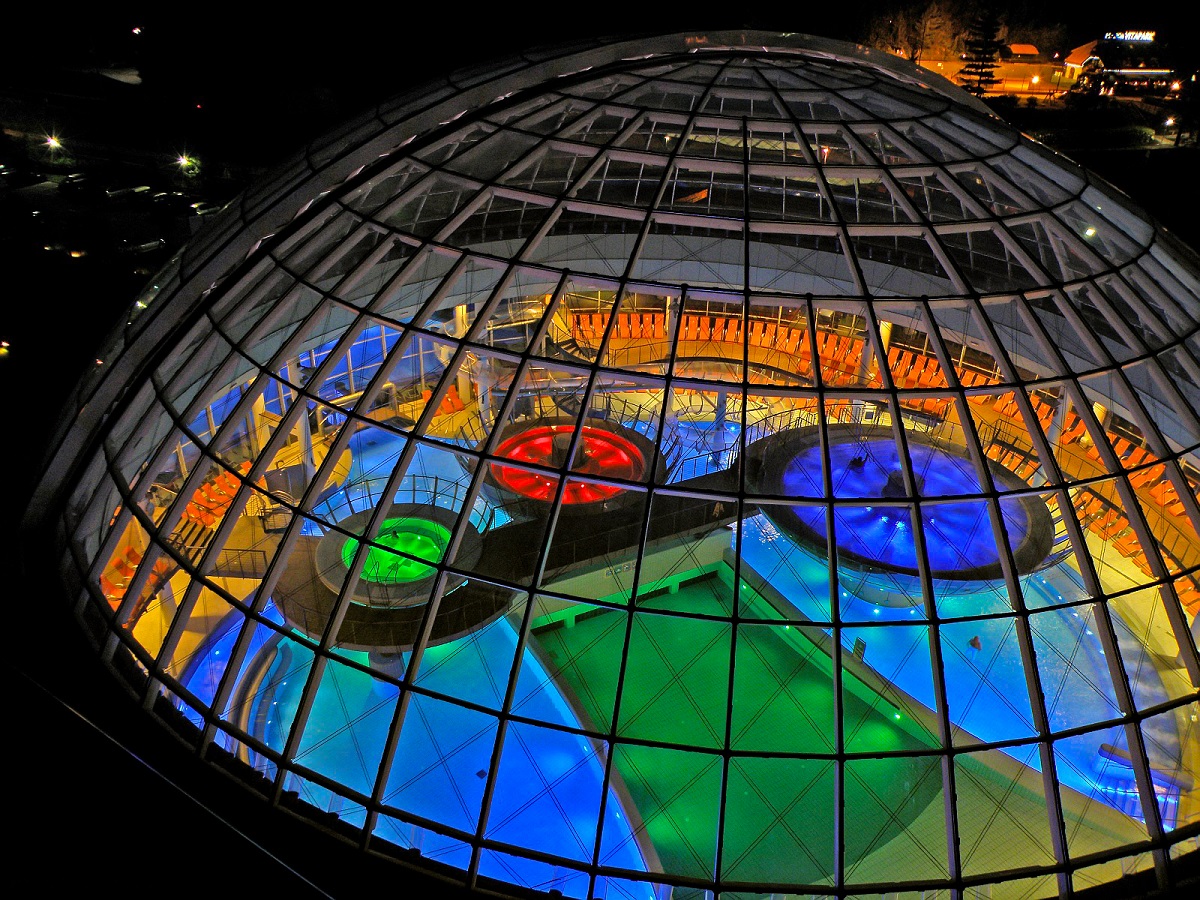 The same goes for the outside area, but because it's winter I didn't get the chance to try them because they were still closed… the perfect excuse to return next season, right?
If you choose the full board option, in the swimming pool area you'll find a self-service restaurant where you can eat at any time you like! Easy and stress-free. You don't need to change and go down to the restaurant when you feel hungry (unless you choose the restaurant option obviously, then you won't be able to eat there in your bathrobe!).
The building also has an area for adults with saunas and Turkish baths. An area that, hear-hear, is actually not off-limits for children over 12! I think it's one of the few centers that allow young teenagers in these adult areas (generally the age is 16 up). This was just perfect for us because Giovanni, who loves saunas and Turkish baths could come too instead of being left outside and getting bored after a while!
The top floor is dedicated to the wellness area, where they have a great number of treatments with a focus on Ayurveda (you can book some packages for 7 or 10 days). They also have Thai massages and some with beer and honey.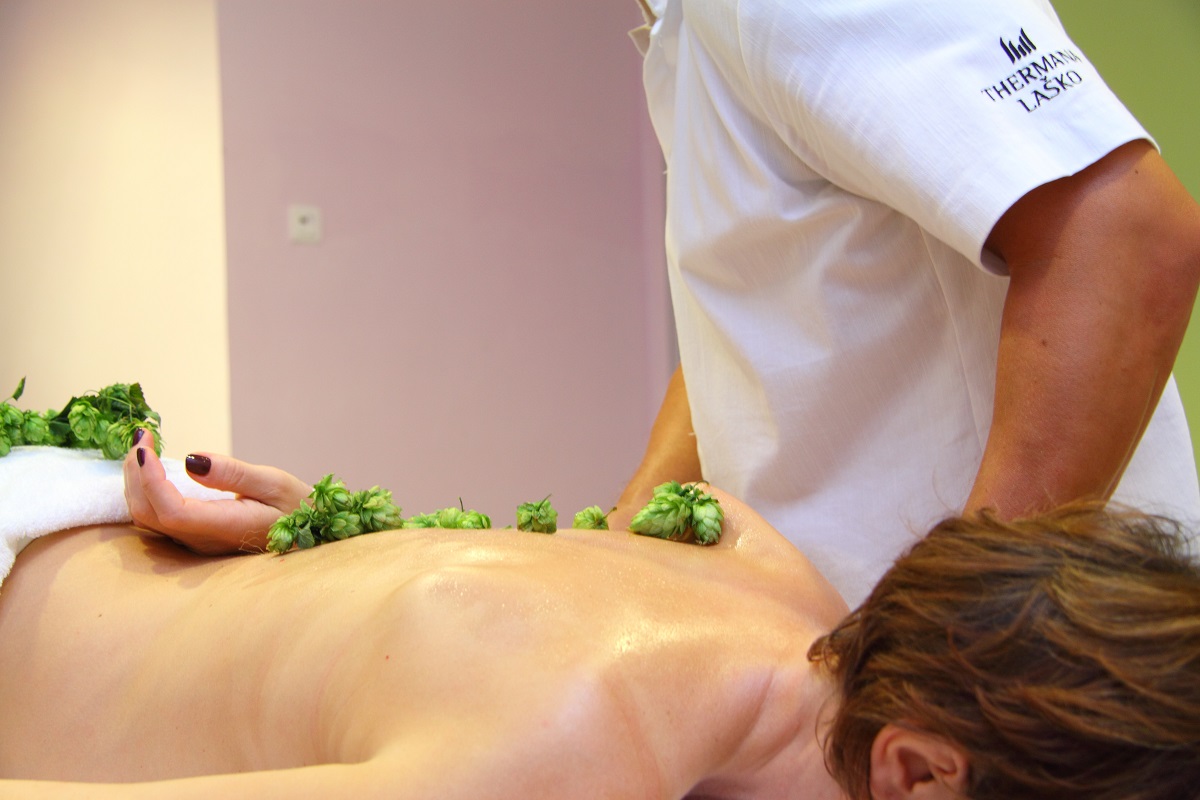 If you love a good meal like I do you can eat at the restaurant's buffet and burn off the extra calories with a healthy walk in the nearby woods and along the river.
If all this seems like a lot I should tell you that I still haven't finished. An extra bonus is that this hotel also welcomes you four legged friends (but only animals up to 8 kilograms with a daily supplement of 20 euros); if you bring your dog you'll have a room with a parquet (no carpeting) with a dog bed, bowls and food. Isn't that great? Just remember your furry friend won't be able to access the pool or the restaurant area.
My three days here just flew by. I really felt cuddled and on the last day here, to make my return home less stressful I stopped at Pavus for a meal. I'd already told you about this lovely place some time ago  And if you were a guest at Thermana you'll have a coupon for a 10 percent discount on your meal. Another good reason to stop by, right? And my grandmother always used to say poco xe poco, niente xe niente ( a little is a little, but nothing is nothing).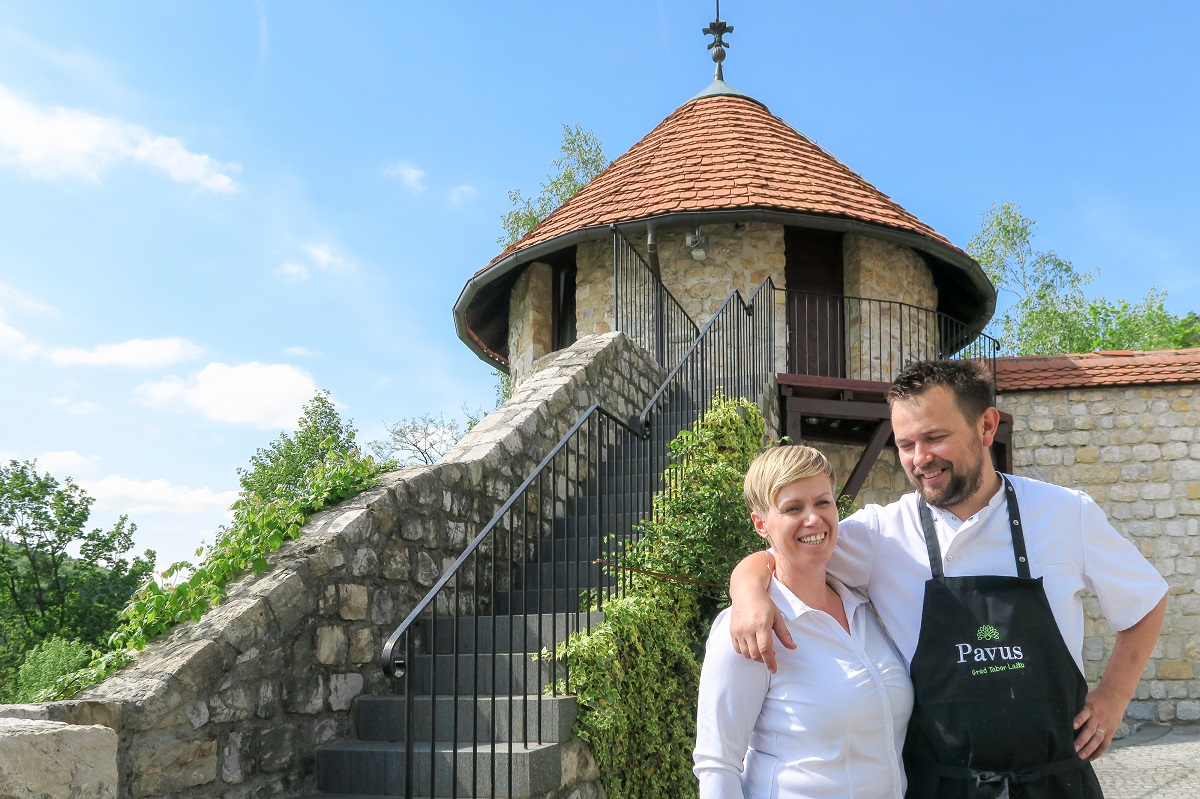 This short holiday was just two hours away from Trieste but it was perfect for a regenerating break. There's not much more to say except…it's now your turn to try it out! If you do decide to come here I suggest you also take a walk at Celje; to reach its lovely castle just get into the car and you'll be there in a few minutes.
See you soon!