A little premise.
Here we are, on a thread that swings between fear and insecurity, we're being bombed with far from reassuring news: we're tired, stressed and afraid…we're in the middle of something that has run over all of us and doesn't spare anyone.
There are people that, nonetheless, want to go on, in the middle of this storm, desperately trying to find a lifesaver of normality. A small raft, where to rest even for a little while.
And here I am, throwing a sand grain of distension in the Ocean, combining the pleasure of a "normal" weekend of cuddles to the support to a local enterprise: the Trieste Hotel.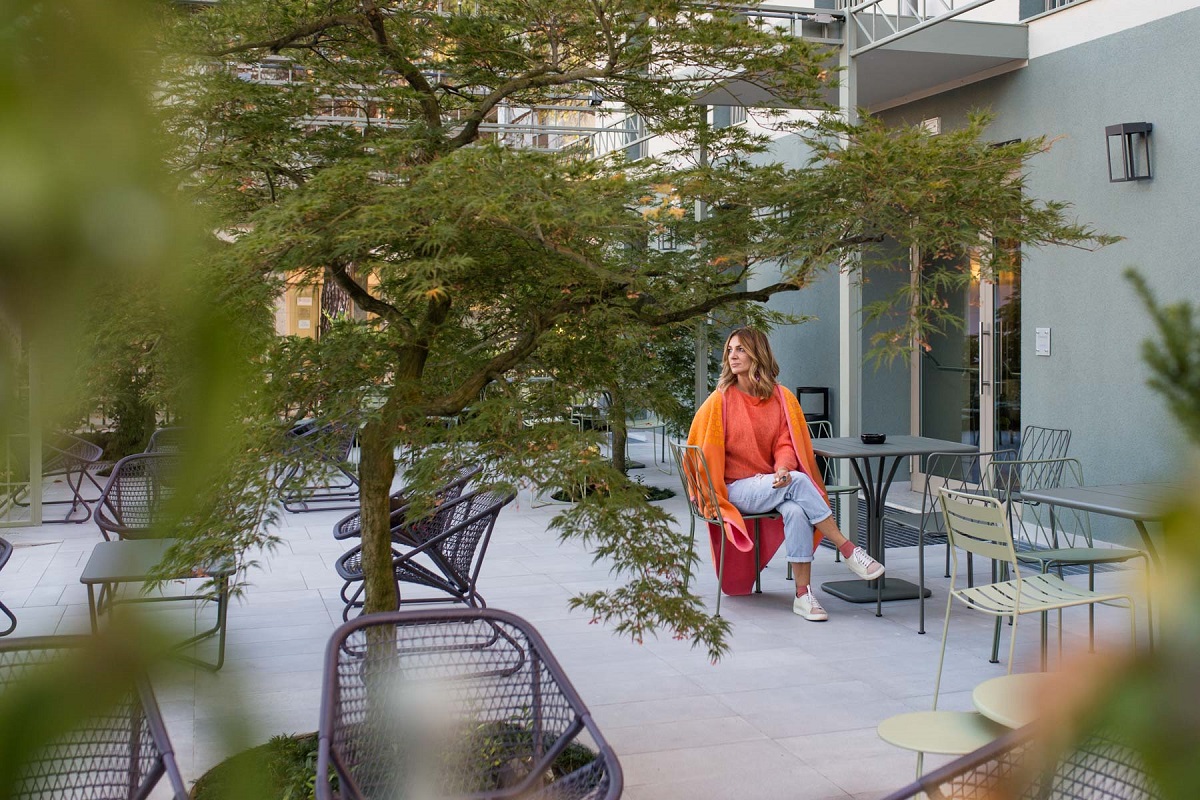 Special days, events, anniversaries, birthdays, surprises for your partner or for a friend, the wish to pass the weekend with someone and detox from the hard situation we're living.
Where are we? In my Region, in Gradisca d'Isonzo. Only 12kms away from Gorizia, on the right side of the Isonzo river, you'll find the small town of Gradisca; a lovely, round park surrounds the main square of this town, that only counts a little more than 6000 people living in it. A gem.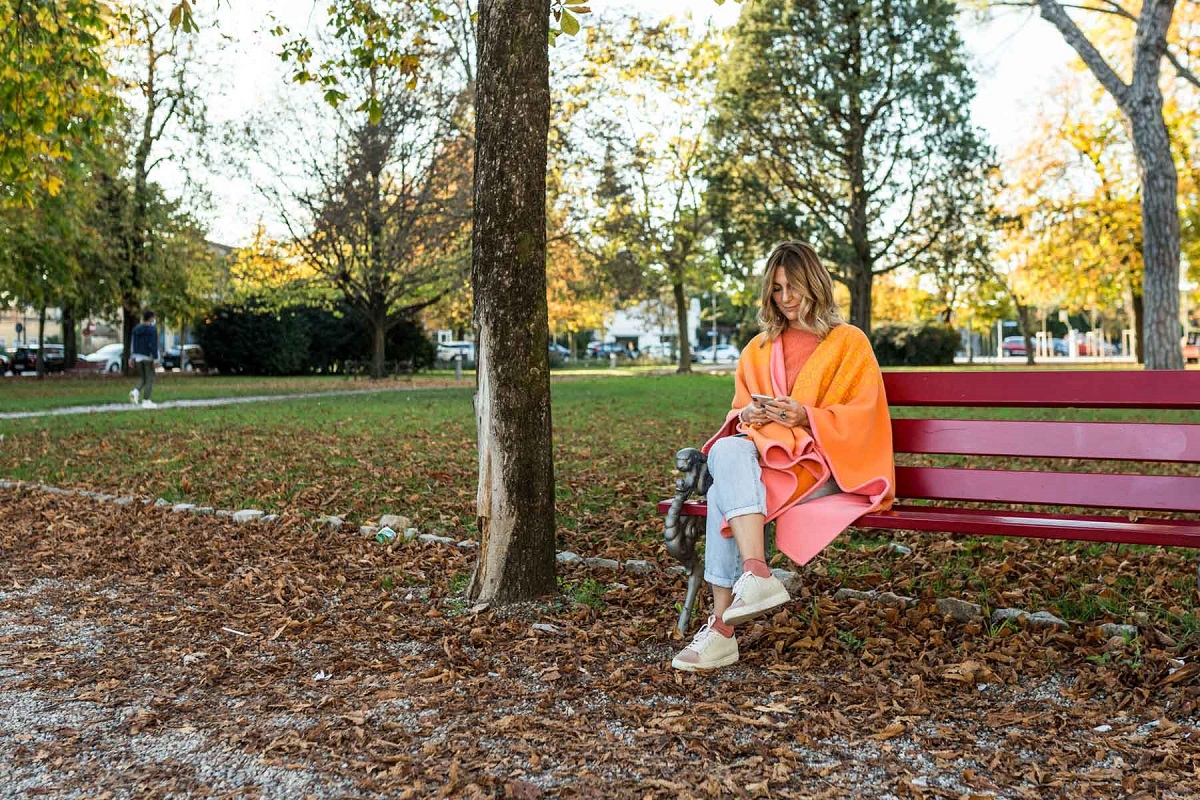 And is right on this square that you can find the Trieste hotel, an historical building that, for many years from 1897, was a Dreher warehouse; in 1911 the grandfather of the current owners received as a wedding gift a license to make it a tavern with accommodation and it was then passed on, until it ended in the hands of Alessandra and Marlene Isaia. They're the two sisters that hold the reins of this place! In 2014 they decided to restore the spaces and, after a couple of years, the Trieste has reopened its doors in 2020 🙂
Their key word is care for the environment. The Trieste is actually an eco-friendly hotel. Here they use solar and photovoltaic panels, heat pumps and much else: the courtesy kit is made of products that don't use plastic, but natural materials which they buy at a local botanic garden in Pieris (Eleonora Cosolo).
But let's get to the point… I'm here to tell you about MY weekend that, if you want to, can become YOURS, too.
On the last floor of the building there is a wonderful and bright Junior Suite; the ceilings are high, there is a lot of light and a beautiful sight both on the trees of the park and on the white Romanic façade of the church. The painting is completed with the mountains in the background. The bed is comfortable as a cloud, the bathroom is spacey and has beautiful colors.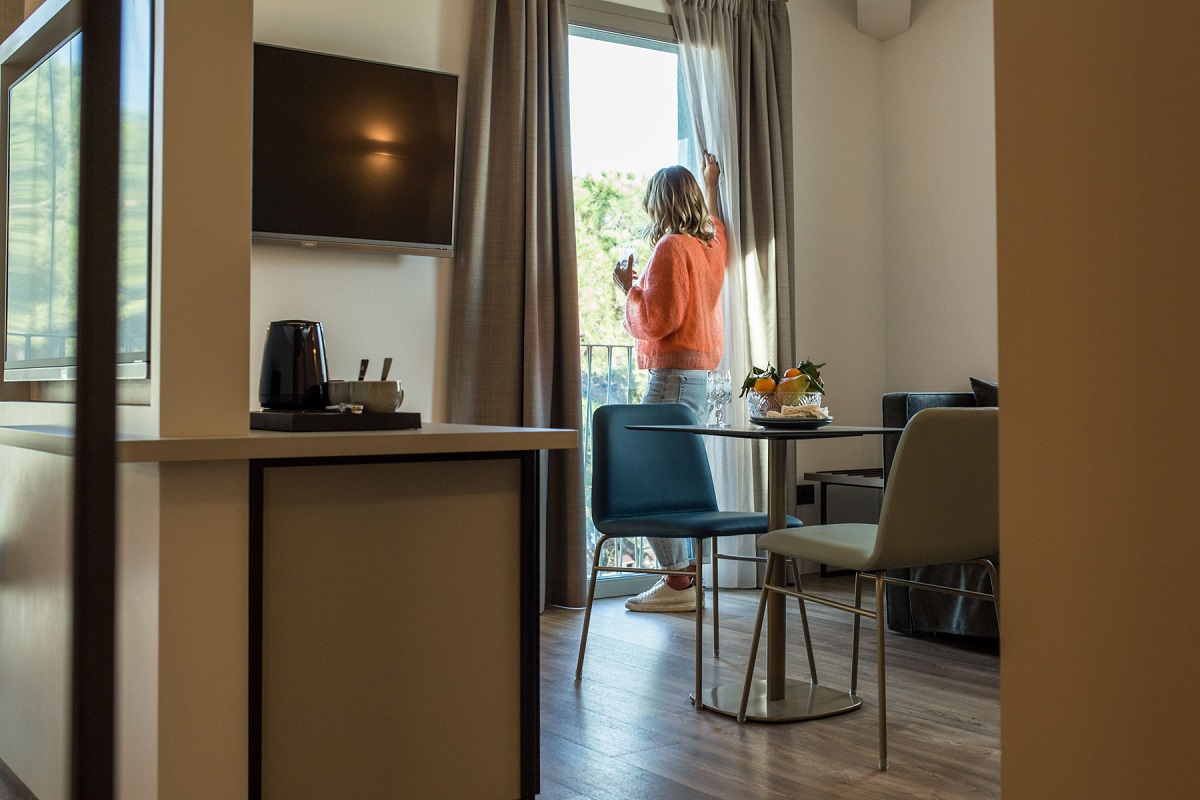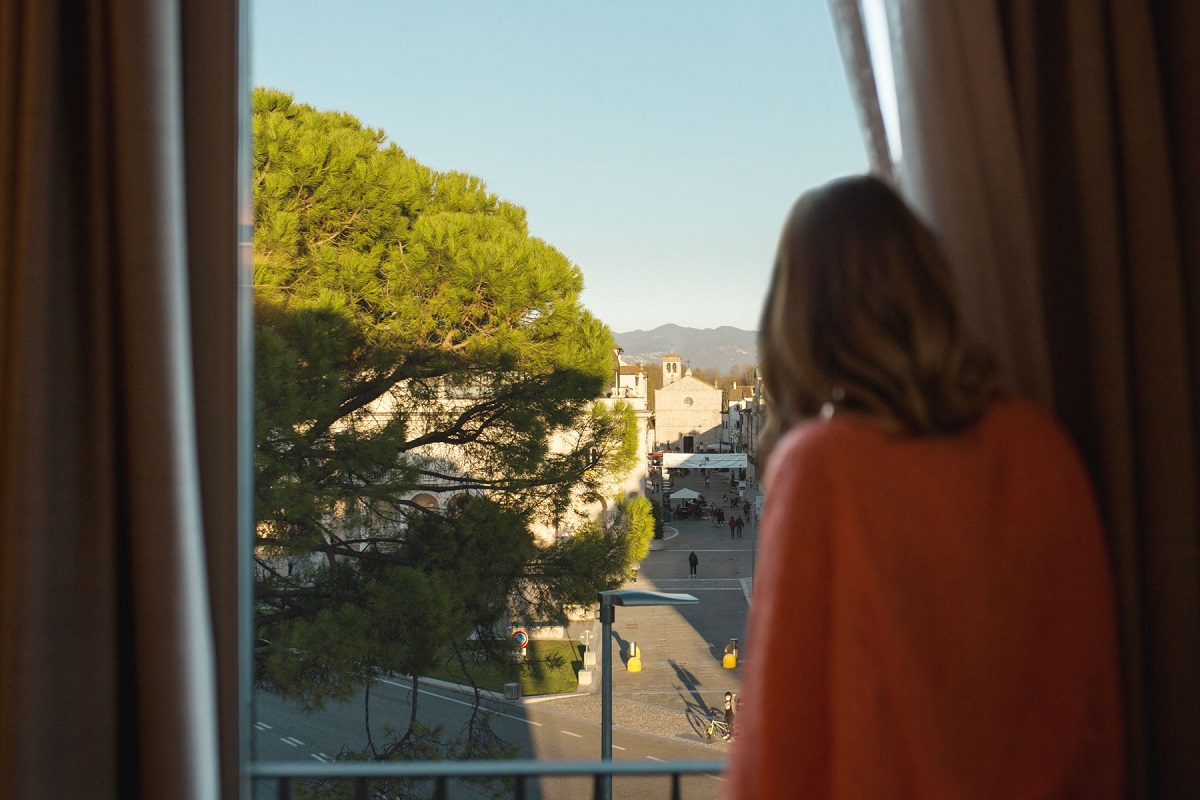 The room is really cozy and it is possible to use it as a "private zone" for your happy hour, with finger food, or for a very private breakfast.
From here you also have access to the spa which, you guessed it, is private, too: there is a sauna, a steam room, a relax zone, and you have access to the roof, where there is a hot tub that faces the sunset.
Believe me when I tell you that it is mesmerizing!
I came here last summer, and I had breakfast right on this terrace; the fresh air of the morning, the peace of being alone and of taking my time made it a beautiful experience. This time, too, I was delightfully surprised by having the chance to enjoy a fire-like November sunset while sipping a yellow Ribolla.
The hotel offers 4 different kinds of spa treatments: relaxing, toning, energizing and purifying. You can also get a bag (for 15 euros) that contains a scrub and water with extracts that you can combine to the colors, heat and steam for some auto-treatments of sensorial baths. Such a luxury.
As I was saying, the spa is private and the access is limited to the Junior Suite users: you can use it from 2p.m. to 10 p.m., so the happy hour with finger food is available both here and in the bedroom (as you prefer)…speaking of happy hour, I'd like to mention Michele, a magician of cocktails: his are really unforgettable!
Hey, I hear you. HOW MUCH does this cost? I've prepared a MISSCLAIRE WEEKEND pack for you, for 1 or 2 nights (you can choose between Friday and Saturday), that is valid until March 31st, 2021:
1 NIGHT – 230,00 EUROS – it offers:
night stay in the Junior Suite
access to the private spa from 2 p.m. to 10 p.m.
HT happy hour by MIchele
breakfast
2 NIGHTS – 400,00 EUROS – it offers:
night stay in the Junior Suite
access to the private spa from 2 p.m. to 10 p.m.
HT happy hour by MIchele
breakfast
To book the weekend, you only need to say "MissClaire Weekend" when calling the facility at +39 0481 1980888 or when sending an email at info@hthoteltrieste.com
Well, have I convinced you to look for a little peace and tranquility two steps away from home? I've had a wonderful time and I'm sure that you'll enjoy some relax, too.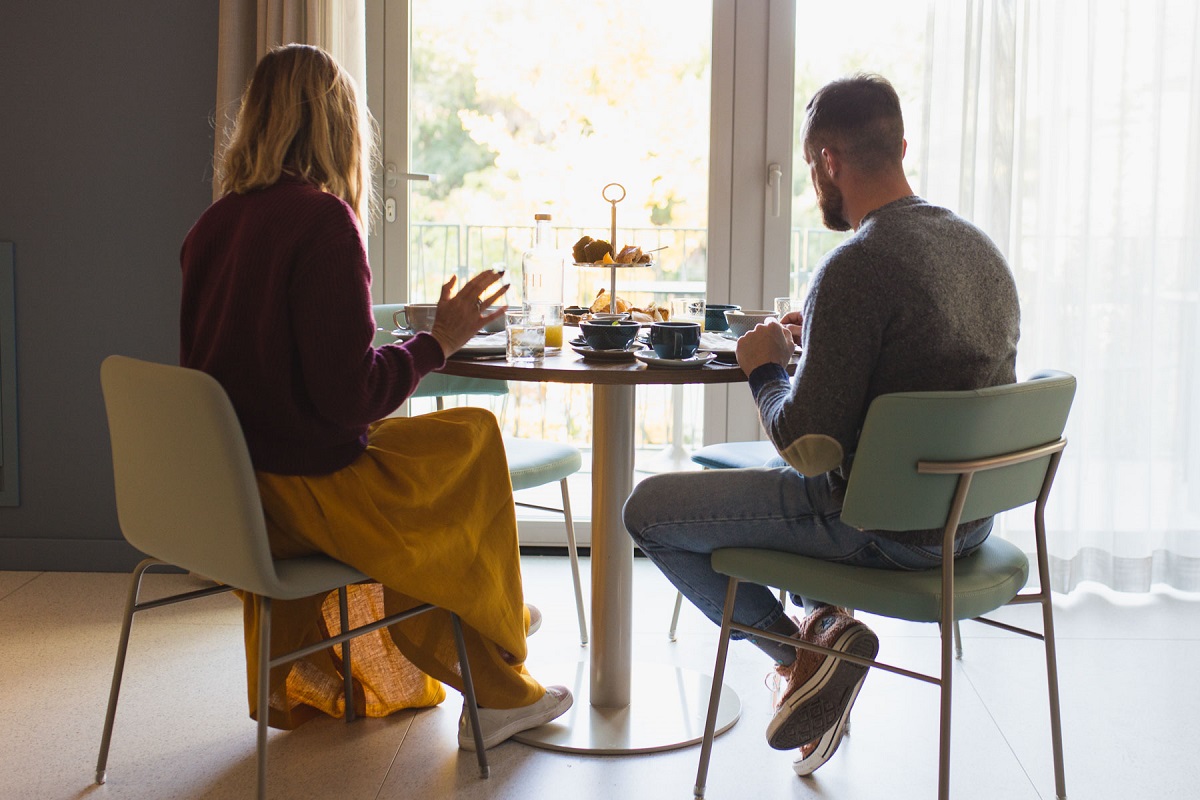 Oh, if you want to know something more about Gradisca d'Isonzo I'll leave some ideas down here (things have to be done right, don't they?).
Here, every third Sunday of the month you'll find the fleece market: more than 200 stands are brought into the historical center of the town, especially in the Parco della Spianata and on Viale Regina Margherita. I had to mention it, as I love markets…is one of the best in the Region 🙂
I also suggest a walk along the city walls, that have a castle and that also pass by some historical buildings from the 14th and 15th centuries, or a stroll along the Isonzo river.
Don't forget to visit the Cathedral of SS. Pietro e Paolo with Torriana chapel, the most important sacred building of Gradisca, that has been dedicated to S. Salvatore back in the 14th century. It was renewed in the following centuries and nowadays it presents a beautiful baroque façade designed by Paolo Zuliani and made of karstic marble. On the inside, among altar pieces, stuccos and altars from the 16th century, you can enter the Torriana chapel, where can be found the rich monument dedicated to Nicolò II della Torre: he was the captain of the Gradisca fortress from 1512 to 1557. You can then visit the Lapidario – Loggia dei Mercanti, the old meeting point where business and local enterprises were discussed; the Loggia today accommodates an important collection of tombstones that are a testimony to Gradisca's history. On the first floor of the building is located the Academy of medieval studies Jaufré Rudel, where weapons and artifacts from the Middle-ages are exposed. You also have to visit Palazzo Torriani, a building of Palladian inspiration, a place where parties and celebrations were held; it was built in the 17th century to be the home of the powerful family Della Torre. Palazzo Torriani currently accommodates the town hall offices and is also known as Palazzo de Finetti, after the family who bought it in the 19th century.
If you want to go out of the town, know that you actually are in a pretty central position, a few steps away from the Collio area, which offers many wineries and gastronomic tours that are worth trying…and it has beautiful colors in autumn!
By car, in a bunch of minutes you'll reach Gorizia, Aquileia, Grado (go here to see what you can visit), the starry city of Palmanova and Cividale, the ancient forum Iulii, an historic and architectonic gem that also was a Langobard capitol city.
And you're still sitting there? Come on, treat yourself to twenty-four or forty-eight hours of relax.
Have a good weekend!
Foto Michele Grimaz