We're in Prata di Pordenone, one of the last commons of Friuli Venezia Giulia before the Region of Veneto. Right here, surrounded by green countryside, is where we find the Casa Gialla (Yellow House), a fabulous restaurant opened by the Furlan family in 1993. The family manages the restaurant until 2010 when they decide to have someone else manage it.
In 2018 they notice the restaurant isn't doing as well as it could so they decide to take back their activity; Sara decides to leave her job as an interior designer to manage the restaurant, and bring the spark back to the Casa Gialla, restoring it to the place she knew when she was little. It's March 2018 when the dining room and lovely garden are restored and ready to shine: new furnishing, a new chef, a younger staff and … Trip Advisor's reviews changed suddenlyJ
I obviously had to find out personally how its new look was working out.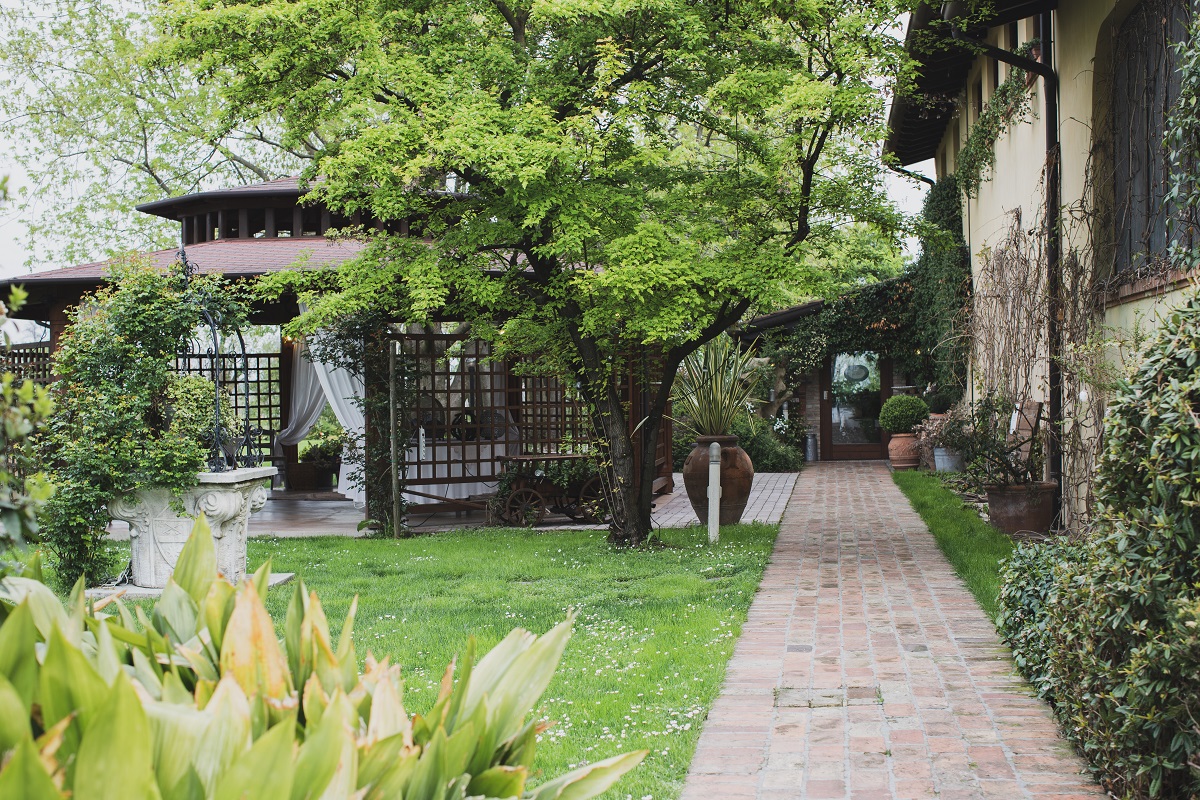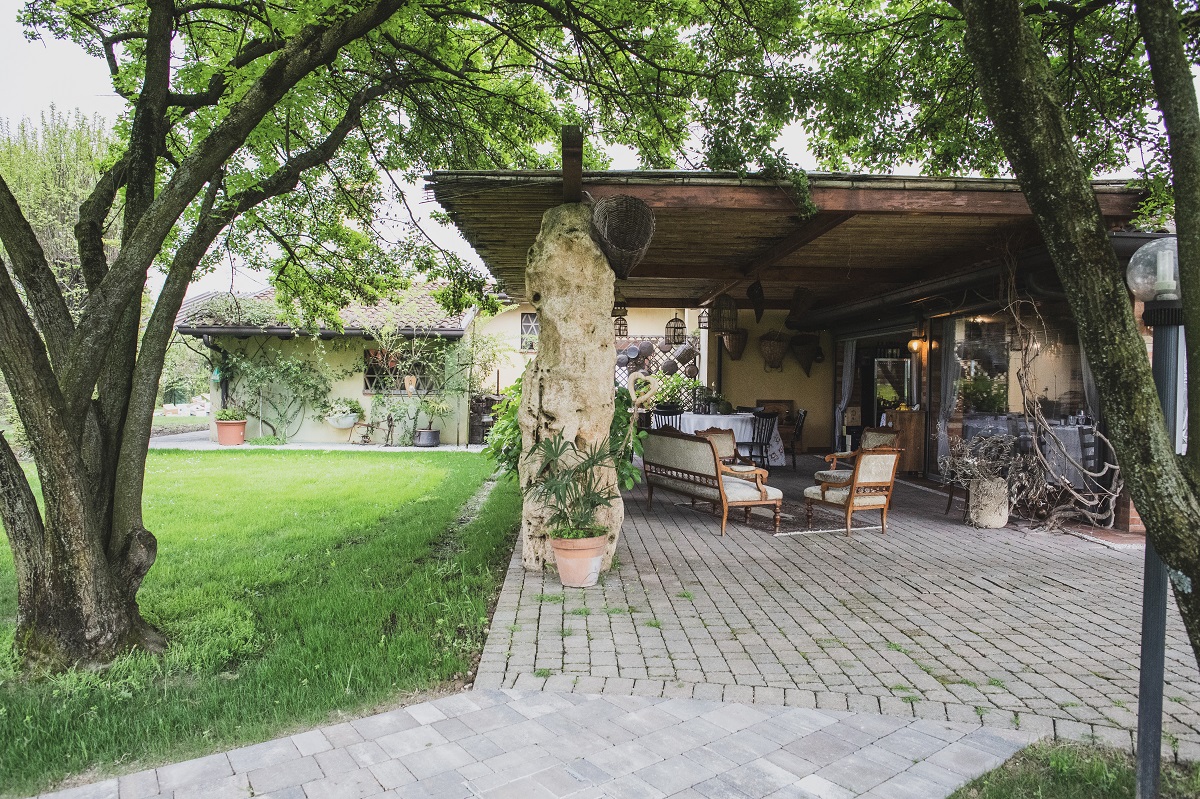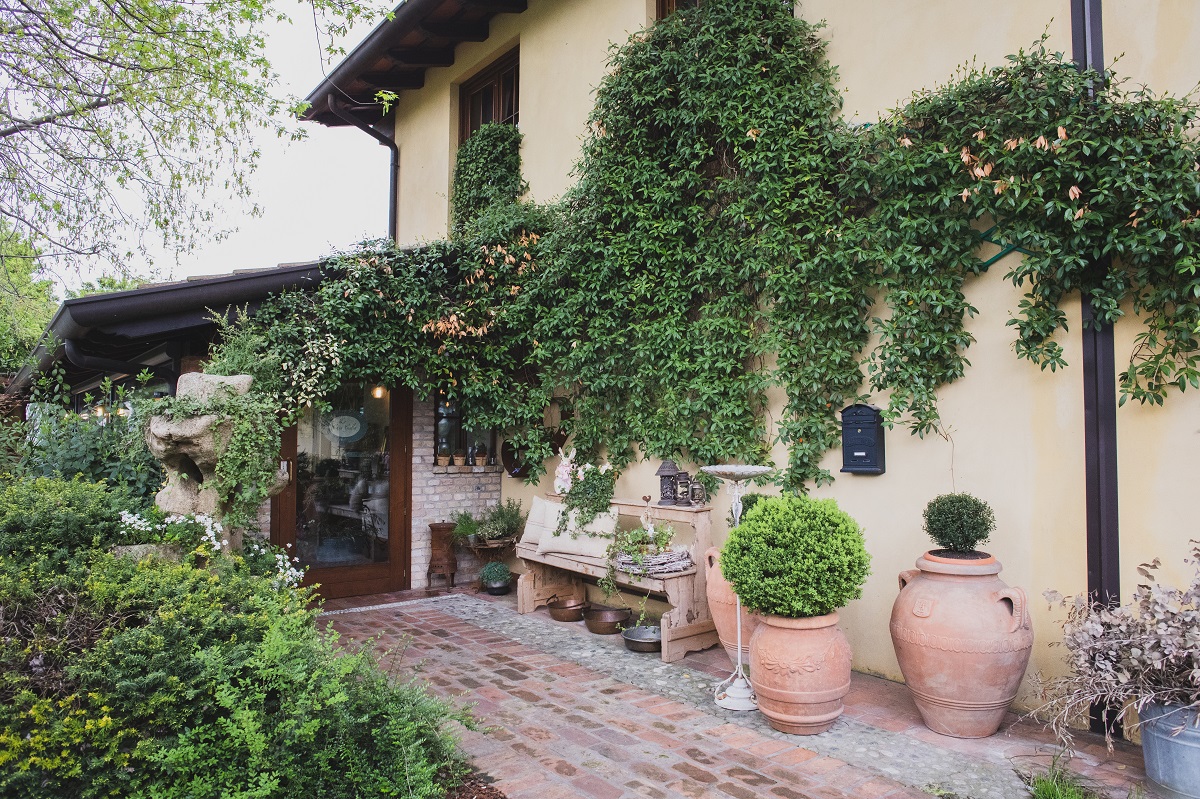 The walls are painted warm green and grey colors, which blend perfectly with the terracotta floor making everything feel cozy and romantic; the wooden beams, the lace tablecloths which host a lovely table setting and the sixties porcelain decorated plates gives you the cozy feeling you had when you'd have Sunday roast at your grandmother's!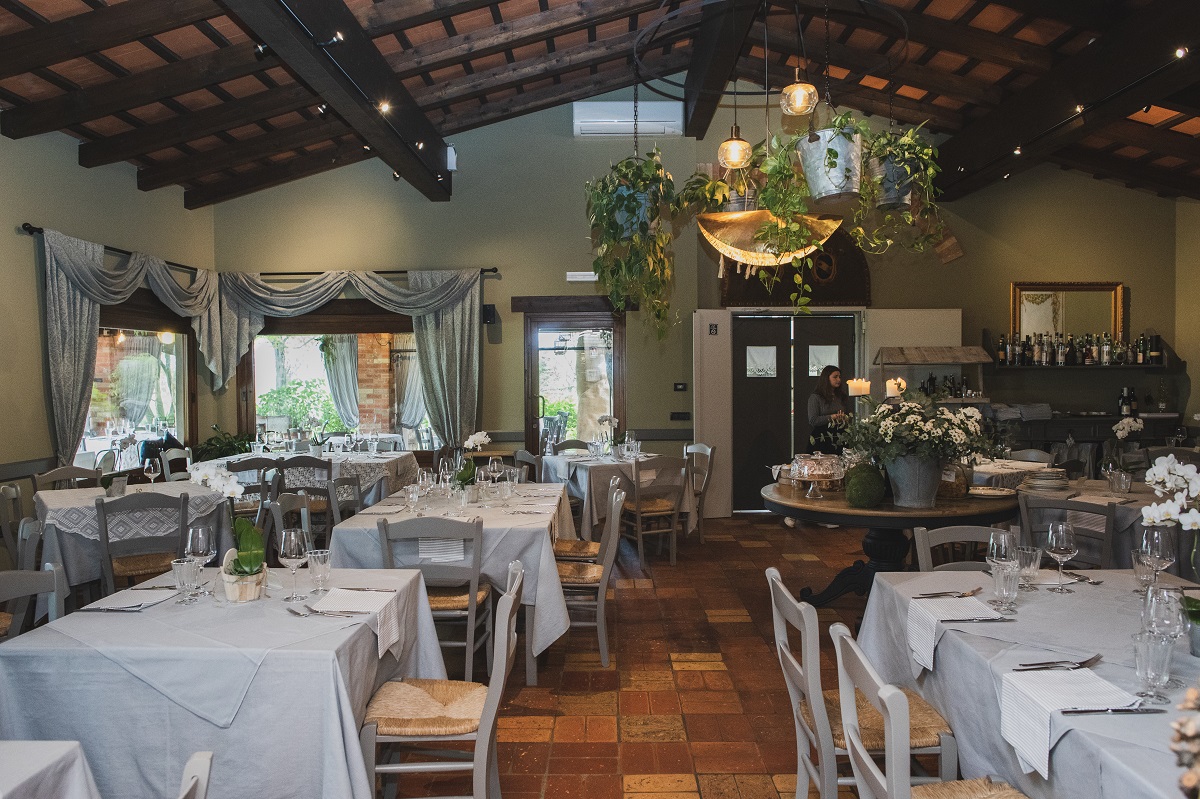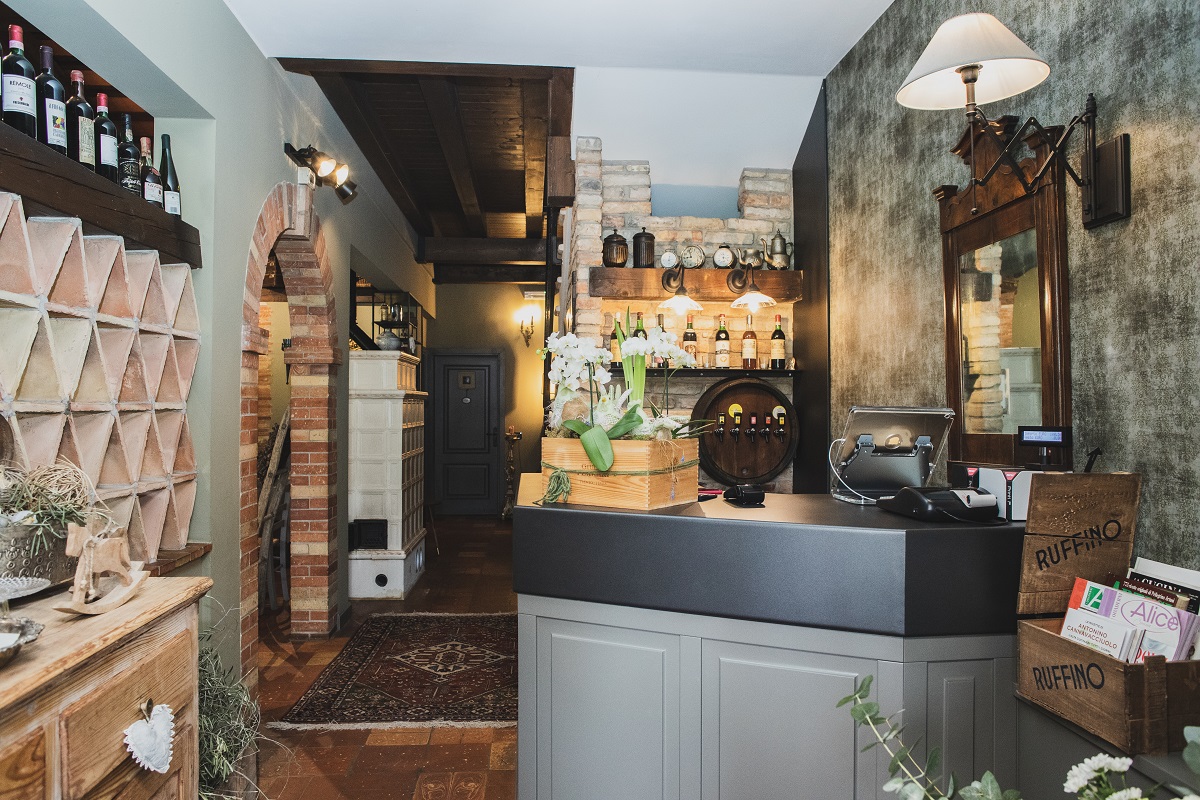 Then there's fresh flowers, vintage furniture, books and a majolica cream color stove; everything together creates a warm environment filled with the sunlight seeping through the large glass windows which overlook the garden. A green corner which is well kept and welcoming!
You can immediately see Sara's style. The love for interior design is visible everywhere and the bathroom, which I'd call the heart of the restaurant, is superb! Crystal ceiling lamps reflect on golden mirrors and on grey hexagon tiles. To be honest the bathroom was designed by Rosario Zoccano a young architect from Trieste. You should remember him very well because I'd told you all about him when talking about MissClaire Home; he helped me with the design and I find a few similarities in Casa Gialla restaurant!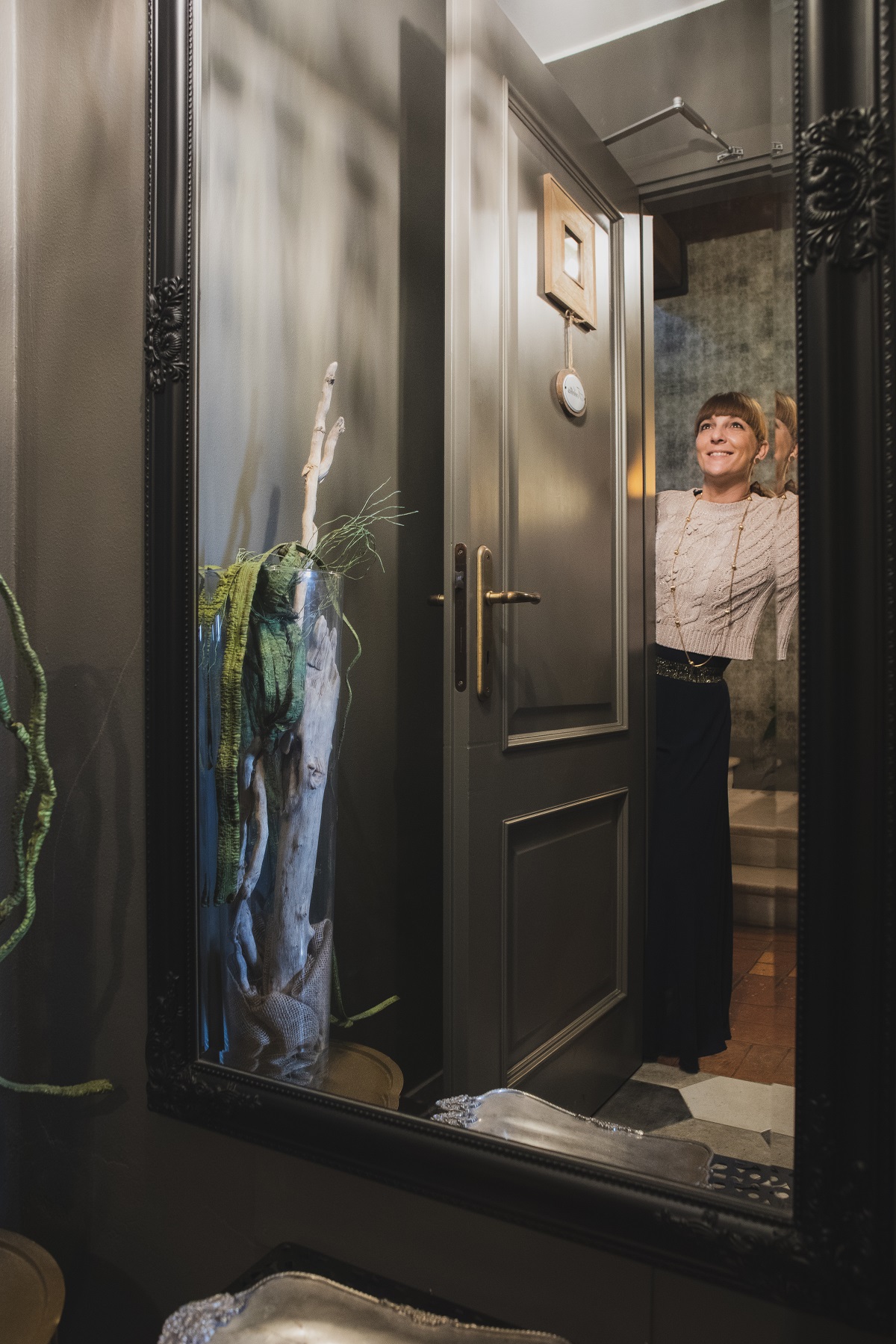 The stone stairs that lead up to the second floor stand out perfectly against the dark green wall paper which will guide the guests up to the second floor where they also have the rooms used for weddings and events. The restaurant can host up to 250 guests.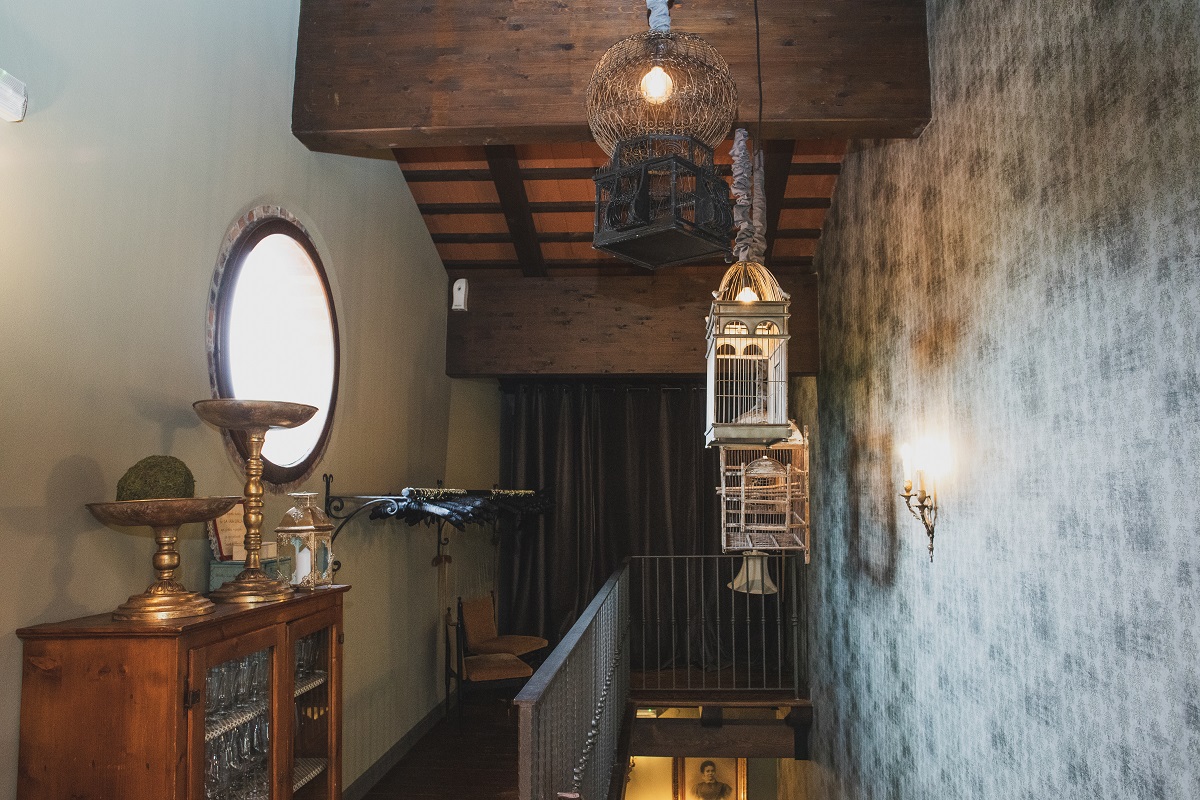 But that's not all, apart from the great rooms there's also a wonderful garden with a gazebo and swimming pool, perfect for a wedding reception! There's really nothing missing here. And the food? Well let's see what wonderful things I had to eat in this lovely place. (Before you ask, yes I did it again! I actually said "I'll let you choose what to serve").
Shall we start with the bread? The bread and the pasta is all home-made so my mouth is already watering: lavender rolls, parmesan and olive focaccia and breadsticks.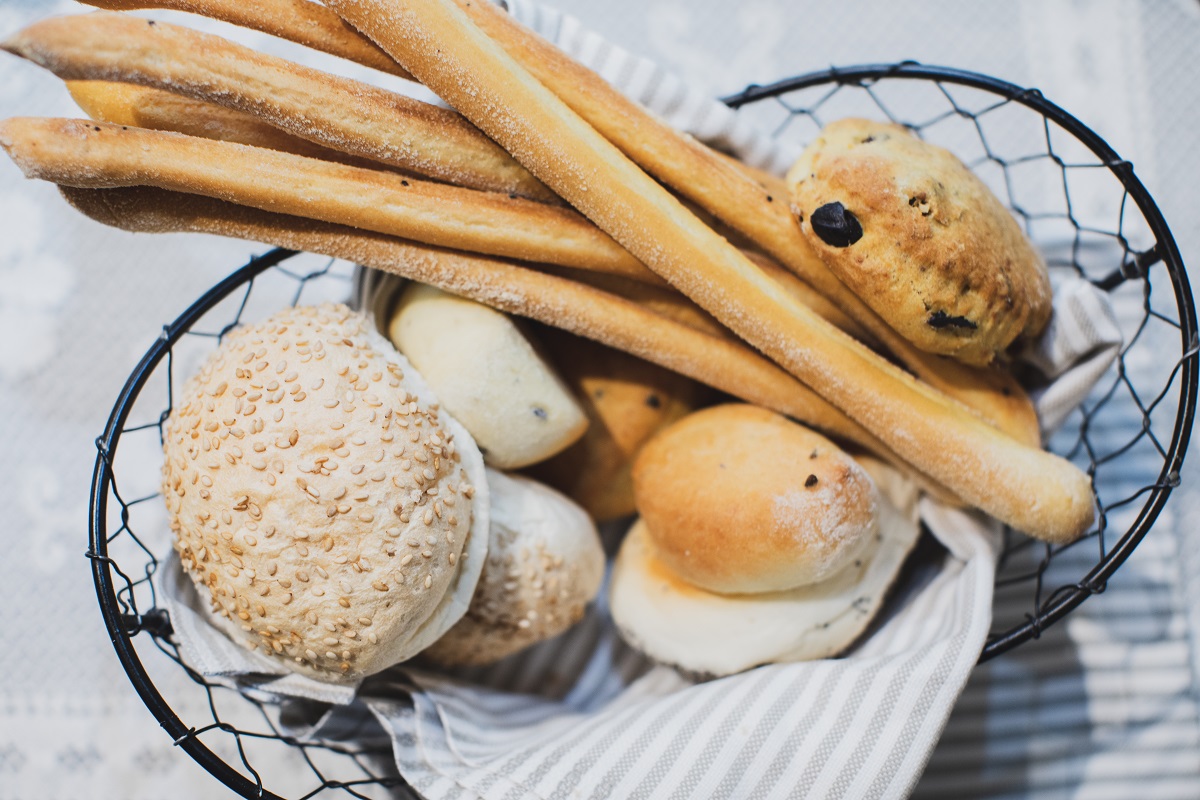 An excellent Prosecco with the starter, a fried egg yolk with an asparagus tartare. A delicious dish that captured me with those three small mustard drops which gave it the right twist of spice and flavor! I'm serious, because the mustard with the eggs and asparagus was incredible…all I was expecting was the usual mayonnaise!
Next, I'm served a glass of red wine, an excellent Merlot which slowly gets me closer to the next dish. Roasted pumpkin flowers filled with ricotta cheese and vegetables; everything served on a lovely bed of little tomato puree.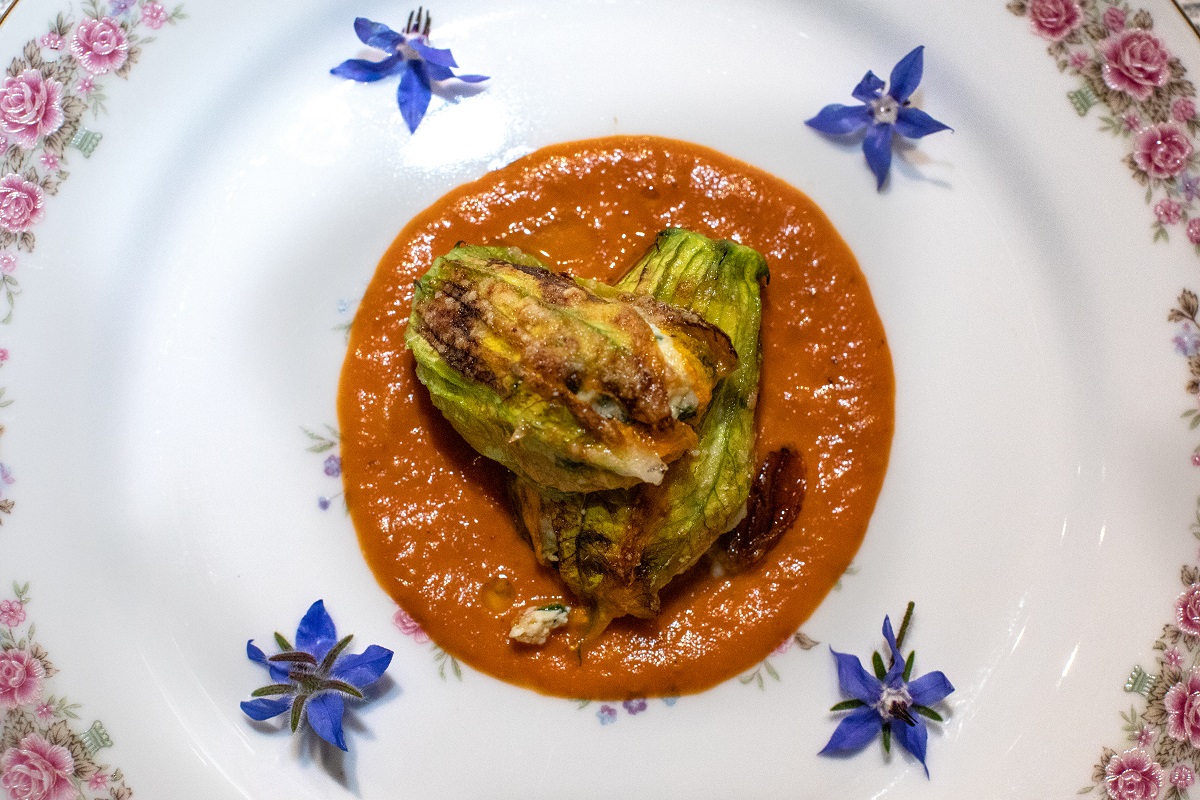 The next dish is one of the best of Casa Gialla: quail with truffle polenta…incredible, I can guarantee it!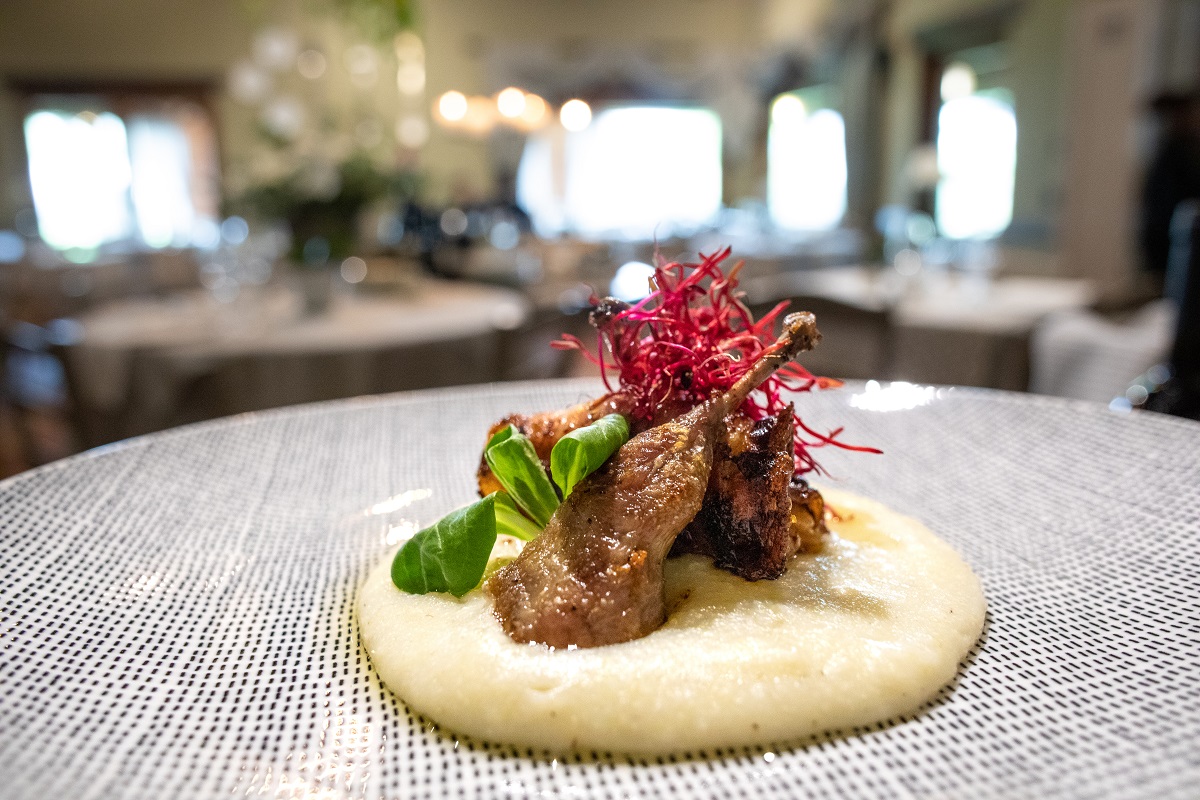 We continue with traditional dishes, like a stuffed crepe with wild herbs and vegetables and goat ricotta cheese. Also served on a sauce of little tomatoes. Soft, light but incredibly tasty!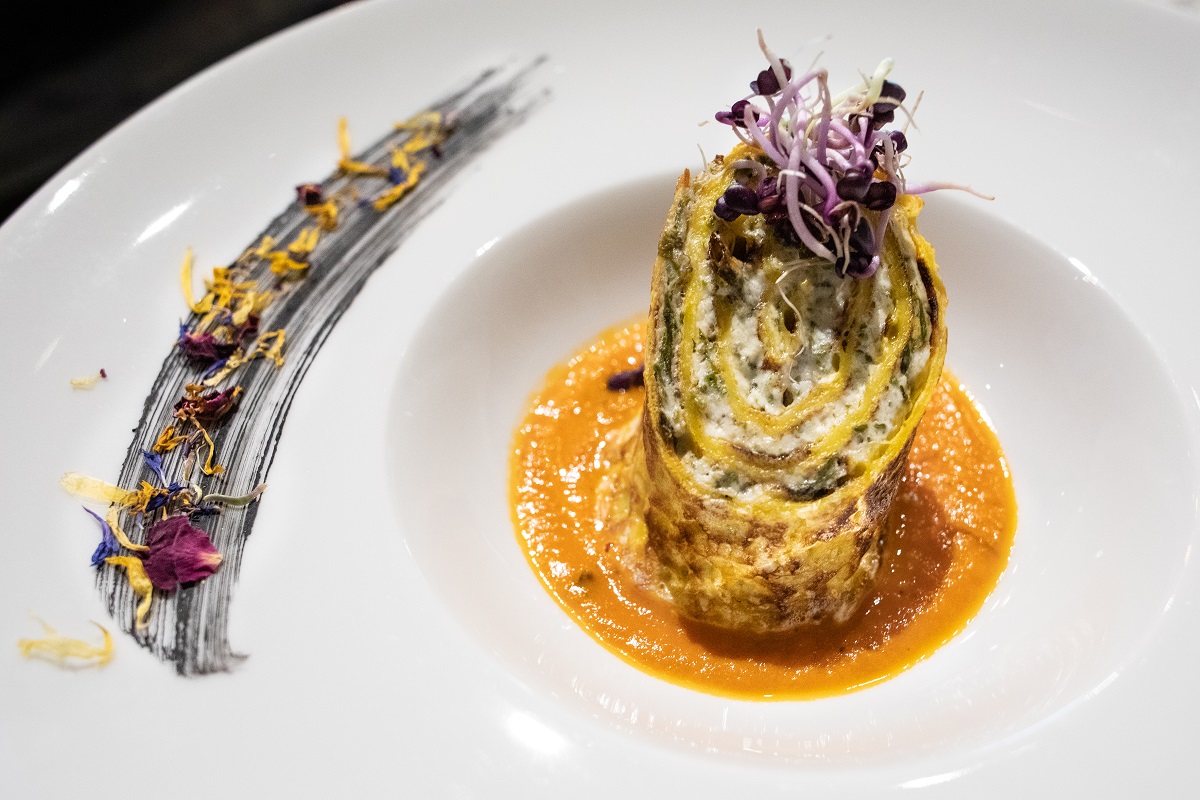 Next I have an orzotto with diced vegetables and a foam of red beetroot served in a wafer of frico.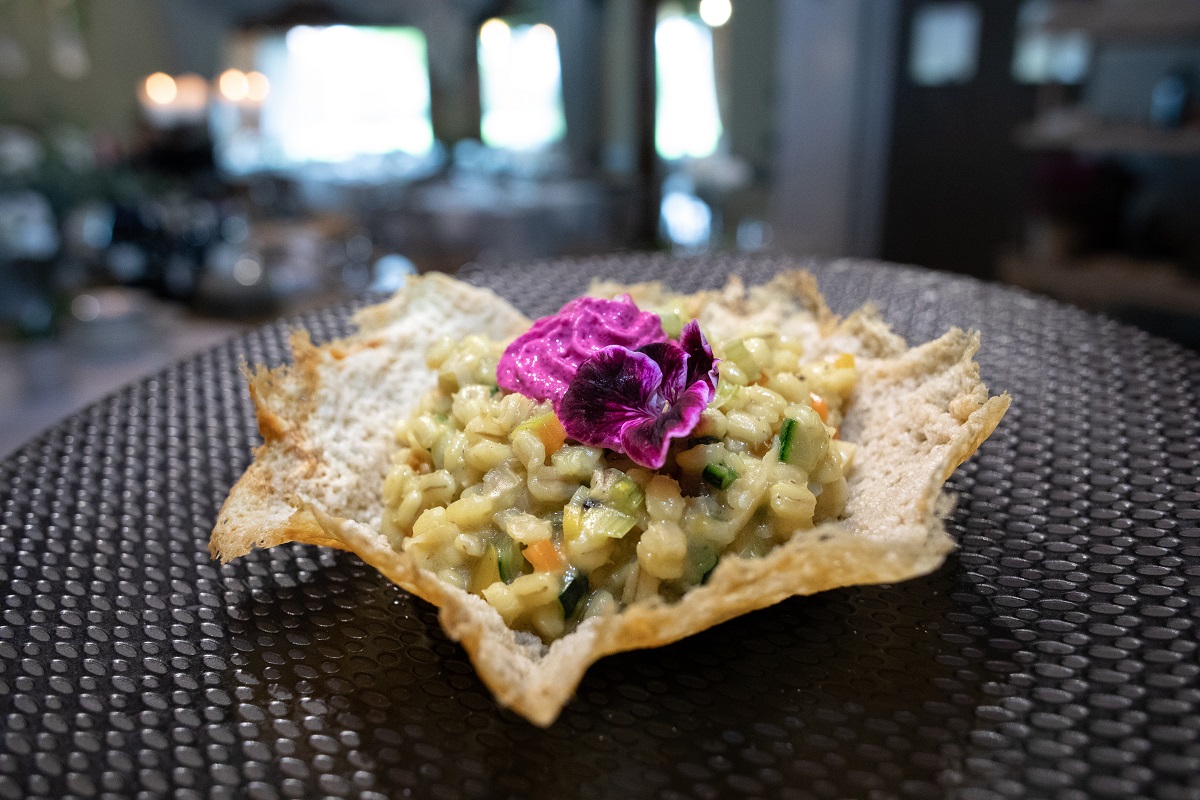 No, I'm not done yet. I definitely had to taste the home-made tagliatelle with hand cut Sorana ragù sauce. The Sorana is a species of female bovine from Italy, younger that 20 months and that has never had a pregnancy; this is why their meat is so soft, tasty and ideal for young children's food.
The main course? A breaded lamb cutlet with incredible flavor and piglet cooked in beer at a low temperature and served with prunes and a potato and speck cake. Poetry.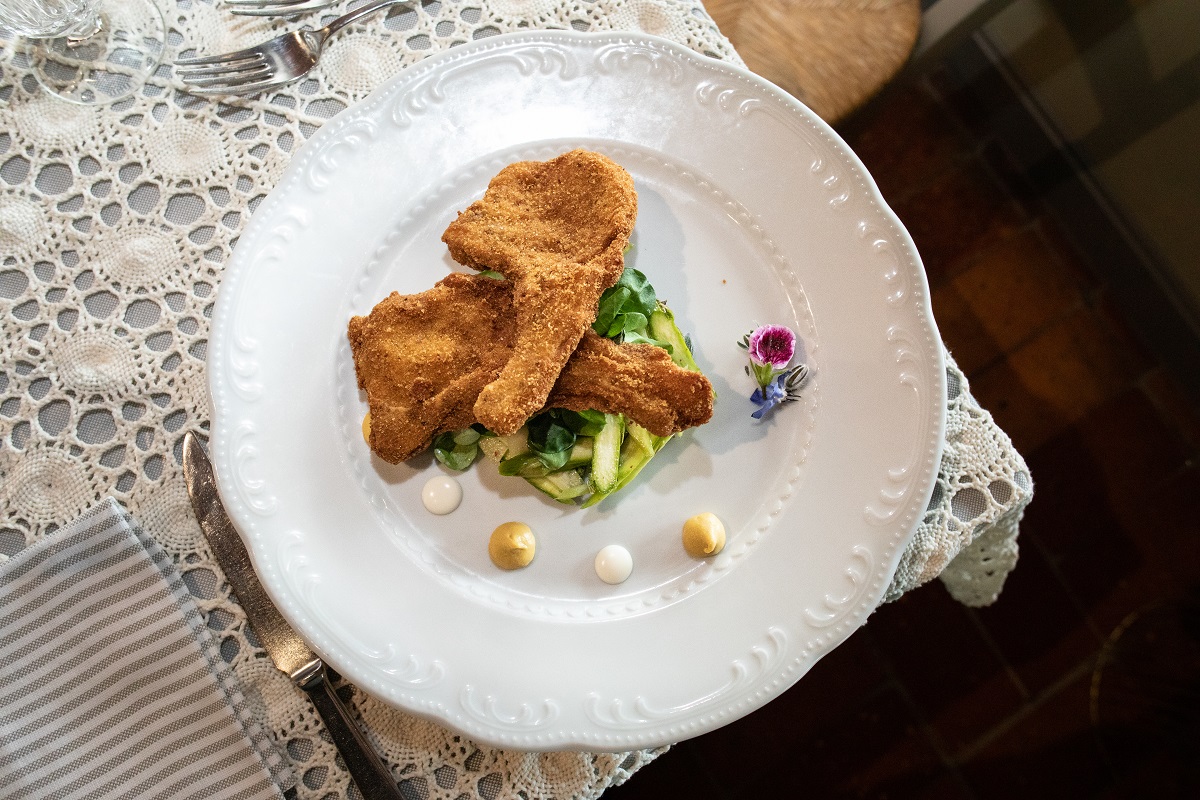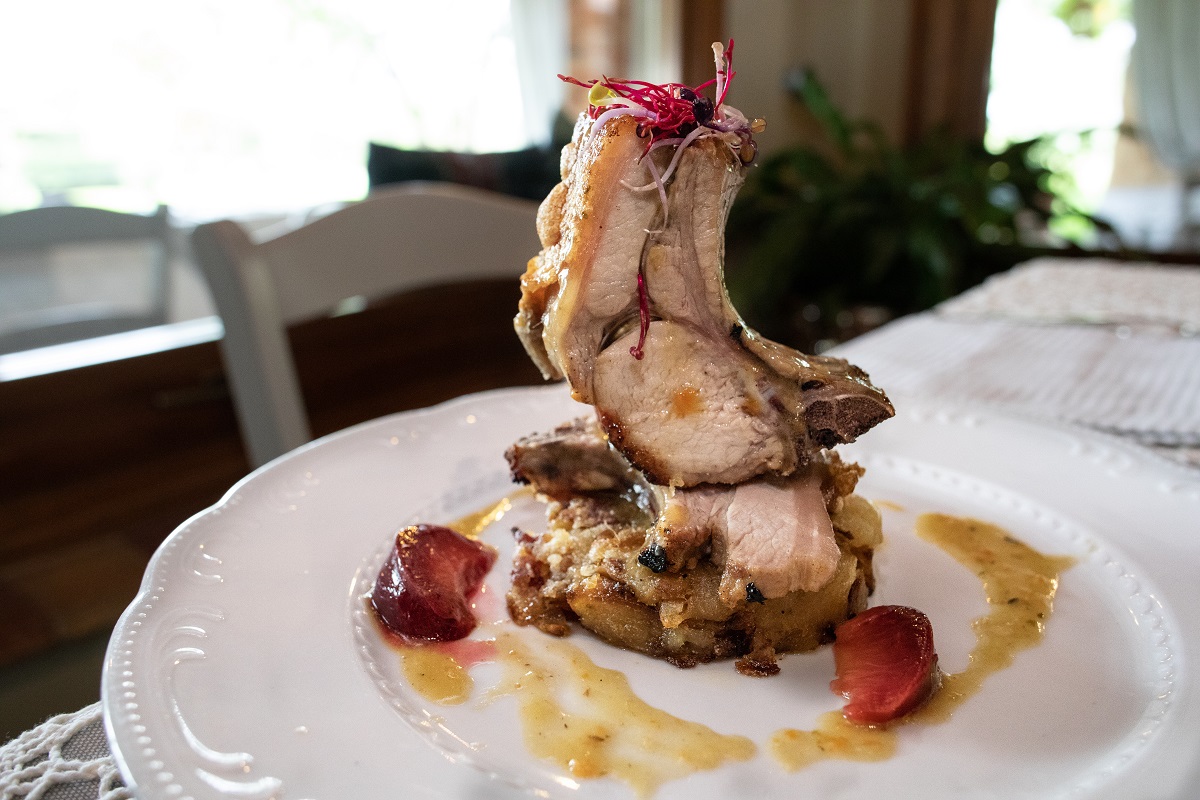 Well, I tried everything, but I didn't manage to eat it all or I would have had to visit the closest hospital;-) But I really wanted to tell you about the delicacies that the Casa Gialla offers, a restaurant that leaves little space to big changes or fusions, it simply declines traditional dishes in a modern way. It's lovely to taste the flavours I loved when I was younger… no strings attached!
I obviously haven't forgotten about dessert. Could I ever? A millefoglie with a Chantilly cream! When I saw it I thought "a mouthful will be more than enough" …but in the end, with a cup of coffee and a little chatting, I finished it all J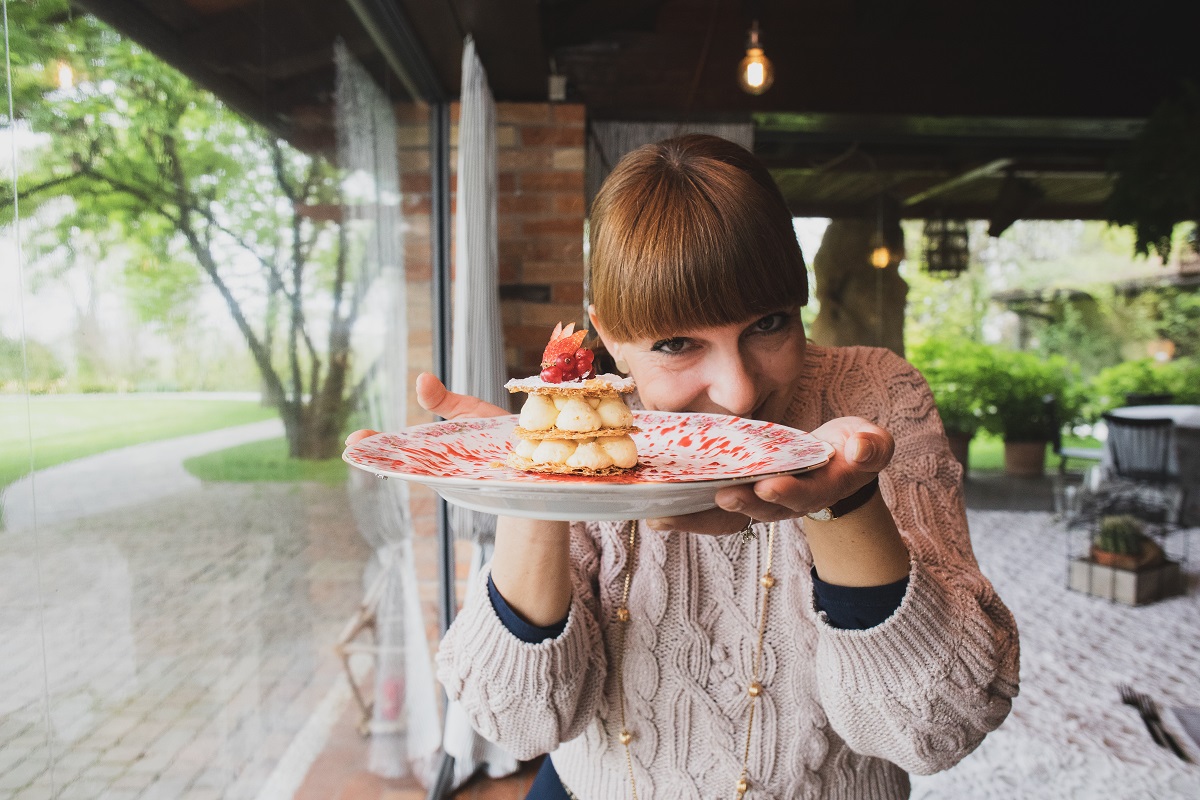 I'll also tell you about the price. For a lunch or dinner, you'll spend on average 40 euros; on average because it all depends on what you choose. I really fell in love with this restaurant. Sara Furlan, her husband Daniele and daughter Chiara were the best hosts; I felt at home rather than at a restaurant!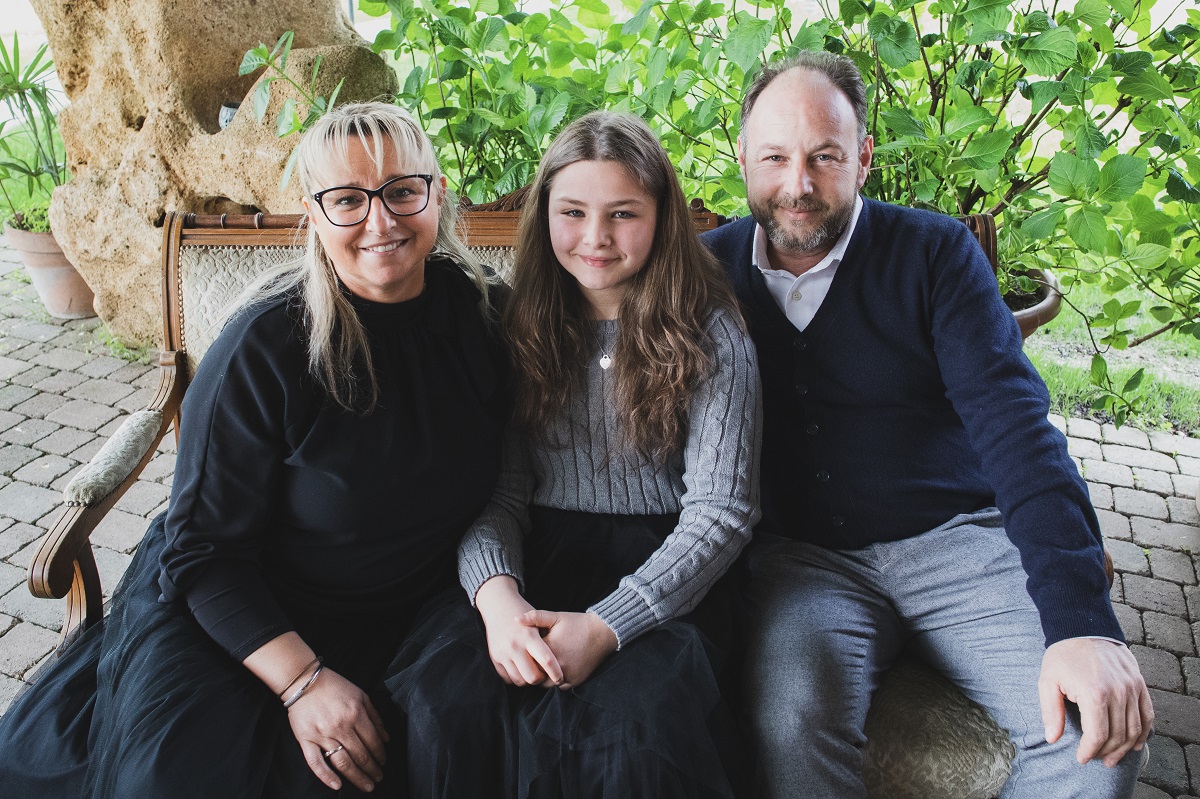 It's your turn now. I never ask this, and I think that when people will read it they might be a little annoyed, but I'll bear the consequences… if you try the cuisine at Casa Gialla, please leave a review on TripAdvisor. It's really important for them because the previous eight years didn't do them any favors. The return of the Furlan family definitely is a new start! They deserve a reward for their work!
Well done! I hope your work continues like this because you're doing great! See you very soon!
Photo Lara Perentin
Oufit Blondie Ultrachic