Last stop, all aboard!
Oh yes, I do believe that Mytilus can claim the record of "the first restaurant in Italy coming from Slovenia." We are in Muggia, precisely in the Lazzaretto area, and by walking only thirty more steps you will leave Italy behind.
This little place opened a few months ago when Matteo decided that being a lawyer was no longer his cup of tea: being around mountains of paper wasn't what he wanted anymore, so – with a last-ditch effort – he decided to turn over a new leaf and fulfill his dream of opening a bar in the Caribbean…with one tiny, tiny difference. Instead of going to the Caribbeans, he chose his city. This definitely isn't a chiringuito but rather a bar with a big kitchen, a beautiful restaurant overlooking the sea and a charming outdoor area with a large garden where special moments can be celebrated. The fact that during the summertime the area is set up with sunbeds and umbrellas is most definitely a bonus!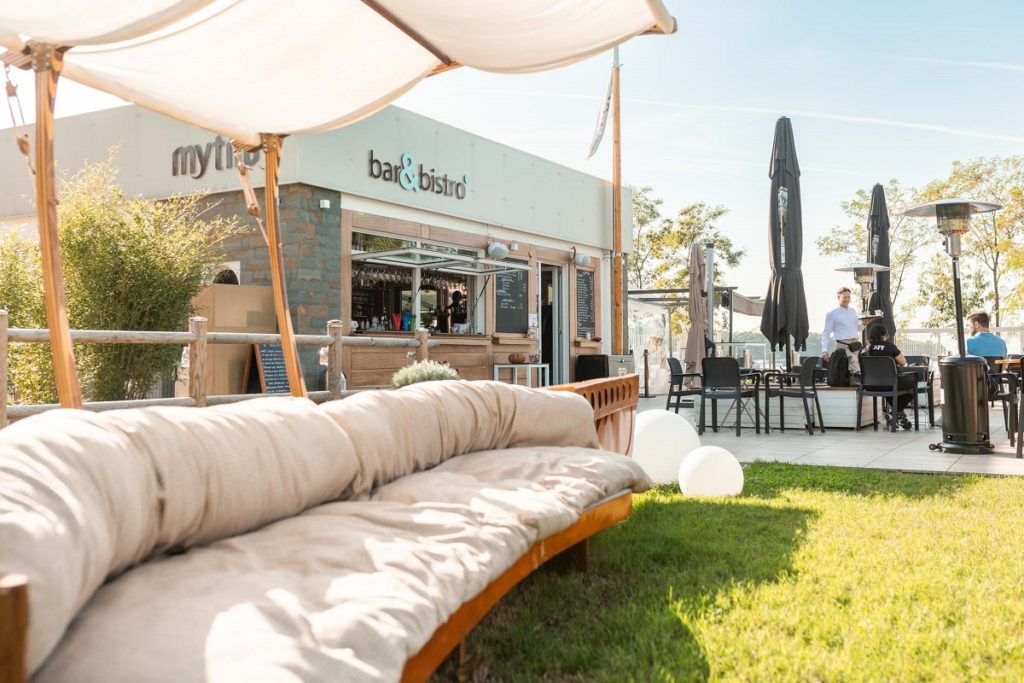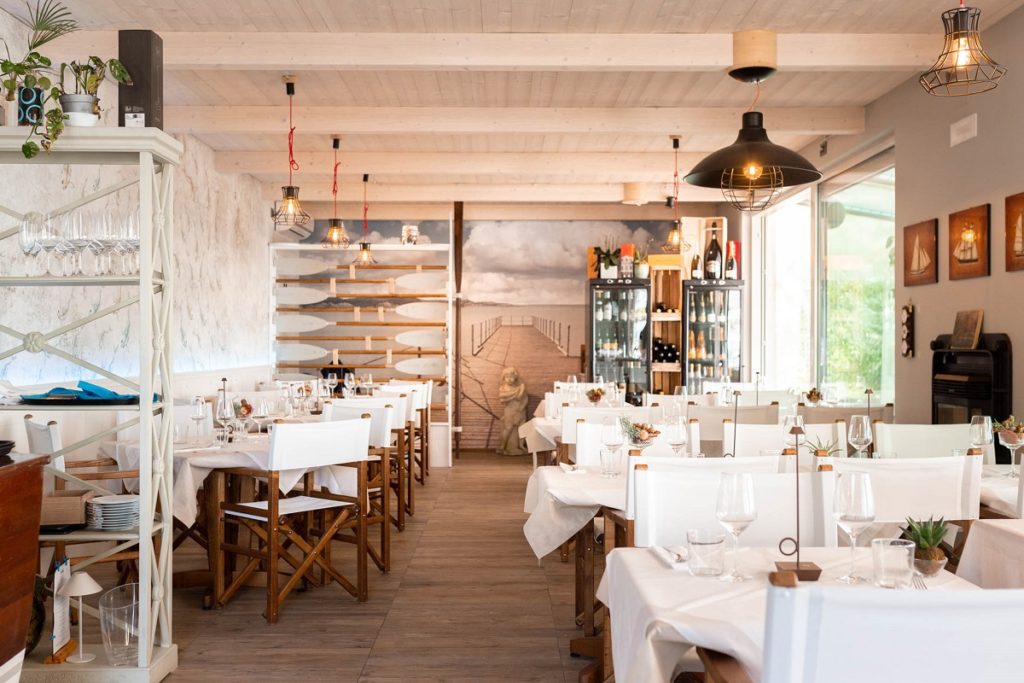 But how about a closer look at the restaurant? I have to say that it has really made its way into my heart with its resounding creations. Dishes with a sea flavor that perfectly go with the stronger taste of meat, with an interplay of different textures and cooking. Explosive.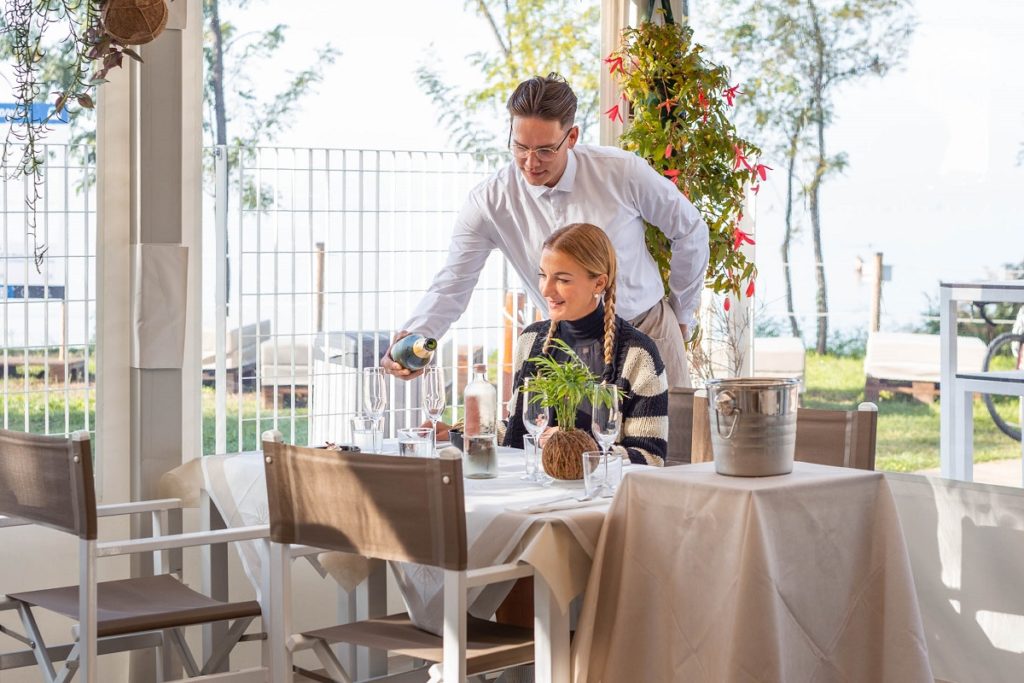 They opened the dances with a nice welcome from the kitchen: a fluffy cream puff with velvety salted butter and anchovies.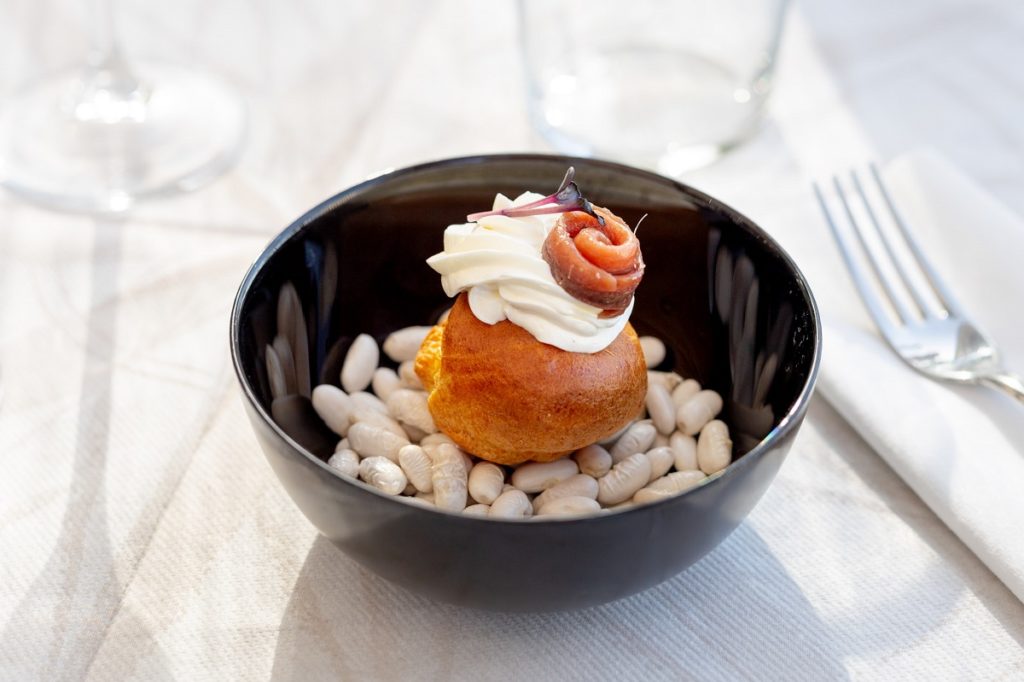 As an appetizer, I had the egg cooked at low temperature (65 Celsius), with crispy leek and gorgonzola fondue. Crazy good. And what can I say about the "Fish and fruit," in which fruit jellies (raspberry, basil, and grapefruit) color a dish of raw red shrimp, Croatian langoustine, Oyster Krystale No. 2, yellow fin tuna, blue shrimp, sea bass and amberjack? It was a delicious canvas.
As a first course I tasted an excellent Acquerello risotto with saffron, the last porcini mushrooms of the season and raw scallop petals. Another dish I appreciated very much was the Busera with homemade tagliolini and a raw shrimp tartare, delicately laid on the pasta right before serving: it was spicy and flavorful 🙂
I've already dug in this wonderful food, but I couldn't resist trying the main courses as well… or could I? Anyway, here comes a slice of amberjack with Jerusalem artichokes both creamed and fried, and a swoon-worthy black garlic cream. AMAZING.
But then it's its turn, here comes the dish that I personally liked the best: strong, flavorful, bold, balanced, and unseen anywhere else! I'm talking about their cod (which I basically only like when whipped), which is cooked at a low temperature and served with giddy Pil Pil mayonnaise. All this was floating on a broth made with San Daniele prosciutto and mushrooms. I would eat it a hundred, a thousand, two thousand more times.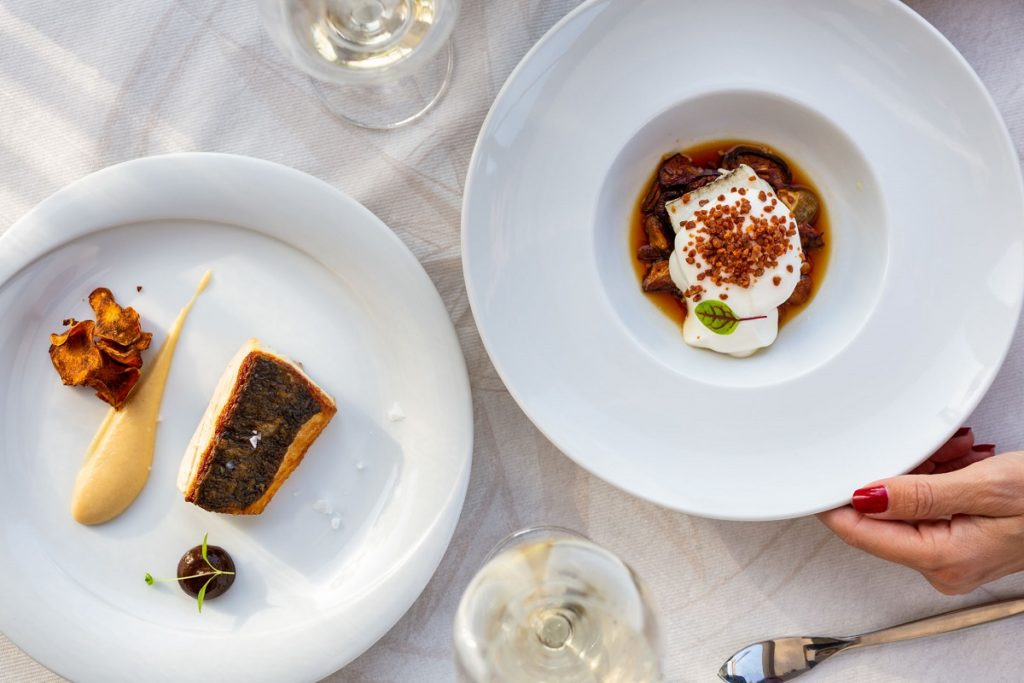 And we're already at desserts. They don't have a pastry chef in the kitchen, and I was ready to taste their options, but I was a bit wary. I'm not a dessert lover, let's be clear. Let's just say that at this point I would have preferred to start from the beginning by ordering the appetizer all over again. However…the pistachio Tiramisu washed down with espresso was good, but the three-chocolate mousse was divine. They also did a stunning layout. In short, I was pleasantly surprised.
We are now at the end of my tasty lunch, which was accompanied by good wines from the territory: I did not opt for champagne by choice (although they have several different labels here); as you know I prefer to keep my feet firmly planted on my territory.
As I voraciously took notes for this article, the sunset came. My eyes suddenly became heart shaped. I found myself deciding what to have as a digestive: I was offered a good aperitif with chili…uh! I do not like spicy food, but I cannot refuse such offer. That would be rude.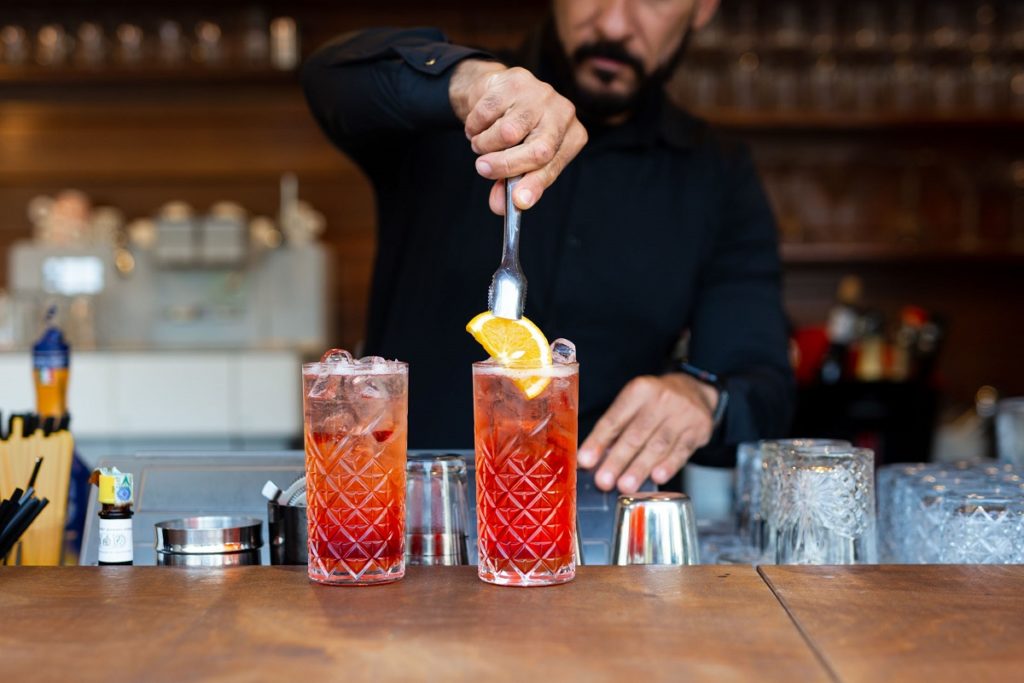 The images speak for themselves. The red of the sunset, the sound of the straw making its way through the ice in search of the last drop of alcohol…it's actually a good thing that I didn't like chili, otherwise it wouldn't have been easy to face the drive back!
Long story short, the "Tramonto Mytilus" cocktail won me over too, along with the amazing location, cuisine, and taste for details.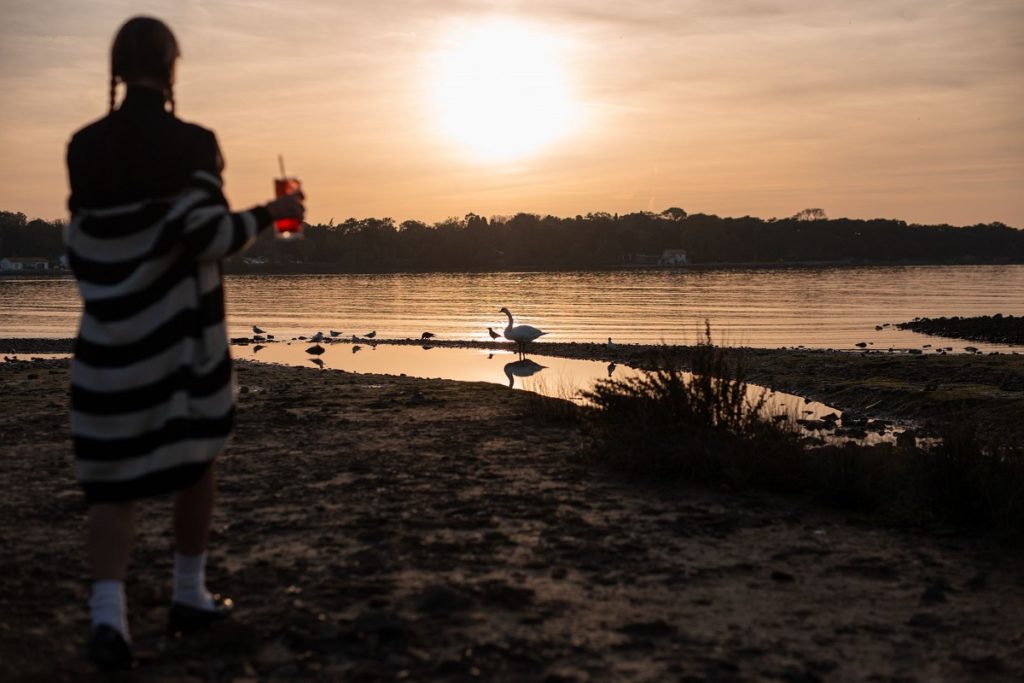 And now, drum roll please… I have a surprise for you! Until the end of November 2022, booking with the usual "MissClaire Sends Me" you'll get a 10% off on the food. Not bad, right?
Now, you only have to try 🙂