To those of you who don't know this area I have say: BAD, BAD PEOPLE. It's nonetheless true that everybody deserves a second chance, which is why you have time to catch up. How? Well, you can read all the way through this article!
The Collio ("Cuei" in the local language and "Brda" in Slovenian) is a geographic hill area that spreads over the countries of Italy (Gorizia province) and Slovenia (Goriška statistična). It goes from the Soča river to its right affluent, the Iudrio, and is delimited on the south side by the Friulian plain and on the north side by the fractions of Mernico, Cobaler and Lasizze.
This territory hosts the most well-known wineries of Friuli-Venezia Giulia, which are well-known on an international level. However, today I want to take you to the discovery of a small area of the Collio, which is the one around Cormons.
WHERE TO SLEEP AND EAT
I've dedicated many articles to this mesmerizing place, so much so that my followers should perfectly know La Subida. This is undoubtably one of my favorite places in the Region! It's a romantic place where you can sleep in small houses in the woods and make unforgettable memories while completely surrounded by nature and wonderful Michelin starred food 🙂 I'm talking about the Restaurant Al Cacciatore (let's not forget that those who are less "demanding" can easily sit at the osteria). You can choose to spend your nights in one of the many small houses available, in a rural yet well-cured and elegant place. Each house is decorated in a different style: from granny style to the country one, from the wooden nest to the library where two tubs under the sky will allow you to gaze at the stars with excellent music in the background: crickets!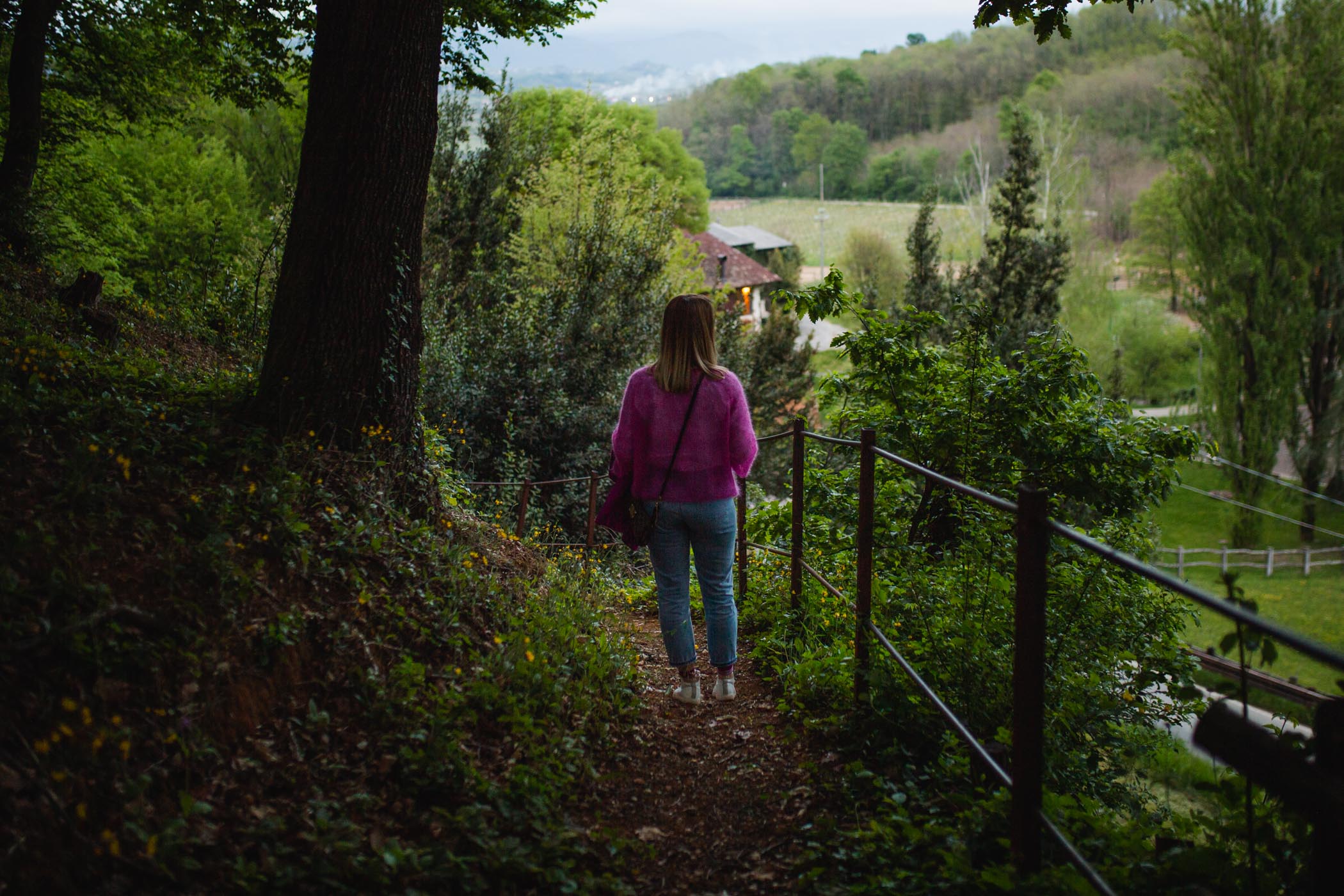 Needless to say, those who like a more classic style, can find their place at the Spessa Castle, which is a huge estate surrounded by vineyards. I'll say it. It looks like a postcard, worthy of a Disney movie! They can't go wrong with the 18-hole golf course, which gives on a wonderful Spa Vinium that has been recently completed but hasn't opened yet (it won't take long). "Good food", you ask? You can choose between the restaurant Alla Tavernetta del Castello or the Osteria: they're both guaranteed to be good for your tastebuds.
Until September 15th an offer pack is available: "MissClaire sends me – relax in Collio", which consists of a night in the Castle in a superior bedroom, breakfast, dinner with a "Casanova" meat tasting menu, combined with wines from the estate, and a massage of your choice from the SPA. All for 430€ for two people.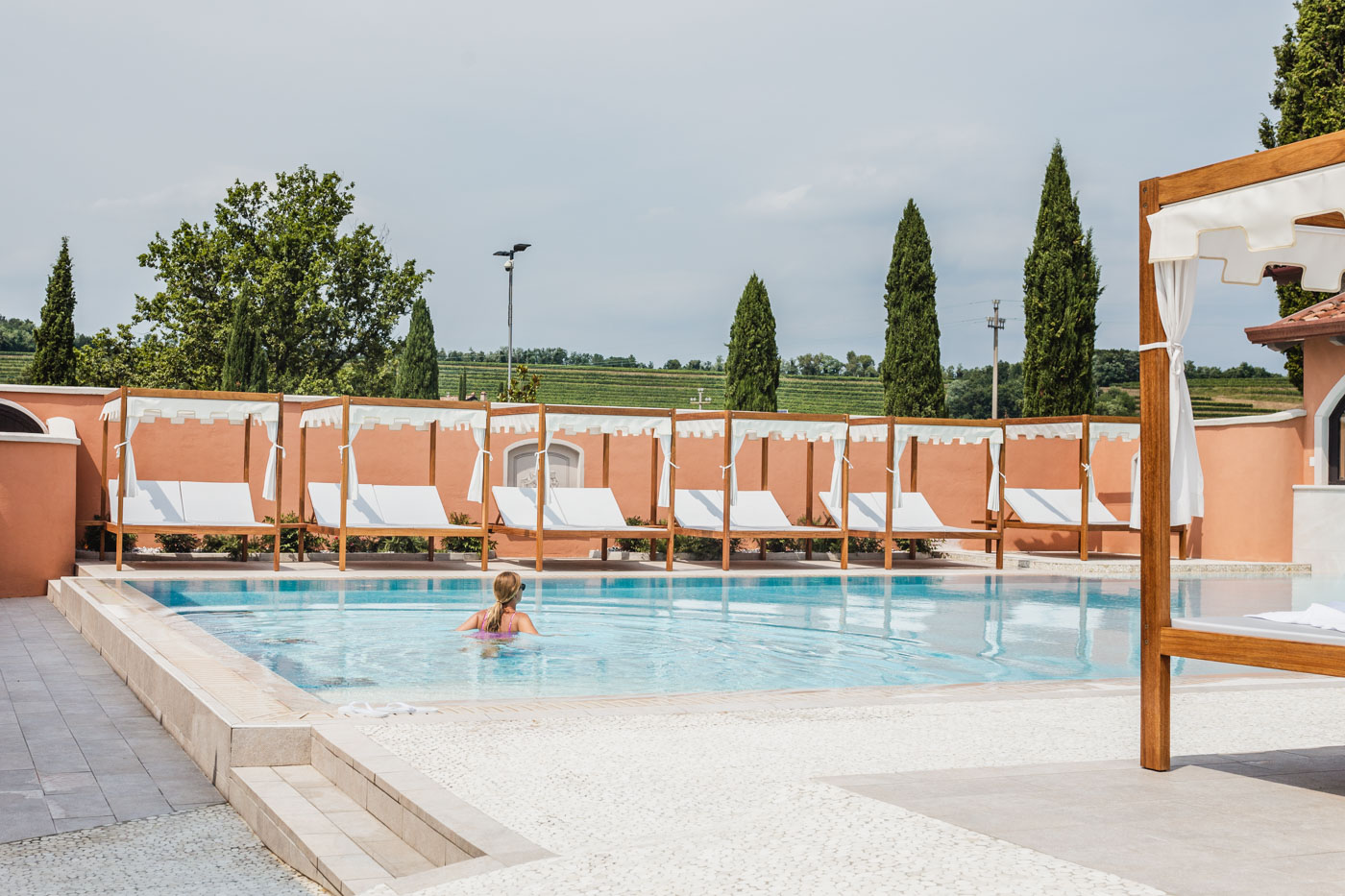 Cormons also has a few hidden gems up its sleeve, like the Zoff farm. In this really cute holiday farm, you may also taste their products, other than spend your nights in a cozy and welcoming place. And, if you're only passing by, you should stop and see with your own eyes one of the few entities in the region who will let you observe the whole process of production, from the livestock of red spotted cows to the creation of organic cheeses that are disarmingly tasty! This is a place that welcomes you and takes you back in time, to the discovery of authenticity.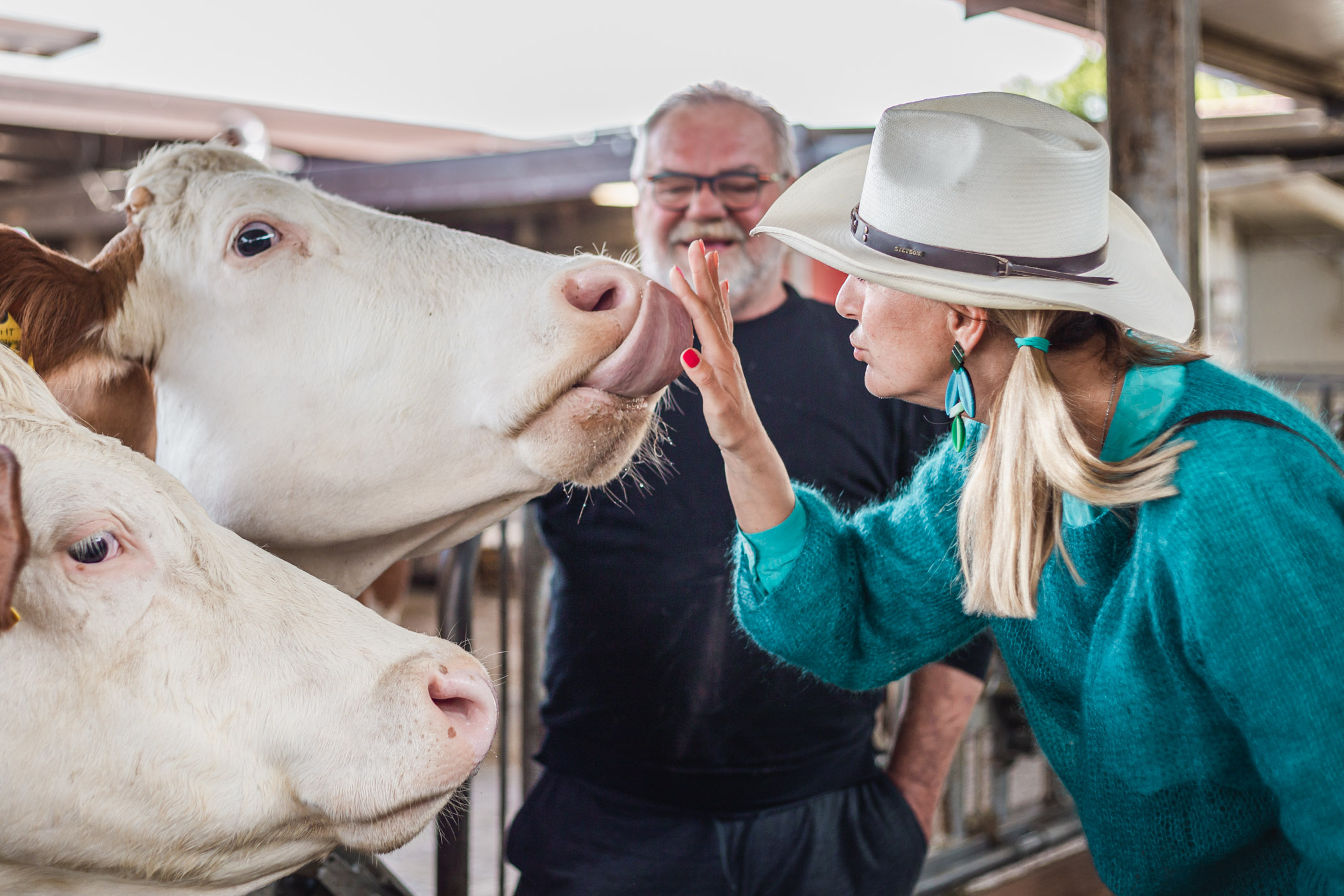 And, if you're stomach still has room for dessert, go to L'Antica Ricetta for a slice of Gubana. It'll satisfy your cravings for forgotten flavors! Until last easter, I answered a pretty categoric "NO" to the question "Do you like Gubana?". But after I tasted a slice of this heavenly good dessert, I couldn't keep myself from eating it all in the next 24 hours. To sweeten this experience even more, you'll have an exceptional companion: the San Zuan nocino. It's a liquor which production starts on Saint John's night, from green, wet walnuts. As I was saying, it's like paradise!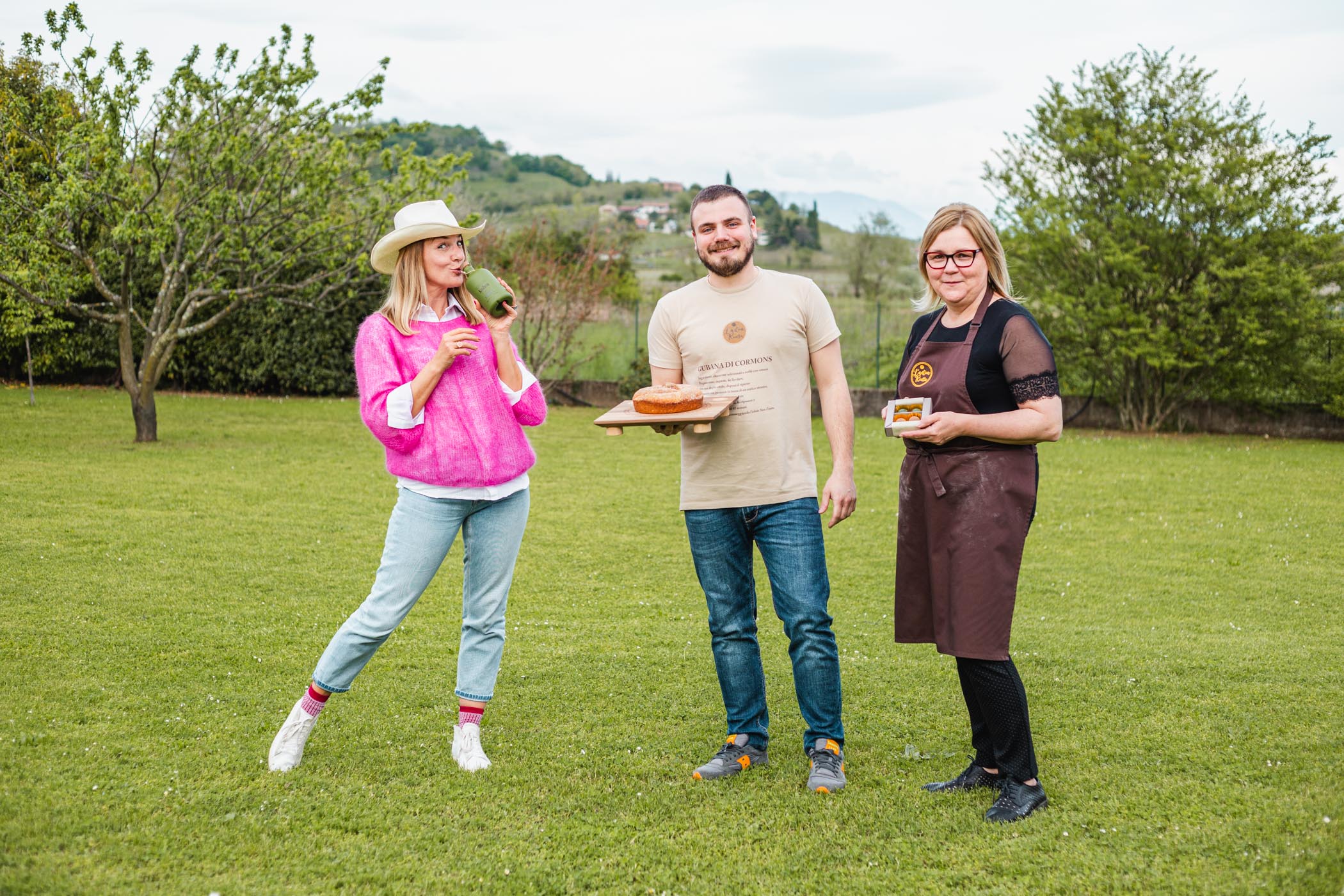 Is it weird that I haven't cited a winery yet? Ok, just one. Sturm: just two steps away from the Subida – and believe me when I say "two"–, this farm has the "organic" symbol on their etiquettes! One of their slogans is "everything is born from the earth and to the earth everything will return". This is a sentence that perfectly makes you understand their philosophy. They produce elegant and fruity wines, but at the same time they obtain a very clean, genuine, and pleasant product. Their organic line consists of Ribolla Gialla, Friulano, Pinot Grigio, Sauvignon and Merlot, but their classic line is broader.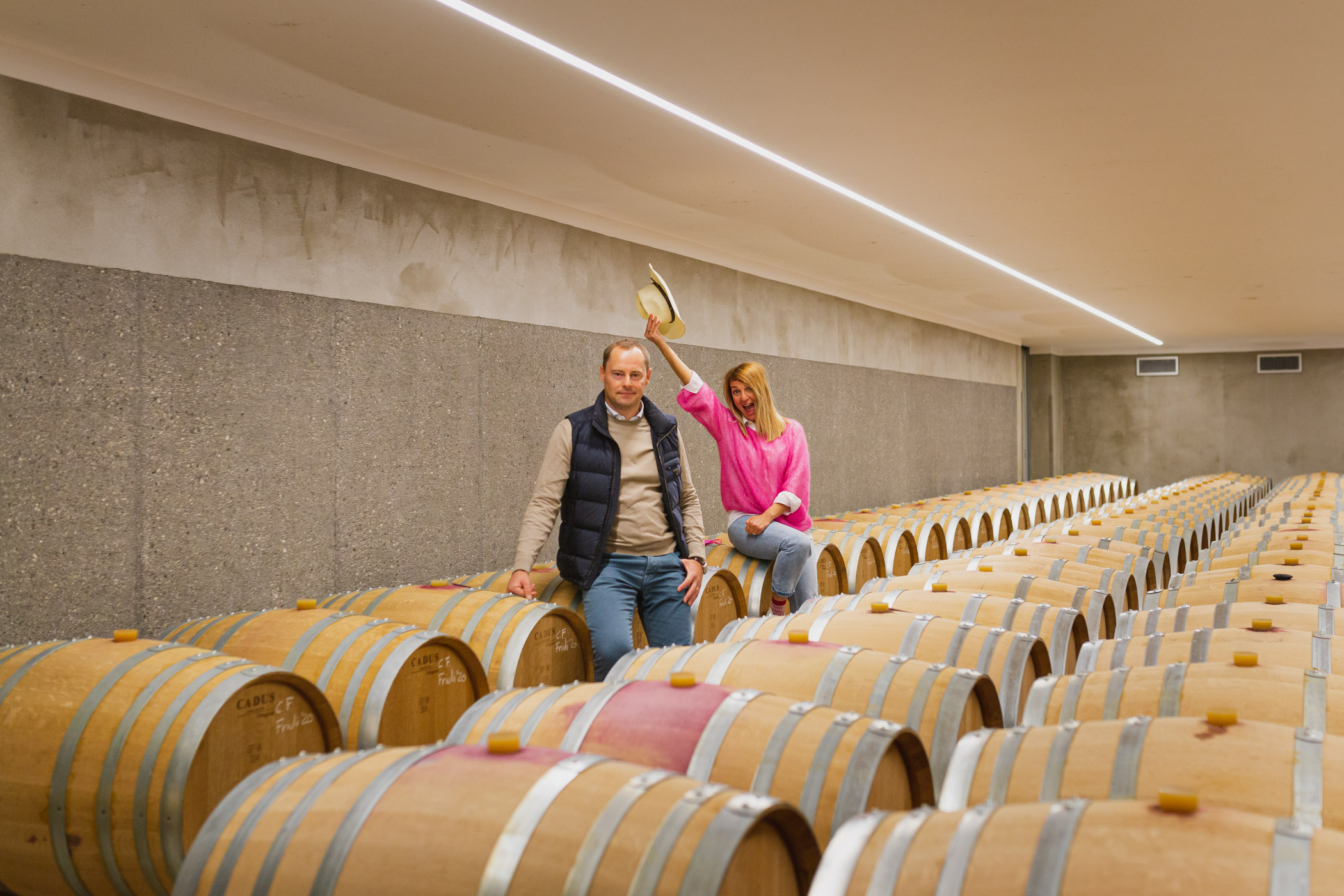 COME SPOSTARSI
If you want to live this territory at its best, follow my advice. Once you get here, park your car, leave the keys in your room, and leave them be! You can call Zorgniotti, who will rent out some electric bikes to you (that can be provided with children seats) or can opt for the new and very colorful Vespas 125cc! I can guarantee that you will enjoy the views a lot better when on two wheels, and you'll feel a lot freer when you won't be appreciating the Collio from a different point of view.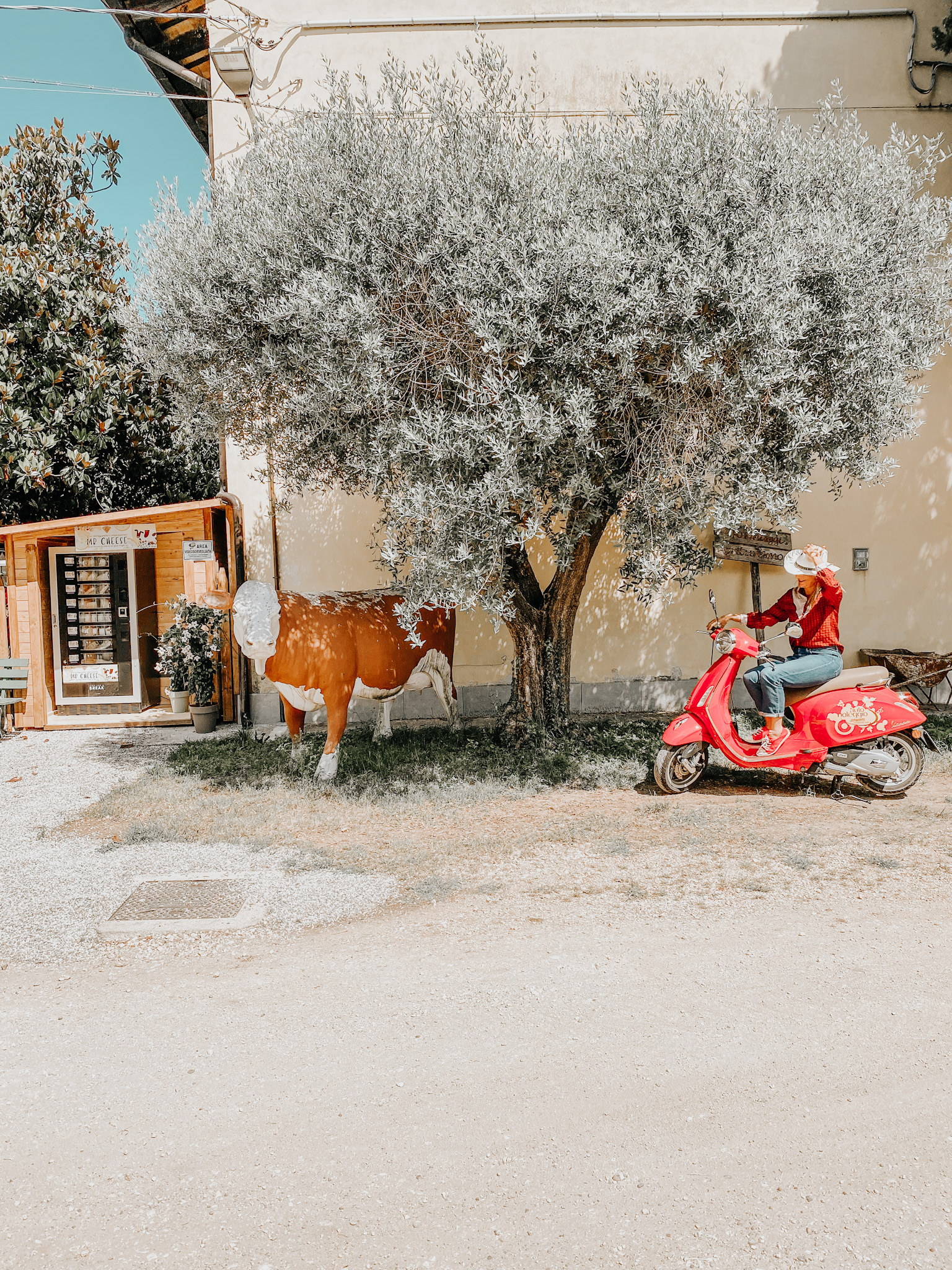 So here we are, I finished my mini guide on these gems in this corner of paradise in Friuli Venezia Giulia. I hope I've made you curious to visit and I wish to enrich this little handbook step by step. You must know that the beauties around here are born just like snowdrops in the mountains: the territory seems rough and is often misunderstood, but it jealously keeps its traditions and wants to sprout in the middle of a pure, white layer of snow.
See you soon!
Ph. Michele Grimac