Here I am with my 500 L (Fiat) dated 1972 driving among the meadows of the Slovenian Karst, just 13 minutes from the Pesek border.The sun is setting and gives me a fantastic light that illuminates the small town of Rodik, its stone bell tower and the few houses divided by narrow streets. Pure magic.
To be precise, I find myself on the border between Karst and Brkini, in a land that smells of freshly cut grass and lavender.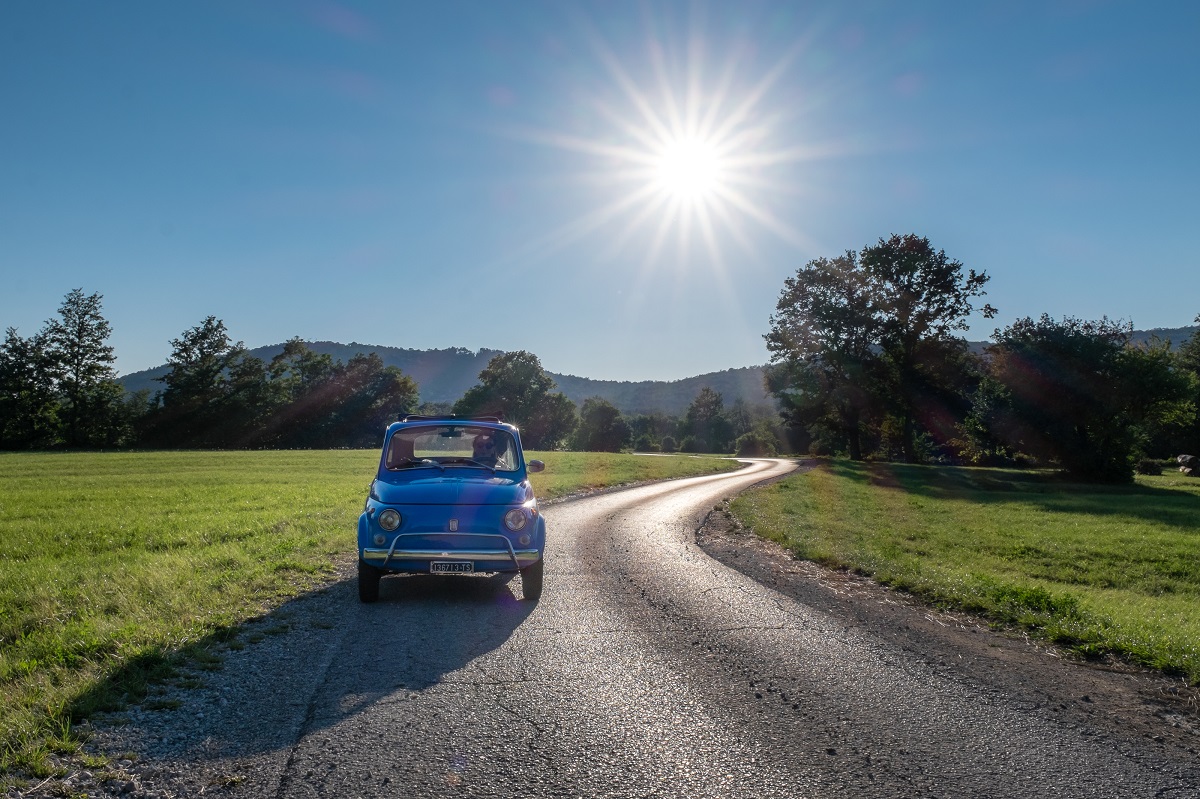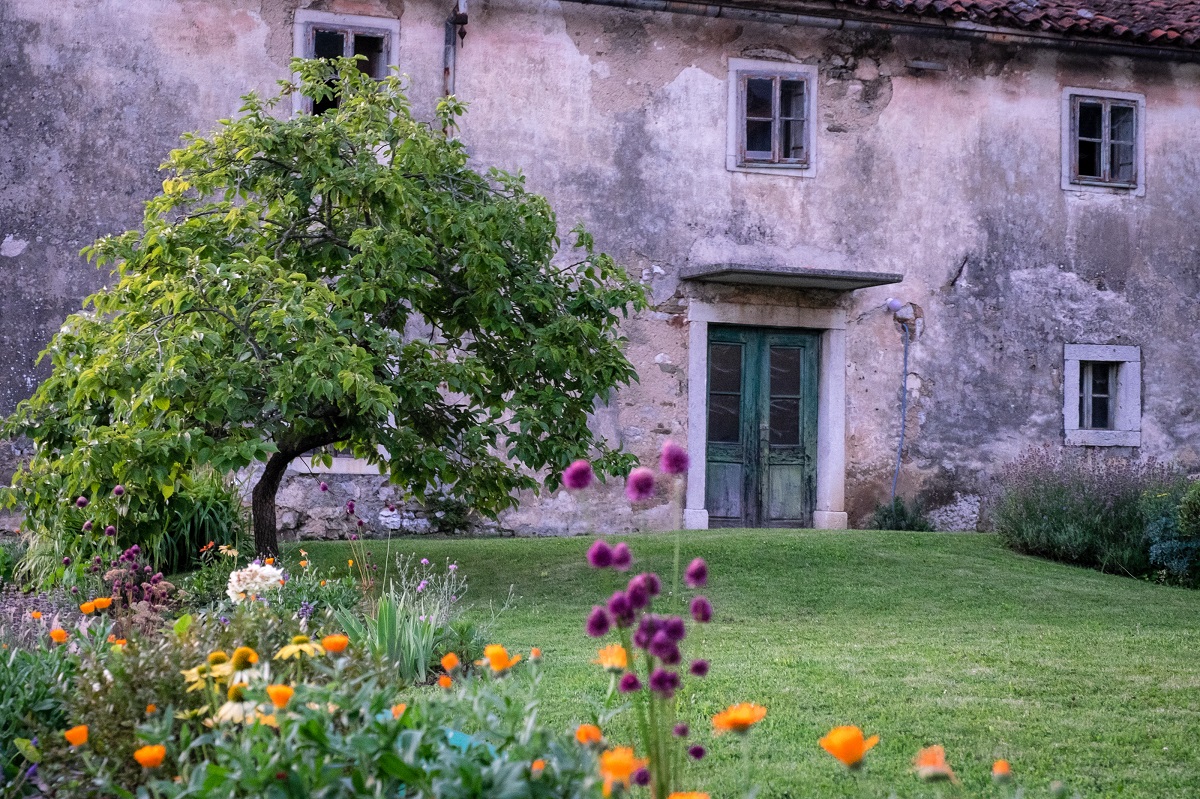 And it is here that, in a typical karst house, the sign of Gostilna Mahorčič welcomes me.
Do not be fooled by the name. I am telling you this because in Trieste to the word gostilna (which in Slovenian means restaurant) we associate a place of the former Yugoslavia where you can taste dishes of the past such as gnocchi with goulash, ljubljanske (Milanese double with ham and cheese inside) , pork knuckle and palacinke (crêpes).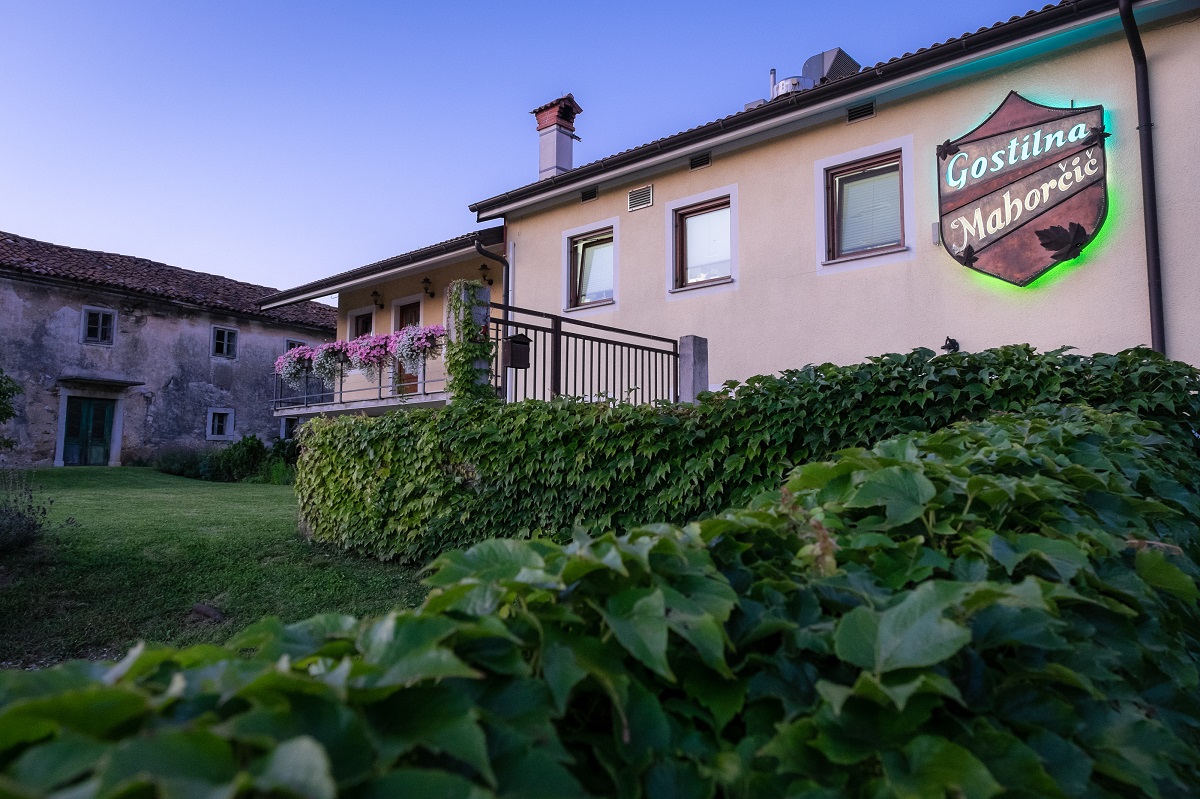 None of this here, tells me Ksenija Krajsek, wife of Martin Mahorčič: "the tradition remains but it has declined to the present day."  Ksenija started working in this place in 1993 by pure chance;She was helping, what at the time was her boyfriend … today life partner 🙂 She graduated in Ljubljana in public law. Him, following the family tradition, chef and sommelier.
A couple who has exchanged roles, because over time Ksenija as become  passionate about cooking, starting from desserts and various courses of  English a and especially Italian origins. It is she who slowly reinvents the most traditional dishes with the approval of Jorika, mother of Martin, who until 2006 remains to lead the restaurant and trusts this girl blindly. Changes, as always, have not been easy; Ksenija tells me that it was not easy to change the habits at the table of the many guests from Trieste who came here (and come!) to eat.
And it is always she who tells me smiling that when her mother-in-law took the reservations, she immediately recognized the regular customers and knew exactly, in sequence, what they would order.
They were really good and brave to propose a small gradual revolution in the kitchen without abandoning the flavors of this wonderful place. No coincidence that the menu that I will taste (which is not the only one!) Has a story to tell; that of the women of the past who, from Rodik, went on foot to Trieste to sell the products of their land. Vegetables, meat, milk, cured meats and cheeses. Returning they brought salt and fish on the tables of these karst houses 🙂
Let-s talk  about the restaurant! Here I am entering the open courtyard, under a pergola of vine from which uneven bunches of grapes hang; the red rays of the setting sun barely filter, illuminating several tables with light yellow tablecloths. The view overlooks the wall of a house where an American grapevine has now taken over the entire surface leaving only the spaces occupied by the windows.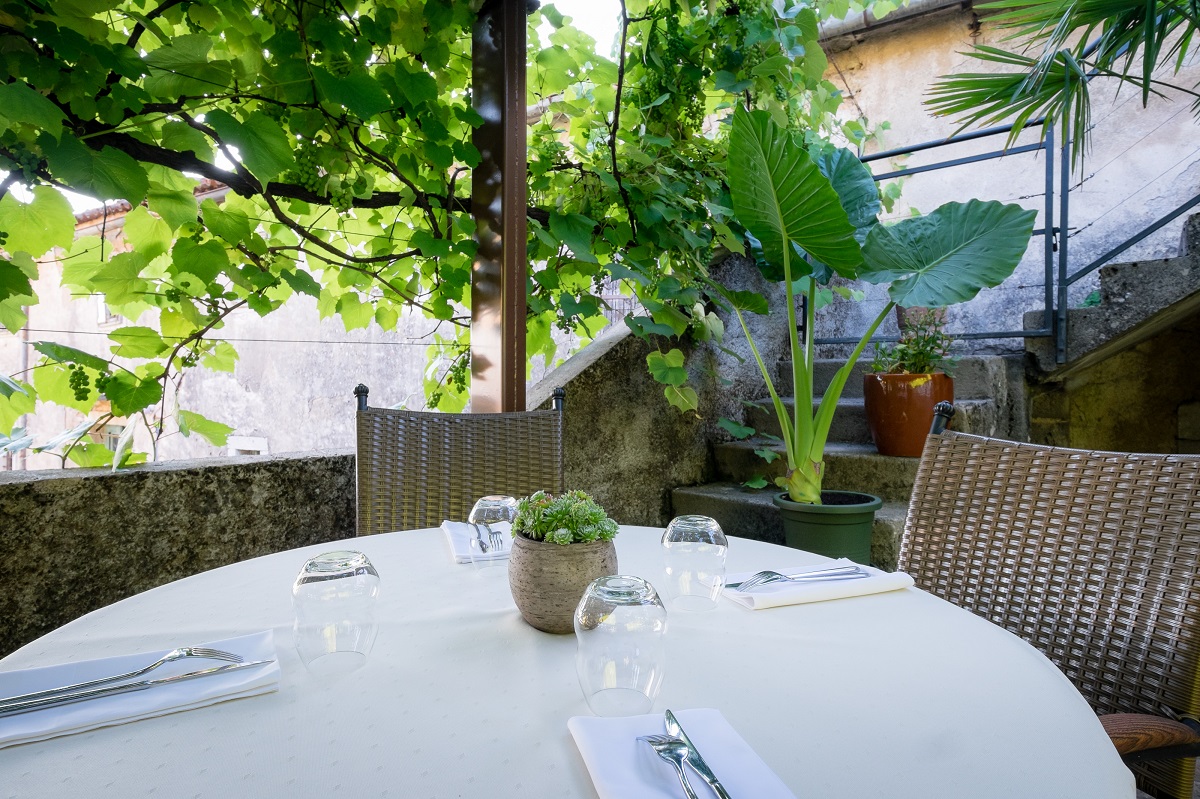 Do you know what is the particularity of this plant? It makes a noise similar to that of the rain. If you follow me on IG, you will surely understand what I'm talking about; very small balls (probably containing the seeds of the plant) that fall on the leaves like water droplets. The noise is exactly like that … and it is impressive when the sky is blue without even a cloud.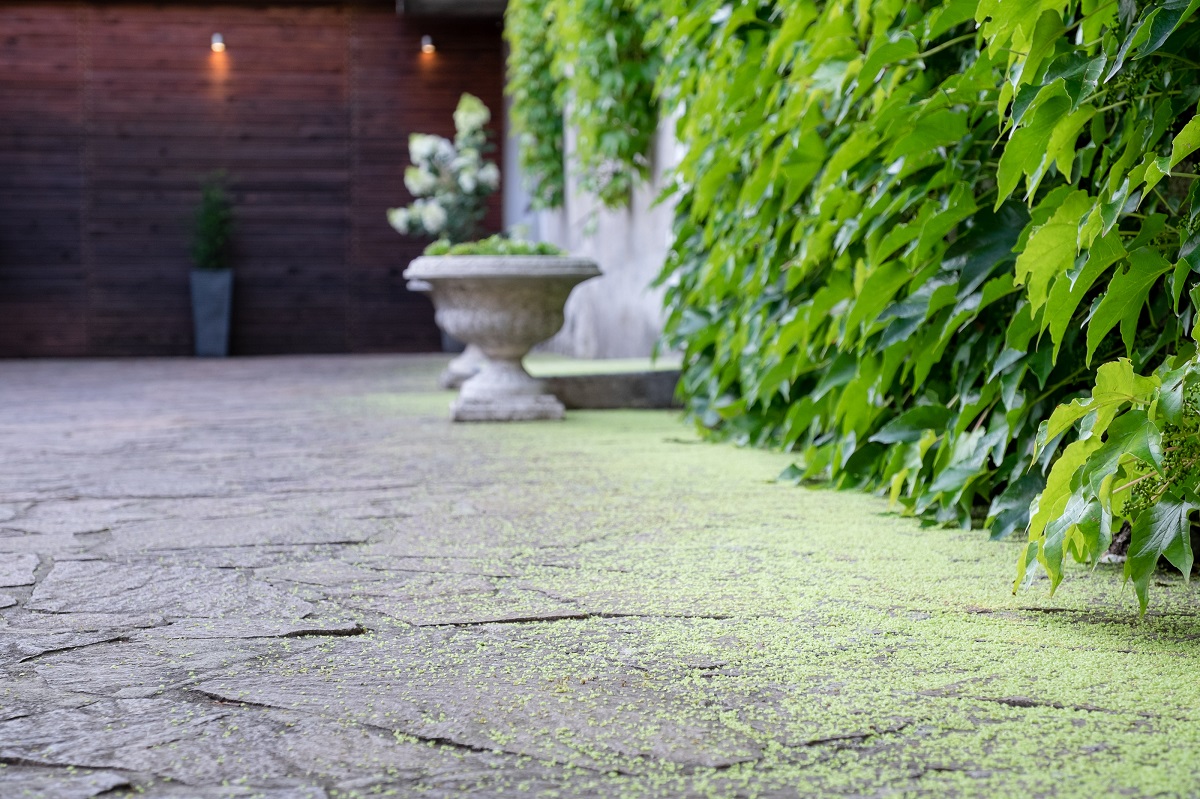 The interior of the restaurant is modern and houses a magnificent tiled stove that I imagine serves to heat the cold evenings with bora burring that offers my beloved Karst in winter.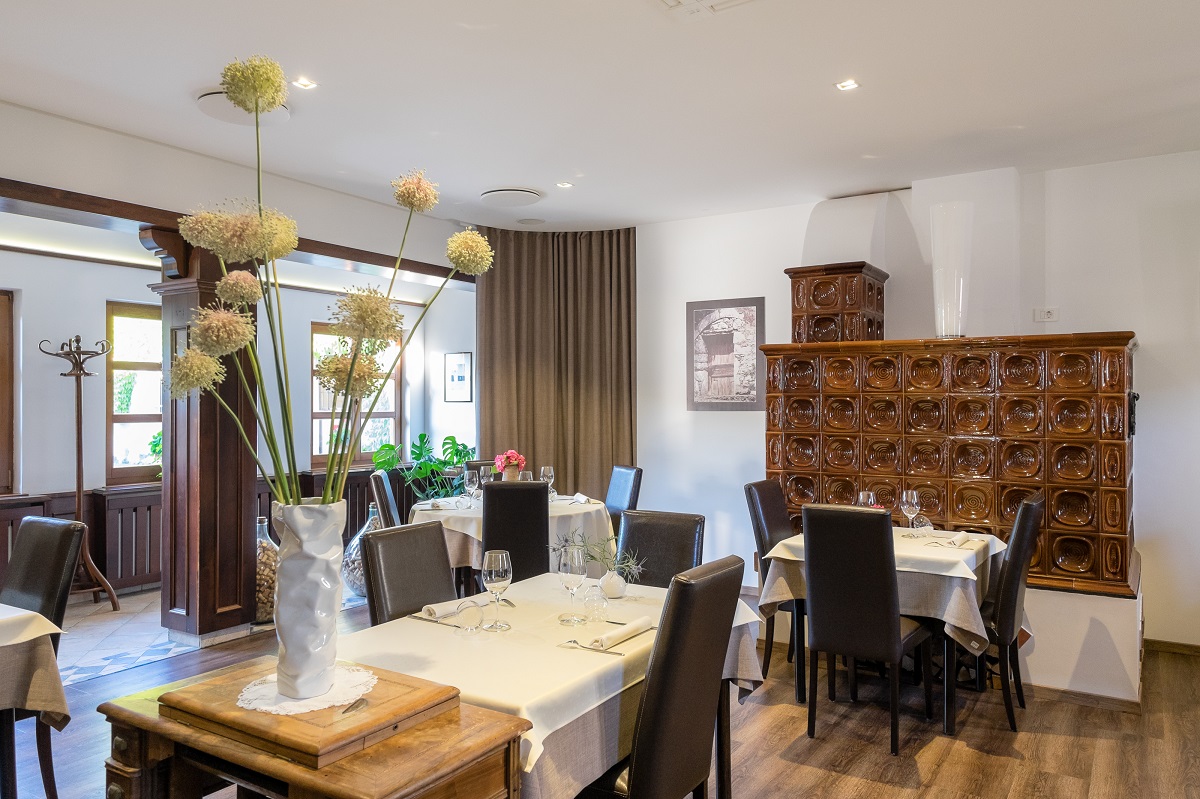 But now the time has come for a good glass of Rosè as an aperitif, accompanied by "the greeting" of the kitchen. "A truffle", a sphere of fresh ricotta covered with powdered porcini mushrooms (collected in the forests of Slovenia) served with other globes, this time of fried bread. I am struck by the plate, a marble plate surrounded by wood, all materials found in our territory.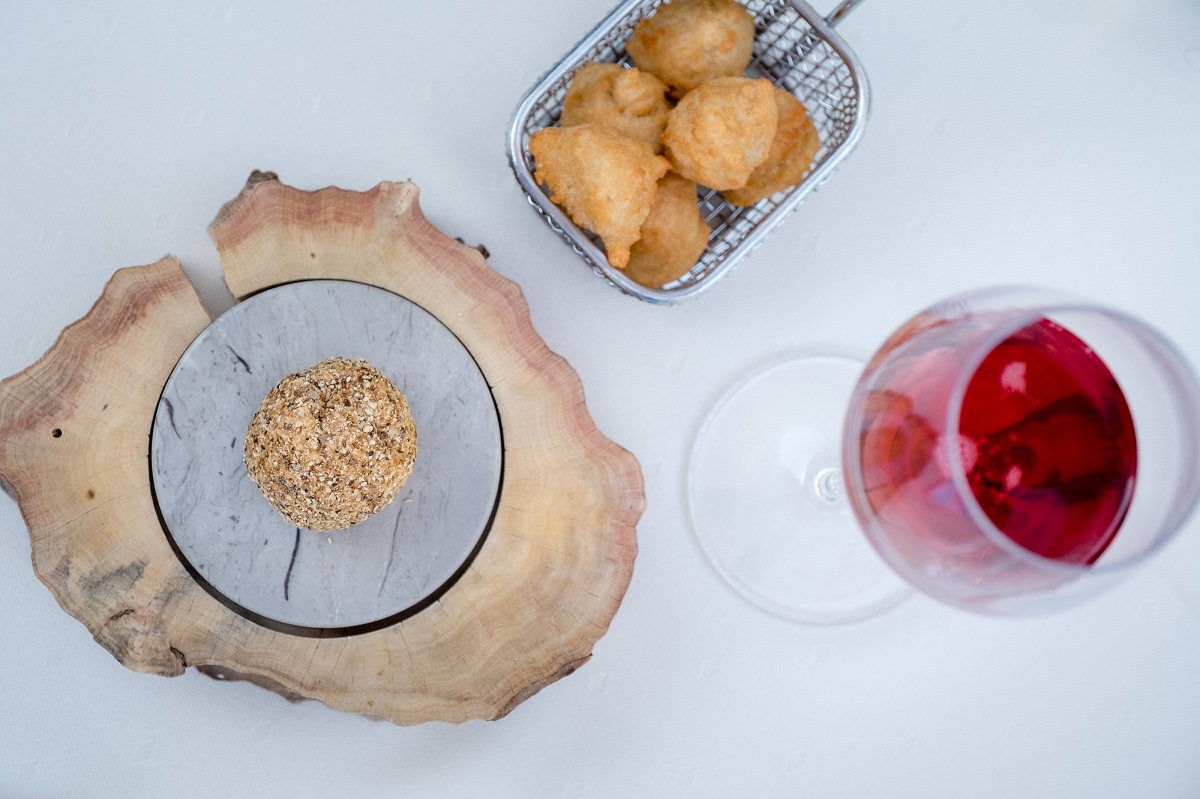 "Struck and sunk" by the second presentation that, let me say, goes beyond the first: above a brick of ice here are savor sardines with red onion ice cream. It's a moment. The ice block makes my mind fly to the women of Rodik with their old iceboxes.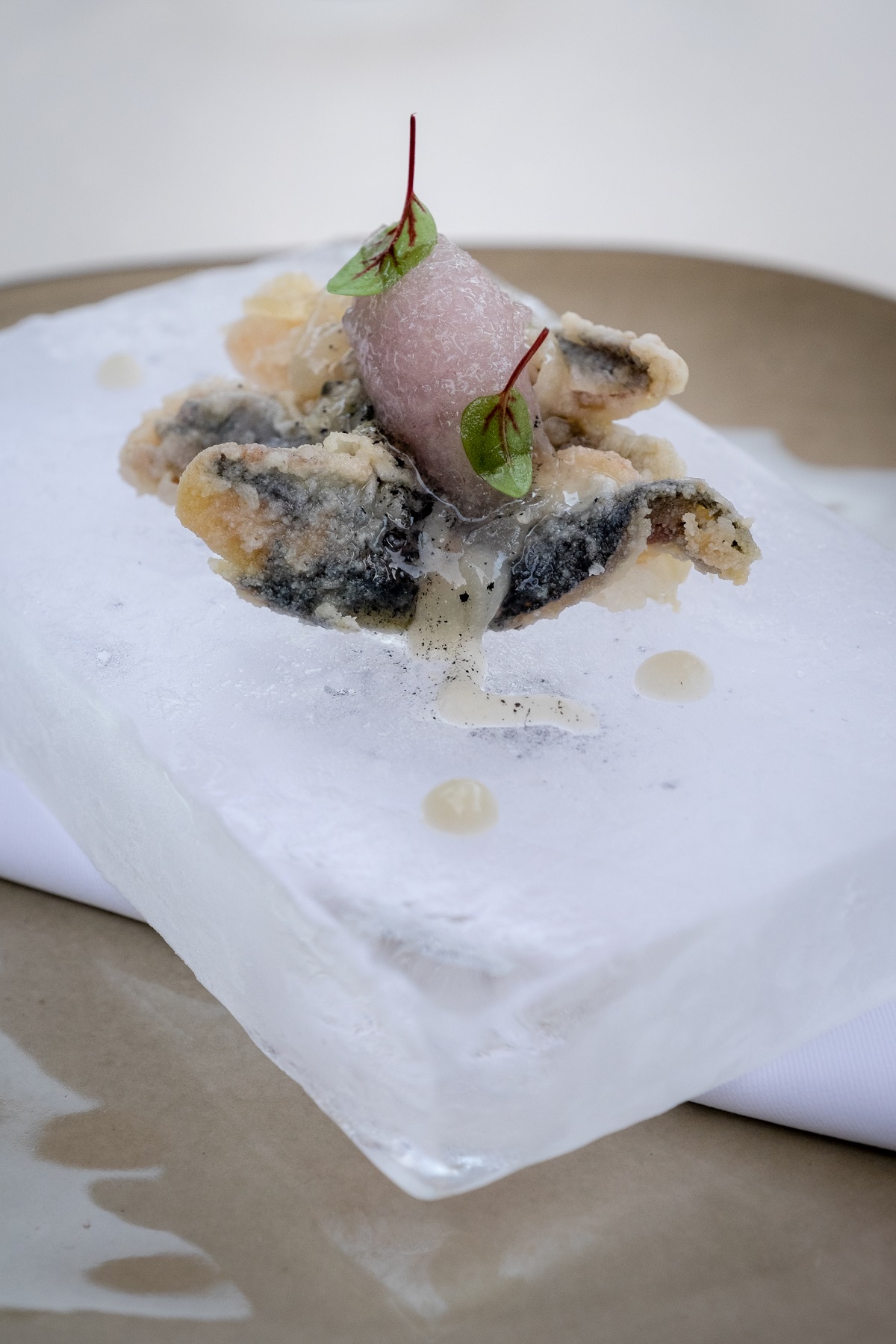 But here comes another dish that reminds Ksenija her childhood and Sundays at the beach: a big loaf … covered with chicken pâté! It is presented with two types of bread; a classic one and one made with mother yeast. This crunchy delicacy accompanies the paté with a chutney of roasted onion, a crumble of fried bread, dried raspberries and the reduction of apple juice. Awesome.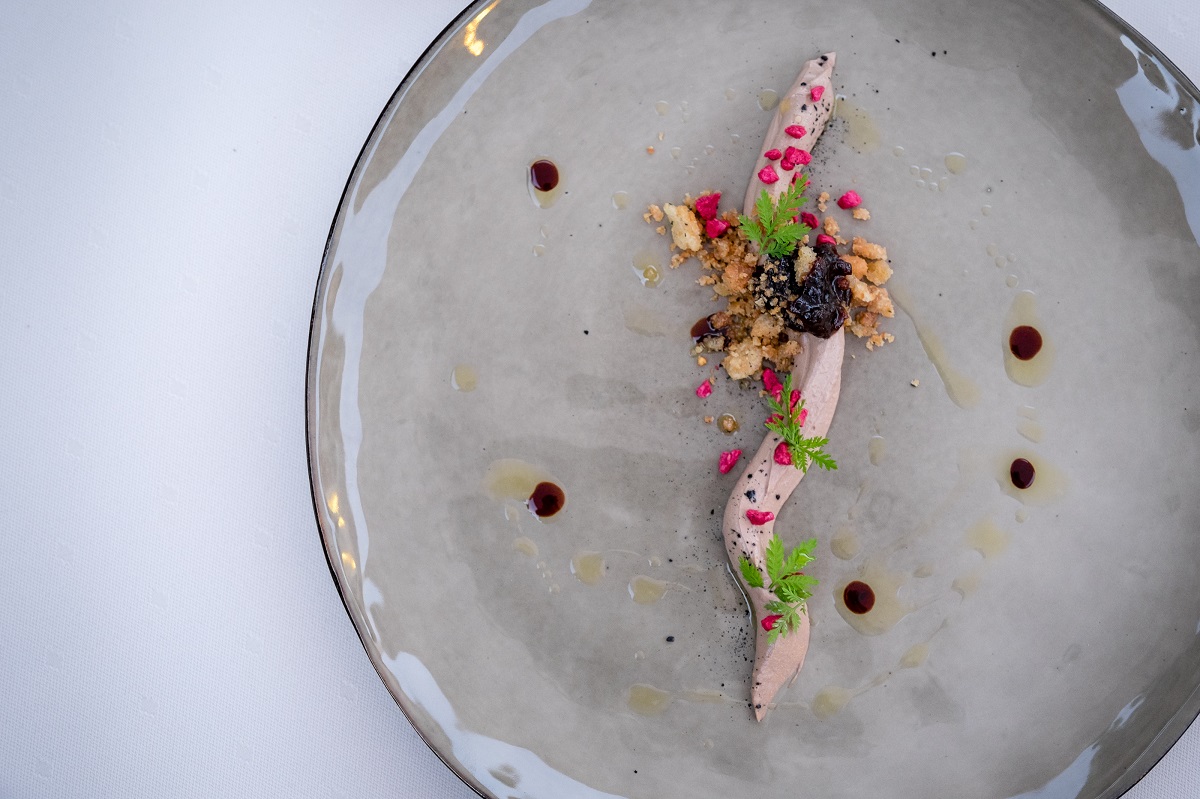 To further balance this dish, a fresh and fragrant Ribolla di Blazic from 2013 is served.
The wine list is really rich in labels mostly from Slovenia within the Brda area; Classic wine from France and Italy, is, not missing but Martin prefers his land and the wines that best accompany the flavors of Ksenija's cuisine. How can you blame him?
And here we are at the time of the "tagliolino pasta". No, wait. Calling it so its really simplistic … do not think about the thin and often overcooked pasta (which I do not particularly love). Imagine rather a double pasta, one side white and the other dark because colored by the cuttlefish ink, seasoned with cuttlefish! Fantastic! I thinkthis was the best tagliolino I have ever eaten in my life.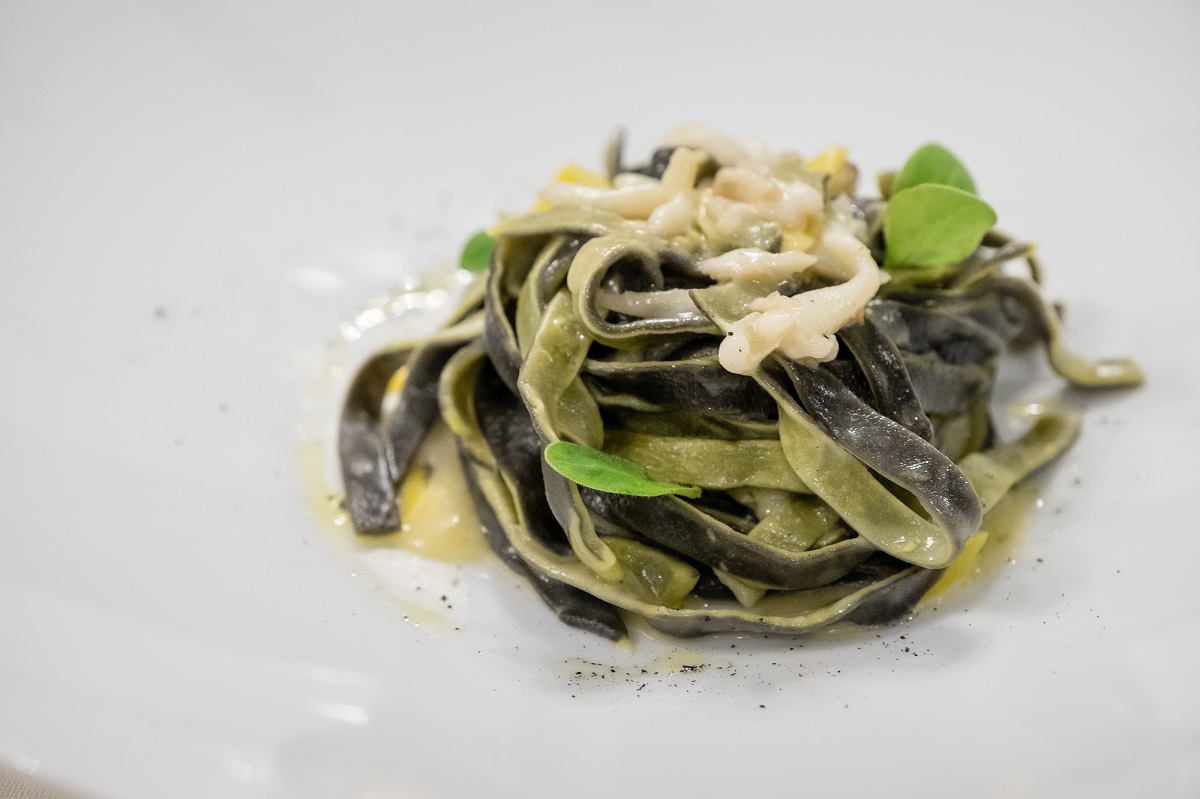 Then follows another first dish, a "ravioli" of white nettle pasta with a heart of Jamar Zidarich cheese, accompanied by a light pea and mint cream and a pea foam! A tasty delicacy that was "the end of the world!" When it arrived, my first thought was "I can't eat it all, it is just too much". Well, you know how it is. I could not stop myself!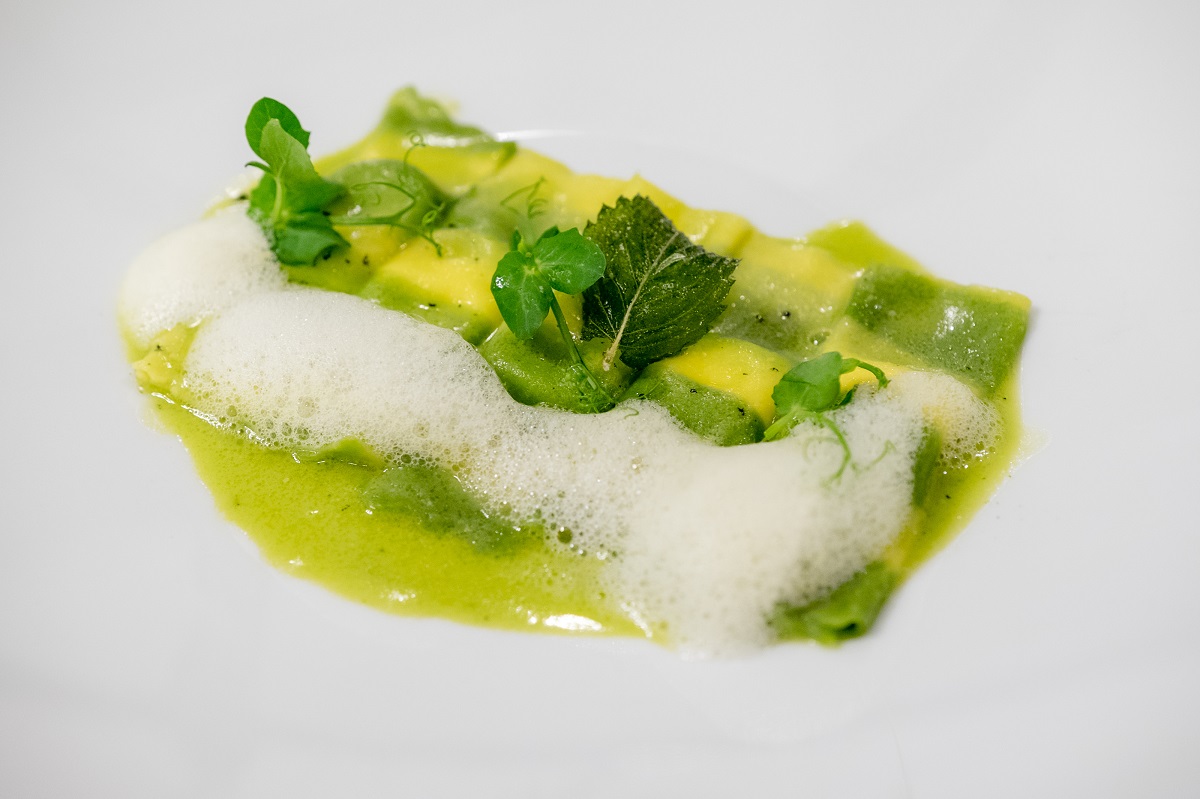 The second course? A roe deer fillet with mashed potatoes and pistachio, reduction of black cherry and purple potato chips and sage leaves. Oh mum, I did not even use the usual fillet knife here; the meat was so tender that I could cut it, with a little 'effort, even with a fork.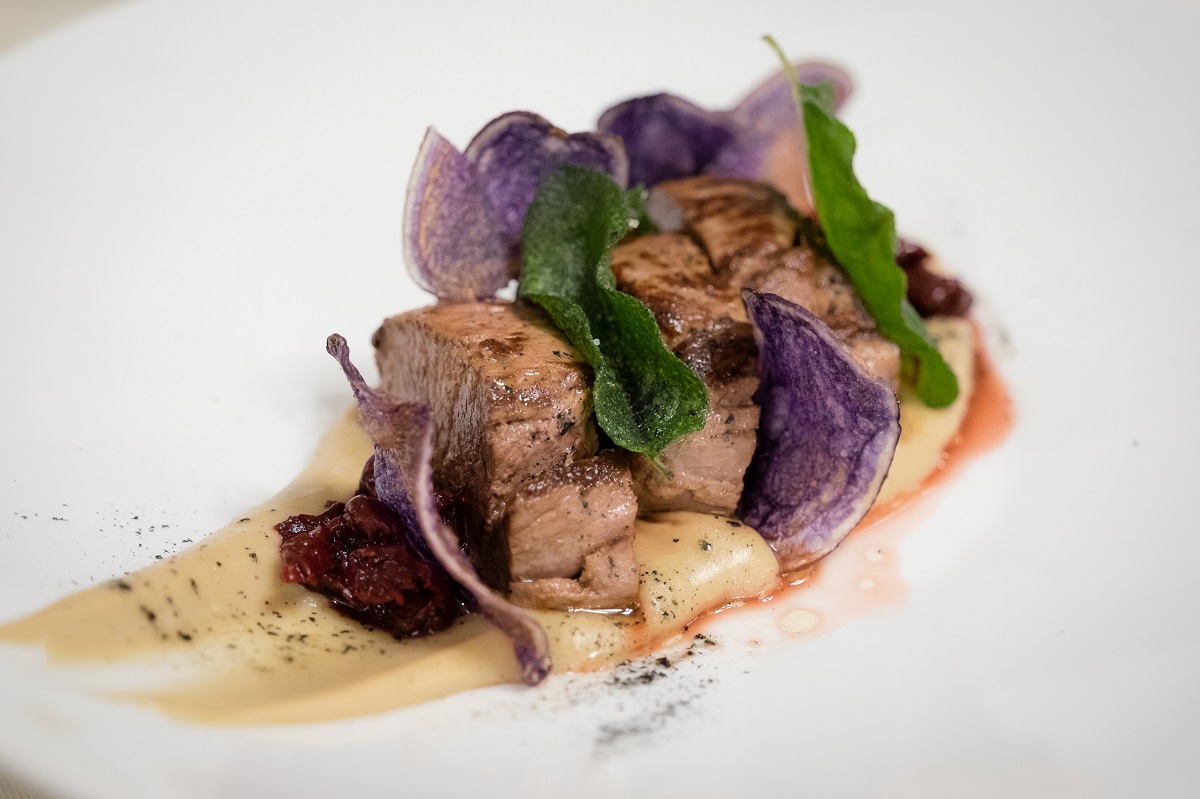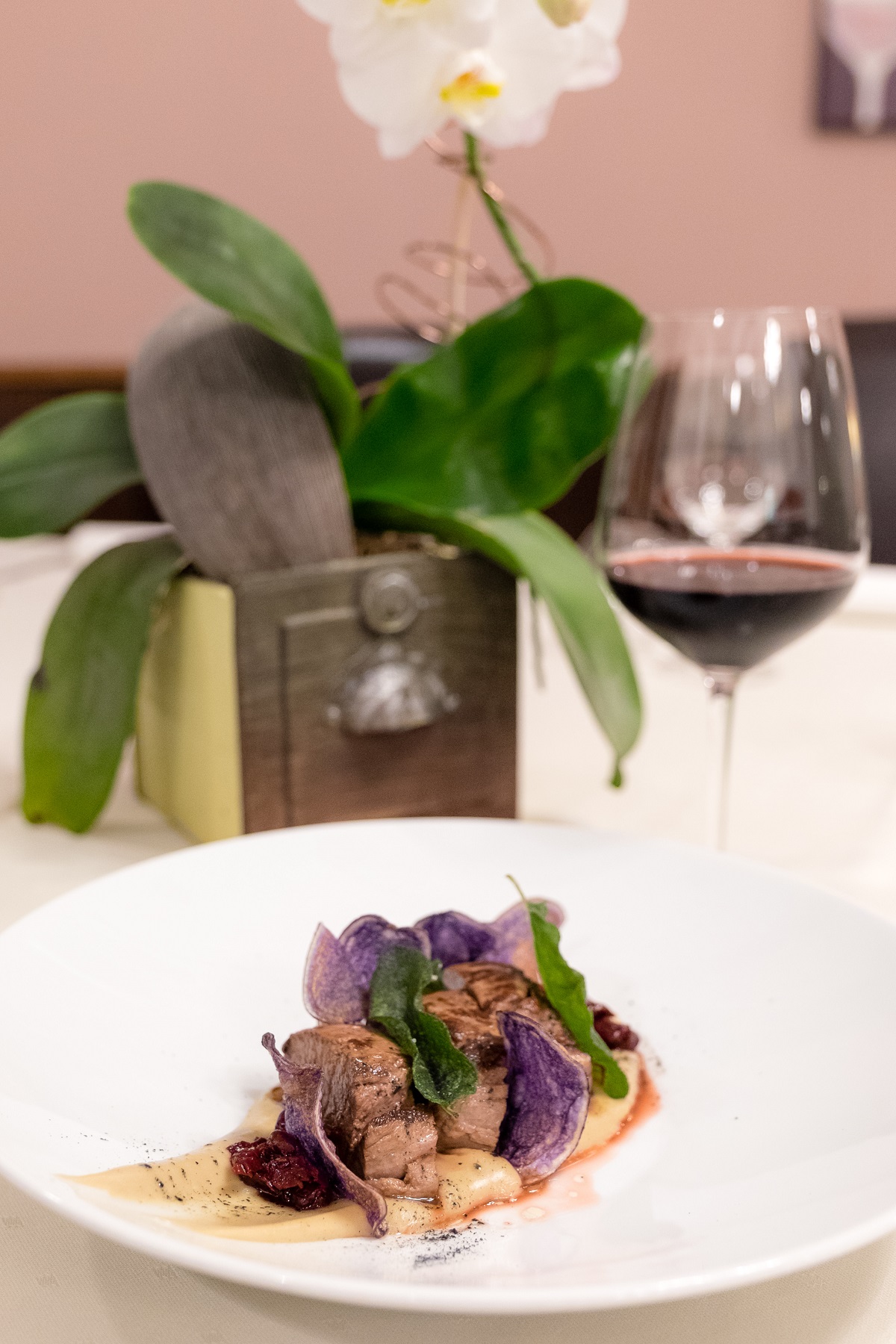 Before the arrival of the dessert, a was offered a small sorbet to refresh the palate, also served in a magnificent piece of ice that helps, especially in summer, to maintain its temperature. Its taste? Of the territory, of course. A combination of the Carso and its juniper and the Brkini region, with its fruit. The pear, in this case.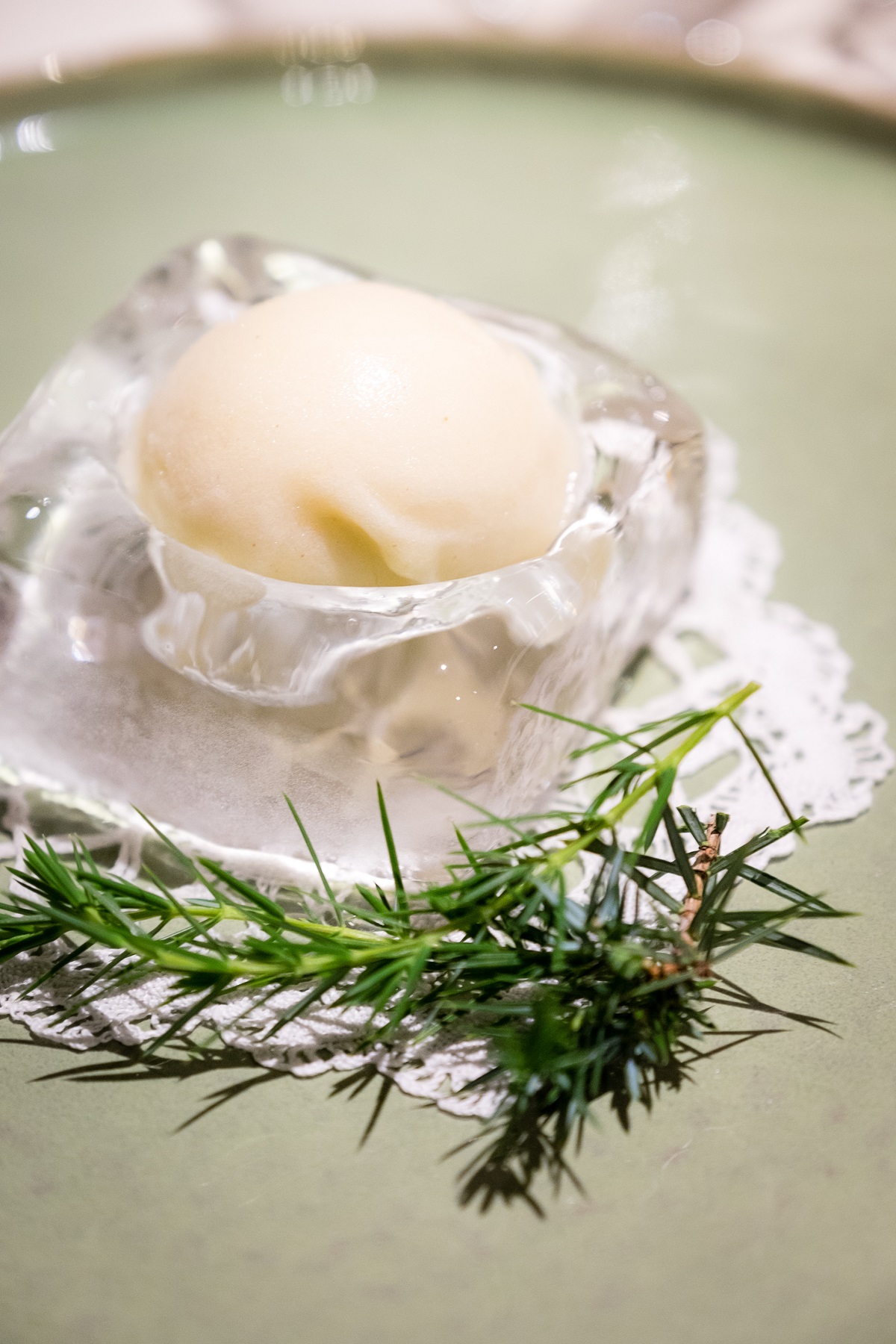 With a perfect service timing between one dish and another, I finally got the dessert, the creation that amazed me perhaps most of all because of its complex preparation.
A white chocolate and caramel tart with almond sponge cake and a liquid peach heart. A dessert that recalls traditional baked peaches, with a light and gluten-free sponge cake made with almonds.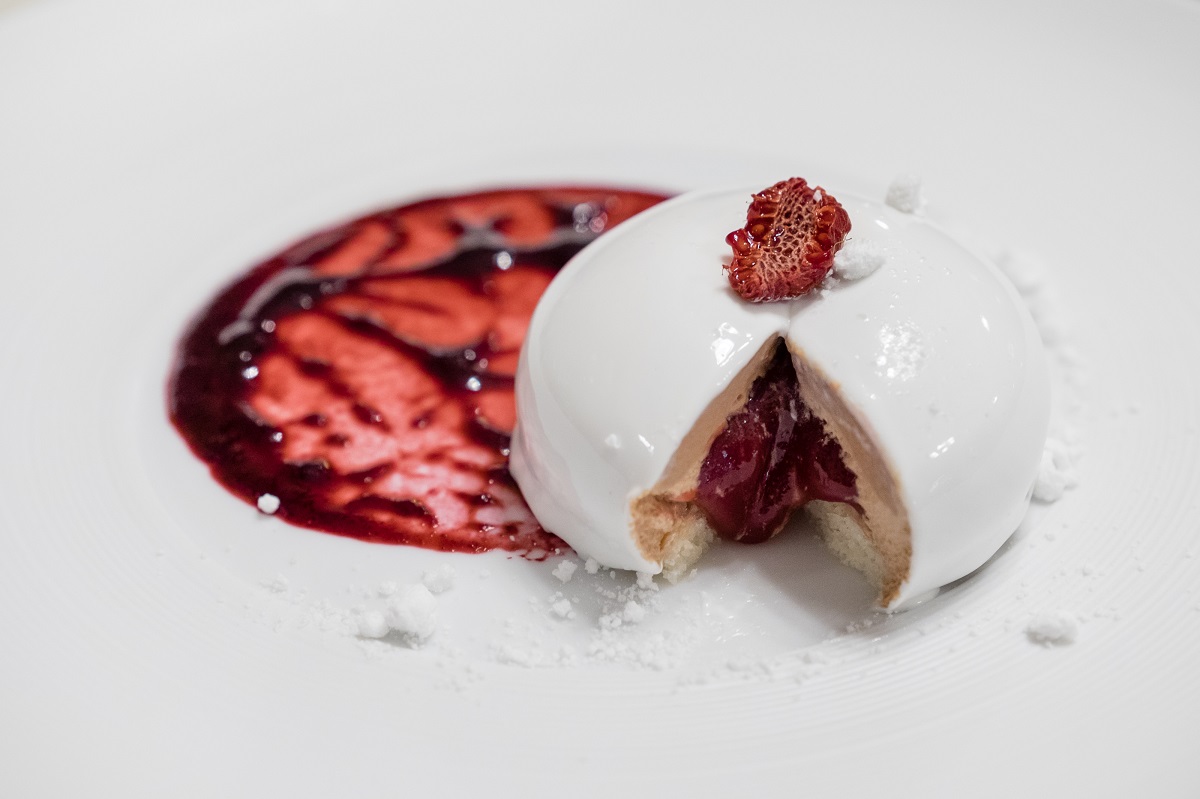 I conclude my experience in front of a cup of "Qubik coffee"; and it is under a breathtakingly Milky Way that I start a fluent chat with Ksenija telling me about the steps taken in these years for Gostilna Mahorčič and the arrival, as associate, of JRE Jeunes Restaurateurs d'Europe in the Republic of Slovenia.
It's time to go home as I did not book one of the six rooms available for sleeping here at Domačija Linč; and therefore I take a sit in my Fiat 500 and calmly start my journey back to Trieste through the same clearing I passed on the way here (I recommend you go very slowly because here you can cross on the road some wild animals!).
Till our next adventure!
Ps
HOW MUCH?
4 courses 35.00 euros
5 courses VEG 42.00 Euro
6 courses (mine) 48.00 euros
8 courses 69.00 euros
Ph. Andrea Zangrando