Ah, the smell of the sea. To tell you this story I must start from the very beginning. CruiseTopic (a travel agency specialized in cruises) contacted me in January to ask me a favor: they were looking for a native Croatian speaker to work on their foreign market.
Could they find me unprepared? No! So, there I went and put an ad on my Instagram stories!
Many answered but only one girl was hired.
A couple of months went by and at the end of June, CruiseTopic contacted me once again. "If the ads you put in your stories have that much success, we want you to sale from Trieste on one of our cruises!".
I admit I was skeptical, I lived 42 years of my life without having tried this: to me, a cruise meant to go into a retirement home!
But could I really judge it without even trying it? Absolutely not!
The sine qua non is to tell what I'm living as it is and, in case I don't like it, I'm free to express my opinion.
So, I signed the deal with CruiseTopic. Gio', pack your bags, we're sailing!
This is why we're lucky to live in Trieste: it only took us a 12-minute taxi ride to get to the boarding port. Here, MSC's Splendida awaited us, and it took us on a trip on the Mediterranean for 8 days and 7 nights: Ancona, Dubrovnik, Bari, Corfu, Split and then back to Trieste.
COVID REGULATIONS   
Their Covid protocol requires that every passenger (whether they're vaccinated or not, a green pass-holder or a minor) take a rapid Covid test in a pharmacy 24 hours prior their departure.
Before boarding the ship, you'll take another test that'll be paid by the sailing company, and you'll have to do the same 48 hours before coming back home (it'll be taken on board and the company will pay for it).
On the cruise ship, the mask is mandatory while indoors, whereas you can forget about it when outdoors.
You may get down from the ship once you reach the coast, but you're not allowed to do it alone: you may go ashore only if in company of a specialized guide and while taking part in tours that you'll be able to book the day before the tour itself. Be assured that you have many choices: you may visit the cities, go to the beach or to museums…but beware! In order to keep the safety bubble intact, once you've gone ashore you may not buy anything or go on your own. What happens if you break these rules? You'll be forced to leave the ship and stay in the city where you've committed the "offence", and you won't be allowed back on the ship.
THE EXPERIENCE
Well, it's time to tell you the most "tedious" part of this situation, which is the most interesting, too. Don't tell me you're not curious to know how my first cruise went! Also, I lived this experience with an exceptional plus-one: my teen son Giovanni (which I believe you've met on social media).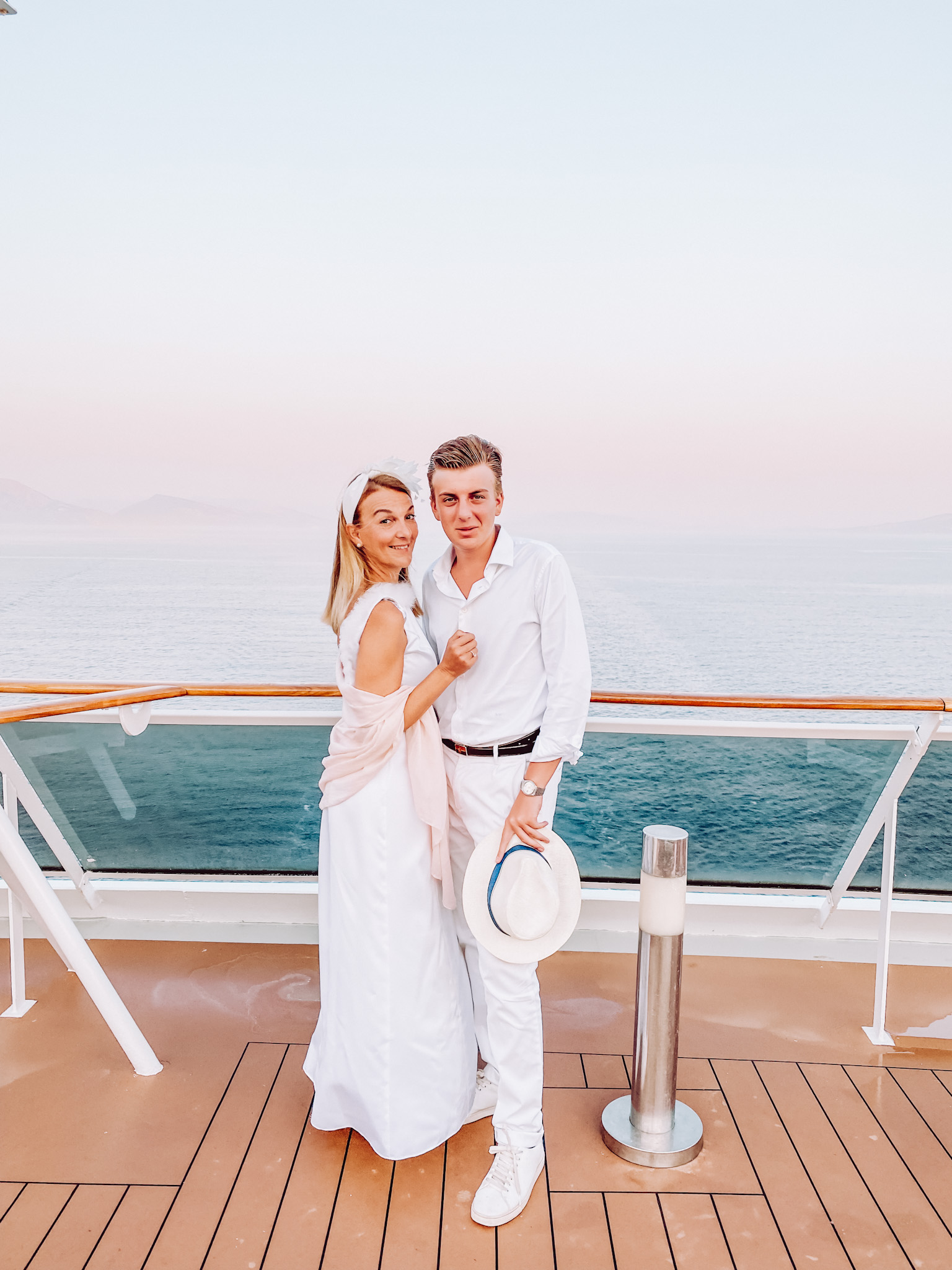 The first thing that hit me was the organization of this huge floating city: ever since the boarding, everything has been working smoothly, almost no queues to check in or to get the covid test and the crew was really kind and helpful, making it the quickest boarding in my whole life. I swear.
Amazed, we entered this metallic whale's stomach with wide, curious eyes: we're surrounded by mirrors, crystal stairs, huge and shiny chandeliers, panoramic elevators and so many bars, piano-bars, shops, decks and smiling staff. We're almost-drunkenly walking, trying to understand the place we will call home for the next eight days.
The cabin we were assigned was number 11134, which means it was on the 11th floor (the first two numbers are the same as the floor of the cabin): nice and roomy, with a very comfortable mattress, a sofa and a sea-view balcony!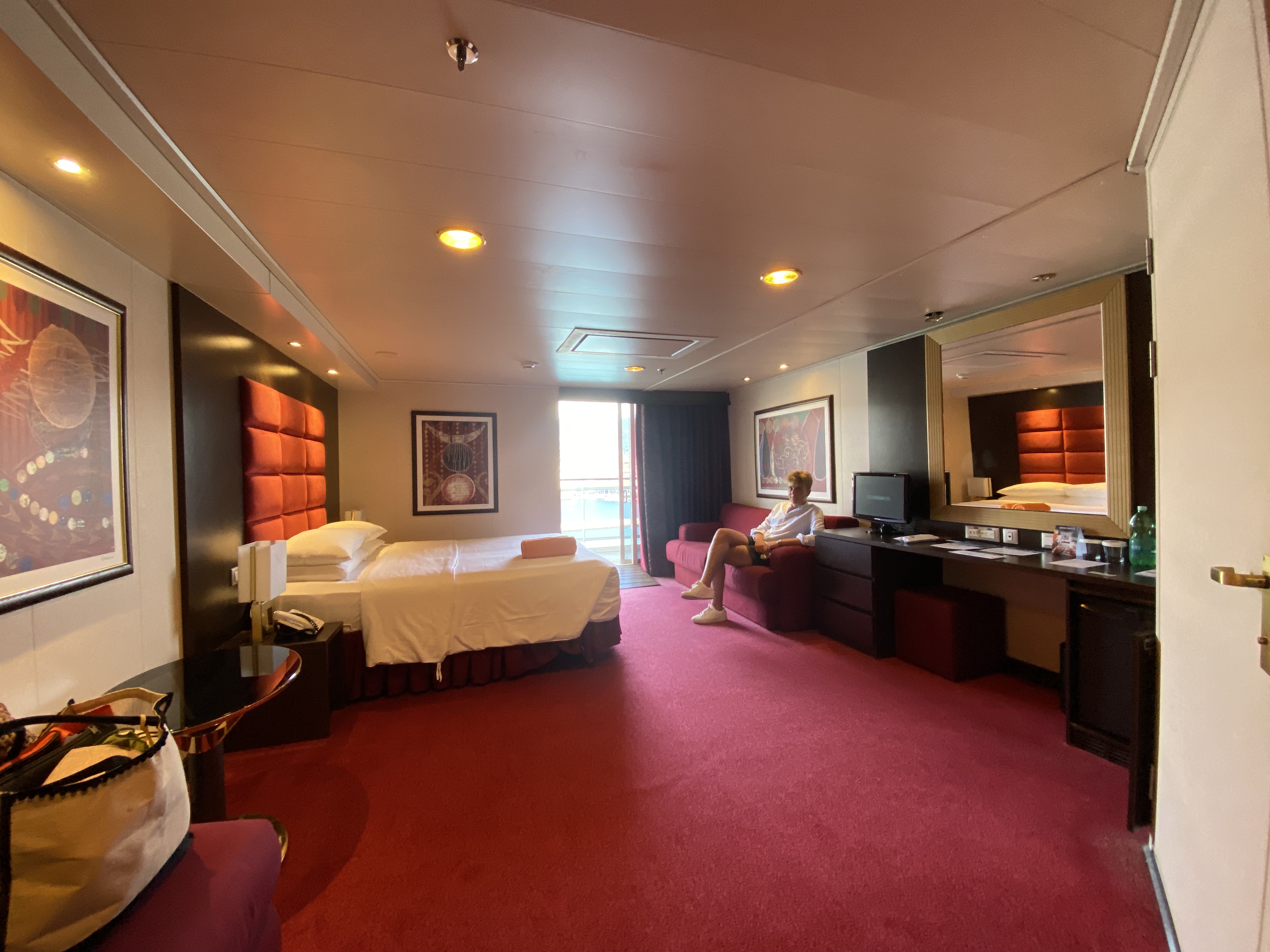 As I have some handicapped friends, I immediately noticed the presence of a ramp to go out on the balcony and that the shower is provided with a seat and has no steps. When you're lucky enough to be healthy, you don't notice how these small things are appreciated by someone with a disability who is often forced to give up on this kind of experience because of a lack of attention (this happens mostly in Italy on public and private transportation!).
Every day the staff will slide under your door the program for the following day. From morning until night, you may partake into so many activities, from muscular awakening to dance lessons and yoga, they have a huge gym and entertainment for kids and adults, they have live music, piano-bar and themed dinners. You're spoiled for choice: you may never go ashore and still be able do something different every day, without getting bored!
I've noticed that they almost never sail away on time (yes, that's also specified on the program): the ship sails when the captain decides the moment is right!
I'm only telling you because maybe there's someone as passionate as me about photos or videos who might find themselves in their cabin at the time of departure. To reach the stern as fast as possible they'll have to run for it through elevators and corridors.
The part of the ship that impressed me the most was the pool part. It's on deck 14, with its clear water and Jacuzzis and sunbeds. They also have an area that will be covered in case of rain or too much wind (or in winter), where there's a heated pool (26 °C) with sea water and jacuzzi. Amazing.
I don't want to bore you with the description of this sea giant and its spaces, as I wouldn't stop talking. I'd have to tell you about the restaurants, the casino, the theater and the SPA. I'm sure that I didn't see it all in only eight days.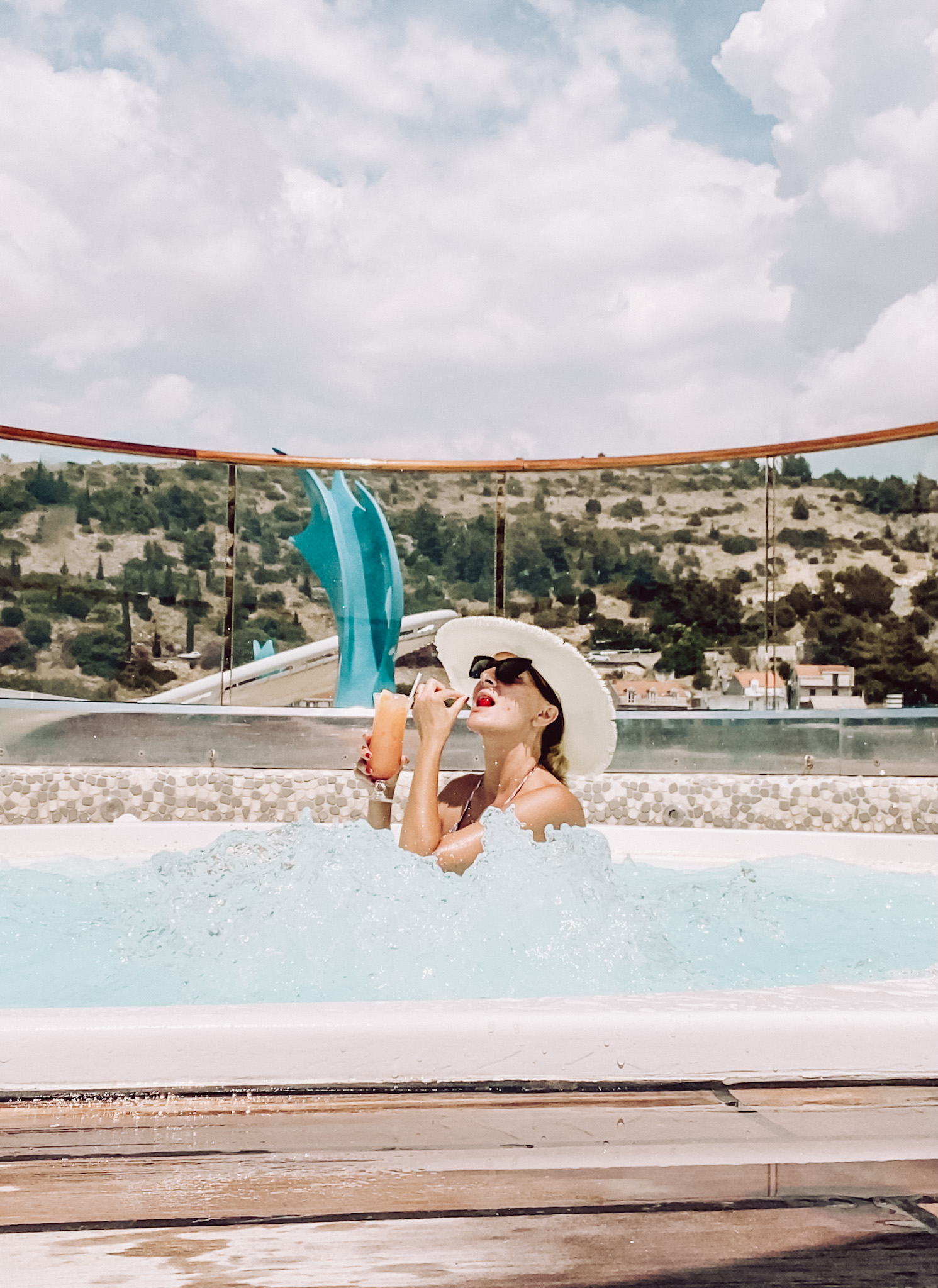 PACKAGES
What I learned on board is that there are many ways to travel, from the cheaper solutions to the princess-like ones. But let's focus on the first case: you can rent a cabin with a good offer and choose to only have water for the whole trip, only have the pre-established menu at the self-service or the restaurant, opt to not use any Wi-Fi during sailing times and to not go ashore to visit the cities. Well, someone I met on board did it and spent only 350,00 euros! It's almost cheaper that to spend your holidays at home!
You can also choose to spend a little bit more and buy a beverage package (as I did: I spent 257€ for one, alcoholic beverages included) and you may drink whenever and as much as you like… but be careful, because the chance of walking around drunk for 8 straight days is right around the corner.
What about tours? Well, as I was saying, there are so many options, and the costs vary according to the experience: they go from 39€ to 210€ (like the one we did with Safari Jeeps in Corfu…but with that money you rented a 4-people jeep and a tasting in a restaurant).
They have packages for tours as well, so that you may save some money…but how can you not visit some cities? It would have been impossible for me!
And then, there are the internet packages! When you're sailing the signal isn't very powerful (only at night though); nonetheless, if you want to stay connected (maybe because you want to work like me), here's the cabin package! 12€ per day for two people and two devices. Of course, if you don't need the connection while sailing, you can easily connect in the morning and throughout the whole day with your normal line (along our route we didn't have any problems nor in Croatia nor in Greece)! This way you can save up, too.
LOGBOOK
No, really, I can't bore you with a day-by-day tale…you'll have to settle for a general telling of my experience.
I have to say I've reconsidered cruises: I thought they only were suitable for old people…but I got back very tired! My "problem" was that I wanted to try and do everything, so much so that I went to sleep at two in the morning because "why should I give up dancing nights after months of boredom on the couch? No way!"
You may choose whether to have dinner at the first round (7pm) or at the second (9.15pm); the tours are often set in the afternoon, so the second choice is the one that works the best. Although you may end up with getting into the swing of a summer in Ibiza…but we're on holiday, #whyshouldIcare.
Party at night…and early birds in the morning! The alarm goes off at 7.30 to leave for the tours…and if you decide to have a nap in the afternoon, you'll have to give up the pool and sunbathing. Oh, come on, how can you come back from a cruise as white as a sheet? So off you go on the sunbed by the pool. But, and there's always a but, considering on how close contact you stay with the people you meet there, how can you say "no" to chat with a refreshing drink, now that you have the all-inclusive drink card?
You get completely absorbed into a never-ending vortex from morning until night, at a rapid pace among drinks, new encounters, chats, dances, tours and a whole lot of laughs!
I can't describe Giovanni's joy: he's the classic teenager that has to face a thousand restriction at home (as everybody else, of course), while in this safe place, he bosses around the ship. I've only seen him during boardings and landings, at dinner and at dance nights…but as for the rest of the time I just spotted him running around by the pools and decks with some girls and boys his age. Do you want to know what he told me while on the taxi back home? "Can we go on another cruise before September, before school starts?".
To conclude, I have to say that the tours in Bari, Corfu and Split were really wonderful. I really liked the idea of travelling by night and waking up in the morning in another place. I also loved the amazing organization of this enormous machine: the service, the food, the new people, the sunrises and sunsets were definitely unforgettable.
I want to put it out there: I'd like the ones that are as skeptical as I was to try it and test by themselves if a cruise really isn't their cup of tea. Which is why I asked Cruise Topic to create a "MissClaire sends me" for all of you! Click on this link https://bit.ly/2TTziyX and you'll land on their website, where you'll find all the cruises they organize (not only with MSC), with many itineraries all around the world.
Have them make an estimation for you and you'll have a 5% off, and if you leave by September 15th 2021, you'll have another 5% discount.
Now, the only thing that's left to do, is to try this experience or, maybe, go on another one!
Ah, the smell of the sea…