In 2018 I first told you about this incredible experience (in this article), and I wanted to relive it a few days ago.
I am in Millstätter See, a few hours' drive from Trieste. Here, in this incredible and enchanting landscape, between the mountains and a lake, you'll find one of the "Quelle I Sorgente" bivouacs, just a few meters from the Hotel Alexanderhof!
But let's start from the beginning, shall we? I want to explain to you the GENIUS idea hatched by the Carinthian Tourist Board, which, a few years ago, decided to buy a couple of these little bivouacs. Yes, bivouacs, yet don't let the name fool you: they look like real chalets, but due to the simple fact that they don't have running water inside, they take such name.
In short, you'll find a small chemical toilet and a sink with a tank of drinking water, but no shower or any extreme comfort!
The choice was to locate them in unconventional and somewhat secluded places: near the forest, in the reeds of the lake or in open meadows (you will find the whole possibilities and prices here).
And you might be wondering: that's it? No, here comes the good stuff. Precisely so to make tourists more comfortable, they decided to put the bivouacs alongside a hotel, so that the guests can be offered a good breakfast or dinner (to be ordered with picnic-style basket or, even, to be eaten directly inside the facility).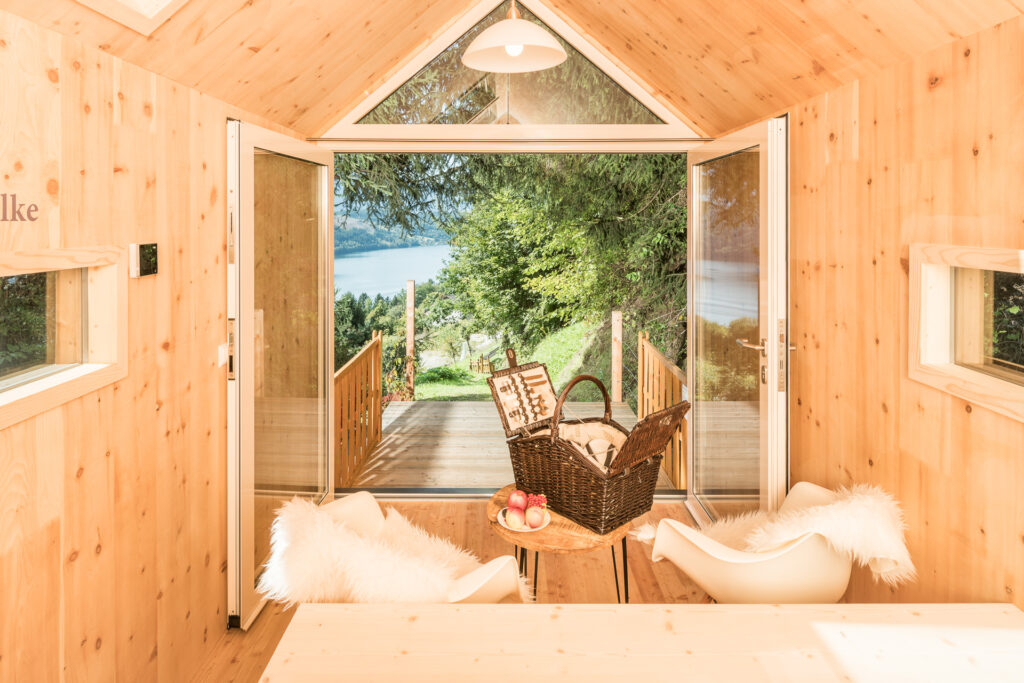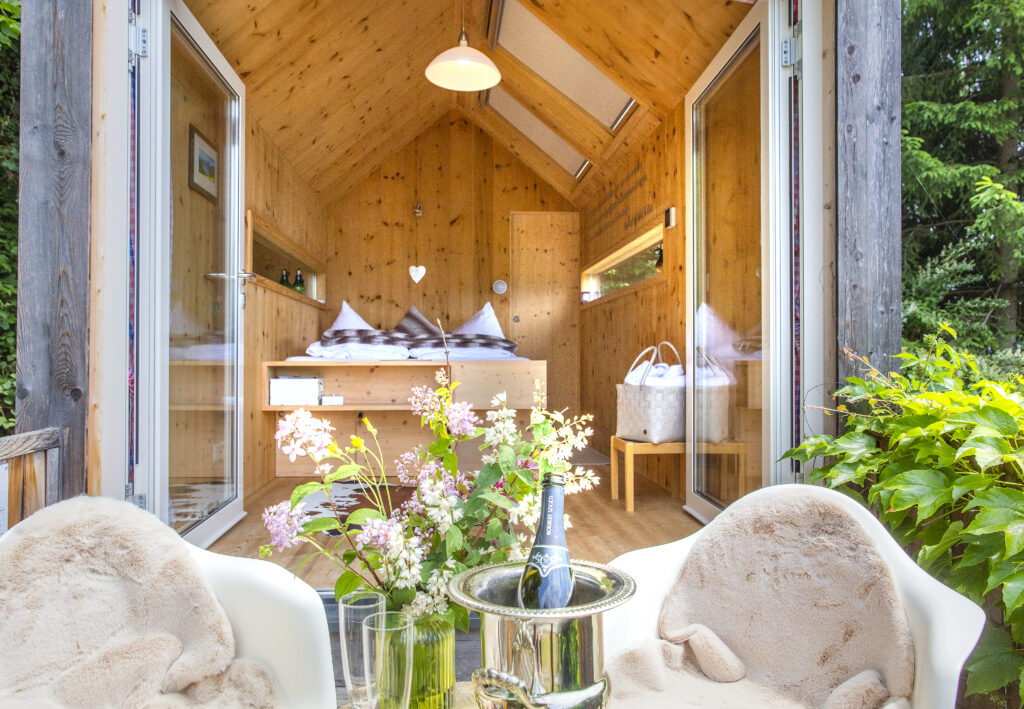 Other than this, guests are also given full access to the wellness area of the supporting hotel, so that they can enjoy a shower or a leisurely break in the sauna and pool. In short, what more could you want? Simplicity and comfort all in the same place 🙂
If you love to have your privacy and are looking for a romantic immersion experience in nature… if you want to have an adventure different from the usual but far from stress and exhausting walking… these little places are meant for you.
I won't repeat what you can do around here because, over the years, I've told you about it far and wide on my social media and here: walks, lake boat rides, romantic dinners, and aperitifs are only a few. I would only add a little relaxation break at the Badehaus spa, which in summer also offers a small lakeside bathhouse with sunbeds and trampolines. During all other seasons, however, you can enjoy 2,400 square meters of saunas, steam baths, relaxation areas and treatments for your well-being.
Do you want one last tip? A Finnish sauna with breathtaking views, followed by a nice soak in the cool waters of the lake. It's a must try.
I hope I've intrigued you. Did I succeed? Until the next adventure and have a great summer!