I live in a city with 250.000 people, but it's as if we all knew each other, we always know everything about everyone, almost before they know it themselves!
For a while now there were rumours that Walter Gustin, the owner of some of the best restaurants in Trieste like the exceptional 040 Social Food (where they make the best hamburgers of the city), the Antico Panada (with traditional cuisine), Il Giardino Tergesteo (with a vegan and vegetarian menu), and also La pizzeria di fronte al Verdi (which means The pizzeria in front of the Verdi theatre – with their gourmet pizza), yes exactly THAT Walter was creating something new: we're talking about raw! Not raw ham (prosciutto crudo) but raw cuisine, made with a combination of fruit, vegetables, meat or fish, all strictly not cooked!
As soon as I heard about this fun and particular place, I was ready to try it out. I waited a few days after the grand opening (on the 4th March) and then headed there on a Saturday morning at 9.00, its opening time, hoping to find it a little less crowded.
I had barely set foot in the place and I already knew it was perfect for my tastes: an old bicycle leaning on the wall, a vintage bucket for an ashtray, and its entrance doors wide open that allows me to peek into "a Wonderland" for MissClaire!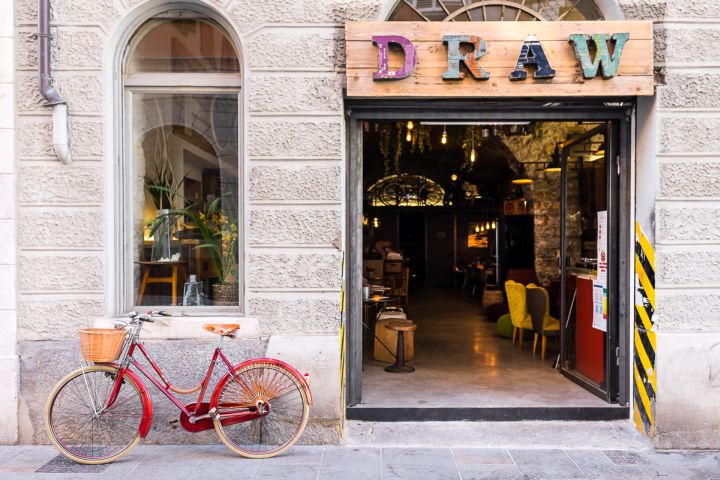 A triumph of salvaging, recycling and an extraordinary renovation made miracles for this place that was a garage until some time ago! On my left there are some wooden steps (excellent storage space for bottles) on which a few small modern tables and furnishings are perched: it reminds me of places in some large European city. On my right there are two cute little sitting room areas, with armchairs in particular fabric that are perfectly balanced in colours and patterns.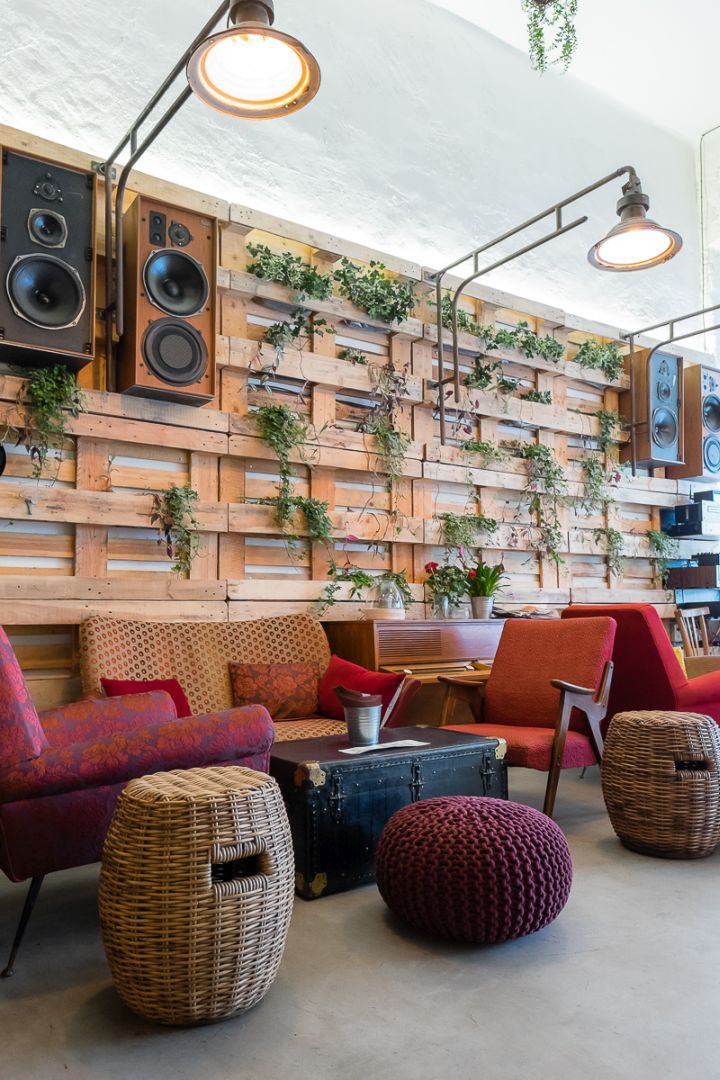 From the ceiling some metal baskets filled with plants hang down, and towards the back of the room there's a bar counter in zinc that would seduce even anyone insensitive to this style.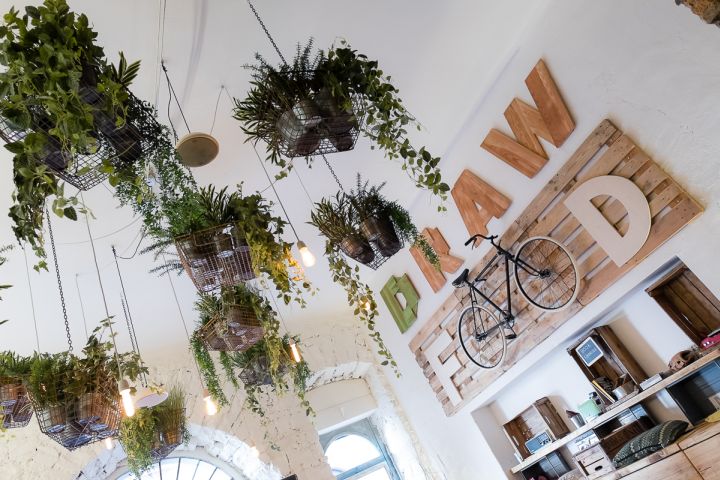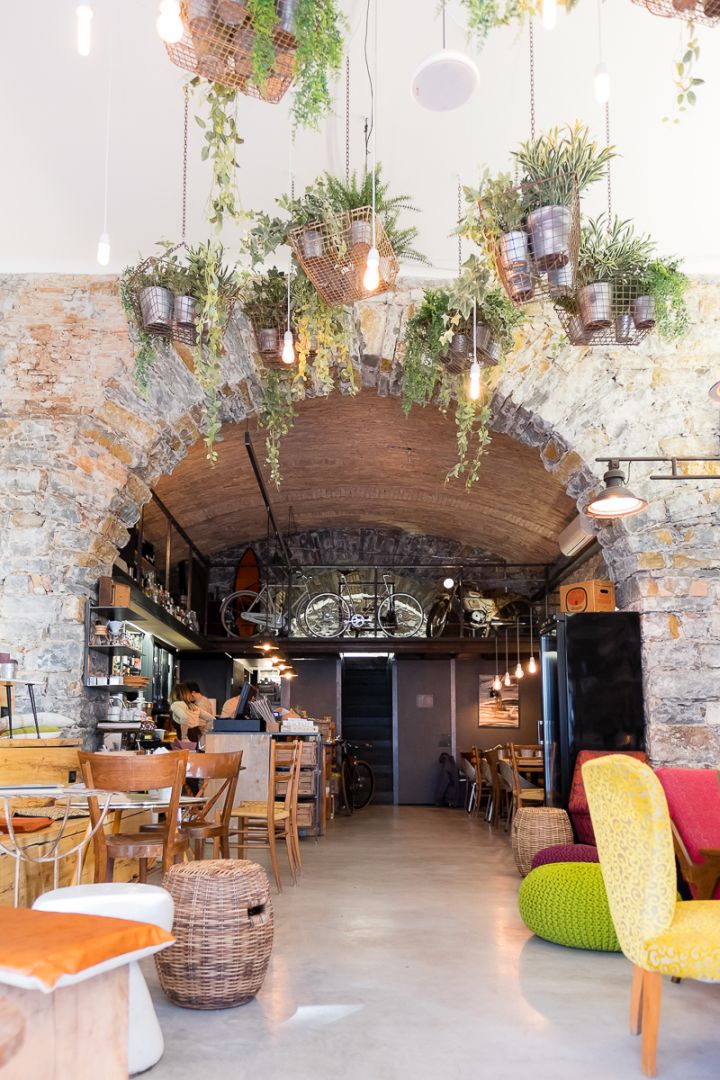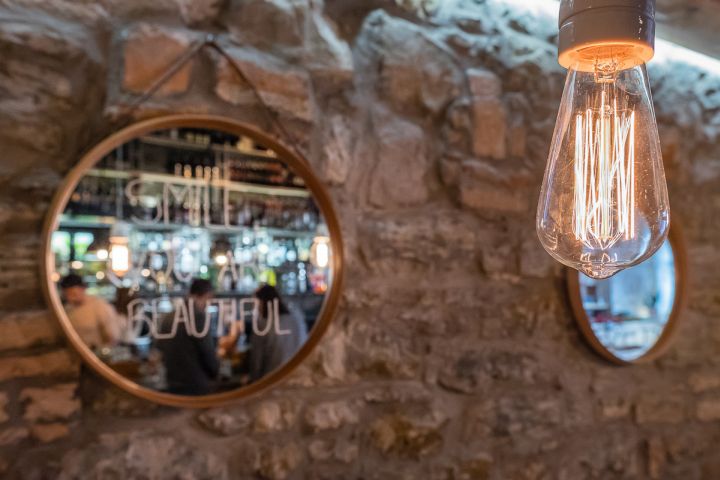 Considering my tastes and my preference for salvaging and nurturing the past I must say that I found it wonderul!
I meet Walter (with whom I'd worked with years ago), and I congratulate him and ask who is the architect of such a beautiful place and his answer surprised me: himself and his wife Emanuela Perotti!
After a few minutes of compliments, I sit at the table and … what do I see on the counter????? The coffee syphon used to prepare Slow coffee!
They've definitely won me over!
Just recently I'd written an article about my idea of coffee in restaurants and here I am today, admiring Trieste's pioneer for this new method of coffee making (that is quite similar to the moka).
What do you think I ordered? The syphon coffee obviously! It's so nice to be able to sit here, in a restaurant of my city, trying a different way of coffee making. Until today it was something that I could do exclusively when I visited coffee shops in big cities.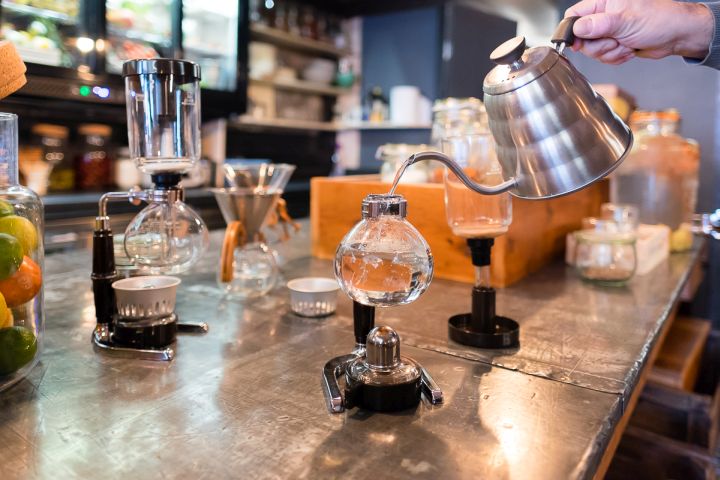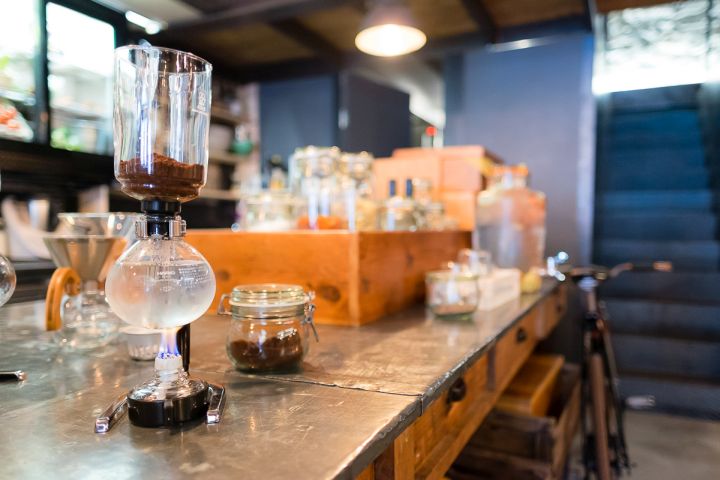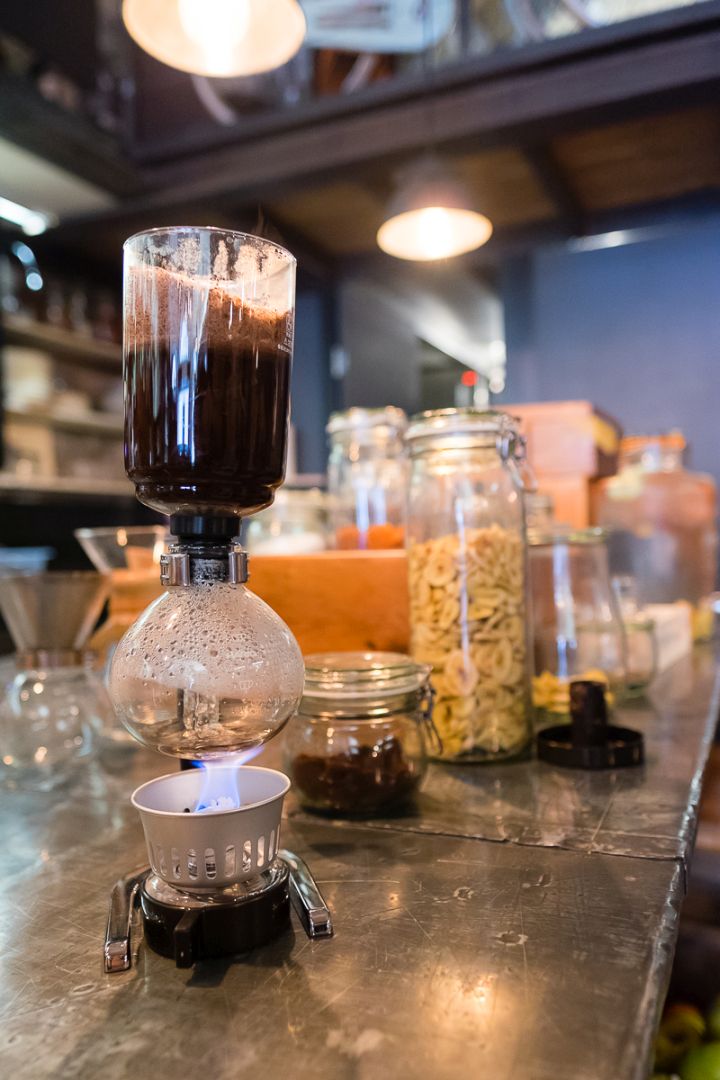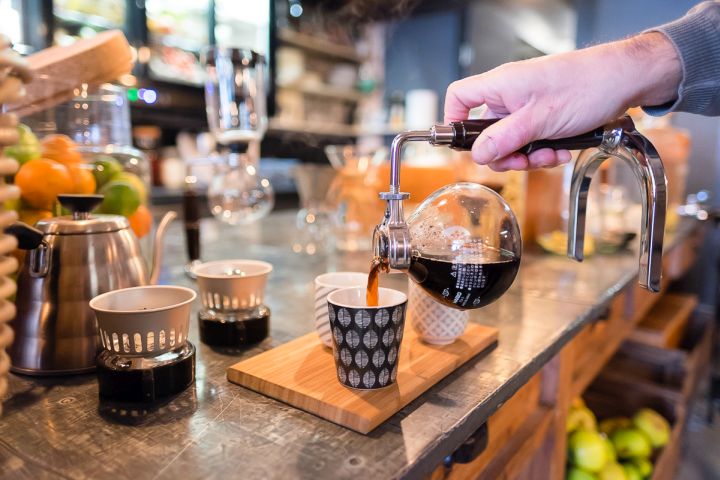 The idea is to be able to take a break, sit at a table in total tranquillity and take your time with you slow coffee!
I decide to take some time for myself, so I turn my computer on and start working as I sip my coffee. As I'm concentrated on my screen, time runs by fast and it's almost time for lunch.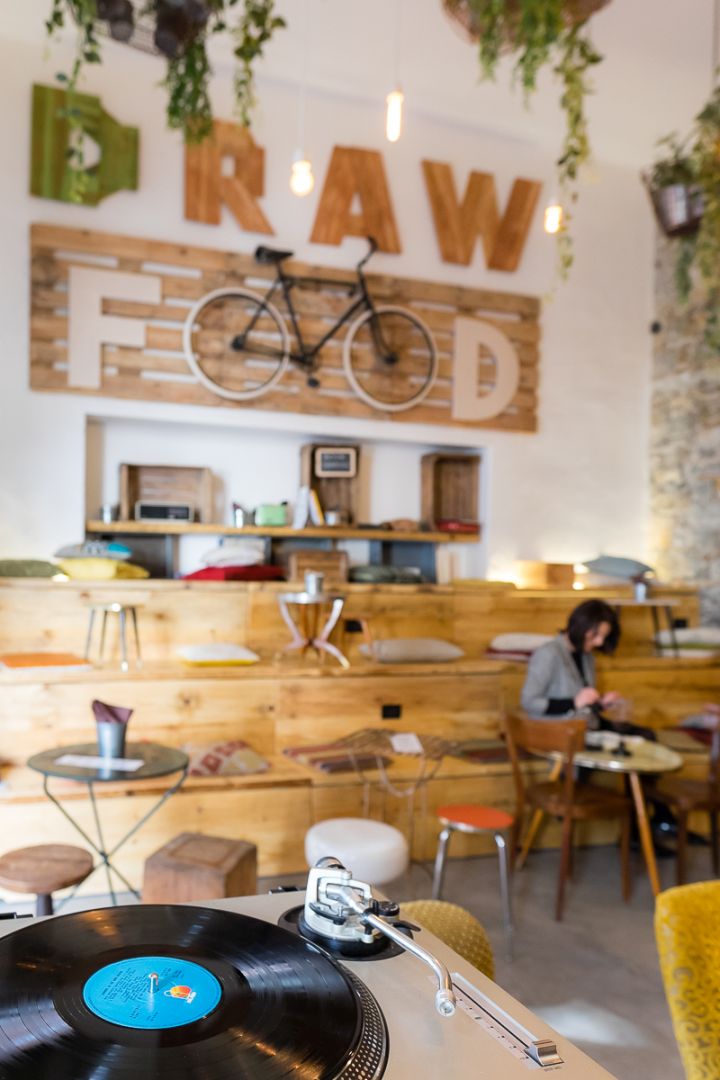 I ask for their menu because I'm incredibly curious to try something RAW for you!
I started with a plate of appetizers: usually we expect a slice of bread with something on top. But there is no bread here (unless you specifically ask for it) and the hors d'oeuvres are three types of light crackers, dried at 42° in the food dehydrator:
Beetroot and sunflower seeds
Almonds and dried tomato
Zucchini and onion
Three sauces accompany these thin and light crackers: Avocado, tomato and ginger, ricotta cheese with cashew nuts spiced with herbs.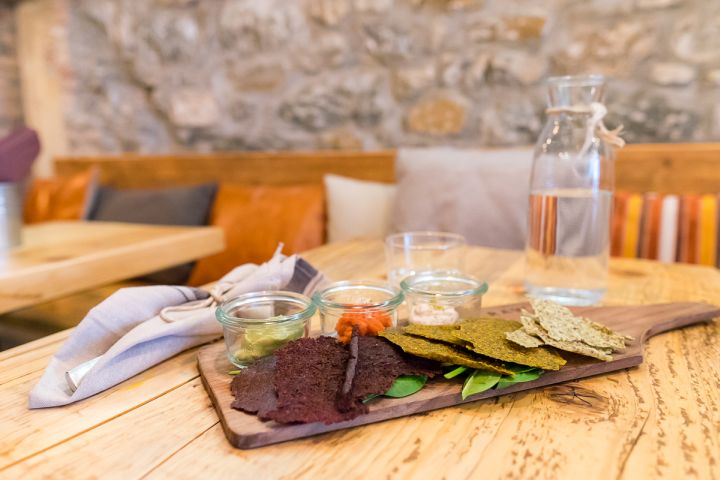 Then we have the OLD TASTE tartare with onion, chopped capers, mustard seeds, organic egg yolk and chilli peppers.
It's a cut of red meat from the region, and the ingredients are almost separate, so that you can create your own plate as you please!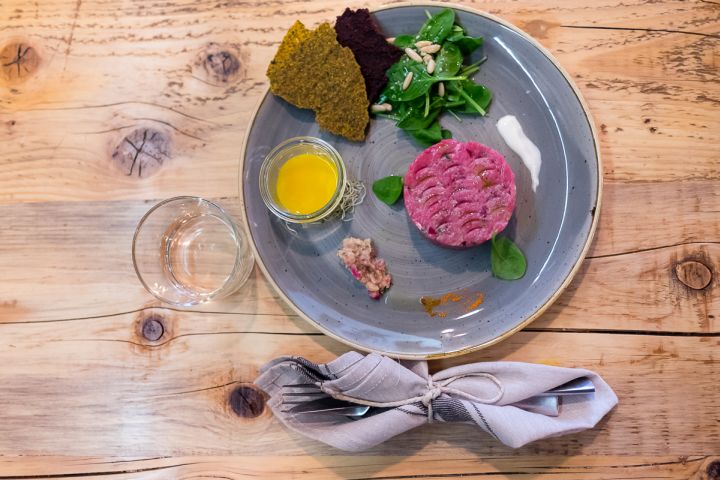 Then there's the tuna tartare, with radish, extra-virgin olive oil, whole grain salt and a horseradish sauce.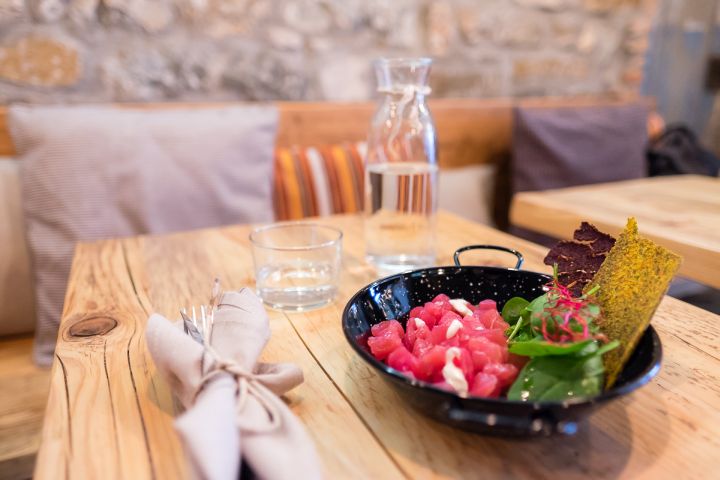 Then we tried the raw spiced scampi (with curcuma, fennel, santureja and pink pepper) with seaweed sauce and beetroot.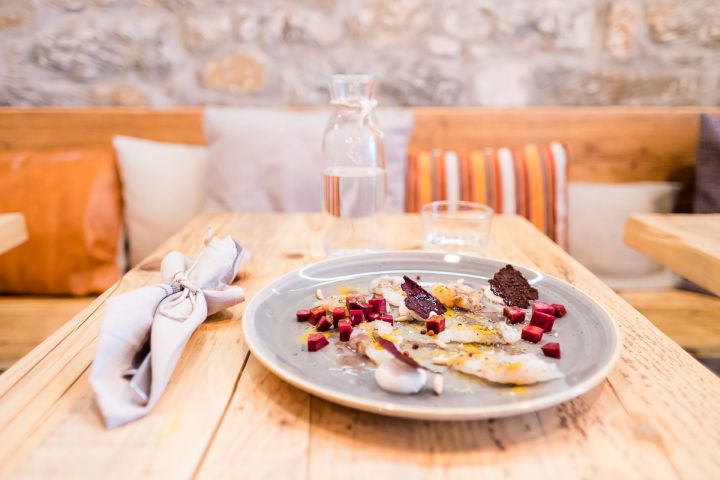 Then I read "spaghetti with lime and tuffled porcini mushrooms": ahah! Here's a cooked dish that I must try. But when they serve the dish I see it's a little pan with spaghetti made of zucchini strips and mushroom topping! 🙂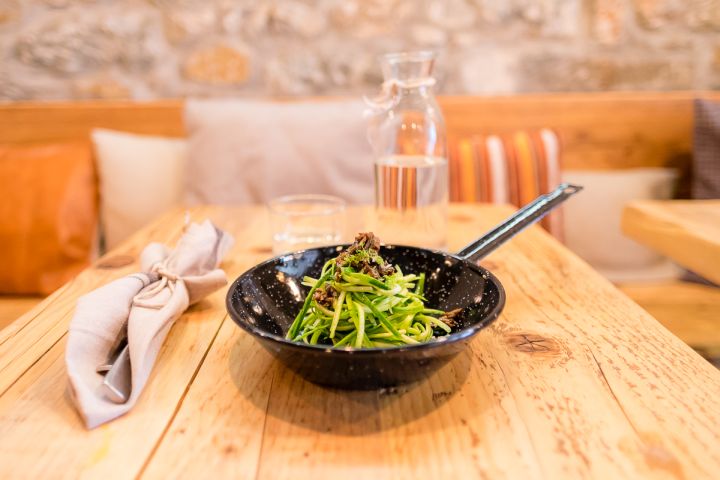 What a fun and interesting alternative! The ingredients were first choice, all fresh and mostly organic. Perfect for Vegans (not all dishes), Vegetarians or simply for anyone curious to try new experiences!
I'd definitely say that Draw is a place where you can feel at home, where you can spend a few hours without noticing the time go by, a new concept of space where the idea of staying together is predominant.
As always I like you to try my same experience and this time what I'd like to offer is the Slow Coffee that I really appreciated! Until the 30th of April if you stop at Draw you can taste the coffee made with the syphon: my treat!
Bring a friend or go there alone or with your laptop and find a calm moment to enjoy this unique coffee!
Use the magic word: "Miss Claire sent me" and you can live my same experience. 🙂
Photo: Andrea Zangrando