As I had said in the post about Hotel Rosa Alpina, here is the article entirely dedicated to Norbert Niederkofler and his staff's wonderful cooking.
Some information about the St. Hubertus hotel in San Cassiano:
2 Michelin stars
Grand Chef Relais & Châteaux – Norbert Niederkofler
Grandes Tables du Monde
"3 Forks" Gambero Rosso, 92 points
19/20 Gault Millau points
18,5 points on Guida Dell'Espresso
2008: Grand Chef Relais & Châteaux – Norbert Niederkofler
2007: 2* Michelin star
2000: 1* Michelin star
Not bad, right?
As I've said many times I'm neither a noble food critic, nor an international famous chef, but I'm simply a curious person and I love the beauty and detail of things and of food. So, just as an "ordinary client", I'll tell you what you can eat at St. Hubertus!
Through a nicely decorated wooden door you step into paradise: a warm and refined environment holds 11 elegantly arranged tables. White table cloths run all the length to the floor, fresh flower bouquets are everywhere, silver candelabra with lit candles, a stove in green majolica and an open fire-place warm the area  and different styled armchairs in warm colored velvet give the place a sophisticated and chic look.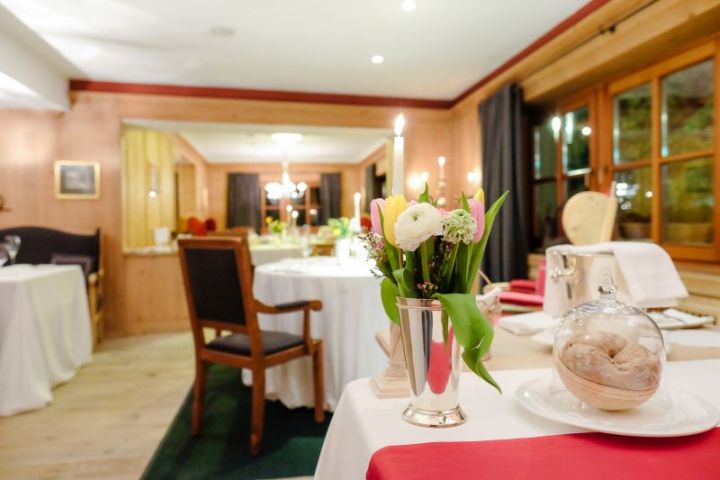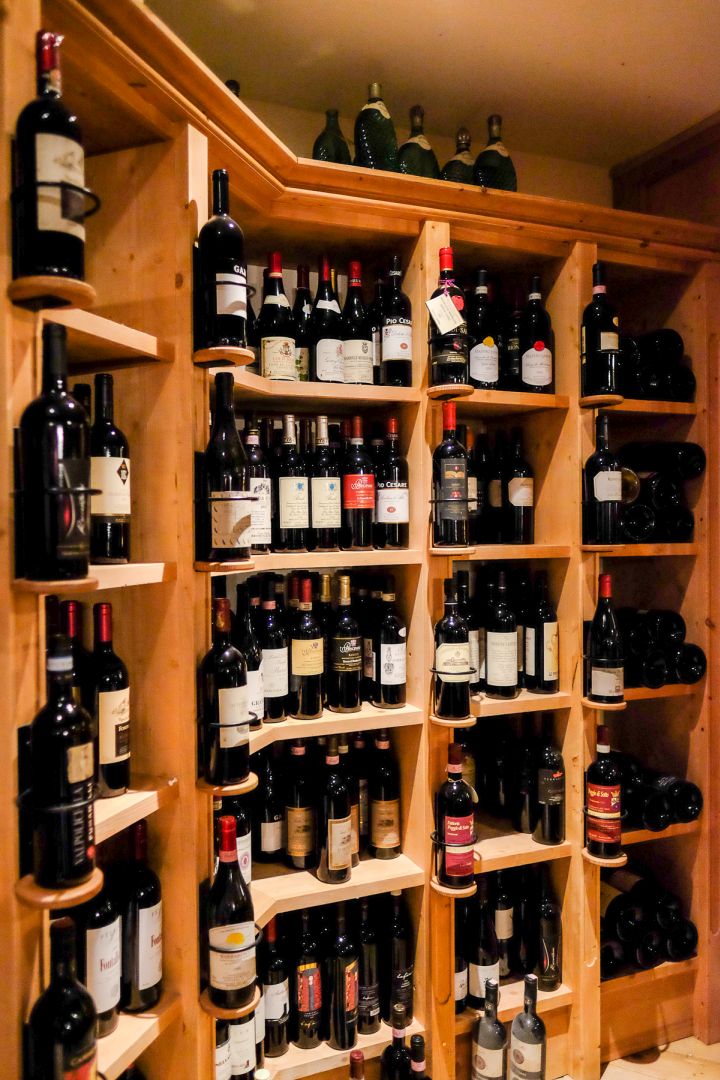 I investigate every little corner of this treasure room, and everywhere I look I find new and wonderful details.
In a private room, that looks into the kitchen through a window, there is the "Chef's table" that can seat up to 6 people.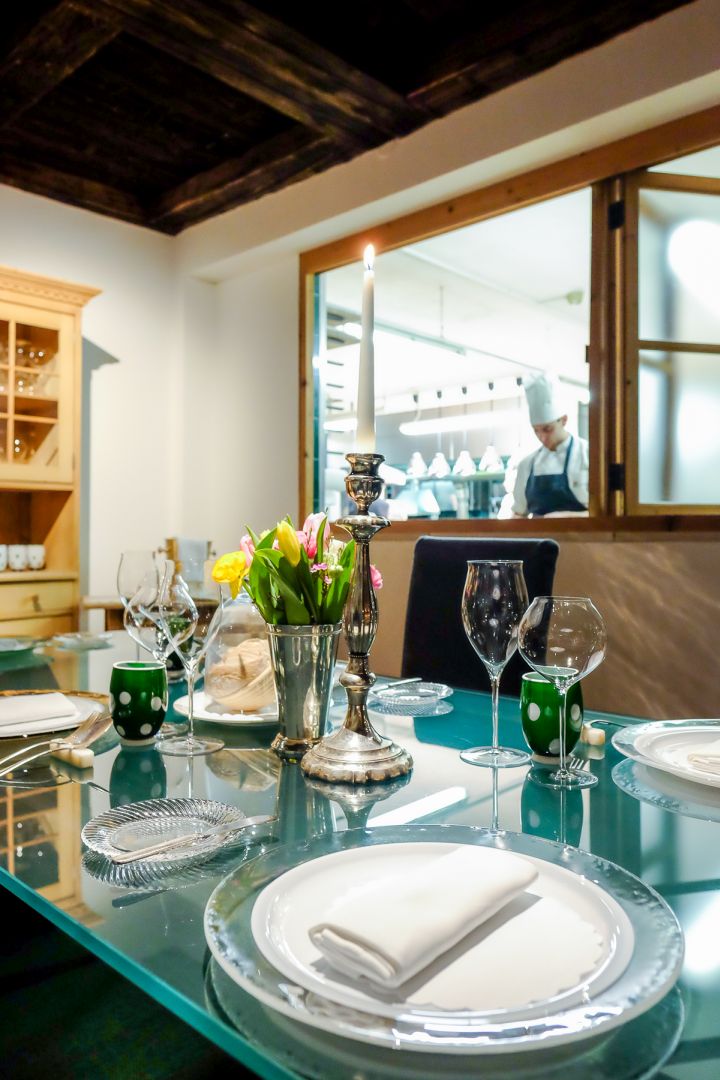 I'm welcomed by a group of waiters, all very young (the oldest is probably 30) but all very professional and capable of making you feel special from the moment they greet you.
To my great surprise they ask if I'd like to have pre-dinner drinks …IN THE KITCHEN! Exactly! stepping into the throbbing heart of their world is a unique experience of which they are very proud, so much that in the kitchen there is a large wooden table and a bench, covered in cow skin, where 10 to 12 guests can taste the chef's delicacies while admiring his work, along with his "orchestra" of 14 people, all perfectly coordinated and harmonious.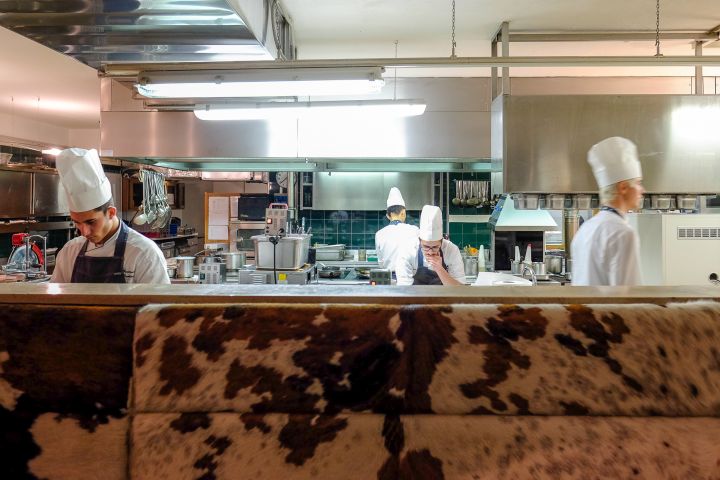 I had the pleasure to speak directly to Norbert Niederkofler, that has been working for the Pizzinini Family for 22 years (owners of the restaurant and the hotel). He said about his cuisine: "the variety come from mixing simplicity. The best product is a basic requirement. My commitment to food is explained with the respect of the product and the art to enhance it by using the right cooking method. You have to notice the result both when you taste it and when you look at it, delicate, simple, yet surprising. The lightness has to be seen and tasted".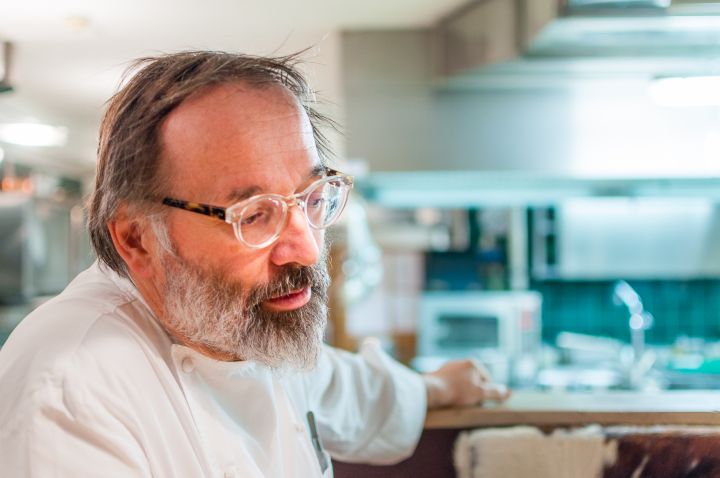 He continues by telling me about the importance of the different cooking methods, 3 or 4 for the same ingredients: in this way you can optimize and serve all the product in each serving!
His cuisine follows the seasons and he loves to work with small producers from the mountains, trying to serve the local products from his place of birth (Altro Adige) to all national and international customers.
He tells me that he feels it's important to pass this passion and awareness on to the next generations, that's why he started Care's, an event that began 10 years ago and that is a cultural exchange of cooking experience with a team of chefs from the best international restaurants that meets in Norbert's kitchen. From this year they also set an important prize: a scholarship for young people who would like to choose the career of the chef. I won't tell you about all the initiatives that this great man has started (go and see his web page!) but now I'll leave more space for  the food…
As I sit in the kitchen with a nice glass of wine, here are the various starters: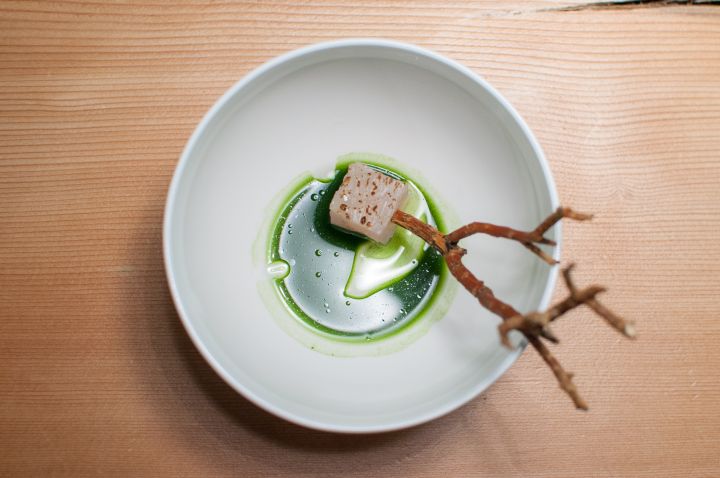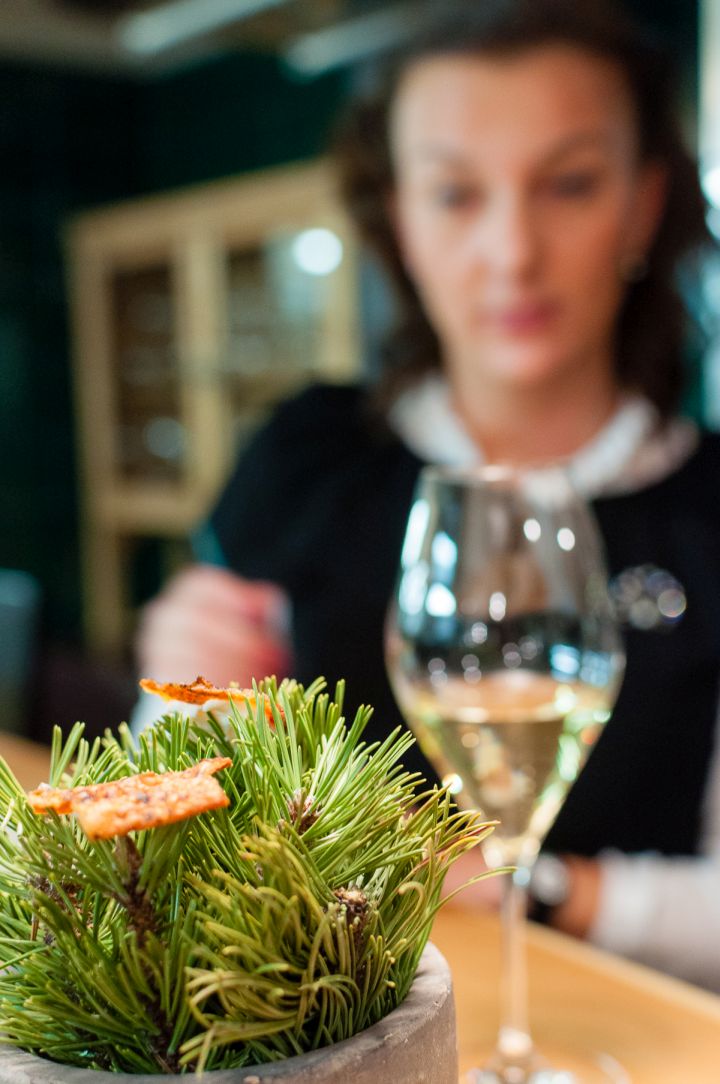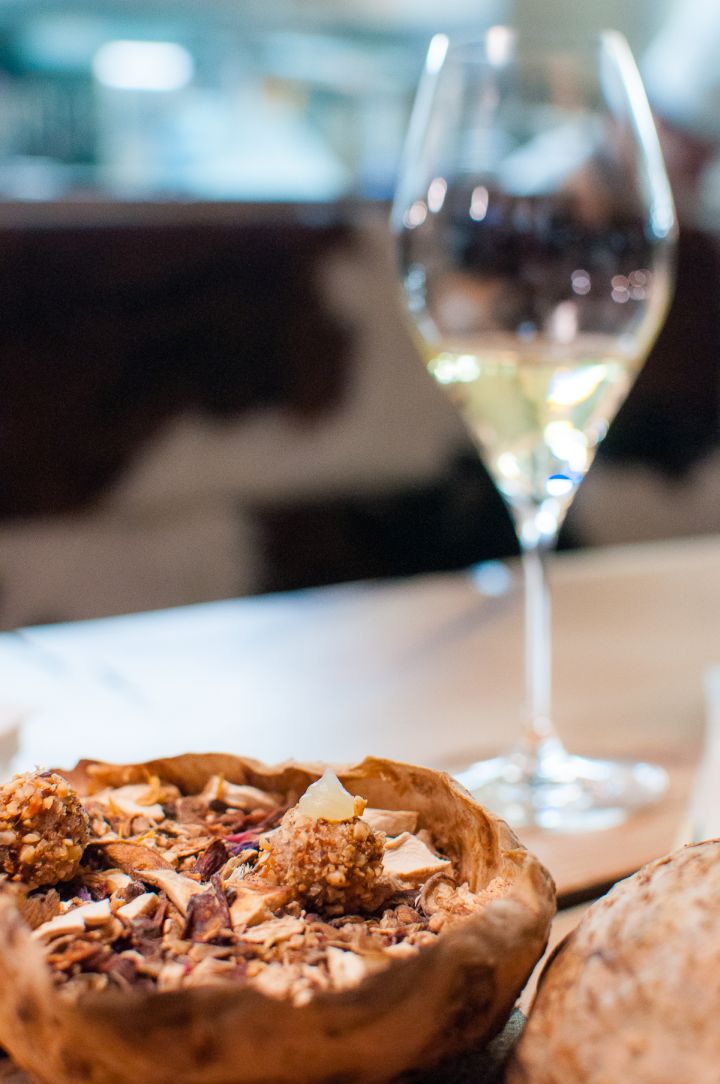 As soon as I sit at the large kitchen table I notice a glass bell that has raw dough inside…what could it be?
Giovanni, the waiter that despite his young age (20) shows extreme professionalism throughout the entire dinner, explains: "This is our bread, that has a long process of natural rising, and is made of different types of flour, before it's brought to the oven: you need to wait 20-22 minutes for it to bake and then you can taste it straight from the oven!"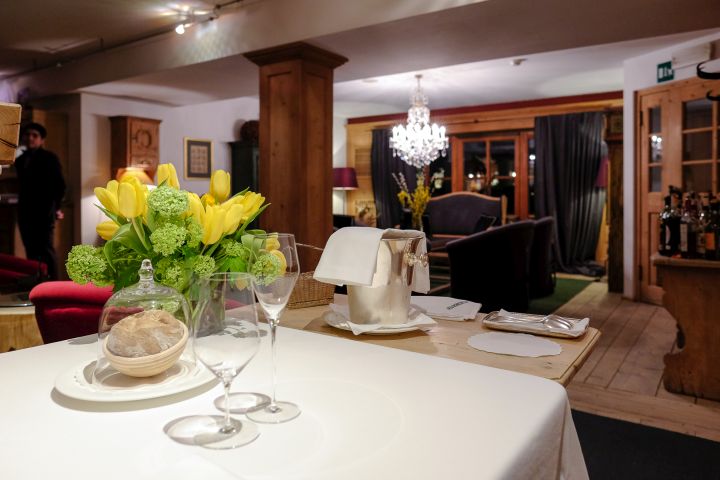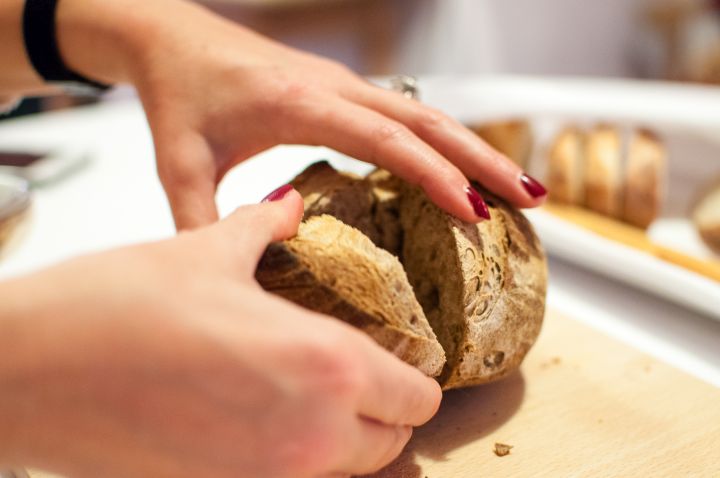 The show is on… and a wonderful rhythm I receive various courses, descriptions, wines, perfumes and feelings.
The magic word is MOUNTAINS,  and I hope to manage to share at least a part of my experience through these images!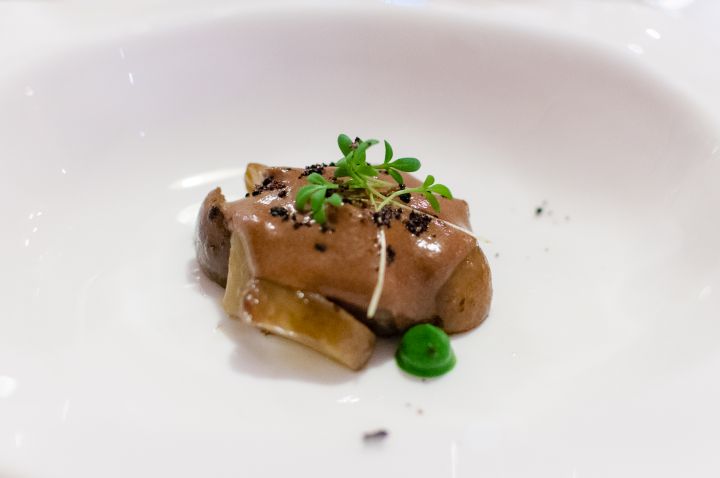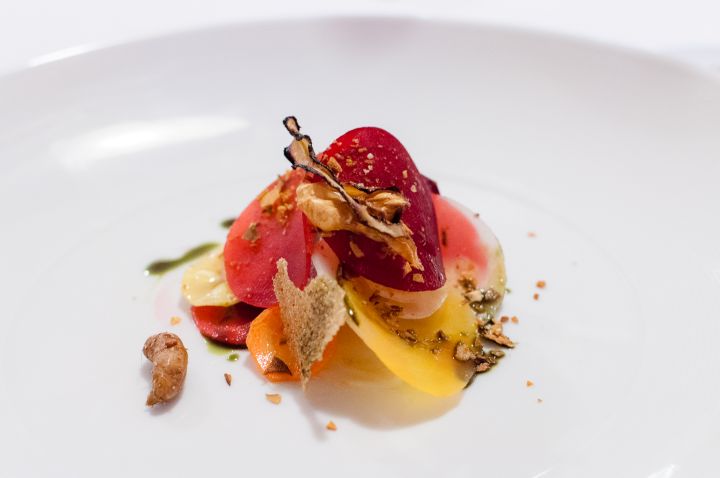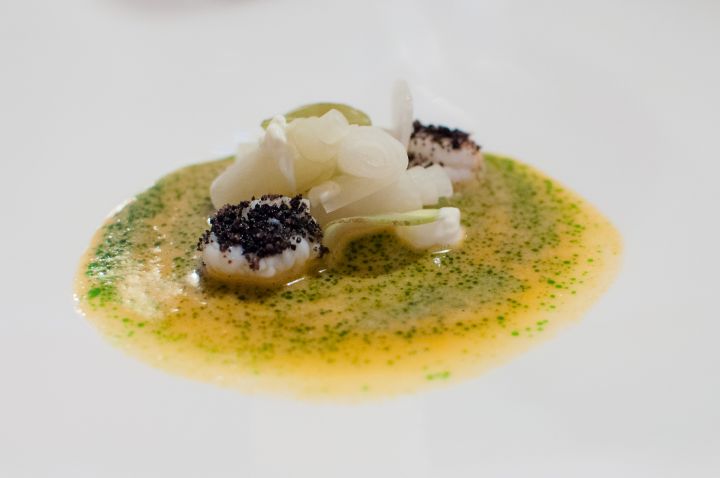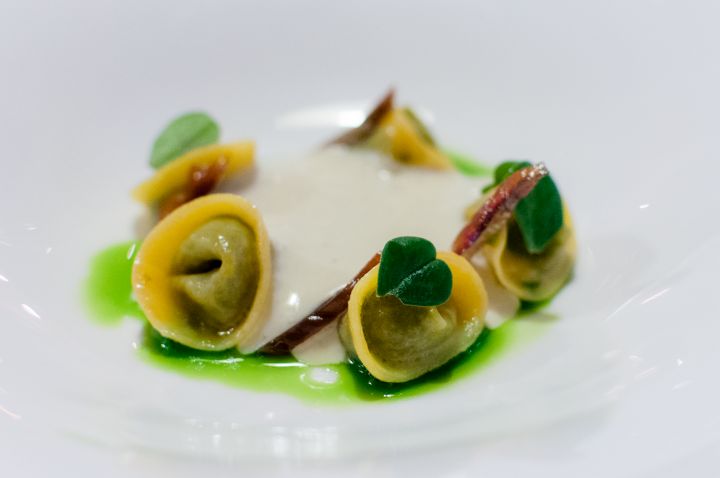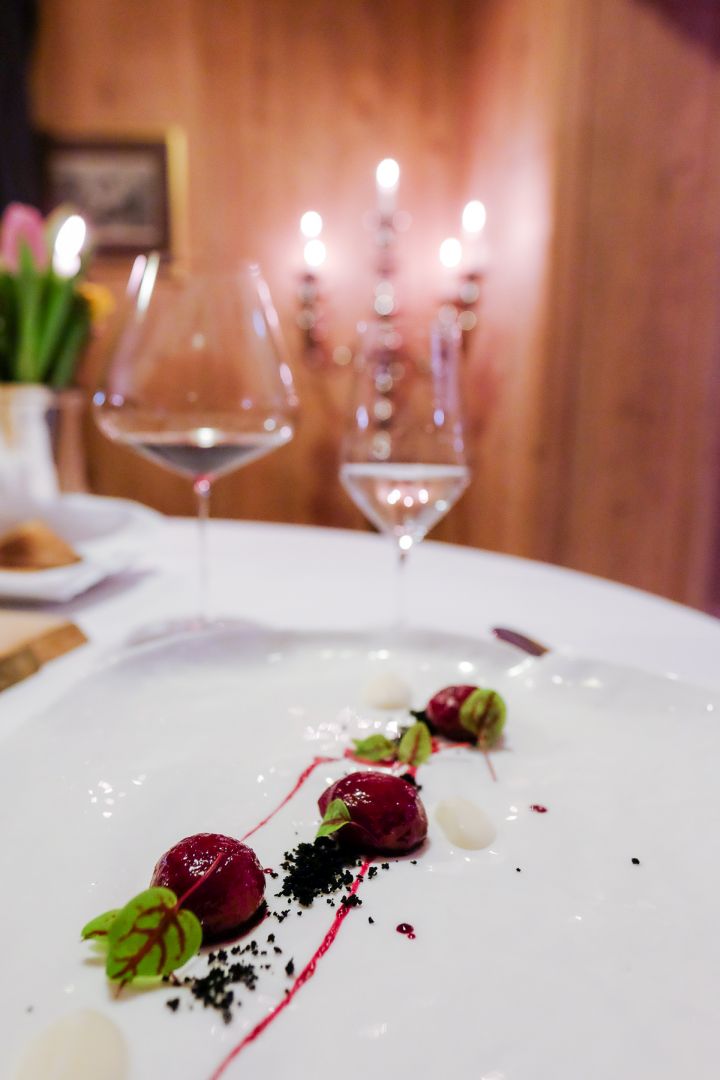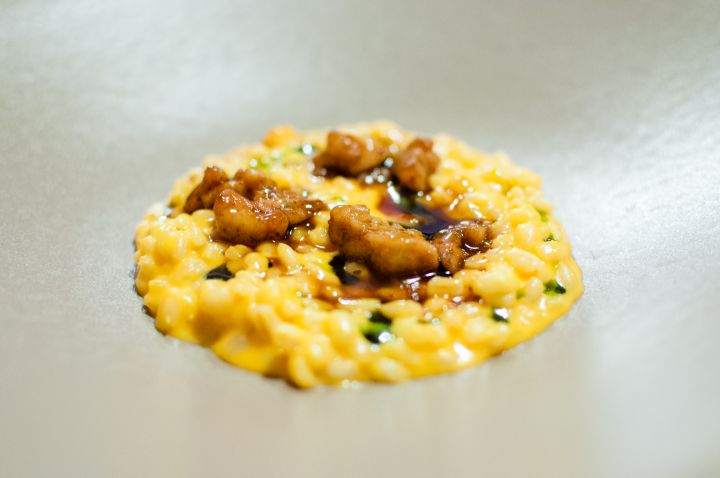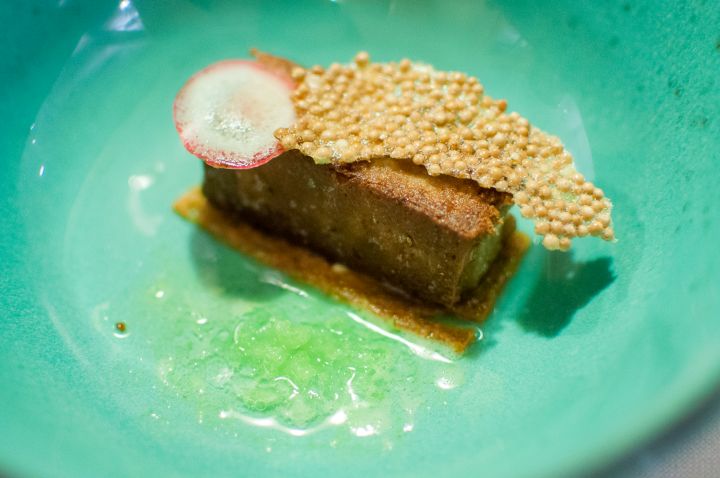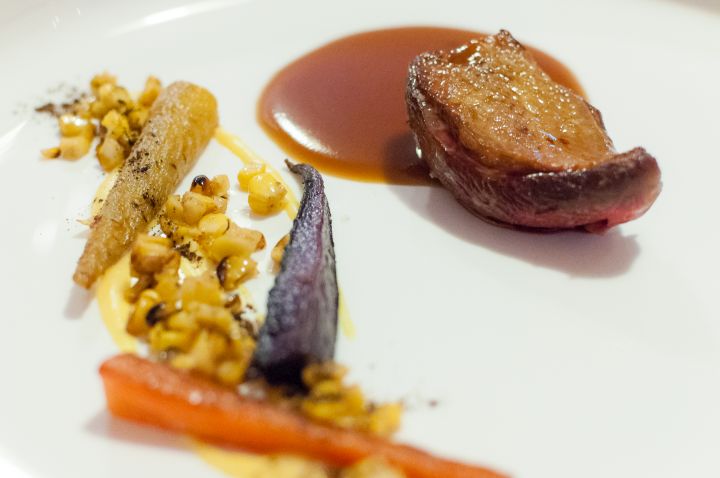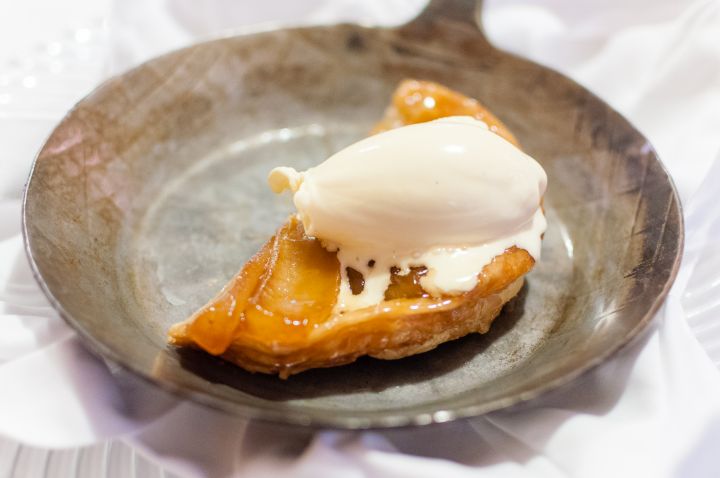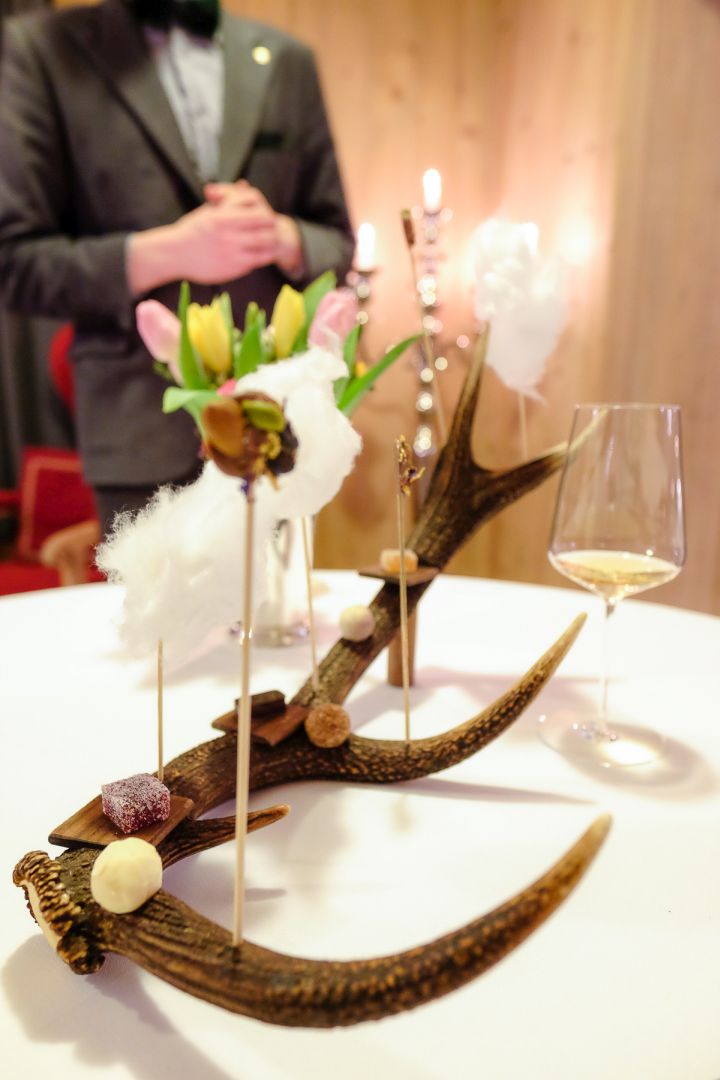 The tasting menu that I chose has 5 courses, but as you see its much more than 5, because St. Hubertus always likes to amaze their clients!
I already know that the most curious of you will think "But how expensive is it?"
Much less than what it's worth, I can guarantee it. And if it's true that not all of us can afford to dine just in restaurants of the level of St. Hubertus, I think that at least once in a while, on special occasions, we can treat ourselves to a special experience like a star level restaurant. I suggest you do!