During my trip around the Slovenian capital, I certainly couldn't miss out on the "culinary" stop. I get a name from many different sources: CUBO. As always 'm ready to accept advice and suggestions, so I decide to try, or rather, to taste, to believe them. So, ready, steady… let's GO!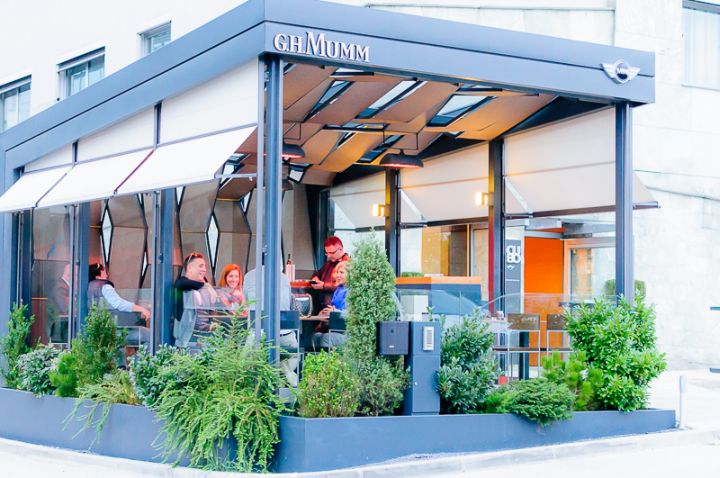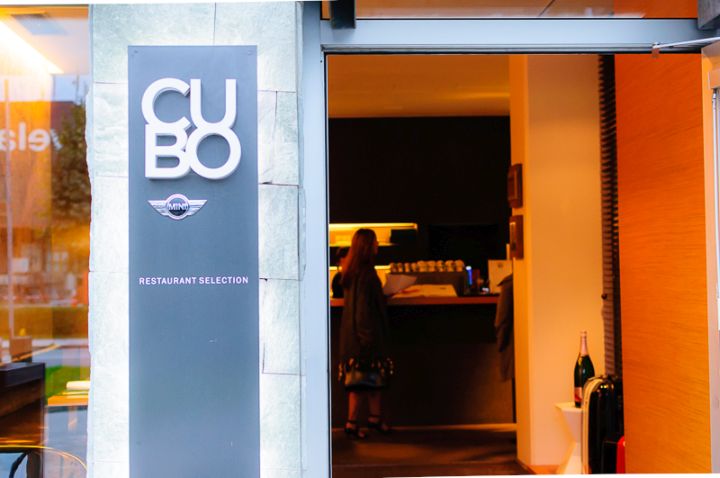 CUBO is a stylish and very refined restaurant, placed just out of the city centre of Ljubljana, in an area where you might not expect to find such a rare gem. The manager is Bostjan Trstenjak, a great worker that wears his apron every evening and that in 12 years has turned his dream into reality. In time, and with a lot of hard work, he put together a harmonious staff in a carefully furnished location, modern and elegant, where every detail is important.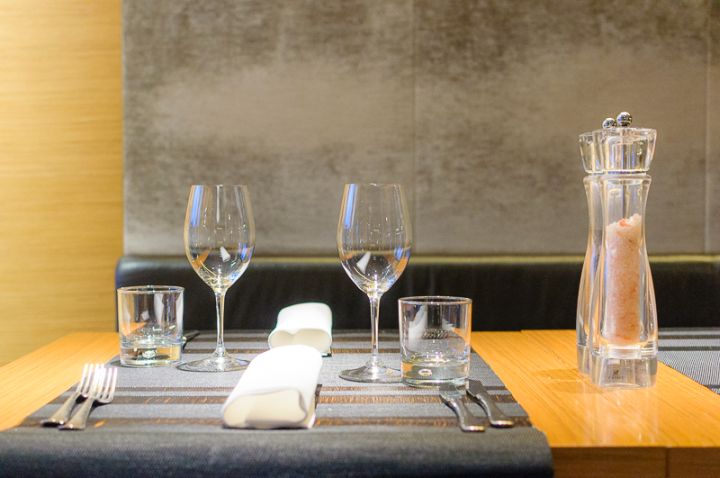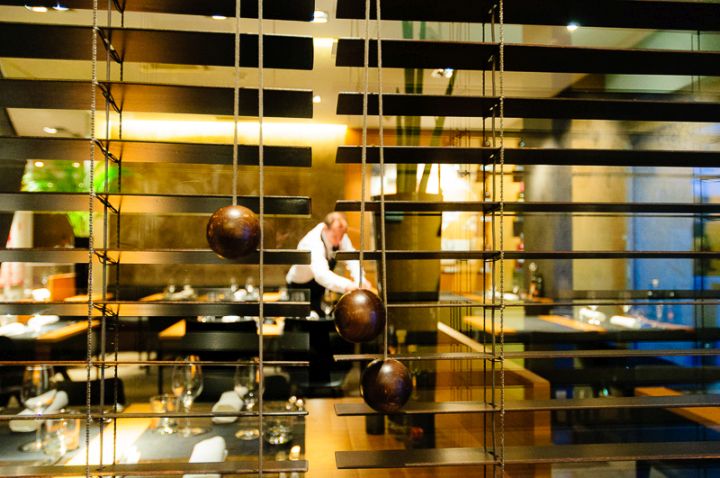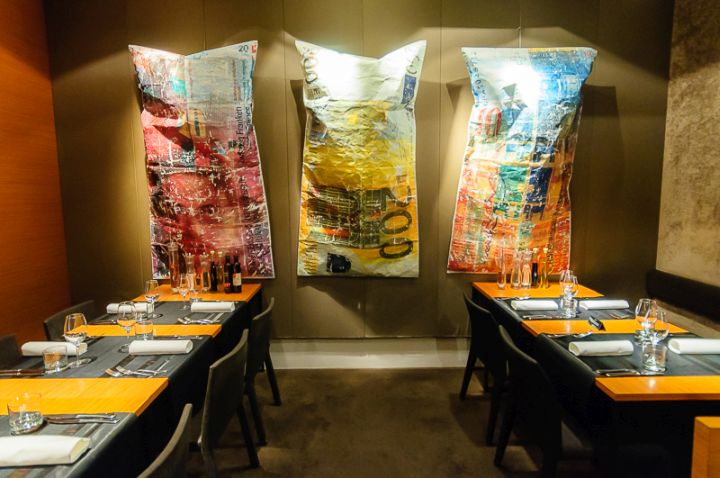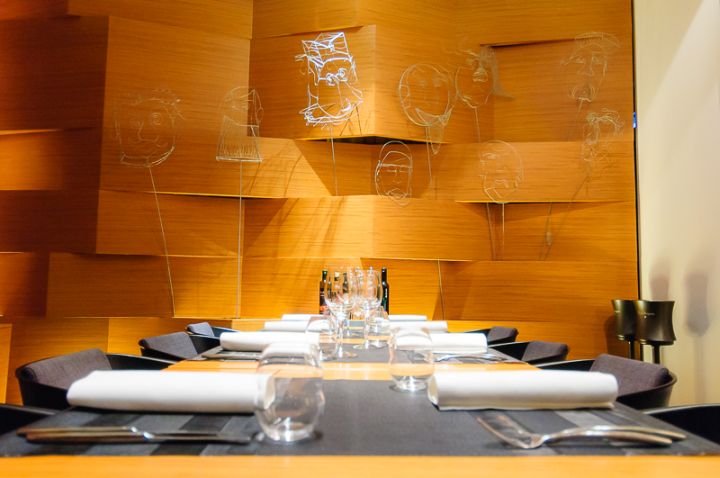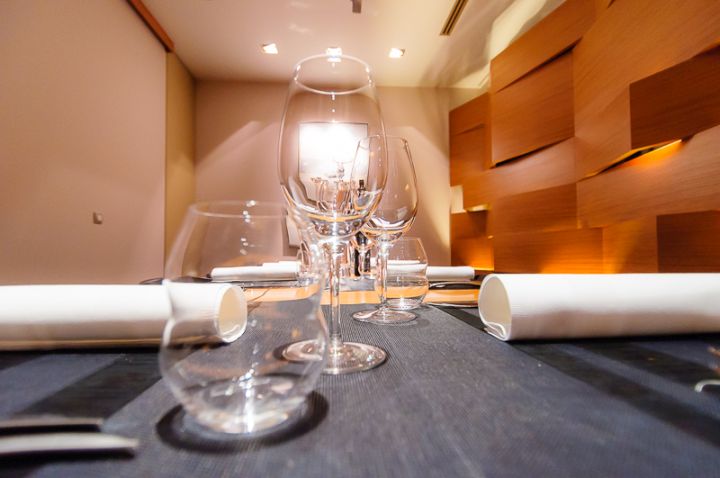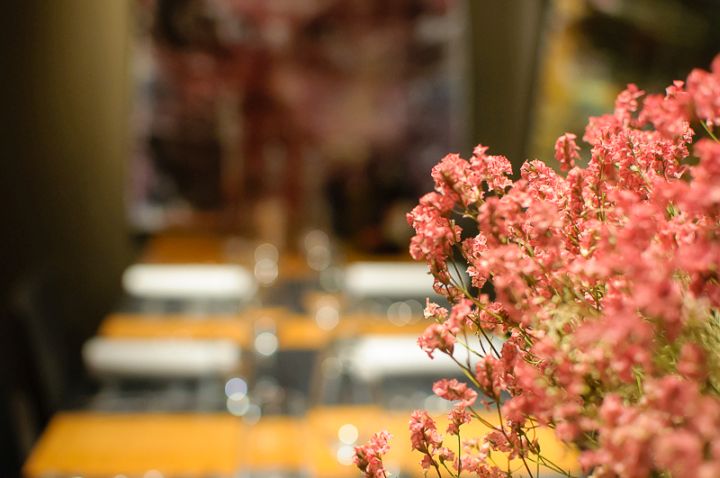 The restaurant is defined by geometrical lines, softened by the wooden walls. Shaped panels in fabric divide the spaces, creating smaller rooms, more cosy and reserved.
The service is excellent; the wine menu is fun and modern. In fact they present it on a tablet, where with a simple click, you can choose among a selection of more than 300 labels, see where they are from and their price. A smart system which allows them to update the menu daily.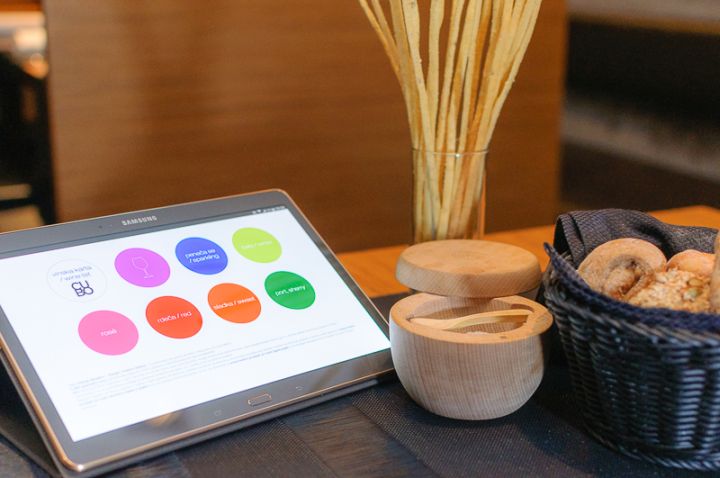 Before sitting at our table, as usual I visit the kitchen to meet the artist behind the stove. In CUBO there's Borut, a chef from Ljubljana that after a lot of different experiences, decided to set to work among pots and pans and manage the "happy company" put together by Bostjan.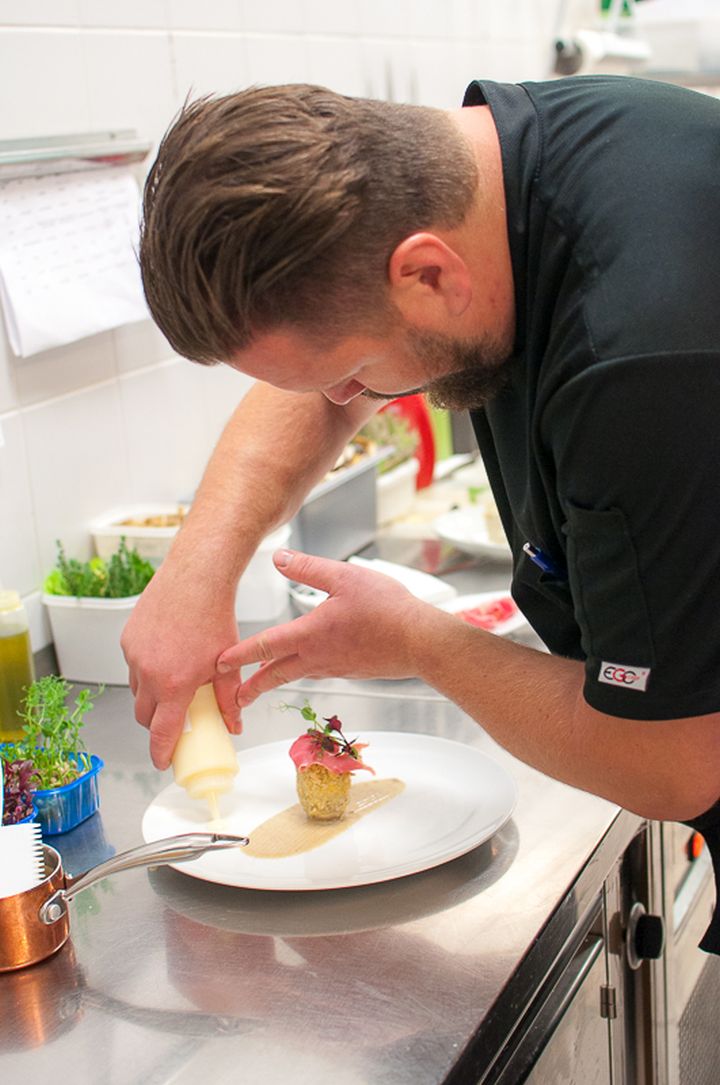 His cooking is Mediterranean, with reminders of Slovenian traditional food, and new and original ideas, combinations and presentations.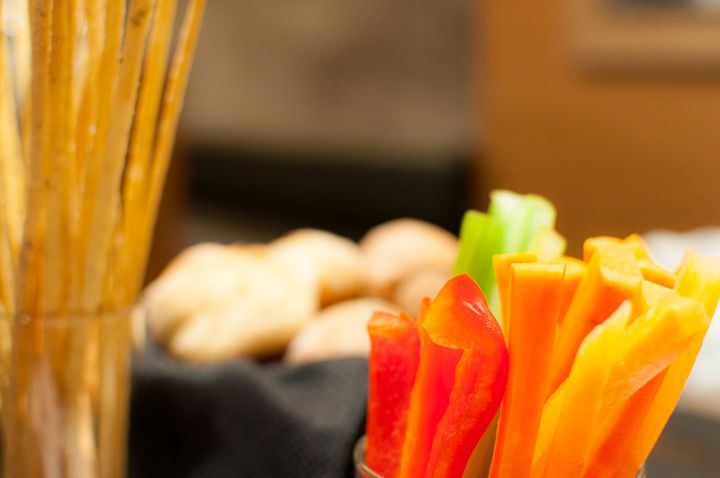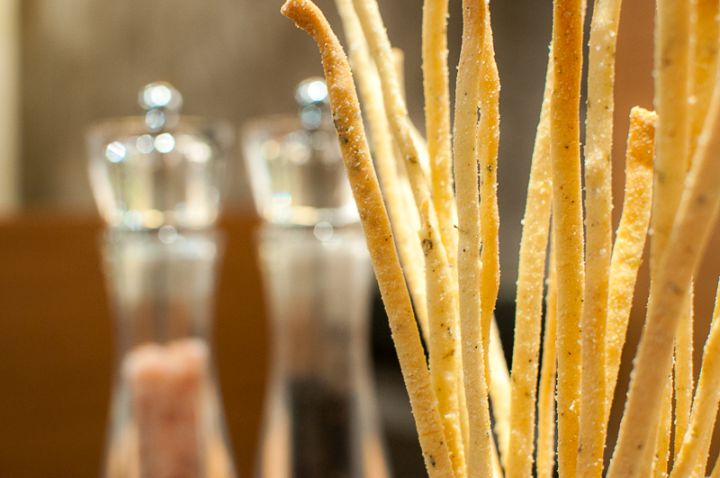 We sit at our table, and are served a Bjana Rosè of the area of Brda in Slovenia and a small appetizer, an introduction to what will be a feast for our senses… have a look: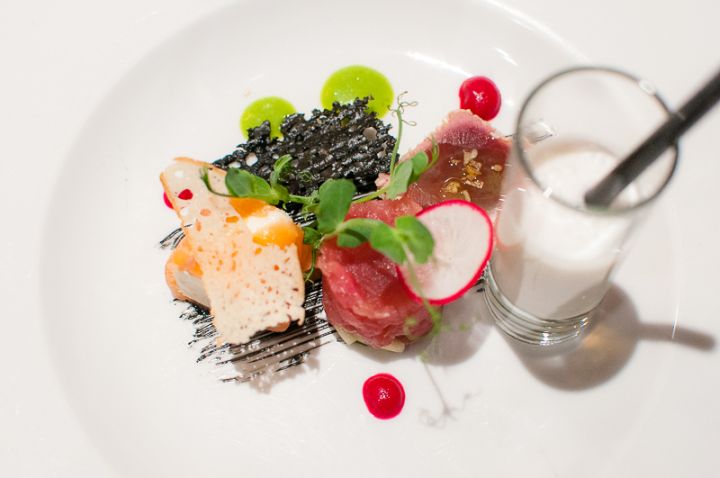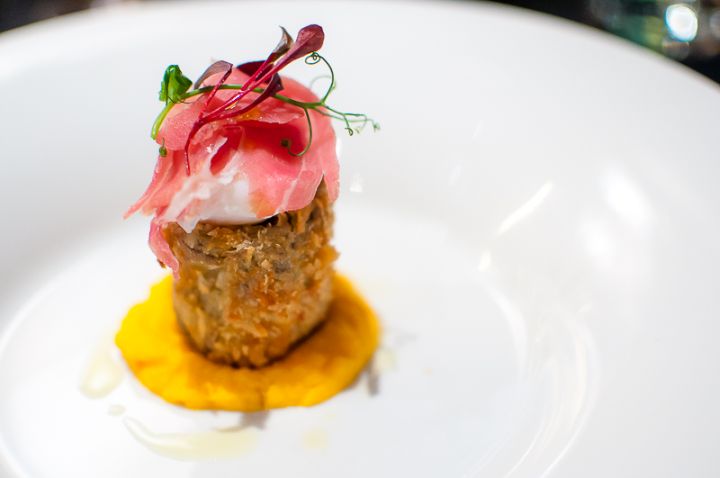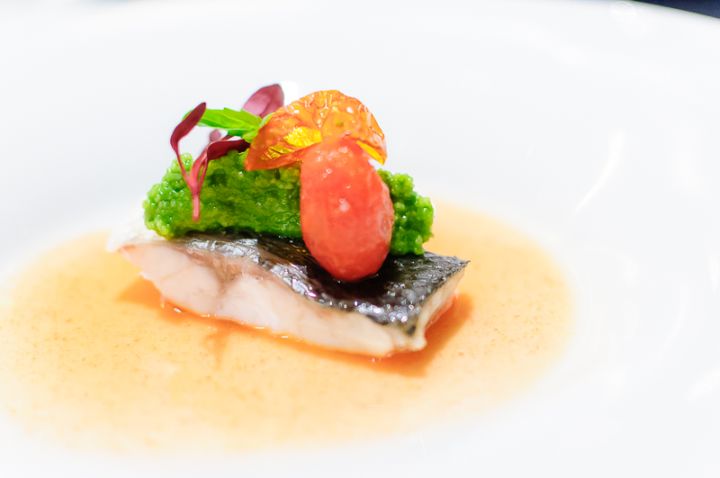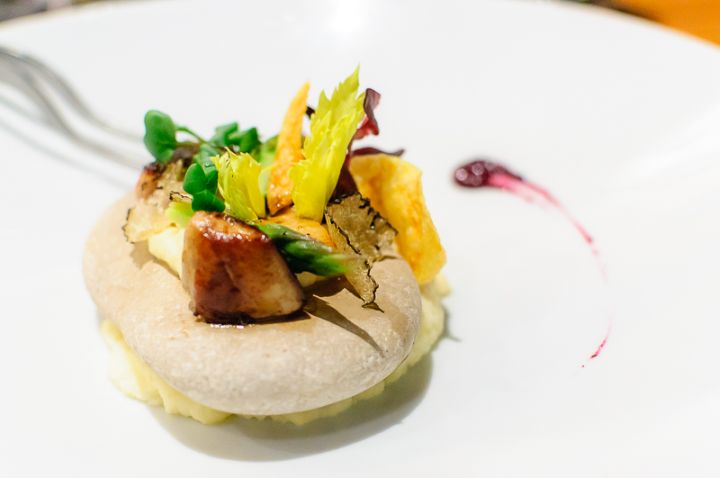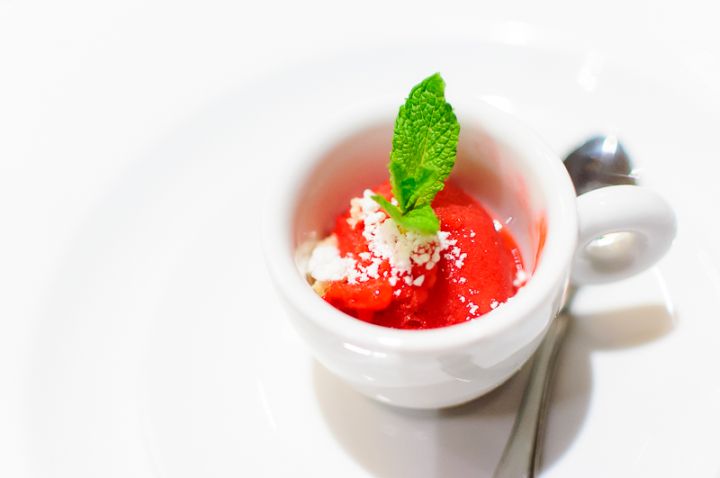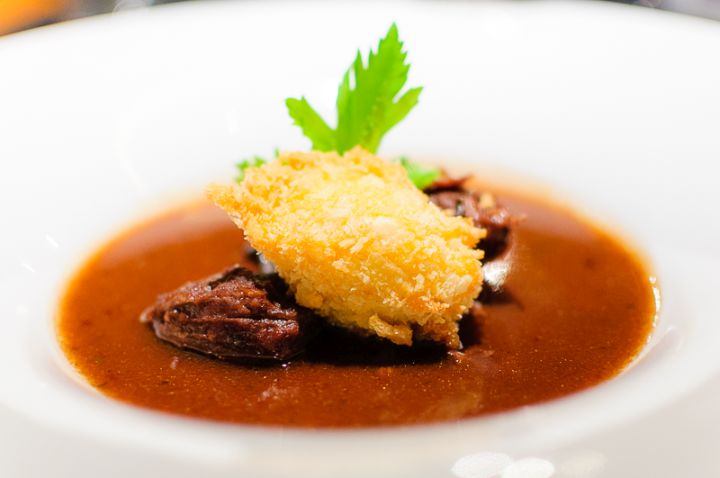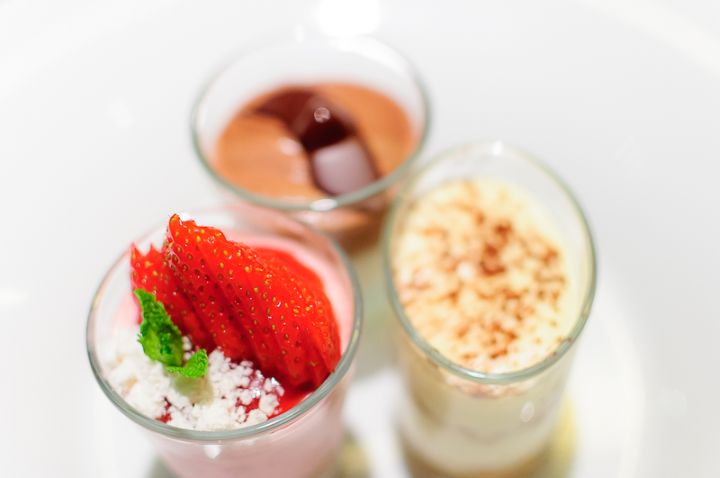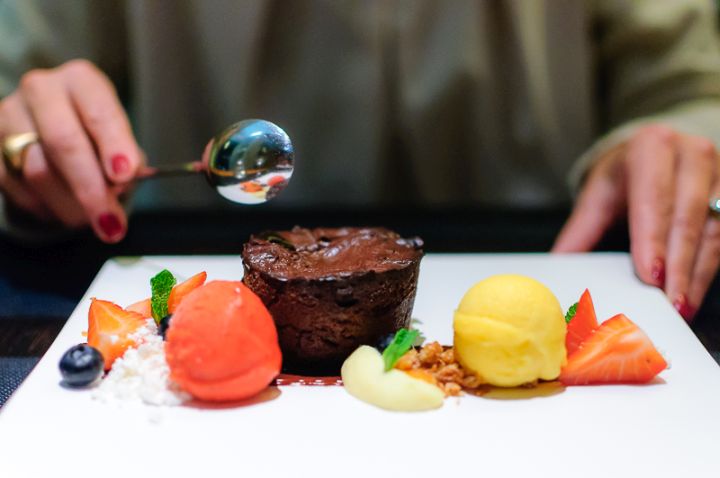 Everything was as good as people had described it. If I had to choose the dish that I loved the most I'd say the foie gras, definitely unforgettable…
Even the desserts were a treat. In fact CUBO was one of the first restaurants in Slovenia to create a dessert book, in Slovenian and translated into English, with photographs and recipes (it's had great success and has won many prizes). Obviously I couldn't leave without the book, signed by Bostjan with a personal dedication to me.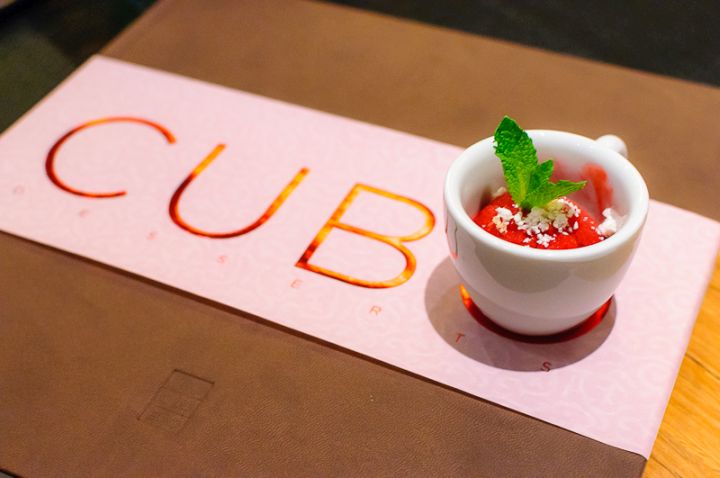 And finally, the tender spot: HOW MUCH?   Well, good news for everyone: the tasting menu with 5 courses and a bottle of wine of the house (CUBO has its own wine labels) is 80.00 Euros for two people, which means 40.00 Euros each
I live about 40 minutes from this excellent restaurant; I'll definitely be back! Foie gras wait for me… I can't wait!
Photo: Andrea Zangrando