Today I'll bring you to San Lorenzo Isontino, a small town in the county of Gorizia which is home to only 1500 people. But, in order to tell you this story, we'll have to go slightly back to the past, more or less to 45 million years ago: at that time, this region was covered in sea water! It then receded, creating the Isonzo Valley. It has then been modified as we know it today by the meltwater coming from the glaciers of the Quaternary.
(Yes, I know, sounds a lot like a documentary)
The top layer of this soil is clayey and reddish, rich in iron oxides and other minerals, while the bottom layer is a gravel mass. Together they facilitate water and oxygen distribution, making the underground a hospitable environment for the development and the activity of roots. Long story short, we have to thank the ice ages if we can enjoy Lis Neris' wines today:-)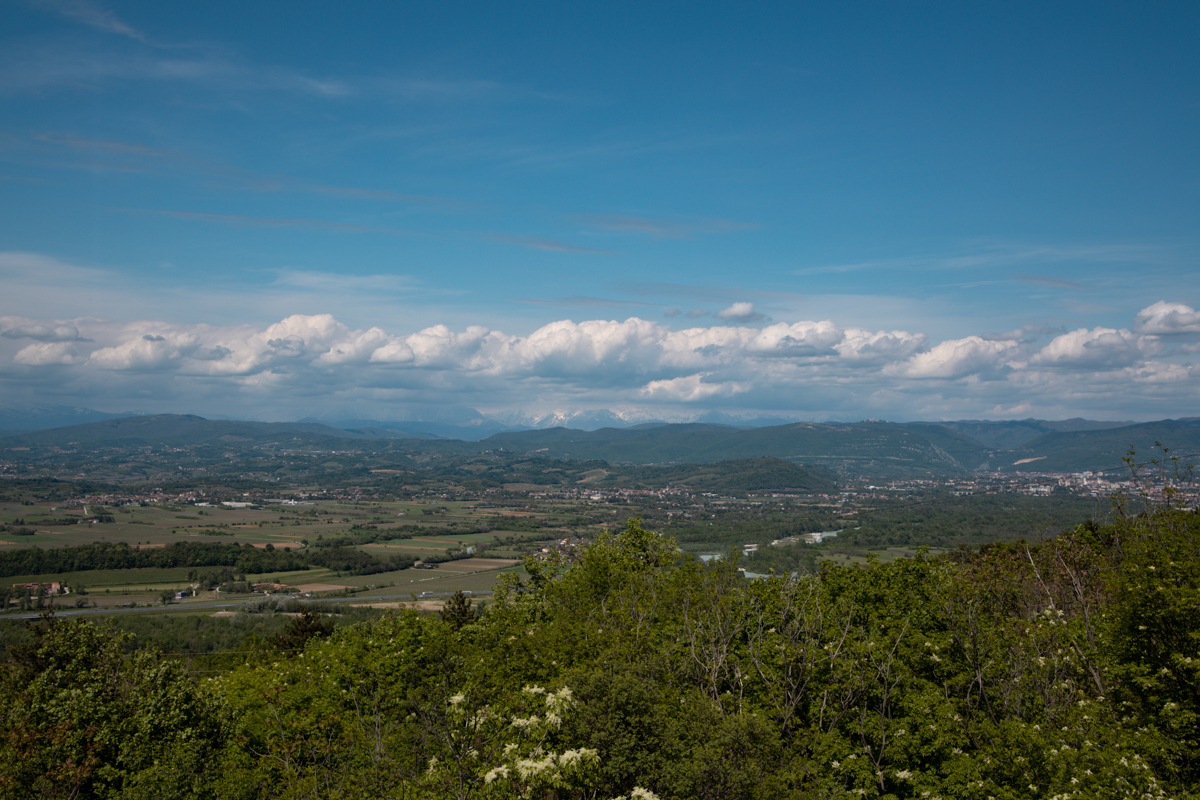 Is there a better place for agriculture? Lis Neris' story has its roots here: their 74-hectare vineyards allow a real spell to be cast every time one of their bottles is opened. Pure magic.
Many of you surely know this brand, but bear in mind that I've never defined myself as a wine expert, I'm more of a great lover of this delicious nectar. Motivated by the love I feel for my territory and for its excellencies… Well, here I am with Alvaro Pecorari, the patron of the business and fourth generation of the property.
Alvaro hasn't only carried on his job on the fields, but he's also expanded Lis Neris, taking it from simple winery to tasting room, congress center, and hotel, with rooms available to travelers who want to live the Relais experience together with "zero kilometer" breakfasts. You can also enjoy "tasty breaks", consuming products from small businesses from Friuli Venezia Giulia and, lo and behold, if any of you want to come here and have a nice holiday, they also have two apartments that are available for long stays! But wait, it's not over. Lis Neris offers the chance to organize creative team building experiences to everyone who'd like to grow a more united team in their business: you may stay here and sleep in their new bedrooms, thought for business trips.
What about me? Well, I stayed here, and I discovered the territory and good wine.
First and foremost, I'd like to recommend a walk on Mount San Michele: from the panoramic terrace, you'll have a wonderful view of the place that hosts you. From Slovenia to Nova Gorica, the Isonzo right under you, with its many stories to tell, and then Gradisca d'Isonzo, the only karstic village on the right side of the river. From there, your eyes will be lost on the Collio hills that rise on the Slovenian Brda, and the Tricorno.  You'll catch a glimpse of the Rocca di Medea, the Eastern Hills and Corno di Rosazzo and then Udine and Piancavallo, and even Austria.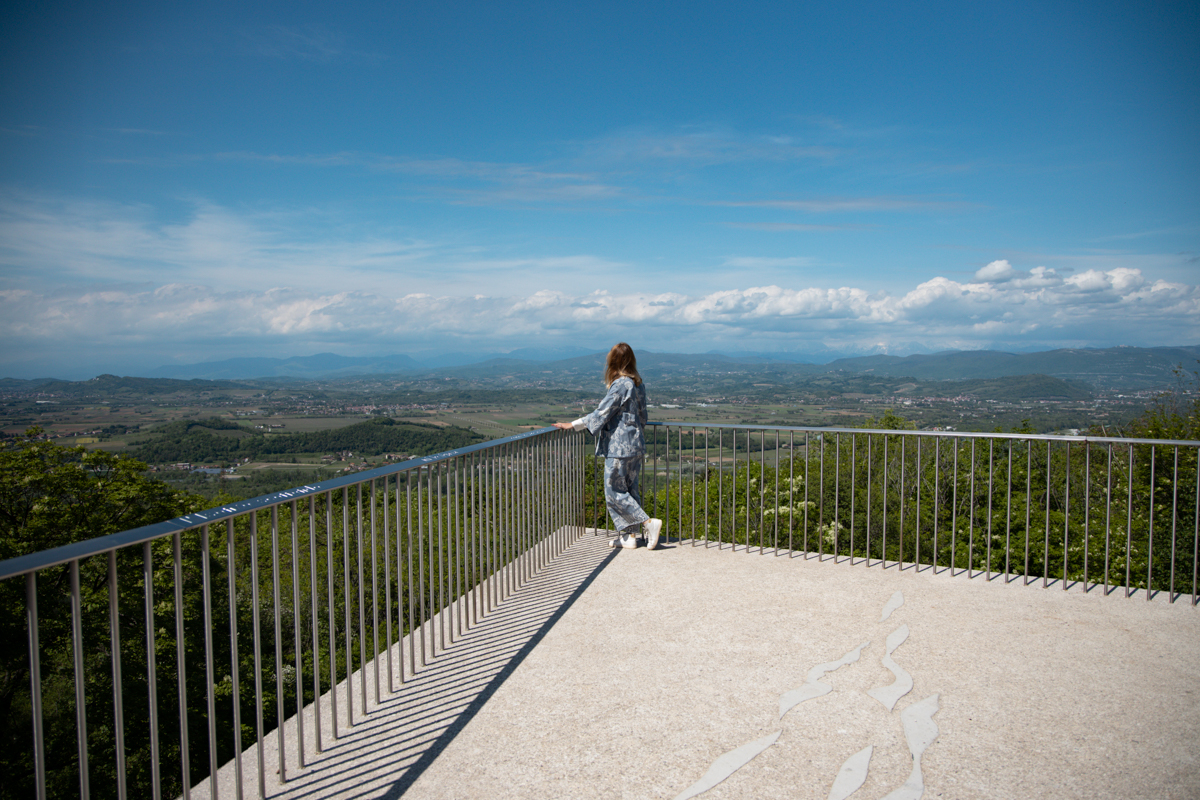 While you're on the San Michele, looking on the other side, you'll see Cona Island, Grado, Trieste's gulf, and Slovenia and Croatia; looking North, you'll see the Vipava Valley.
The Museum of Mount San Michele will gladly help you understand the story and the importance of these places better.
Going down the mountain, you'll cross the light blue Isonzo river, and you'll pass by Gradisca d'Isonzo with its 15th century castle, its Venice Lion in the main square, and its Austro-Hungarian theater.
From there, you'll get to San Lorenzo, where, in the middle of the vineyards, you'll notice a nice sign that reads "Lis Neris". It's here that I had my first encounter with Alvaro: he was waiting for me, to tell me about the geological conformation of the soil and the story of his business.
The vineyards surround the village, and the village hosts the winery and the Casa Lis Neris.
The real winery is underground and covers an area of 3000 square meters: it's a facility that tries to preserve and process grapes very gently. The fruit are handpicked, and they get to the press by gravity (in order not to ruin them). The must then starts to ferment in steel cases, where the temperature is under control. After 24 to 48 hours, it's time to transfer it into the barrels, barriques and tonneaus for the whites: in this case, during fermentation, the yeasts will be mixed twice a week with the bâtonnage before bottling. As for the reds, the winery follows the Bordeaux method and the wine only ferments in barrique barrels.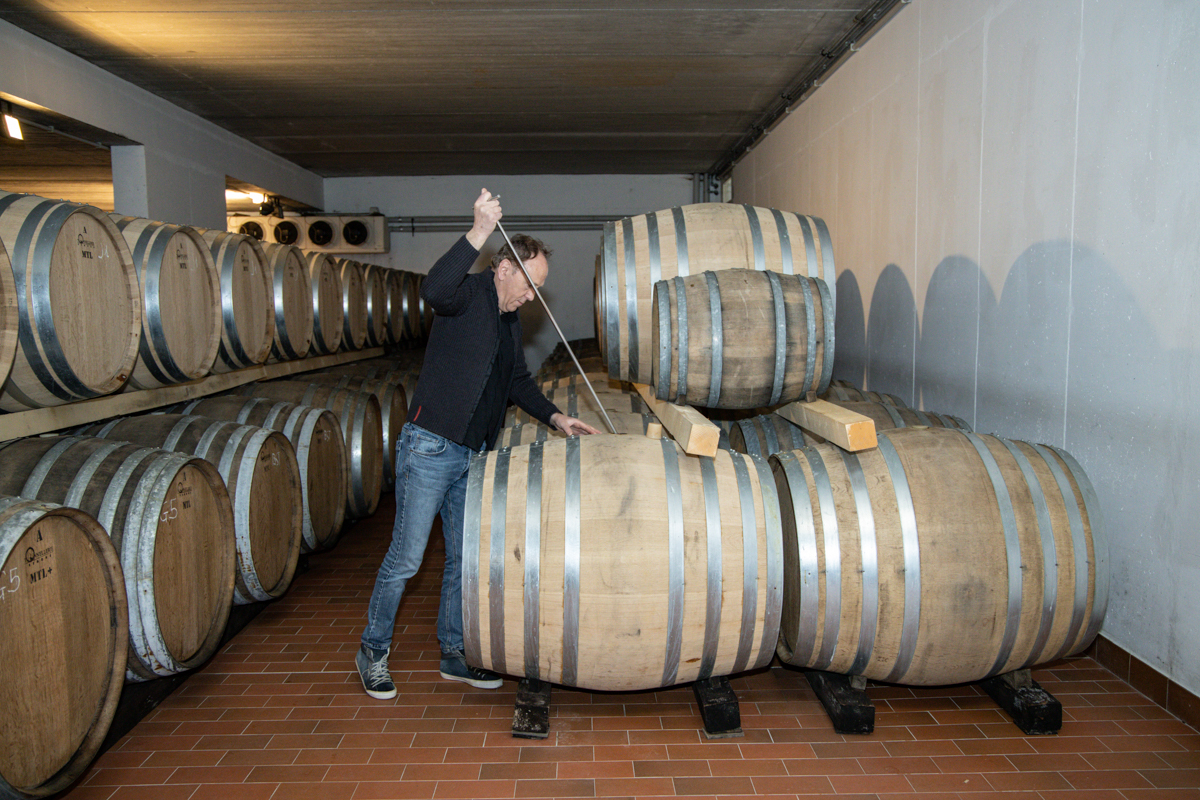 I'd prefer not to get too technical, though: better to refresh our palates with a small tasting…and who better than the very producer could guide me in this journey? So here I am, in front of a 2018 Gris, a grey Pinot (Alvaro's favorite), listening to its description: it takes its name from the vineyard "GRIS" (grilli in the local language) and not from the grapevine.
Alvaro likes to intrigue people, so he poured the second glass without saying a word. He wants to test me, this is a more structured wine, the color is more intense and it is very rich in scents…is it maybe a 2008 Gris? Boom! I got it! Yeah, even though once it was thought that white wines would taste better if tasted "young", nowadays some winemakers make them rest, even for a good 13 years… and I have to say that they turn out really good! It's a personal opinion and it doesn't come from an expert nor a sommelier, let's be clear on that.
A small "tasty break" is much needed, because you have to "line your stomach" as they say. So, I let myself be seduced by a small tasting of salami by Bajta (from Sales, on the Karst in Trieste), of organic cheese by Zoff (from Cormons) with a side of Sara Devetak's honey. And to conclude the ham and bacon by d'Osvaldo, of course!
The night is falling, so here I am, ready to test the Relais side of this heaven on earth. Four rural and cottage-looking bedrooms, that are nonetheless very cozy and surrounded by the utter silence and privacy of this little town. Welcome to cotton sateen bed sheets, a view on the garden provided with a pool and a breakfast served on the porch in the morning. The time is always marked by the sound of San Lorenzo's bells.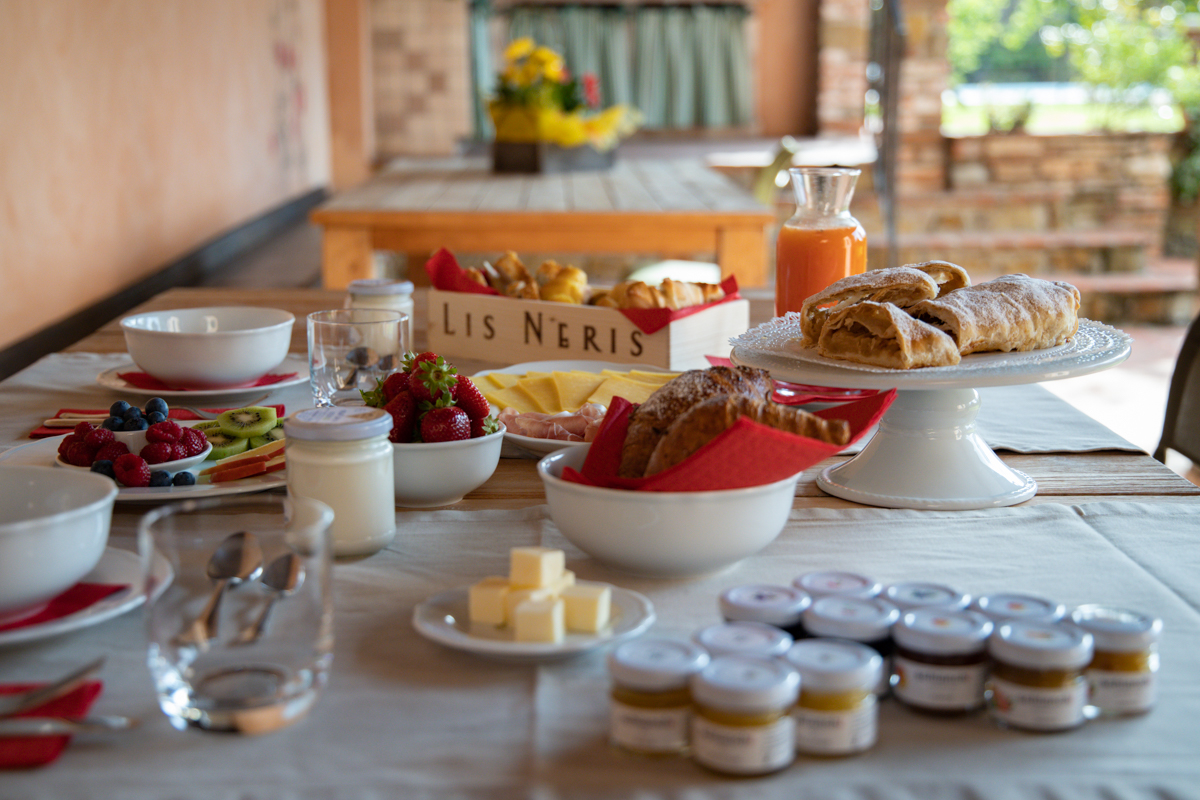 But here they made something new out of the old. The old mangers have been turned into the Wine Shop 🙂 on the other side of the street is their family house, which has been completely renovated and now has broad windows. It now hosts, on three different floors, a meeting room and a very modern and technologic conference room.
As I said in the beginning, the space reserved for hosting has grown to four bedrooms for business trips and two apartments for longer stays.
A large and bright terrace can be booked for events, tastings and dinners with a personal chef, who will work in the new kitchen that has very recently been inaugurated. On the mezzanine, Alvaro created a small library, where you can find books about Friuli Venezia Giulia: from its kitchen to its history, they go through everything that connects our territory.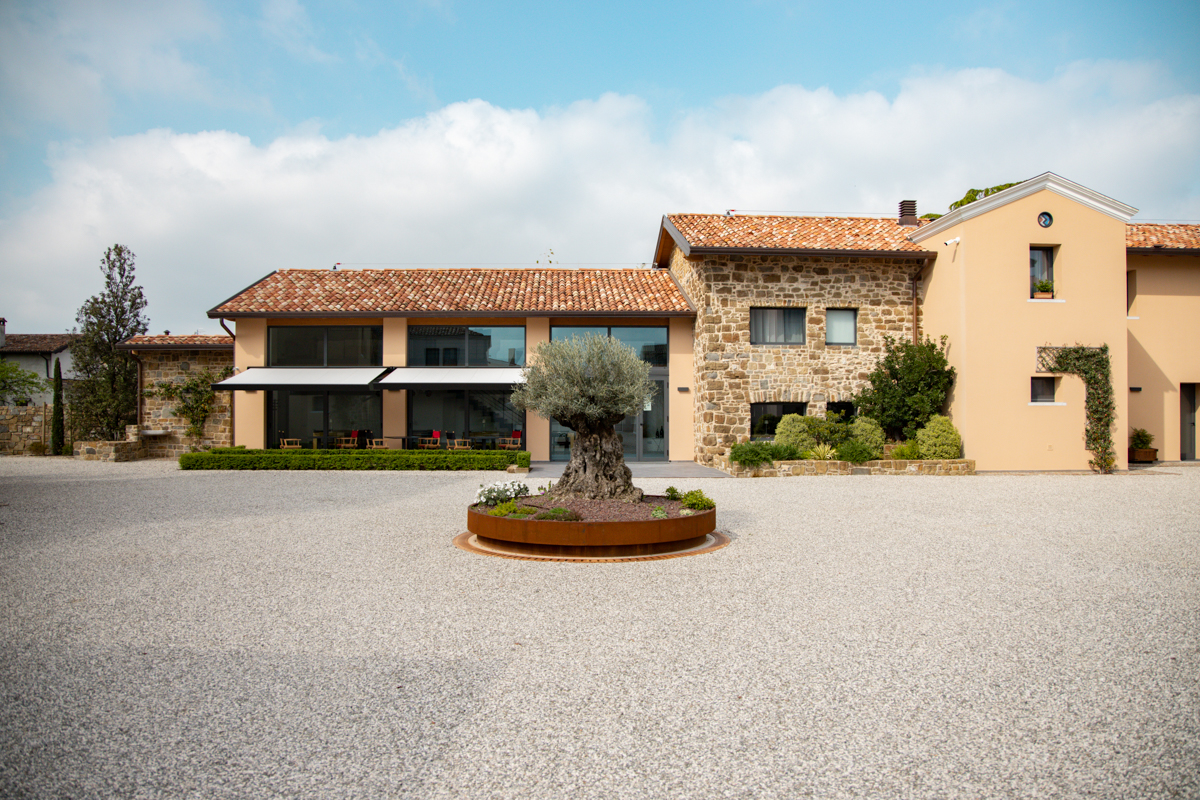 You most certainly have noticed that on the wall of the old house is a painting of five women… and you surely have wondered "What does Lis Neris mean?" In the local language, "the blacks" was a nickname given to women who worked in the vineyards, as they wore black dresses and dark scarves. They then produced a wine called Lis Neris: the name was so appreciated that the company decided to make it theirs, so as to remember this small part of local history.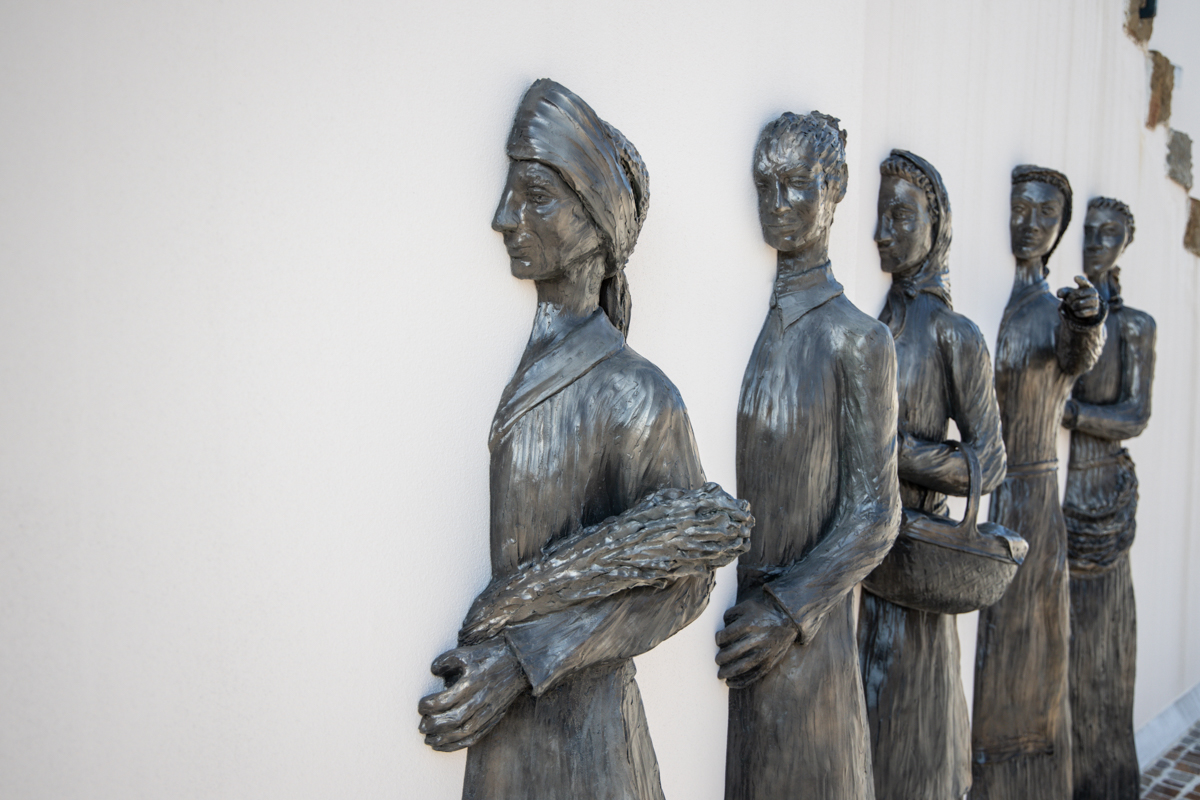 And now, last but not least, here is something juicy for you. Did you really think I forgot about my readers? No! I asked Alvaro to create some packages especially for you…and here they are 🙂 If you liked my experience, I recommend you try it, too!
"RESPIRA LIS NERIS" PACKAGE
Visit to the vineyard, with a description of the territory and an insight on the viticultural aspects.
Themed tasting of 5 wines.
Tasty break with a combination of 5 regional cheeses, ham from Cormons or Tagliamento trouts.
€ 90 – price for 2 people.
"VINO – NATURA – CULTURA" PACKAGE
1-night stay at Wine Relais Lis Neris.
A glass of Classic Method Dom Jurosa Brut in the bedroom at your arrival.
Friulian good-morning: a breakfast that is the result of a research that favors local productions.
Visit to the vineyard, with a description of the territory and an insight on the viticultural aspects.
Themed tasting of 5 wines.
Tasty break with a combination of 5 regional cheeses, ham from Cormons or Tagliamento trouts.
€ 240 – price for 2 people
The packages are valid through September 2021. To book, you only need to send an e-mail to lisneris@lisneris.it.
What else to add but "cin cin" and…have a good stay!
Ph. Lara Perentin