And September has come again. I repeat it very often, maybe even too much, but I think this is one of the best months to dive into the nature of the Dolomites: at the end of summer the colors change, tourists aren't as many as in August and it's easier to spend some unforgettable days in Alta Badia.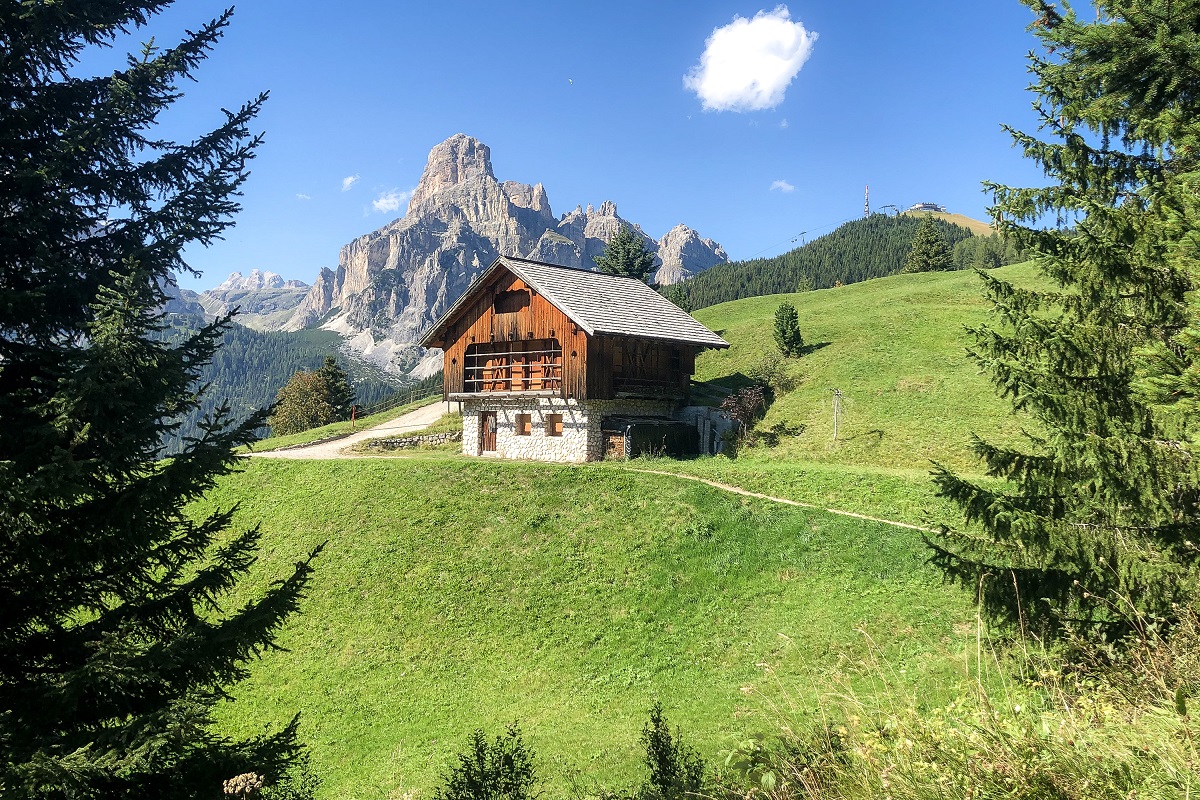 So, I'm back around here. To be honest I had to come on March 29th but given the situation I had to change the dates of my trip…from snow to green woods in a heartbeat! What did you say? No, I'm not complaining, on the contrary! If you take a look over here at my old article you'll find that I was here last year in September. Not at La Perla, of which I will tell you in a moment, but at the Ladinia, the other hotel of the Costa family. That, too, was a wonderful holiday!
This time, to twist things up, I stayed at the hotel La Perla 🙂
The room I was given is a mini apartment: a king-size bed with a ton of pillows for every liking, soft duvets of goose down, and a living zone with a balcony, which gives on the Pizes de Cir, on the Sassongher and on the village of Corvara.
The rooms feel warm and wood wins over everything. They don't miss a detail; they maniacally cure every little thing and I would actually arrange some guided tours to the winery and the dining rooms. Why? Well, each and every one of them is based on a different color: everything is meticulously adjusted. The details, from tablecloths to fresh flowers on the tables (that are changed every day…no still-lives!), are picked out of the same pantone: red, blue, yellow, orange, and green. Mesmerizing.
In the breakfast rooms, two very big tables stand out: they're decorated with floral arrangements that would make the best florist on the planet jealous. They also have a show-kitchen, where you can admire how they make pancakes, omelets and so on. Fantastic!
They serve traditional mountain breakfasts. Savory dishes reign free among cheeses, speck, and brown bread…but sweet teeth won't be disappointed either! They serve homemade pies, tarts with fresh pastry cream and fruit, croissants, jams, smoothies and juices.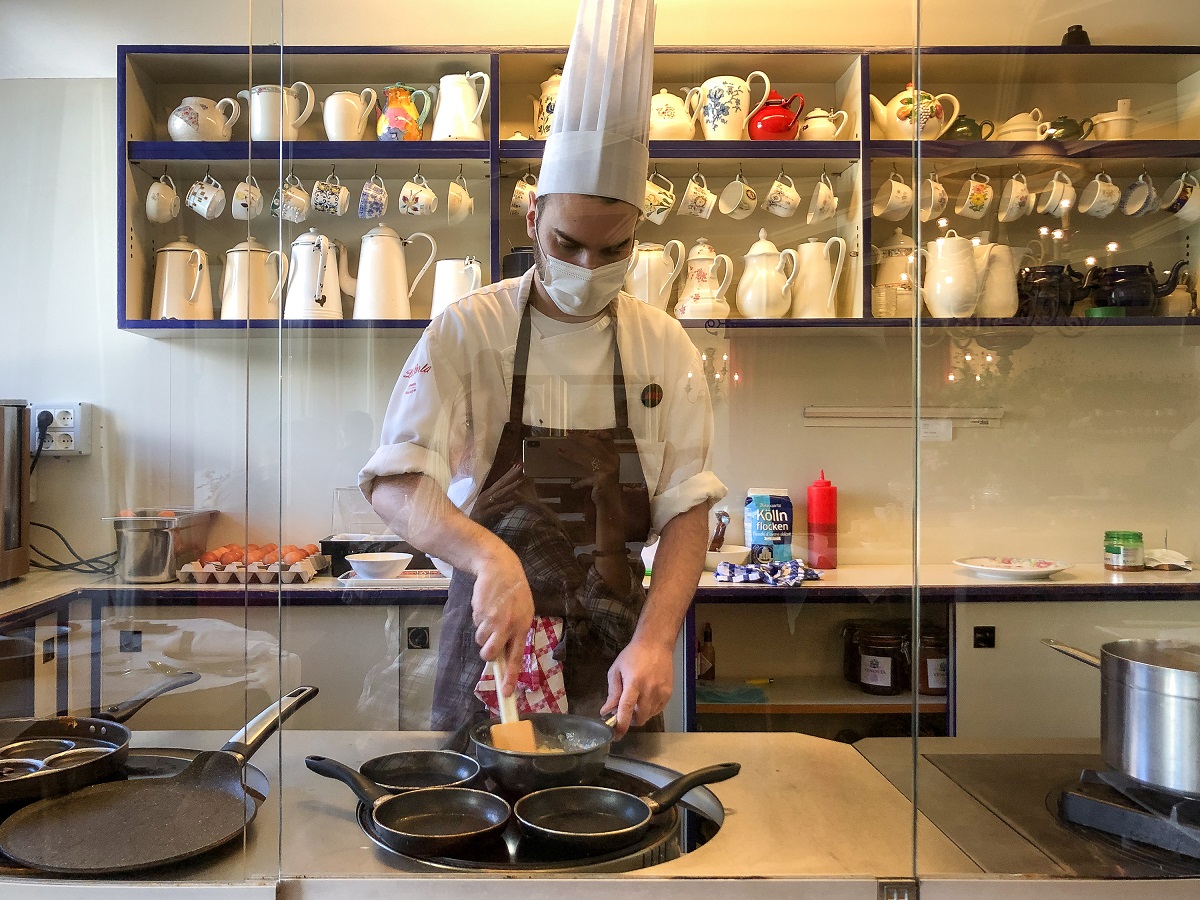 The kitchen is one of the winning cards of the hotel La Perla. Dinners here are delicious and, knowing it would have gone well, I wanted to taste their vegan menu of 4 courses. The results? I've reconsidered the vegan philosophy! And, to be honest, there's also another reason to try this option: choosing the vegan menu you can adopt a tree! With the WOWnature project, thanks to a QR code that you'll receive at the end of the meal, you'll be able to choose a tree that will be planted in the woods of Alta Badia on September 19th and you'll follow its growth! I find it to be a very beautiful project! You'll be doing some good to nature other than eating healthy.
As I was saying, the kitchen is the pièce of resistance of the facility. This kitchen doesn't close in the afternoon, and you can order very tasty snacks in case you're peckish. And could I not try them? Of course not! On my way back from a walk, I HAD TO taste the anchovy croutons with a refreshing skiwasser, which filled me as needed to get to dinner.
Ah…weren't we talking about walks? La Perla offers their guests a guide, Anatoli Cesarini, who explains to the customers which paths to choose every morning in the reception area from 9 to 10. If you're alone or don't like to hike by yourself, do as I did: I waited until 10 and left with Anatoli, an Italo-Finnish who'll take you exploring the closest mountains. No, don't be scared. Take it from a "differently-sportive" person: I've walked from 10 a.m. to 4 p.m. for two days in a row and I didn't die…on the contrary, I was filled with satisfaction! The views in this area really do steal your heart.
On the first day we left on foot from the hotel, and without using any cable cars we went on the Col Alt and then we reached the Pralongià. We stopped for lunch at Punta Trieste and we went back down to Corvara. It was a beautiful walk that never brought us to the same spot twice and which I've recommended to other hotel customers. In a few hours I met new people, learned plant's and botanic species' names and I've come to know my territory better. Yes, Anatoli did explain all of it to me.
The next day, once we left the hotel, we were guided on the Boè, 650mts higher than us: a walk of one hour and a half, in complete relax.
Coming back to the hote La Perla was amazing, as I dove into the SPA. Indoor pool with hydromassage, waterfalls and water jets, then saunas and kneipp treatments that'll revive your muscles for the next day!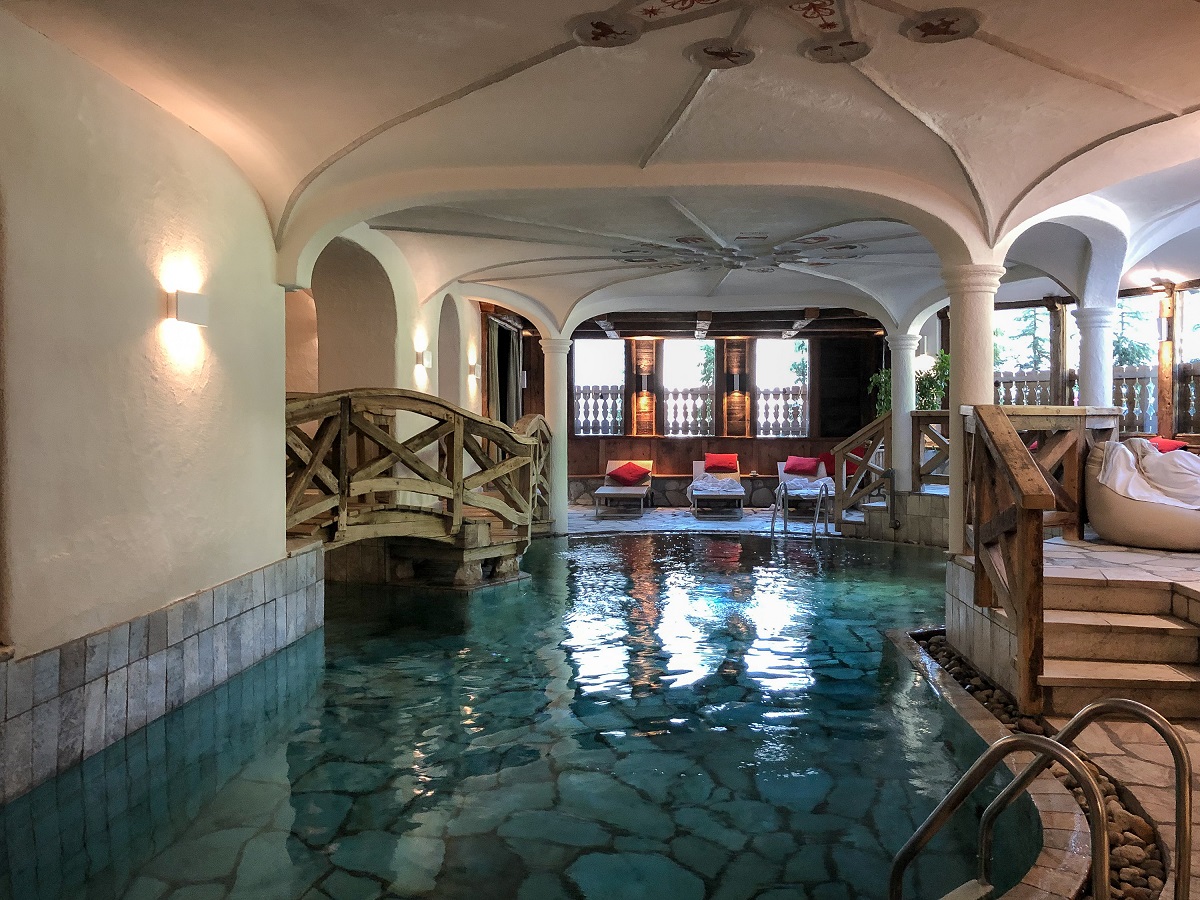 And if you want to go for a happy hour in between the SPA and dinner, my advice is to go to L'Murin, very well known among the young locals (and not). It is an oasis where, for example, you can taste a nice selection of beers on the deckchairs in their garden…
WAIT! If you want a more romantic and unconventional option, the happy hour on a tree with champagne and finger food at sunset will be the perfect and unforgettable occasion to crown this holiday!
Do you want to know more? For the after-dinner? You can't miss the bar floor at the hotel (I know some of you are thinking of the movie Vacanze di Natale from the 1980s, with Jerry Calà), a must-do experience to me! Although, I can guarantee that if you live the mountains as I do – wake up at dawn, big breakfast, all-day-long hikes, SPA, happy hour and early dinner – you'll be missing the strength to go out, have a drink and come back to the room late. Even I don't have it, and I'm a Caterpillar!
But…how? How are you still in front of your laptop? I recommend you find a couple of days of holiday and come spend them here on the Dolomites. You won't regret it!
Enjoy the mountains, everybody!