I've heard people talking about a restaurant called Dam, in Nova Gorica, Slovenia. The owner is chef Uros, class of 1977 that started working in the kitchen for passion and not for a family tradition.
I always have a soft spot for young enthusiasts (don't get the wrong idea now!), especially those who managed to make their own way with determination and hard work. Uros first studied at catering school and then went to Tourism University in Portorose. He had many jobs as an intern, but the one he is most proud of is the one with Gualtiero Marchesi.
Dam Restaurant opened in 2005 in a family property that was once a bar. The space was improved and turned into an elegant restaurant with modern interior design, dim lights and pleasant lounge music.
Our dinner starts with a small appetizer sandwich with olives and rosemary presented inside a section of olive branch. On the side there are some stone plates with "fake truffles" (a soft cheese centre covered with truffle crumbs) and crunchy polenta with baccalà (salted codfish) and olives. They also served an anchovy marinated in oil and balsamic vinegar. A delicious entrée that was also very eye-catching, so once you start well…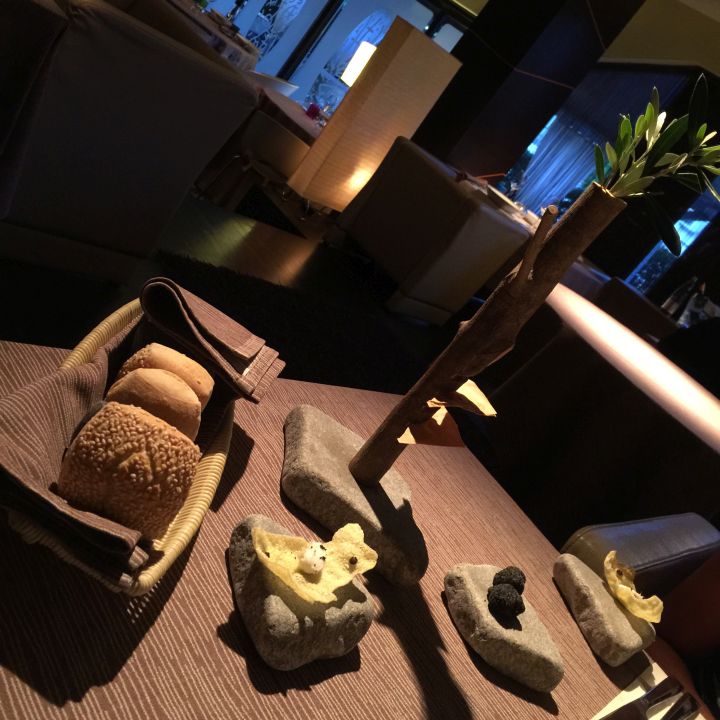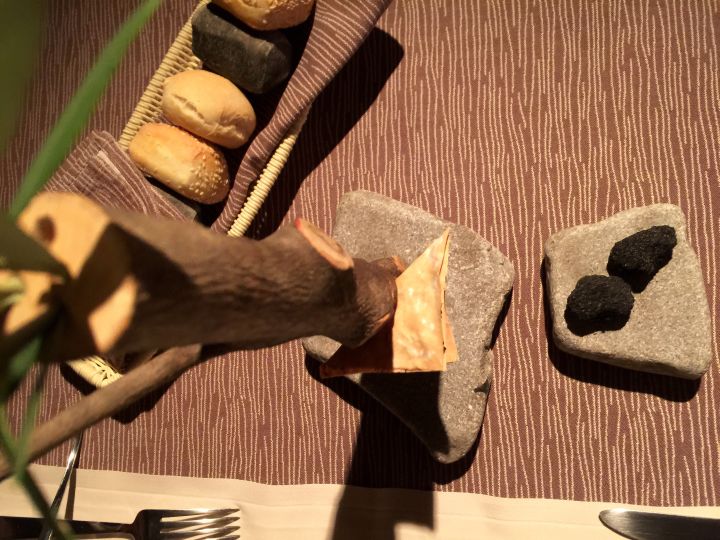 At this point, as always, I go sneaking into the kitchen for the classic photo of the chef and I find him in the middle of preparing a plate of ham for a party of Austrians that came here especially to try his cuisine.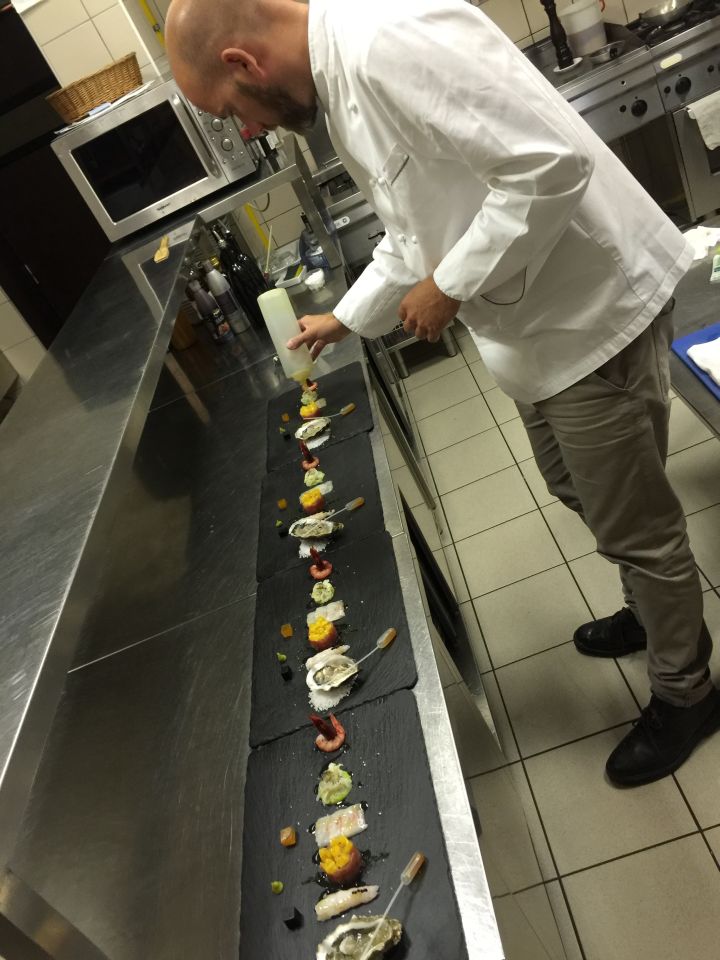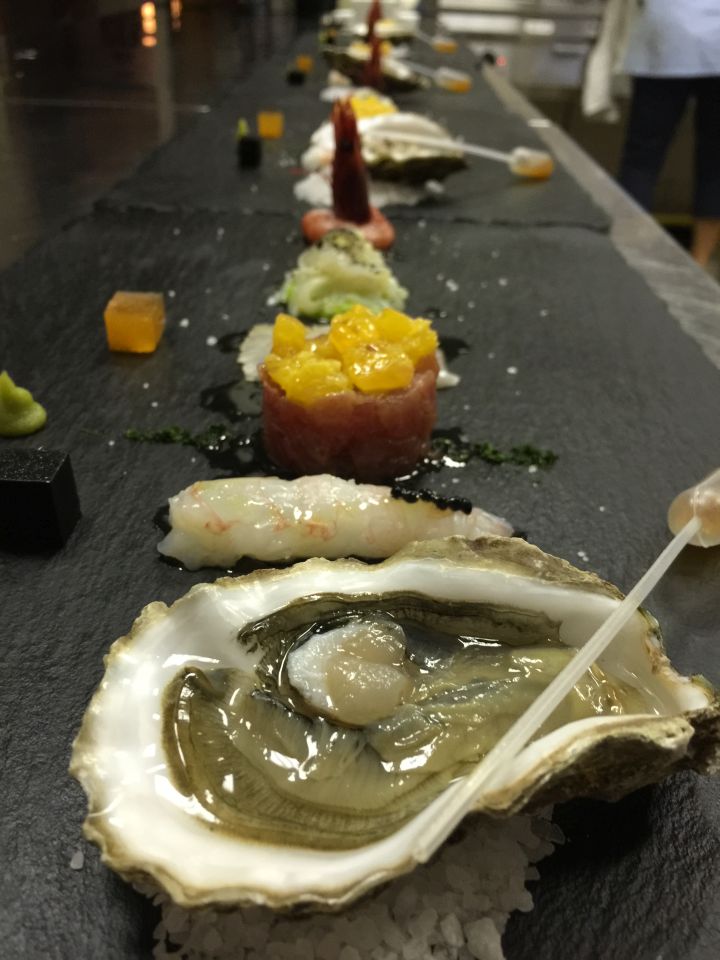 Uros tells me that he gets guests from all over Europe. This makes me very curious because Nova Gorica isn't really a famous tourist attraction as far as I know, but his guests stop here often so that they can eat his wonderful food.
My dinner continues. After the starters, they serve us some cruditè, a very delicate dish enriched by a passion fruit "lip balm": a small cylinder with inside an exotic cream that is fresh and slightly pungent, just right to refresh your mouth.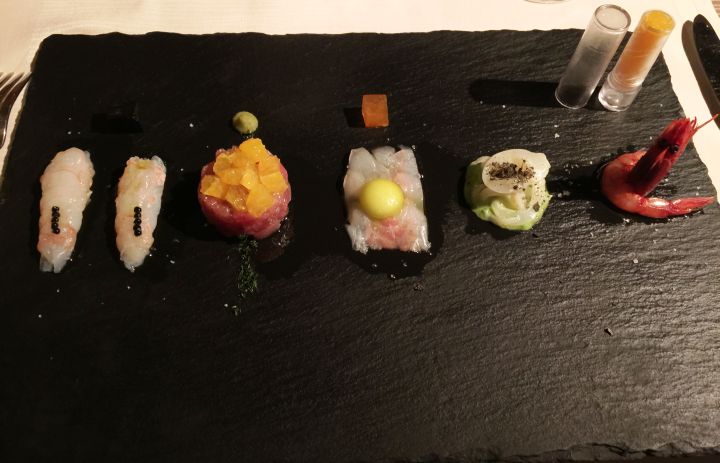 After a cold dish there is the first pumpkin of the season (they say that every time you eat the first fruit of the season you should make a wish…well I do it with vegetables too). I try this delicious pumpkin dumpling with a cheese filling.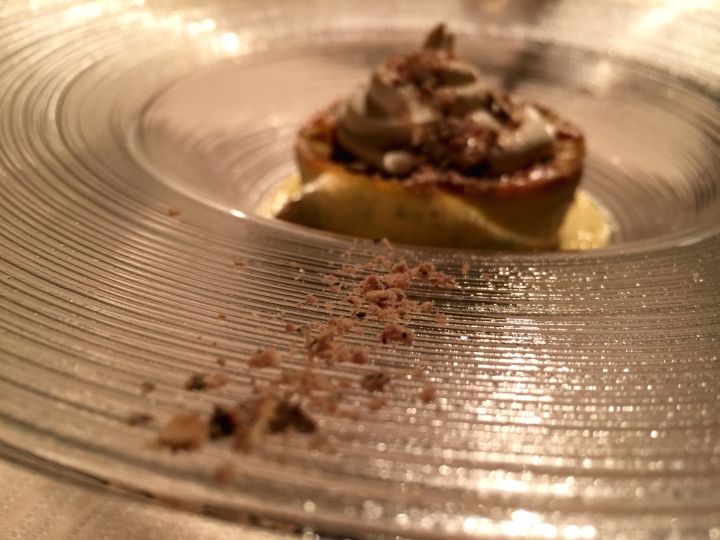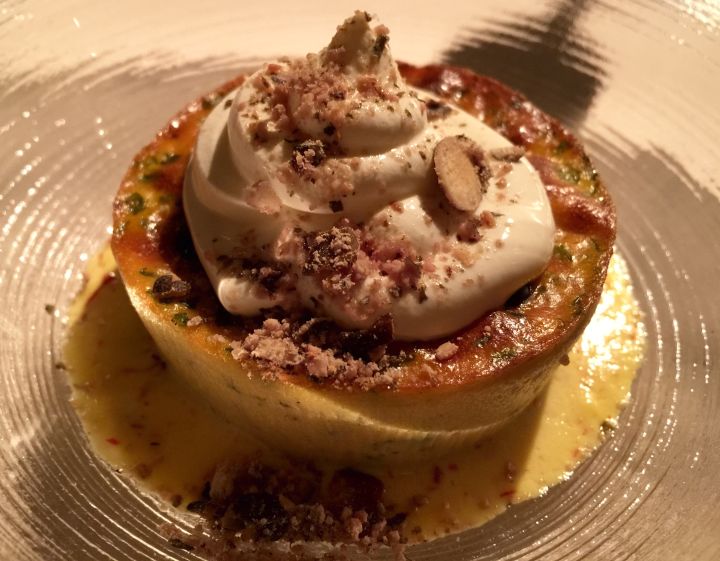 To follow, one of my favourite dishes: potatoes with a truffle cream centre, egg and mashed potatoes…. j'adore!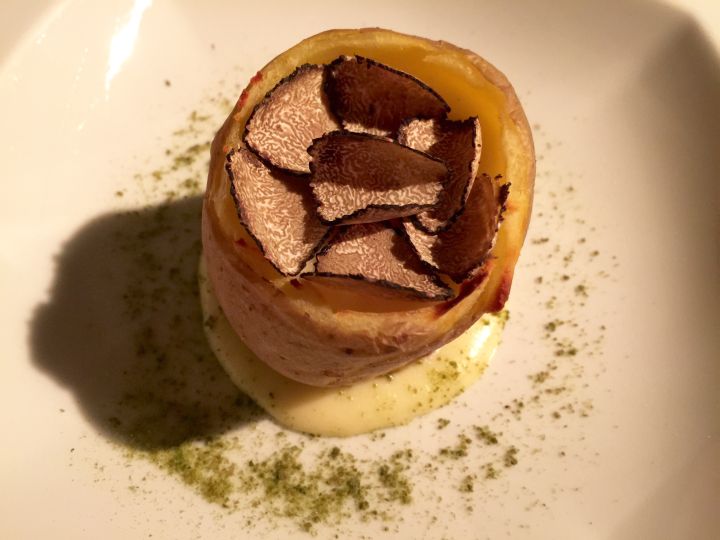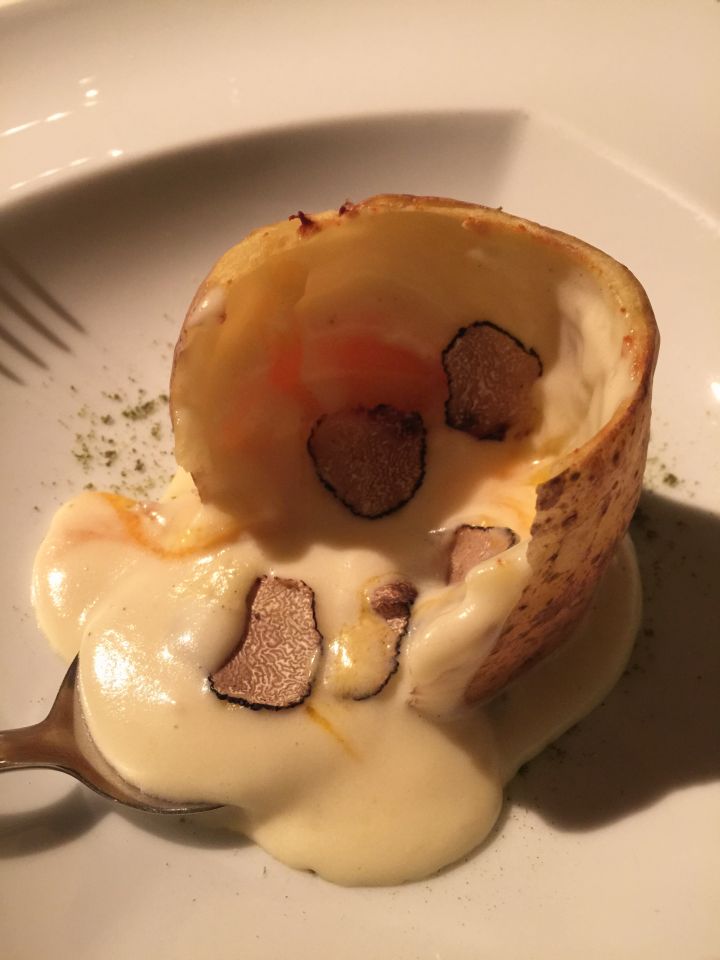 We are in the middle of an incredible flavour tour that gets better with each serving: delicious red tuna cooked in a crust of squid ink, crunchy on the outside and soft on the inside.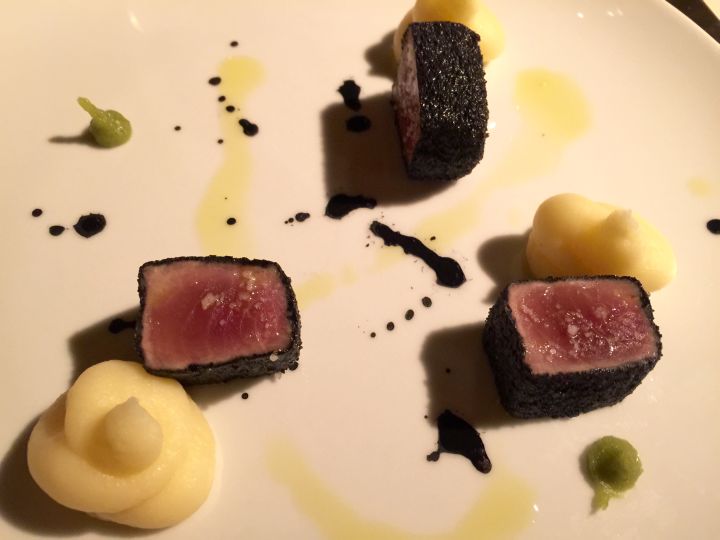 And I was almost forgetting the wines! The cellar of Dam has labels from the area of the Slovenian and Italian Collio, from the Valle di Vipava and the Italian Karst, a very esteemed selection.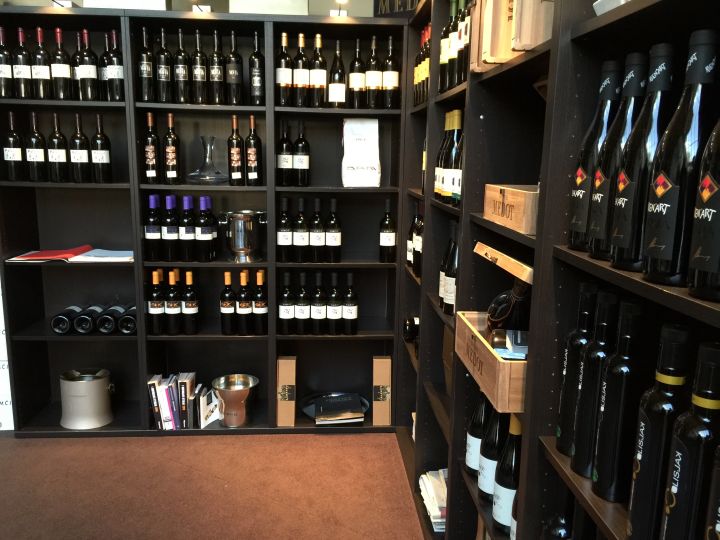 Before dessert we sip a small mojito that prepares the mouth for the last course: a chocolate millefoglie pastry with crystals of Piran salt, orange and olive oil.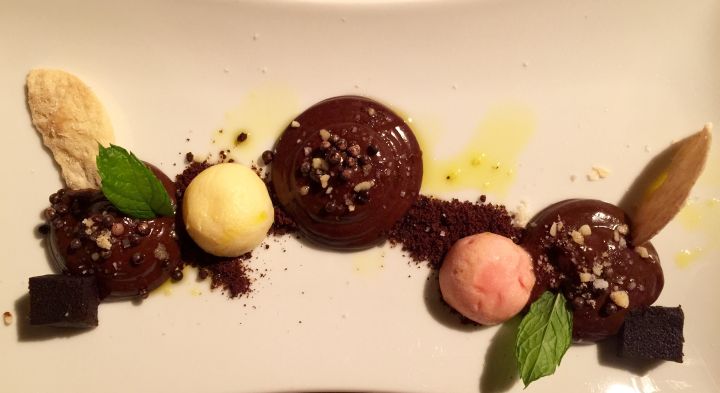 If you are wondering about the prices while you are already looking forward to this incredible food, don't worry, because they are not that high to force us to starvation for a month after this wonderful experience. The tasting menu with five courses is 45.00 euros, the menu with six courses is 50.00 euros.
There's not much left to do but a round of applause for Uros, that in just a few years, and thanks to his passion, has managed to make all this.
It is the fever of youth that keeps the rest of the world warm.
When youth goes cold, the world chills.
(George Bernanos)