I was invited to spend two days learning about the activities promoted by the Promovetro Consortium, in collaboration with the Veneto Region and the Chamber of Commerce of Venice and Rovigo, which protect the collective trademark that certifies the originality of products made in Murano.
This trademark's aim is not only to protect one of the symbols of Made in Italy in the world, but also to guarantee the originality of a product that is the result of a millenary artistic tradition, born and developed on the island of Murano.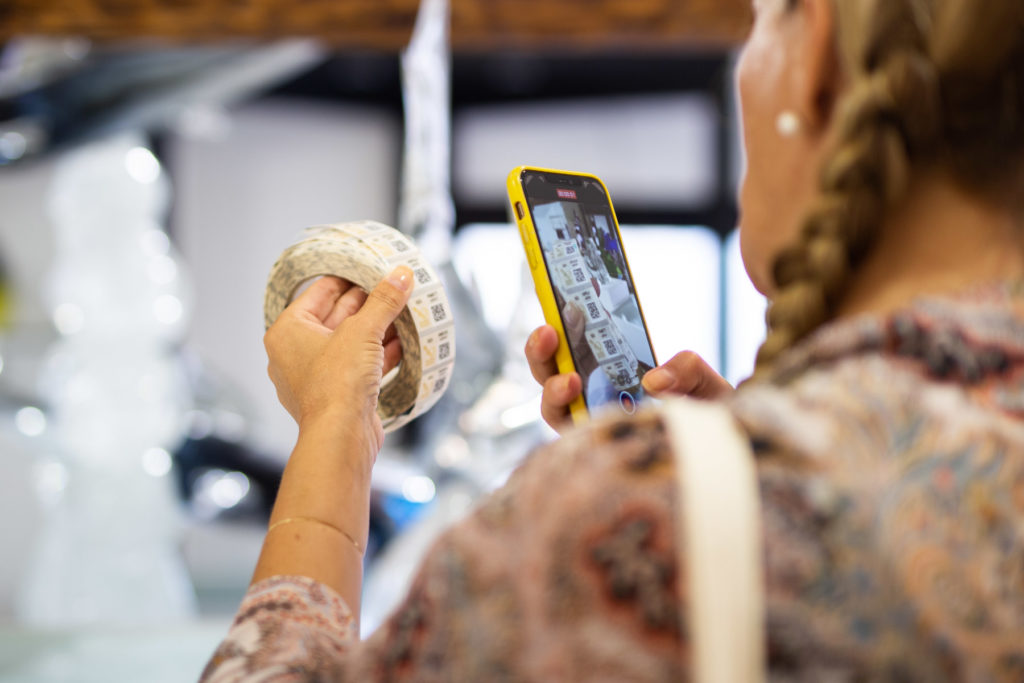 To get a better insight into this wonderful world, I was taken on a tour of six companies, which are different from one another in the artifacts they make: some specialize in sculptures, others in chandeliers, others in murrina slats, or mirrors. The processes are also very different, as some blow the glass while others start from its solid from.
Yet what makes all these masters stand out, is their passion and dedication to following techniques that go back hundreds and hundreds of years.
The first visit is to Gambaro & Tagliapietra srl Murano Glass Studio. The furnace's doors open, releasing a wave of heat that, in spite of the typical drop in temperatures in September, makes one instantly understand the hard work being done just a few feet from 1100 degrees.
Here, glass is made starting from two powders perfectly calibrated and mixed, which are sand and soda ash. It then evolves into colors and fusions, and from there come objects designed not only by the furnace masters, but also by professional designers, private customers, or artists. It's a multi-handed work that leads to the creation of beautiful works of art.
A stone's throw from my first stop, we enter the latest conteria of Murano beads, aka Costantini Glassbeads. Now I must confess that when I read "perle di Murano" in the two-day program, I immediately thought of the common pearls we all know…I was like, "Gee, I never knew there were pearls in Murano, I only knew the more famous ones from Japan!" AHH WRONG ANSWER! (TN: the Italian word "perle" can mean both "pearls" and "beads", hence the misunderstanding)
Costantini Glassbeads has been housed in the premises of a simple warehouse since 2006, by the will of Alessandro Moretti who took over the company handed down by generations: inside, there are 990 quintals of conterie, or what we commonly call BEADS…that are made of glass! Crossing the threshold of this marvelous place, I was left open-mouthed when I stood in front of a whole lot of wooden boxes chock-full of colorful beads. Getting my hands into them was almost a given, but admiring the masterpiece which are these creations, that are no longer made, was even unbelievable!
Today, the costs of producing these wonders would be unaffordable, and so, to innovate and carry on this art, Alexander continues glassmaking through the artistic production of Venetian lampwork beads. This explains why Japan has nothing to do here. With the historic conterie and lampwork beads, they make beautiful fashion accessories, necklaces, and bracelets, which can also be admired in their show room.
Now, the time has come for sculptures: they transform solid glass into harmonious and sinuous shapes such as fish, birds, the famous horses, or any work commissioned by international artists who choose to express their creativity in this way, entrusting it to the hands of those who have been in the field since 1956. I therefore present to you Zanetti Murano.
Oscar Zanetti follows strict traditional glassmaking techniques to create works that can take your breath away. Personally, I was enraptured by the wall that runs alongside the company: a very simple tree drawn on the wall from which hang colorful birds of staggering beauty.
Let's change register, shall we? Many of you might have had the chance to admire Murano chandeliers, and one of the best-known workshops that makes them is Simone Cenedese, which of course doesn't stop there, but also makes objects commissioned by small and big names. About the latter, I can tell you that I couldn't take any pictures for obvious reasons…but I did admire!
I don't know whether this is art or magic, but after hypnotically following Simone's work, I saw a handkerchief chandelier come to life by twirling the rod between pliers and tools of the trade. I stood watching him as if under a spell, at least until three words came out of his mouth that snapped me to attention. "Who wants to try?" I didn't even give him time to finish the sentence: I was already sitting in the teacher's seat, ready to learn and have one of the most incredible experiences of my life: I blew into the barrel to create a glass! I got emotional.
If they told me, "Hi Chiara, you won a trip to the Maldives," I probably would have been less excited! 😉
So today on my sideboard there's a Murano glass, certified by stamp, signed by Master Simone Cenedese, which was created by me. Not an insignificant detail, don't you think?
The surprises in Murano never stop coming. Do you want another one? Et voilà, the Sun King would say. Well yes, because when Louis XIV came around here, he stole not only the glass masters, but also a relative of Barbini Specchi Veneziani. What for, you ask? He took him to France to have the hall of mirrors in Versailles made! Oh yes, you read that right: that masterpiece was really created by a member of the family that still carries on the tradition of mirrors since the 17th century, in the same house. I don't even know what words to use to make you fully understand this miracle.
It all starts here, too, from the glass, or rather from a drawing made by hand by me and transferred to the Cad on a computer: we then proceed to make the wooden shaft that will serve as the base and then cut all the pieces of glass that will make up the mirror. If it's necessary, the various parts will be chamfered and engraved with a lathe and stone wheels or diamond wheels, depending on the effect to be obtained from the excavation. Then comes the silvering stage, because up to that point the plate is transparent. The whole process is done in this incredible workshop that has handed down the traditions of yesteryear to the present day.
When I saw it for the first time, I shed a little tear.
But have we talked about engraving? Well, we need to make up for it with Eugenio Panizzi. His specialties are grinding, beating and glass fusing. His is a small workshop, where they don't use common furnaces, and the process is also completed for other glass masters.
It's no coincidence that one of the nicest things I appreciated in my two days wandering around Murano was the mutual collaboration among workshops: some people start the work and then entrust it to the hands of a colleague, without any spirit of jealousy, on the contrary! Unity really is strength, especially when everything is done trying to preserve such an ancient art.
The last stop (but not the least) on my tour is Ercole Moretti. Yes, I could also describe it in two words by saying that murrine slats rule here, but wouldn't it be debasing to end it in one sentence? At Ercole's I had the privilege of being able to enter the old warehouse, a place where I have tried to hide myself in order to take up residence like a little mouse among the cardboard boxes that contain priceless treasures: antique glass buttons, which no one will make anymore, beads, conterie and thousands of other colorful creations.
I'll tell you right now that this place is not usually open to the public, but only to lucky visitors like me 🙂 and because you are lucky, you have a chance to admire these wonders in Michele Grimaz's shots, who wondered open-mouthed among the shelves of a world that no longer exists.
I know, it is an infinite shame not to be able to get a look at these gems but know that it is possible to experience Murano and its furnaces during "THE ITALIAN GLASS WEEKS," a week dedicated to glass.
In 2022 – the year designated by the UN as the International Year of Glass – The Venice Glass Week, together with Vision Milan Glass Week, are presenting a joint event: The Italian Glass Weeks.
The two-week-long festival has a double focus: in Milan from Sept. 10 to 18, there's a program devoted mainly to industrial glass and design, and in Venice from Sept. 17 to 25 art glass is the protagonist.
Several events will be presented during these seven days in Venice, and if this article comes out too late for you to make plans, don't worry, because the kermesse will be repeated next year.
Oops. The Word page marks page three. I'd say I really can't go any further, but I really hope I've managed to communicate at least one thousandth of this crazy art to you.
P.S.
I must confess that I had already been to Murano to visit the workshop of a Consortium member, which is Massimiliano Schiavon. Here is my article from that time.
And now for some Rondo….
Ph. Michele Grimaz