You can get here without passing on the Austrian highway, without a Slovenian vignette and by bypassing the Carnic Alps from Forni Avoltri. A two-hour and forty-minute drive from Trieste separates you from an unequalled little place, enjoyed by Germans, Austrians, and Italians alike!
We're in the Lesachtal valley (Lesna dolina in Slovenian): it's an Austrian municipality where 1,363 people live, in the Hermagor district of Carinthia. The district's territory corresponds to that of the valley, Carinthian for two-thirds and Tyrolean for the other one.
There are many unique characteristics to this place that go beyond the tiny villages with picturesque, peak-roofed churches nestled in the green meadows and the typically Tyrolean houses, or the huge amount of Slow Food presidia you can find. Indeed, Lesachtal isn't barely a region full of fairly new traditions, but one filled with culinary pleasures. Welcome to the world's first Slow Food Travel region!
Crispy Lesachtal bread or tasty Schlipfkrapfen? If you happen to be around here, you'll have the chance to participate in no less than seven culinary-themed workshops, such as the one about kneading a great bread with the area's Slow Food Presidium flours… it's hands-on time!
Abandon the belief for which Austrian food equals "potatoes and wiener schnitzel" because the valley will offer you a crazy array of delicacies.
For my lunch I decided to stop at Wanderniki Alpen Hotel. I found myself surrounded by nature, far from the hustle and bustle, and I was dropped into the authenticity of this lovely family hotel that has made hospitality its flagship since the 1960s. The facility offers a small spa, some 20 rooms, and a restaurant with a view and a panoramic terrace that serves traditional but Slow Food cuisine.
Oh yes, slow is the watchword here, too! A delicious asparagus soup is served by ravioli that seem to be Carinthian, yet they're not filled with ricotta, but potatoes (which is textbook in Tyrol).
Yes, we're at a high altitude, but fish can't be missed (strictly freshwater, of course): their char trout on garlic cream is truly delicious, light, and flavorful, perfect to satisfy your appetite and palate while being light on the stomach.
Here, beyond the mountain, you can see Peralba, and the Carnic Trail is just around the corner: it's an ideal place for walks, hikes, and pilgrimages such as the one to Maria Luggau that starts from Sappada and gets to said Monastery.
Borders are in our minds, not on the ground. I'm quoting the last play I saw at the Sartorio Museum in Trieste (those who follow me on social media know what I'm talking about). And it is indeed true, traditions and origins are mixed here. Evidence has been found in this valley dating back to the year 600 A.D., showing the presence of people of Slavic origin. Later on, Lesachtal was one of the first valleys in Carinthia to be inhabited by people of Germanic stock.
But beware, Lesachtal can benefit not only your palate, sight, and mind, but also your body. In fact, many facilities offer exquisite wellness centers! I had the pleasure of staying at Alm Wellness Tuffbad.
In order to reach this resort, you have to walk along a narrow road that runs alongside a river in a gorge.
A chalet suite awaited me, which stroke me for how they perfectly organized the space with "only" 70 square meters at hand! Bright windows accommodate a living room with a kitchen, a private wellness space with a sauna, a steam room, a bathtub with terrace, and a big screen.
The facility can accommodate up to one hundred people, and I guarantee that it is really impossible to cross paths in the common areas because they are very large and there are many.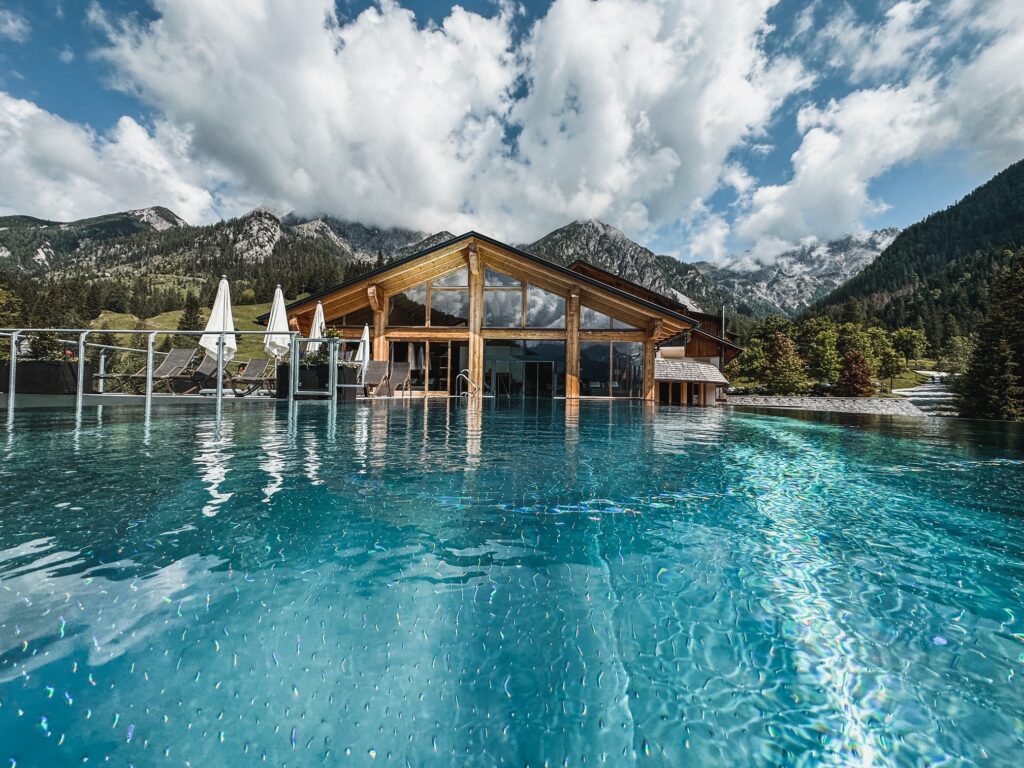 They definitely put an effort in the wellness area, which I think is the most beautiful I ever saw. Eleven saunas, including a panoramic one with an Aufguss program, a Turkish bath with scrubs always available to the guests, a whirlpool, a sky pool, and more relaxation areas with water beds, chamomile tea, hay breezes, and a whole lot of private and super relaxing spaces.
Time here flows slowly and calmly, so much so that it takes very little to be mesmerized by the droplet falling from the still on the natural essences in an almost endless loop.
The treatments offered have the same "sound" as the wellness area. I was carried away by a ninety-minute massage with vibrating Tibetan bells on my body and oils from different woods. As soon as it was over, the only thing I managed to do was to get to the relaxation area where Morpheus was waiting for me. How's that for good?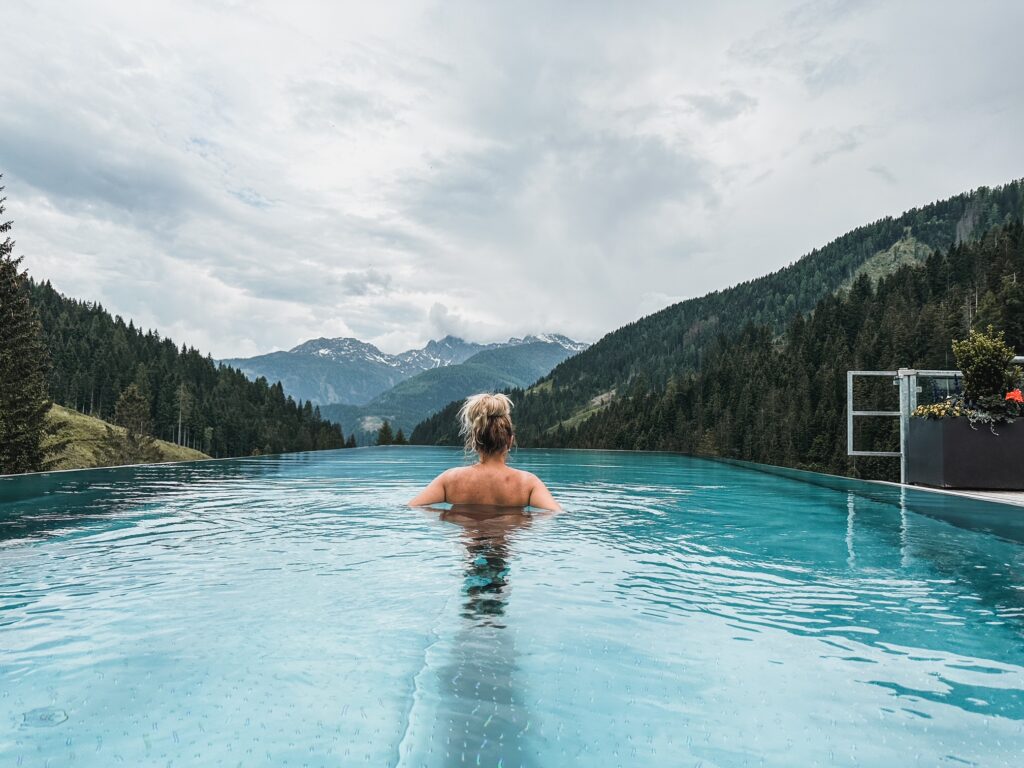 As for dinner, well, what can I say? It was a sensory experience that included all the small farms within a fifty-kilometer radius of the resort. Cheese, bread, and speck came from Slow Food presidia, and they also had a strictly-Austrian-wine list. Few reds and many whites, both natural or biodynamic, plus a plethora of wineries you can get to know and discover, also in the glass.
After dinner, a house-made gin or cocktail to sip while admiring the stars is almost a must.
If you're looking for a peaceful but stylish corner of the world, this is the place for you. I guarantee it.
I want to thank the Carinthian Tourist Board for taking me hand in hand to discover such beauty.
'Till the next adventure!