Yeah, you'd like that, wouldn't you. And yet… we're in Muggia, more precisely in the area that was spruced up a year ago: a promenade that houses the Boa Beach. It consists of three small, well-equipped bars which are dedicated, respectively, to families – they serve ice cream, soft drinks and sandwiches – to the younger people, with aperitifs and DJs at sunset, and our star of the today, The Beach Bistrot! It has a seaside kitchen that started its engines just a few days ago, expanding its kinds of food.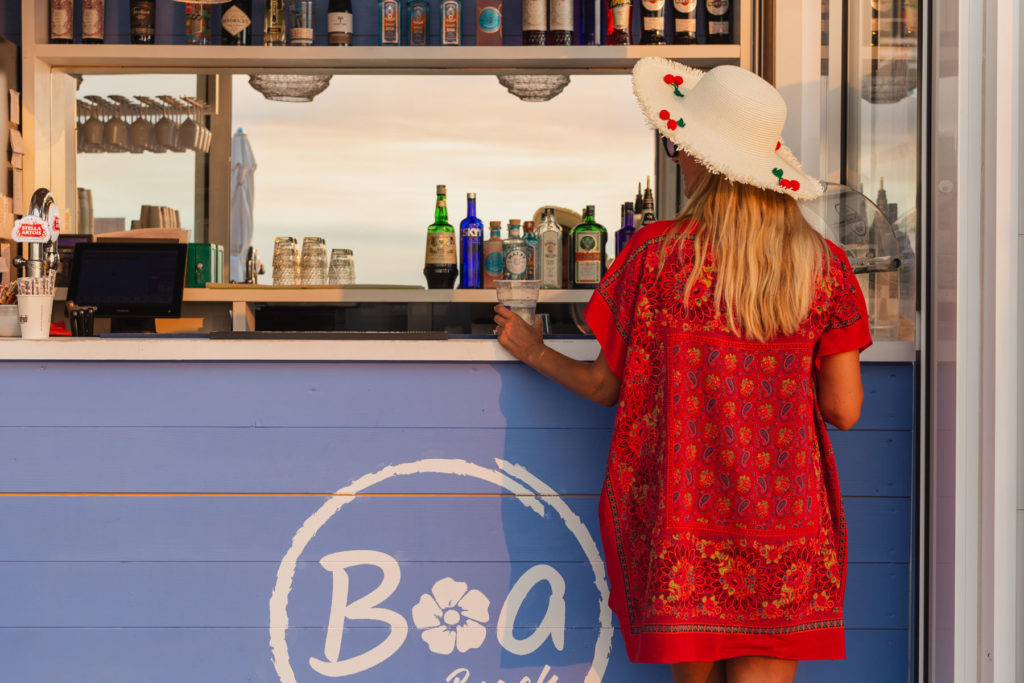 Small tables by the sea, pretty abat-jours and the sound of waves: my friends, it really feels like floating on water! Also the sunset, the ice glassette keeping an Istrian Malvasia cool, the worming light that tinges your skin orange…what a magical place!
What's in the plates, you ask? Well, the menu is deliberately simple and unarticulated, so that it can satisfy all different tastes and be accessible to any budget; their intention isn't to impress with spectacular dishes…everything around you already has a wow effect! The Beach Bistrot is rather meant to serve those who don't want to rush home after a long, hot day at the beach, but would like to stay outdoors for a little longer.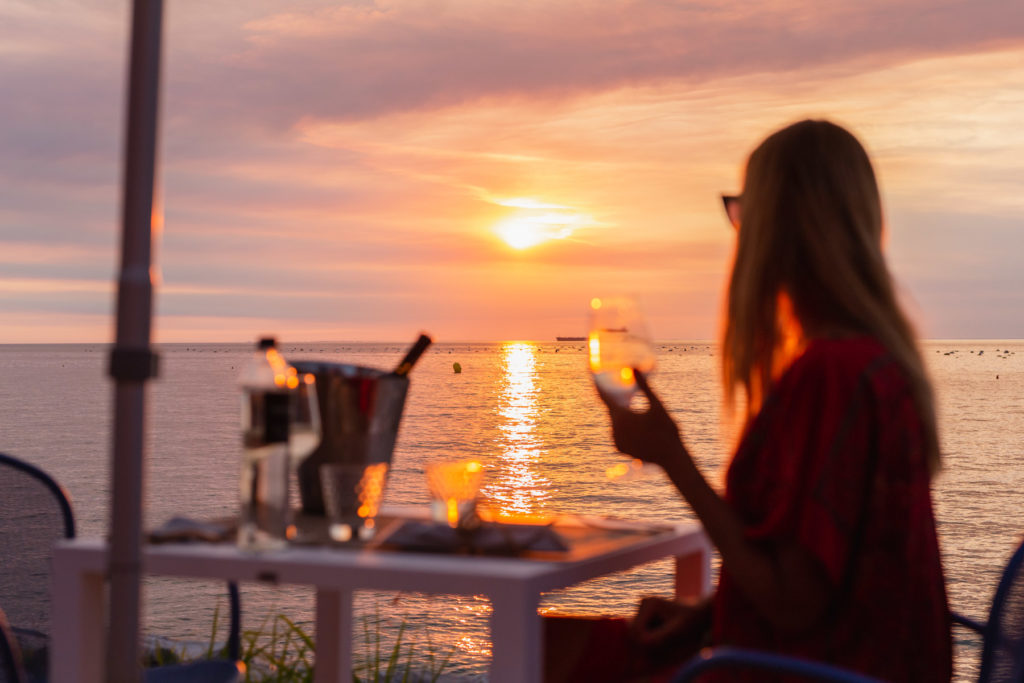 They have a small kitchen and menu: on it, you can find classic dishes such as a revisited caprese with cherry tomatoes, bufala campana DOP (buffalo's milk mozzarella), prosciutto crudo and a basil dressing (10 euros) or a mix of stir-fried calamari, shrimp, and mullet, served with homemade tartare sauce (16 euros).
And for the fans of raw food, here is their most expensive dish (22 euros): the Sunset Crudité consists of yellowfin tuna tartare, oyster, scampi, swordfish carpaccio and red shrimp. On the other hand, if you don't love raw food as much as I do, the Tris di mantecati with toasted bread and wild arugula will win you over. Salmon mousse, creamed cod that comes simple and with olives (10 euros). It is a riot of flavors.
Looking for something refreshing? I recommend the salad with shrimp, mixed greens, fresh orange, fennel, ice and citronette (12 euros). Something less fresh but still delicious? Try the grilled octopus tentacles on potato mousse and black olives (18 euros) and then you'll tell me…
They offer other options for dinner: I won't list them all so as not to bore you any more than I must. It'll be the same for lunch: ad for this meal their offer ranges from four different salads to customizable poke bowls, stir-fries, burgers and canapés.
I have to admit that I hadn't come around here in a while and I was really amazed by the beach, the waterfront, their lovely offer and the future projects that will affect this area.
If I had to think about a little place to go to the beach once, I could only think of a few beaches between Barcola and Duino. Today I have found out that there is a nice little place on the other side of the bay too, which isn't bad at all!
Do like St. Thomas did. Go and try, to believe 😉
Ph. Michele Grimaz