It's foremost important to give a context on where we are, because this article will be read not only by those who live in Friuli Venezia Giulia… welcome to Carnia, Cjargne in the Friulian language! This is a predominantly mountainous area located in the northwestern part of the province of Udine, including much of the Italian Carnic Alps and Alpine valleys.
The landscape is truly evocative! Everything here has been perfectly preserved and the flowing of time has not disrupted the original layout of these places, maintaining its olden flavors and traditions.
It's possible to reach delightful little villages by taking their secluded mountain roads; houses with wrought-iron balconies display cascades of flowers, the signs of businesses still appear like they did yesteryear, and life seems to flow slower than the hustle and bustle you find in the big cities.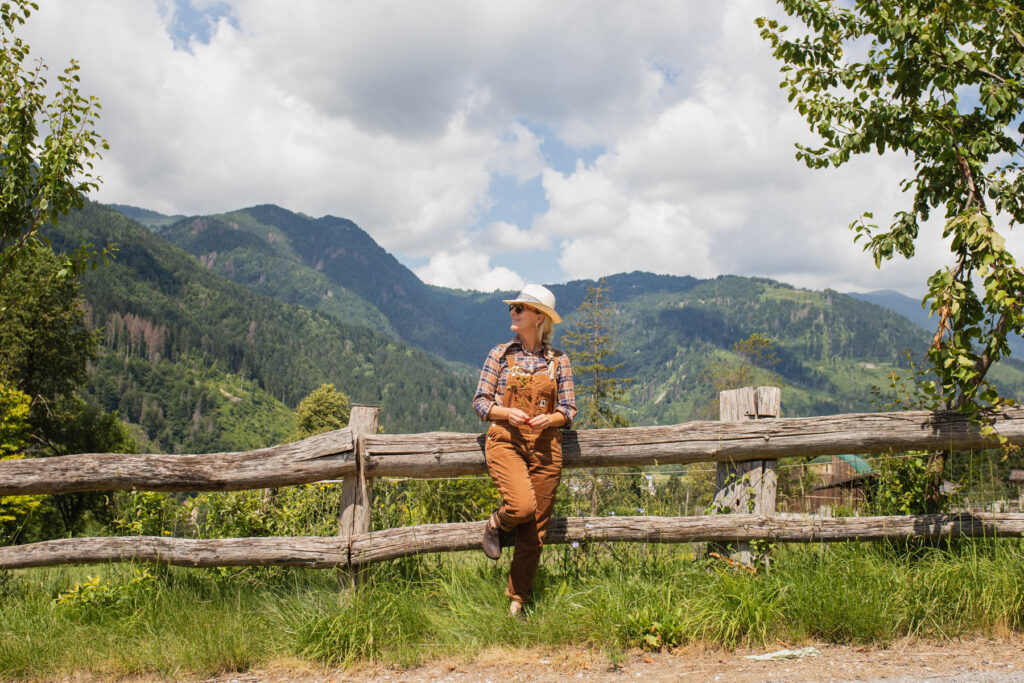 Carnia, which has always been beloved by people from Trieste, was a favorite destination for long summer vacations, when people would move close to home even for two to three months, consequently creating unbreakable bonds between guests and hosts.
Today, times have changed, and vacations have the same flavor as a hit-and-run.
It's not news that everything has changed in modern times, including the way people travel and create bonds: facilities that were once targeted for "full board" (which is now dying out), now offer different experiences such as dining.
GustoCarnia supports these small businesses: it's a project promoted by Confcommercio Udine that brings together Carnia's restaurateurs with the aim of spread knowledge about the dishes, traditions, and hospitality of the valleys. The agricultural products used come from Carnic producers affiliated with Il Filo dei Sapori, and some Slow Food presidia.
This is why I immediately got into my car, ready to drive down a road that will take me to the discovery of the flavors of this land while telling you about them. Let me preface, you'll find no Michelin stars, but lots of authenticity and passion.
WELLBEING HOTEL GARDEL – Piano d'Arta Terme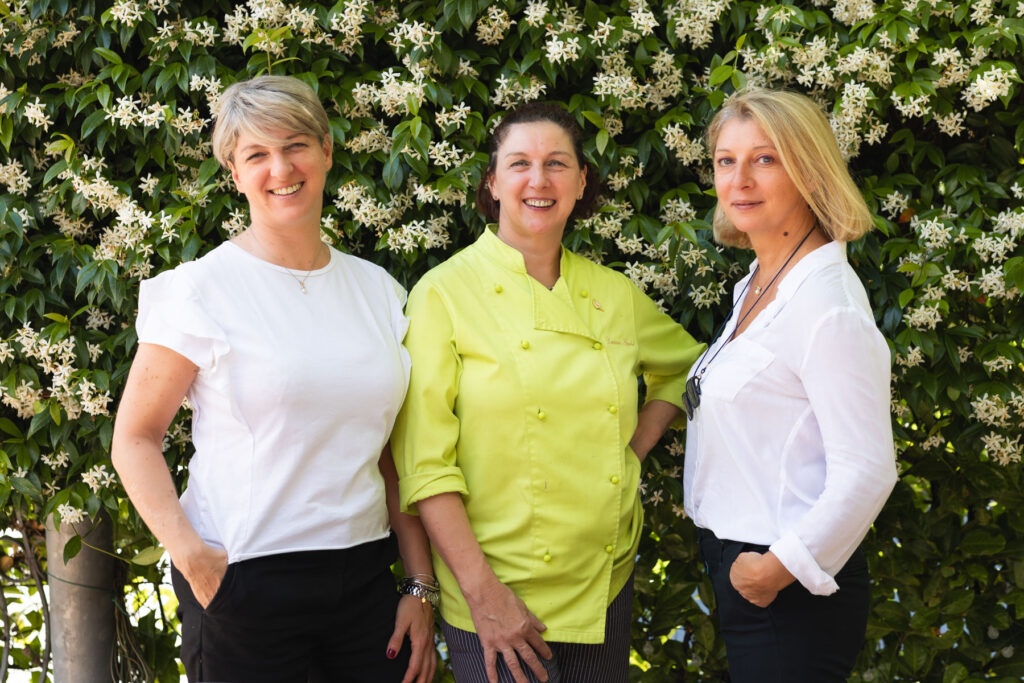 The history of Hotel Gardel has come to the present day with three sisters. Gianna, Luciana, and Marinella Gardel, the third generation to lead this establishment, which, with its fifty rooms, the first wellness center in Friuli Venezia Giulia (opened in the 1990s), and a respectable restaurant, has easily become the first stop on my journey. The kitchen is Luciana's: she's delicate but incisive at the same time.
This was an enjoyable stop for me, beginning with an aperitif with a crostolo with herbs and crispy frico on the side. I continued my meal with veal magatello served with steamed brown rice, tomato, and arugula and stravecchio sauce.
And then… here come the blecs (a kind of maltagliati) with arugula sauce!
This was followed by the typical Carnic dish, Toc' in braide (a cheese cream served on soft polenta) with toasted hazelnuts and a potato dough ravioli with mint and lemon zest. As a main I had the duck with porcini mushrooms, which was to die for! Closing the curtain was the mascarpone and ricotta mousse with white chocolate sprinkles, white chocolate cream, and wild berry sauce.
I can only recommend a getaway here, but keep in mind that the kitchen is only open for dinner 😉
ALBERGO RISTORANTE AL SOLE – Forni Avoltri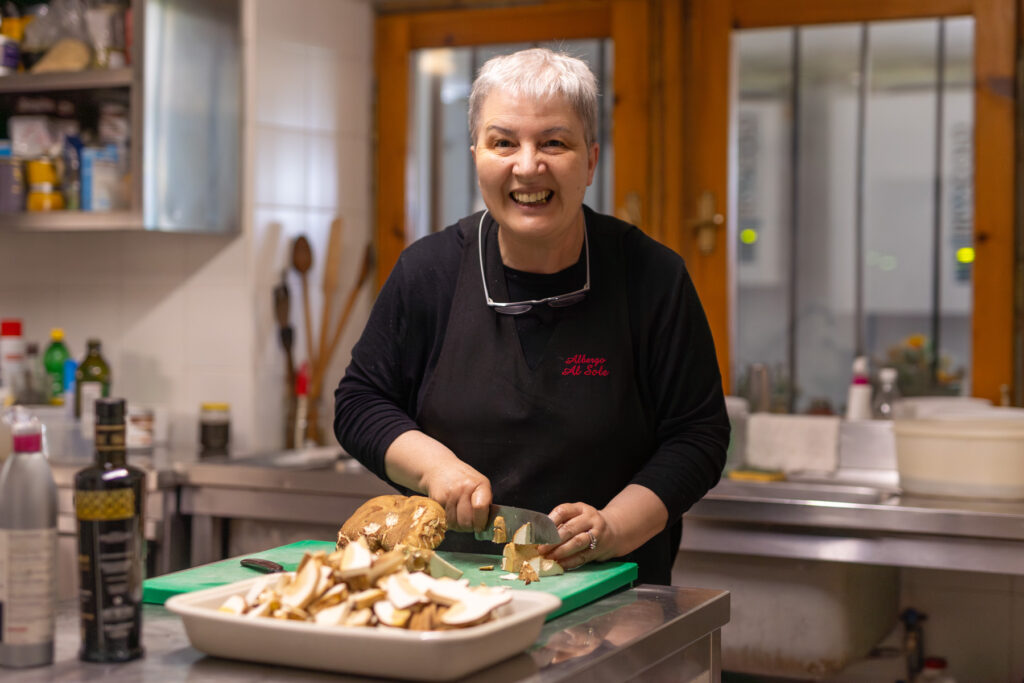 Al Sole, whose first license dates back to 1908, when it was a simple village tavern, is a historic establishment.
The restaurant has gradually been transformed through a waltz of expansions and remodeling over the years: they had their latest touch-up just a few days ago, as they decided to create a delightful space dedicated to the bar and the wine cellar. You should probably know that Tiziana observes the same policy as her predecessors, which is "the doors always stay open" from morning until evening. Here you will find something good to bite at any time! Of course, you won't be able to enjoy Cjarsons 24/7, but a plate of cold cuts and some cheese will keep you alive and well until the kitchen opens up (as it is closed in the afternoon!).
And who might be behind the stove but her, Tiziana.
My tasting begins with a venison carpaccio that literally melted in my mouth, served with mountain radicchio and venison pate. This was followed by divine sweet Cjarsons with ricotta, raisins, cinnamon, amaretto, smoked ricotta, and other secret ingredients. They were just spectacular. The marks of tradition emerge by a classic, crispy frico (a cloud of fried cheese) served with polenta and porcini mushrooms. The meal was closed by his majesty, the tiramisu.
A complete menu with traditional flavors (for 45 euros), sided by wine labels that enhance the flavors.
Oh, yeah, a warning to all Sappada aficionados. We are 7 kilometers away, ergo… this is a must stop.
ALBERGO RISTORANTE RIGLARHAUS Lateis – Sauris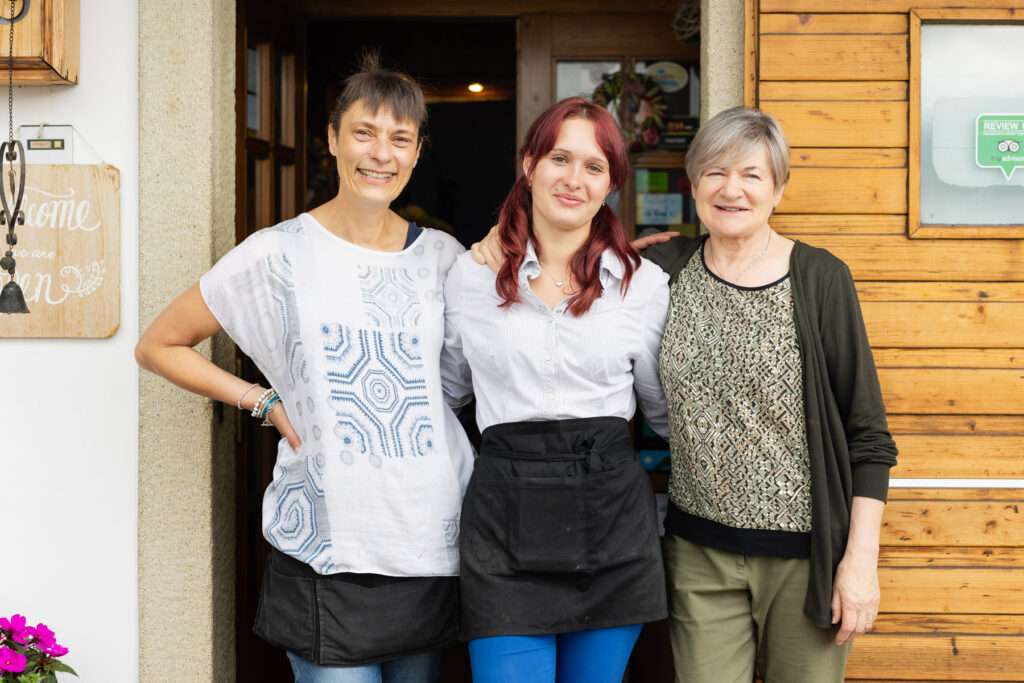 Here, too, reigns a third generation. And women are leading this place as well: here come Paola with her two daughters!
The RiglarHaus is at 1200m on the sea level, on a small hill with open views. Thirty beds, a wellness center, and a holistic room to completely relax off the usual routes, even though Sauris is well known as one of the fascinating villages rich in natural beauty and culture.
I stopped to savor something good from the rich menu proposed by Paola among green meadows, forests, a turquoise blue lake, and rocky peaks (how could this go wrong?). I was greeted by a nice plate of Sauris cold cuts and cheeses (honorable mention to the Wolf ham factory, which I visited a few years ago and I found to be really special!).
The meal went on with tortelli stuffed with sclopit (also known in Italian as silene rigonfia, a wild herb from the area) and formadi frant (typical cheese from Carnia). And here again, ladies and gentlemen, how could I not find cjarsons with herbs and smoked ricotta, closely followed by a pork tenderloin with currant sauce and field herbs.
Finally, I was pampered by a coffee and amaretto semifreddo.
Here, I'll write for lovers of the amber nectar: you will also find excellent beer from Zahre Beer, a craft brewery in Sauris.
If you want to know something more about the area, I leave you with a couple of my old articles: one here and one here (olé).
BAR AL CAVALLINO – Paularo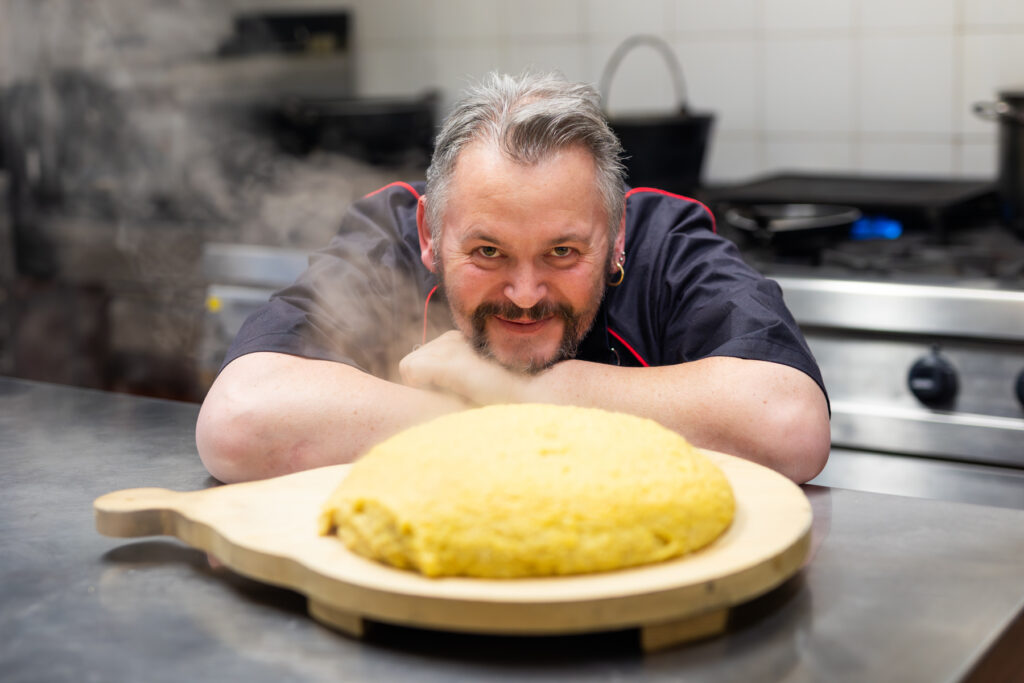 My short little tour wandering around Carnia ends with a pleasant stop at Paolo and Monica's, brother and sister who, in 1997, took over a historic establishment in Paularo: the bar Al Cavallino. When Paolo took over the business, he was only 20 years old and had just finished studying at a cooking school… from there, everything was uphill.
And what does your Miss do? Tastes everything, of course. I tested a bit of the new summer menu and some of the dishes you'll find all year round. I started with a taste of Carnia: Carnic cheeses such as formadi frant, and pastorut, the first smoked malga ricotta, and some beads (made by Paolo, let it be clear) made with scraps of cheese mixed with herbs and chili. On the plate I also found salami from the adjacent butcher's shop and a soft polenta, which is a must, around here.
As far as I'm concerned, I could have stopped here, but I can't say no to herb cjarsons, which came with only three ingredients: fresh ricotta, mint, and lemon balm, served with melted butter and smoked ricotta.
I continued the tasting with some roses made of finely pulled potato dough (like cjarsons) that held a precious pastorut cheese filling, served with cooked butter, hazelnut grits, and chili pepper fillets.
I was almost losing my senses at this point but then came Monica, with a low-temperature cooked pork tenderloin bordered with bacon, and rosemary potatoes, glazed with a thyme demi-glace (this is a summer menu dish). To close my "big blowout" came the double dessert: a pistachio velvet with Esse di Raveo (a type of cookies) and sweet cjarsons.
This picture of me becoming a Cjarson (just kidding!) closes this short, intense, and tasty tour of mine. Before the goodbyes, however, I must remind you of something VERY IMPORTANT!
GustoCarnia organizes many events (including a one-time-only one that brings together all the venues I told you about).
The first scheduled event is July 14th in Forni di Sotto (and I will be there), in the highest vineyard in Friuli Venezia Giulia; the evening, accompanied by dj-sets, will be an opportunity to experience a very respectable food and wine tour. You can learn more and buy tickets here: click on me 🙂
To check out the entire 2023 calendar of the festival, I recommend you follow the dedicated Facebook page. Gusto Carnia aims to spread knowledge about the food and wine culture of the valleys and the protection of the identity of these places in a modern key: a project that I've happily known and welcomed.
So, did I manage to make you peckish and curious?
Foto: Michele Grimaz