Yes, you're not mistaken, I've already eaten at Konoba Morgan and I've already told you about it (if you missed that article, here it is ) but this is an opportunity that I can't miss out on! Ana Morgan's professional hands prepared a catering that was served in a location new and electrifying to me: Coronica's winery. Coronica is a small but excellent agricultural enterprise near Umag and is set in the middle of what was an oak-tree wood…the Great Wood.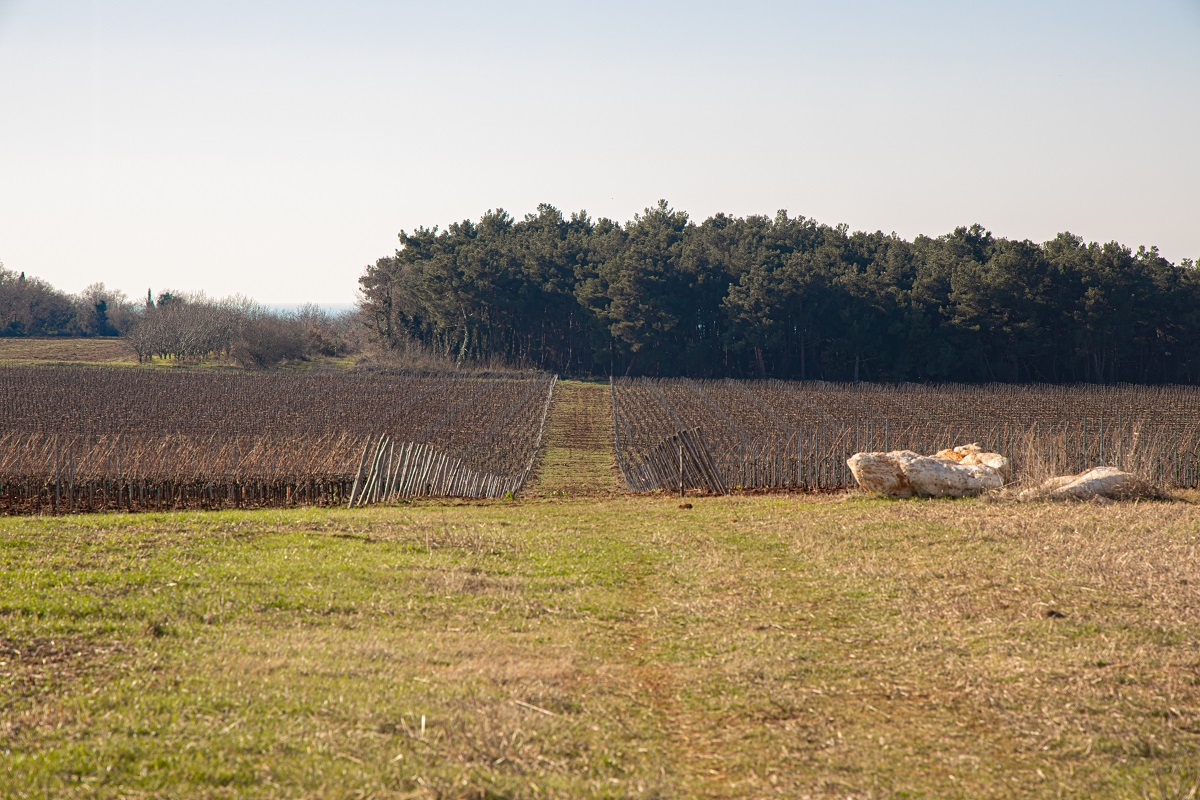 This is the third generation of winemakers that works here. "I want to remain a winemaker and don't become a mere producer!" is what Moreno Coronica lives by, while staying in charge of the family winery. "I own 28 hectares of land – he says – but I only use 21 of them to grow grapes (and 450 olive trees for private usage) because what I cherish the most is to be able to control the whole production chain, from the ground to the glass. If I were to expand too much, I'd loose touch with the most important thing to me, that is to bring on the table a wine that hasn't undergone more than 7 treatments a year and hasn't be treated with any fertilizer or herbicide".
Here the question naturally arises: "Seen your passion for all that's natural, do you have an organic certification?". Do you want to know his answer? "I believe in organic as much as I believe in democracy!". I won't add anything else.
Moreno is a bubbly guy; everything he does, he does with love for his land and his origins. He makes the meal even lovelier by telling family anecdotes that mainly concern his father and his passion for hunting. These are tales that make every person at the table smile and that make me understand how genuine he is. He's truly authentic, and that's the spark that lights the fire: his family, work, friends and this amazing winery.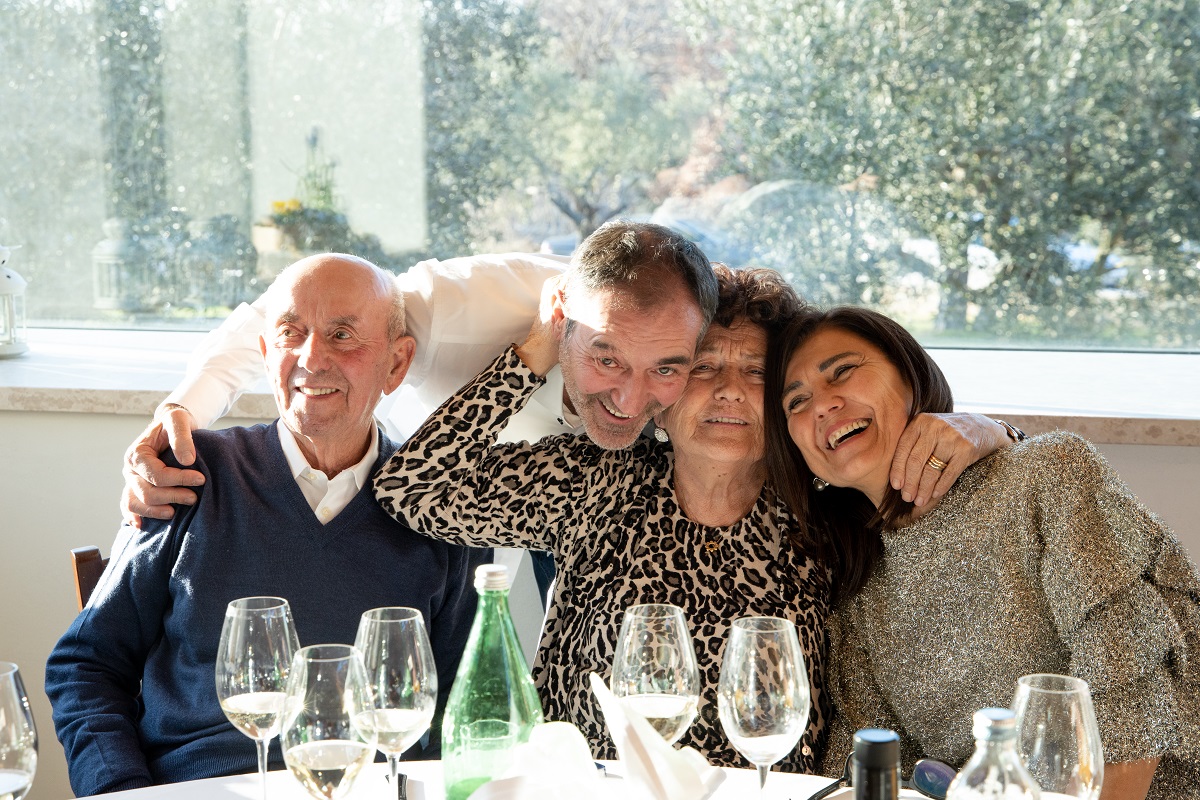 You guys have a look! The first renovations started in 2009 and they're just finished. Here, today, there is a tasting room with a wooden ceiling and big windows that frame the woods and the olive trees like a painting. And what a day! Not only the warm sun heats us up, but also the excellent wines and the delightful games dishes do… the latter prepared by Konoba Morgan, of course.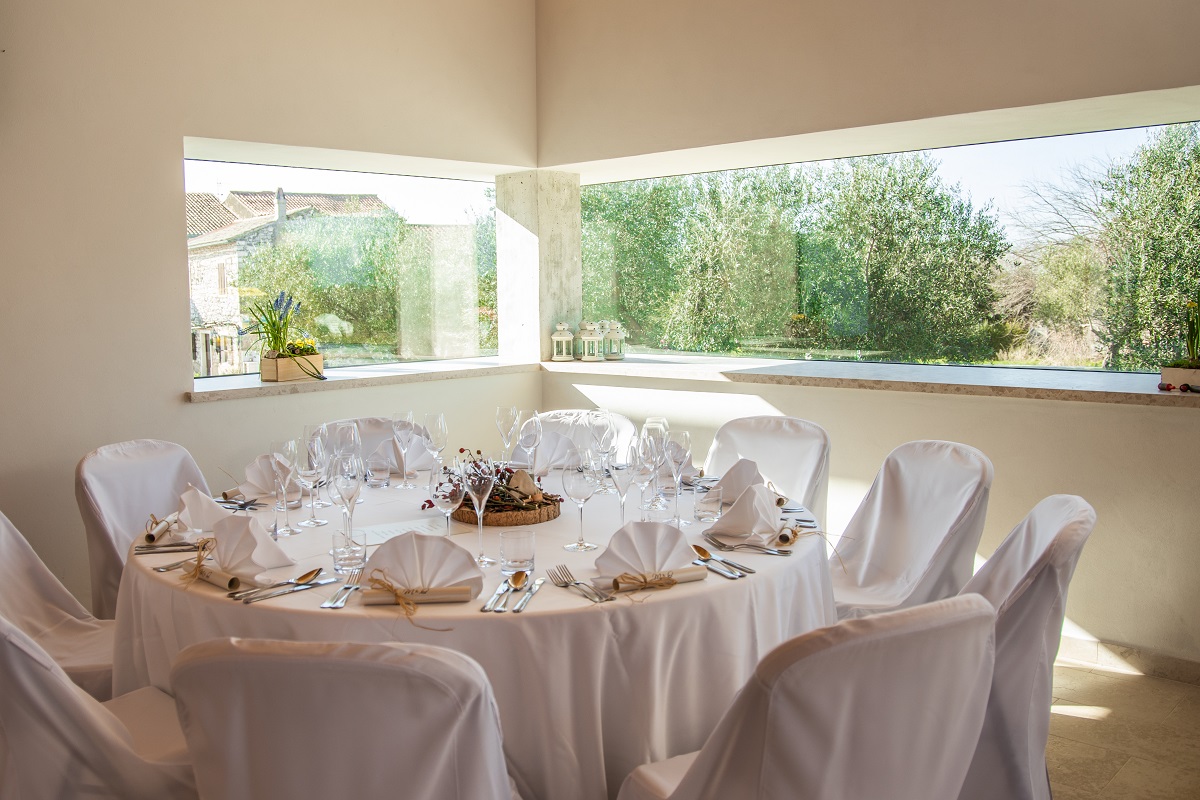 Oh, before I forget… this location also has a great kitchen that perfectly adapts to catering, so if you're in love with the spot, you can rent it for weddings, events or unforgettable birthday parties!
Other than seeing the winery, we've been invited to visit the vineyard while comfortably seating on a little train pulled by a tractor. From here you can see Mount Triglav and the snowy peaks of the Dolomites, while staying in a little humid climate, mitigated by the sea. The humidity goes away around 6 a.m., which is perfect for the vine as it can dry and it doesn't need to receive a lot of treatments.
Let's go back to the winery to taste something of what the earth gives us, shall we? Coronica's wines are really amazing. You should know, by now, that I'm no professional sommelier, but I was lucky in having, seating with me at the table, an exceptional guide: Daniela Kramaric, a wonderful Croatian sommelier.
…are you ready to discover a delicious world?
Let's get started with a welcome drink: a Malvasia taken directly from the barrel. It's not crystal-clear but its taste is excellent and almost doesn't seem to be alcoholic, even if it almost reaches 13 degrees! I look at Moreno and I exclaim: "It tastes like apple juice!". He answered: "The Malvasia is like a woman: is stronger than it looks!".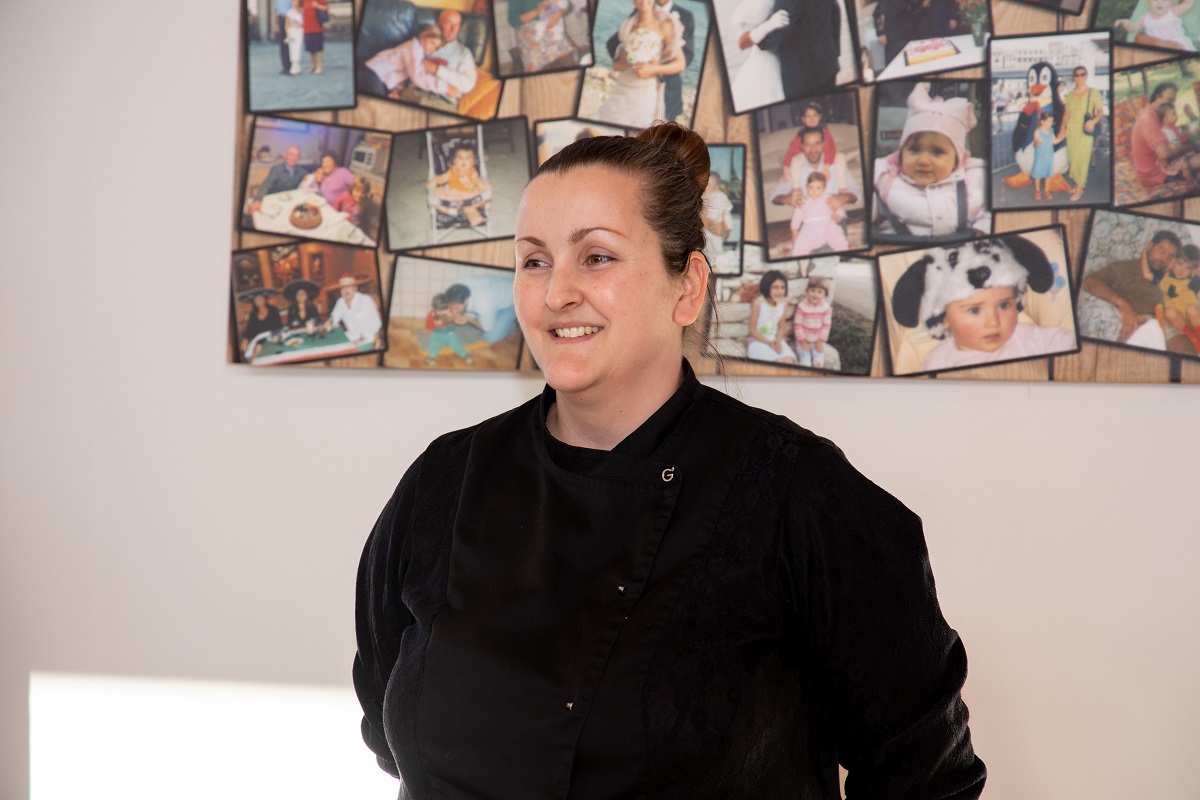 We started the tasting with a duck pate served with Konoba Morgan's mostardas and a Spumante CO Due. A perfect combination! The bubbles made from Malvasia with the classic 12 months method, go wonderfully with this dish, as they degrease your mouth from the pate 🙂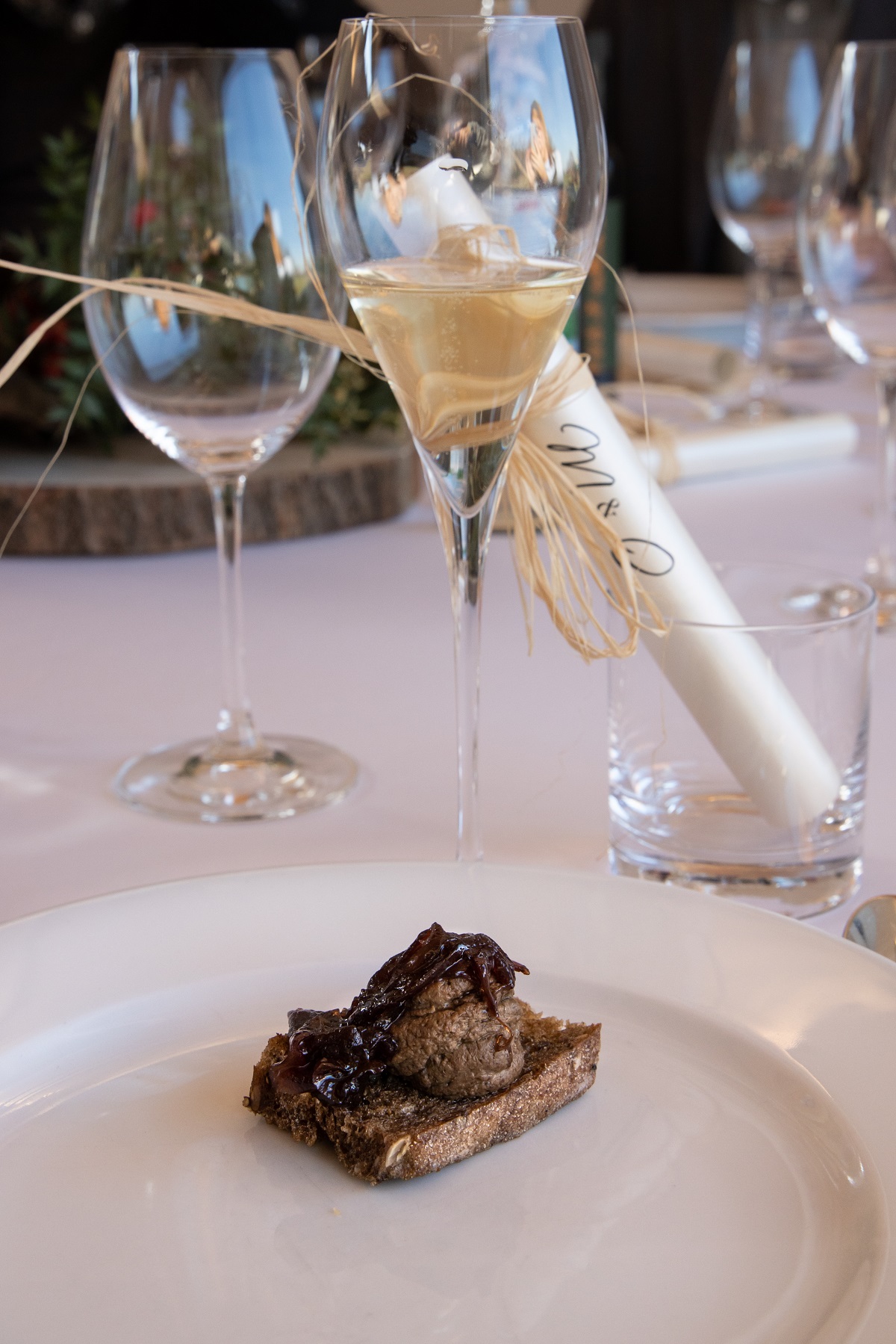 We were then served a pheasant broth with small meatballs and mushrooms. This dish was combined with a fresh Malvasia 2017, which has graceful herbaceous scents: an excellent wine made in stainless steel barrels, perfectly savory and aromatic, with hints of green apple, basil, mint, cardamom and grapefruit.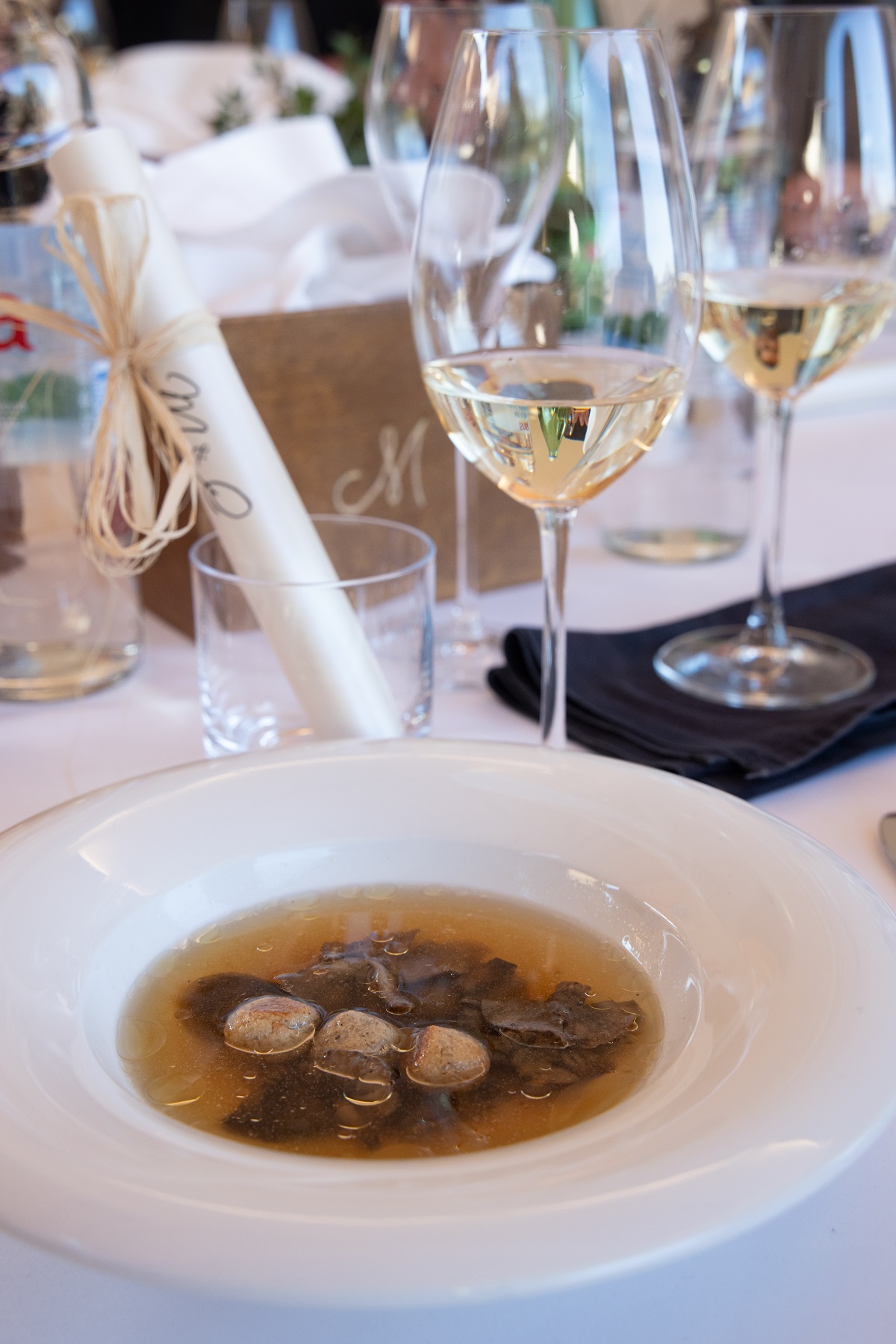 Then another first course: a tortellone with woodcock and quince, delightful as every fresh game dish prepared by Ana. What wine came with it? The best of the whole tasting (according to my modest opinion): the Gran Malvasia 2018, which has only rested in stainless steel barrels. Moreno decided to avoid putting it in wooden barrels in order to let it turn out at its best: it stayed in the barrels 12 months more than the previous stock and a glass of this wine contains the same savory and freshness. The herbaceous hints are still there but they've mutated in those of yellow fruits, like peaches. The DNA is the same, but is way more elegant.
What do you say, shall we move to the second courses? A bowl with hare and a sweet and sour plum sauce, served with a Grabar 2016, made of 50% Cabernet Sauvignon grapes and 50% Merlot grapes. The first has given the wine its strength, while the second gave it its elegance.
The savory parade is closed by deer with herbs and polenta and a blueberry and balsamic vinegar sauce. And of course, it was served with a Gran Teran 2017. If Moreno thinks of Malvasia as of a woman, to him Teran is a "demanding" man. He says so because its grape needs a lot of light and water. A while ago, the Gran Teran was considered a rustic wine, but Moreno managed to make its great elegance stick out!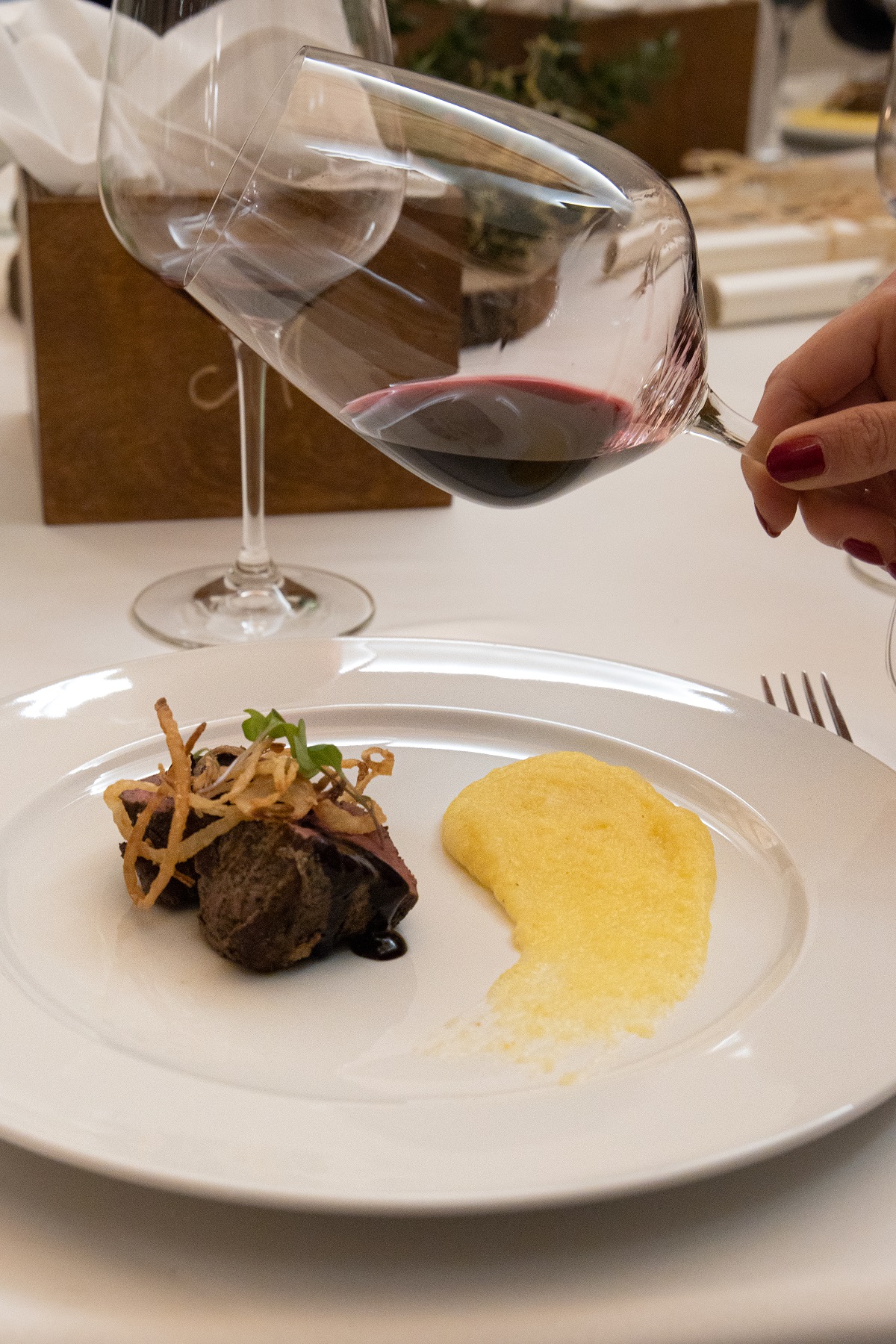 What about dessert? A hemisphere of chocolate filled with ricotta cheese and orange gelatin. This meal was like a circle and it ended exactly how it began: with a Malvasia Spumante CO Due, classic method, 12 months 🙂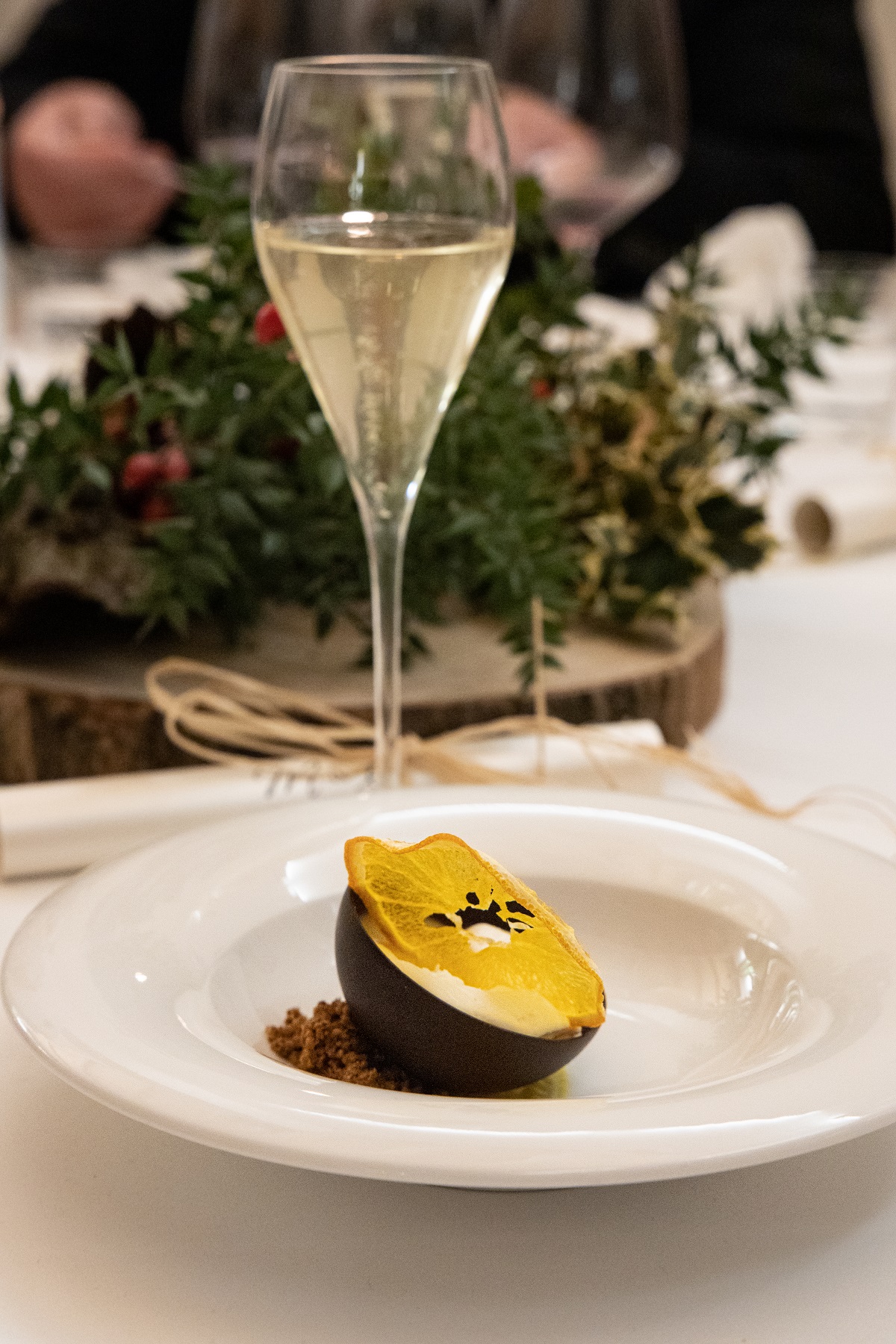 What more to say? I've spent a wonderful day of February in a fascinating place, less than an hour away from Trieste. I can always count on Istria…delightful hours spent in a small village with stone houses, the sun bathing in the sea and looking at the mountains, enjoying the scents of old cuisine. Game and great native wines, born in this land that always makes me feel at home. I felt cozy in an environment full of people I just met…but that I felt I had known for ages! I keep promising to come back to these charming lands…and while I think about it, I look at the tree branches and notice that the sun has already gone to sleep. A marvelous moon now takes its place. I feel such peace!
Ph. Lara Perentin